Blackstone Marinated Mushrooms are one of the easiest side dishes you can make, and they are so fresh, bright, and earthy! We served these on top of a ribeye, but they would be equally as good on their own, in an omelet, or mixed into some pasta.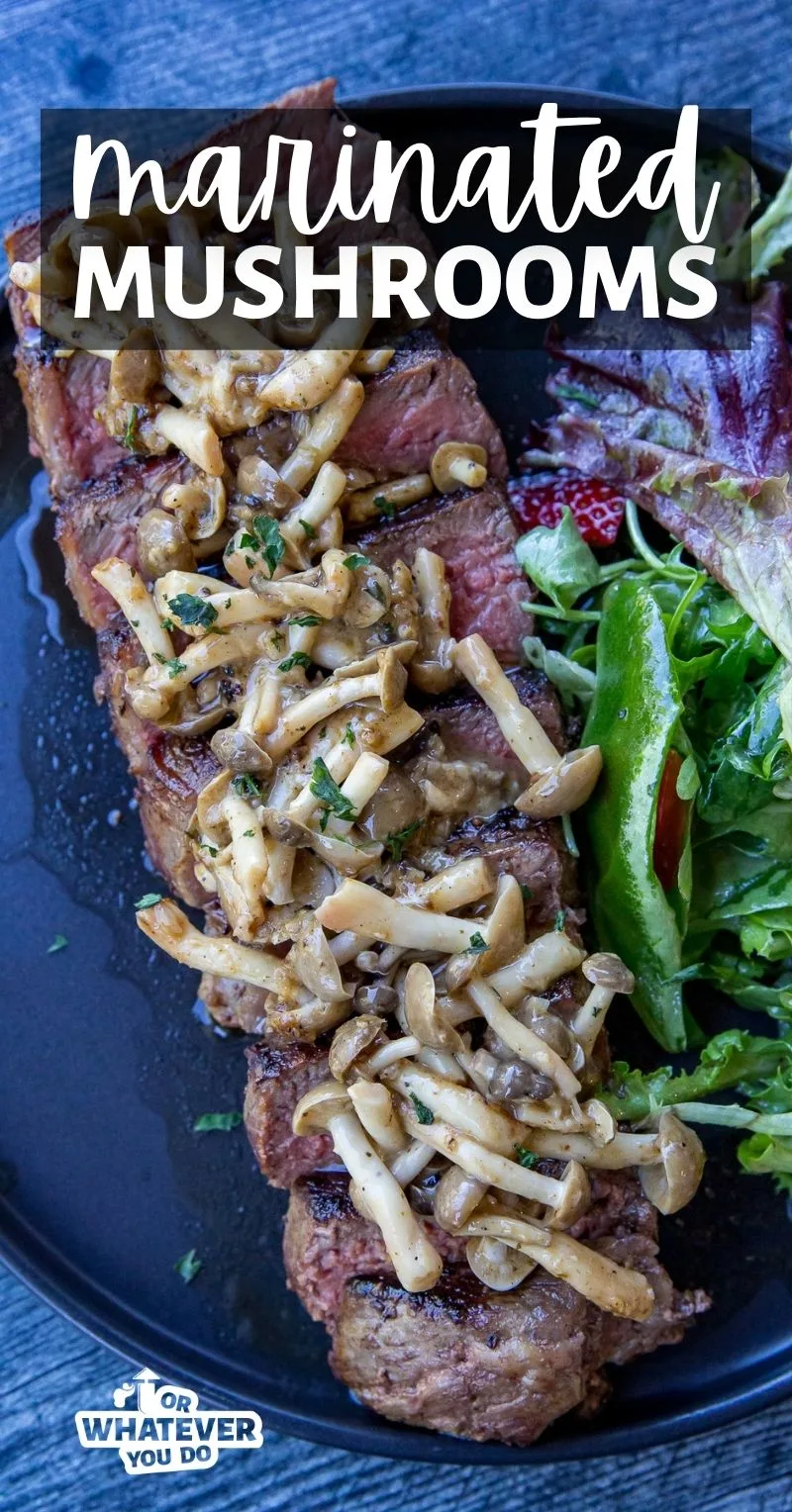 Marinated Sauteed Mushrooms Recipe
I came into my love of mushrooms, like most foods that are now my favorites, later in life. I grew up your typical "I don't like that" mushroom-hater and got a little offended if I could even detect cream of mushroom in anything, and we all know how little that actually represents the flavor of "mushroom".
Little did I know, and heck, I still know very little compared to a true mycophile (just join a mushroom foraging group on Facebook, you'll see), but "mushroom" isn't actually a flavor at all. There are so many different varieties of edible mushrooms, and they can taste vastly different. Last weekend I got to try "Chicken of the Woods" for the first time, and I would've bet actual money that what I was eating was chicken.
And not in the bland, "everything tastes like chicken" sort of way, either. It had the look AND texture of chicken and took on the flavors that it was cooked with so well, I'd say it was actually MORE flavorful than chicken.
Get all of my BLACKSTONE RECIPES here!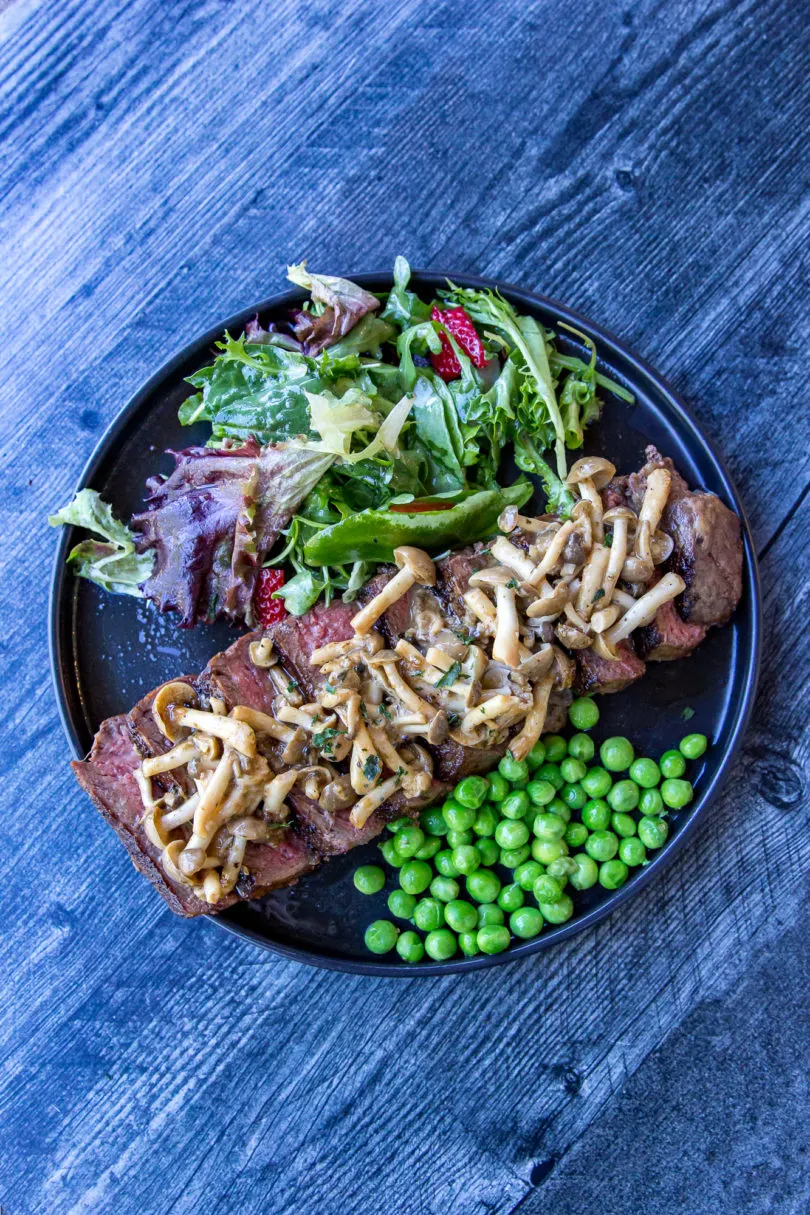 Sauteed Marinated Mushrooms Shopping List
This recipe wasn't made with chicken of the woods. We used shimeji mushrooms, which originated in Japanese cooking but can be used for a wide variety of different dishes. (Side note, check out Jaden's from Steamy Kitchen's post on Japanese Mushrooms if you want to learn more. They are incredible!)
Here's a list of ingredients that you'll need to prepare this dish. There aren't many, and most are probably in your pantry already.
mushrooms
red wine vinegar
salt & pepper
butter
Get my easy Side Dish recipes!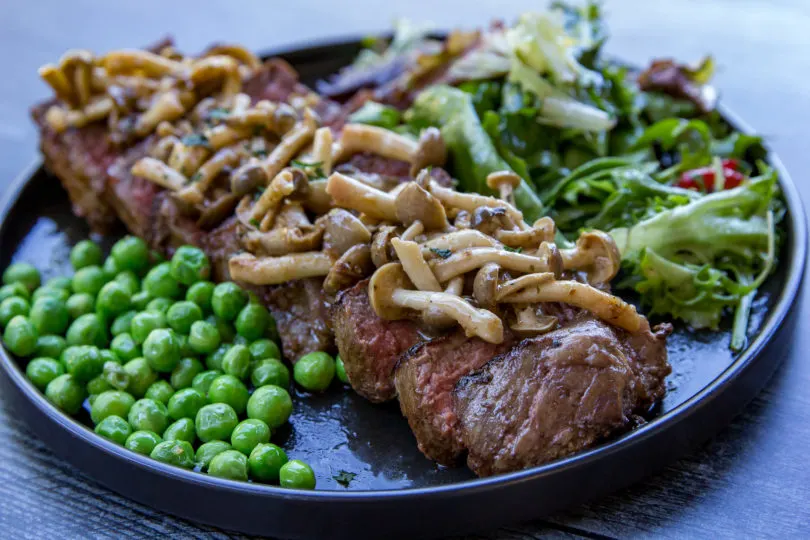 How to make Blackstone Marinated Sauteed Mushrooms
This is just the overview so you can see what you're actually getting into here. When you are cooking, you'll want to use the full recipe at the bottom of the page.
Mix
Toss the marinade ingredients in a bowl and stir until everything is combined. Put the mushrooms in and toss until the mushrooms are evenly coated.
Preheat the Blackstone
Medium heat is perfect, but don't skimp on the preheating time! Give it a good 10-15 minutes before even thinking about cooking.
Cook
Once your Blackstone (or cast iron pan) is preheated, lay down a thin coat of oil and then place the mushrooms and any remaining marinade onto the cooking surface. Let cook for 2-3 minutes and then flip and cook the other side for another 2-3 minutes.
Enjoy
Eat as a side dish, pile on top of a steak, or fold into an omelet!
Follow me on Instagram!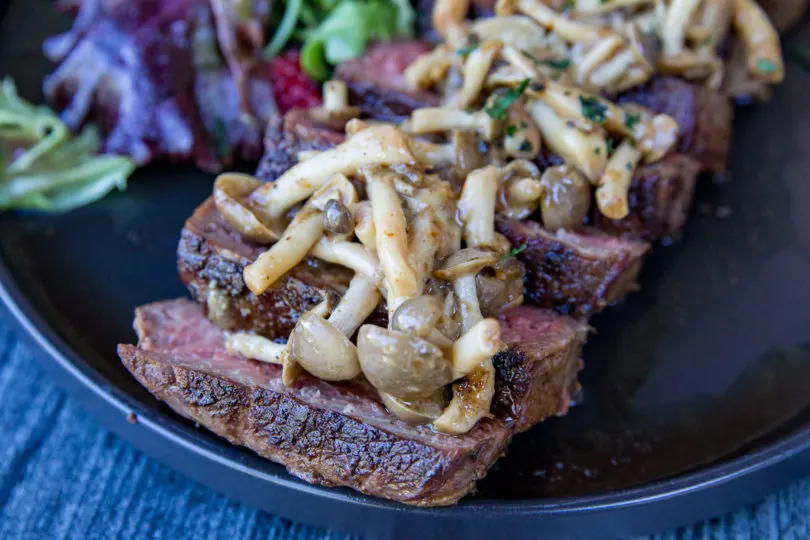 Can you use another kind of mushrooms for this recipe?
Absolutely! This marinade would be great with most of the mushrooms you can buy at the grocery store. I'd recommend cutting them up a bit if they are on the larger side of the size spectrum though!
Join our Easy Griddle Recipes Facebook Group!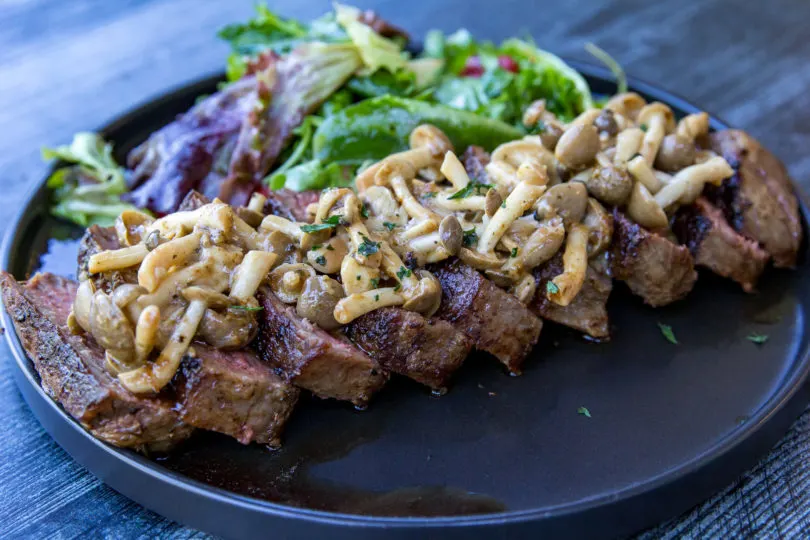 Marinated Sauteed Mushrooms are great with…
Steak!
You can find all of my Steak Recipes here. Some of my personal favorites are my Traeger T-Bone and this Filet Mignon with Shrimp.
Not in the mood for beef? Try our Smoked Pork Chops, or these delicious Blackstone Sauteed Chicken Breasts.
More great recipes to love!
Check out these great recipes too!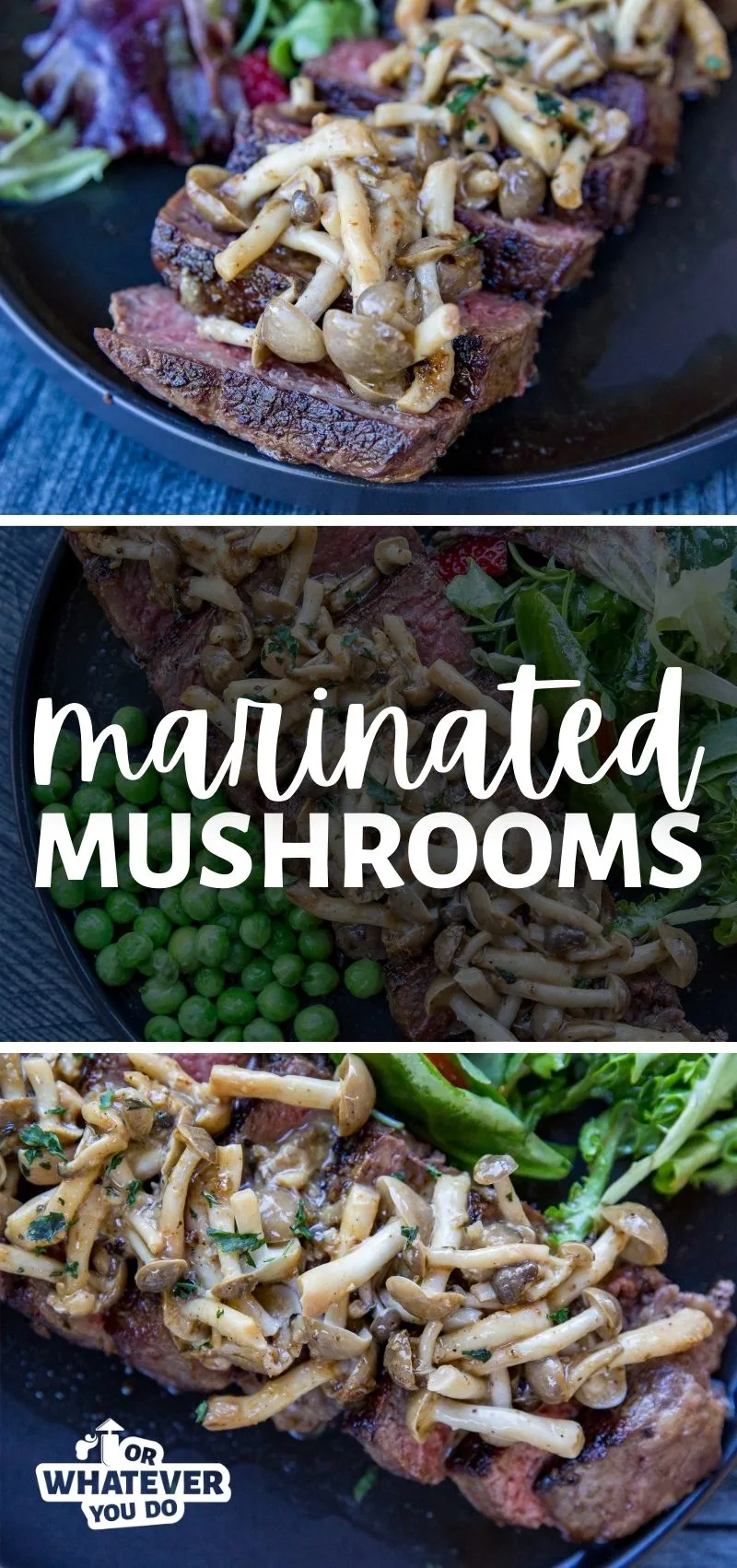 Yield: 6 servings
Marinated Sauteed Mushrooms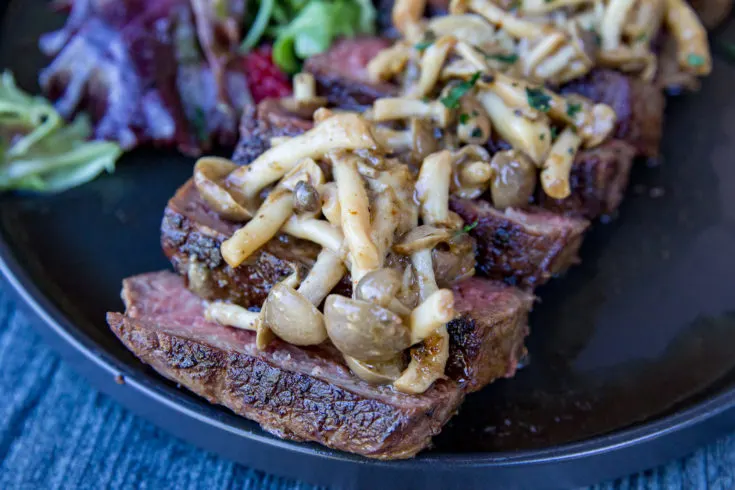 This easy side dish is made with tiny mushrooms, marinated in vinegar and seasonings, and sauteed in butter.
Ingredients
4 ounces mushrooms
1 tablespoon red wine vinegar
1/4 teaspoon salt
1/4 teaspoon pepper
2 tablespoons butter
Instructions
Separate the mushrooms, if necessary. Sprinkle with salt and pepper and pour the red wine vinegar over the top. Stir until most of the liquid has been absorbed.
Preheat your cast-iron pan or Blackstone griddle over medium heat. Place the butter into the hot pan and let it melt. As soon as it is melted, pour the mushrooms onto the cooking surface.
Let the mushrooms cook for 2-3 minutes, covered. Remove the cover and stir. Cook an additional 2-3 minutes, covered.
Remove and serve hot.
Notes
* We used HON-SHIMEJI MUSHROOMS, but if you can't find those you can use baby oysters, enoki mushrooms, or any of the commonly found varieties in the grocery store. I'd suggest giving them a chop or two if you are using larger mushrooms.
Recommended Products
As an Amazon Associate and member of other affiliate programs, I earn from qualifying purchases.
Nutrition Information:
Yield:
6
Serving Size:
1
Amount Per Serving:
Calories:

40
Total Fat:

4g
Saturated Fat:

2g
Trans Fat:

0g
Unsaturated Fat:

1g
Cholesterol:

10mg
Sodium:

119mg
Carbohydrates:

1g
Fiber:

0g
Sugar:

0g
Protein:

0g
Nutrition data provided here is only an estimate.