Blackstone Philly Cheesesteaks use tender shaved ribeye, simple seasonings, and all the cheese to make one of the best sandwiches available, anywhere.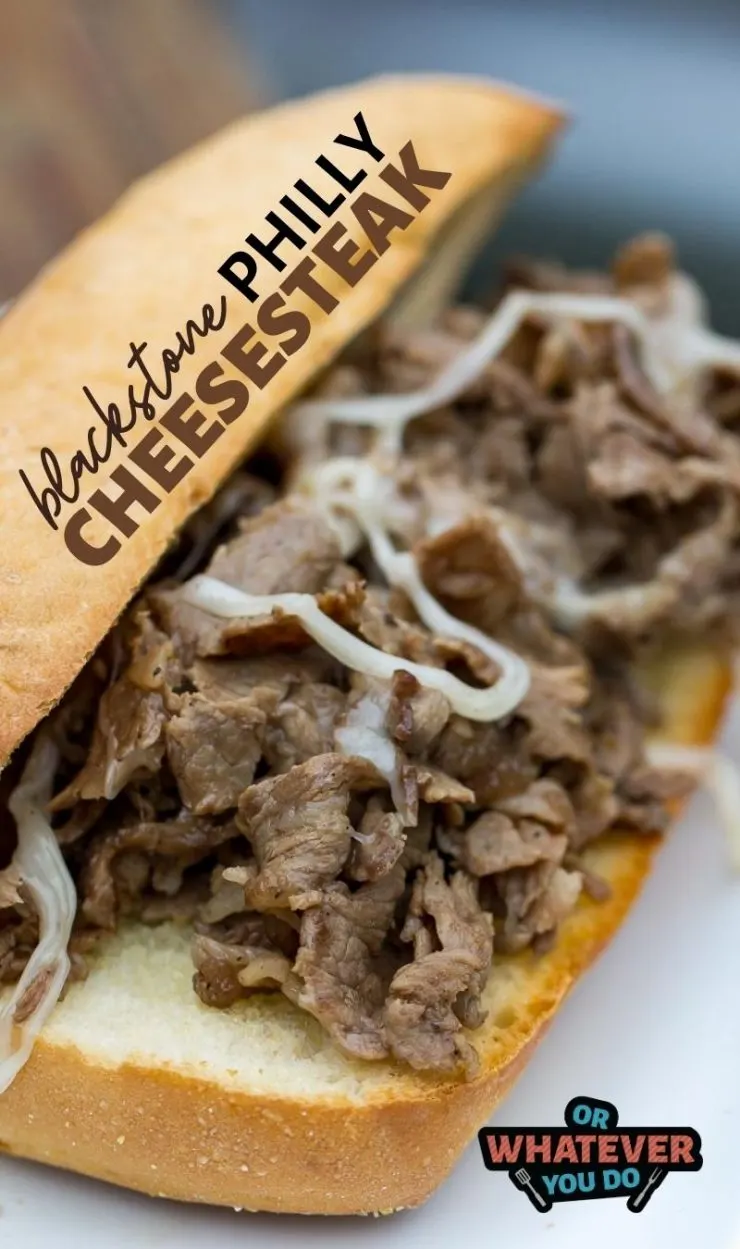 Blackstone Philly Cheesesteak Recipe
If you make the trip to Philadelphia and find yourself in the Mecca of cheesesteak sandwiches, then you will find one thing in common with all of them. A flat-top grill to quickly sear the meat and the onions and peppers and to help melt the cheese.
Flat top grills benefit from wide and flat heat, typically with a cast-iron surface. So, they can quickly cook meats, and especially the thin slices of ribeye ideally used for Philly Cheesesteaks.
You can melt the cheese with a dome-like stainless steel bowl at the same time as grilling the onions and any other toppings you might like on your cheesesteak sandwich like mushrooms or green peppers.
Finally, you can also toast your bread inside lightly right on the griddle too. All that on one cooking surface and all at the same time makes a big broad flat top grill like a Blackstone so fun to cook with.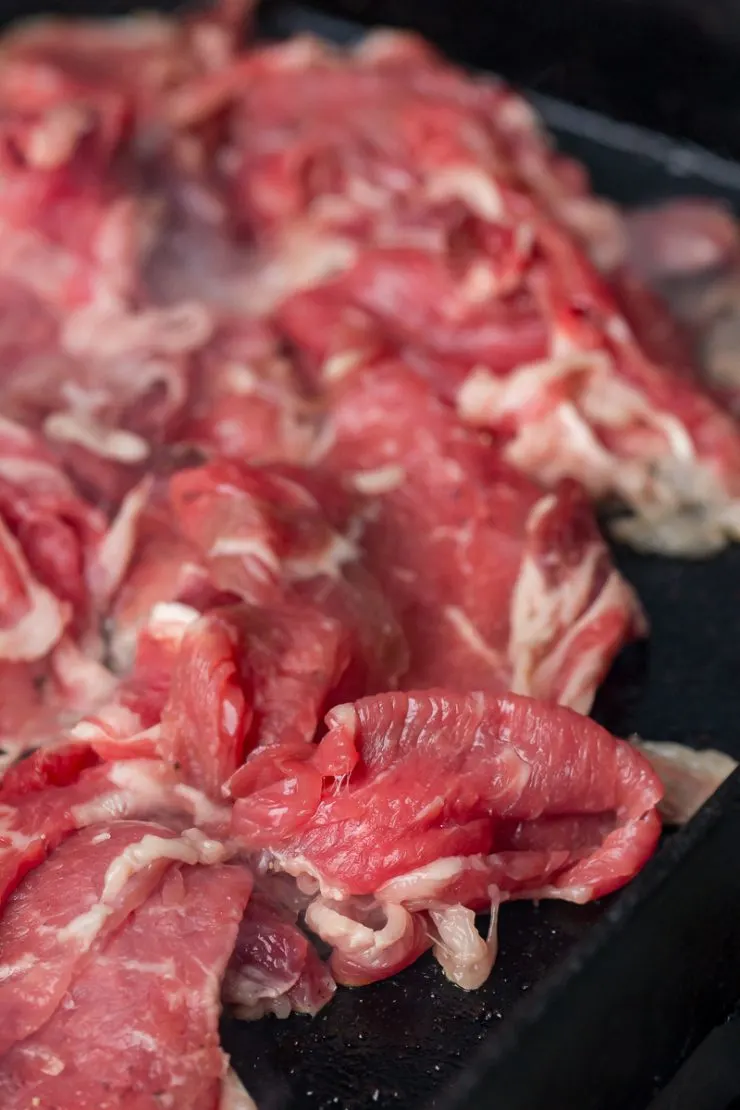 What is the best meat for a classic Philly Cheesesteak Sandwiches?
To really go all the way and keep it real, then you have to go with thinly sliced ribeye steak. The ribeye is wonderfully marbled so you get all the flavor from the marbling. Also, the thinly sliced steak allows more flavor from the meat to shine through as well.
If you want to make it easy, then go ahead and look for the pre-sliced ribeye steak that you can find in the freezer section at the market. It is actually sold as "cheesesteak meat" so you can find it pretty easily.
However, if you are game, then go ahead and pick up some ribeyes from the fresh meat counter. Feel free to ask the butcher to slice it and just let the butcher know it is intended for cheesesteaks. They will know exactly how thinly it needs to be sliced.
The beauty of using fresh ribeye is you will see how many slices you can get per pound of steak. Depending on how thick you like to make your sandwiches, you can get away with a quarter to a third of a pound per sandwich.
Keep in mind that the sandwich also has all that cheese and the grilled veggies too. So, it isn't like the sandwich is going to be skimpy.
More Blackstone Recipes here!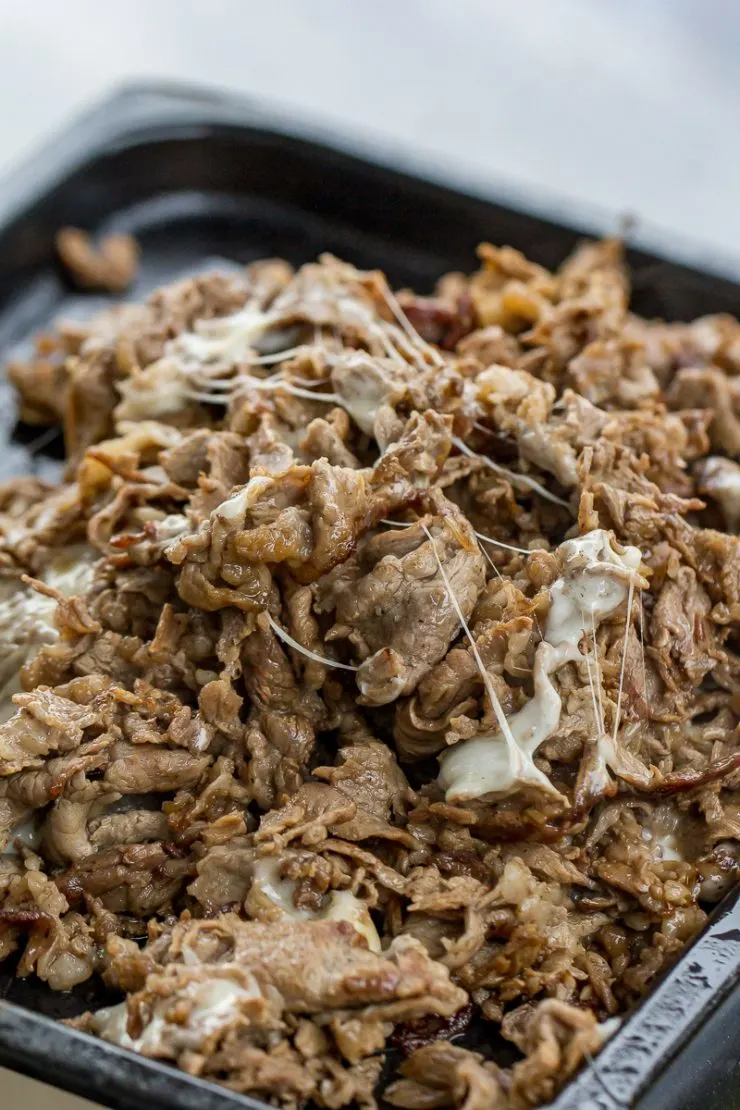 What type of cheese is the best on a Philly Cheesesteak?
If you are going for a full-on true Philly cheesesteak sandwich, then go all the way with the cheese too. Provolone, American cheese, and even Cheese Whiz are all used in authentic Philly Steak Sandwiches.
I know some people are not fans of Cheese Whiz and anyone that questions if it is actually cheese is not terribly far off the mark. But, it does help achieve that supremely regional Philly taste and proper meltiness.
Personally, I'm not a huge fan of the Whiz in most cases, but I've been to Philadelphia and have had an authentic cheesesteak from one of the most famous places around, and I chose provolone and I chose poorly. Just at LEAST have some Cheese Whiz around so you can compare, and let me know what you think is best.
Provolone is still a great option though, and since my family are largely also not Cheese Whiz fans, that's why you see it pictured here.
Truth be told, you can use any kind of cheese that has a good melt to it and you will do just fine. The purists have a point if the point is to make it exactly as they do at Geno's or any of the other famous cheesesteak joints, but the most important thing is to enjoy it the way you like it.
Get more recipes for your cookout here!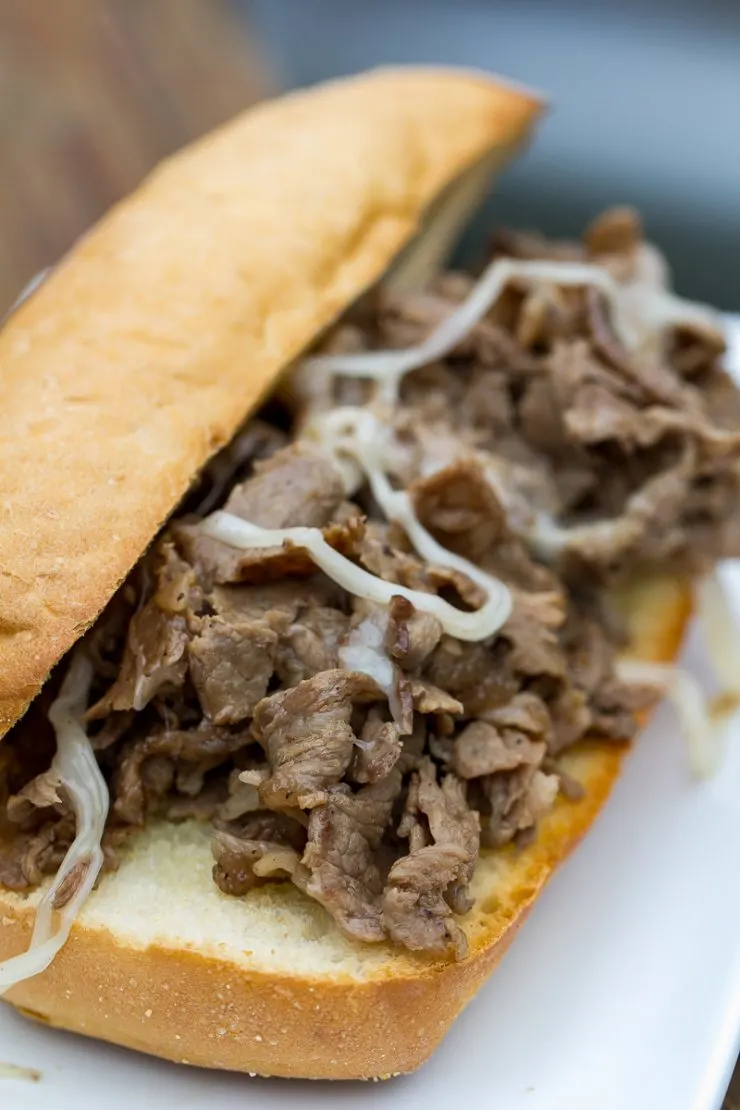 Toppings for your cheesesteak
Cheesesteaks are pretty versatile, so get creative, but these are the most popular:
Grilled onions
Peppers
Mushrooms
Mild pepperoncini
Banana peppers
Sliced jalapenos
Habaneros (if you are brave)
In terms of seasonings, a bit of salt and pepper is all you really need, but if you want to dust on some garlic powder too then you won't be sorry.
When you grill onions, mushrooms, and or peppers then give them a good singe. Cook the onions until they are translucent and let the peppers and mushrooms cook down to lose some of the water.
How to RE-SEASON your Blackstone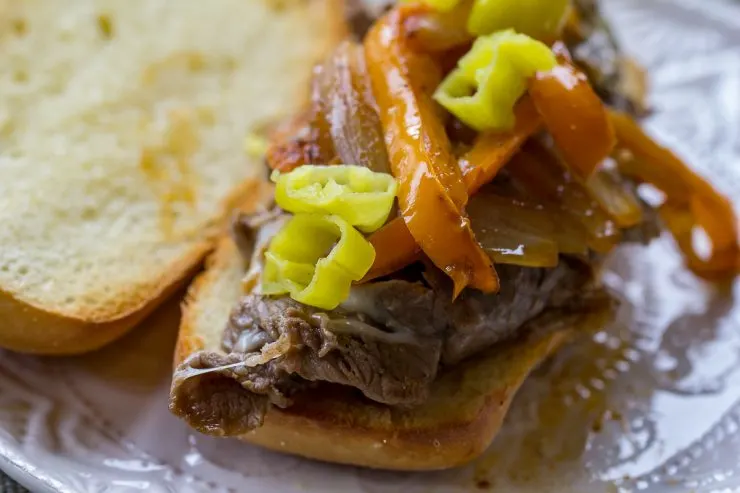 What bread should you use?
Any hoagie style bun will do the trick, but you can also use french baguettes as well. If you want to go truly Philly style though, then there are a few Italian style rolls that are best known for making Authentic Philly cheesesteaks.
By far the most popular is "Amaroso". I looked and it is available in 36 states currently. So, if you can't find it in your local market then you might have to use the power of the internet to get some delivered.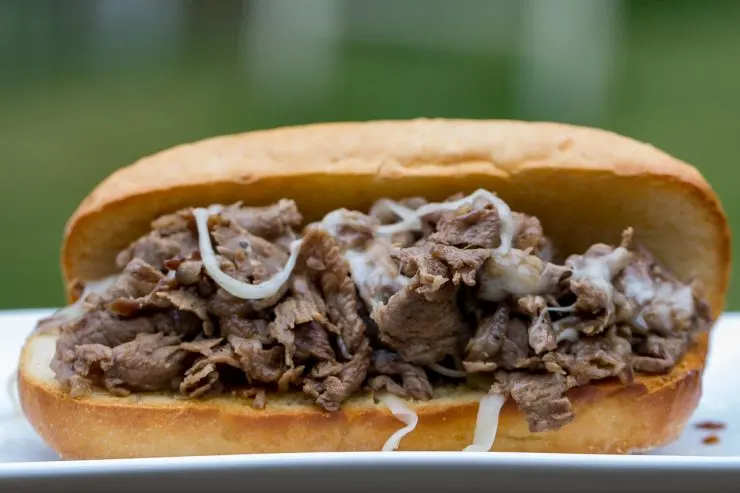 Sandwiches and more…
If you want another couple steak sandwiches to try, then I have a couple that rival the Philly, and that is not easy. The Italian sandwich is probably the forerunner that could take on the Philly cheesesteak. But, be sure to keep a prime rib pinwheel in mind, too.
If you want to make your own rolls for the sandwich, then you can make these rolls work by making them oblong instead of round.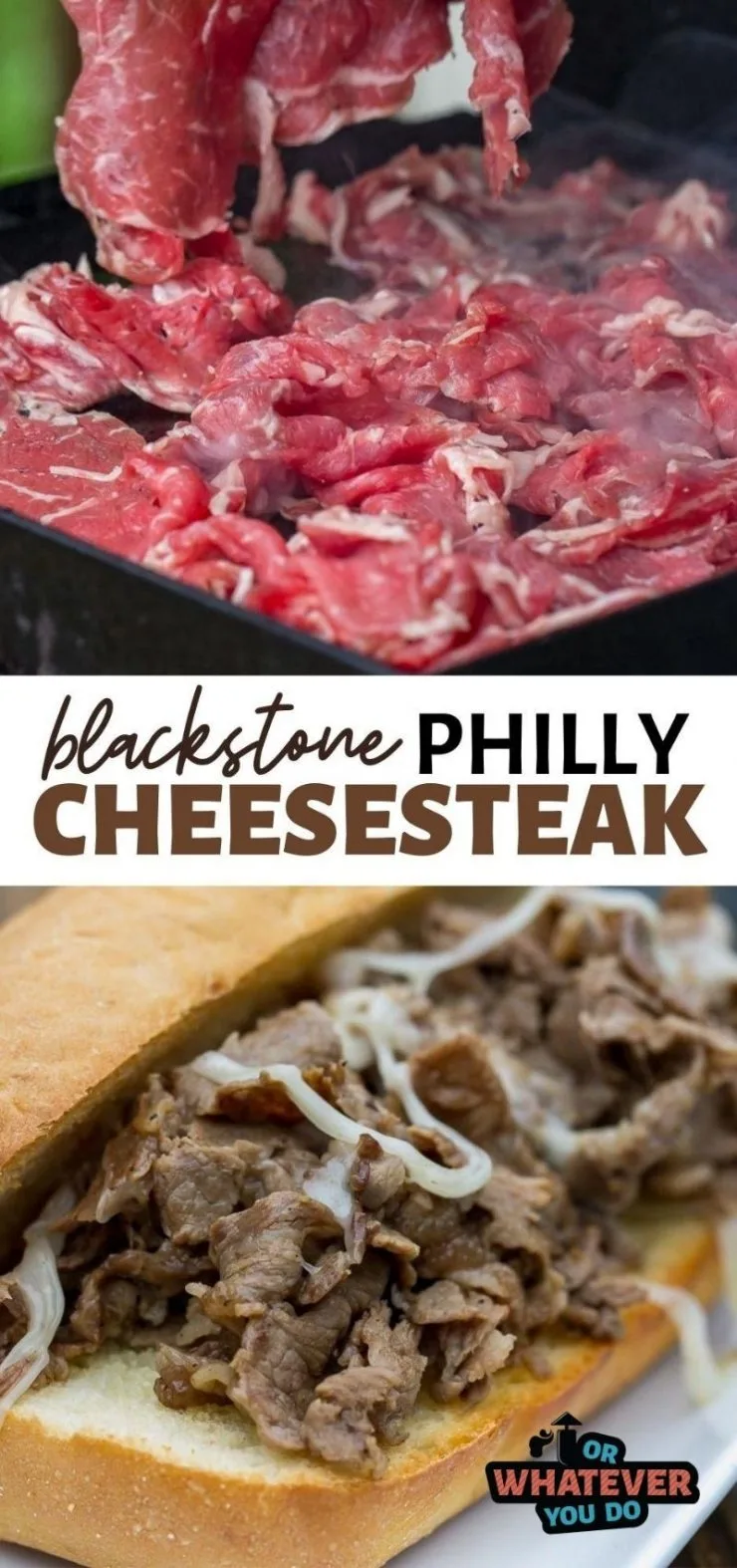 Yield: 6 sandwiches
Blackstone Philly Cheesesteak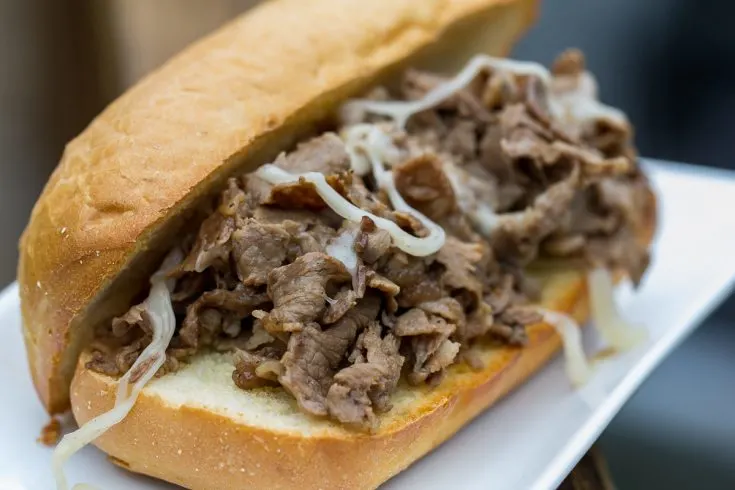 Delicious homemade Philly Cheesesteaks are not only possible, but they are easy when you've got a Blackstone! Gas griddles are one of the ultimate cooking tools to get restaurant-quality food at home.
Ingredients
3 pounds thinly sliced ribeye
1 tablespoon oil
salt
pepper
provolone or cheese whiz
buns
butter
peppers and onions (optional)
Instructions
Preheat your gas griddle over medium heat until it is preheated. Butter your buns and give them a quick toast.
On one half of the griddle, put down some butter and the onions and peppers if you are going that direction, and on the other half throw down some oil. Let it preheat, but not quite smoking, and then put the beef on.
Salt and pepper the beef according to your preferences, and more around continuously with large metal spatulas,
Top with cheese, cover with a dome and turn OFF the griddle. The residual heat will melt the cheese.
Load up your buns with cheese-covered ribeye, top with any peppers and onions that you want, and chow!
Recommended Products
As an Amazon Associate and member of other affiliate programs, I earn from qualifying purchases.
Nutrition Information:
Yield:
6
Serving Size:
1
Amount Per Serving:
Calories:

755
Total Fat:

55g
Saturated Fat:

25g
Trans Fat:

0g
Unsaturated Fat:

28g
Cholesterol:

200mg
Sodium:

553mg
Carbohydrates:

6g
Fiber:

1g
Sugar:

2g
Protein:

59g
Nutrition data provided here is only an estimate.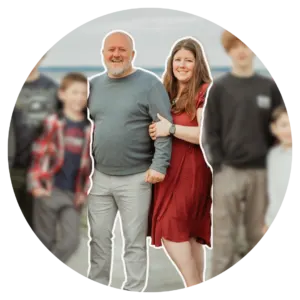 Nicole Johnson, a self-taught expert in grilling and outdoor cooking, launched Or Whatever You Do in 2010. Her blog, renowned for its comprehensive and creative outdoor cooking recipes, has garnered a vast audience of millions. Nicole's hands-on experience and passion for grilling shine through her work. Her husband, Jeremiah Johnson, also plays a pivotal role in recipe development, adding his culinary flair to the mix. Together, they form a dynamic duo, offering a rich and varied outdoor cooking experience to their followers.