Our simple Fried Walleye Recipe uses a cracker-based breading and a quick pan fry until it is golden brown, crispy, and perfect.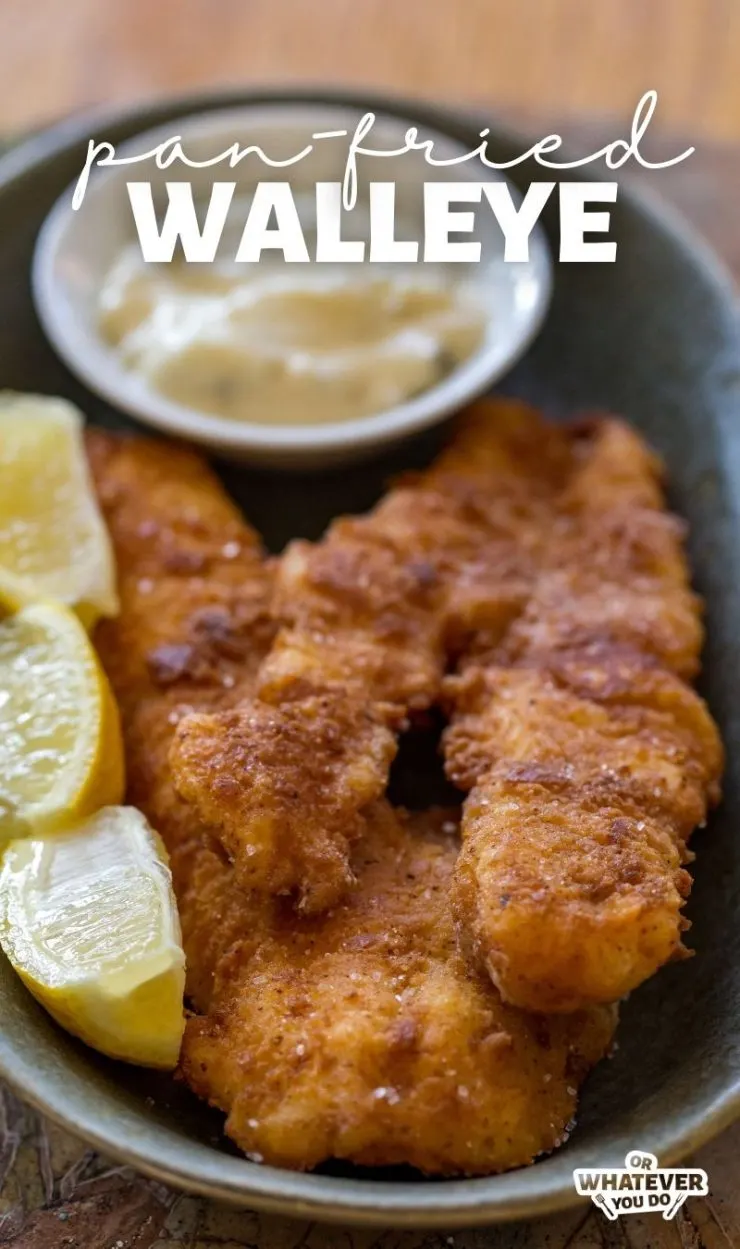 Fried Walleye Recipe
Walleye is one of my favorite fish. If you are fortunate enough to live in an area where there are walleye in the lakes, you are lucky indeed.
Walleye live about 10 years, if they don't get caught and fried, that is, and can get pretty big. The best eating walleyes are between 15-18 inches, they say, and you get two big filets out of each fish that is the perfect serving size too.
So, what I'm saying is, marry a fisherman or make friends with one, especially if you live in walleye land.
Get all of my FISH recipes!
Is Walleye good fish to eat?
YES! It not only tastes amazing, but it is also a fish with very healthy populations too.
Fried Walleye shopping list
Ritz crackers
Flour
Paprika
S&P
Walleye
Lemons
Tartar sauce
Follow me on Instagram!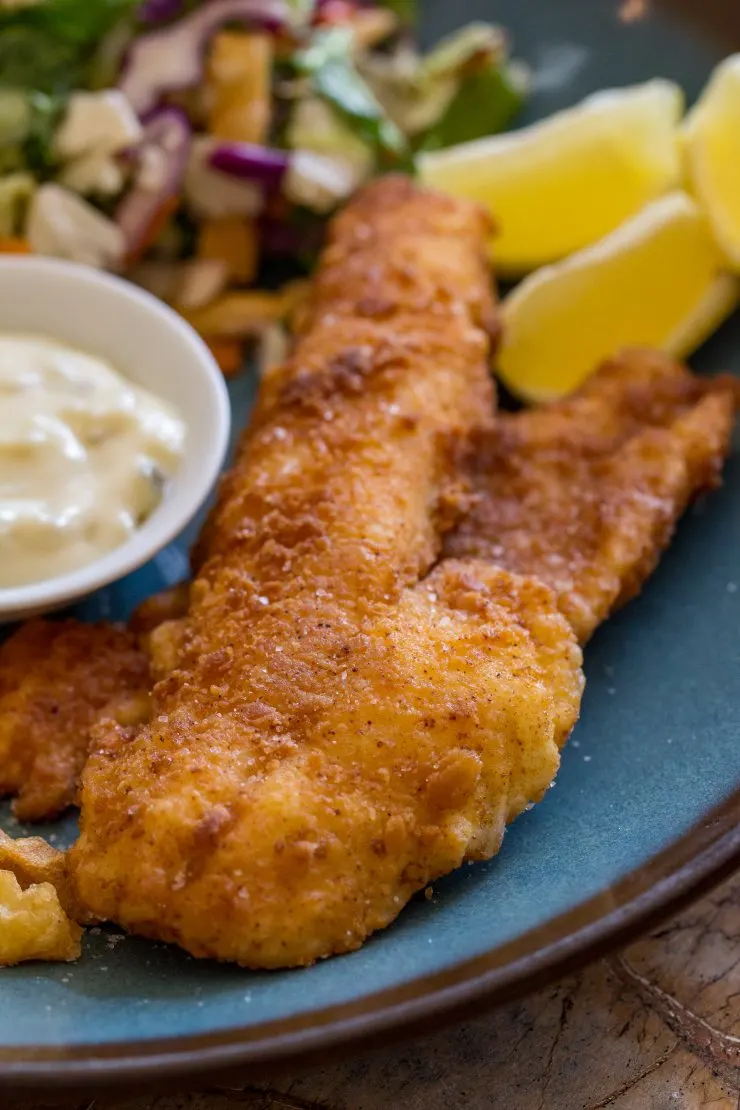 How to pan-fry walleye
Pan-frying fish is simple and a delicious way to eat this versatile protein. It is also fast and makes a perfect, crunchy crust.
Whether you're going to eat your breaded walleye in a fish sandwich or as the best fish and chips you've ever had, this is the method for you!
PREP PREP PREP
Set up your breading station. You need three decently-sized containers for the breading mixes. One for flour, one for your egg wash, and one for your breading.
Pre-heat your oil
Start pre-heating the oil while you are breading your fish for the best results. You want the oil between 350-375°. This is important, so make sure to use a good thermometer to measure. (Like a Thermapen ONE!)
Fry it up
Fry 1-2 pieces at a time, depending on the size of your pan. Remove to a paper-towel-lined plate when browned, and enjoy!
Have a Cocktail with dinner!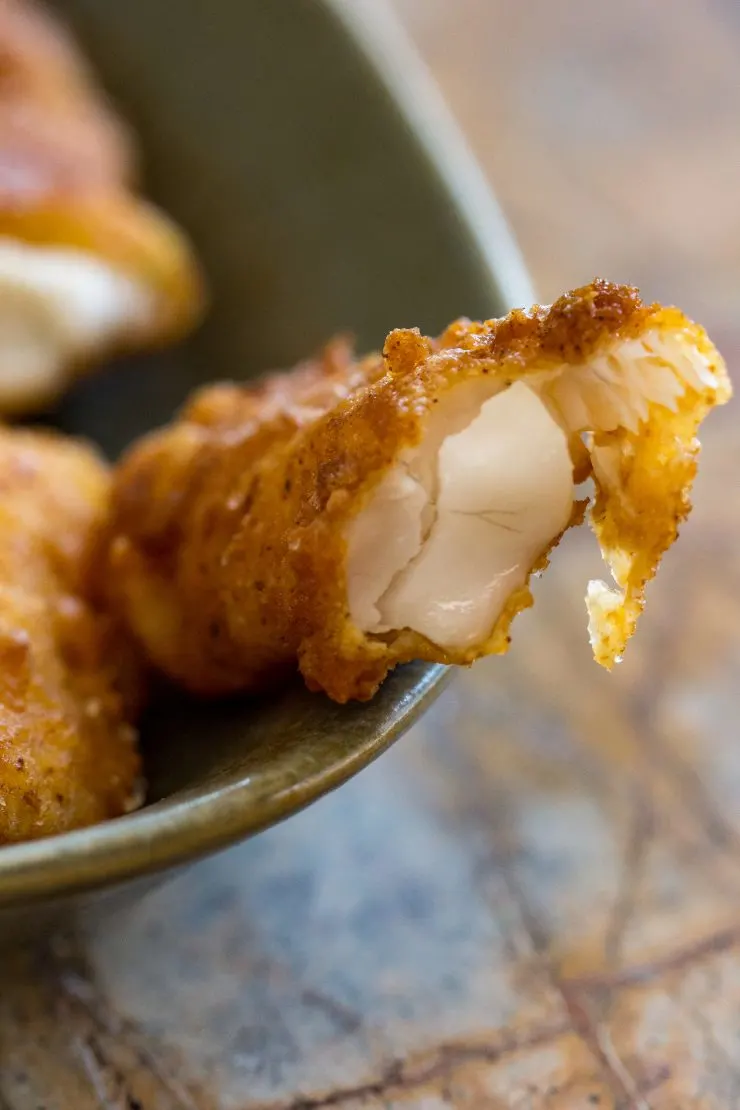 Can you use this breading on other types of fish?
Absolutely! I'd gladly use this breading on any whitefish. True cod, Lingcod, Halibut, and Seabass would all be great options.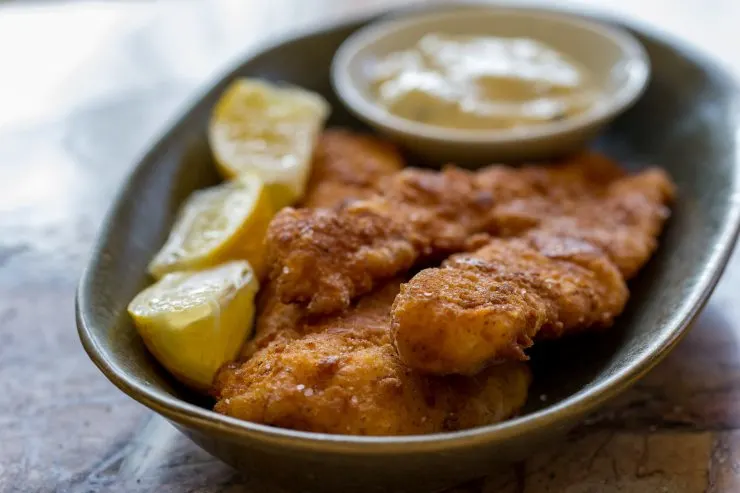 Can you cook walleye with the skin on?
You can, but when you are frying and breading fish you really shouldn't. Back in February, before the world shut down, I went to London for work and was SO excited to try fish and chips where fish and chips is SO famous.
We were all pretty shocked when what came out was a giant breaded fish filet with the skin still on.
To each their own, of course, but it wasn't my favorite thing so I'd recommend removing that skin before frying.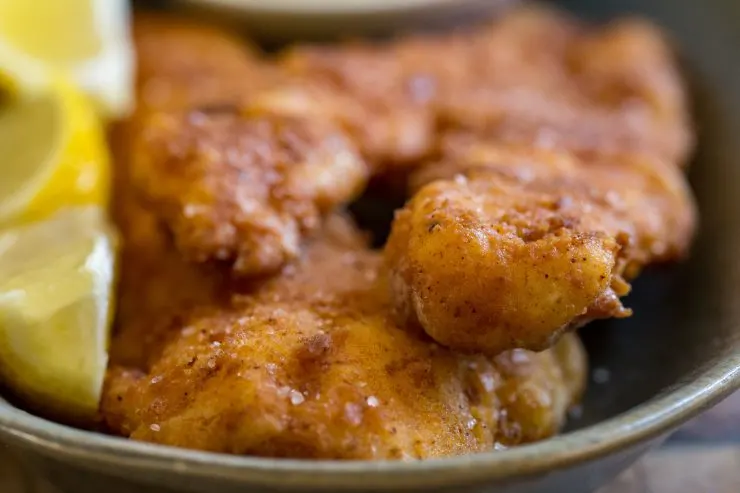 What else can you serve with fried walleye?
The classic side to fried walleye is going to always be chips, or as we call them here – french fries. You can make them from scratch or use your favorite frozen variety, either will be awesome. We recently made some Air Fryer Fries with fresh Russet potatoes that were amazing. If you have a Blackstone, you can also do frozen fries right on the griddle too!
With fried food, I always like to serve some green things too. My Greek Salad is a great option there!
You'll also need some tartar sauce too!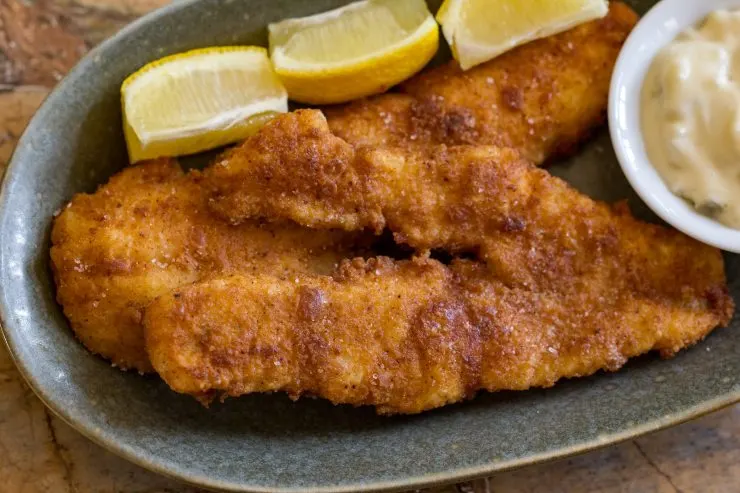 More fish recipes to love
We love fish in this house! Which is a good thing, since my family catches a LOT of them. Here are some of our favorites that you should check out.
In the mood for walleye but not fried food? Try our Grilled Walleye with Lemon Cream Sauce.
Halibut on the brain? We've got fried halibut (with no beer), parmesan-crusted halibut, and beer-battered halibut nuggets.
There's also our grilled lingcod, crab-stuffed lingcod, and pan-seared lingcod too.
Did someone say salmon?
We've got salmon coming out of our ears here, and all the recipes too. Make one of our many Smoked Salmon recipes.
Featured Reader Reviews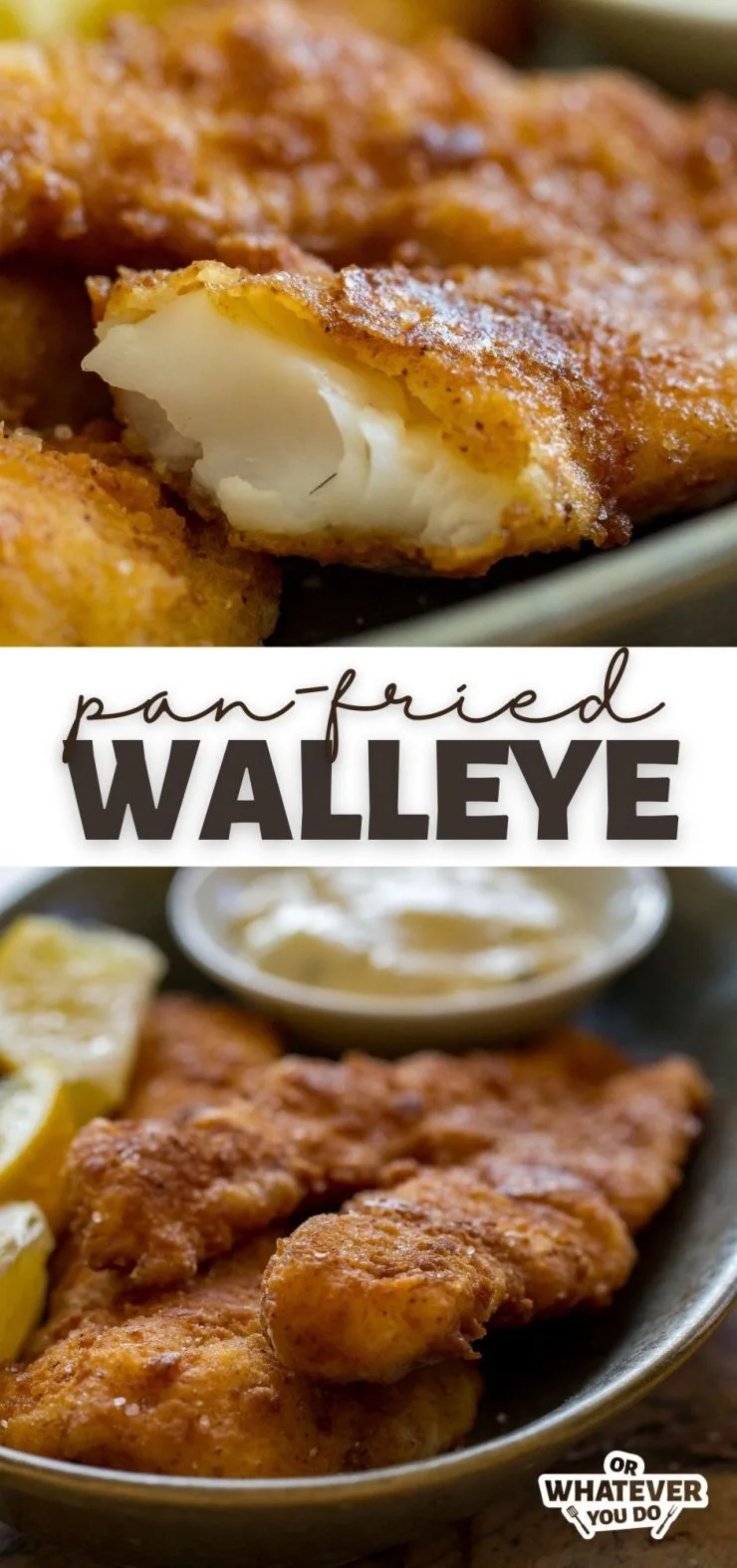 Yield: 6 servings
Fried Walleye Recipe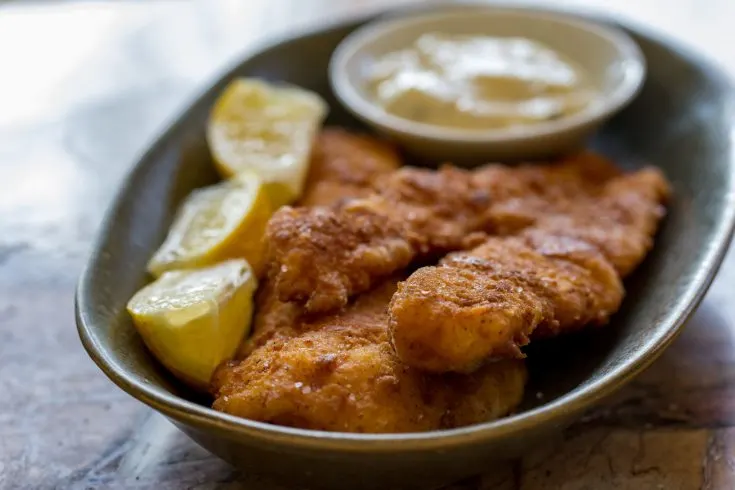 Our simple Fried Walleye Recipe uses a cracker-based breading and a quick pan-fry until it is golden brown, crispy, and perfect.
Ingredients
3 eggs
2 tablespoons milk
1 1/2 cups all-purpose flour
1 teaspoon salt
1/4 teaspoon black pepper
1/2 teaspoon paprika
12 Ritz crackers, crushed
2 pounds Walleye filets
1 cup oil
8 ounces butter
Instructions
First, get out three medium-sized bowls. In the first bowl, crack your eggs, add your milk and mix well. In the second bowl, add 1/2 cup of the flour, 1/2 teaspoon of the salt, and the black pepper and mix. In the third bowl, add the rest of your salt, flour, paprika, and crushed Ritz crackers and mix well.
Place your cast iron pan on the stovetop on medium-high heat. Add your oil and let it heat up to 325 degrees Fahrenheit.
While your oil is heating up, prepare your fish for frying by first dredging it through the flour mix in bowl number two. Shake off any excess flour.
Next, dredge your fish through the egg wash and let the excess drip off.
Now dredge your fish fillets through the flour and cracker mix, shake off any excess mix, and set your fish aside while your oil comes up to temperature.
When your oil has reached temperature, add in your butter and let it melt into the oil.
Once your butter is completely melted, add in your fish filets with at least 1/2" space between each piece. Let your fish cook for 2 1/2 minutes on each side.
Pull one piece of fish and cut in half to make sure it cooked all the way through. Cooked fish will be white all the way through with no translucency.
Place your fish onto a plate with paper towels to absorb any excess oil. Repeat until all fillets are cooked, and serve hot!

Recommended Products
As an Amazon Associate and member of other affiliate programs, I earn from qualifying purchases.
Nutrition Information:
Yield:
6
Serving Size:
1
Amount Per Serving:
Calories:

1004
Total Fat:

77g
Saturated Fat:

25g
Trans Fat:

2g
Unsaturated Fat:

48g
Cholesterol:

355mg
Sodium:

798mg
Carbohydrates:

29g
Fiber:

1g
Sugar:

1g
Protein:

48g
Nutrition data provided here is only an estimate.