My Traeger Honey Garlic Salmon recipe is deceptively simple and one of the easiest and tastiest ways to make salmon. Throw it in some foil and let the pellet grill work its magic.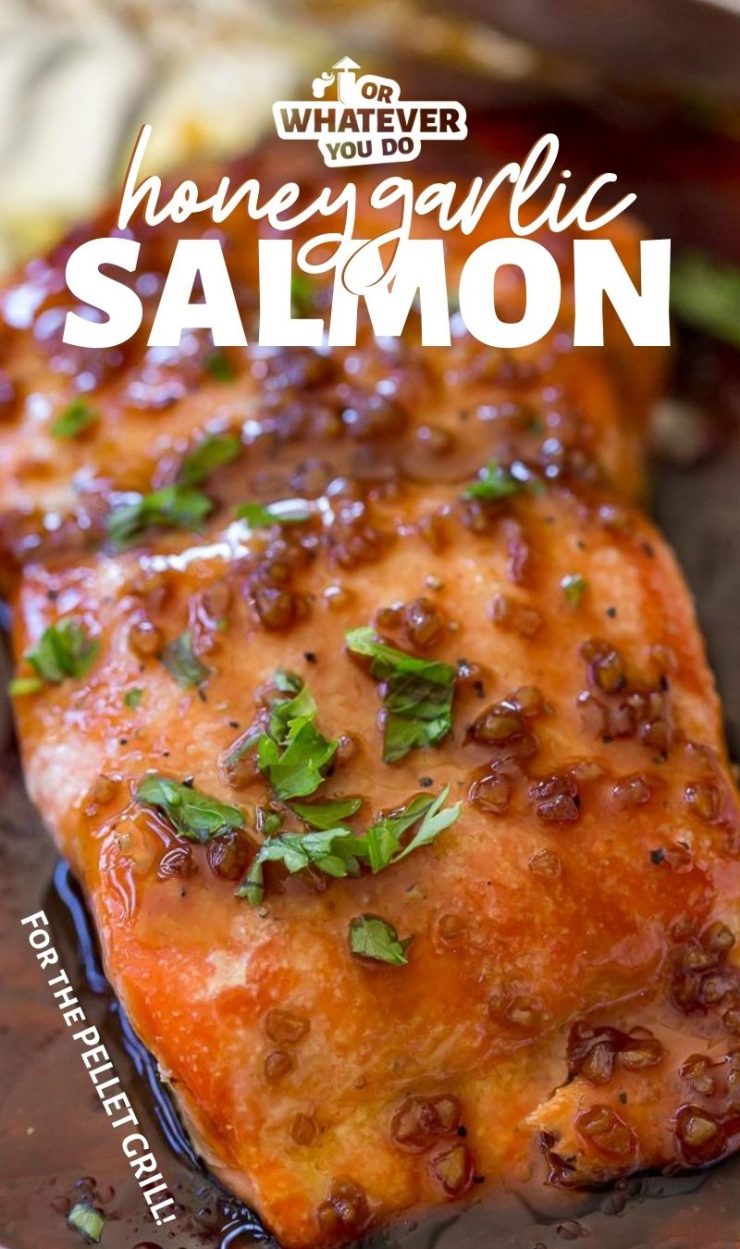 Traeger Honey Garlic Salmon
Is there anything better than a fresh filet of wild-caught salmon?
I don't really think so.
I didn't even LIKE salmon before I found out what it was actually supposed to taste like, and the farmed grocery-store variety is generally NOT it. It is one of the reasons that people tend to think of salmon as being so "strong".
If you live in a place where you have access to fresh salmon, get some. If you don't, try and look for sources where the salmon isn't farmed. Farmed salmon is fed a "pigmenting compounds" along with their food to give it the reddish-pink color of natural salmon. Otherwise, it would be white. At best. Or gray, at worst. Bleh.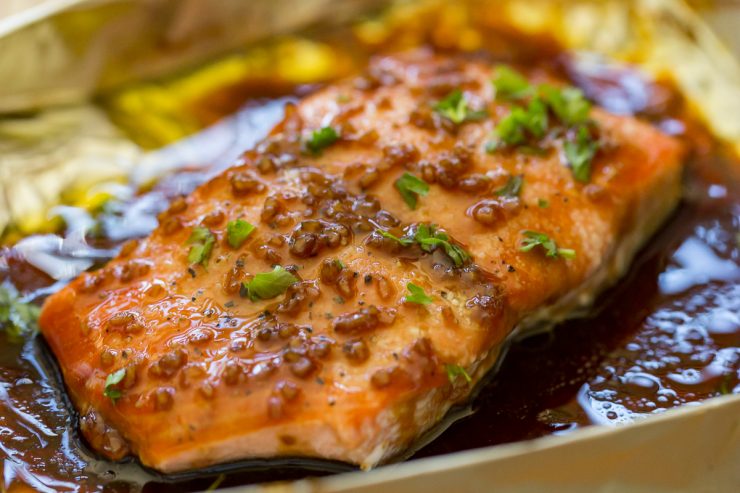 Grilled Honey Garlic Salmon Shopping List
Fresh-caught salmon
soy sauce
balsamic vinegar
honey
butter
garlic
white wine
More Easy Traeger Recipes here!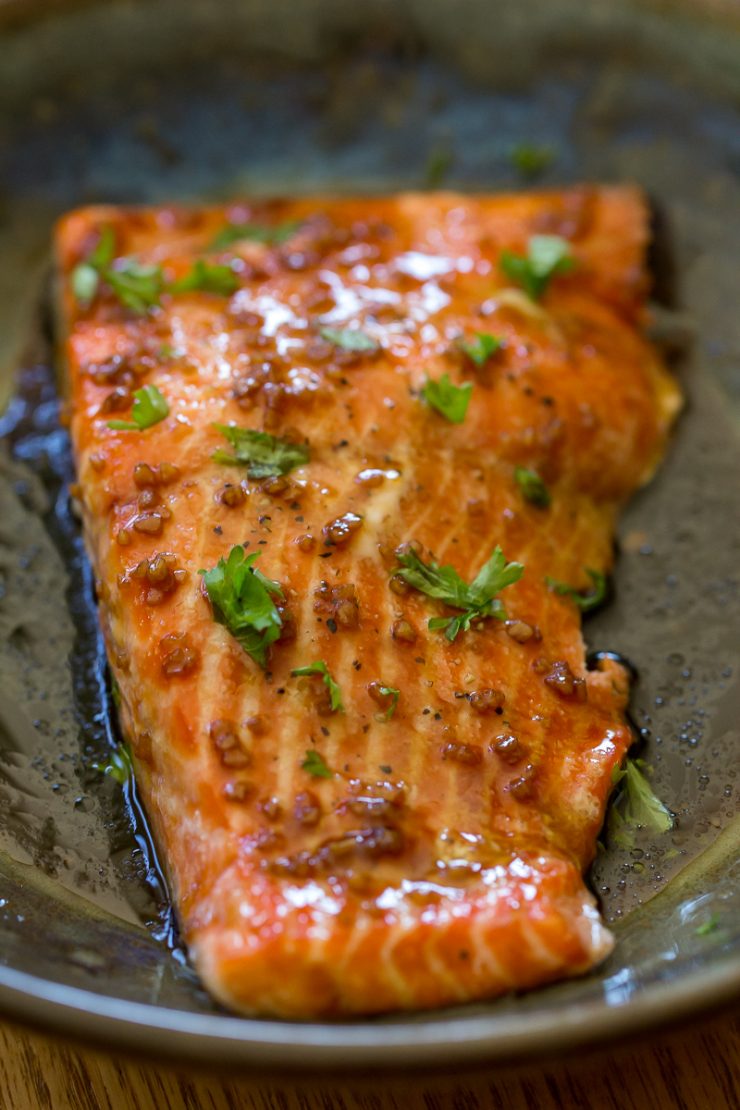 How to make a pan sauce on your Traeger
If you're trying to keep all of your cooking outside, this is the technique for you. I love hand-off cooking, and the pan sauce in this recipe is perfect for that.
You just toss all of the ingredients into a grill-safe/oven-safe pan, give it a stir, and let it cook alongside your salmon.
This sauce is simple because it doesn't require a ton of stirring or babysitting. As long as you ensure it isn't over a hot-spot, you are pretty safe from scorching, and it only needs to simmer for about 10 minutes until it is thick and delicious.
I wouldn't recommend this with any sauce that have cream or dairy in them. That requires too much stirring and attention to work well in this application.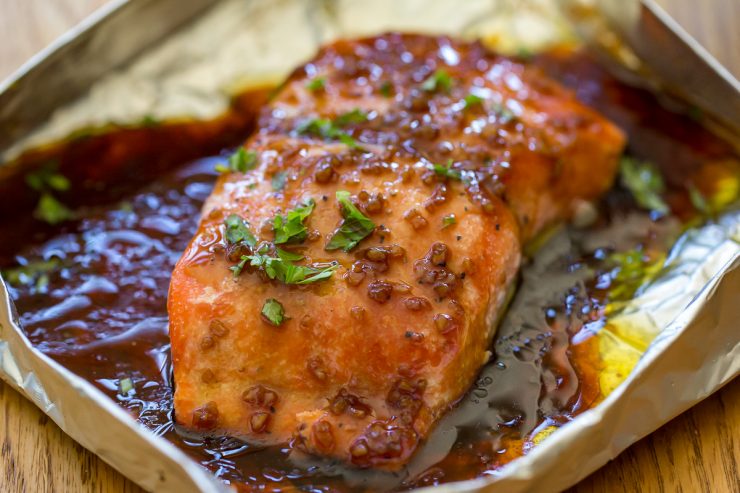 Join our Easy Traeger Recipes Facebook Group!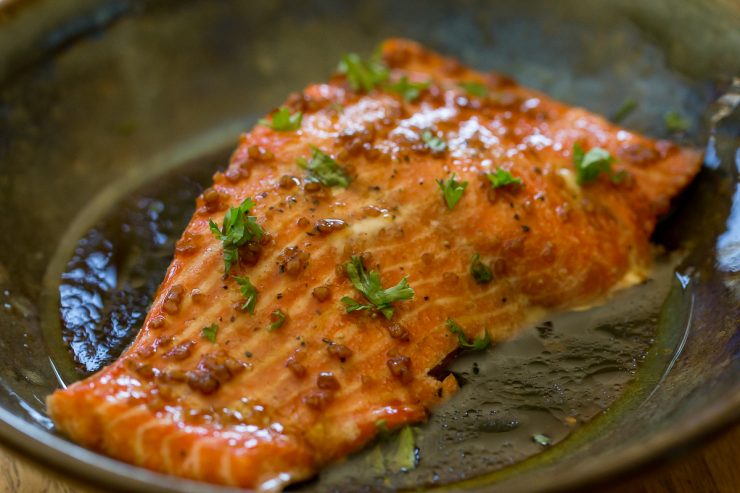 What temperature should you cook salmon?
The FDA recommends cooking salmon to a minimum of 145°. If you are cooking farmed salmon, you should probably follow those recommendations.
We prefer our salmon to be cooked medium. The texture and flavor is much better than if you cook to 145° which is like cooking a steak well-done.
The key is that once the white stuff starts coming out of the top of the salmon, you're going too far. Pull it. Quick. Or you'll learn why some people hate salmon, really fast.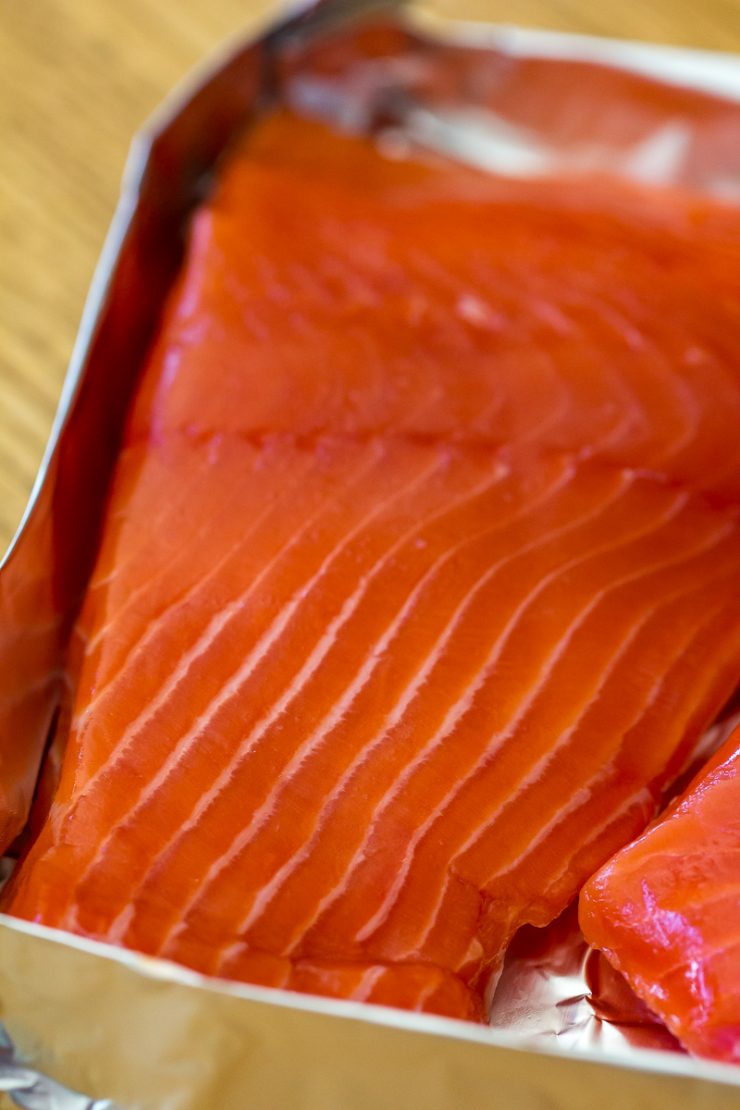 How do you store Pellet Grill Honey Garlic Salmon?
Salmon that isn't eaten the same day it was cooked should be promptly refrigerated in a covered container.
You should eat it within 2-3 days of cooking.
Have a Cocktail with dinner!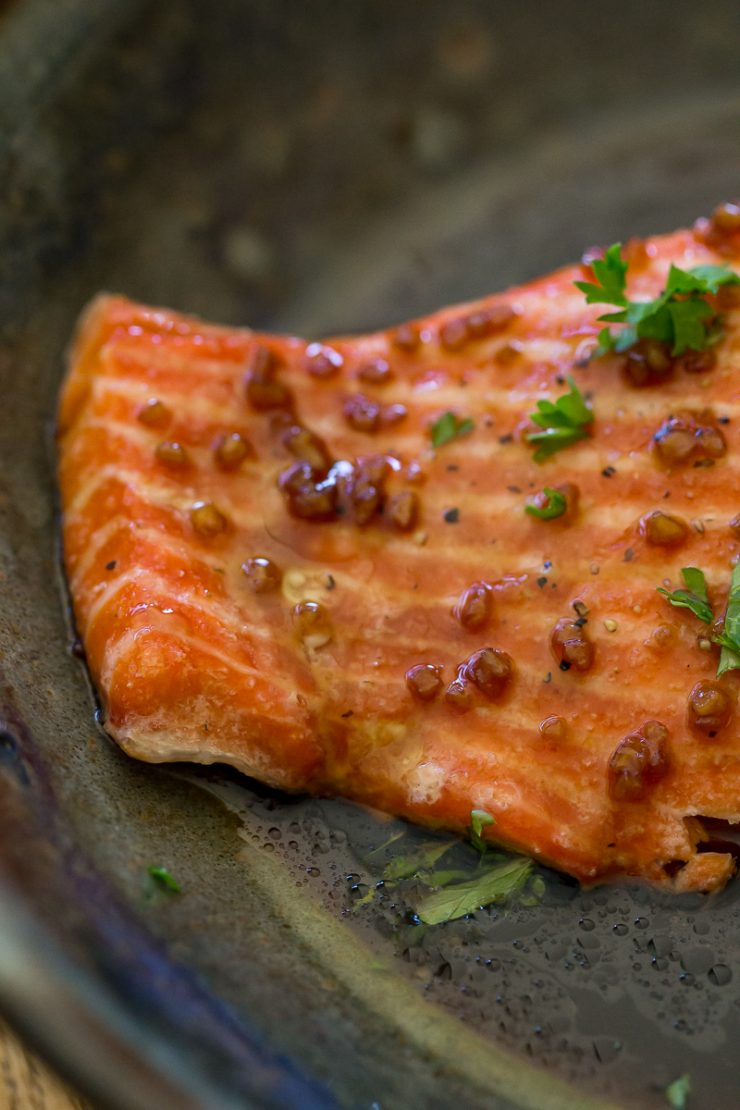 How do you reheat the leftovers?
My favorite way to reheat cooked fish is using the sous vide method. You don't need an actual sous vide machine to make it work, either. You can use a food-safe plastic bag in a pot of water over low heat on the stove. That'll give you the best results with your leftovers, without overcooking the fish in the process.
Plus, people won't hate on you for cooking fish in the microwave either.
Check out our OWYD shop!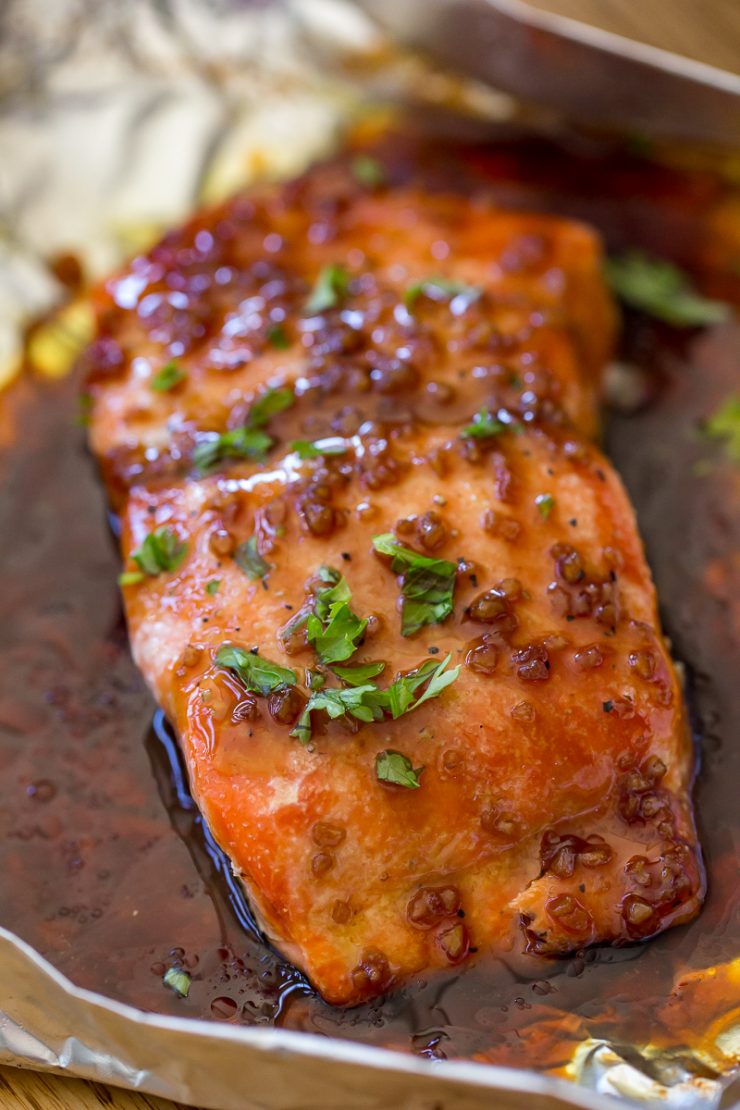 What side dishes can you serve with salmon?
Salmon is really versatile, and I've got a lot of great side dishes that'll work with this dish perfectly.
Follow me on Instagram!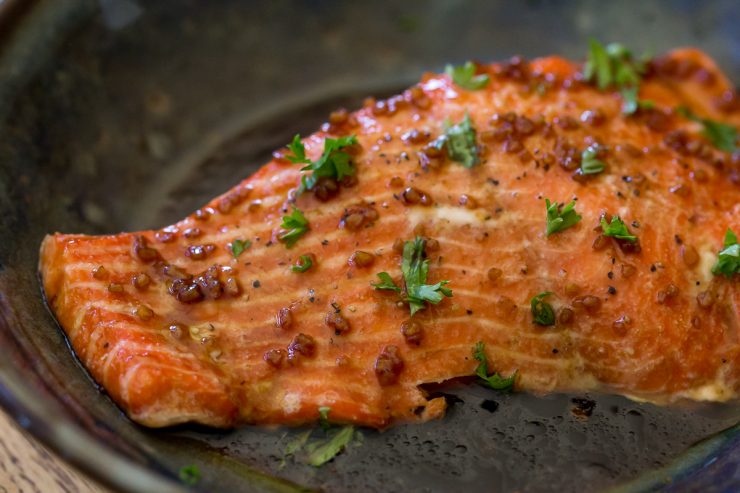 What desserts work well with Grilled Salmon?
So many! With such a simple dinner though, sometimes I like to get a little fancy for dessert. Make one of these to end your meal right!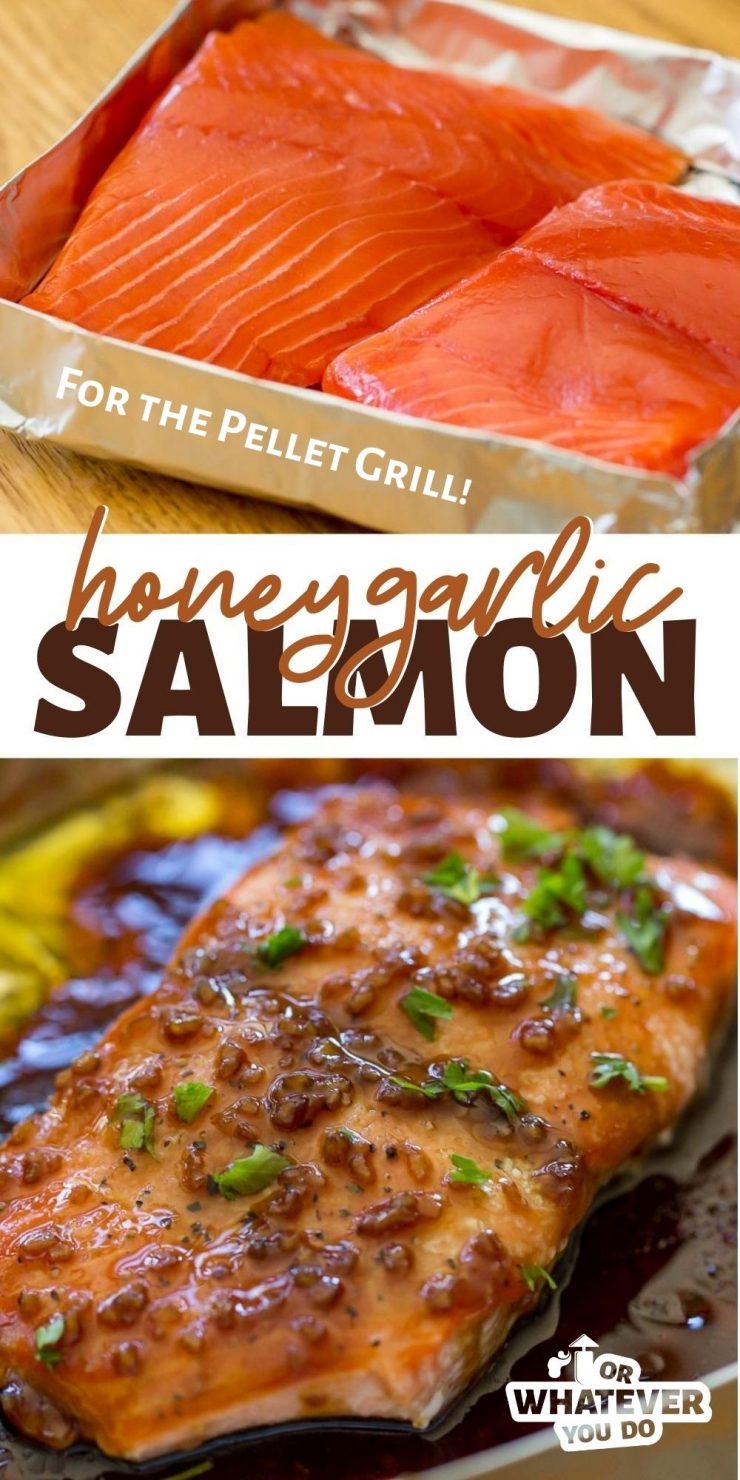 Yield: 6 servings
Traeger Honey Garlic Salmon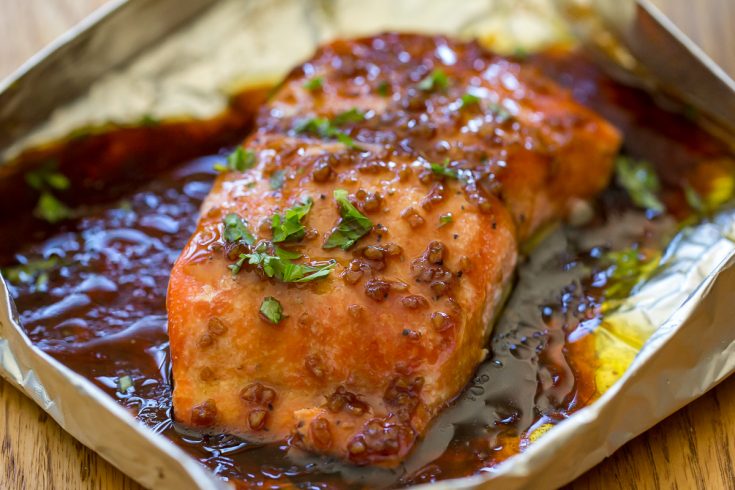 This easy Traeger Honey Garlic Salmon recipe uses fresh fish, simple ingredients, and the magic of your pellet grill to turn the sauce into a sticky, amazing, glaze.
Ingredients
Sauce
3 tablespoons soy sauce
3 tablespoons balsamic vinegar
1/3 cup honey
3 tablespoons butter
2 tablespoons minced garlic
2 tablespoons white wine
Salmon
6 small wild salmon filets
salt
pepper
garlic powder
onion powder
olive oil
Instructions
Preheat your grill to 350°.
Place all of the sauce ingredients into a small, grill-safe non-stick pan. Stir to evenly distribute all of the ingredients.
Make a foil pan with sides out of non-stick foil, or use a pre-made foil pan that's been sprayed with cooking spray. Place the salmon inside, and drizzle with olive oil and sprinkle on the seasonings.
Place both the salmon and the saucepan into your grill, and let cook for 10-20 minutes, or until the salmon is done to your taste. The USDA recommends cooking salmon to 145°.
Keep an eye on the sauce. It just needs to simmer for about 10 minutes and you don't want it to burn. Take care to not put it over a hot-spot.
Remove both from the grill, and pour the sauce over the salmon before serving.
Recommended Products
As an Amazon Associate and member of other affiliate programs, I earn from qualifying purchases.
Nutrition Information:
Yield:
6
Serving Size:
1
Amount Per Serving:
Calories:

619
Total Fat:

36g
Saturated Fat:

9g
Trans Fat:

0g
Unsaturated Fat:

23g
Cholesterol:

158mg
Sodium:

723mg
Carbohydrates:

19g
Fiber:

0g
Sugar:

17g
Protein:

51g
Nutrition data provided here is only an estimate.