This simple Grilled Salmon in Foil utilizes your grill and some heavy-duty foil to cook some of the most delicious salmon you've ever had. Read on to find out which salmon to buy and which to avoid, and what seasoning options work well for foil packet salmon.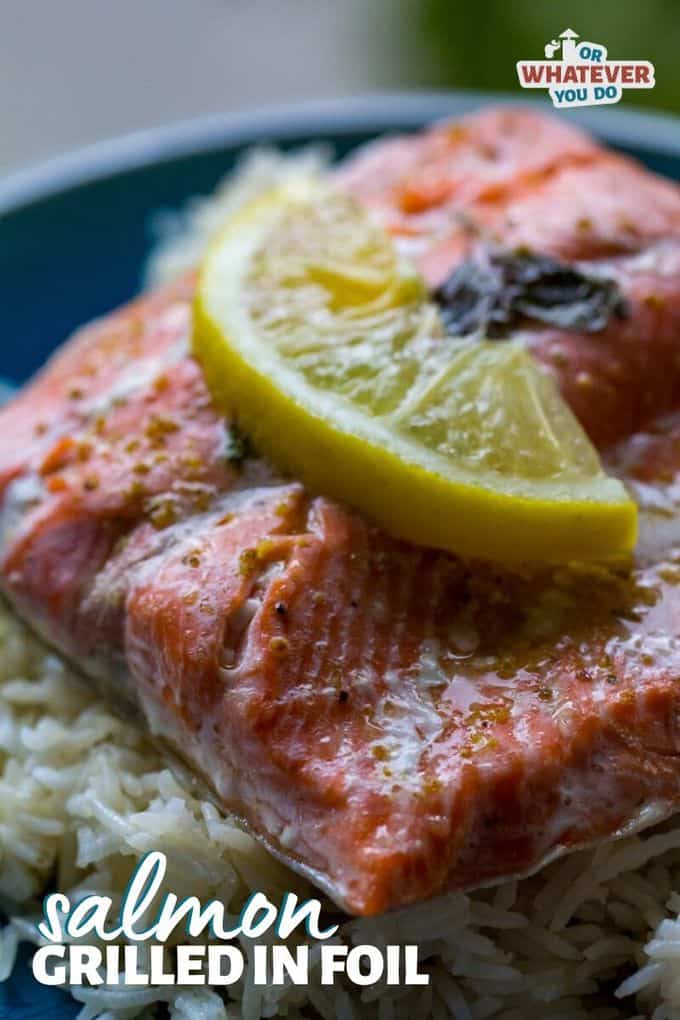 Grilled Salmon in Foil
Foil packet salmon offers many advantages. Essentially, you create a perfect little steam bath to cook your salmon in. The foil packet seals in the flavors and presents a wonderful wisp of steam when you open it.
The salmon cooks in the packet in its own juices, so it gets the best qualities of baked and steamed salmon. You can either open and serve on plates, or let everyone open his or her own at the table.
Another bonus, clean up is a cinch!
If you end up with leftovers, then be sure to use it up quickly with a delicious salmon sandwich.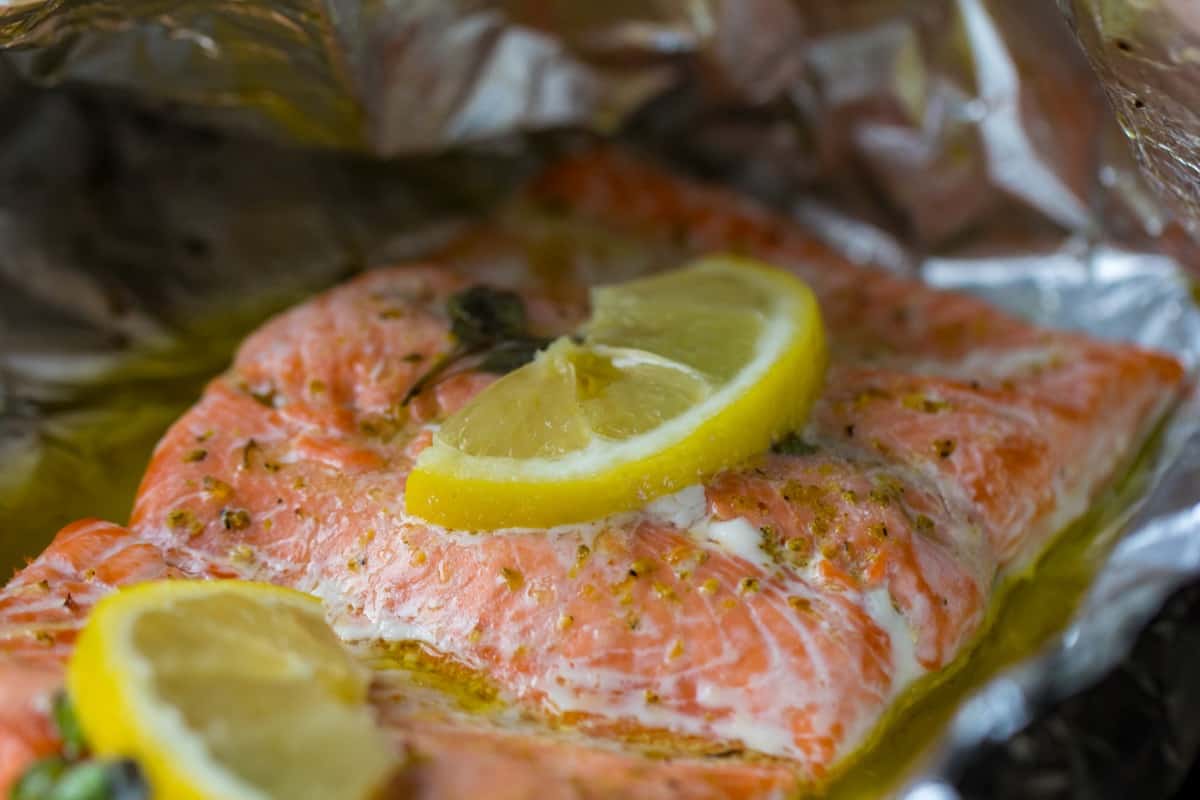 What kind of seasoning works well on foil packet salmon?
Salmon is great because it is so versatile. You can do a really simple salt & pepper with lemon slices, you can toss in some garlic-heavy seasoning with butter, you can even pour teriyaki sauce on it before you seal it up. There are very few wrong answers when it comes to seasoning salmon.
For this recipe, we used Traeger's Fin and Feather seasoning blend.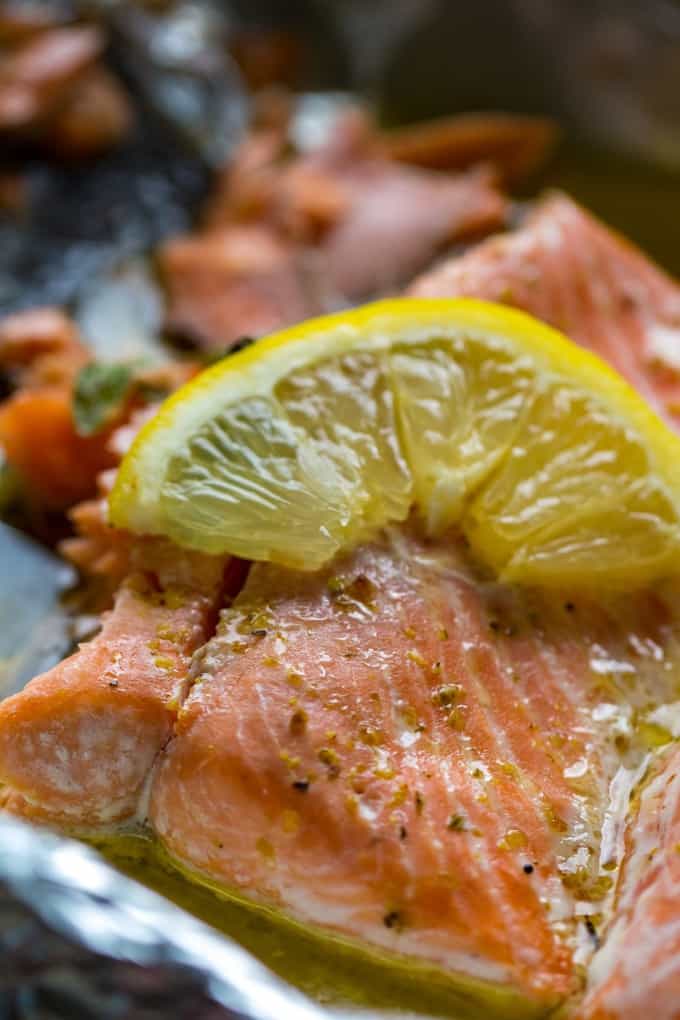 Getting Your Foil Packet Just Right
When cooking salmon in foil, you want a nice sealed foil tent. Use enough foil so you can make a nice solid seal, but leave plenty of space.
The salmon should not be wrapped tightly because you want to create a sealed "tent" around the salmon. All that room around the fish permits the steam to cook the salmon evenly.
So, make sure to use enough foil per piece. Lay the salmon in the middle, then lift the sides and bring them together over the piece of salmon. It will look like the salmon is safe and secure in a pup tent.
Roll the edge of the foil where they come together. You want that seal tight. The tighter the better. Keeping all the steam inside is a win.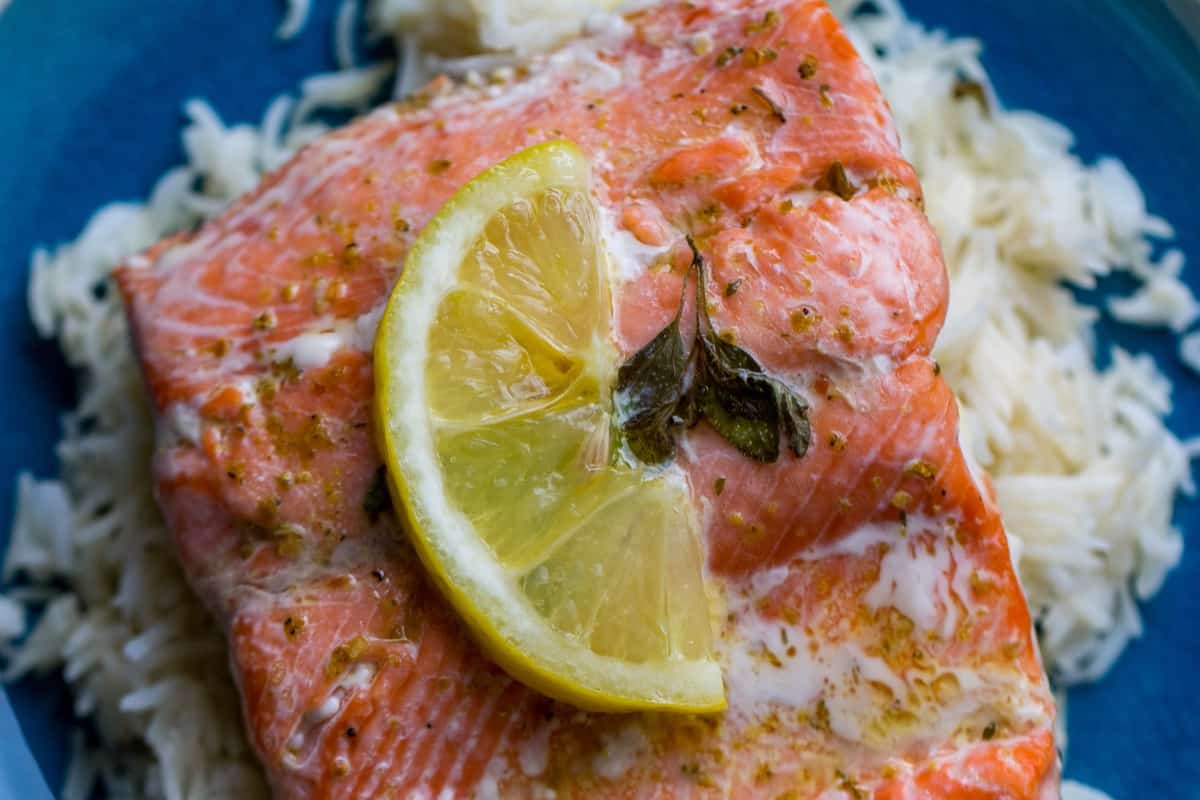 Don't Overcook Your Salmon!
Even though you are cooking with steam, you still want to avoid overcooking the salmon. Medium rare salmon is best for fresh salmon. Cooking it past that point just dries it out and makes the texture far less appetizing.
If you are cooking one inch thick bone-in fillets, then you can expect it to be done in 15 to 20 minutes at about 350 to 375 degrees f. If you are doing a thin slice of the tail end, a half-inch or less thick, then it will be about half that.
Salmon cooks quickly. The one thing about foil tenting it – you can't see or test easily for doneness. So you have to trust in time and temperature to do the job.
When it is getting close you CAN temp it through the foil, but that'll poke a hole and let some of the steam escape.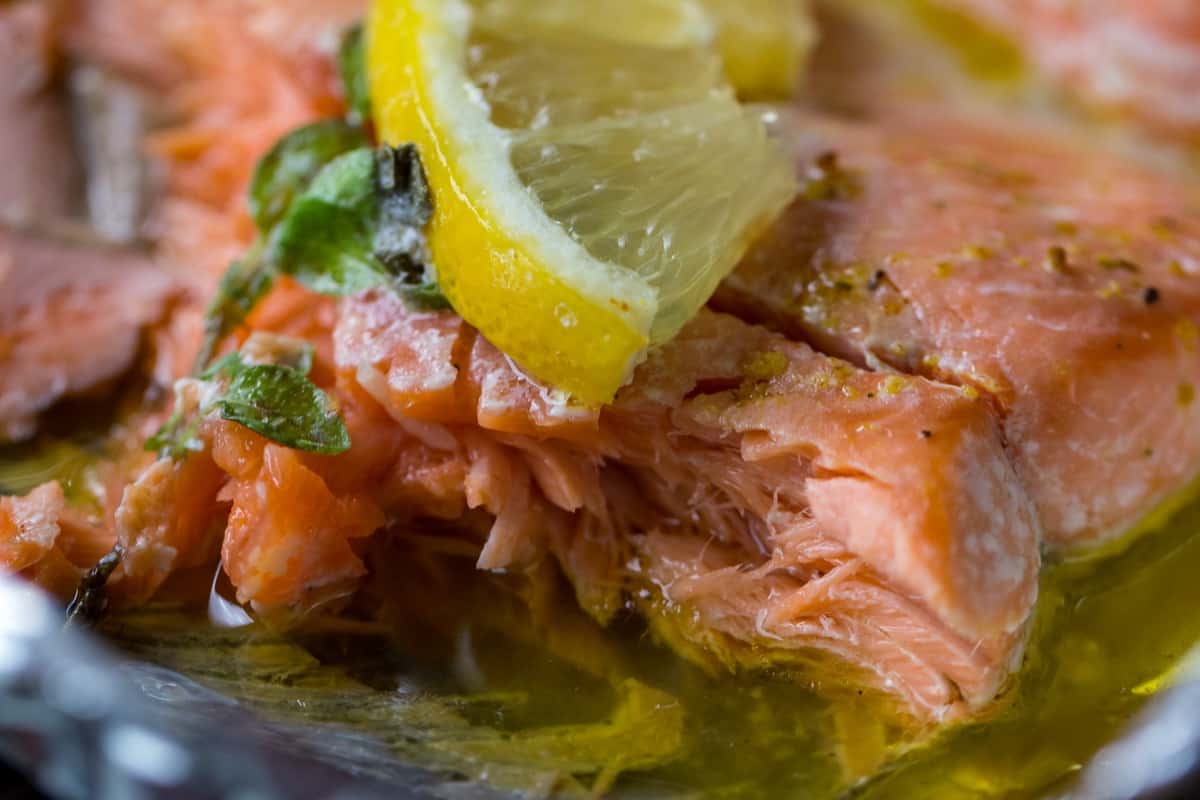 Make Sure To Pour the Foil Liquids On Your Fish
The melted butter, salmon fats, seasonings, and lemon that come out of these packets at the end of the cook time are liquid gold. If you are not eating these right out of the foil, then make sure to pour your lemon sauce over the fish.
All too often, people pour that out or forget about it. It is a ready made sauce that is perfect for you salmon. Plus it is great on a piece of bread or a scoop of rice too.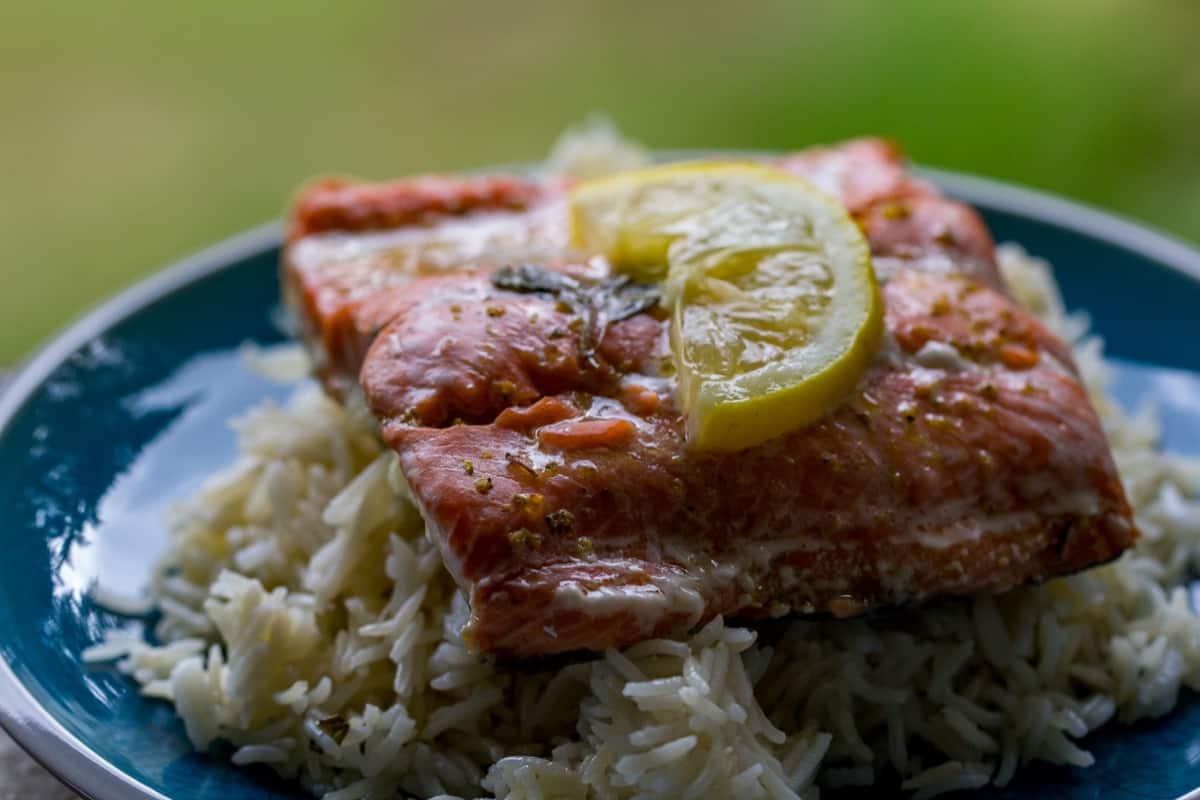 Choosing The Right Salmon
The most important part of ensuring you have a good end result is to make sure you start with a quality piece of fish. This doesn't necessarily have to mean fresh salmon. You can actually find decent frozen cuts of salmon that will work too. The real key is to find WILD caught salmon and not farmed salmon. The difference in taste is HUGE.
If you do go with fresh, look for it to be shiny and oily looking. If there is a dullness to it or any discoloration, leave it at the store.
Knowing what type of salmon you are buying helps too.
Chinook (aka King) is fatty and is delicious for almost any dish you want to make.
Coho (aka Silver) salmon is smaller than Chinook/King salmon, but just as delicious. We eat a lot of Coho and King salmon in this house!
Sockeye is more flavorful but less fatty and works well too.
Chum is not great for anything other than cat food, don't spend your money on it.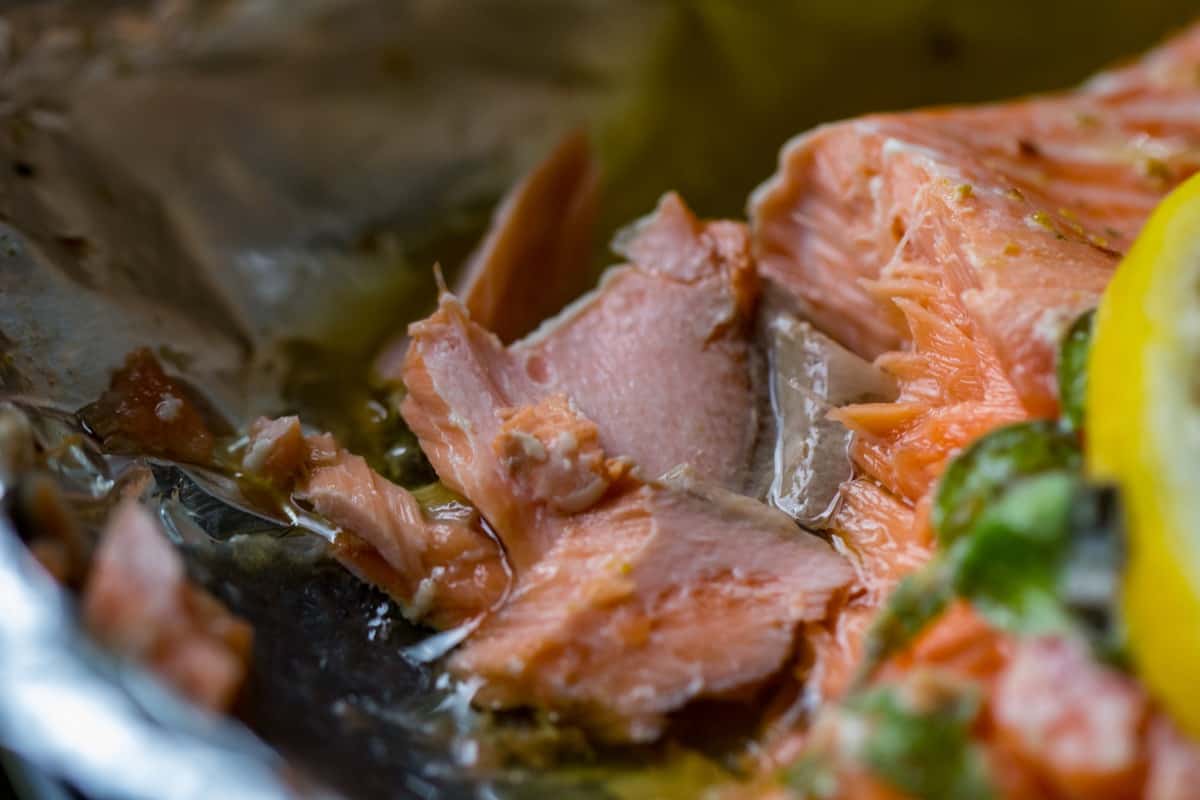 Do I have to cook this on the grill?
Nope! Because this dish is wrapped in foil, it really isn't going to have any additional flavor added from the grill. The benefit of cooking this outside is to not have to turn on your oven, to be able to cook when the power goes out (if you use a gas grill or charcoal), or on the go when you are camping.
That means, cooking it in an oven, or even a single-serving in something like an air fryer is totally acceptable. I've even heard of people doing these in the Instant Pot.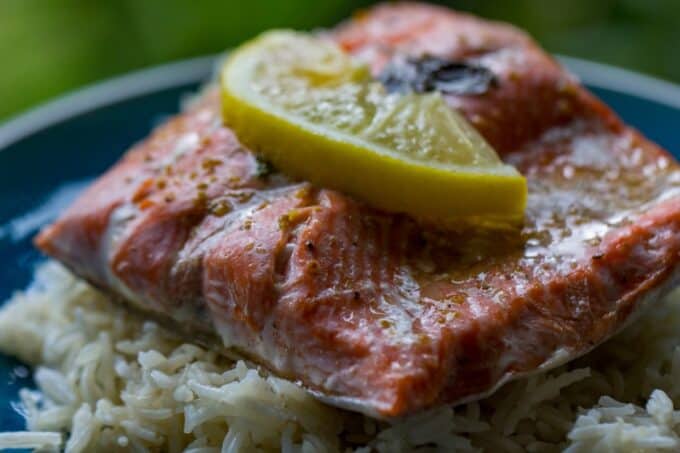 Do you have other great salmon recipes?
Salmon is perfect for foil wrapping, but it goes works well in so many other ways too. Here are a few of my favorite salmon recipes, and for the complete list, check out the link below.
More Salmon Recipes!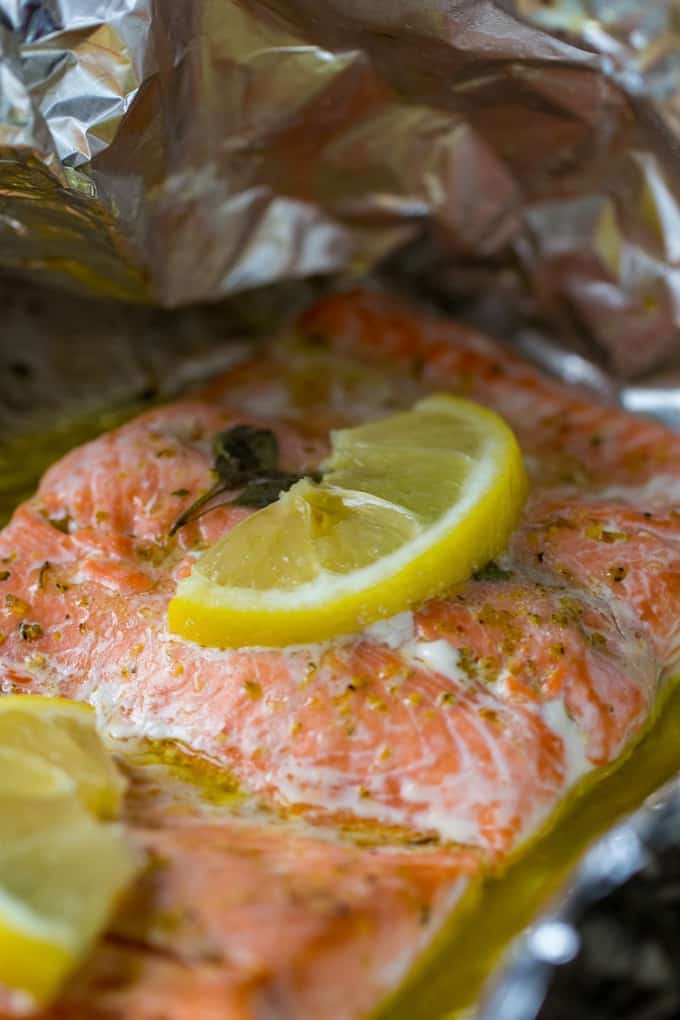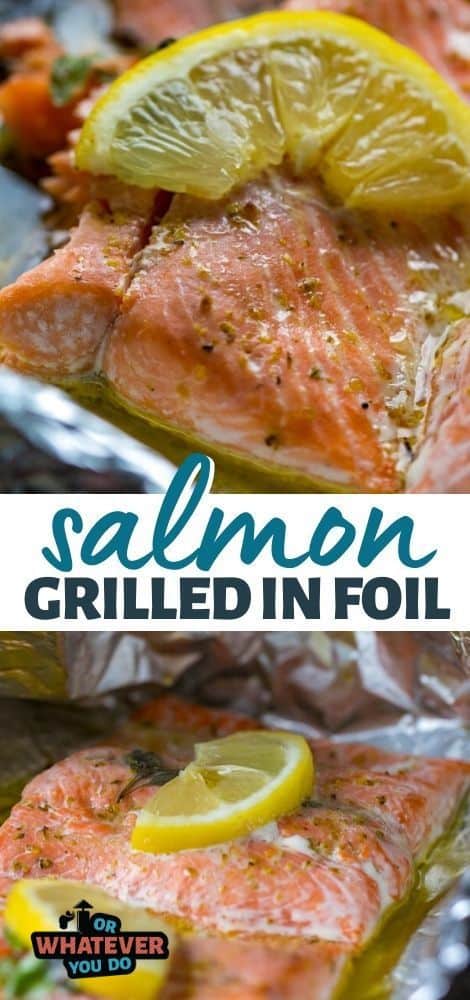 Yield: 4 servings
Grilled Salmon in Foil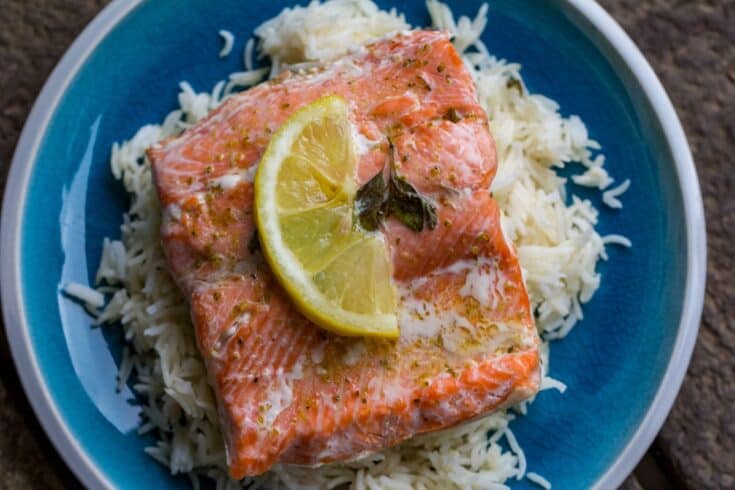 Easy Grilled Salmon in Foil is a fool-proof way to have tender, perfectly-cooked salmon filets every time.
Ingredients
1 large salmon filet (cut into four single-serving pieces)
4 slices lemon
1 tablespoon Fin & Feather seasoning (see notes for substitutions)
4 teaspoons butter
Instructions
Preheat your grill 350-375°.
Lay out 4 pieces of heavy-duty foil that are 3x's as wide and 3x's as long as your salmon. Lightly spray the inside of your foil with cooking spray, or use non-stick foil.
Place the salmon fillets in the middle of the foil packets and sprinkle with seasoning. Place a pat of butter on top and a lemon slice.
Fold the foil up and around the salmon, and seal down the middle and at the ends.
Place the packet on the grill over indirect heat. Grill for 15-20 minutes, or until the internal temperature of the salmon reaches 120° for medium-rare, or 130° for medium to medium-well. If you like your salmon fully cooked and flaky all the way through, you can go up to 145°. Just remember the fish will continue to cook while it rests, so pull it at about 5° under what you'd like it to end up at.
Recommended Products
As an Amazon Associate and member of other affiliate programs, I earn from qualifying purchases.
Nutrition Information:
Yield:
4
Serving Size:
1
Amount Per Serving:
Calories:

155
Total Fat:

11g
Saturated Fat:

4g
Trans Fat:

0g
Unsaturated Fat:

6g
Cholesterol:

46mg
Sodium:

1205mg
Carbohydrates:

1g
Fiber:

0g
Sugar:

0g
Protein:

13g
Nutrition data provided here is only an estimate. If you are tracking these things for medical purposes please consult an outside, trusted source. Thanks!