My Beer Battered Fish Nuggets are my new favorite way to eat white fish. Beer batter coats delicate chunks of white fish and then gets a quick fry in hot oil to make the most pillowy, delicious fish baskets that I've ever had.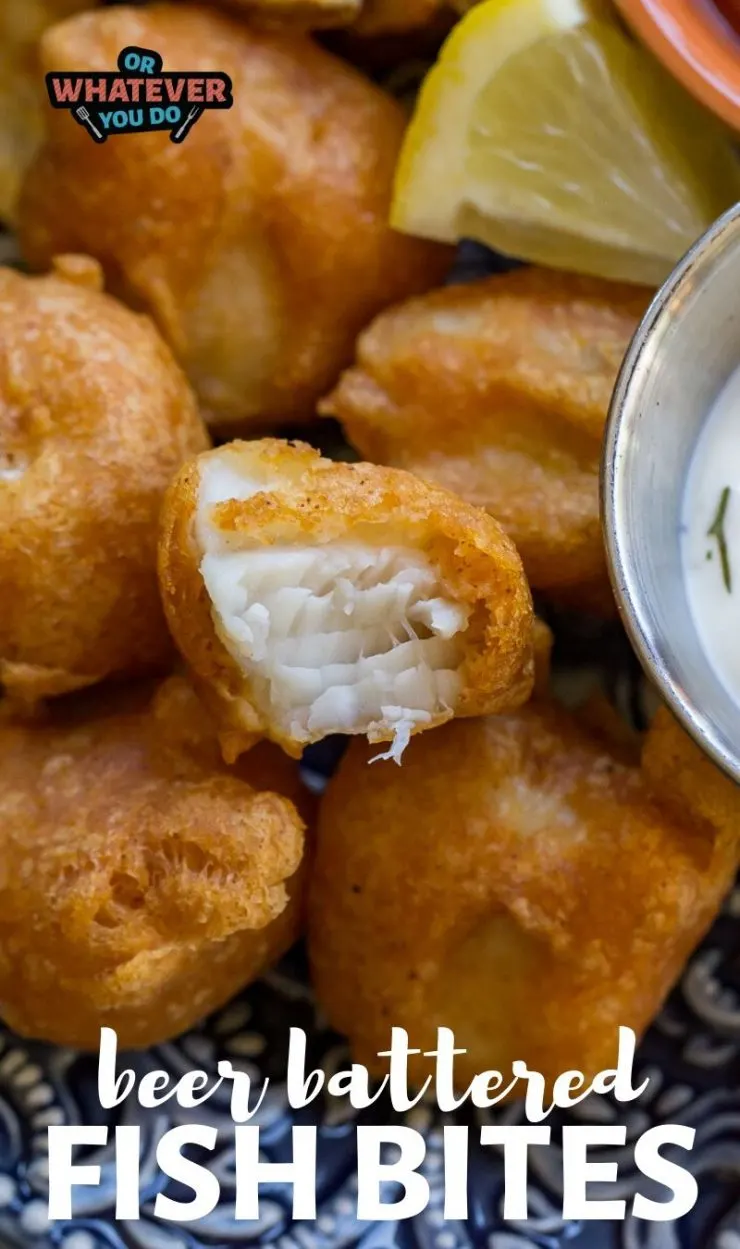 Beer Battered Fish Nuggets
We eat a LOT of fish around here. But, not enough, evidently, since I literally have to beg for a little room in our chest freezer for some frozen pizzas and ice cream since it is crammed to the gills with fish.
If there were freezers to be had right now, I'd have one JUST for "not fish" if only to make sure that I could order as many frozen goods as I want.
Salmon, rockfish, and lingcod are the majority of what we have on offer at our place, and I'm thankful for every bite.
Get all of my FISH recipes!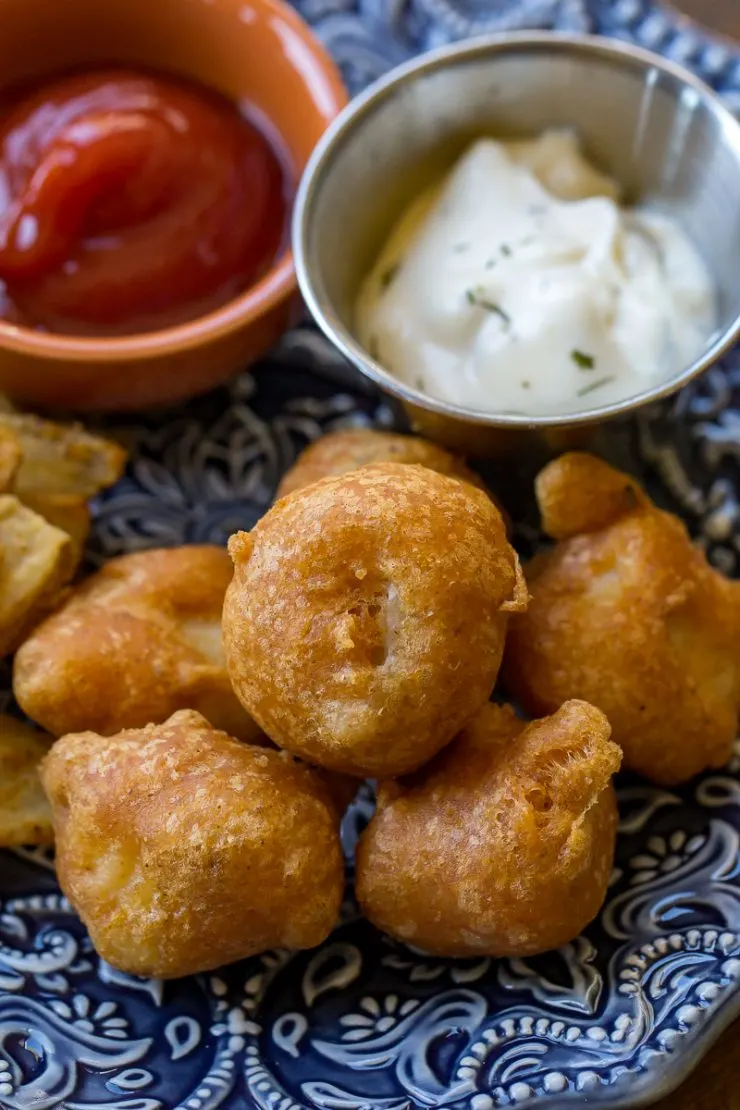 What kind of fish can you use to make fish nuggets?
Any kind of firm whitefish would work well here. We typically use:
rockfish
cod
lingcod
halibut
walleye
pollock
haddock
Get more awesome Appetizer Recipes!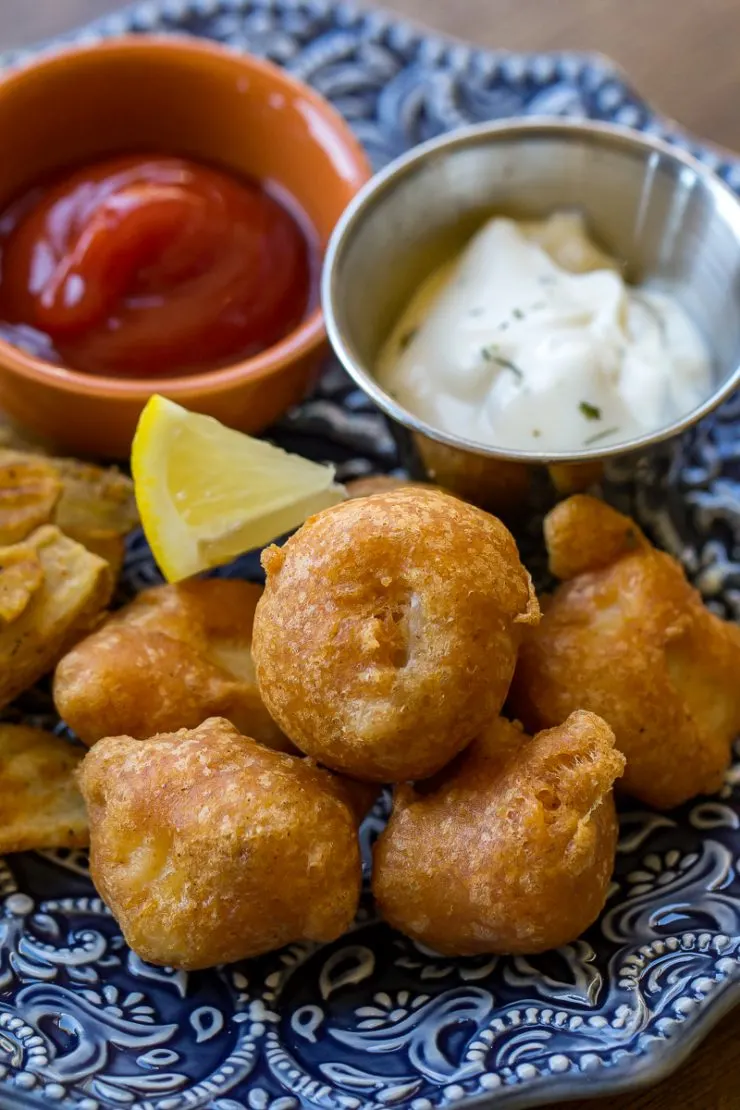 What else can you beer batter?
Beer batter is life, and you're going to want to keep this recipe around for a long while and use it to make:
Onion rings
Cauliflower
Zucchini
Chicken nuggets
Shrimp
Potatoes
You might need some Greek Salad in your life after all of this!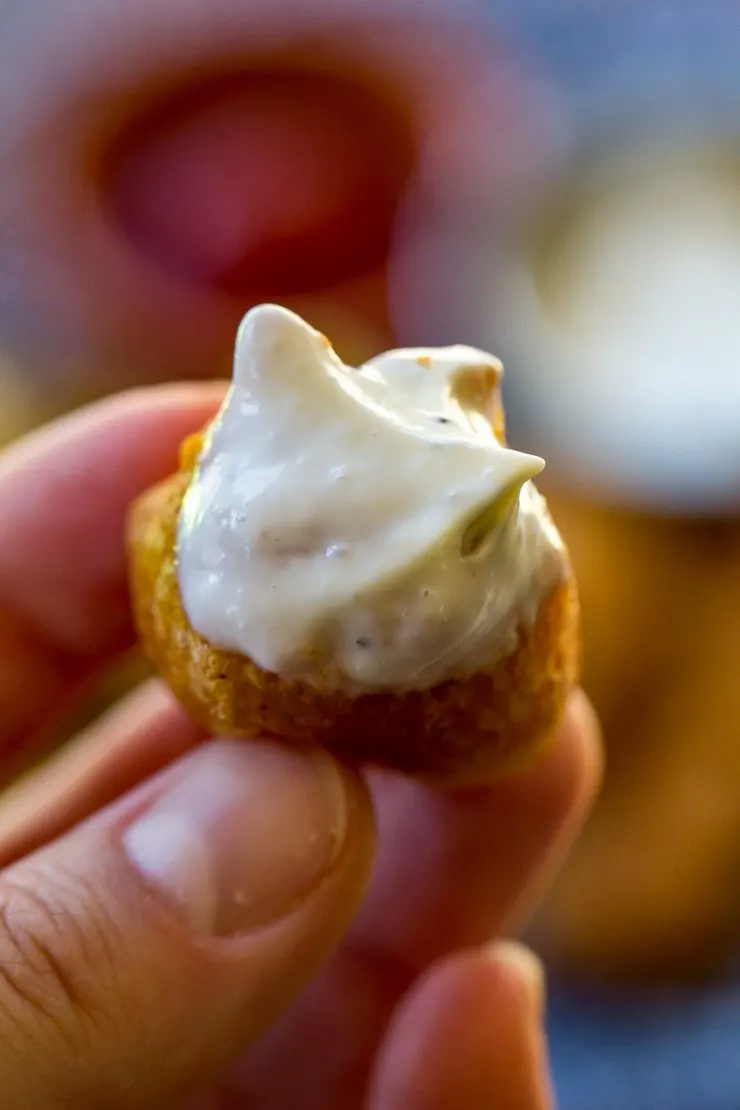 Beer Battered Fish Nuggets Shopping List
Whitefish
Amber beer
Baking powder
Flour (all-purpose)
Salt & pepper
Try our Cornmeal Fried Fish too!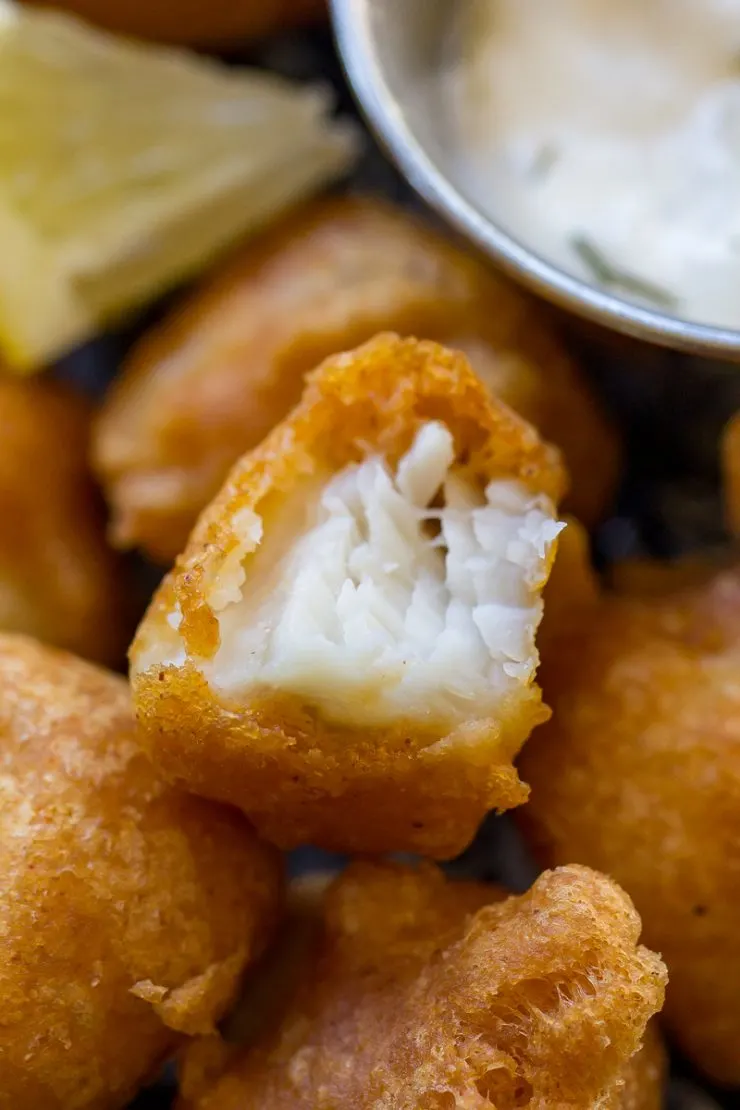 How to make beer battered fish nuggets
The key to a successful batter is allllll in the order that you are doing your dipping. With a panko-style batter, we always do flour, egg wash, flour, egg wash, panko.
Since this isn't a breading, but is a batter, the process is a bit simpler. The key is still the flour dredge, though.
The steps are easy! Here's an overview so you know what you're getting into.
Cut up the fish.
Mix up the flour and the batter.
Dip the fish.
Fry.
Eat.
Love.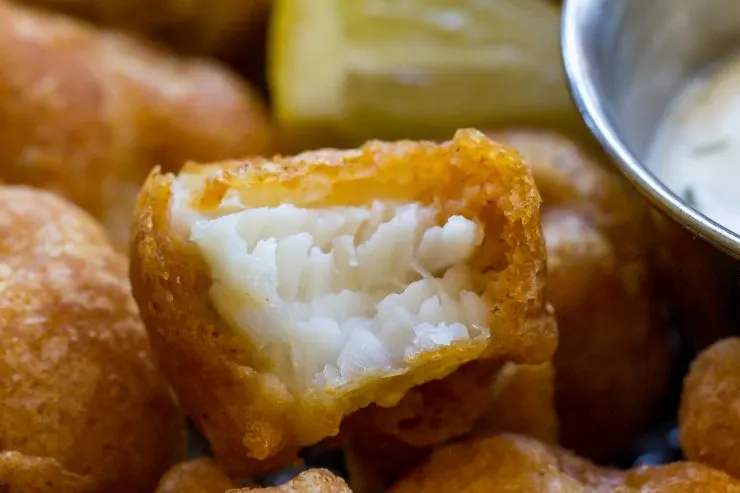 Tips for perfect fish nuggets
You want these to be bite-sized poppers or two bites at most. The batter expands a little so be aware when you are chunking the fish out.
Use a good beer! It is the base of the batter and it matters!
Wait for that oil to get to temp, and be sure. Instant Read thermometers are your friend.
Have the sides ready to go! If you are making chips/fries to go with, get them at least 3/4 cooked when you start. The fish bites go fast once you start frying!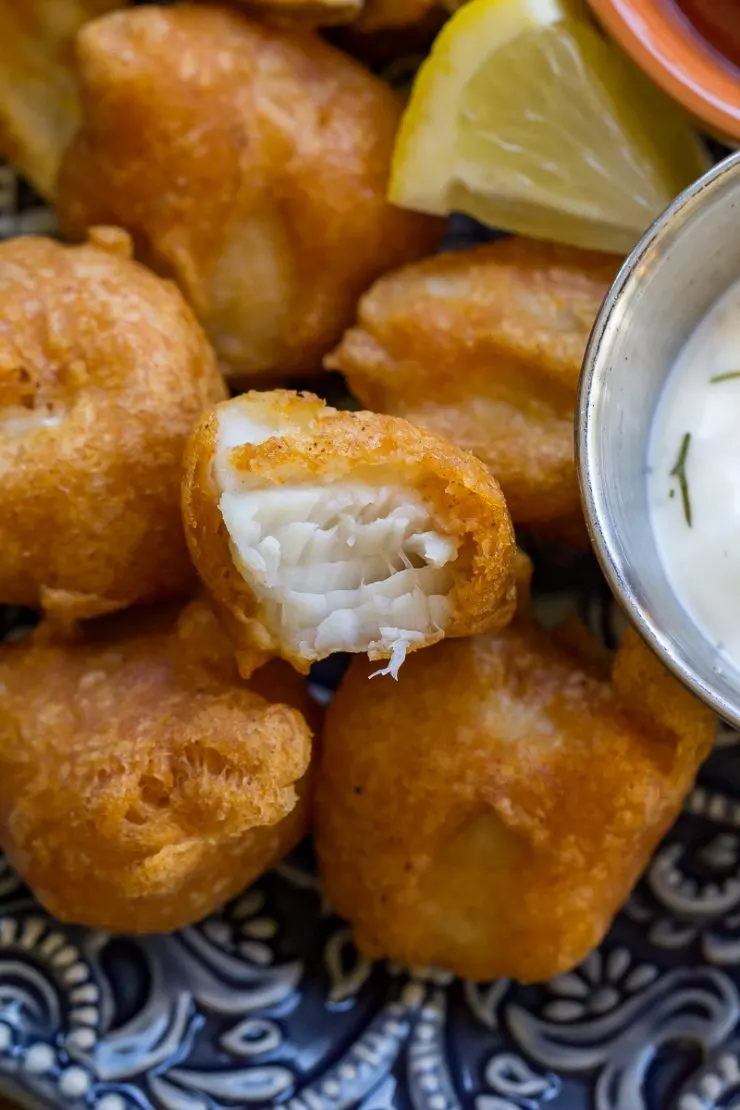 How do you store leftover fish nuggets?
Anything you aren't going to eat in a day or two, I would freeze on a cookie sheet for a day, and then transfer to a freezer baggie.
If you are going to eat them in a day or two, any covered container in the fridge works! Throw a paper towel around them to catch any condensation and prevent them from getting soggy.
Making sure that they aren't too hot when they go into the fridge helps prevent sogginess too!
Make some Homemade Tartar Sauce!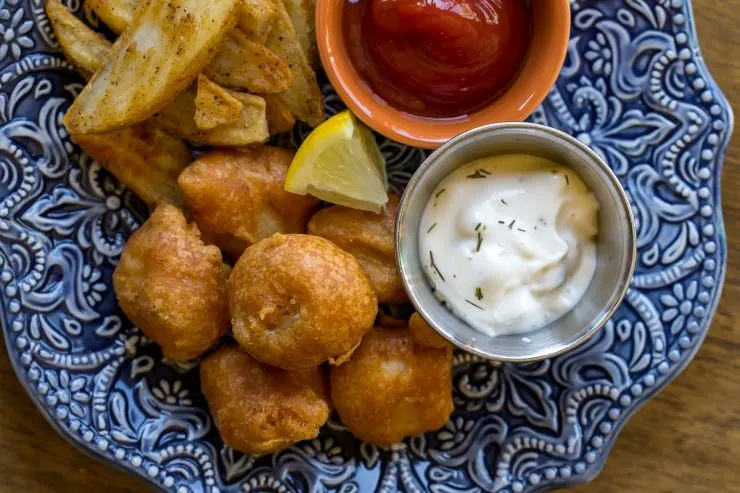 What's the best way to reheat fish nuggets?
Breaded foods are the mortal enemy of a microwave reheat, so keep them far out of there.
For fish nuggets, you'll want a quick trip into the oven or air fryer at about 375°. Heat until they are heated through and the exterior is a little crispy, and then eat!
Try with our "Better Than KFC" Coleslaw!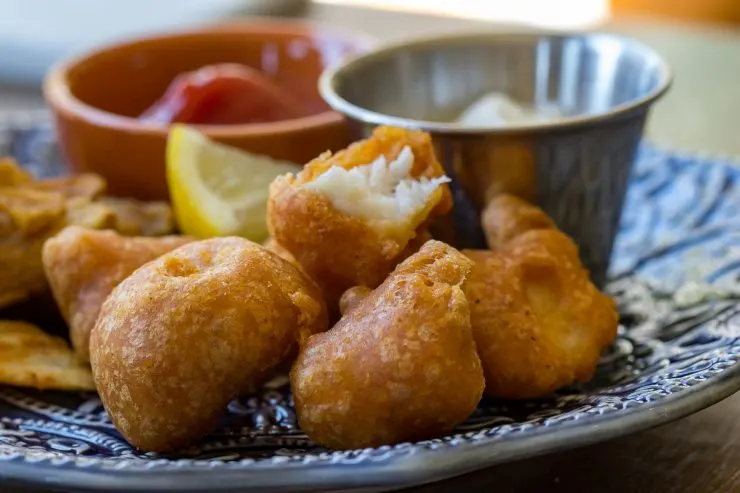 What can you serve with beer battered fish?
I like to serve these with homemade crispy french fries or potato wedges, myself.
You might also like to check out my grilled smashed potatoes, this mac and cheese, and definitely my coleslaw with vinegar.
Yield: 12 servings
Beer Battered Fish Bites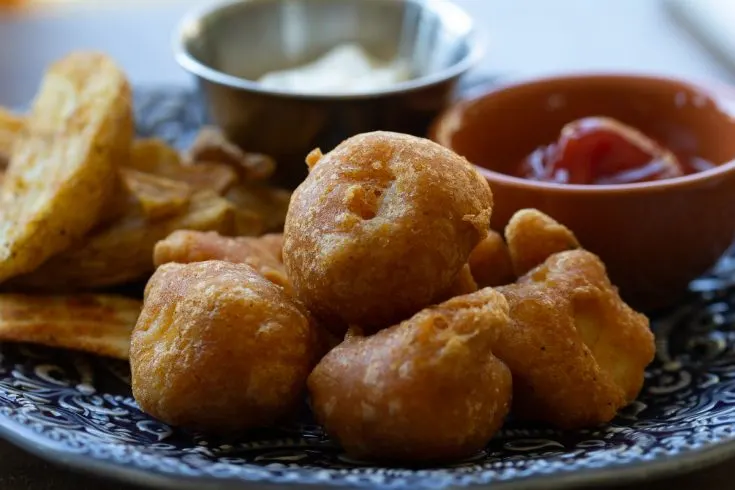 Homemade beer battered fish nuggets are now a staple in our house. They are so easy, and so delicious! Make them with any firm whitefish.
Ingredients
2 pounds boneless skinless fish filets
4 cups oil
Dusting Mix
1/2 cup all-purpose flour
1/2 teaspoon salt
1 teaspoon paprika
Batter
1 cup all-purpose flour
12 ounces Amber beer (like Fat Tire, or Alaskan Amber)
1 teaspoon salt
1/4 teaspoon white pepper
1/4 teaspoon cayenne pepper
1 tablespoon paprika
1/4 teaspoon black pepper
1 tablespoon baking powder
Instructions
Cut fish into 1/2"-3/4" cubes and set aside.
Pour the oil into a medium-sized saucepan and put it on the stove on medium-high.
While the oil is heating, mix together the dusting ingredients in a separate bowl.
Mix all dry ingredients thoroughly and then add the beer.
Mix until there are no lumps and the batter is the consistency of pancake batter.
Check the temperature of your oil with a thermometer. When it is 350°, you are ready to fry.
Take about a third of your fish and dredge it into the dusting flour. Shake off the excess flour.
Next, put the fish chunks into the beer batter, lift out letting excess drip off, and then lower into the oil.
Let the fish fry for two to three minutes and remove it from the oil when it is golden brown.
Place the fish on a plate or bowl that is lined with paper towels in order to catch any excess oil.
Repeat the dredging and frying process for the rest of your fish and then you are ready to eat.
Serve with lemon and tartar sauce!

Recommended Products
As an Amazon Associate and member of other affiliate programs, I earn from qualifying purchases.
Nutrition Information:
Yield:
8
Serving Size:
1
Amount Per Serving:
Calories:

264
Total Fat:

1g
Saturated Fat:

0g
Trans Fat:

0g
Unsaturated Fat:

1g
Cholesterol:

107mg
Sodium:

711mg
Carbohydrates:

27g
Fiber:

1g
Sugar:

0g
Protein:

31g
Nutrition data provided here is only an estimate.