Our Traeger Halibut with Parmesan Crust was SO easy, took just 20 minutes to make, and was easily one of my favorite pieces of halibut I've had all year.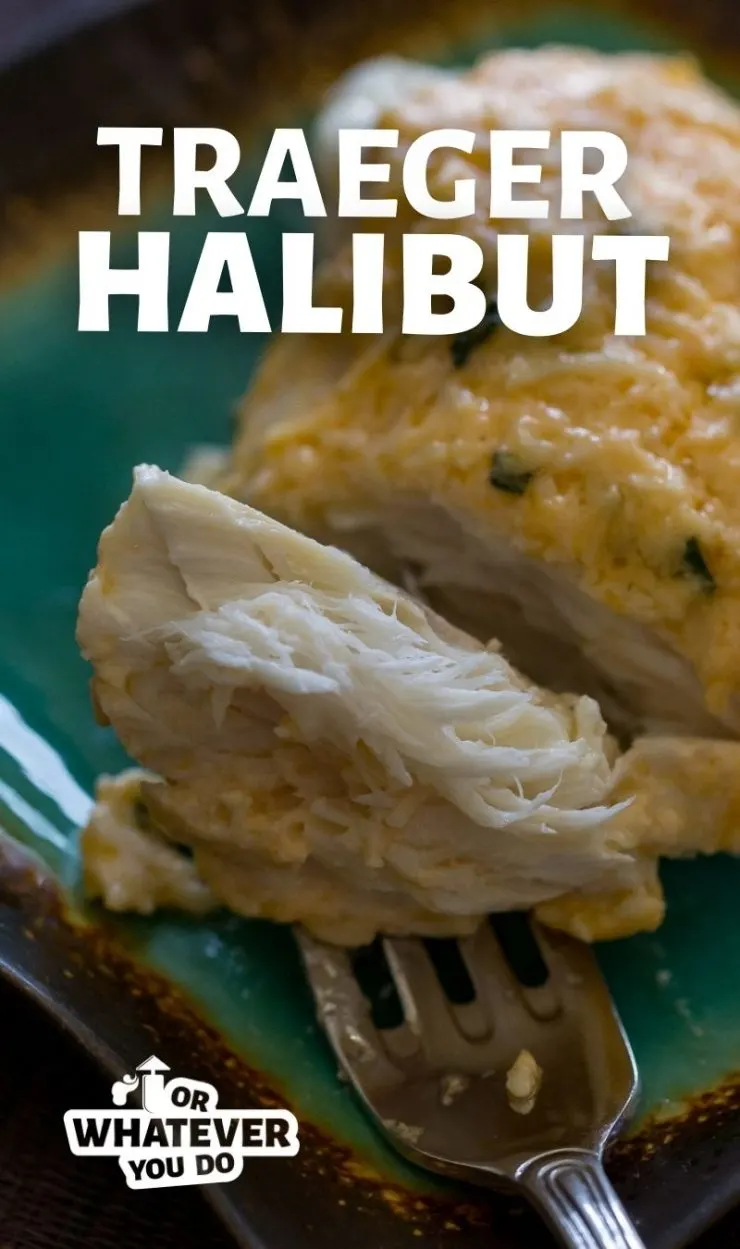 Traeger Halibut with Parmesan Crust
We love halibut, and it is a good thing because we caught a LOT of it this year.
23, in fact.
One of the good things of having a lot of kids is having a lot of limits, right? Tell that to my 14 freezers currently on-site though.
It means we never have a shortage of fresh fish and seafood, but this was the first year we've been so successful with Halibut.
More Easy Traeger Recipes here!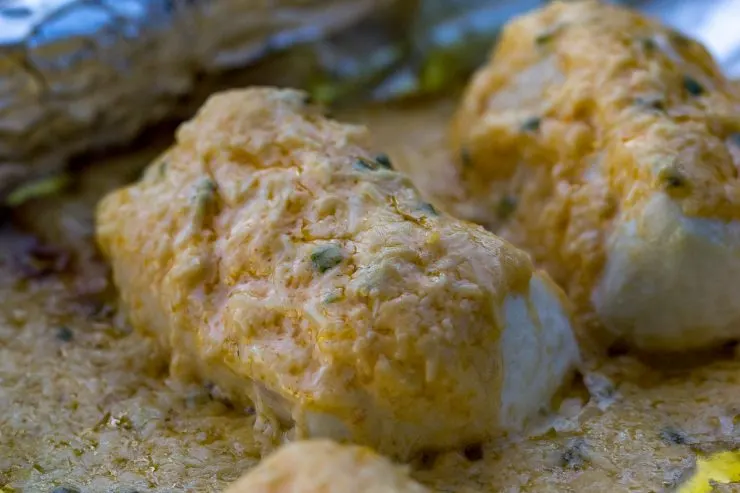 Halibut fishing off the Washington coast
Jeremiah and the boys do a lot of fishing off the Washington coast. There's a spot near to Cape Flattery called the Garbage Dump that's popular with the local (and not so local) anglers. There were also some pulled out of Pillar Point, Sekiu, Table Top, Slip Point, Point Anderson, and Umatilla Reef.
The video below is NOT from a trip that we caught any halibut on, but it is in the same general area and includes some of the most beautiful scenery that I've ever seen, so maybe you'll want to see it too.
Also, check out our gallery with all of our halibut pictures!
Life Currents Blog
This recipe comes to you from the Life Currents blog, from Debi Wayland.
Debi might not know this, but her Facebook posts are one of my favorite things about Facebook right now.
She's always out exploring nature, sharing photos and information about what she's shooting, and making witty observations about the world.
Debi lives in California and is really dedicated to healthy eating. After being a vegetarian for a long time, she's branched out a bit into fish and seafood and I could not be happier because it brought to me this awesome Parmesan Baked Halibut recipe.
She's doing the "staycation" right, during the craziness that 2020 has brought us, and following along virtually on her adventures has definitely brightened my day, on more than one occasion.
Make sure to check out her No-Knead Parmesan Rosemary Bread and these Smoked Garlic Almonds!
Follow me on Instagram!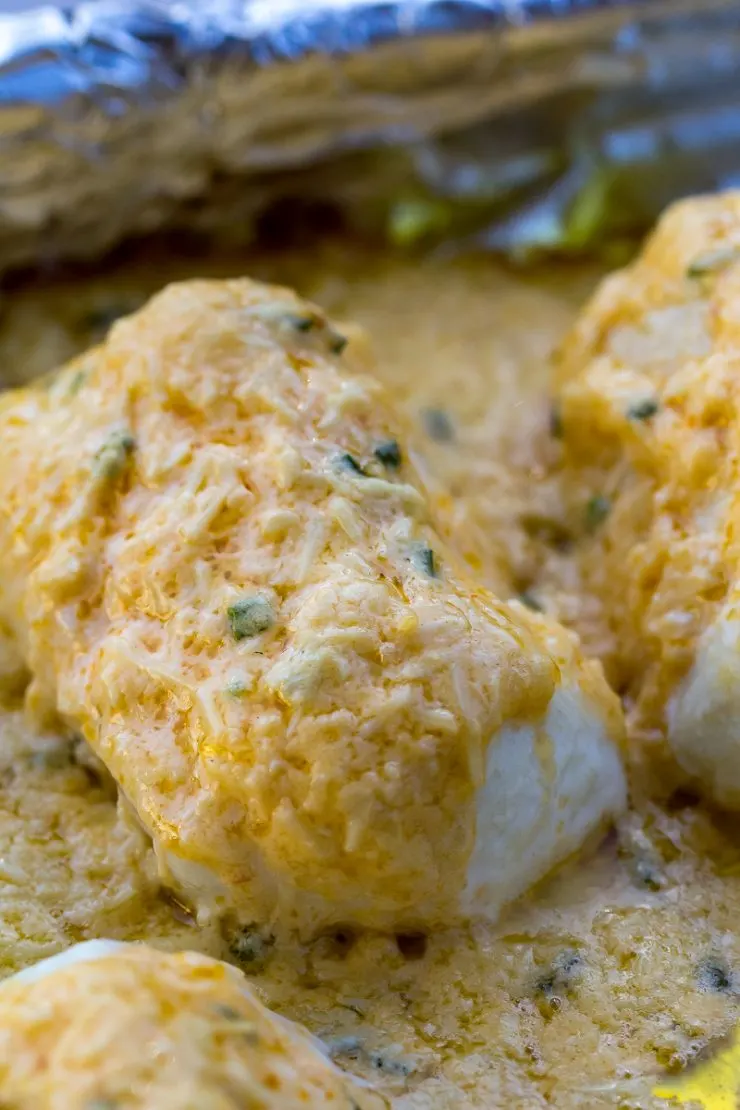 Freaky Friday Recipes
This recipe is a part of the Freaky Friday Recipe Swap that is organized by the talented and wonderful Michaela, from An Affair From the Heart. She's one of my favoriteeeeee people that I've met in the blogging world.
Back when travel was still a thing, I made my first ever trip to Nebraska to spend a few days with her and her blogging crew to talk all things blogging, learn what a Runza is and why I needed them in my life (and on my Blackstone), and to sing crazy karaoke songs in random Omaha beer bars with lots of college kids hanging out on a random weekday night.
Her Salisbury Steak Meatballs are at the top of my "must make" list this fall.
This job is crazy and fun sometimes.
Take a look at all of our 2020 Freaky Friday Fall Edition Recipes: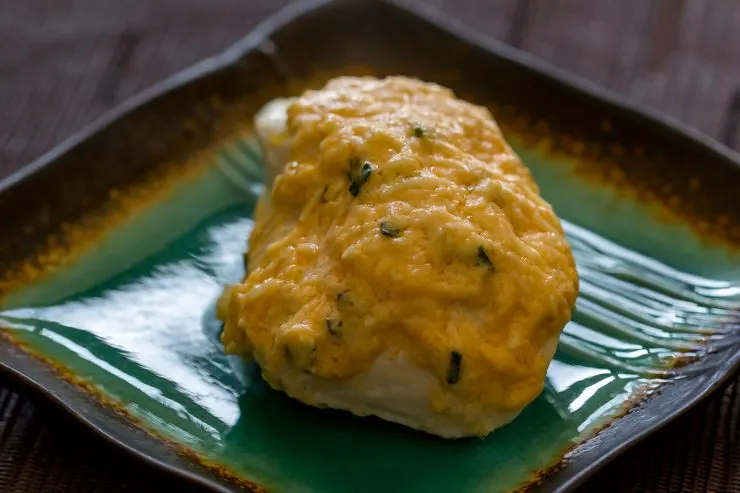 How to make Traeger Halibut with Parmesan Crust
Halibut is an easy fish to cook well, and this recipe is so simple – you're going to freak out.
Preheat your pellet grill to 375°.
Throw the Halibut on some parchment paper.
Mix the topping. Spread it over the fish.
Toss it in the Traeger and grill it.
Love it. Share it. Save it.
More Cocktail Recipes here!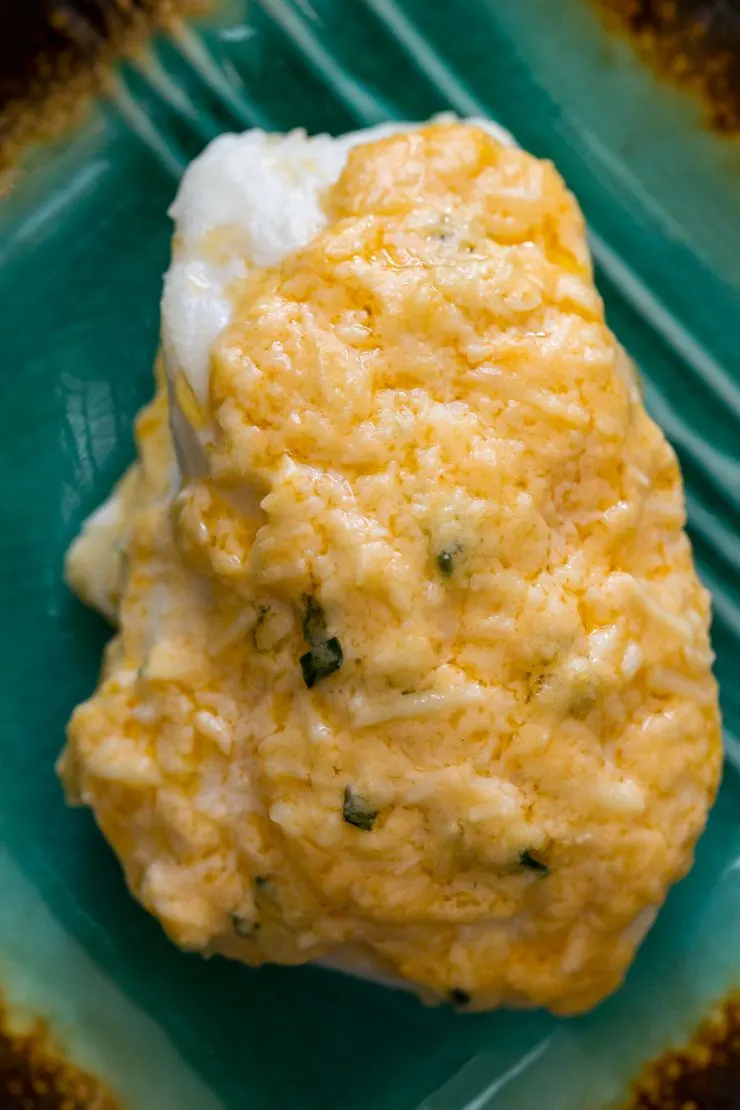 Grilled Parmesan-Crusted Halibut shopping list
Parmesan
Butter
Halibut
Mayo
Sour Cream
Chives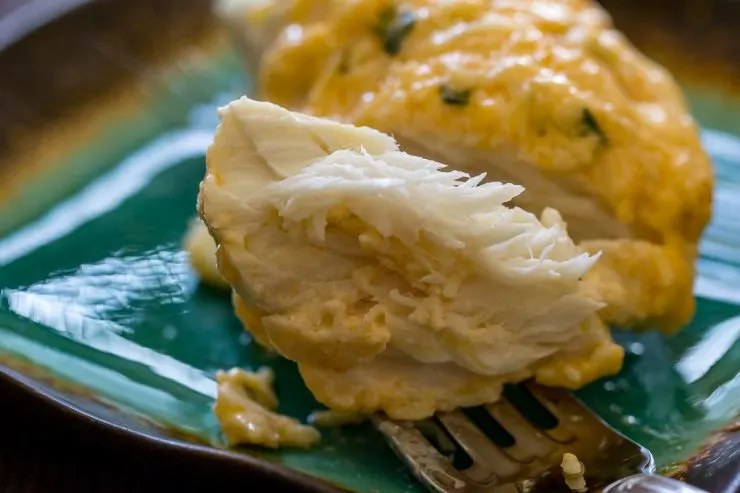 Can you cook this in an oven?
You sure can! In fact, Debi's recipe is developed for the oven. If you don't have a pellet grill, don't let that stop you from enjoying this recipe.
This soup would be great with Bread Sticks!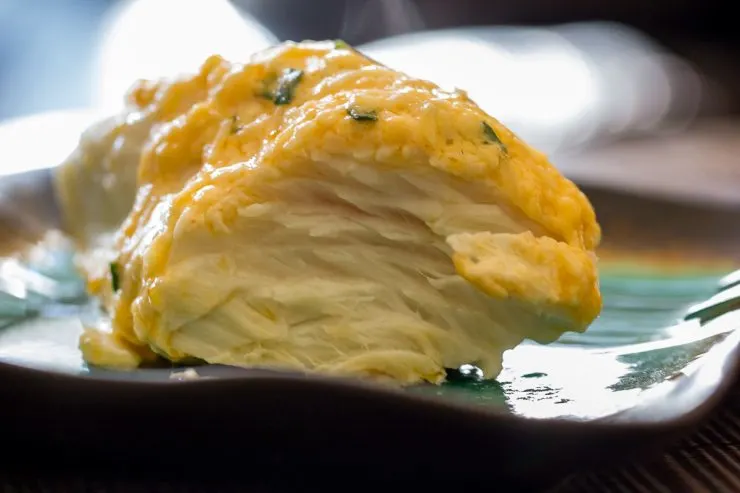 Do you have to use halibut?
Nope! Any firm white fish would work with this recipe, so get crazy. I'd use this for walleye, cod, grouper, or haddock too.
What else could you serve with Traeger Grilled Halibut
Lots of things!
First, I always love doing green salads with fish, and I think my Greek Salad would be perfect for this.
Another dish that is perfect with this fish is a wild rice pilaf.
If you are in more of a potato mood, I'd recommend my Traeger Smashed Potatoes.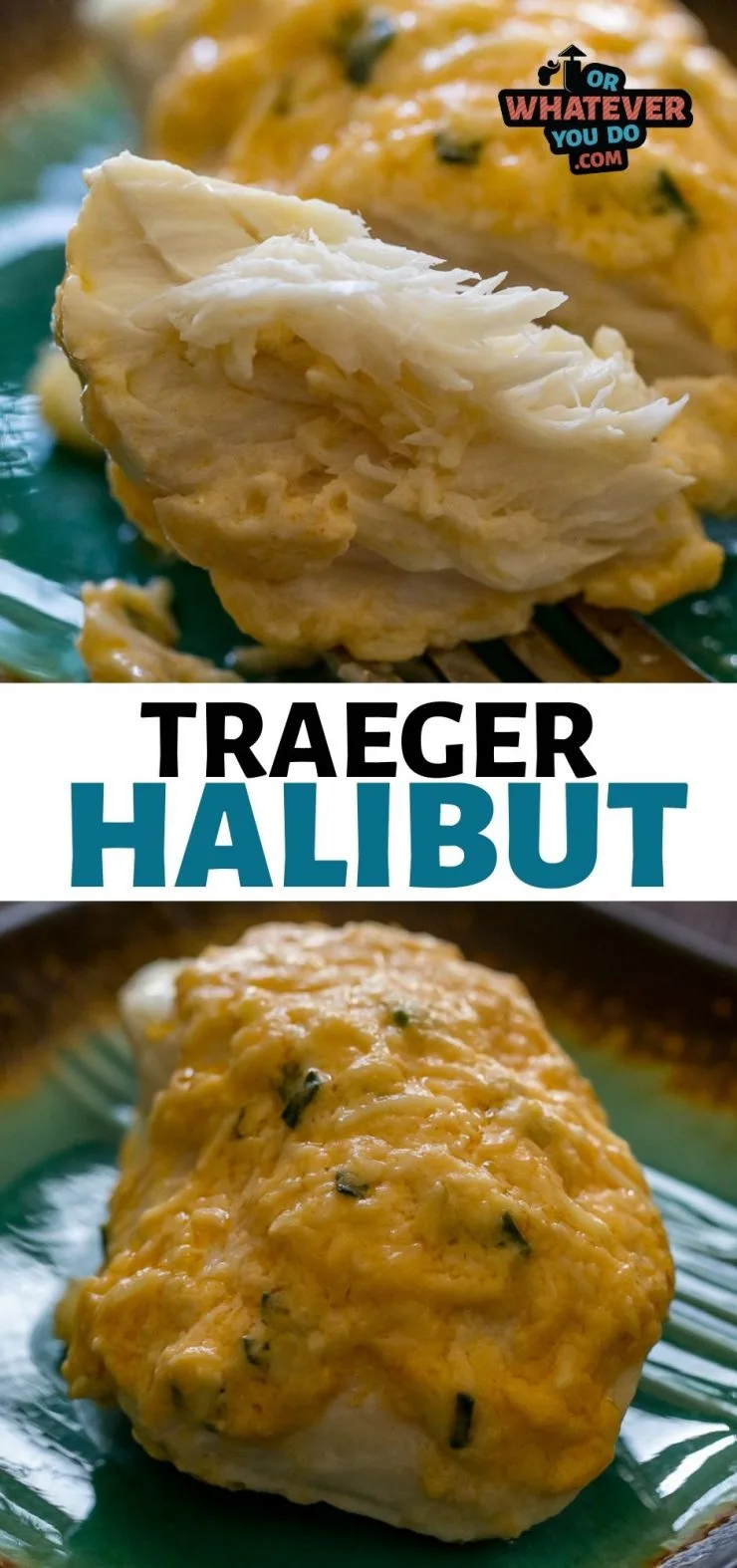 Yield: 6 servings
Traeger Halibut with Parmesan Crust
This simple recipe uses fresh halibut and a simple parmesan topping that turns into the best crust! Easy to put together, delicious to eat.
Ingredients
½ cup Parmesan cheese, grated or shredded
¼ cup salted butter, softened
1 tablespoon mayonnaise
1 tablespoon sour cream
3 tablespoons chopped chives
2 pounds skinless halibut fillets
Instructions
Preheat your pellet grill to 375° following factory directions.
Cover a grill-safe baking sheet with parchment paper, and place the halibut on top.
Mix together the topping ingredients and spread evenly across the skinless halibut filets.
Grill for 15-20 minutes, or until the fish flakes easily with a fork.
Broil for 1-2 minutes if desired to brown the parmesan crust.
Recommended Products
As an Amazon Associate and member of other affiliate programs, I earn from qualifying purchases.
Nutrition Information:
Yield:
6
Serving Size:
1
Amount Per Serving:
Calories:

291
Total Fat:

15g
Saturated Fat:

7g
Trans Fat:

0g
Unsaturated Fat:

6g
Cholesterol:

120mg
Sodium:

350mg
Carbohydrates:

1g
Fiber:

0g
Sugar:

0g
Protein:

37g
Nutrition data provided here is only an estimate.