If you want to serve something amazing to someone special, you need to put this on their plate. Crab-Stuffed Lingcod is tender white fish stuffed with a fresh crab mixture and topped with a delicious garlic cream sauce.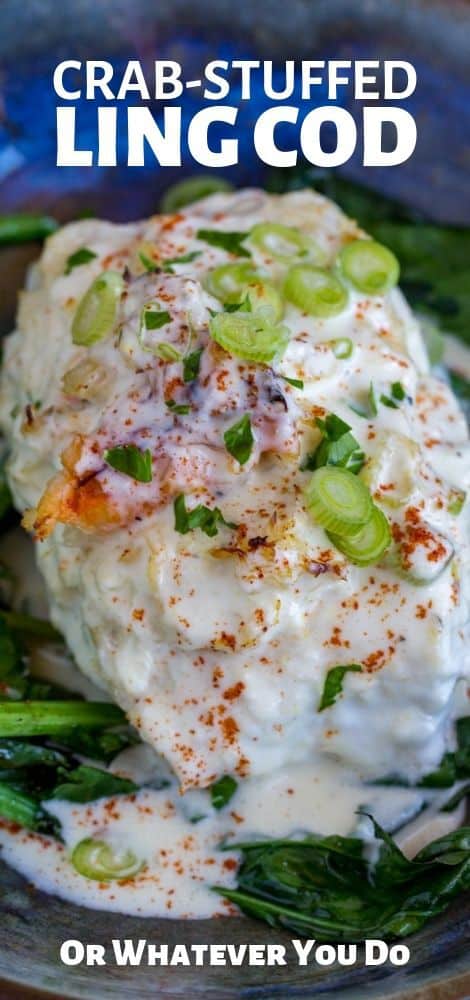 Crab-Stuffed Lingcod
Crab stuffed lingcod combines the delicate yet flavorful lingcod with the saltiness of crab. Of course, anything stuffed with crab is bound to be good. In this case, lingcod, which normally feasts on crab in cold waters, gets stuffed with crab in a wonderful seafood dish.
Lingcod are bottom feeders, but since they are saltwater fish they lack that sort of "muddy" flavor of freshwater bottom feeders like catfish, for example. In fact, lingcod has a very delicate and non-fishy flavor. It cooks quickly and takes on the flavors of the crab perfectly.
More Easy Traeger Recipes here!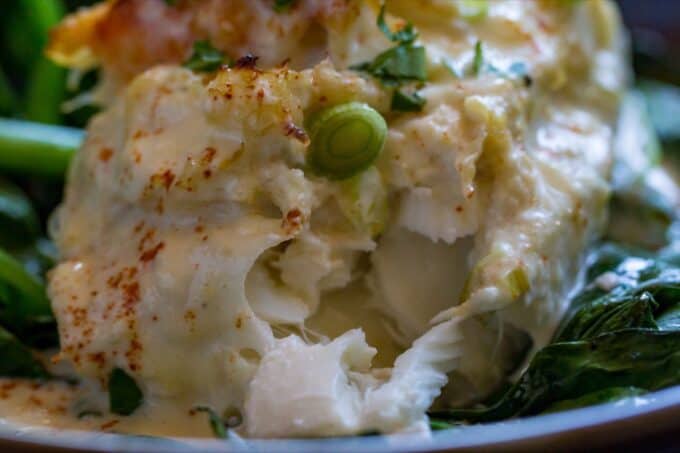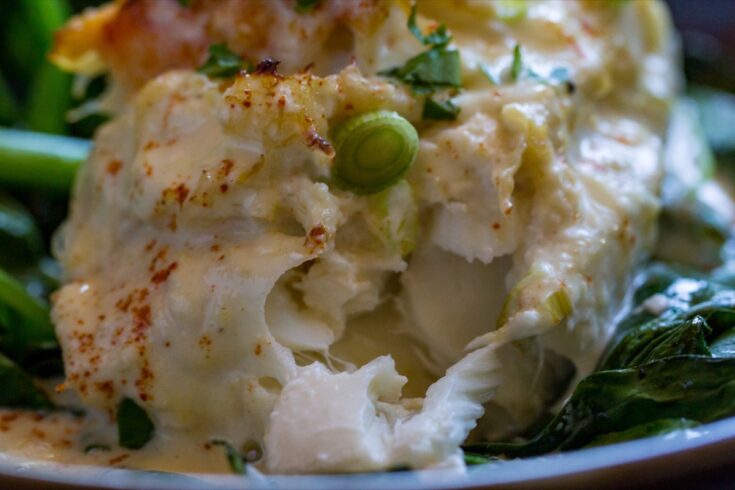 What actually is a lingcod?
A lingcod is actually neither a ling or a true cod. It just happens to look like those fish so it picked up the name due to its resemblance. The lingcod also goes by "cultus" and "buffalo" cod and is part of the greenling family.
Sometimes the lingcod has slightly blue flesh. More than a few amateur anglers have actually tossed this delicious fish out because they thought that the fish had gone bad. Actually, that is natural and not a problem at all.
As soon as the lingcod is cooked, even if the raw flesh is really blue, it will turn white.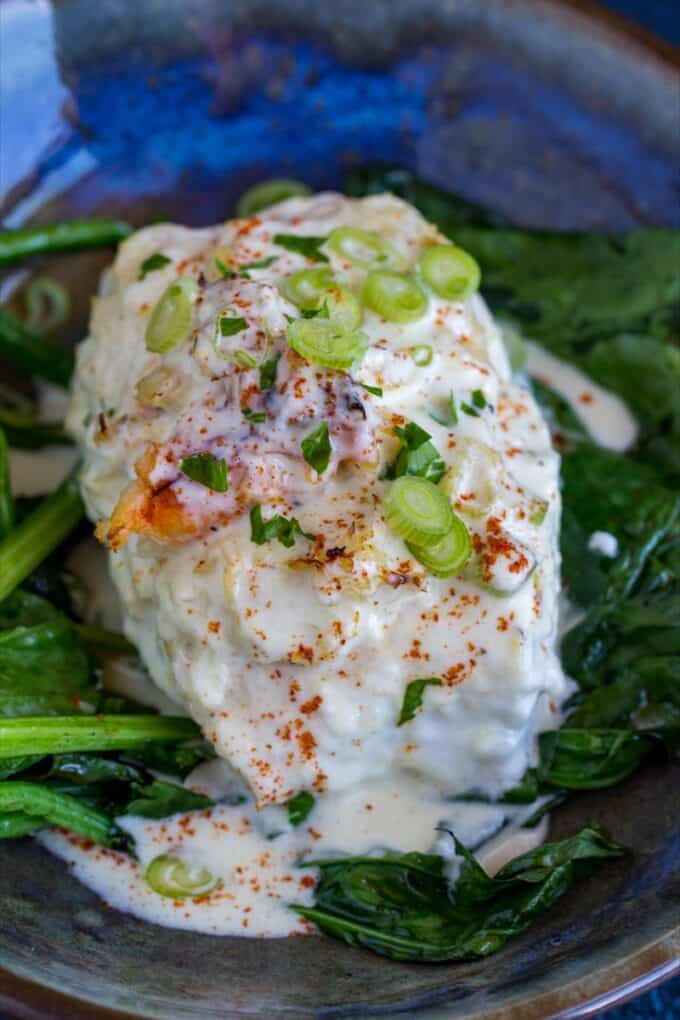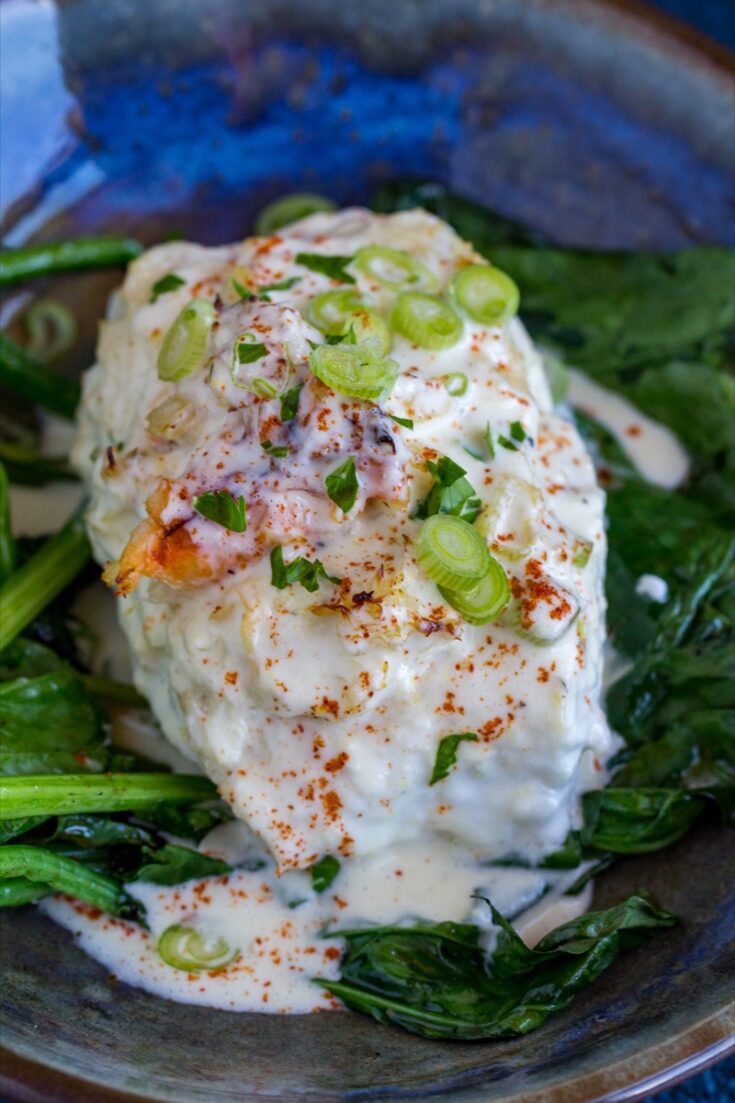 The lingcod grows to about five or six feet long and fishermen love battling them because they are known for putting up a great fight.
One reason lingcod are ideal for stuffing with crab is that lingcod eat crab naturally. So, part of the delicate flavor of lingcod actually derives from crab being part of their diet.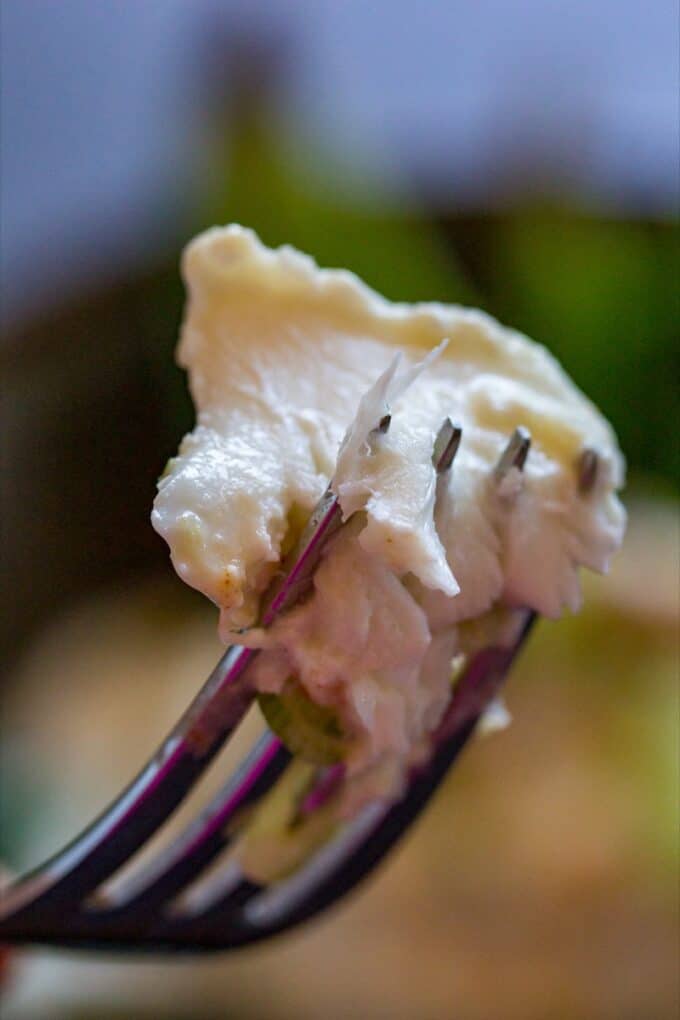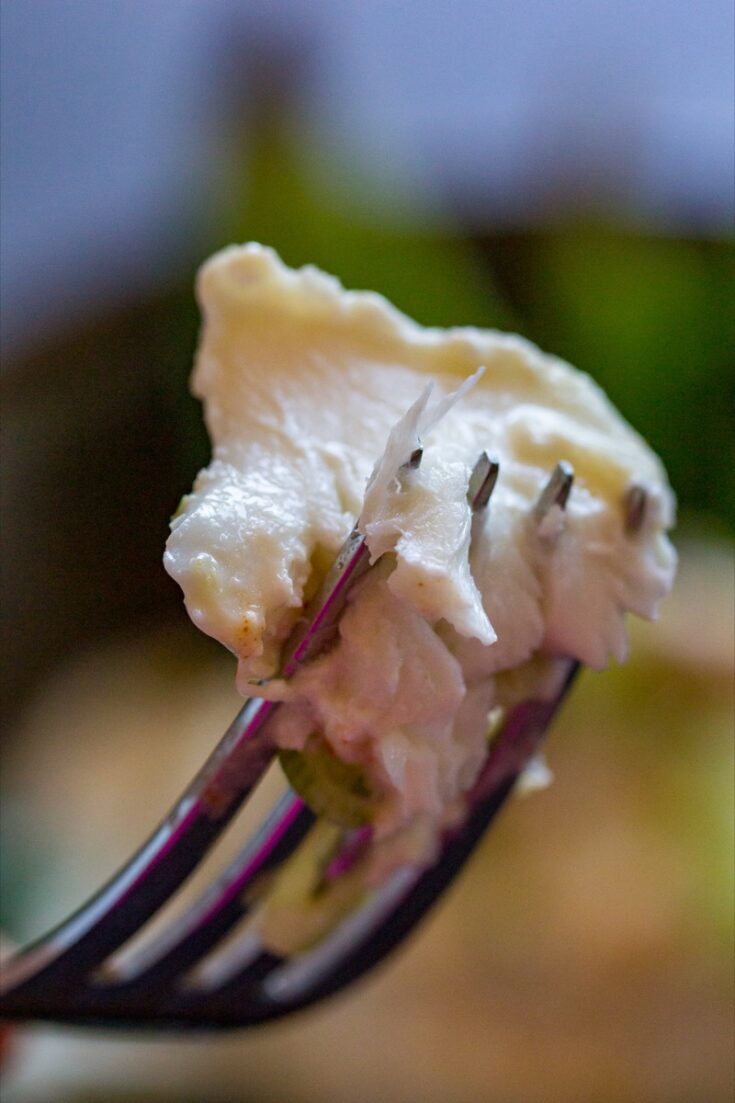 Crab stuffed in lingcod cooks quickly
Most crab meat, unless you actually caught the crab yourself, is pre-cooked. Even if you caught the crab yourself, chances are likely that you also quick boiled the crab meat to make sure it doesn't go bad.
Crabmeat spoils very quickly in the shell if you don't cook it. So must crab fisherman actually make a point to cook the crab the same day they catch it.
In the case of stuffing crab in lingcod, this offers a lot of conveniences. Because lingcod tends to cook very quickly, especially over a hot grill, the crab meat just needs to be warmed to the same temperature the fish arrives at when it is cooked.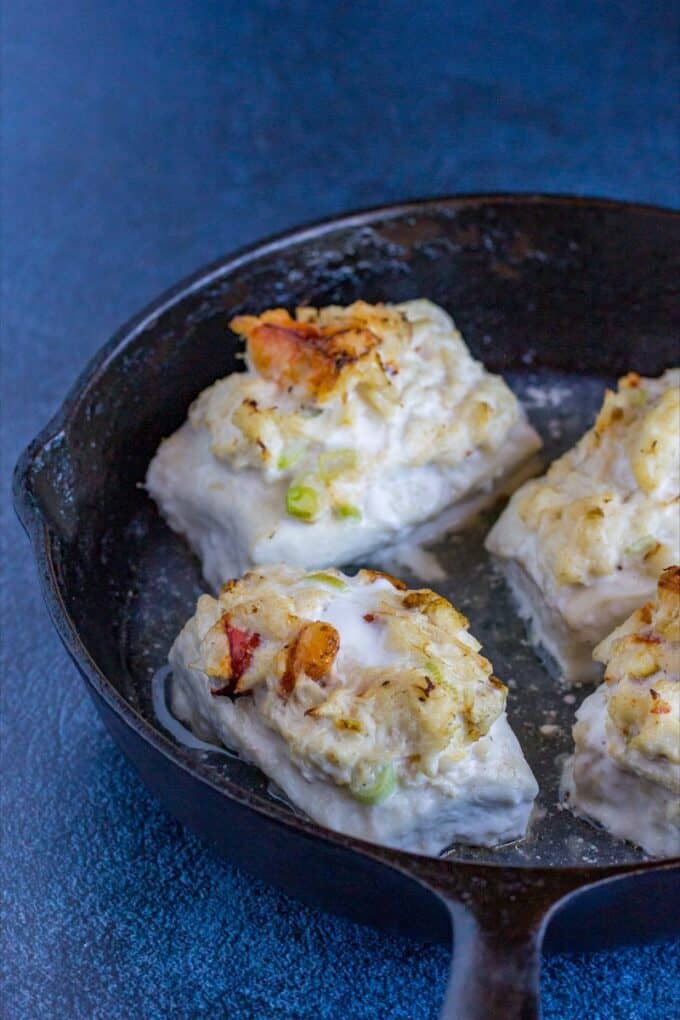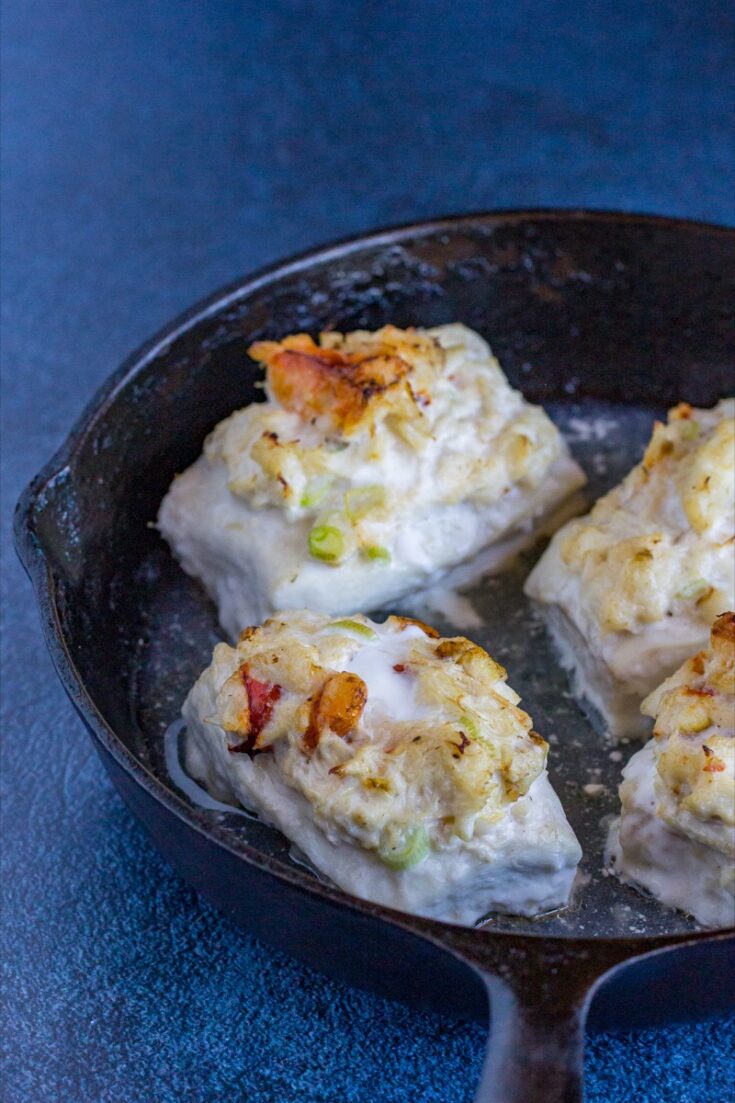 Just remember, lingcod is pretty easy to overcook and dry out so watch out for that. Fortunately, the lemon butter sauce can help hide some of that issue if you do let it sit too long on the heat. Just don't rely on it completely.
However, try to just cook the stuffed lingcod to the point where the flesh is just starting to flake. You can tell it is pretty close when the flesh turns a shiny opaque white. This shows your oils in the fish are hot enough and it will even almost have a sort of translucent look on the edges of the fish.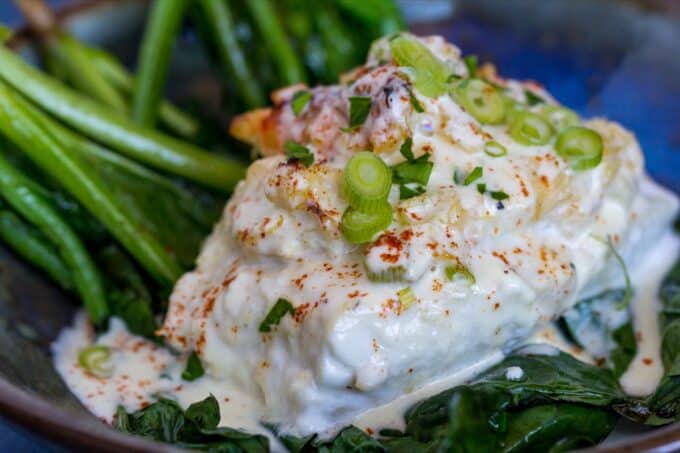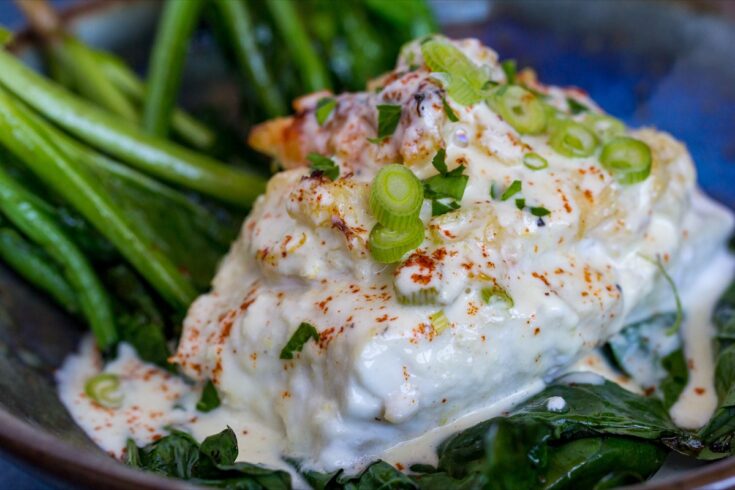 What other kinds of fish can I use if I can't find lingcod?
Lingcod is certainly less expensive than many other options, though not necessarily all. Other types of white fish that work exceptionally well include halibut, Dover sole, and cod like black cod.
Also, you don't necessarily have to use a white fish. Salmon is another option too. Salmon has a much different flavor profile than any of the white fish options, of course, so make sure to take that into account.
The lemon cream butter sauce goes well with any of them. The sauce is actually so delicious you may find yourself wanting to spoon it up as if it were soup.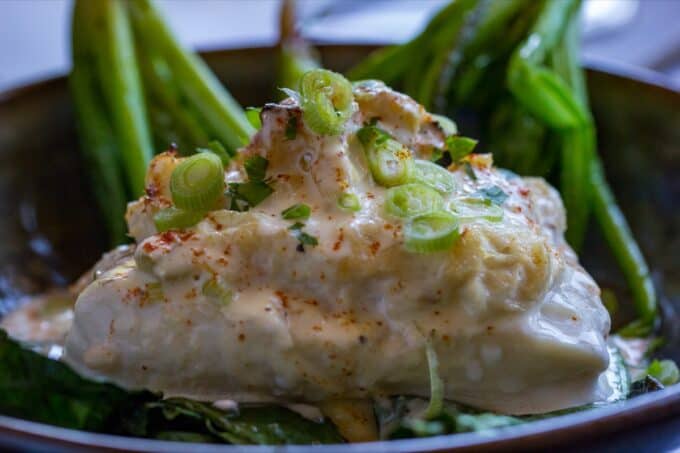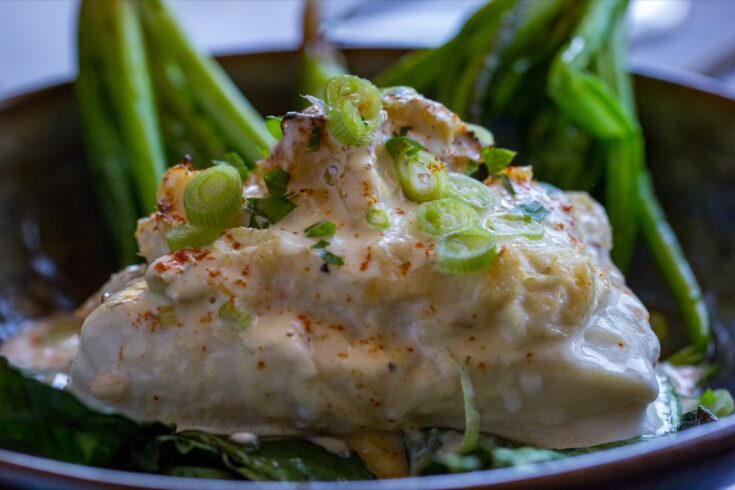 Can I make this on the stove or oven?
If you don't have a pellet grill, you can totally make this easy fish recipe in the oven. Just preheat your oven to 350° and bake in there instead of on the grill. It'll be missing a little bit of that live-fire flavor, but it'll still be delicious.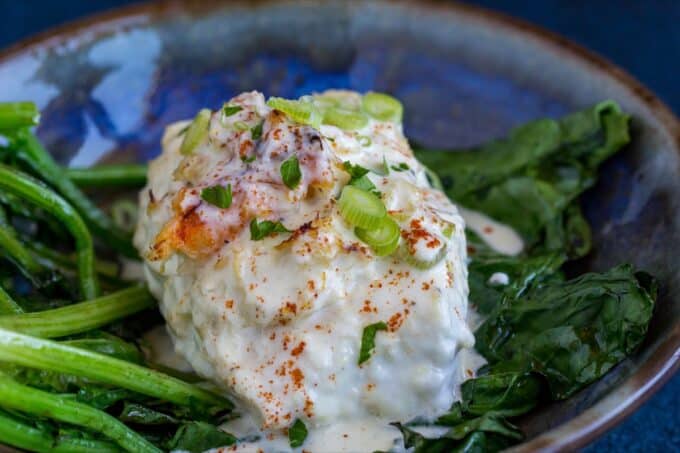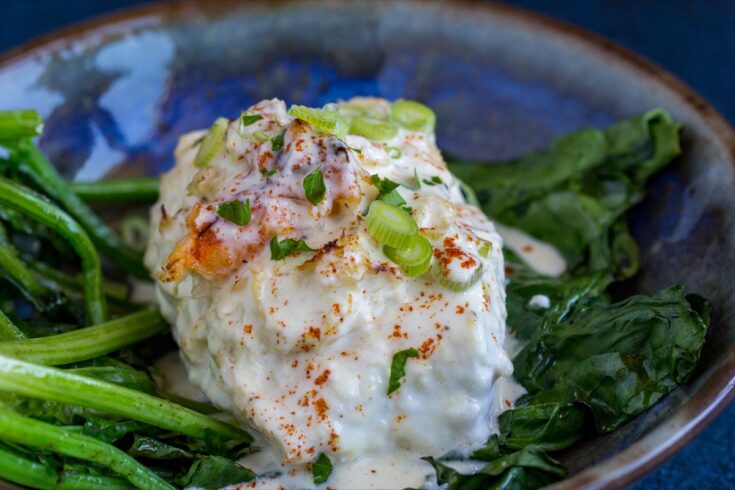 What kind of appetizers work well with lingcod stuffed with crab?
Lingcod stuffed with crab, accompanied with the lemon cream sauce, looks elegant and tastes like something you find in a fine (and expensive) seafood restaurant. If appetizers will be served too, then something equally upscale might be the plan
This doesn't have to mean time-consuming, expensive, or inconvenient. I have a few suggestions that I think make this dinner earn the right to be called fine dining.
Caprese salad with balsamic reduction – Chances are the same fancy place serving crab-stuffed lingcod or halibut offers a Caprese salad as well.
Fried wontons – You can do so much with wontons and you only need a few per person to make them an ideal appetizer
Coleslaw with vinegar – This might not sound as fancy but coleslaw certainly tastes great with fish and crab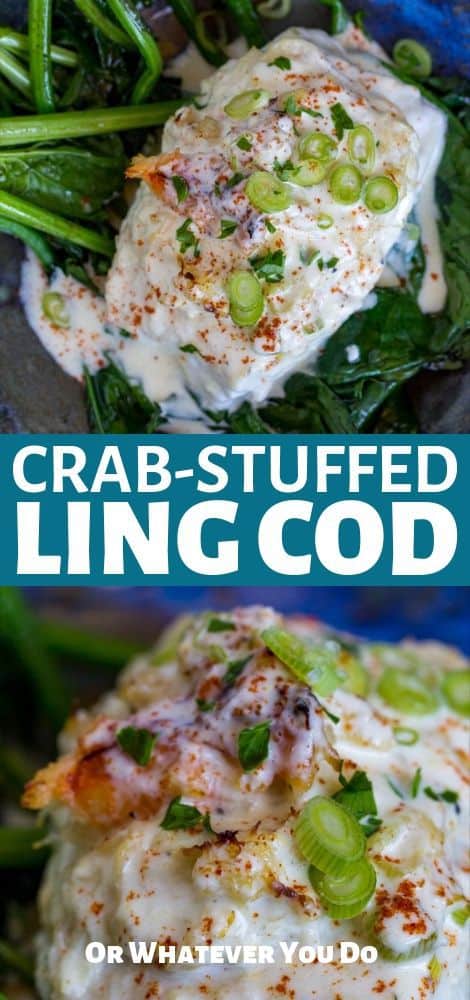 Yield: 6 servings
Crab-Stuffed Lingcod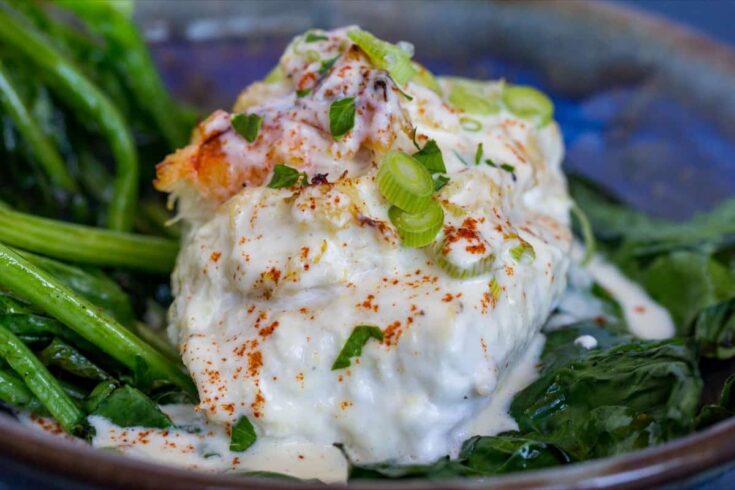 Tender lingcod or halibut filets are stuffed with a crab mixture and topped with a delicious lemon cream sauce.
Ingredients
Lemon cream sauce
4 cloves garlic
2 tablespoons olive oil
1 teaspoon salt
1/4 teaspoon black pepper
3 tablespoons butter
1 large shallot
1 leek
1 cup heavy whipping cream
2 tablespoons lemon juice
1 teaspoon lemon zest
1/4 cup white wine
Crab mix
1 pound crab meat
1/3 cup mayonnaise
1/3 cup sour cream
1/3 cup lemon cream sauce
1/4 chopped green onion
1/4 teaspoon black pepper
1/2 teaspoon old bay seasoning
Fish
2 pounds lingcod or halibut fillets
1 teaspoon salt
1 tablespoon olive oil
1 teaspoon paprika
1 tablespoon chopped green onion
1 tablespoon chopped Italian parsley
Instructions
Lemon Cream Sauce
Chop your garlic, leeks and shallots and add to a small sauté pan along with the oil, butter, salt, and pepper.
Sauté on medium heat until the shallots become slightly translucent.
Deglaze with the wine and slowly add the cream.
Bring the sauce to a simmer, and reduce heat and let simmer for 2-3 minutes.
Remove from heat and add lemon juice and zest.
Pour the sauce into a blender and blend on high until the sauce is completely smooth.
Set 1/3 cup of the sauce aside for the crab mix.
Crab Mix
Place all the ingredients, (crab, mayonnaise, sour cream, cream sauce, black pepper, chopped green onion, and Old Bay seasoning) for the crab mix into a medium sized mixing bowl and mix thoroughly with a large spoon.
Set crab mix to the side.
Fish
Start your pellet grill and set it on high.
Slice your fish into approximately 6 ounce portions.
Next, lay each fish filet on its side and using a sharp knife, slice it down the middle about 3/4 of the way through. Make sure to leave about 1/2" on each end of the filet uncut so you have a nice pouch cut into the fish.
Rub the olive oil on the bottom of each piece of fish.
Place the fish onto foil or a cookie sheet, and salt the fish.
Stuff crab mixture into the pouch of each piece of fish. It's recommended to overstuff them. You should have plenty of crab mix to use.
Sprinkle the paprika on top of the fish and put it on the grill.
Let cook on high for approximately 15 minutes. It could take a few more minutes if your filets are over two inches thick.
Remove the fish from the grill and plate the portions.
Pour some of the remaining lemon butter cream sauce on top of each piece of fish and garnish with green onions and Italian parsley.
Recommended Products
As an Amazon Associate and member of other affiliate programs, I earn from qualifying purchases.
Nutrition Information:
Yield:
8
Serving Size:
1
Amount Per Serving:
Calories:

476
Total Fat:

33g
Saturated Fat:

14g
Trans Fat:

1g
Unsaturated Fat:

17g
Cholesterol:

182mg
Sodium:

1032mg
Carbohydrates:

6g
Fiber:

1g
Sugar:

3g
Protein:

38g
Nutrition data provided here is only an estimate. If you are tracking these things for medical purposes please consult an outside, trusted source. Thanks!