Crispy Battered Halibut is quick-fried and contains NO beer in the batter. None.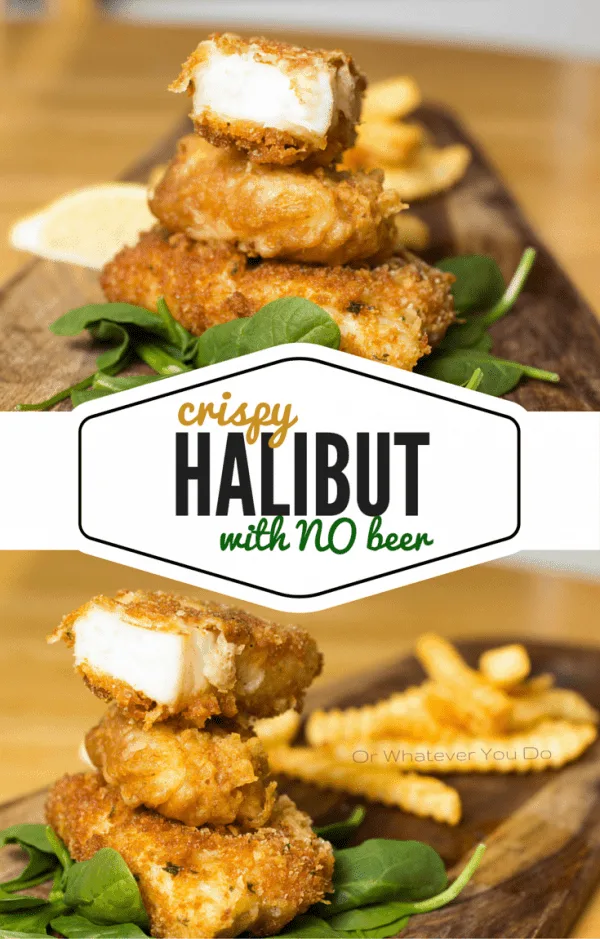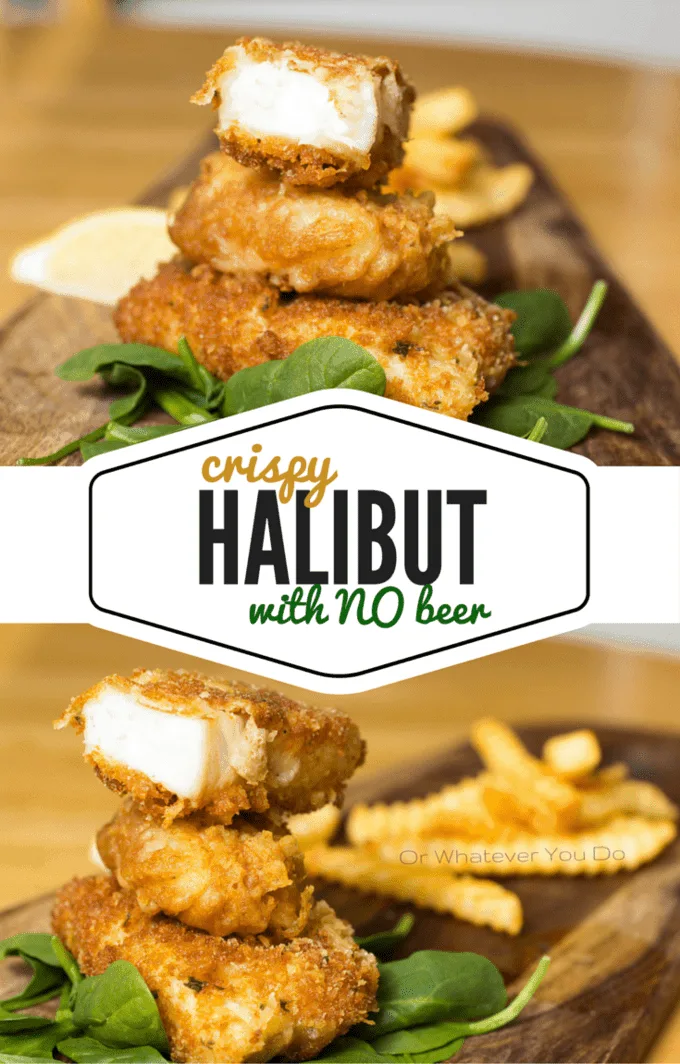 Crispy Battered Halibut Recipe
What is better than a big basket of fish and chips? Pretty much nothing, in my book. Battered Halibut is my favorite fish – ever, and when I saw some on sale last week you had better believe I picked up enough to feed the family! I have a child with a seafood/fish allergy though, so we picked up chicken too and then just used the same breading (different oil) for it all! Perfect!
I missed most of the photo ops that I should've taken, but I did get a sweet picture of this shrimp cocktail that I had at my first live comedy show. This tiny little thing was $10. I was a little shocked, and kind of wanted to ask if they dropped the rest on the way.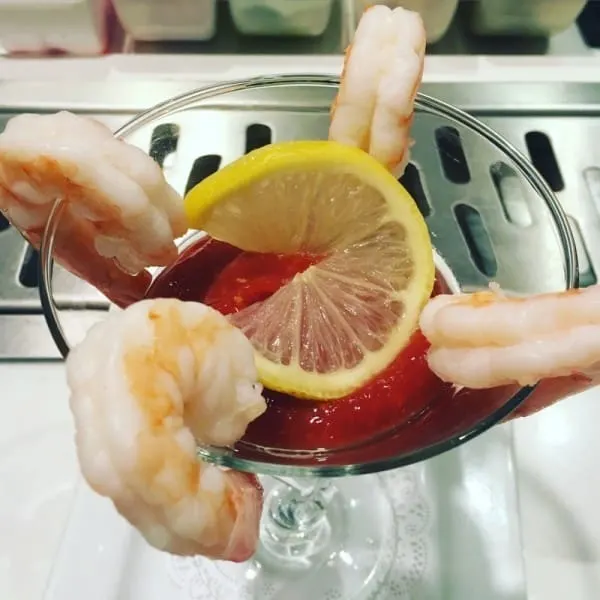 But the comedy? It was hilarious. I saw this guy – Dave Johnson. He was nice enough to chit chat with me for a bit before the show, and then during his act? Total hilarity. He has 5 kids (boy boy boy boy GIRL), and his parenting bits are spot on, totally relatable, and completely amazing. LOVED it. GO SEE HIM if he comes to your area, and stop by that link and show him some Facebook love. I have such a huge respect for comedians. Standing up in front of a crowd, and TALKING? Couldn't do it. Actually trying to make people laugh? Totally terrifying. I could sing the alphabet in front of a crowd, but don't make me talk. Nooooo.
He was followed up by Frank Roche who was also hilarious. He did more crowd work, which was really fun to watch and a little scary. But thankfully I didn't get picked on too bad! He was on America's Got Talent a while back, and you will not regret getting out to see one of his shows. He's from Detroit, and went to high school in the very same town where we recently spent two years for work. *It's a small world after all*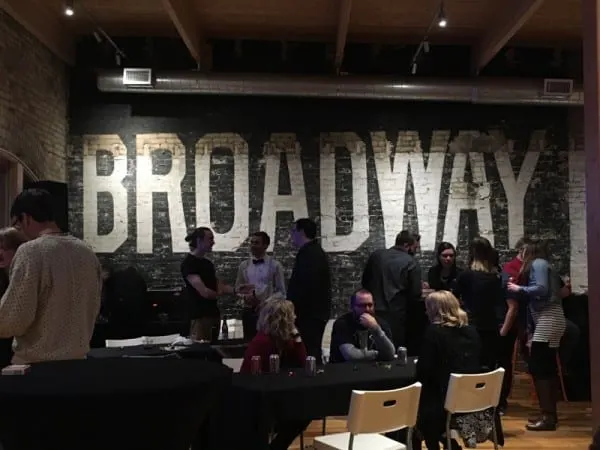 Between Christmas, New Years, and getting ready for this trip I've been in a total fog. And barely posting at all. But I'm back! And I'm ready to go.
So back to this halibut. Which rocked my entire world.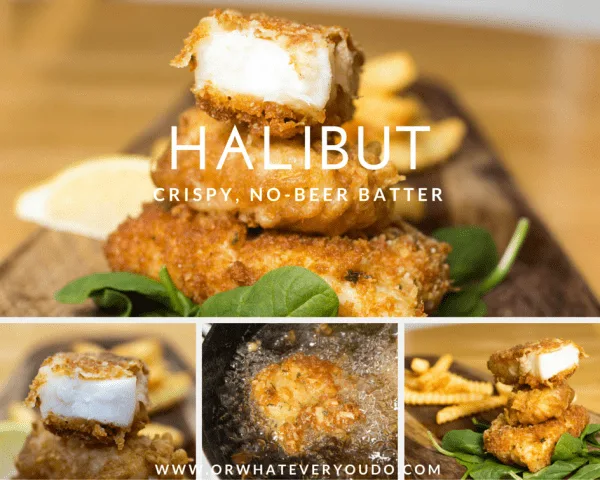 This recipe is actually kind of a cross between a batter and a breading. It's the best of both worlds, in my humble opinion! Adjust as you see fit. That's the best part of breading and battering. It's so customizable.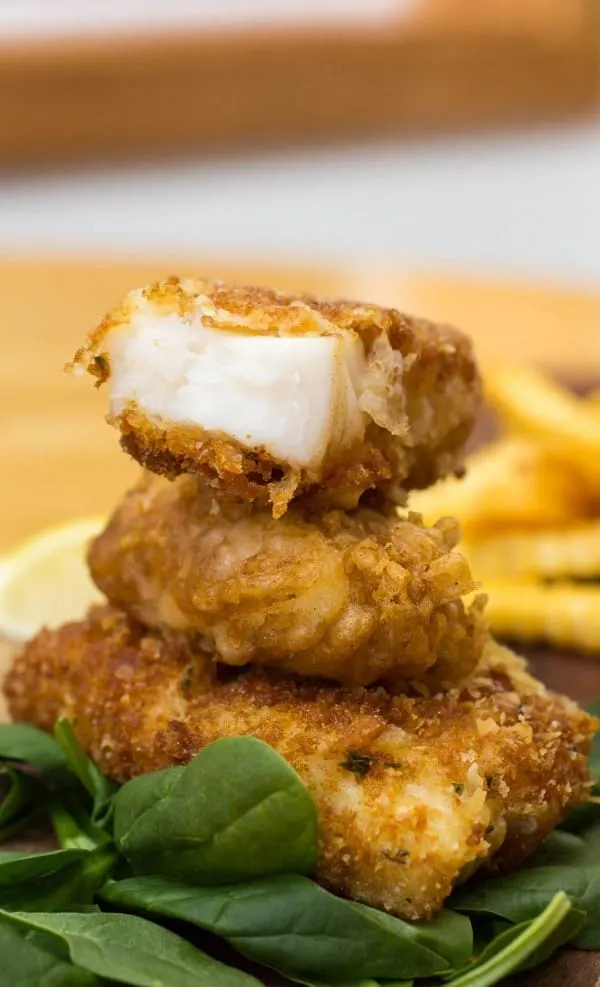 Yield: 8 servings
Crispy Battered Halibut with no beer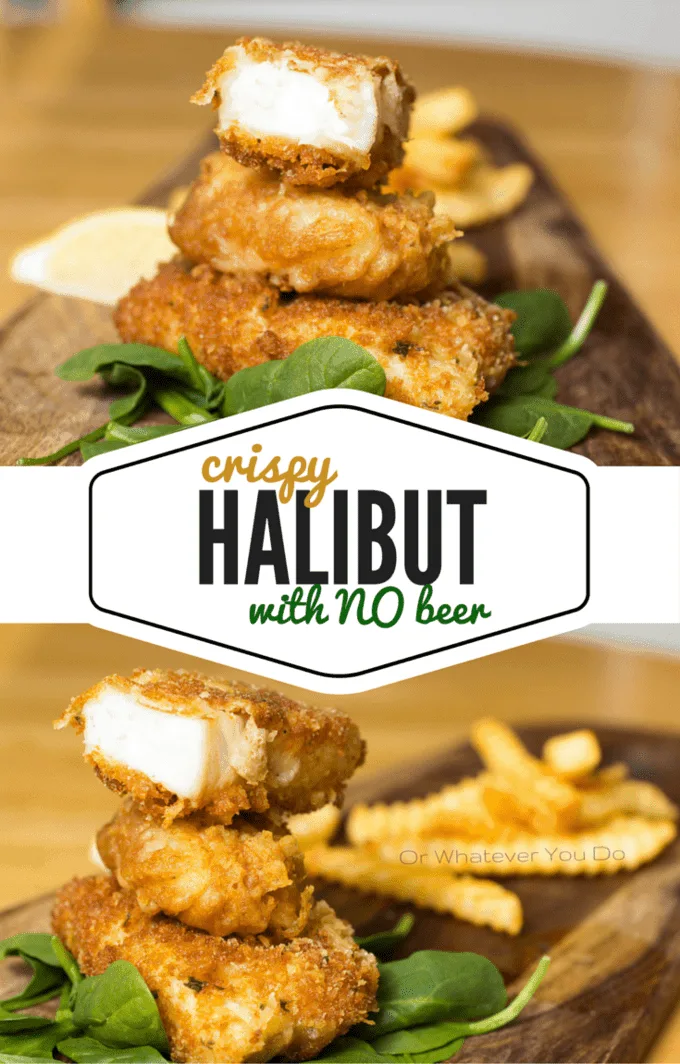 This crispy breaded halibut contains NO beer, but all the crunch of a beer batter. One of my favorite ways to do a fish fry, you're going to love this easy recipe!
Ingredients
1 cup flour
1/8 cup corn starch
2 teaspoons baking powder
1/2 teaspoon of salt
1/4 teaspoon garlic salt
1/4 teaspoon onion powder
1/2 teaspoon Old Bay seasoning
1 cup cold water
1 cup bread crumbs
oil for frying
Instructions
Prep your fish by removing the skin (if any) and cutting into pieces sized about as big as a deck of cards prior to mixing your batter.
Preheat your oil as well. Ideal frying temperature is about 365. If the oil is not hot enough you'll end up with greasy fish. If it's too hot you'll burn the batter before the fish is cooked through. The batter needs to be used immediately after it's mixed. Baking powder is temperamental and doesn't wait for cold oil!
Combine all the dry ingredients except for the bread crumbs, and stir well to evenly distribute. Stir in the cold water and immediately dip fish in the batter, and then do a quick coat in the bread crumbs and carefully put into the preheated oil.
Cook until golden brown and the fish is cooked through.
Notes
This was enough batter for 6-8 decent sized pieces of fish.
Recommended Products
As an Amazon Associate and member of other affiliate programs, I earn from qualifying purchases.
Nutrition Information:
Yield:
8
Serving Size:
1
Amount Per Serving:
Calories:

134
Total Fat:

3g
Saturated Fat:

0g
Trans Fat:

0g
Unsaturated Fat:

2g
Cholesterol:

0mg
Sodium:

443mg
Carbohydrates:

24g
Fiber:

1g
Sugar:

1g
Protein:

3g
Nutrition data provided here is only an estimate. If you are tracking these things for medical purposes please consult an outside, trusted source. Thanks!