A Griddle Patty Melt is a classic diner food served on toasted bread with a seasoned beef patty topped with cheese and grilled onions. The type of bread and cheese is hotly debated, but ultimately whatever you have on hand will work for the amped up cousin to a cheeseburger.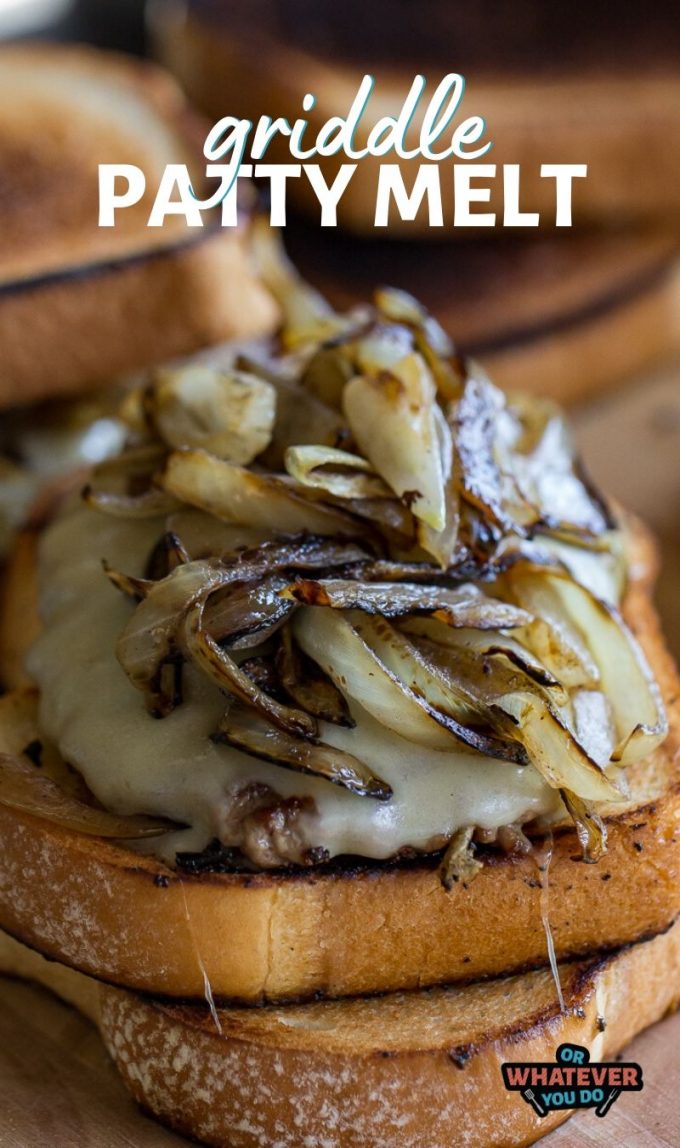 Griddle Patty Melt Recipe
I consider the Patty Melt to be kind of an iconic recipe. I'm not sure if it was popular where and when you were growing up, but in my neck of the woods it was like a super fancy diner cheeseburger that only the most adulty adults ever ordered because DUH. Piles of grilled onions.
Back in the day, onions were not my friend. Not even the rehydrated McDonald's burger onions.
Times have changed, thankfully, and I even have a couple of kids that'll get down with a big pile of grilled onions, so I guess we're doing something right.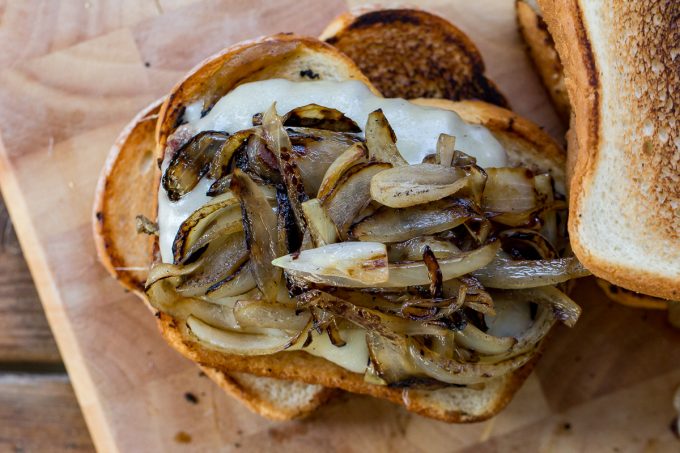 What is a patty melt?
What a patty melt is made from is a common question. It is traditionally a beef patty piled with cooked onions (which can be fried, grilled, sauteed, or griddled), covered with cheese and then sandwiched between bread.
Typically, you'll see this on Rye bread or sometimes sourdough.
Since I don't have either of those today and neither do any of the grocery stores, what you're seeing here is a white bread patty melt.
More Blackstone Recipes here!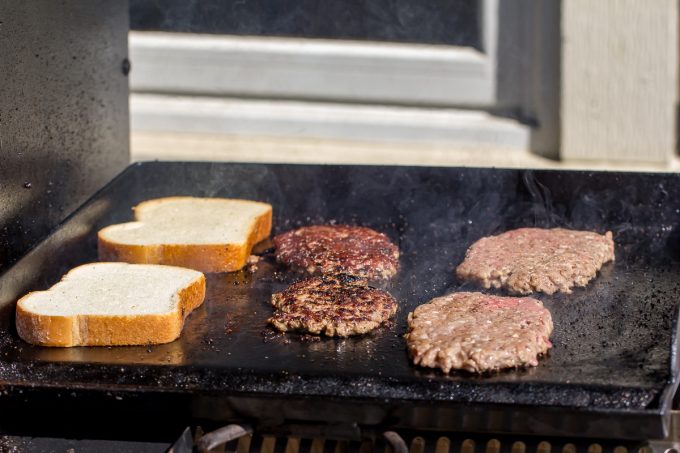 What's the difference between a patty melt and a cheeseburger?
A cheeseburger and a patty melt are more similar than they are different, really, but the main differences are:
Cheeseburgers are served on buns, and are typically round, where patty melts are served on bread and are rectangle-shaped.
Cheeseburgers get no onions or raw onions. Patty melts get cooked onions.
How to RE-SEASON your Blackstone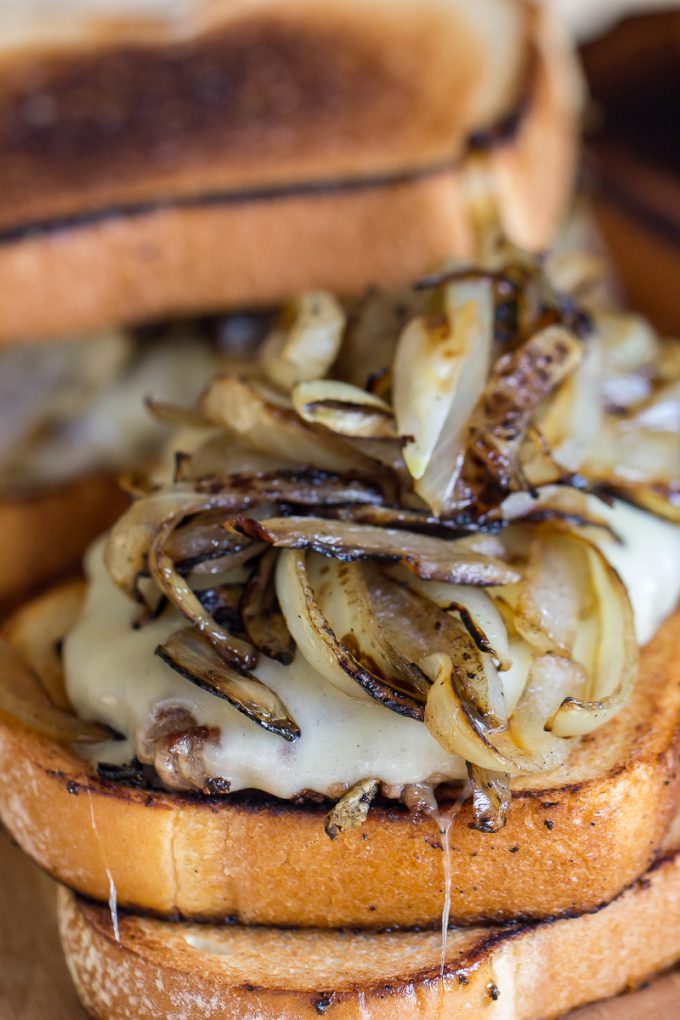 The Secret to a Perfect Patty Melt
It took me a long time to figure this out. Way too long, since I worked in restaurants for so long, in fact. But I digress. The secret to making restaurant-quality food in a lot of cases is a GREAT gas griddle.
Diner cooks are MASTERS at making their griddle do exactly what they want it to do. It is perfectly seasoned and non-stick. They know every square inch and how hot it is. They know exactly how long it takes to cook an egg over-easy, and when it'll firm up that yolk so much they have to toss it.
Griddles connect with every bit of the available surface of the food, and they get blazing hot. There's really no substitute or way to replicate it on a stove with a pan, even if you have a good cast iron skillet (though that would be the closest).
See my Easy Traeger Recipes here!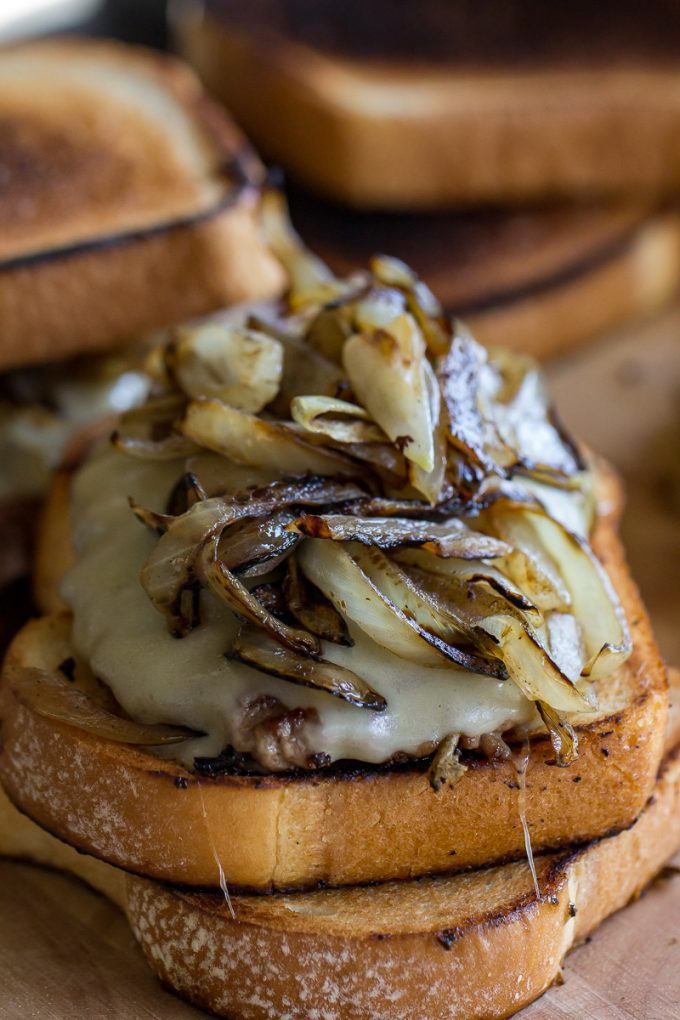 What kind of griddle should you use?
We have (and love) gas griddles around here. The electric versions are okay for pancakes, but that's about it. If that's the only griddle you've worked with, your mind is about to be blown.
There are a ton of different types of gas griddles out there, so take your pick. We have a Blackstone Griddle as well as a Camp Chef Woodwind Pellet Grill with a Sidekick Griddle attachment.
Between the two, I definitely use the Sidekick more often. It is smaller and more manageable and great for smaller meals or feeding fewer people. The Blackstone is a serious piece of cookery that can feed an army or make multiple dishes at the same time.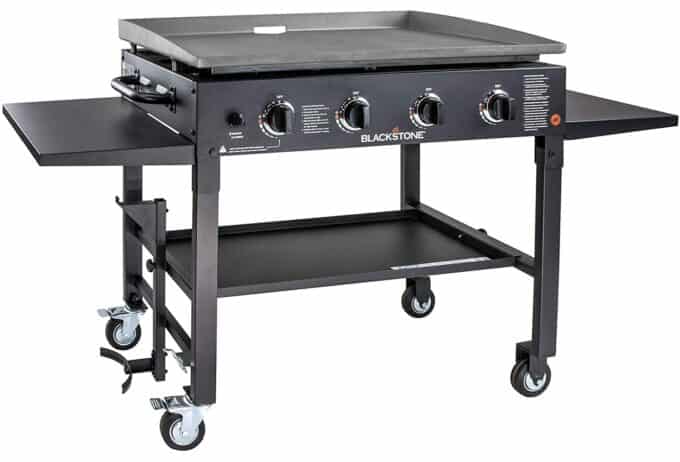 Flat top griddles are so versatile! Make pancakes for an army, or the best hibachi fried rice you've ever had. Reverse sear a steak, whip up some smash burgers, or cook basically anything you could cook in a pan that doesn't require a sauce. You need this!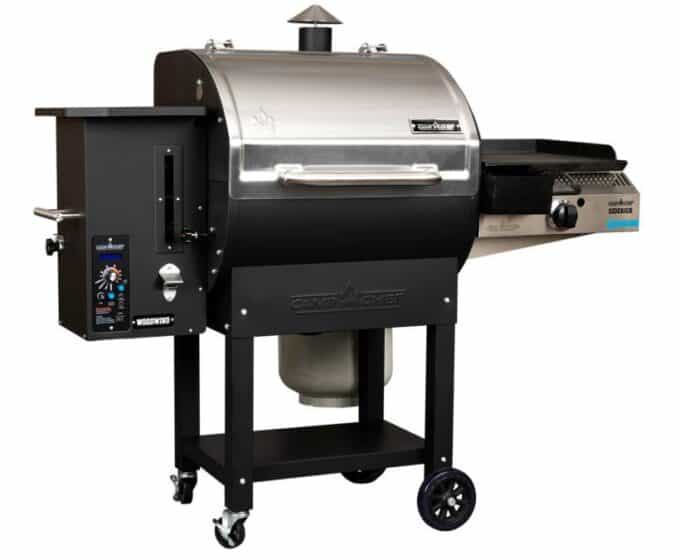 This is a powerful grilling machine, and the sidekick makes it even better. The perfect grill for reverse searing, long smokes, or a quick bbq sesh.
Love burgers? Try my Smoked Stuffed Burger!
What if you don't have a griddle?
If you don't have a griddle, your best bet to make a killer patty melt will be well-seasoned cast iron pans on the stovetop. Just follow the general instructions for cooking on a griddle, but your griddle is your pan. It will likely take a little longer, and won't be exactly the same, but it'll be a close approximation and still delicious.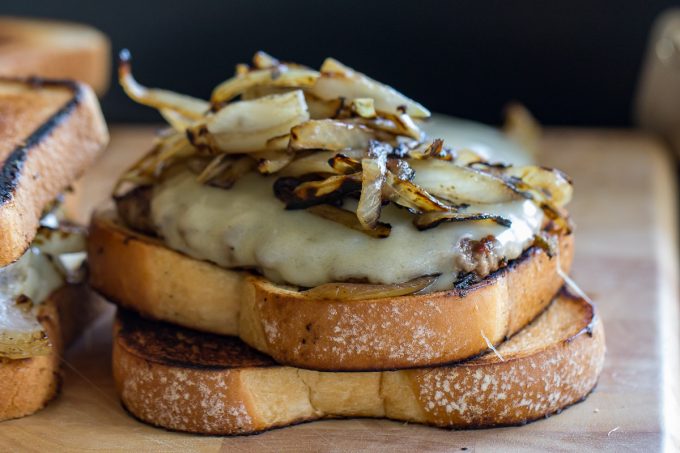 What sides go with a Patty Melt?
Patty melts are super flexible, so you can serve whatever you want along with it if you want. I like a soup and/or salad to go along with a sandwich if I'm serving this for lunch.
If we're having Patty Melts for dinner I might throw in some more robust sides like a pasta, potato, or rice.
Soups
Salads
Hearty Sides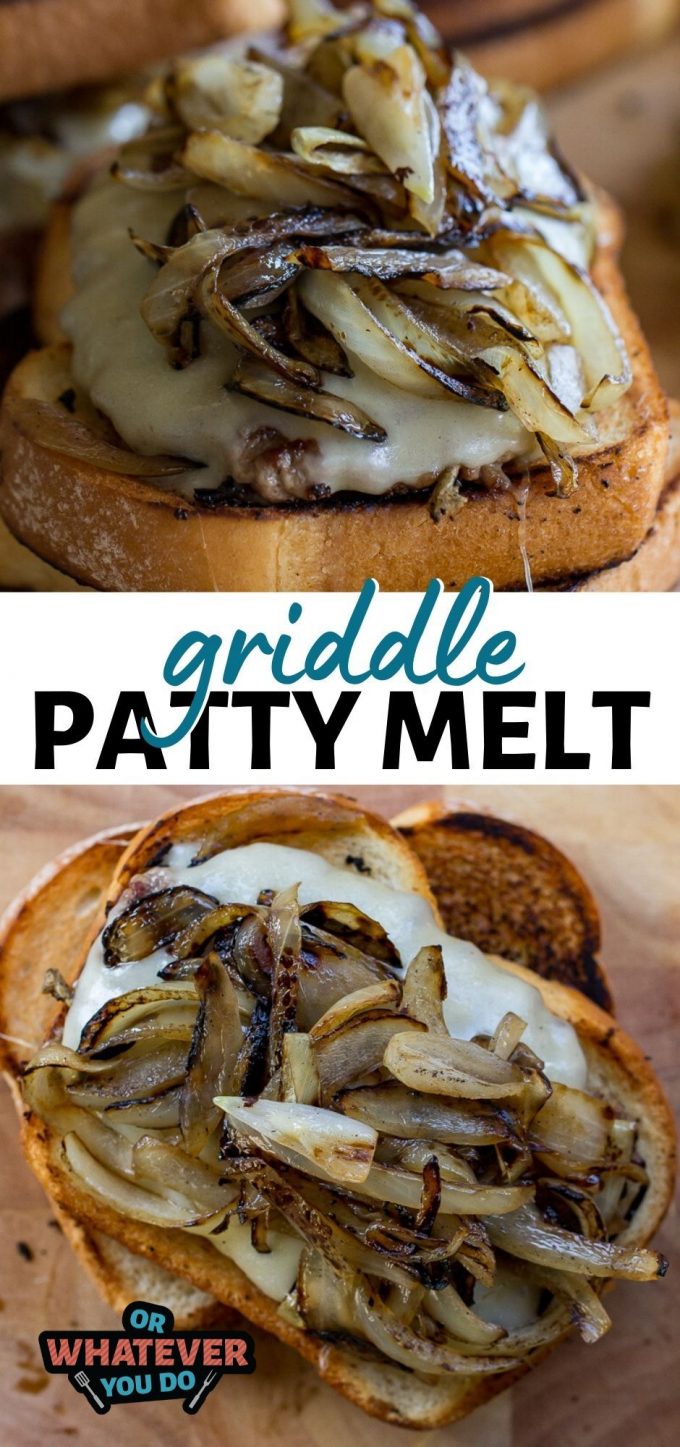 Yield: 4 sandwiches
Griddle Patty Melt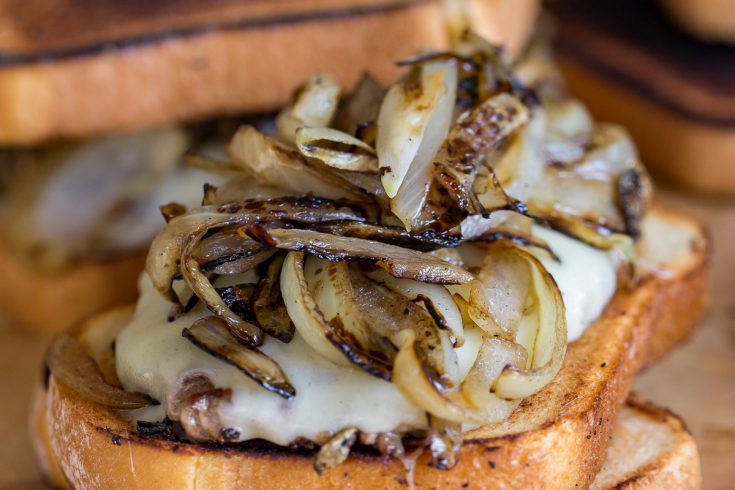 Homemade Patty Melts that are just as good as your local diner's are not only possible, but pretty simple too thanks to a gas griddle!
Ingredients
2 pounds ground beef (85/15 is ideal)
salt and pepper
1 large onion, sliced
2 tablespoons oil
4 slices Swiss cheese
8 slices bread (rye or sourdough is ideal)
Instructions
Preheat your gas griddle or your cast-iron skillet over medium-high heat.
Slice the onion, and set aside. Place the oil onto the griddle and let heat up. Toss the onions on and cook, turning frequently, until the onions are cooked and browned and tender (but not mushy). Set aside and scrape off the griddle.
Portion the ground beef into four patties that are elongated. You'll be smashing them down when they get on the griddle for that perfect diner-style crust. You want them in the shape of a fat hot dog, essentially.
Season the patties with salt, pepper, and garlic powder. Place onto the grill and smash down with a press or a sturdy griddle spatula.
Cook for 2-3 minutes on one side, or until there is a dark brown crust.
Flip once, and top with cheese. Cover with a melting lid (see recommended products below) and let the cheese melt.
Lightly toast your bread, and place the patty on top. Serve hot!
Recommended Products
As an Amazon Associate and member of other affiliate programs, I earn from qualifying purchases.
Nutrition Information:
Yield:
4
Serving Size:
1
Amount Per Serving:
Calories:

968
Total Fat:

57g
Saturated Fat:

21g
Trans Fat:

2g
Unsaturated Fat:

29g
Cholesterol:

228mg
Sodium:

638mg
Carbohydrates:

34g
Fiber:

2g
Sugar:

5g
Protein:

75g
Nutrition data provided here is only an estimate.