Try my Traeger Grilled Stuffed Burgers tonight. These are packed full of colby jack cheese and then topped with cheddar, all grilled on the Traeger for that delicious wood-fired flavor that you just cannot get on a gas or charcoal grill.

Traeger Grilled Stuffed Burgers
If you are still not decided on what you're having for dinner tonight, I have just the thing.
Have you ever heard of the Juicy Lucy?
It is a stuffed burger with flavorful seasoned meat and oozing with cheese, this recipe will please the whole family. Easy and flexible, you really can make this one you own.
If you ever make it out to Minnesota, or maybe you're from there, you have probably heard of the Juicy Lucy. This is where it was originated although where is truly up for debate.
What we do know is that it was first made on Cedar Avenue in South Minneapolis. Which bar is the tricky part! Either way, people make their way out to enjoy these fabulous unique burgers all year long.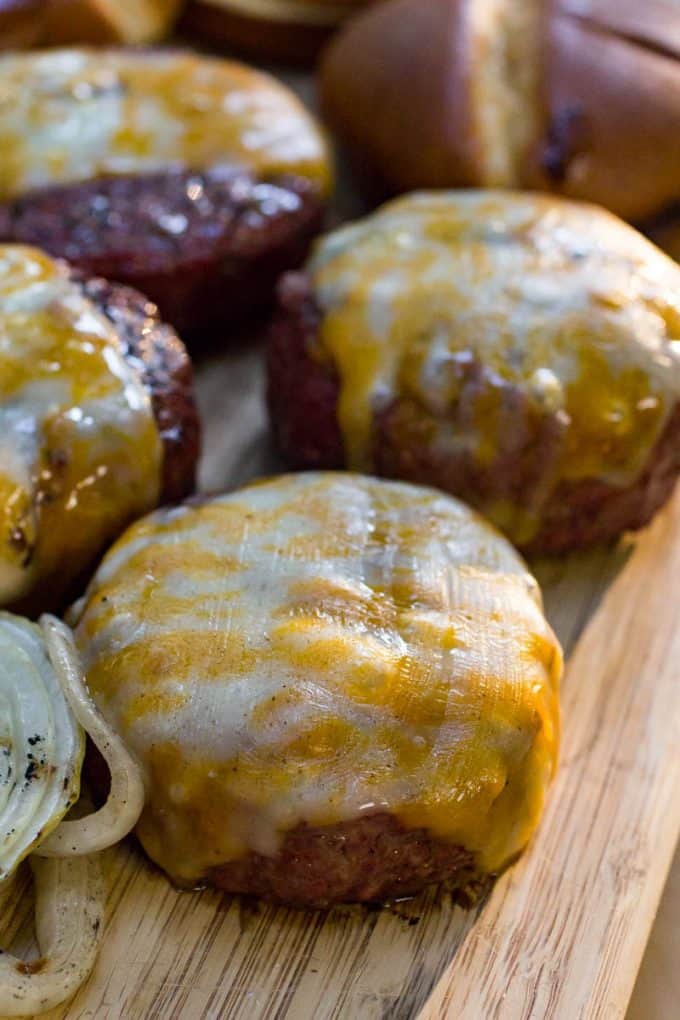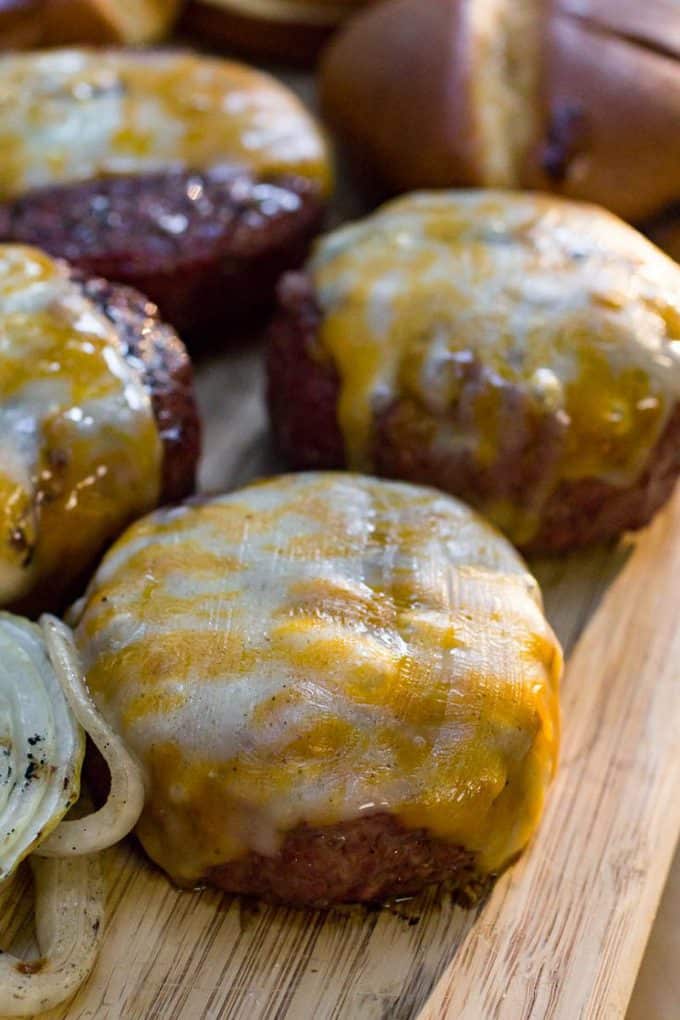 How do I stuff burgers?
If you don't have a handy burger press, you can still make a fabulous Juicy Lucy. Here are some tips for doing it by hand!
Thaw hamburger to fridge temperature. This helps the hamburger to be more pliable.
Choose your cheese wisely, I used colby jack. You want something that melts nicely!
Make two hamburger patties. The bottom one needs to be a little bigger than the top.
Place cheese on one side of the patty, then top with another (slightly smaller) patty.
Gently squeeze sides of patties together to prevent the cheese from oozing out.
While this isn't a hard method, if you want to make things a little easier and make them look a little more uniform in size, then I would try this handy tool that Cuisinart makes.
---
---
Part of the reason burgers are so awesome is how flexible they are to individual tastes. People love to make their burgers unique.
You can either put these toppings inside the burger or just use them to top your burger. Just remember, you can only stuff these so full without them breaking open on the grill, and then you lose all of that cheesy goodness down into the flames.
Another way to change it up is how you season. I love to use different spices and you can really go unique in this area. Onion salt, garlic salt, Johnny's seasoning salt to make this easy. I also love a toasted bun on any burger. Go with a bacon and blue burger and toss on some of Spiceology's Black and Bleu seasoning.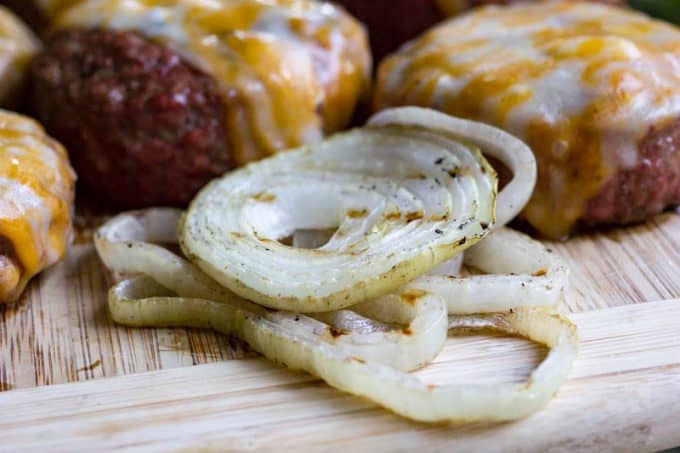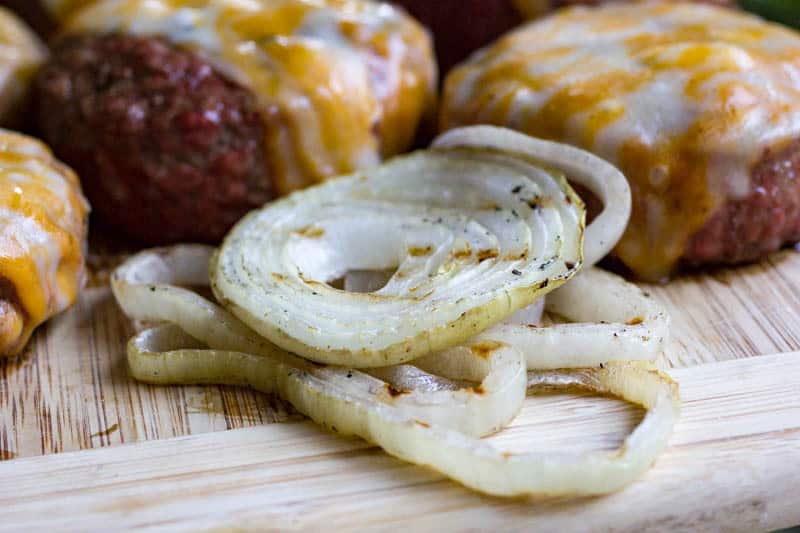 What should I top my Juicy Lucy with?
bleu cheese
bacon
onions, raw or sauteed
jalapenos
sauteed mushrooms
tomato, basil, mozzarella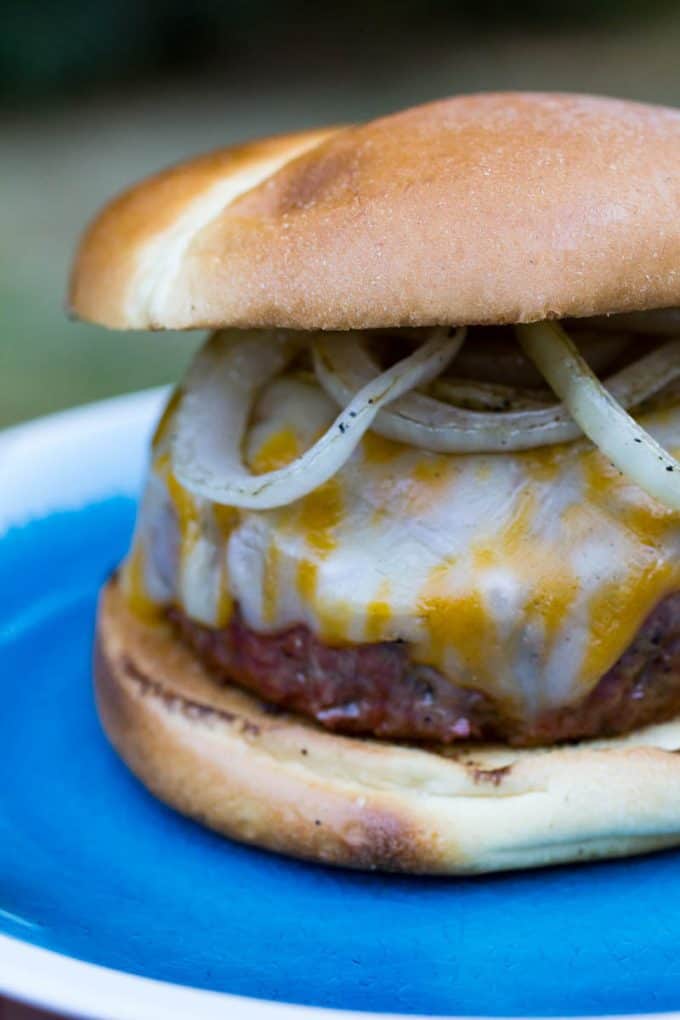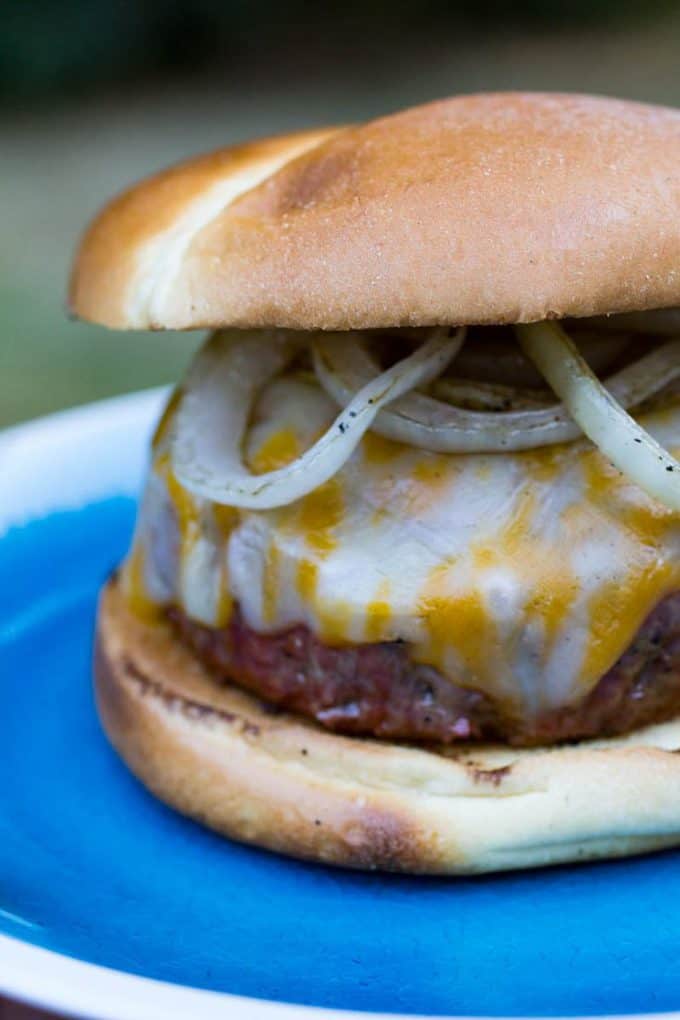 What side dishes go well with burgers?
When we are grilling for dinner there are usually many opinions for sides. My favorite for stuffed burgers?
My Panko Onion Rings because what goes better with a burger than onion rings?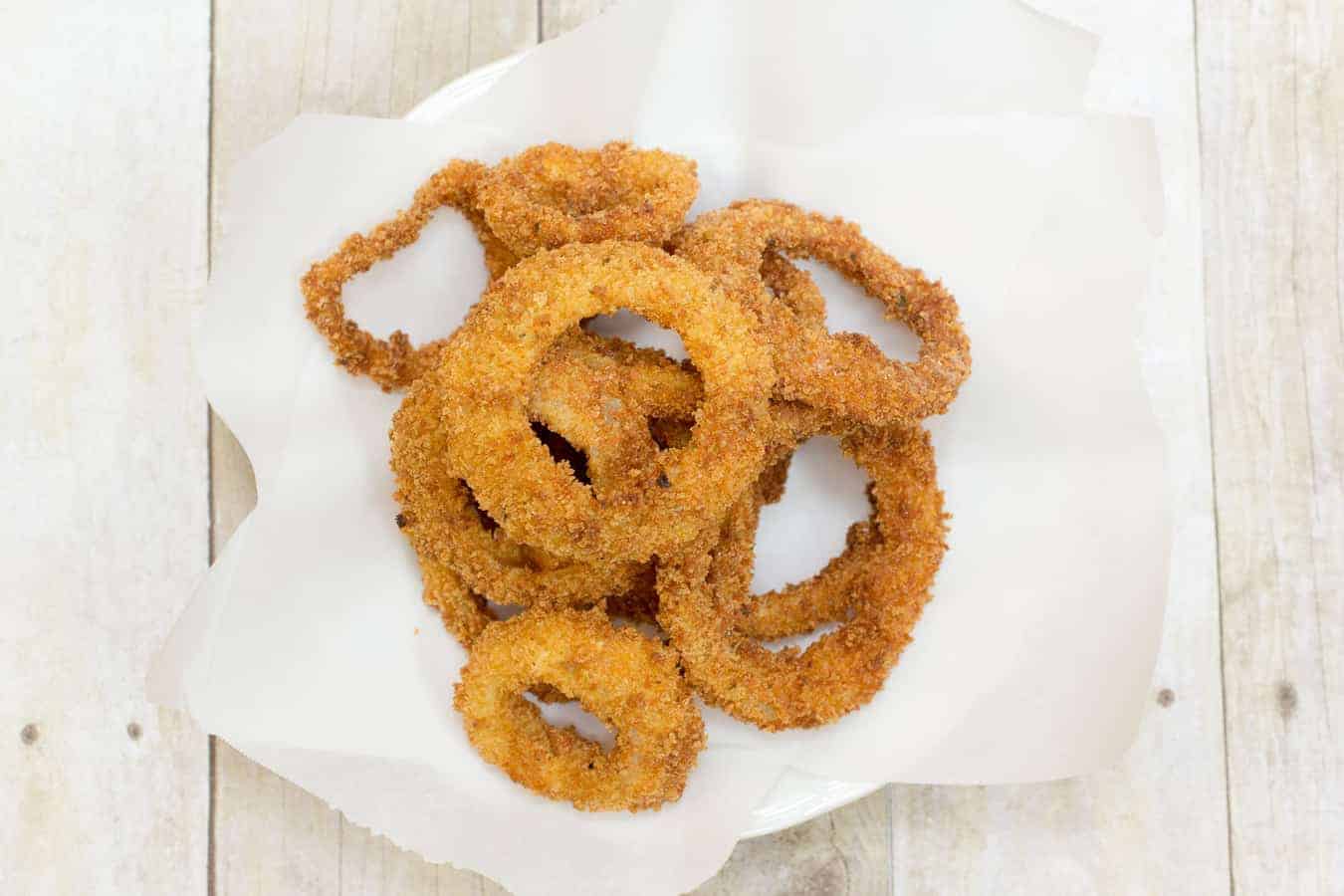 Not an onion ring fan? Then my Loaded Oven Potatoes are for you. These are full of bacon, cheese and spices, and they are easy to make while grilling the burgers and are a family favorite.
If you are more of a classic side fan, these crispy fries are legit.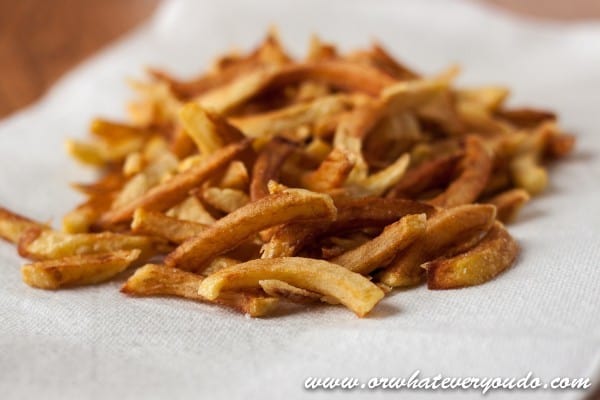 Another thing I really love is my Dilly Tuna Pasta Salad, and is always a favorite when I bring that salad to a potluck. Even the kids like this tuna. 🙂
Need vegetables with this? Try my Traeger Grilled Prosciutto Asparagus.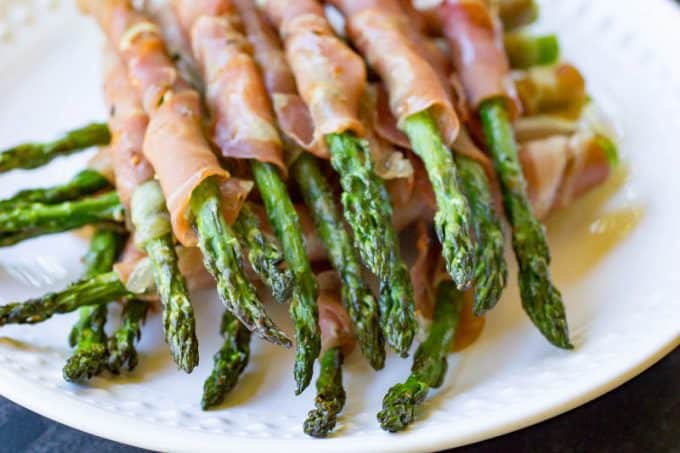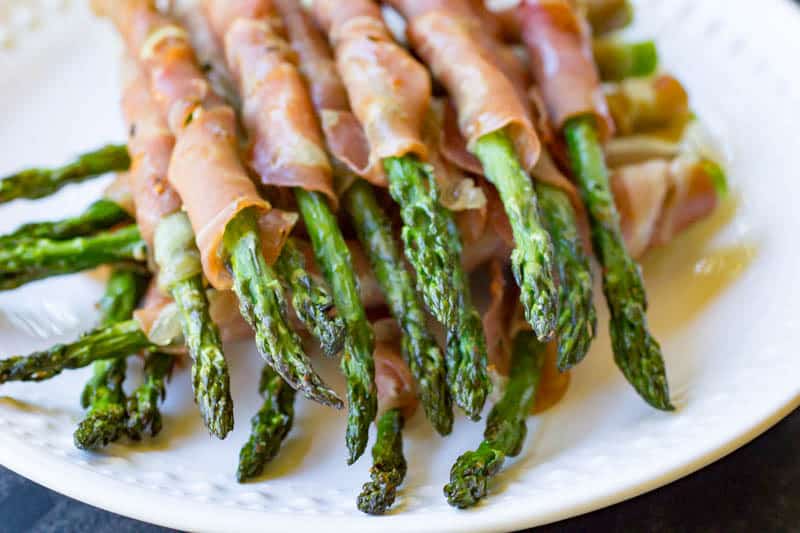 If you are like me and love bacon on or in your burger, then try my Traeger Bacon. It is delicious and so flavorful, you may need to make extra for your breakfast tomorrow. It also is perfect with my Chorizo Breakfast Tacos.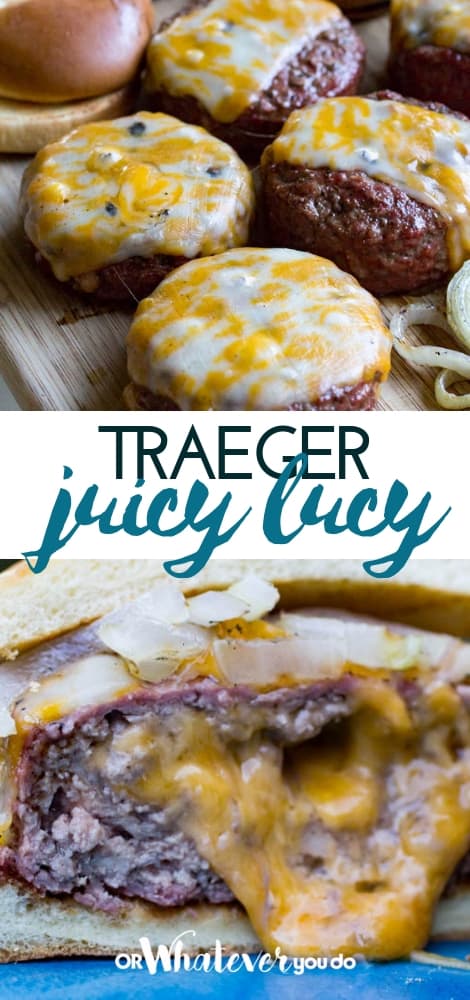 Yield: 6 burgers
Traeger Grilled Stuffed Burgers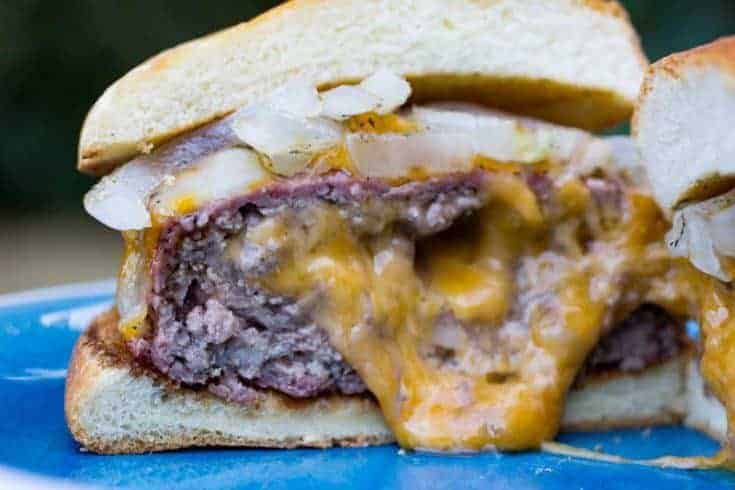 Cheesy stuffed burgers are grilled over wood and topped with more cheese and grilled onions.
Ingredients
3 pounds 85/15 lean ground beef
1 teaspoon salt
1/2 teaspoon pepper
1/2 teaspoon onion powder
1/4 teaspoon garlic powder
1 1/2 cups shredded colby jack cheese
6 slices colby jack cheese
Johnny's or Lawyr's seasoning salt
Instructions
Preheat your grill to 375.
Gently mix together the ground beef, salt, and onion & garlic powder. Form into 12 patties.
Place some the shredded cheese on top of the burger patty. Cover with another patty and seal the edges.
Season the outside of the burger with seasoning salt.
Place on the grill grate, and grill for 7-8 minutes, and then flip the burger and grill an additional 5 minutes before placing the cheese on.
Finish the burgers with the grill lid shut to melt the cheese. Remove from the grill and let sit for 10 minutes so you don't get burned by the molten lava that is the cheese in the middle.
Serve with fixings and a toasted bun if you love me!
Recommended Products
As an Amazon Associate and member of other affiliate programs, I earn from qualifying purchases.
Nutrition Information:
Amount Per Serving:
Calories:

0