Hasn't everyone been at a point where they are craving a really good tomato soup? Well, this Oven Roasted Tomato Soup is just what you need to make when you get those cravings. When it comes to soup, it has to be made just right and you need a recipe that is tasty, yet easy to make. This recipe is creamy and will warm you right up!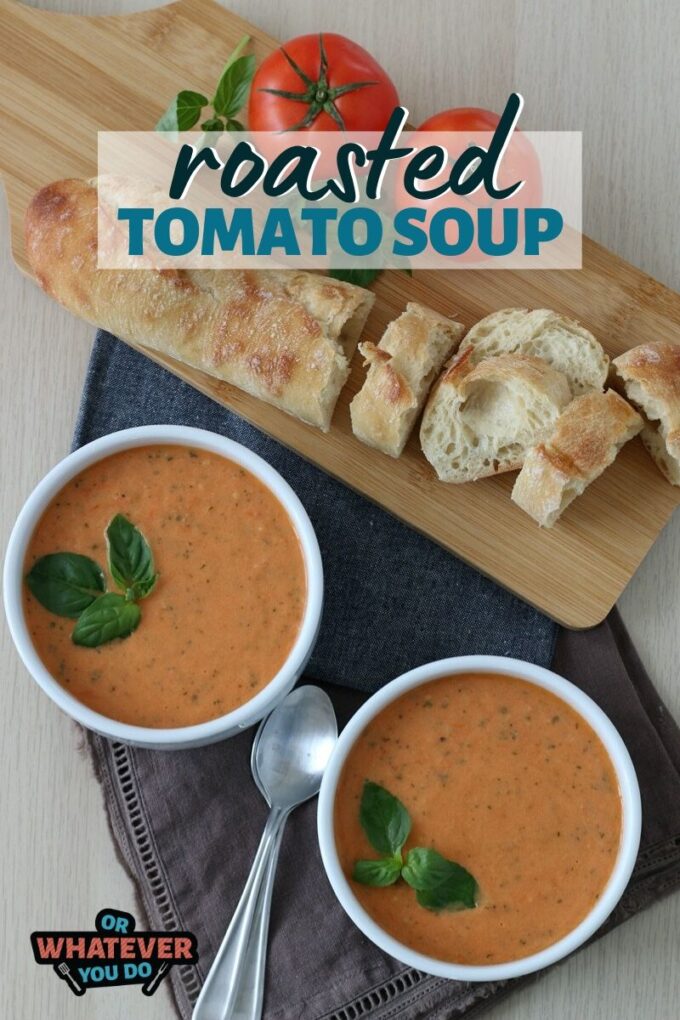 Oven Roasted Tomato Soup
The simplicity of the ingredients in this Oven Roasted Tomato Soup will make you jump for joy. Don't make cooking harder for yourself, when it can be as simple as this! Whether it's chicken noodle soup or tomato soup, I'm there. The winter months just scream soup, wouldn't you agree?
Now that I have professed my love for soup, you may be wondering a little more about this Tomato soup homemade goodness. Well, I promise that it's easy to make and won't take long to get from stove to table.
Get all of my Easy Soup Recipes here!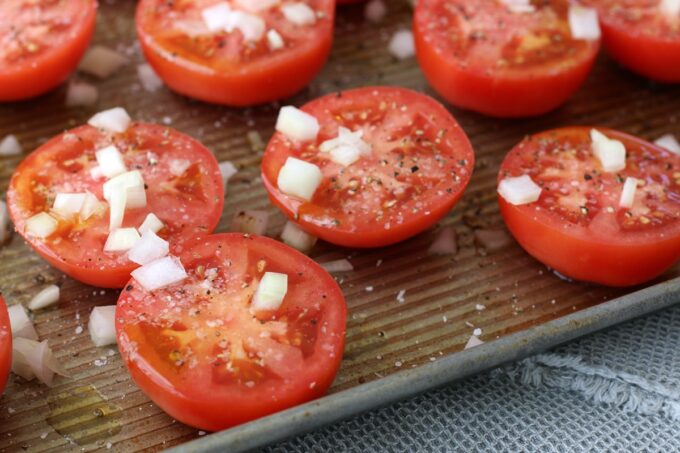 How Do I Roast Tomatoes?
Since this soup is called Oven Roasted Tomato Soup, you may be wondering where the roasting tomatoes come in. Well, don't worry because you're not roasting tomatoes over an open fire. You're simply placing them in the oven! The oven, at the right temp, will give you the best oven-roasted tomatoes ever!
This is my favorite way to roast tomatoes because it gives so much flavor and it's pretty hands-off. You just stick the tomatoes in the oven and all the ingredients create an amazing flavor that you won't forget anytime soon.
Have extra tomatoes?
I have eleventy Tomato Recipes here!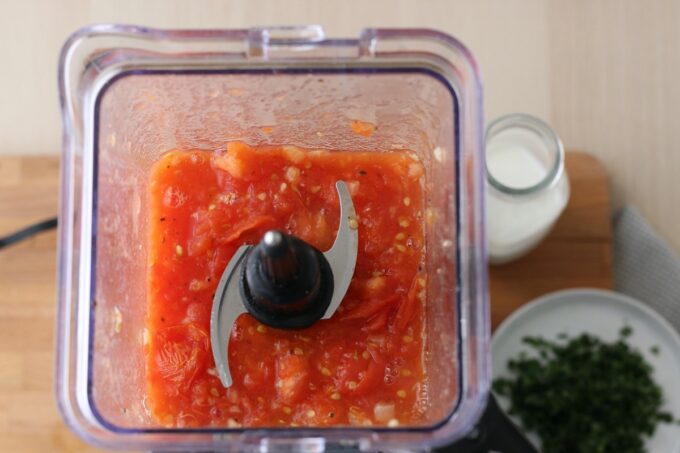 Can I make roasted tomato soup on the Traeger or other pellet grill?
100% YES.
In fact, it is my favorite way to roast tomatoes because it leaves them with just a hint of wood-fired flavor that really compliments the soup in nice ways.
Just crank your grill up to 375° and follow the same instructions as you would for roasting these in the oven. It is SO easy, and you'll love it.
Check out all of my Traeger Recipes!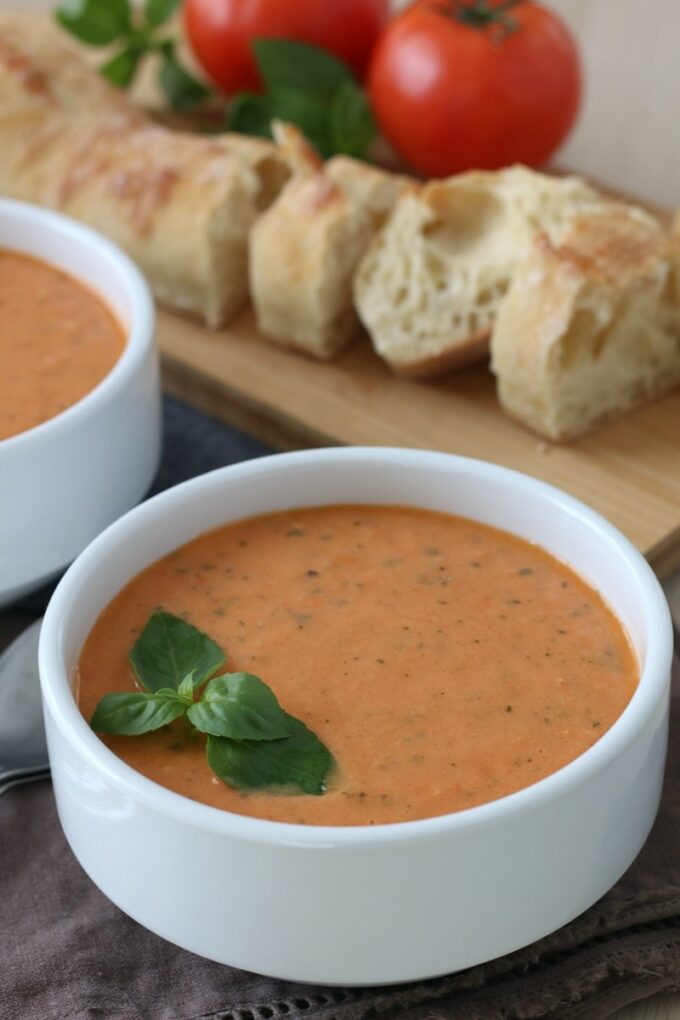 Is Tomato Soup Easy to Make?
Let's just say that tomato soup may have intimidated you in the past, but it doesn't have to now. This recipe even uses "fancy" ingredients, or so it seems when in reality they are very basic. You may have everything you need right at home to make this delicious soup.
After you make this recipe for the first time, you will see that it's simple and anyone can do it. I love making this soup for cold winter nights but also when I'm feeding a lot of people. It's just a nice way to make a lot of food, simply.
Shopping for a grilling enthusiast this year?
Check out my TOOLS section for all the gear I recommend. They make GREAT gifts!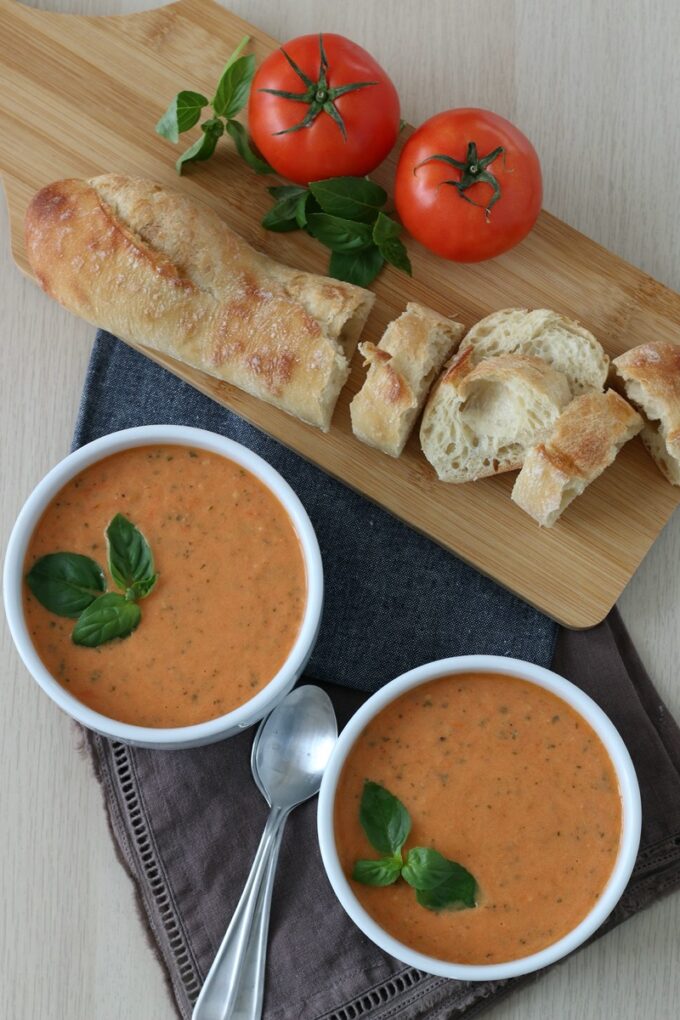 What Toppings Can I Use for the Roasted Tomato Soup?
The beauty of tomato soup is that you can use almost anything you want for a topping. I still love eating traditional grilled cheese with tomato soup. Here are some of my favorite toppings for tomorrow soup:
Cheddar cheese
Sour cream
Fresh parsley
Chopped chives
Croutons
Parmesan cheese
As you can see, there are a lot of options for toppings when it comes to Oven Roasted Tomato Soup. Which topping is your favorite?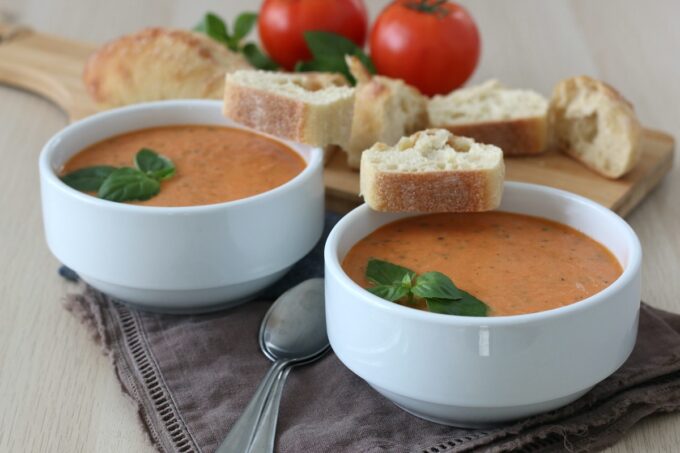 How to Make Tomato Soup
If you're interested in how to make tomato soup, this recipe is for you. It's a no-fuss recipe that is one of the easier ones I've made. Whether you're new to cooking or have been making soups for years, people of all ages and walks of life will love this recipe.
Start by preheating the oven to 375. This is always the part that I forget, so this is your friendly reminder to preheat your oven.
You'll want to take the tomatoes that you're using and cut them in half. Then toss the tomatoes with olive oil and then place on a baking sheet that's been lined with parchment or a silpat mat.
Add the onion to the baking sheet. Put salt and pepper on the ingredients and then place in the oven. You will cook this for around 20-30 minutes. You'll notice everything will start to turn brown on top.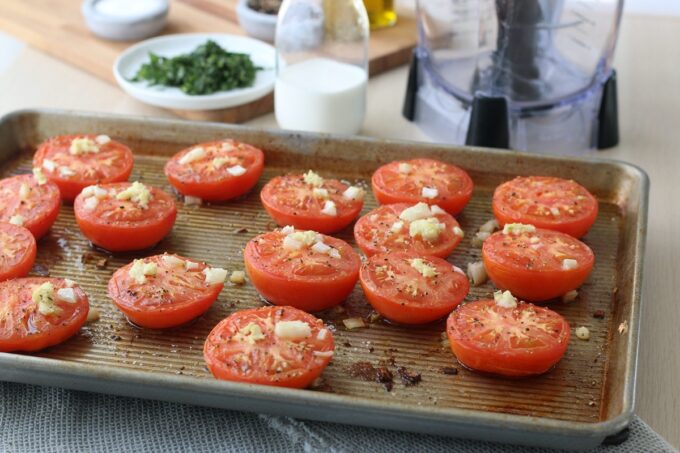 Once you reach the last five minutes of everything baking in the oven, you'll want to sprinkle the garlic on it. Garlic can be strong, so make sure you wait to add it!
You will want to remove this concoction from the oven, place in a blender. Use the puree setting.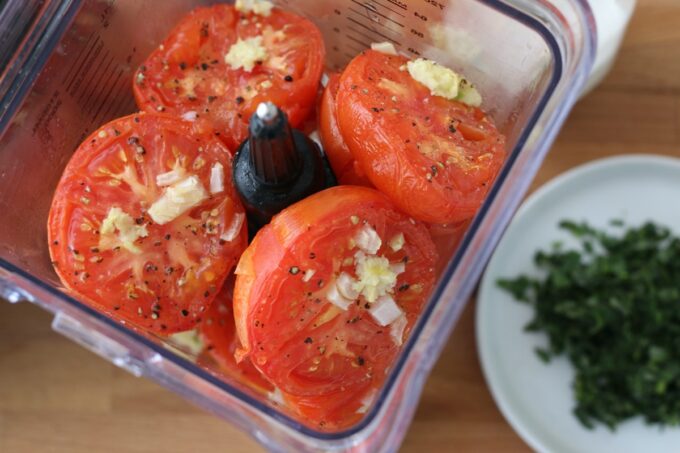 When the tomato soup is blended, you'll want to add half and half, plus basil.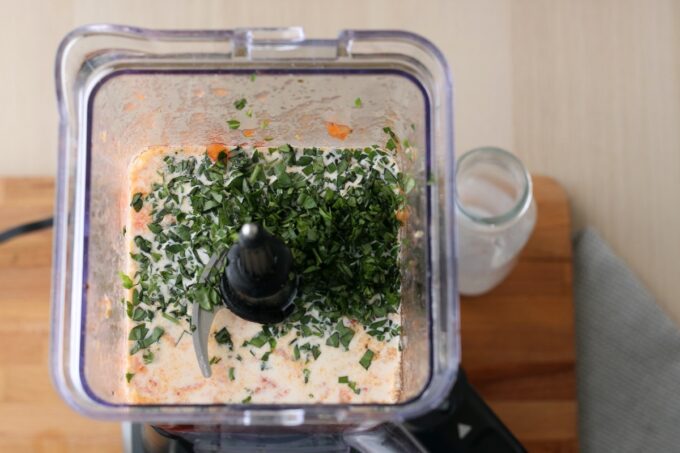 Serve the Oven Roasted Tomato Soup hot and with your favorite toppings.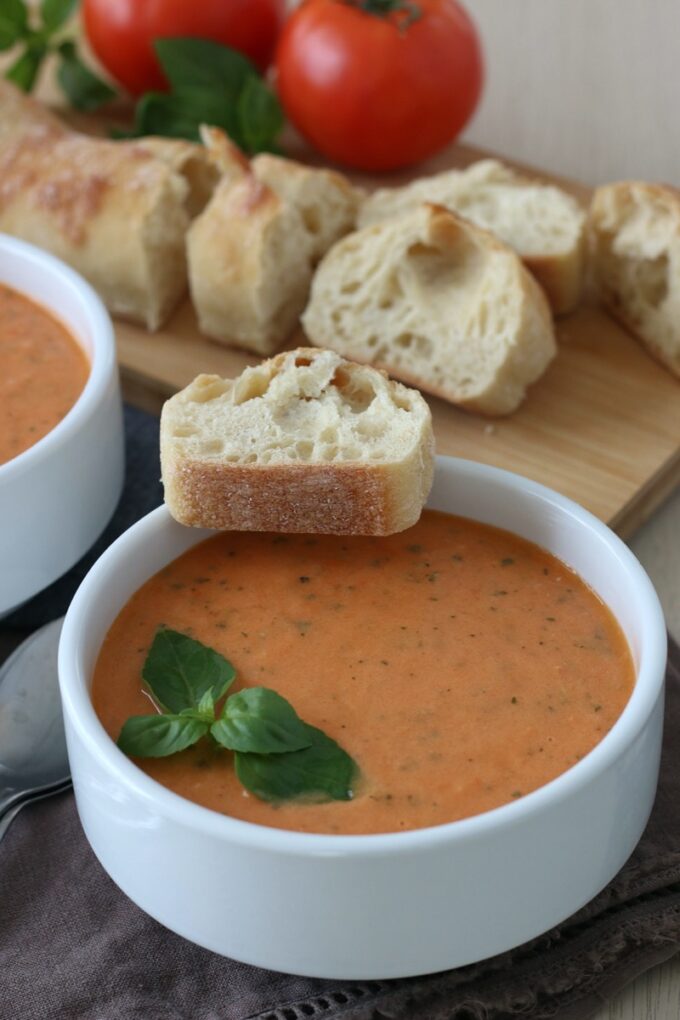 Tl;dr
The next time you are craving an easy recipe, make this your go to. Oven Roasted Tomato Soup is flavorful, simple to make, and versatile! You can even make a big batch and freeze it. Yes, it's amazing! What's your favorite part of this soup?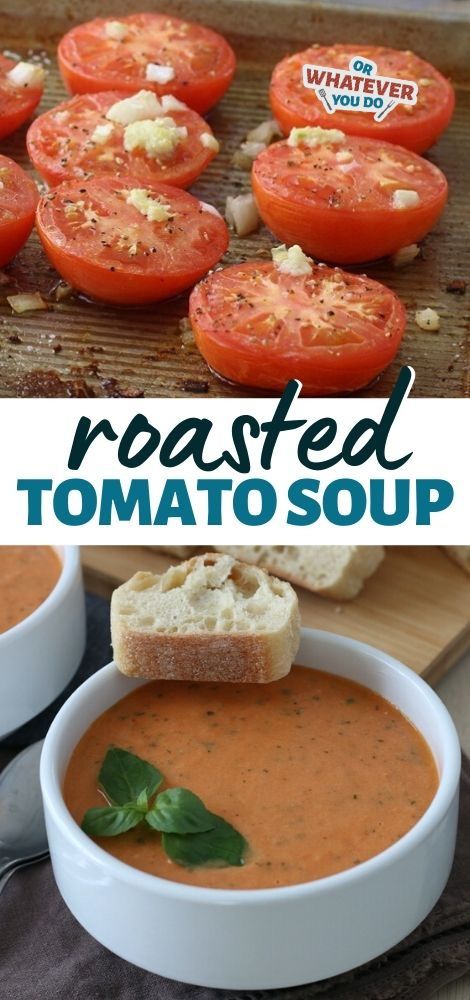 Yield: 6 servings
Oven roasted creamy tomato soup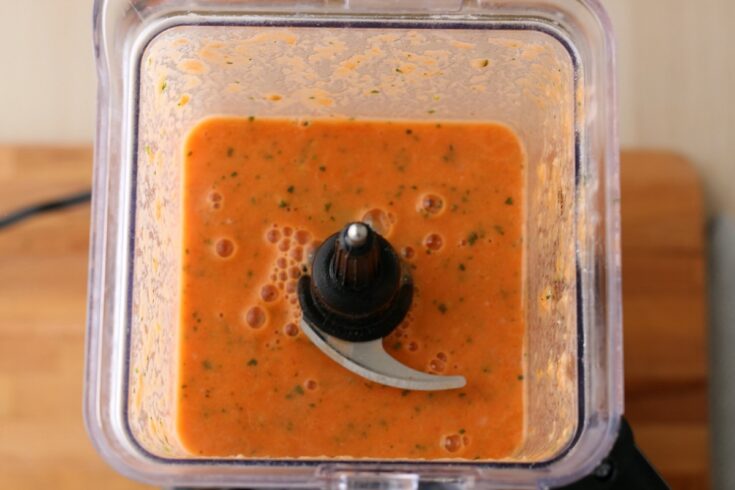 Quick, easy, delicious soup is a perfect pairing for a hot grilled cheese sandwich!
Ingredients
10 medium tomatoes
1/3 cup olive oil
1/4 cup onion, diced
2 teaspoon garlic, minced
1/2 teaspoon salt (may need more depending on your tomatoes, taste and add as necessary at the end)
1/4 teaspoon pepper
1/2 cup half and half
1/4 cup chopped fresh basil
Instructions
Preheat oven or grill to 375°.
Slice tomatoes in half. Toss with olive oil and place on a baking sheet. Add onion. Sprinkle with salt and pepper.
Bake at 375 for approximately 20-30 minutes, or until starting to turn brown on top a bit. Check often, and add minced garlic to pan during last 5 minutes of baking.
Remove from oven and carefully place contents in a blender and puree until combined.
Stir in half and half and basil, and serve hot.
Nutrition Information:
Yield:
8
Serving Size:
1
Amount Per Serving:
Calories:

189
Total Fat:

18g
Saturated Fat:

3g
Trans Fat:

0g
Unsaturated Fat:

14g
Cholesterol:

5mg
Sodium:

55mg
Carbohydrates:

8g
Fiber:

2g
Sugar:

5g
Protein:

2g
Nutrition data provided here is only an estimate. If you are tracking these things for medical purposes please consult an outside, trusted source. Thanks!