This Pork Fried Rice is loaded with flavor and everything you'd expect while dining at your favorite Chinese restaurant. It compliments any other Asian dish you'd like to serve or stands on its own as a main course as well.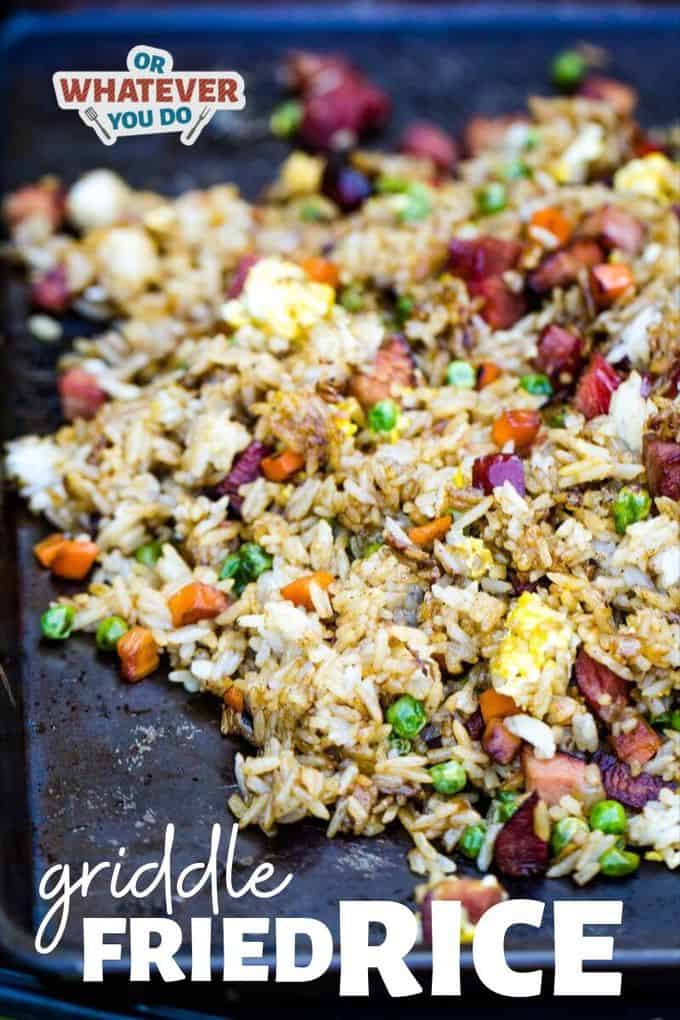 Griddle Pork Fried Rice
This is by far the BEST Fried Rice I have ever made and definitely I've had outside of a restaurant. Here I thought I would have to invest in a good Wok and super hot propane burner in order to prepare a proper stir fry, but nope. It turns out all you need is a propane griddle.
With simple ingredients, you can create a restaurant quality meal right in your own kitchen. And another reason to cook outside? What more could you want!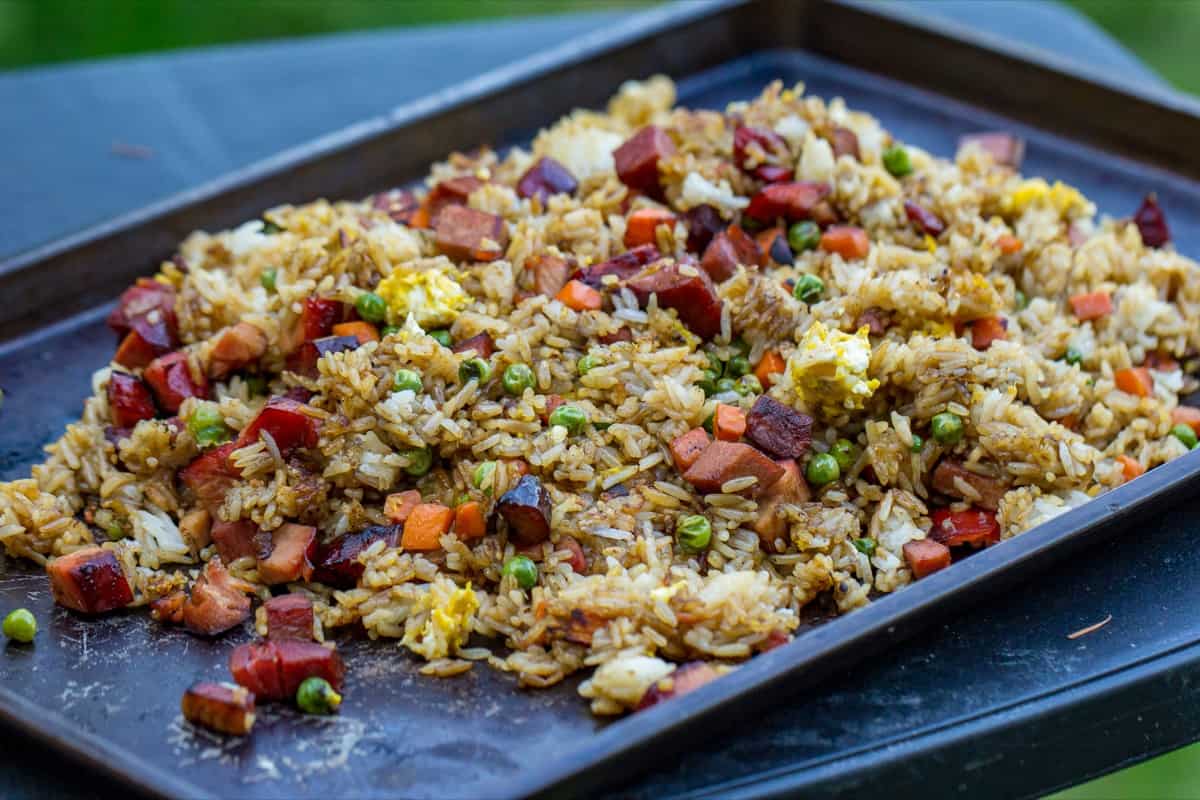 Pork Fried Rice Shopping List
For this dish you will need:
Jasmine rice
avocado oil
sesame oil
onion
frozen peas and carrots
chinese bbq pork (precooked, the pink stuff they serve with hot mustard and sesame seeds)
eggs
soy sauce
Nothing too complicated or hard to find here. Most of these things you probably already have in your pantry or freezer.
If you don't happen to have an outdoor flat top griddle, you can use your Wok or stove as well, but it won't be as good because they don't get as hot, and the heat is the key to an authentic fried rice.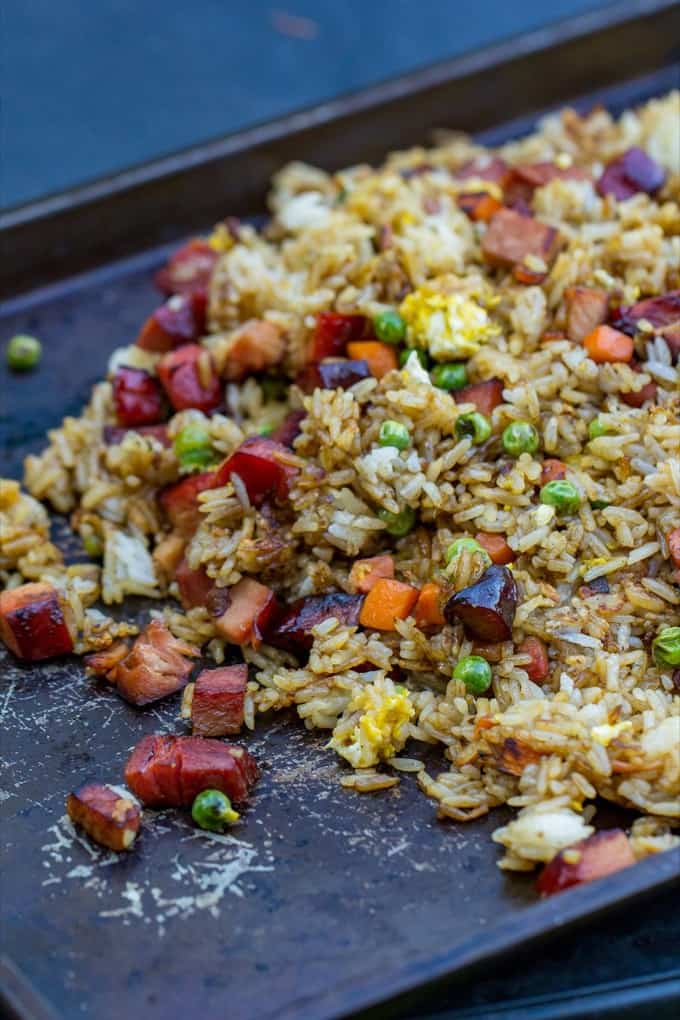 What kind of griddle do you use for Fried Rice?
I hate to say it, but that electric griddle that you fire up in your kitchen to make pancakes on is NOT your friend for fried rice. They don't get nearly hot enough, so you'll be really disappointed.
I got a Camp Chef Woodwind this summer for testing (thank you team Camp Chef!), and it came with a Sidekick that has a fantastic griddle option on it. It is powered by propane and gets BLAZING hot.
One of the first big dinners I made on it was this easy fried rice, and it was a REALLY GOOD DECISION.
There are a lot of propane flat top griddles out there on the market. The only other kind that I have personal experience with is the Blackstone Grill, which would also work really well for this easy pork fried rice recipe.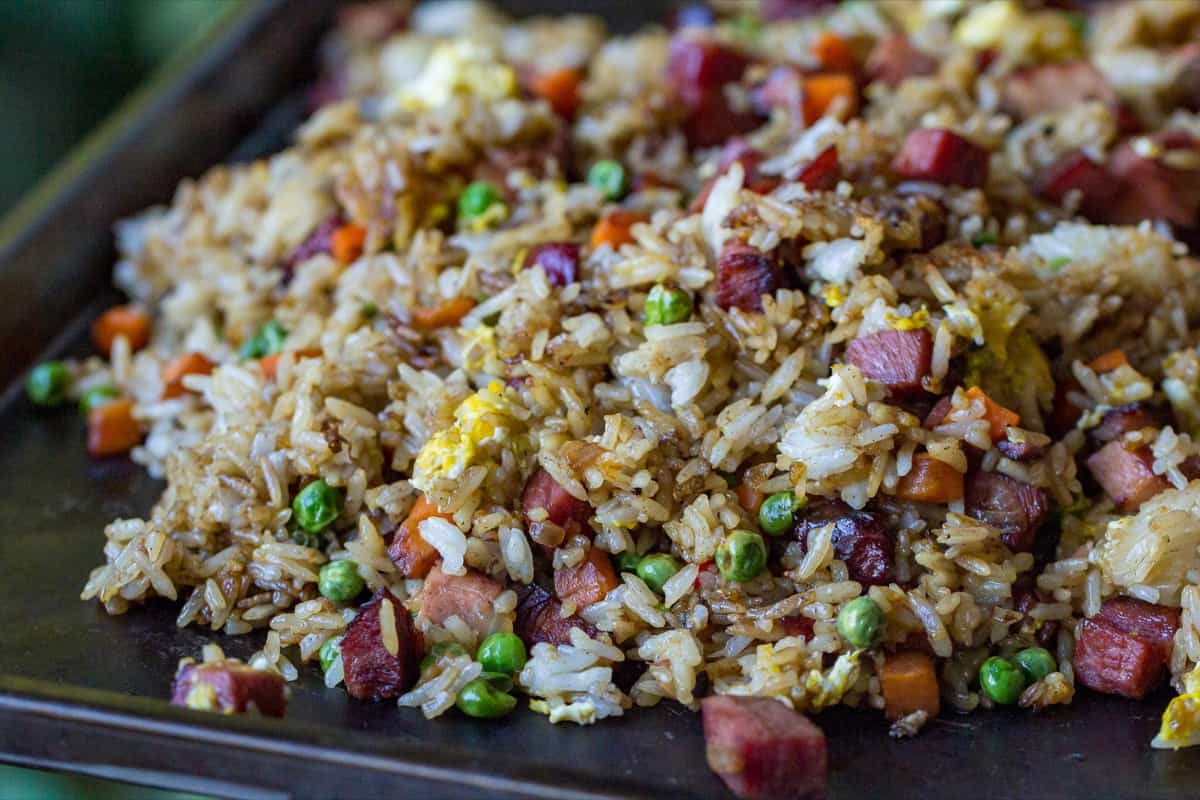 I LOVE the Camp Chef Sidekick Griddle because it is the perfect size, whether you want to make a big meal for a crowd, or if you are just cooking breakfast for one or two.
It is easy to light, even for me, who is a little timid around propane. The temperature control is responsive and accurate, and it is really easy to take on and off of the Sidekick. Highly recommend!
(This post is NOT sponsored by Camp Chef, but I did receive a complimentary grill for testing purposes. This review is honest and contains my own thoughts and opinions on the forementioned grill. Thanks!)
Buy a Camp Chef Woodwind at Amazon! (Affiliate Link)
What is Chinese BBQ Pork?
The proper name for Chinese BBQ Pork is Char Siu. It is pork marinated with a sauce consisting of five spice powder, hoisin sauce, and honey. There is usually some red food coloring added as well, which gives the outside edge of the meat a reddish color.
You can buy it or you can make your own, allowing you to control the ingredients, if you would rather not have the added red food color for example.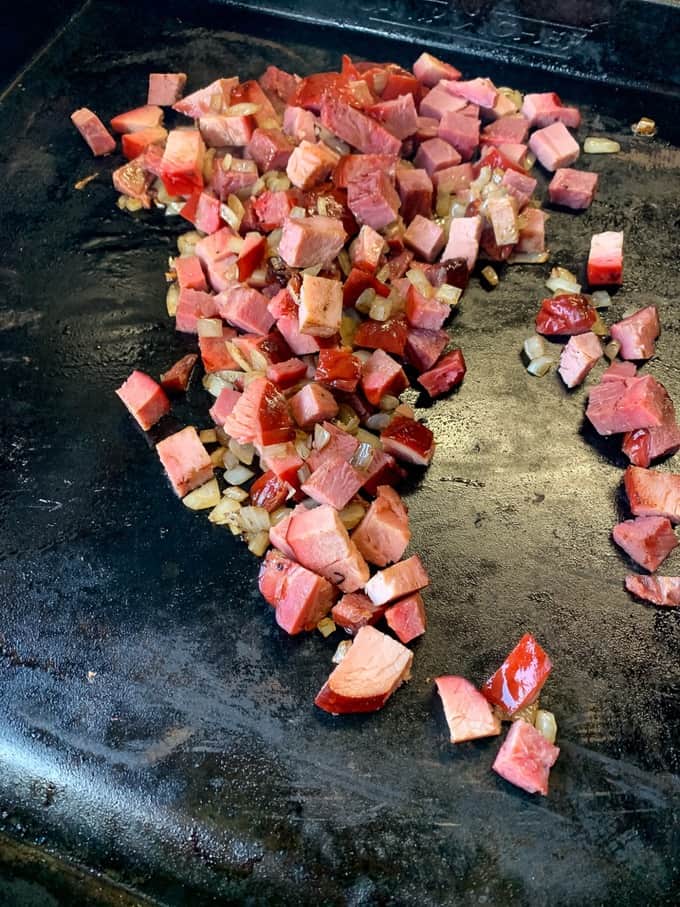 Why Jasmine rice?
I prefer the fragrant flavor of Jasmine Rice versus plain white rice. It's all a matter of preference. You can use any other variety of long grain white rice if you want.
Jasmine rice also holds up well for frying, but as I mentioned earlier, be sure to use refrigerated rice. The key is making sure the rice has fully absorbed the water you cooked or steamed it in, or it can become mushy when frying.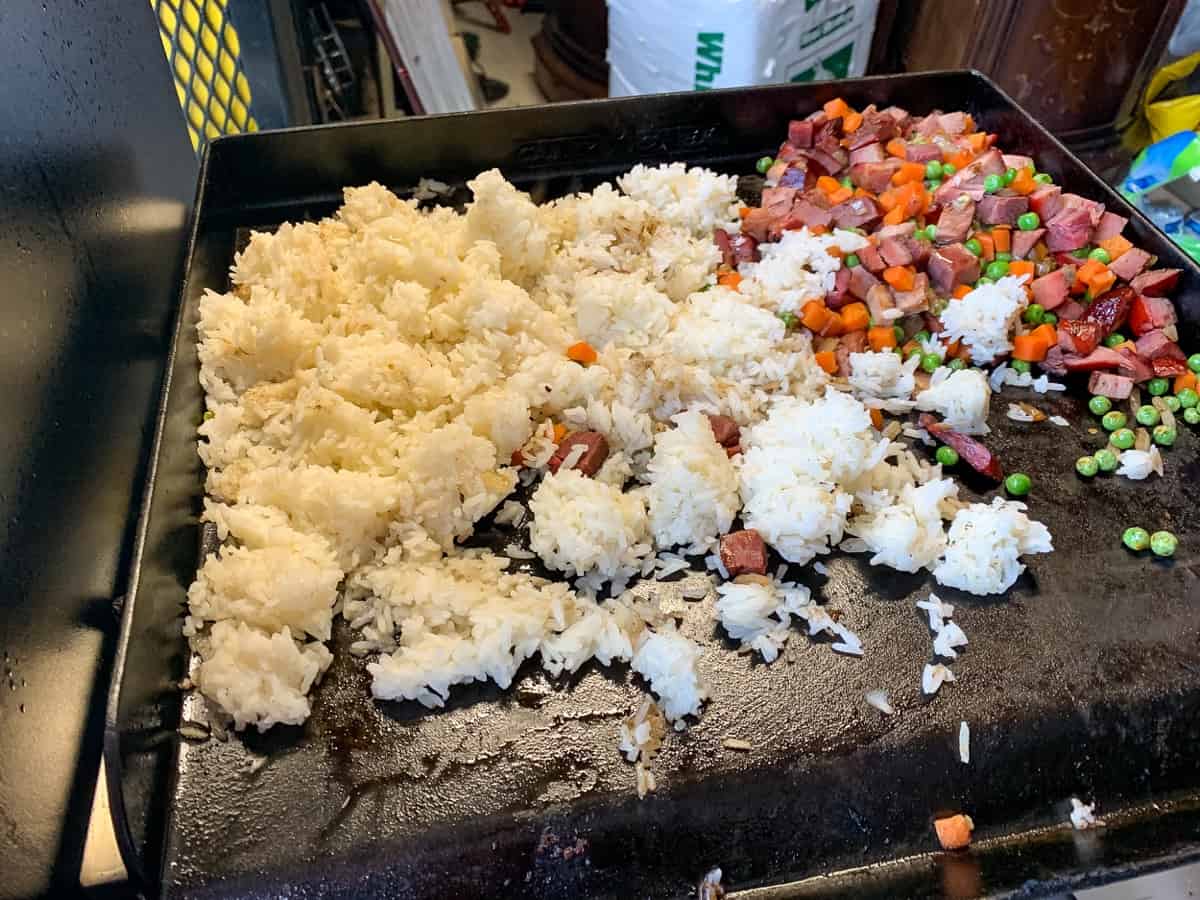 Secrets for the BEST Fried Rice
Good fried rice at home isn't super complicated, but if you don't have the following things down you'll definitely have a harder time of it. Read carefully!
Use cold rice

Under no circumstances should you ever think you can use warm or hot rice. You'll wind up with a pile of mush.

Prep well, and keep everything within reach

Fried rice goes fast, and you cannot walk away from it to grab the peas and carrots or to chop that onion. So make sure everything is prepped and ready to go, and at hand when you get started. A large metal spatula (or two) are going to be your best friends.

Oil is your friend, but use a light hand

Make sure you have a squeeze bottle or a jar with a ladle handy so you can add more oil to the griddle as necessary to keep things from sticking and so it'll get that fried texture, but you don't want it soaked with oil either.

You want your griddle HOT HOT HOT

Seriously. It would be difficult to have it too hot. Especially once the COLD rice and frozen carrots and peas hit it. Don't be afraid to heat up that griddle!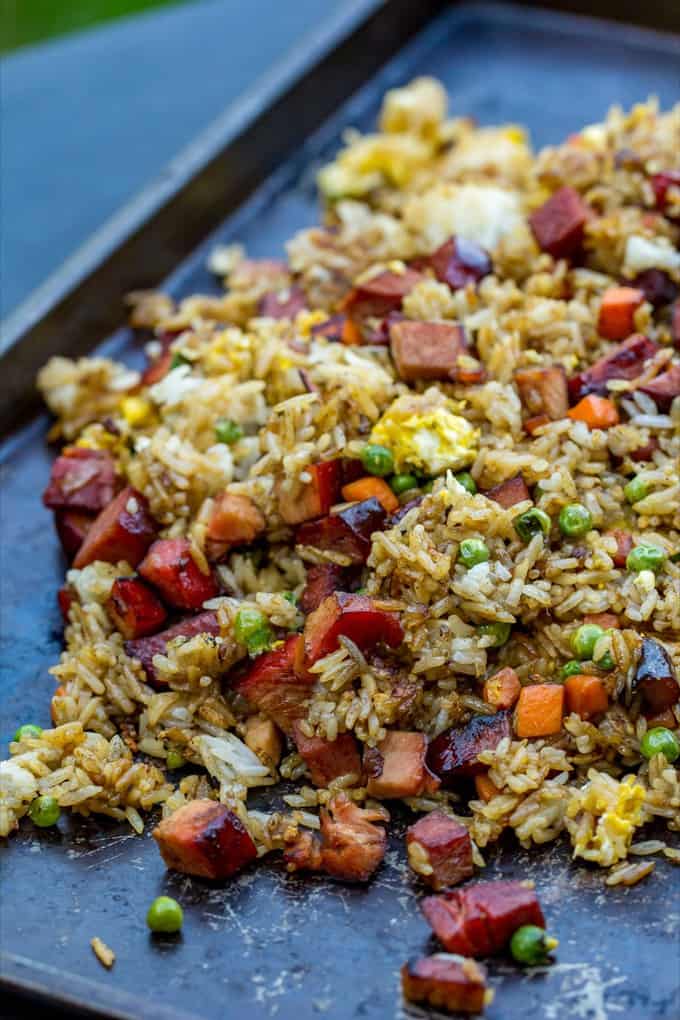 Can I substitute a different protein or omit the meat?
Yup! You can sub in chicken, shrimp, smoked pork chops, tofu, or omit the meat all-together. You make the rules here. You can also add in more vegetables like edamame, celery, asparagus, extra green onion, fresh garlic, etc. The sky is the limit and you should feel free to experiement! One of my favorite things is "clean out the fridge fried rice".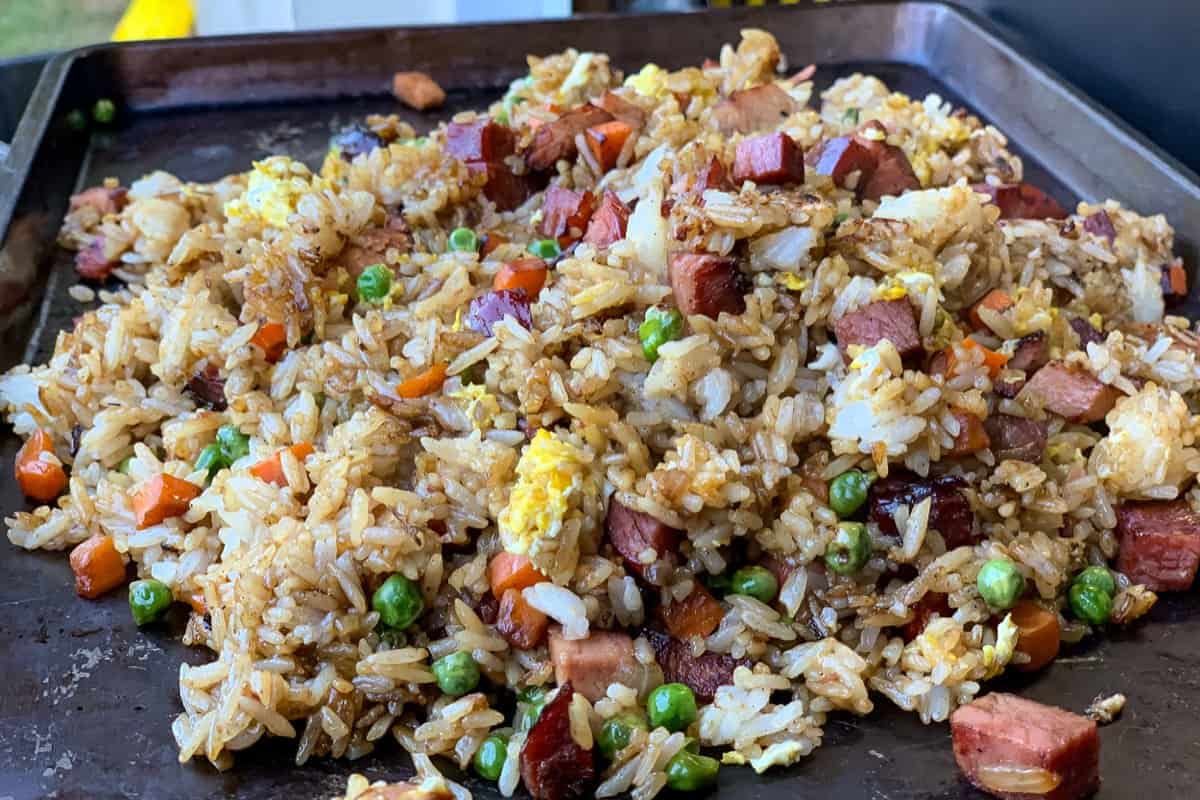 What can I serve with Hibachi Pork Fried Rice?
This Pork Fried Rice is filling and sturdy enough to stand on its own as a meal, but if you want appetizers to set the stage for this Asian inspired meal your guests will thank you!
Start off with my easy Fried Wontons, and serve a few different dipping sauces, such as the soy-vinegar sauce from my recipe, some sweet and sour sauce, and maybe a spicy peanut dipping sauce for a good variety.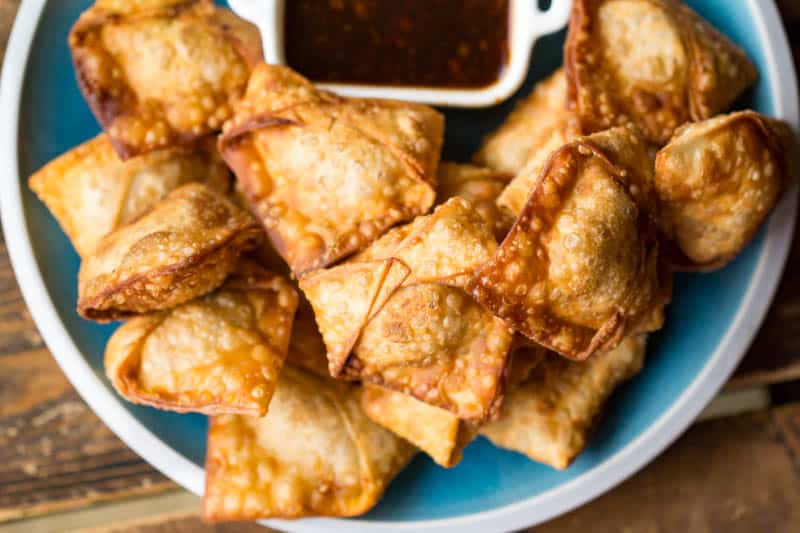 My easy Coconut Shrimp would also be a fabulous appetizer to serve alongside the Fried Wontons, they're crispy on the outside and tender and delicious on the inside.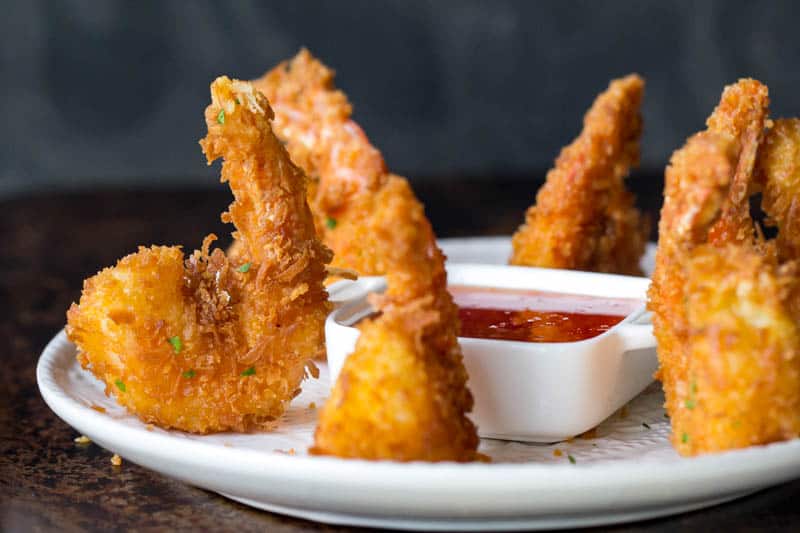 As a side dish, or part of the entree, you could try my Traeger Chicken Wings with Spicy Miso. You can't go wrong with these with their thick marinade that has a spicy/sweet taste to compliment anything.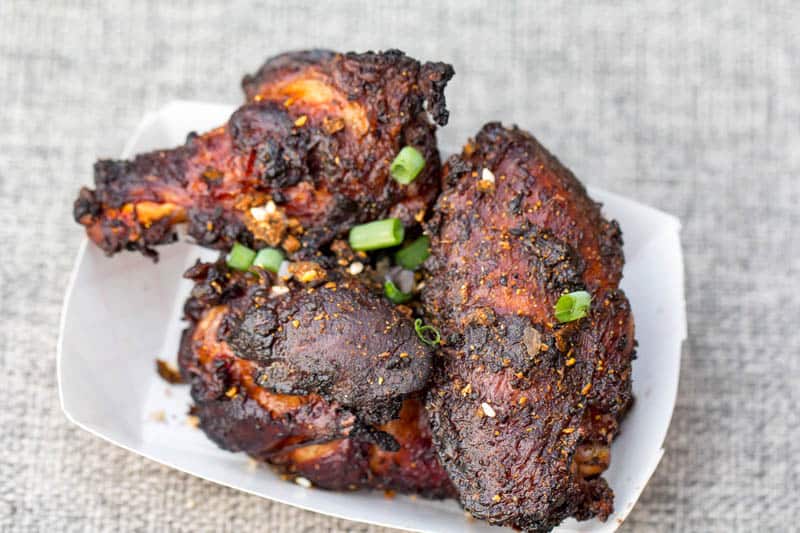 If you're looking for something a little different as a side, try my Spicy Tonkotsu Miso Ramen. Takes a little planning, but well worth the effort.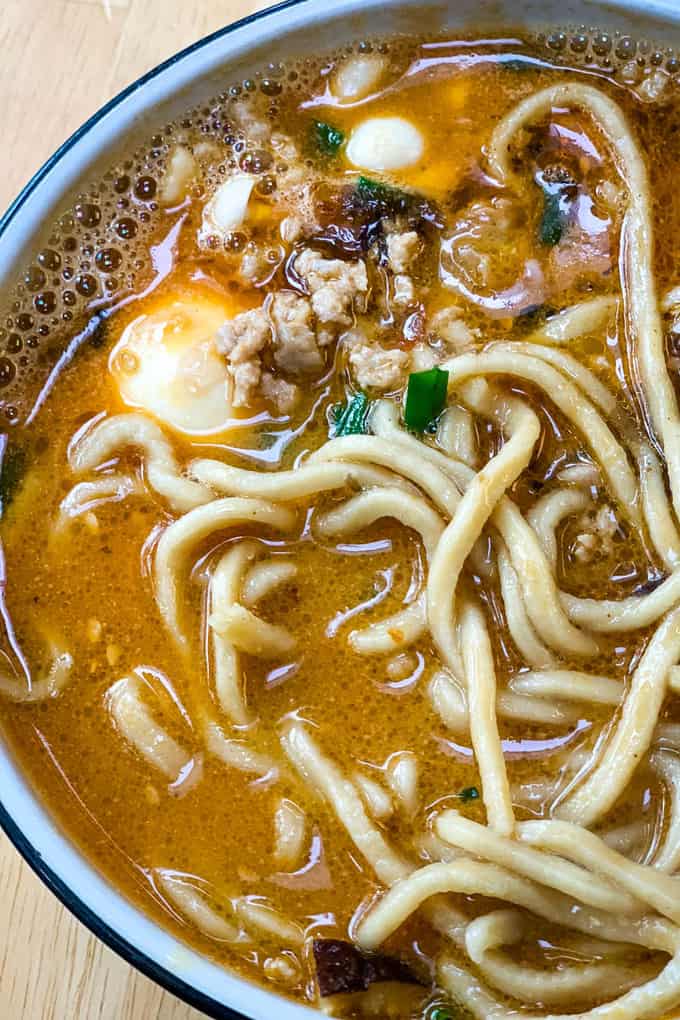 And last but never least, Egg Rolls. Always a crowd favorite, and versatile enough that you can easily customize your ingredients to fit any taste.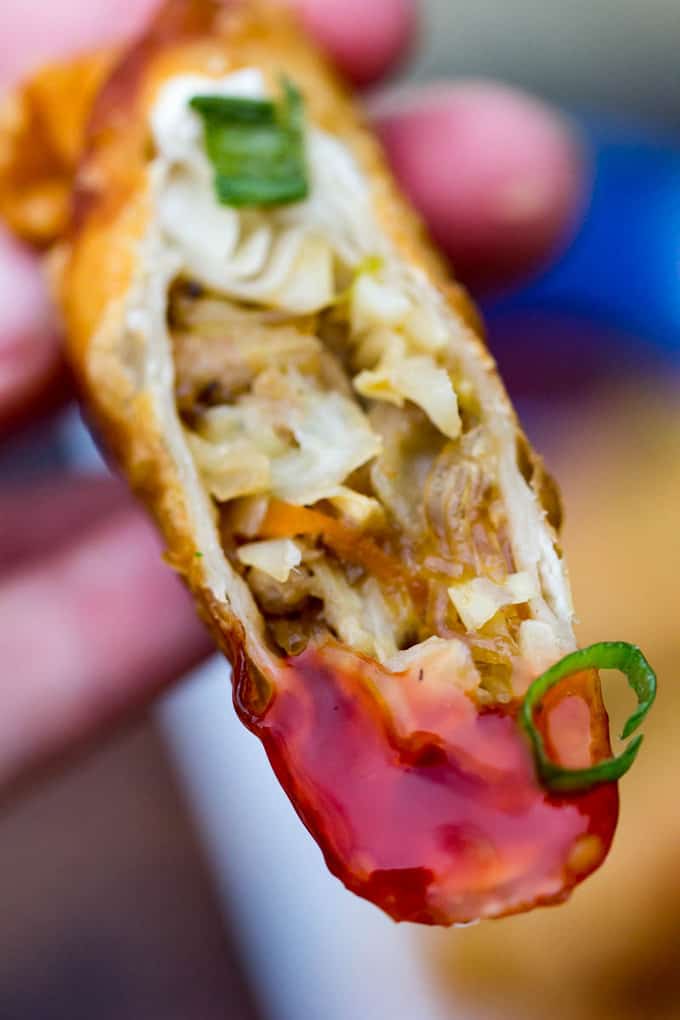 This dish is a perfect, quick weeknight meal, or you can turn it into an Asian inspired 5 course extravaganza for a crowd or for your Sunday family get-together.
For an after dinner sip try one of my fun cocktail recipes too.
Pin for later!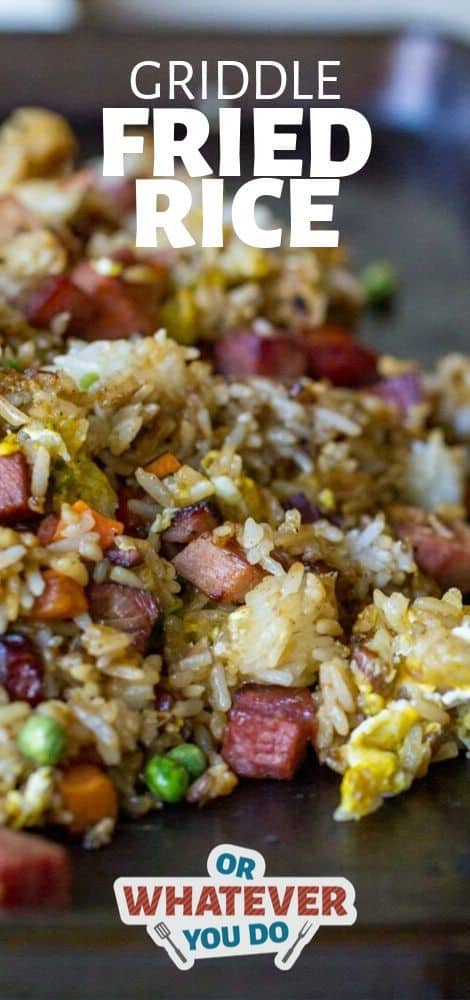 Yield: 8 servings
Griddle Pork Fried Rice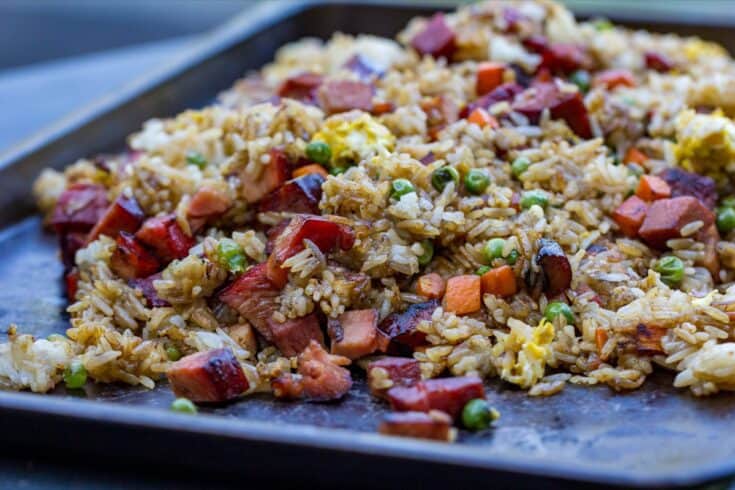 Home-cooked Pork Fried Rice made easy right on the propane griddle. Get authentic hibachi-style fried rice at home, for a fraction of the cost.
Ingredients
4 tablespoons canola oil, divided
1 small onion, diced
1 cup diced Chinese BBQ Pork
1 cup frozen peas and carrots
3 cups cooked Jasmine rice, chilled
2 eggs, lightly beaten
1/8 cup soy sauce
1 teaspoon sesame oil
salt and pepper
Instructions
Preheat your griddle to medium-high or high heat (basically you just don't want to light the oil on fire), and place about a tablespoon of oil down.
Dump on the onions and bbq pork, and stir fry for about 2 minutes.
Add in the frozen peas and carrots and stir fry until heated through and the edges get a little crispy.
Move the pork and the vegetables over to the side of the griddle that is NOT a hot spot (if your griddle has multiple heat zones, turn one down).
Put down some more oil on the griddle, and let it heat up. Add on the cold rice and break it apart with your spatula. Continue moving it around the griddle, evenly coating with oil and letting it get toasty. Add more oil as needed.
Combine the meat, vegetables, and rice together and stir and toss until they are evenly combined. Drizzle the soy sauce and sesame oil on top and continue to stir and cook until it is evenly distributed.
Make a hole in the middle of the rice and add a little more oil. Crack the eggs inside, stir with the spatula, and toss to combine with the rice.
Recommended Products
As an Amazon Associate and member of other affiliate programs, I earn from qualifying purchases.
Nutrition Information:
Yield:
12
Serving Size:
1
Amount Per Serving:
Calories:

152
Total Fat:

7g
Saturated Fat:

1g
Trans Fat:

0g
Unsaturated Fat:

6g
Cholesterol:

38mg
Sodium:

324mg
Carbohydrates:

17g
Fiber:

1g
Sugar:

4g
Protein:

6g
Nutrition data provided here is only an estimate. If you are tracking these things for medical purposes please consult an outside, trusted source. Thanks!