This Wild Rice Pilaf is an easy but savory side dish that will compliment any dinner you plan on cooking up tonight!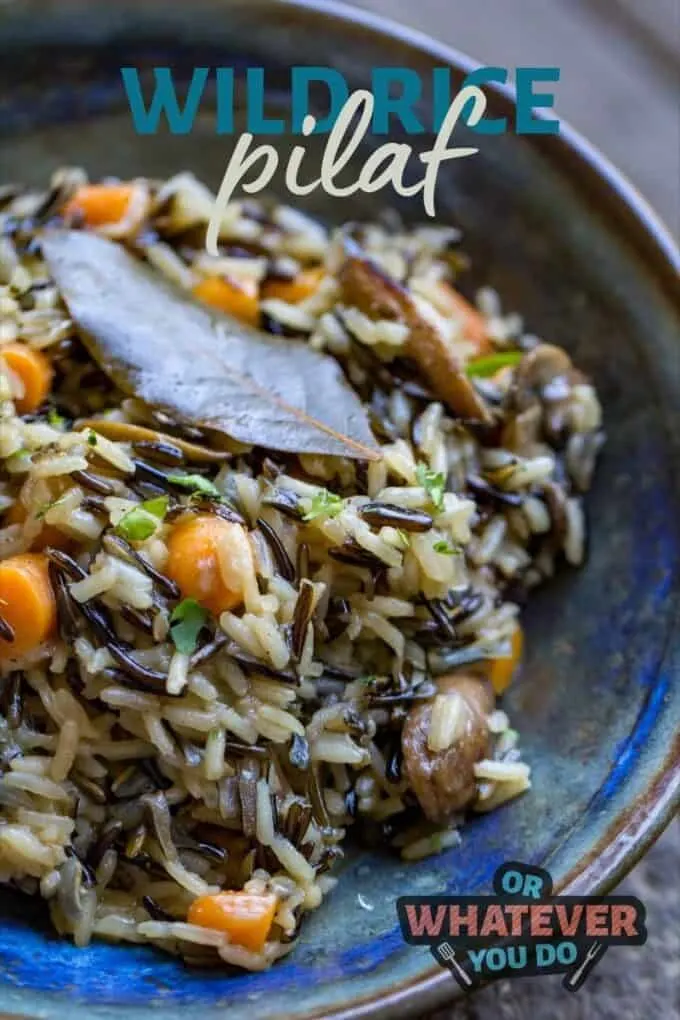 Wild Rice Pilaf
With a combination of wild rice, jasmine rice, chicken stock, carrots, mushrooms, butter, and herbs, this easy rice pilaf stands out with the toasty, nutty flavor of the wild rice mixed with the mild flavor of the jasmine rice.
A perfect accompaniment for fish, seafood, chicken, pork, or beef. Versatile and easy to make, but the flavors will have your guests going for seconds for sure.
This Wild Rice Pilaf is a must-have addition to your side dish routine.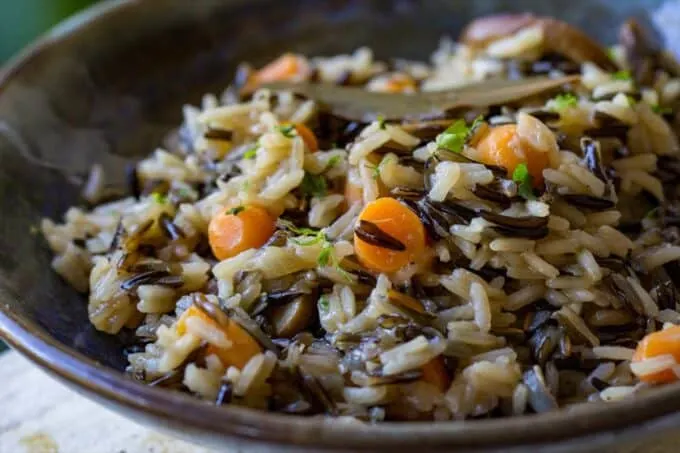 What is wild rice?
Let's begin by talking a little bit about wild rice. If you have never cooked it or eaten it before, then you will quickly discover that this is not like your ordinary rice.
In actuality, wild rice is not really a rice, but a grain that is harvested from four species of grasses that are native to North America. The outer covering is brown/black in color and resembles a rice.
During the cooking process, the outer shell opens and the rice-like grain then emerges and fluffs up and behaves like a rice. Sturdy, and able to absorb whatever flavors you marry it with, but keeping its own distinct flavor underneath. One of the many little miracles that nature has given us to enjoy.
Want more easy wild rice recipes? Click here!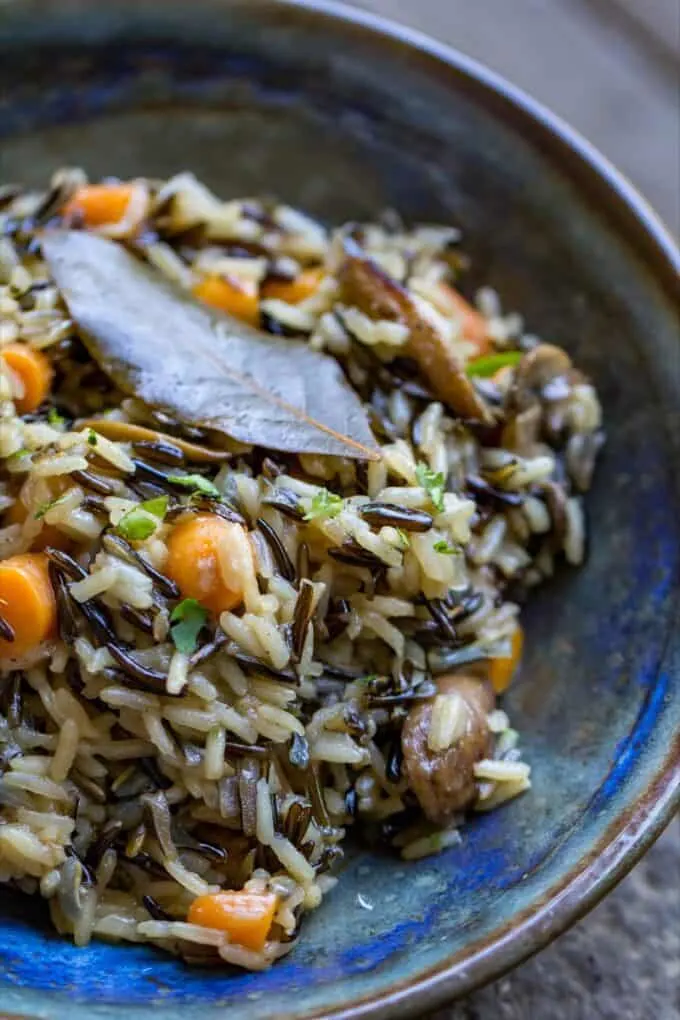 Can I substitute a wild rice mix?
Please don't!
Everytime I post a wild rice recipe, someone ends up substituting the boxed wild rice mix that you can get at every grocery store, and it never turns out right.
If you are going to use a boxed wild rice pilaf mix, I'd just make that boxed mix according to package directions. This isn't a recipe to fix a boxed mix, though I do have some of those laying around, this is a recipe for homemade wild rice pilaf.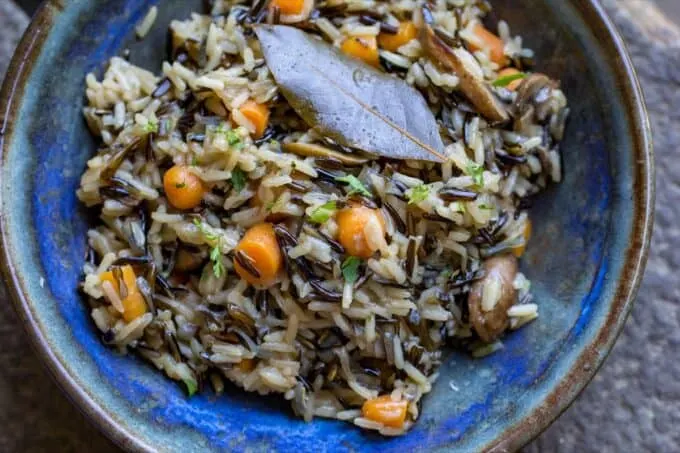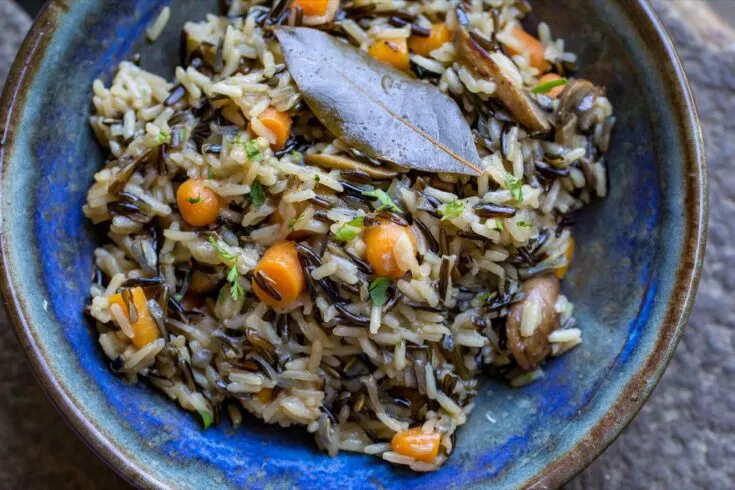 How do I cook Wild Rice?
There are many methods for cooking wild rice. Boiling is the standard cooking process, just as for rice. The only difference is that it is important to rinse your wild rice thoroughly before boiling. Some even like to soak in water overnight or for a couple of hoursdd. This helps soften the shell, and cuts down your boiling time. You can also steam this rice.
Another method is baking in the oven. If you want to prepare a large amount to freeze or to prepare a large amount for a big gathering, then baking is the way to go.
You can also cook wild rice in an instant pot, which is my current favorite way to
But for this recipe, simply boiling will suffice. You will want to cook the wild rice only until it's about ¾ of the way done since it will continue to cook once you add it with the other ingredients and simmer.
While you're cooking your wild rice you will notice that the water releases some of the color of the outer covering. This is normal, so don't let it freak you out. Some people like to change out the water one or two times during the cooking process, but it isn't really necessary. The flavor of the end result isn't really impacted by this, as far as I can tell.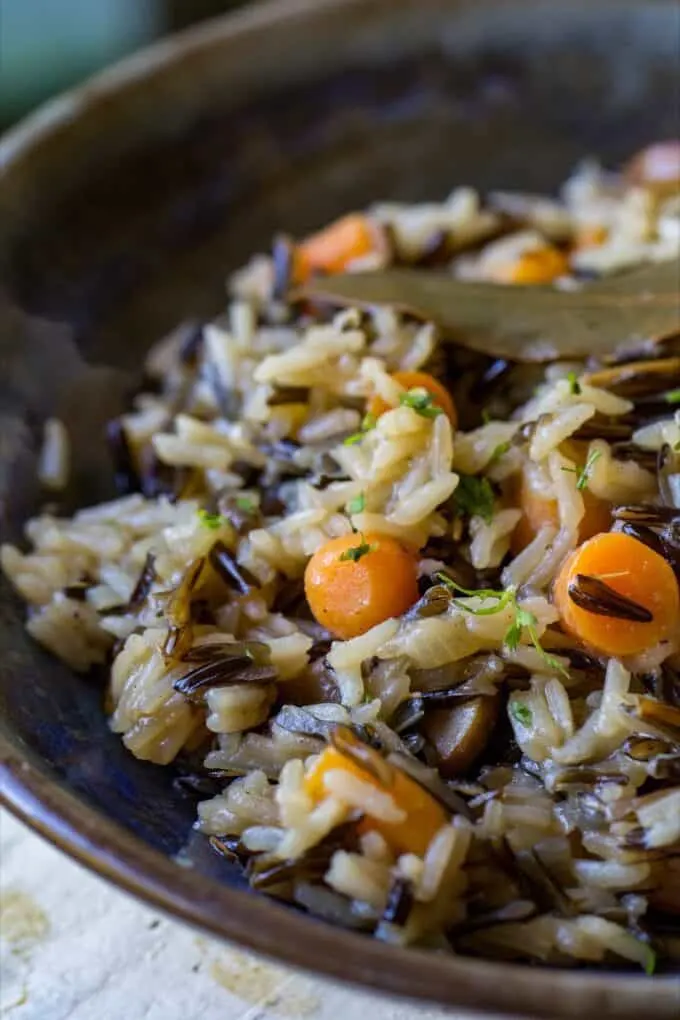 Ingredients for Wild Rice Pilaf
If you need to go shopping, here's an easy list for you to copy and paste. The list is long, but a lot of these items are things you probably have in your fridge or pantry already, so don't let that scare you off.
chicken broth
wild rice
onion
mushrooms
butter
bay leaf
mushroom powder
salt
carrots
jasmine or basmati rice
chicken broth
white wine
sage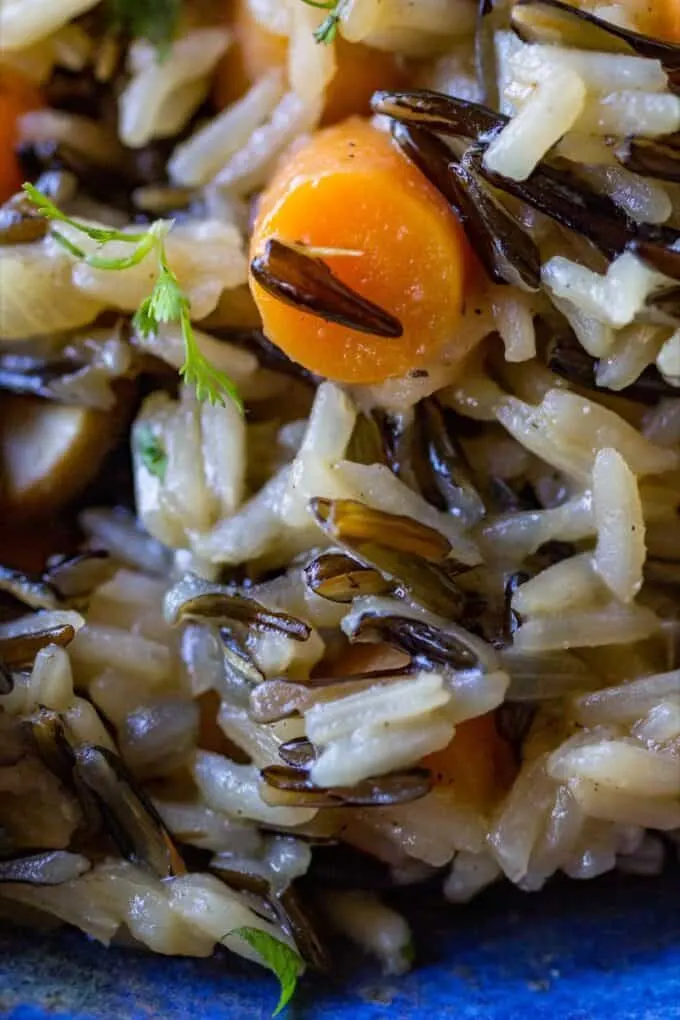 How to make wild rice pilaf
Once you've cooked your wild rice set it aside and on to the rest of the recipe which will go quickly.
Next you'll be sautéing your onions and mushrooms until they are tender and browned. Add in the carrots, seasonings, jasmine rice, wine and sage along with the wild rice and simmer until everything is cooked and tender.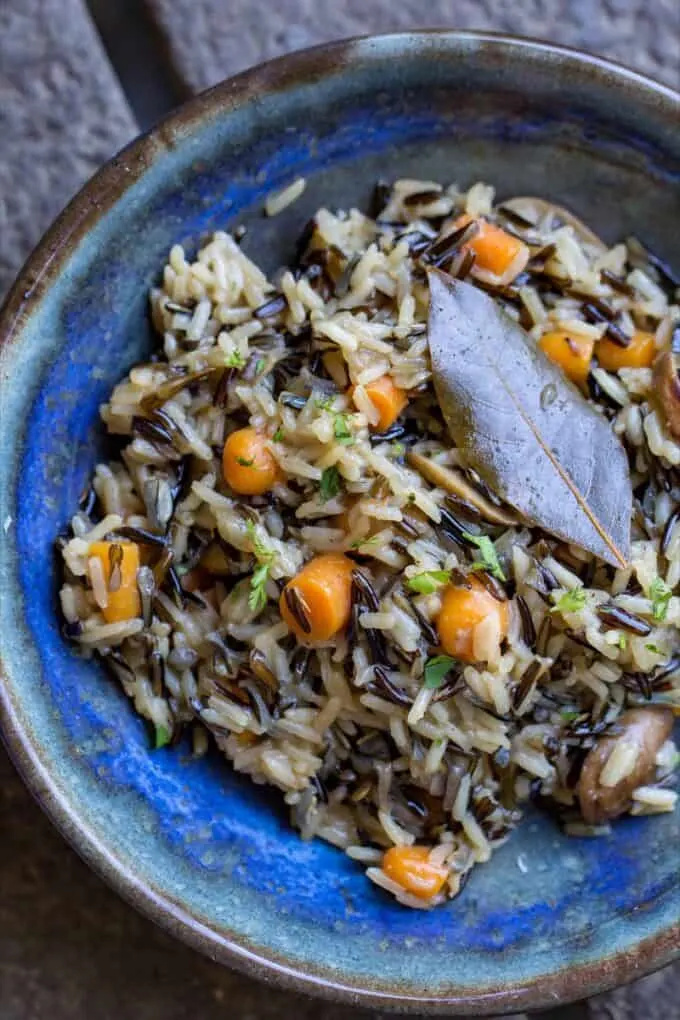 What should I serve with this Wild Rice Pilaf?
This is where the versatility comes in. Because of the savory, rich flavors here, you can serve with almost any meat, fish or seafood you like. I have a few ideas that you can find right here:
Serve any of these delicious recipes with your Wild Rice PIlaf and a vegetable or salad on the side, and you have a meal fit to serve as an intimate dinner for two, or a meal fit to fill the bellies of a ravenous crowd.
Don't forget dessert! Try my Triple Berry Trifle, great to serve a crowd. Or my Traeger Apple Crisp served with a scoop of ice cream. The perfect end to a savory, satisfying meal.
Pin for later!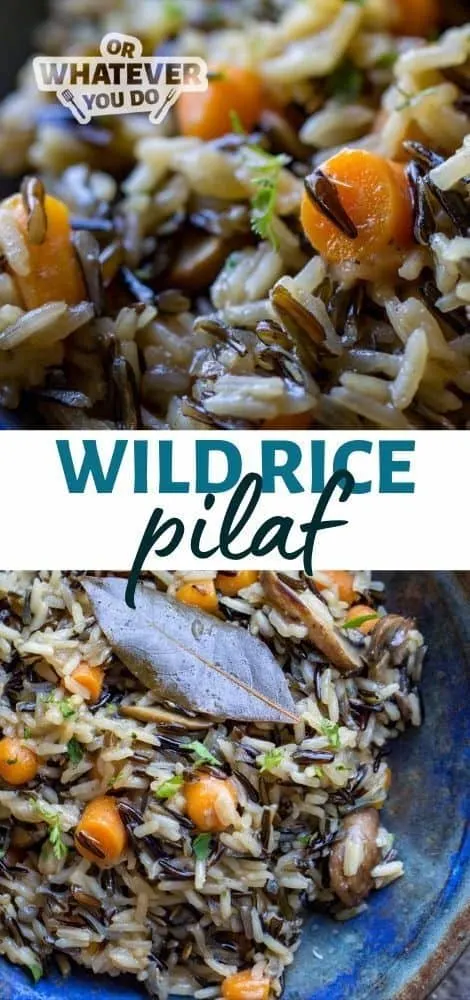 Yield: 8 servings
Wild Rice Pilaf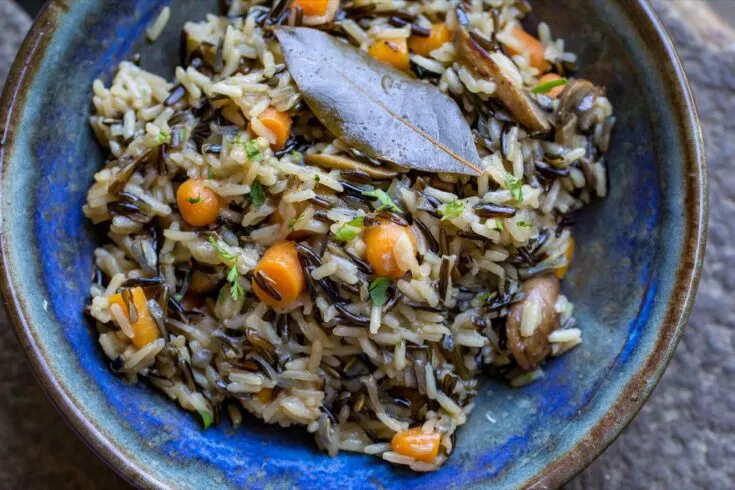 Hearty wild rice is the star of this flavorful, homemade wild rice pilaf. This side dish goes well with almost any big meaty main, so it really is a no-fail dish to serve at any meal.
Total Time
1 hour
10 minutes
Ingredients
4 cups chicken broth (for boiling the wild rice, can use well-salted water in a pinch)
1 cup wild rice
1 onion
6 cups sliced mushrooms
1 stick butter
1 bay leaf
1 tablespoon mushroom powder
1/2 teaspoon salt
2 cups diced carrots
1 1/2 cups jasmine or basmati rice
3 1/2 cups chicken broth
1/2 cup white wine
1/2 teaspoon sage
Instructions
In a large pot, cook the wild rice in 4 cups of chicken broth until the wild rice is about 3/4 of the way done. You'll know it is there when the kernels have cracked open and the rice starts to expand, but when you bite it, it is still too tough to properly eat.
Drain the rice and set aside.
In a large non-stick skillet, saute the onions & mushrooms in butter until they are tender and browned.
Next, add in the carrots, seasonings, other rice, 3 cups chicken broth, wine, and sage along with the reserved wild rice, and simmer until everything is cooked and tender. You may need the other 1/2 cup chicken broth, but just keep an eye on it during the last bit of cooking at only add if necessary.
It should take about 10-15 minutes.
Recommended Products
As an Amazon Associate and member of other affiliate programs, I earn from qualifying purchases.
Nutrition Information:
Yield:
12
Serving Size:
1
Amount Per Serving:
Calories:

159
Total Fat:

9g
Saturated Fat:

5g
Trans Fat:

0g
Unsaturated Fat:

3g
Cholesterol:

23mg
Sodium:

744mg
Carbohydrates:

17g
Fiber:

3g
Sugar:

4g
Protein:

4g
Nutrition data provided here is only an estimate. If you are tracking these things for medical purposes please consult an outside, trusted source. Thanks!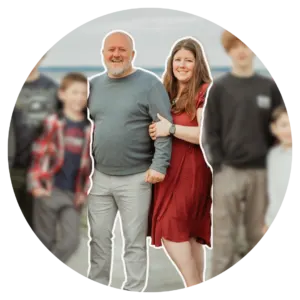 Nicole Johnson, a self-taught expert in grilling and outdoor cooking, launched Or Whatever You Do in 2010. Her blog, renowned for its comprehensive and creative outdoor cooking recipes, has garnered a vast audience of millions. Nicole's hands-on experience and passion for grilling shine through her work. Her husband, Jeremiah Johnson, also plays a pivotal role in recipe development, adding his culinary flair to the mix. Together, they form a dynamic duo, offering a rich and varied outdoor cooking experience to their followers.