Shredded Beef Tamales perhaps take the title as best comfort food of central and south America. If you have never enjoyed making homemade tamales, then you are in for a treat. They are actually quite simple to make.
Think about making a double batch of these shredded beef tamales for a few reasons. They go quickly, but they also store well for later. Easily reheated, they work for snacks or meals.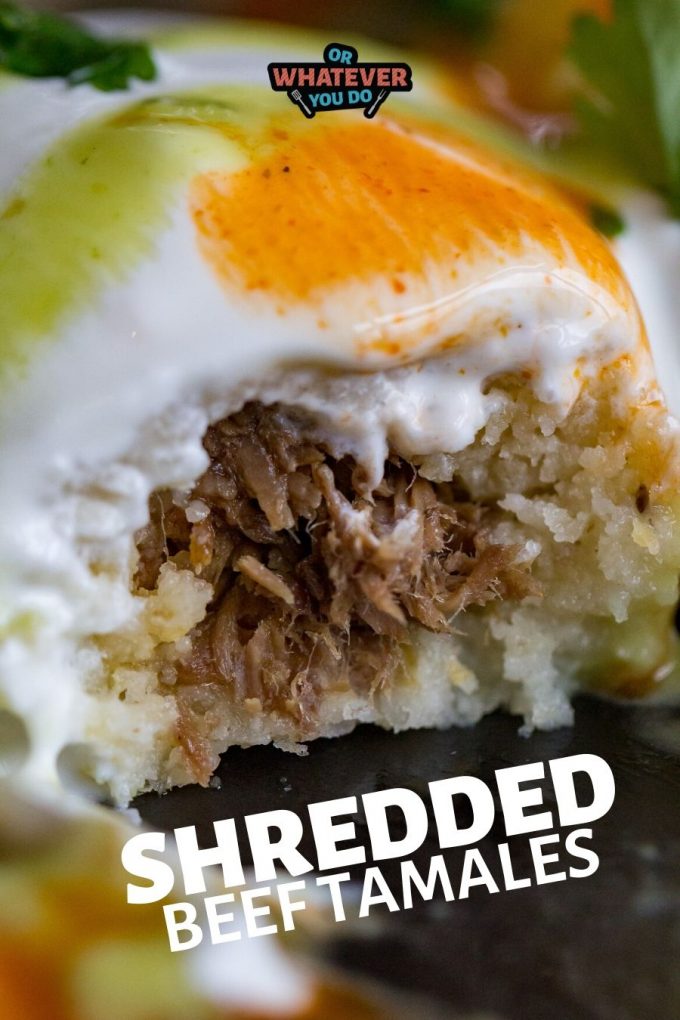 Shredded Beef Tamales
A tamale is typically made with a meat and vegetable inside a masa paste (corn flour stuffing), and then wrapped in dried corn husks. The wrapped tamales are then steamed to cook the ingredients and served atop the unwrapped husks.
With a simple production line, you can wrap them up quickly and get them stacked in your steamer or slow cooker. Add a bit of liquid to steam them, and you are off to the races.
This recipe starts with preparing your beef for shredding. Season the beef and cook it until it is easy to shred with a fork. Then mix it with the other ingredients and let it soak up the flavors while it cools long enough to handle it.
The more flavorful the beef, the better the tamale.
The masa tastes good and gives a bit of sweetness, but you really want that beef flavor to permeate the entire tamale.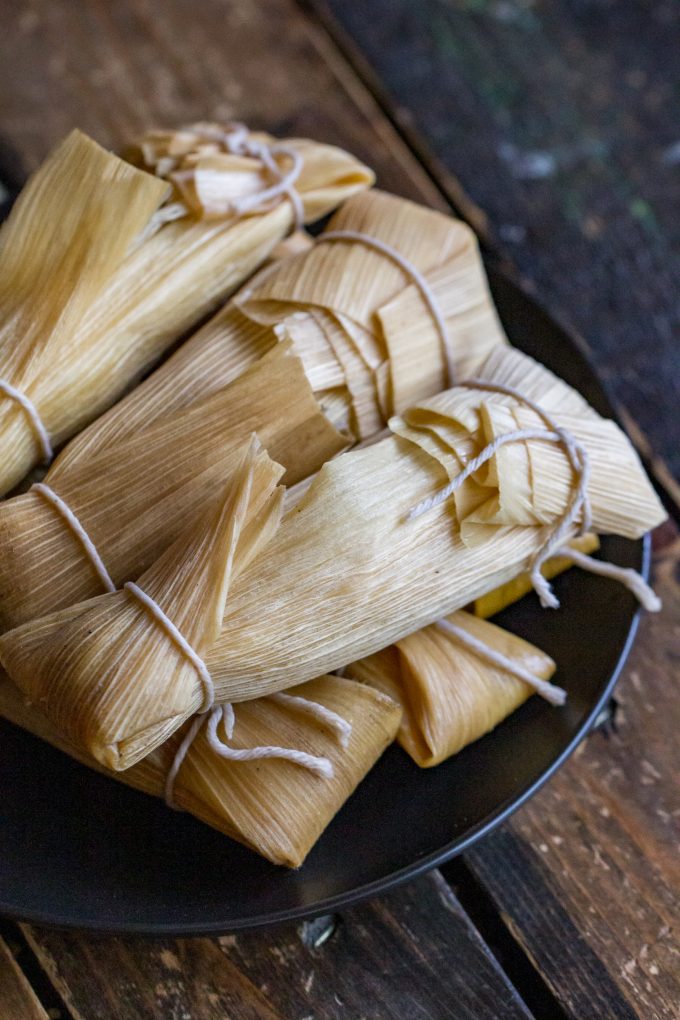 Homemade Tamale Grocery List
The list is pretty long, but all of the ingredients are found in normal grocery stores.
10 pounds sirloin tip roasts
2 – 8 ounce cans El Pato jalapeño tomato sauce
1 large yellow onion
2 teaspoon onion powder
2 teaspoon granulated garlic
1 teaspoon cayenne pepper
2 teaspoon cumin
6 cups masa flour
5 cups chicken stock
3 cups lard
corn husks (30-40)
Get my easy Side Dish recipes!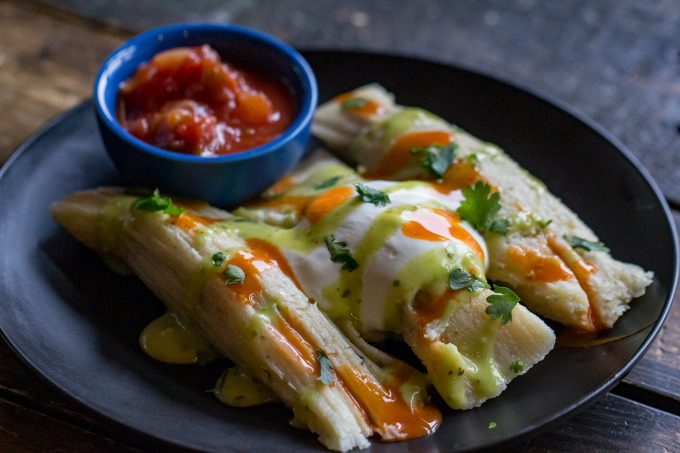 Finding Corn Husks For Shredded Beef Tamales
In case you have never made tamales before, your first question is most likely "where do I find corn husks for making tamales?".
Most supermarkets have a hispanic foods aisle, and there you typically find a rack of seasonings in little plastic bags. Usually at the bottom or side of the rack you can find the corn husks.
To get the corn husks ready for wrapping, soak them in enough water to cover them. You can add a touch of salt and lime juice to the soak water. It helps not only add a wisp of seasoning to the masa filling, but also helps make the corn husks just a bit more pliable.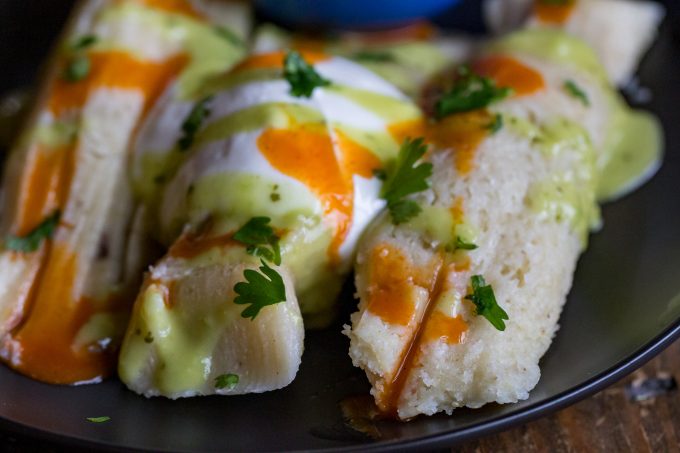 To Tie Or Not To Tie Up The Corn Husk For Tamales
Some folks like to get super fancy and use a bit of shredded corn husk to create a neat little tied bow on the tamale before steaming it. Go for it if you want, but guess what?
It won't make a shredded beef tamale taste one bit better. It looks swell, but it is sort of unnecessary unless you are trying to impress the Pope or someone like that. The wrapped tamales stay intact during the cooking. They are nestled together and packed in so falling apart just isn't an issue.
If you are having trouble with that, I find it easier to tie them with baker's twine or similar. No need for a fancy bow though. 😉
See all of my grilled recipes with BEEF here!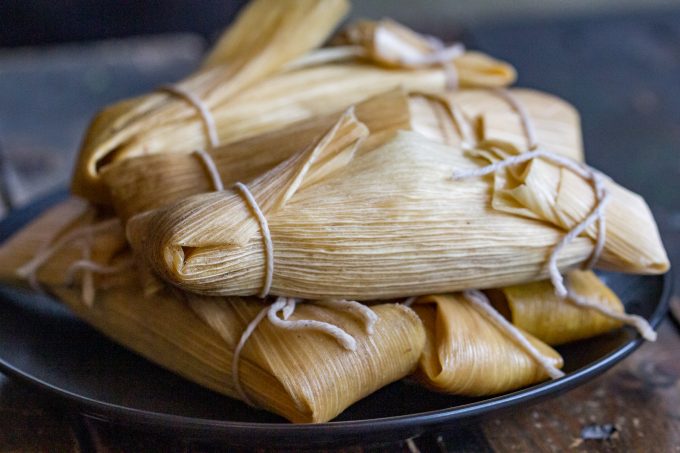 Recommended Variations On The Beef Filling
You can spice the tamales a bit by adding some chopped up peppers like hatch chilis or jalapenos.
Make sure if you use chilis that you remove the skin first. This is easy to do – either briefly parboil them, or put them on top of a gas stove and singe them on the outside. Take them out of the hot water or off the flame, then cover a few minutes to cool.
When they are cool enough to touch then you can easily scrape off the outer waxy skin and chop them up.
If you don't have beef roast, any shredded meat will do. You can cook up some shredded chicken breasts, shredded pork, or ground beef even.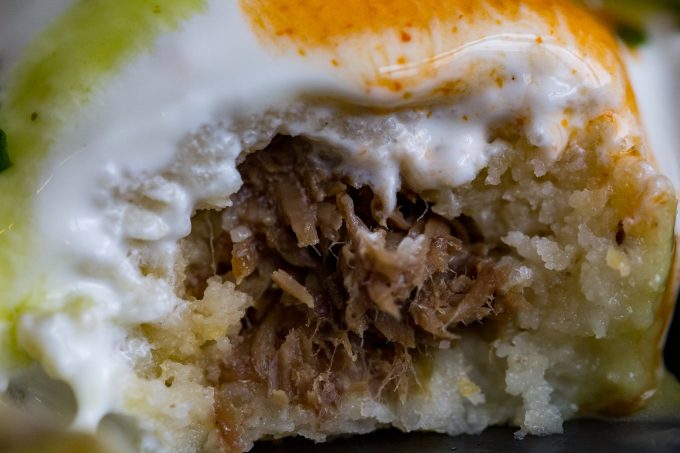 Toppings For Shredded Beef
Any salsa or your preferred hot sauce work wonderfully. You can also use a bit of sour cream and guacamole too. If you can find Mexican style sour cream then that is nice and creamy and easily pours.
Tamales also go really well with mole or adobo style sauces. There a wide variety of these sauces that come in cans or jars and can be easily heated to serve with your tamales.
I know you guys will probably yell at me, but I also like a big pile of shredded iceburg on top of my tamales too, and I'll never say no to a scoop of guacamole.
How about my blender salsa on top?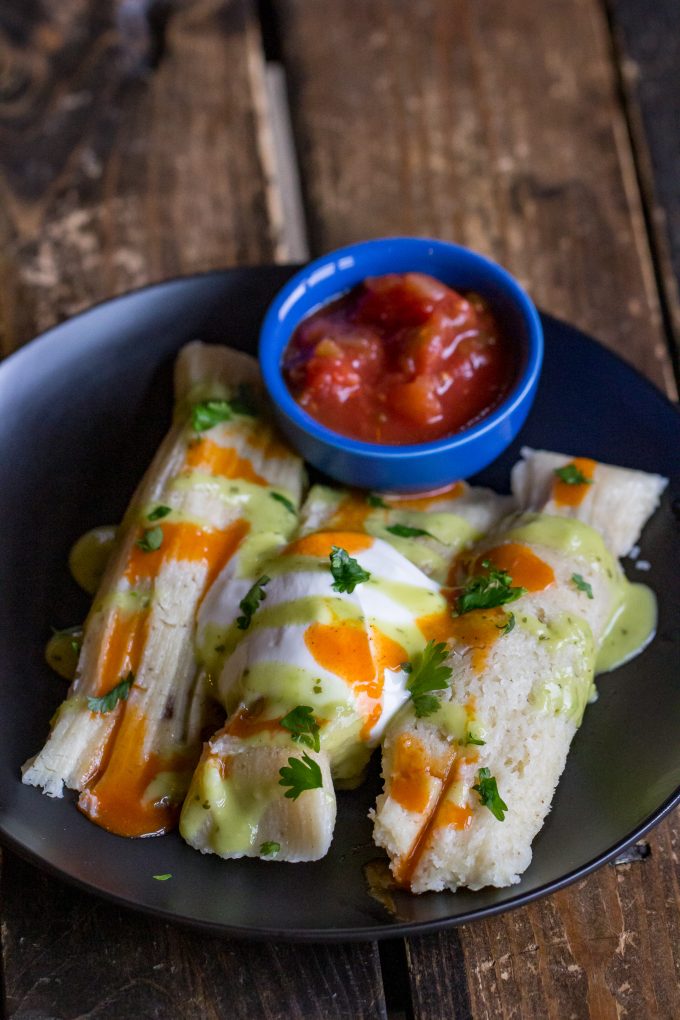 How To Store Beef Tamales For Leftovers
Tamales are so convenient since they actually come out already wrapped and ready to store. In the fridge, you can store them for up to a week no problem. In the freezer, you can get six month out of them as long as you store them in a proper freezer zip lock style bag.
To reheat, you can either use a microwave or the oven. The convenience of a microwave cannot be underestimated! Such a convenient and comforting food is even better when you can snatch it out and heat it up quickly to offset that jaguar growling in your stomach!
You can also re-steam them if you want to be authentic.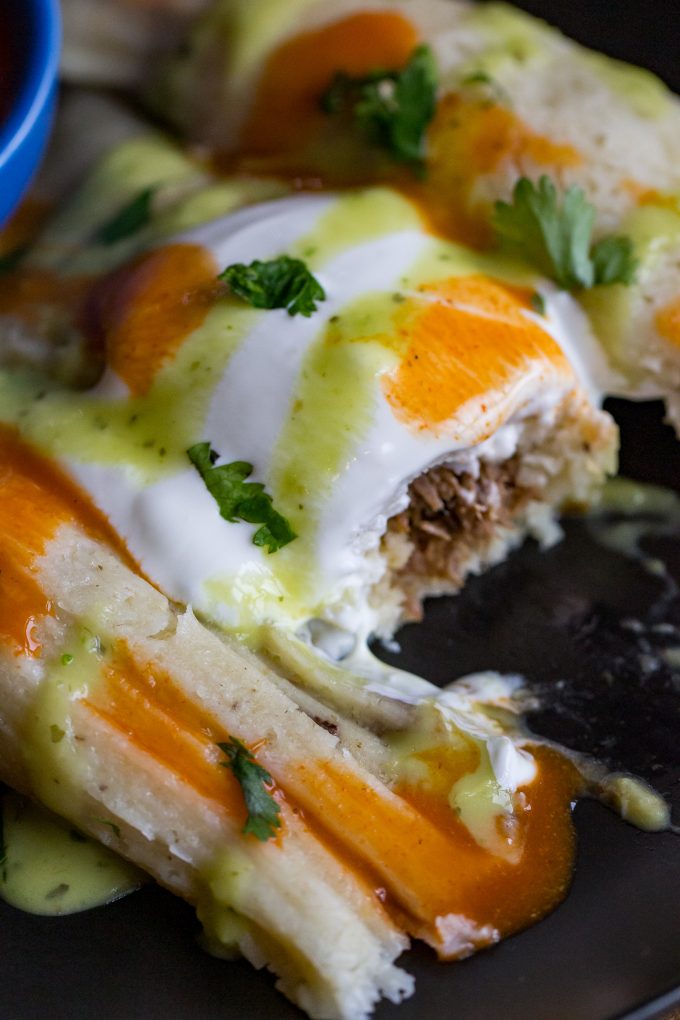 More Mexican-inspired recipes here!
If you like the shredded beef tamales, then check out some of my other tamale favorites and some dishes and a sauce I recommend for them: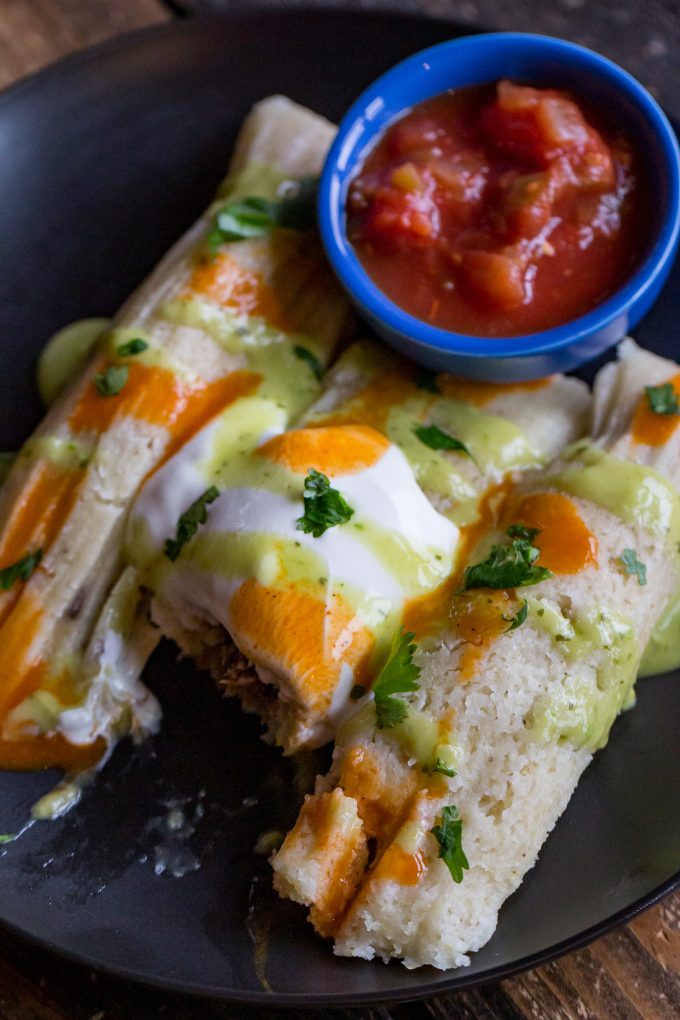 Yield: 40 servings
Shredded Beef Tamales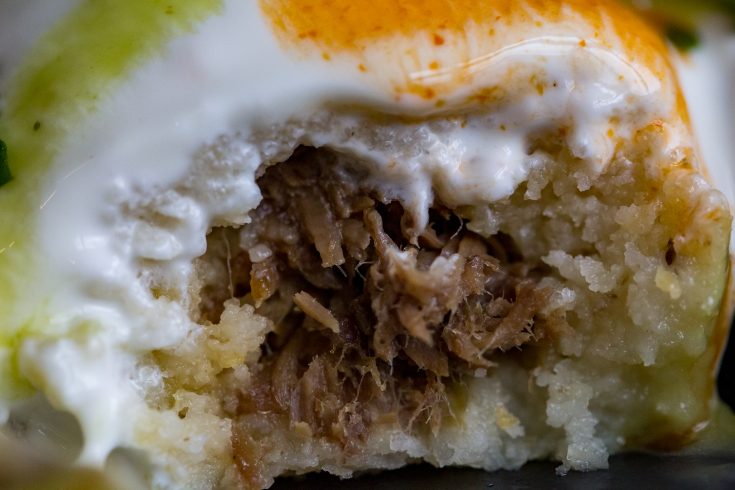 These homemade shredded beef tamales may require a list of ingredients as long as your arm, and may also require an assembly line to produce, but in the end you'll be left with 40+ of the best tamales of your life, and dinner for as long as that many tamales can last in your house. Well worth it.
Cook Time
4 hours
30 minutes
Ingredients
Shredded Beef
10-pound sirloin tip roast
2 – 8-ounce cans El Pato jalapeño tomato sauce
1 large yellow onion
1 cup water
Beef Rub
2 1/2 teaspoon salt
2 teaspoon onion powder
2 teaspoon granulated garlic
1 teaspoon cayenne pepper
2 teaspoon cumin
Masa
6 cups masa flour
5 cup chicken stock
1 tablespoon salt
1 tablespoon baking powder
3 cups lard
Instructions
Rub preparation
Combine all ingredients for the rub in a small bowl and mix thoroughly.
Beef cooking instructions
Cut the beef roast into approximately 2" X 2" chunks on a cutting board.
Add the rub mixture to the beef. Make sure all the beef is coated.
Place the beef chunks into a medium-sized bowl, cover with plastic wrap and place it into the fridge for 1-2 hours.
Pull the beef from your refrigerator and place into a dutch oven or a large stockpot.
Add the water and tomato sauce to the pot.
Chop your onion up and add it to the pot.
Turn the burner onto medium-low heat, cover the pot and let cook for 2 1/2 to 3 hours.
Test the meat for tenderness by taking out one of the chunks of meat and press down on the top of it with the bottom of a fork.
It should separate the individual fibers of the beef without using too much pressure.
Take the rest of the meat out of the pot and shred it using two forks, then return it to the pot.
Cool the meat down in your refrigerator while you prepare the masa.
Masa preparation
Mix all wet and dry ingredients for the masa into a large bowl.
Stop mixing when there are no clumps left.
Cornhusk preparation.
Remove dry corn husks from their package and place them into a large bowl of warm water for at least 30 minutes.
Tamale preparation
Pull one corn husk from the water, shake the excess water from it and lay it out onto a flat surface.
Using a spoon, spread about 3 ounces of masa mix onto the middle of the corn husk. Spread it out to about 3" W x 5" L
Scoop out about 1 1/2 ounces of shredded beef and lay it into the center of the masa mix lengthwise.
Fold the cornhusk over in the center, making sure the masa mix encases the shredded beef on both sides.
Roll the rest of the corn husk as needed and then fold the top and the bottom of the corn husk over to completely close up the tamale.
Cut 6-8" pieces of butcher twine and tie off each of the folded ends of the tamale tightly.
Place the tamales into a tamale steamer with a couple of inches of water at the bottom.
Place the steamer on a burner set to medium-medium high and let steam for 1 hour.
Check your water level every 20 minutes to ensure it doesn't dry up.
Add more water if needed.
Pull your tamales from the steamer with a set of tongs as they will be dangerously hot at first.
Unwrap your tamales and plate them with all of your favorite sauces, salsas, and condiments.
Recommended Products
As an Amazon Associate and member of other affiliate programs, I earn from qualifying purchases.
Nutrition Information:
Yield:
40
Serving Size:
1
Amount Per Serving:
Calories:

359
Total Fat:

22g
Saturated Fat:

9g
Trans Fat:

0g
Unsaturated Fat:

11g
Cholesterol:

112mg
Sodium:

292mg
Carbohydrates:

6g
Fiber:

1g
Sugar:

1g
Protein:

32g
Nutrition data provided here is only an estimate.