Instant Pot Chicken Soup makes quick work of a pack of inexpensive chicken legs for a super flavorful and FAST meal. Make your own homemade chicken broth first, and then it is a quick cook to a big bowl of this deliciousness.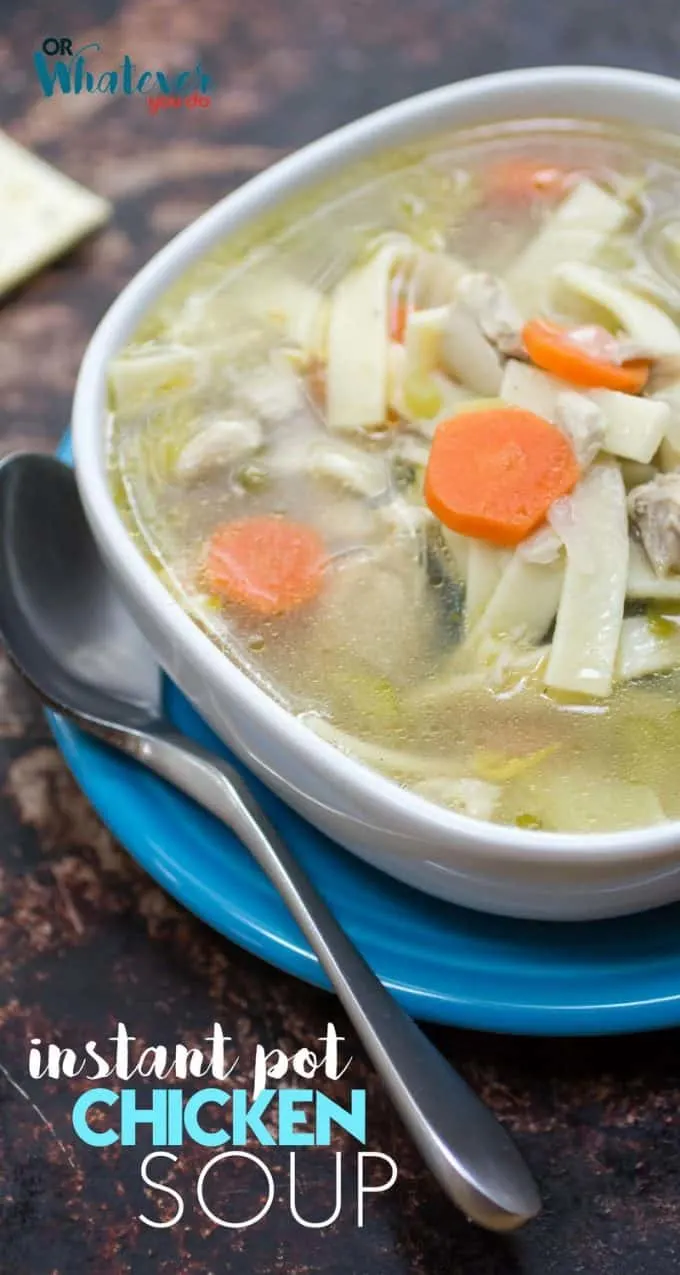 Instant Pot Chicken Soup
There isn't anything better than chicken noodle soup on a chilly winter day, and since cold and flu season is upon us and I have eleventy children – someone here is almost always sick.
That means that this, or some variation of it (like my chicken mushroom and wild rice soup) makes an appearance in my house at least once a month in the fall, winter, and spring.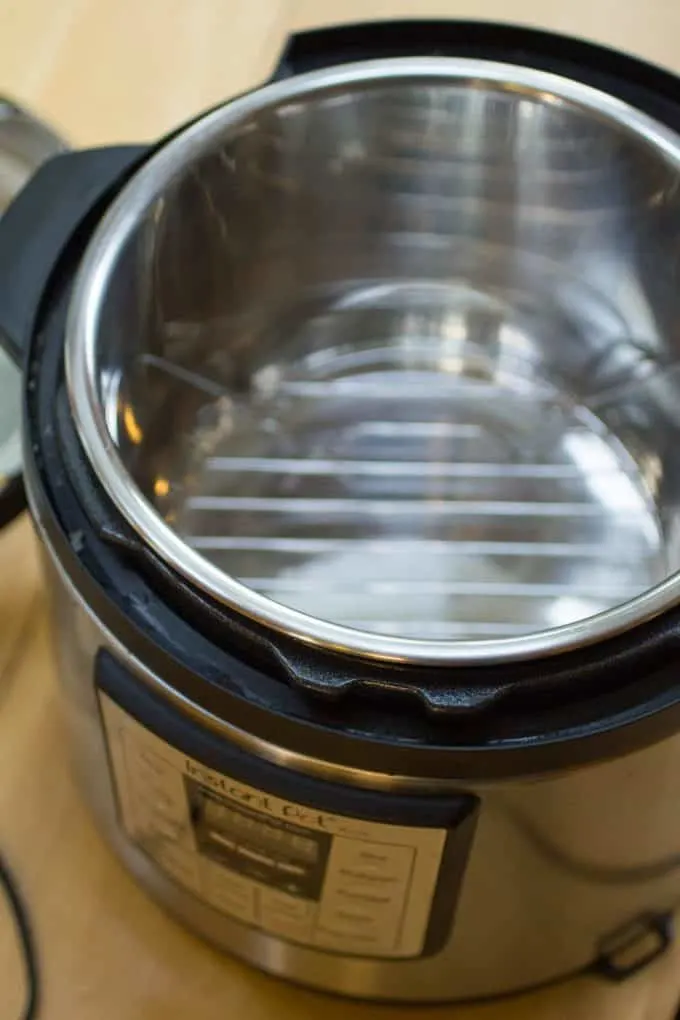 The Instant Pot makes the BEST broth, and it does it SO quickly. Plus, you can get it done with chicken legs, which I find on sale all the time and are very inexpensive. Win/win.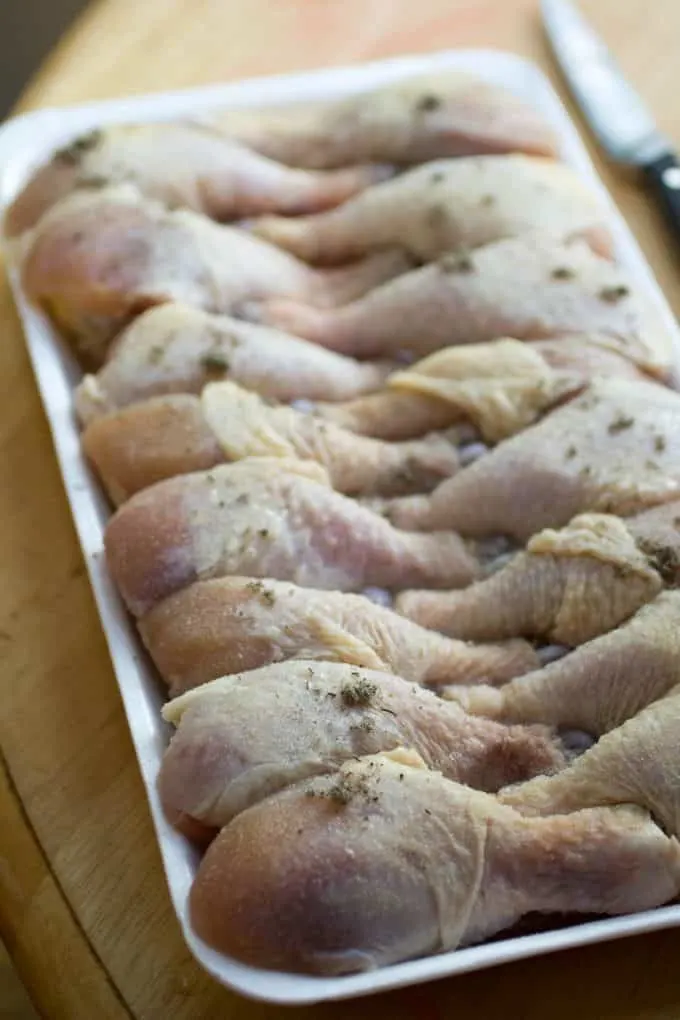 Start by seasoning your chicken legs, and tossing them into the pot. Fill the pot about 3/4 of the way with water. Turn on the "Saute" function, and hit the Adjust button to ramp it up to high. What you want to do is to heat up the liquid quickly so the pot will take less time overall to come to pressure.
Great Chicken Leg Recipes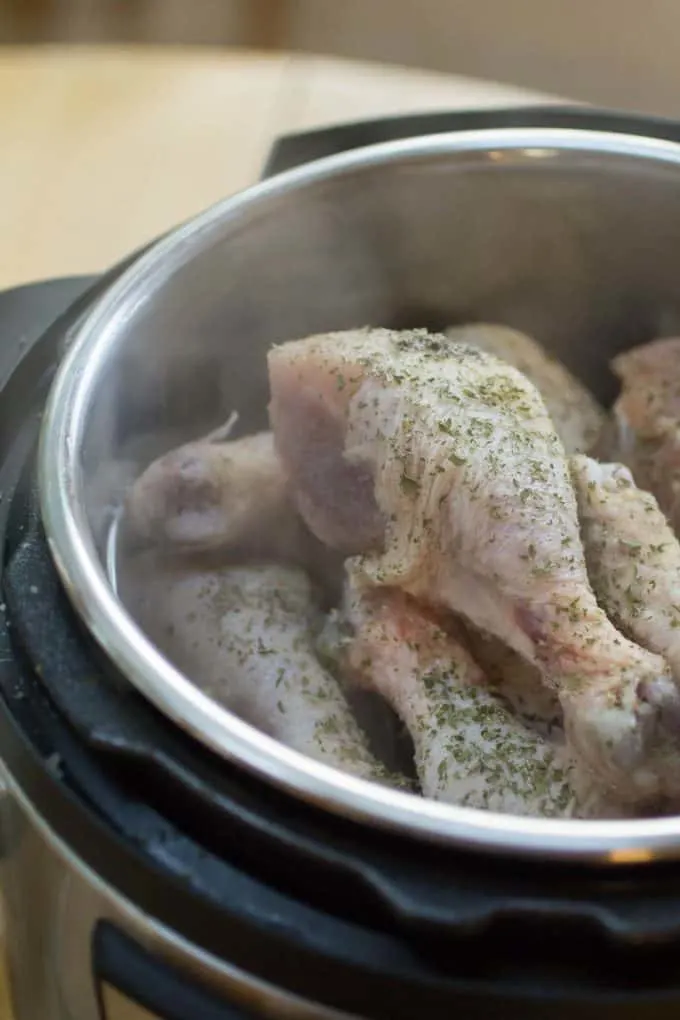 Once the liquid inside starts to bubble and is really hot, press the cancel button. Now you can put the lid on the pot, seal it, and hit the "Manual" button. It should automatically set to 30 minutes, which is exactly what we want.
Once the timer is done counting down, hurry up and wait a little more. We want to let this natural pressure release ( or NPR in pot talk 😉 ) for about 10-15 minutes before venting any of the pressure.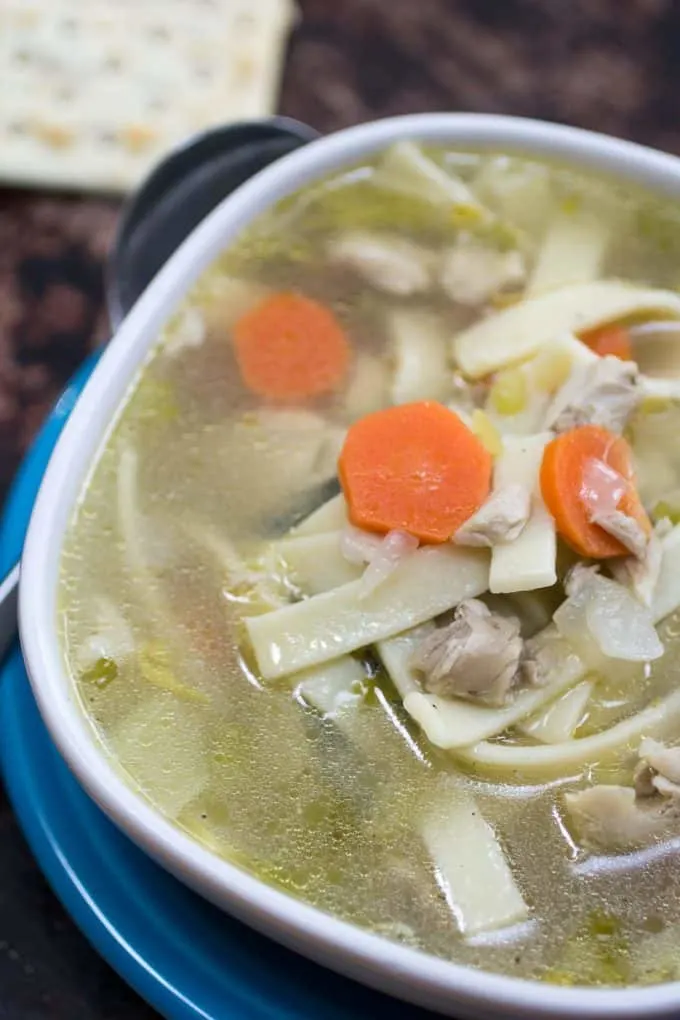 NOTE: When you are making soups or anything with a lot of liquid and a full, or nearly full pot – use EXTREME caution when venting pressure. It can spray out the top in some circumstances.
Once you release the pressure and take the lid off, carefully remove the chicken from the pot and set it in a large rectangle cake pan, and stick that in the fridge for a little while. You just need it cooled off enough to handle to get all that delicious meat off the bone.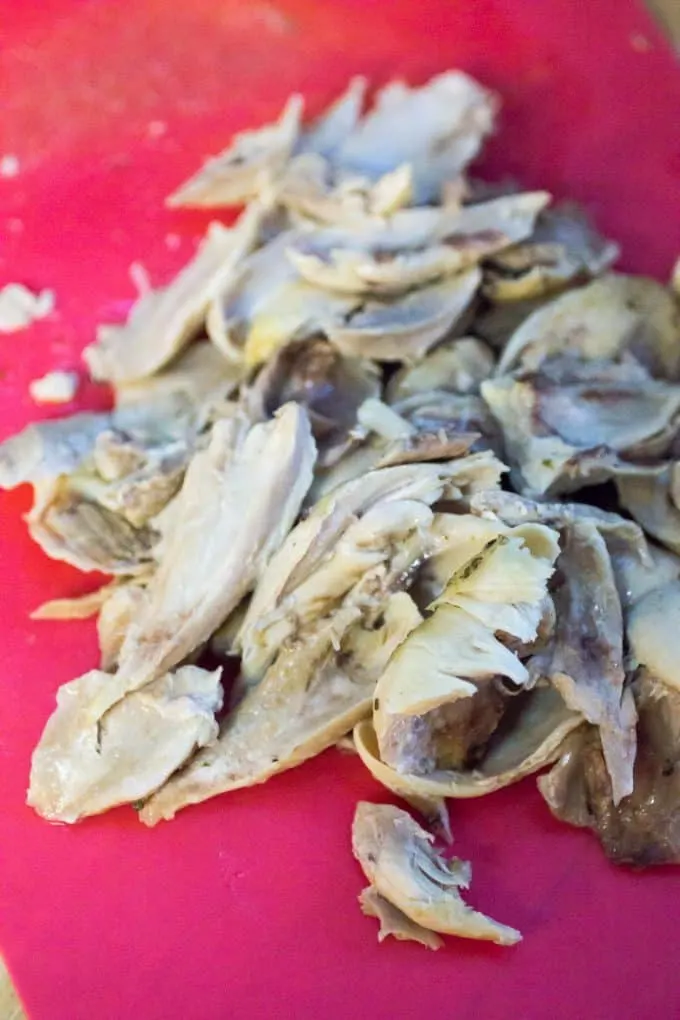 Chop up the meat and add it back into the pot along with your veggies, seasonings, more water (if necessary), and your noodles. Turn that pot to saute again, and let it come up to a simmer. Once it does, give your soup a good stir, press cancel, put the lid back on and seal it for a quick 10-minute manual pressure cycle.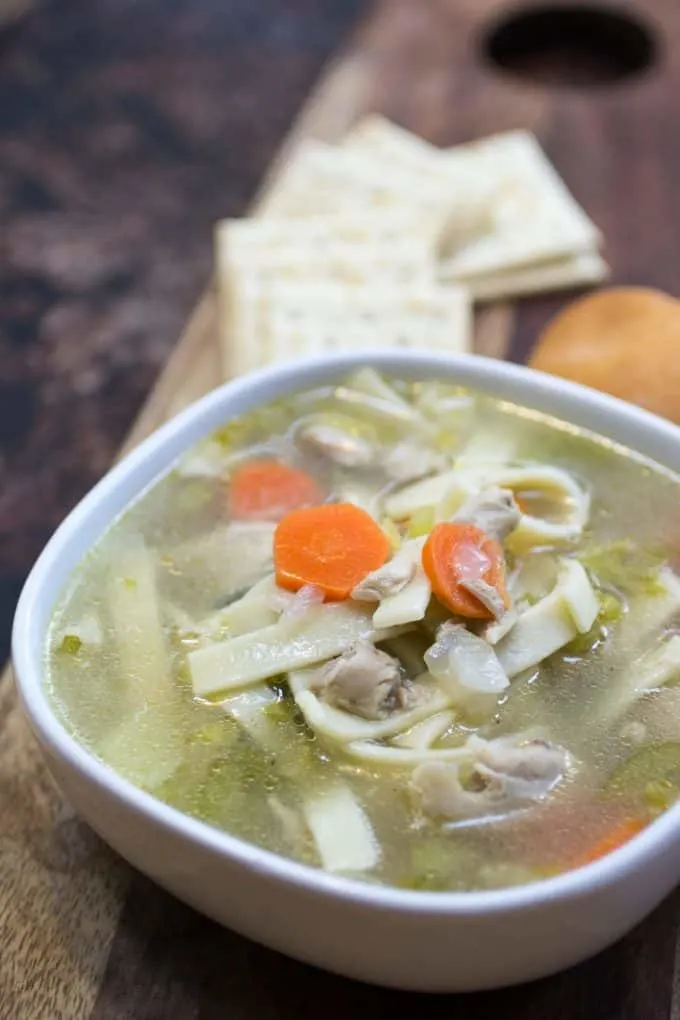 Once it has completed the cycle, let it release pressure naturally for about 10 minutes, and then carefully let the pressure out. I always put a dish towel over the pressure valve to make sure nothing spurts out the top of my nearly full pot.
Check your noodles. They should be done! If not, simmer a few more minutes on Saute mode to finish them off.
IMPORTANT: If you aren't using the homestyle egg noodles that take about 12-15 minutes to cook, I would skip the pressure cooking of them all-together. You may end up with over-done noodles. Regular egg noodles that cook in 4-6 minutes don't stand up to this kind of cooking as well as the homestyle.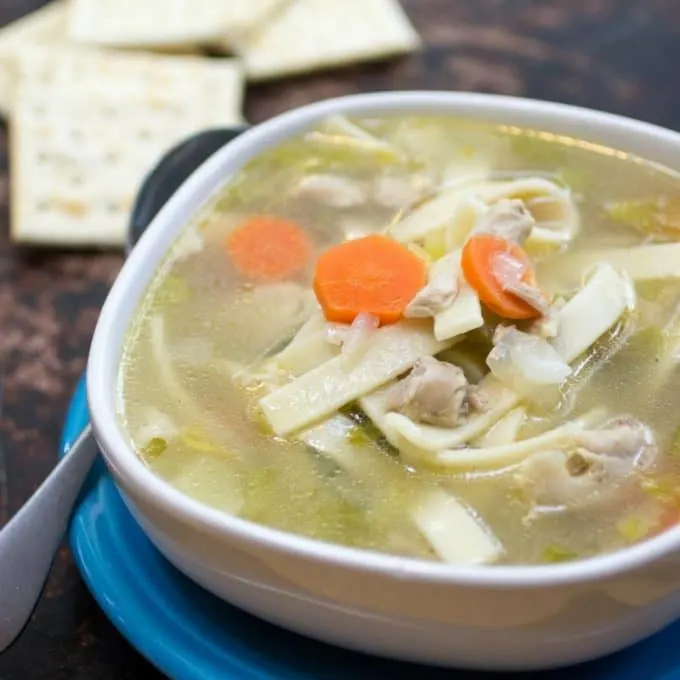 Yield: 8 servings
Instant Pot Chicken Noodle Soup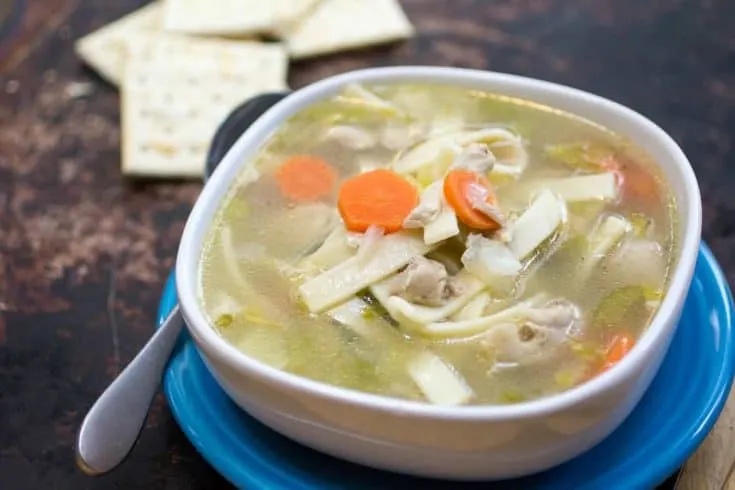 This delicious chicken noodle soup is made with homemade broth, and starts out as inexpensive chicken legs!
Total Time
1 hour
5 minutes
Ingredients
Broth
8-10 legs chicken, skin on
3 teaspoons poultry seasoning
2 teaspoons salt
water to fill pot 3/4 of the way full, (but not above max fill line, EVER.)
Soup
3 large carrots, peeled and sliced into rounds
2 stalks celery, diced
1 medium onion, diced
1 teaspoon salt
1/2 teaspoon pepper
2 bay leaves
4ish cups homestyle egg noodles, (if they don't take >10 minutes to cook per package directions, they aren't the right kind.)
Instructions
Broth:
Season the chicken legs well, and place them into your pot. Cover with water (but don't fill above max fill line! It is okay if a few aren't submerged.)
Press the Saute button, then press the "Adjust" button to turn up the heat to high. Wait until the water comes to a simmer. Press "Cancel" to turn off the saute feature, and then press the "manual" button, and put the lid on. Flip the valve to "seal" and run for 30 minutes.
Once the time expires, let it sit for 10 minutes and then put a towel over the vent and carefully do a QR (quick release. When you let the pressure out fast with the vent instead of letting it dissipate naturally.)
Remove the legs from the broth, and set aside. When they are cool enough to handle, remove the meat from the bones and dice.
Soup:
Add the other ingredients to the broth including the meat, seal, and do a 10 minute manual cycle. NPR (Natural Pressure Release, or aka - do nothing. Just wait) for 10 minutes and then QR the lid (carefully! With a towel over so stuff doesn't come spurting out all crazy-like.)
Check the noodles for done-ness, check the broth to make sure it is as salty as you like it, and serve!
Nutrition Information:
Yield:
12
Serving Size:
1
Amount Per Serving:
Calories:

361
Total Fat:

29g
Saturated Fat:

8g
Trans Fat:

0g
Unsaturated Fat:

18g
Cholesterol:

64mg
Sodium:

860mg
Carbohydrates:

9g
Fiber:

1g
Sugar:

1g
Protein:

16g