Homemade Chicken Dumping Soup is a salve for the soul. Even when the nights are long and the days are cold, homemade chicken soup with dumplings soothes and heals the spirit. Even in the toughest times, on those days when you wonder if things will get any worse, chicken soup can lift your mood up and make you feel great!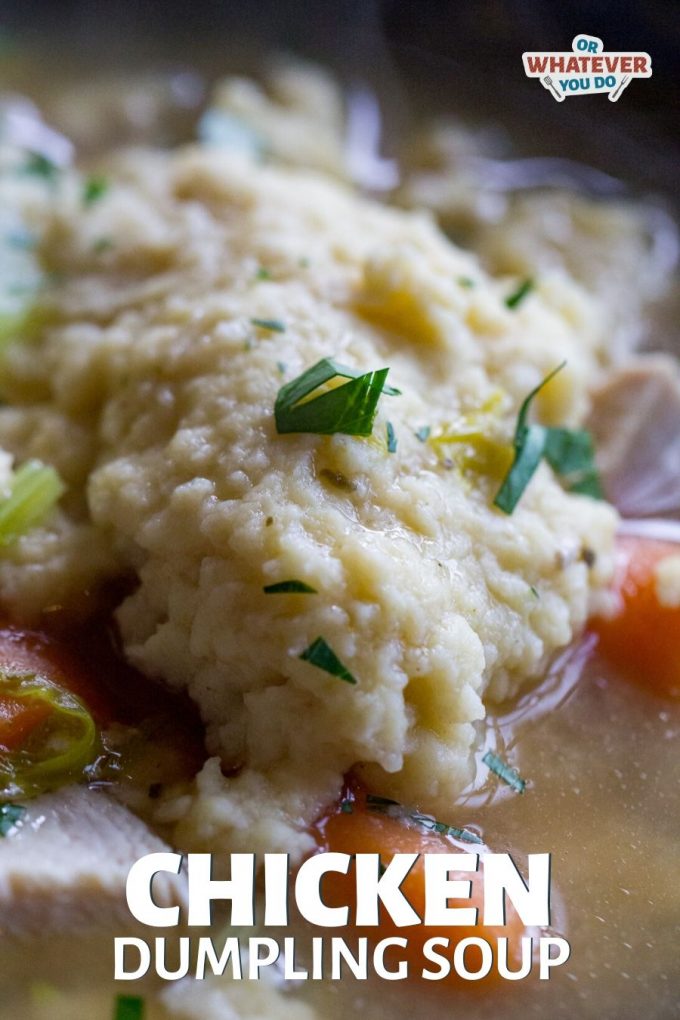 Homemade Chicken Dumping Soup
Since nothing beats chicken soup for making you feel good, small wonder chicken soup has a reputation for curing colds and soothing flu symptoms. While there is only some truth in that does not matter.
It still worked wonders since the first chicken soups with dumplings were served by loving grandmothers so long ago.
This recipe is similar to some of my other chicken soup recipes, but adding dumplings to it has to be one of my personal favorites. Making dumplings is super simple too. Once you learn how to do your own dumplings don't be surprised if you want them in every soup you make!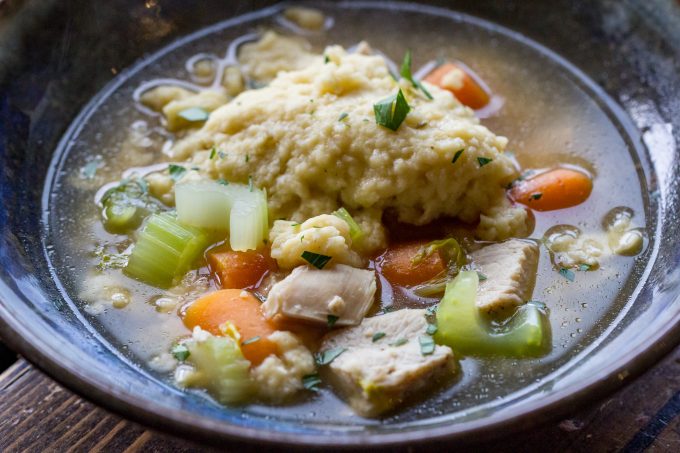 Homemade Dumplings Are Actually Easy To Make
For some unknown reason people seem to believe making dumplings is time consuming and a pain in the butt. Nothing could be farther from the truth. It isn't like you have to wait for anything to rise.
If your ingredients are not measured down to the atomic level and grain by grain, then you are not going to throw off the whole chemistry. In fact, homemade dumplings are actually fairly failsafe. You literally would have to go out of your way to mess them up.
Like mixing up the flour and salt. That would be a mistake.
The dough is made with just a few simple ingredients and all you have to concern yourself with is not making them too wet or too dry.
Too wet and they will lose their shape and cook unevenly. Too dry and they will crumble into pieces. However, don't let that discourage you. Fact is, even if you made them too wet or dry they will still cook up and taste just fine.
If you get them just right, then you will be easily able to spoon them out in even sized dollops. They will float up in the broth when they are done and roll around. You will feel a smile grow in proportion to your appetite.
More Soups, Stews, and Chowders here!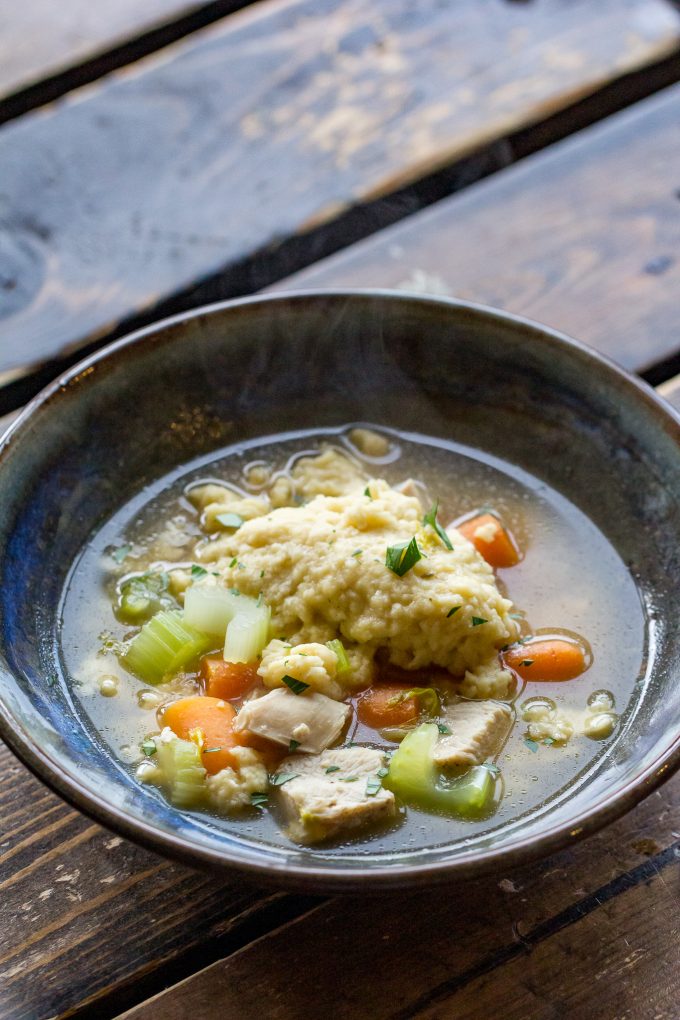 Chicken Soup Health Benefits
While chicken soup doesn't necessarily cure any ailments, it sure goes a long way to making you feel better when you don't feel your best.
The herbs and warm broth help loosen congestion and open up your respiration. During cold and flu season that certainly can feel like a miracle cure, regardless.
Certainly garlic, carrots, celery, and onions have plenty of vitamins that help the immune system. The chicken is an easy to digest protein. Dumplings? Well, they might not necessarily rank high for nutritional value, but they sure are off the charts for making you feel nice and full and putting a smile in your belly.
How do you store the leftovers?
You can definitely freeze chicken soup with dumplings. But I don't really recommend freezing the dumplings. Eat the dumplings and freeze the chicken soup. It is so easy to make dumplings you can just make those fresh and add them to the thawed broth.
Chicken soup or just the chicken broth can be stored a few months in the freezer as long as you keep it in a tightly covered container.
Make this with these delicious homemade Milk Rolls!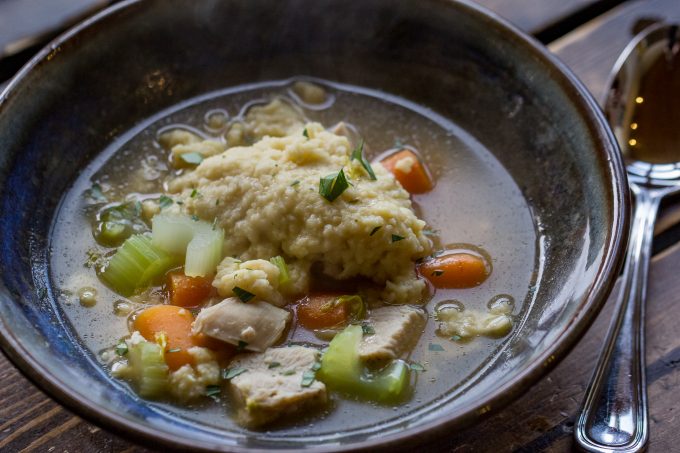 What To Serve With Chicken Soup With Dumplings
You can serve chicken soup and dumplings either as an appetizer or a main course. It works perfectly as the soup to go with a salad for lunch. I even would eat it as breakfast in a heartbeat.
It can even be the snack that doesn't ruin your appetite for dinner.
So, you have tons of opportunities to serve it with a variety of sides and or entrees.
The ones that come to mind right off the bat include: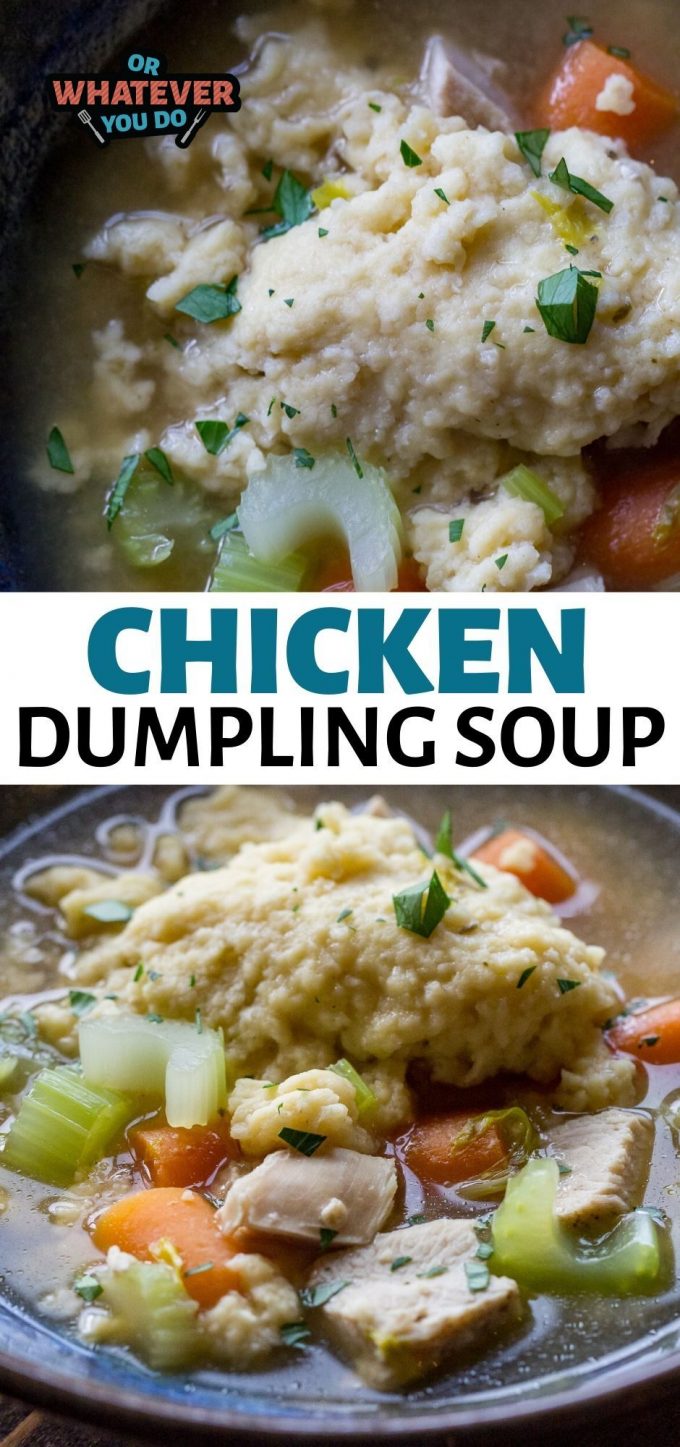 Yield: 8 servings
Chicken and Dumpling Soup
Comforting, homemade soup with chicken, fresh vegetables, and fresh homemade dumplings!
Total Time
1 hour
20 minutes
Ingredients
Soup
1 batch of roasted chicken stock*
2 cups sliced carrots
2 cups sliced celery
1 cup diced onion
3 cups diced chicken
Dumplings
3 cups flour
12 eggs
1/4 cup milk
1/2 teaspoon salt
Instructions
Heat the stock, carrots, celery, and onion to a simmer. Cook until the vegetables are tender.
Toss in the chicken and while the soup is coming back to a simmer, mix up your dumplings.

Dumplings
In a large bowl mix your eggs, milk, and salt together.
Mix in your flour one cup at a time for the first two cups.
Slowly add in small amounts of the last cup of flour until the consistency of the batter allows it to plop off of a spoon instead of pouring or running off.
Mix until there are no big lumps, and then stop. Don't overmix!
Bring the stock of the soup up to a simmer and start dropping the dumplings into it with a spoon.
After all the dumplings are in the stock, cover the pot and turn the heat up to medium-high.
Bring to a boil for five minutes, and the dumplings will be cooked.
Notes
* If you don't have roasted chicken stock on hand, you can also use boxed chicken stock as well.
Recommended Products
As an Amazon Associate and member of other affiliate programs, I earn from qualifying purchases.
Nutrition Information:
Yield:
12
Serving Size:
1
Amount Per Serving:
Calories:

300
Total Fat:

11g
Saturated Fat:

3g
Trans Fat:

0g
Unsaturated Fat:

6g
Cholesterol:

225mg
Sodium:

230mg
Carbohydrates:

30g
Fiber:

2g
Sugar:

3g
Protein:

20g
Nutrition data provided here is only an estimate.