My easy Raspberry Prosecco Cocktail is light, refreshing, and the perfect sippable summer cocktail for enjoying some sunshine. Make this for mother's day and give the moms in your life a day off, for realsies, this year.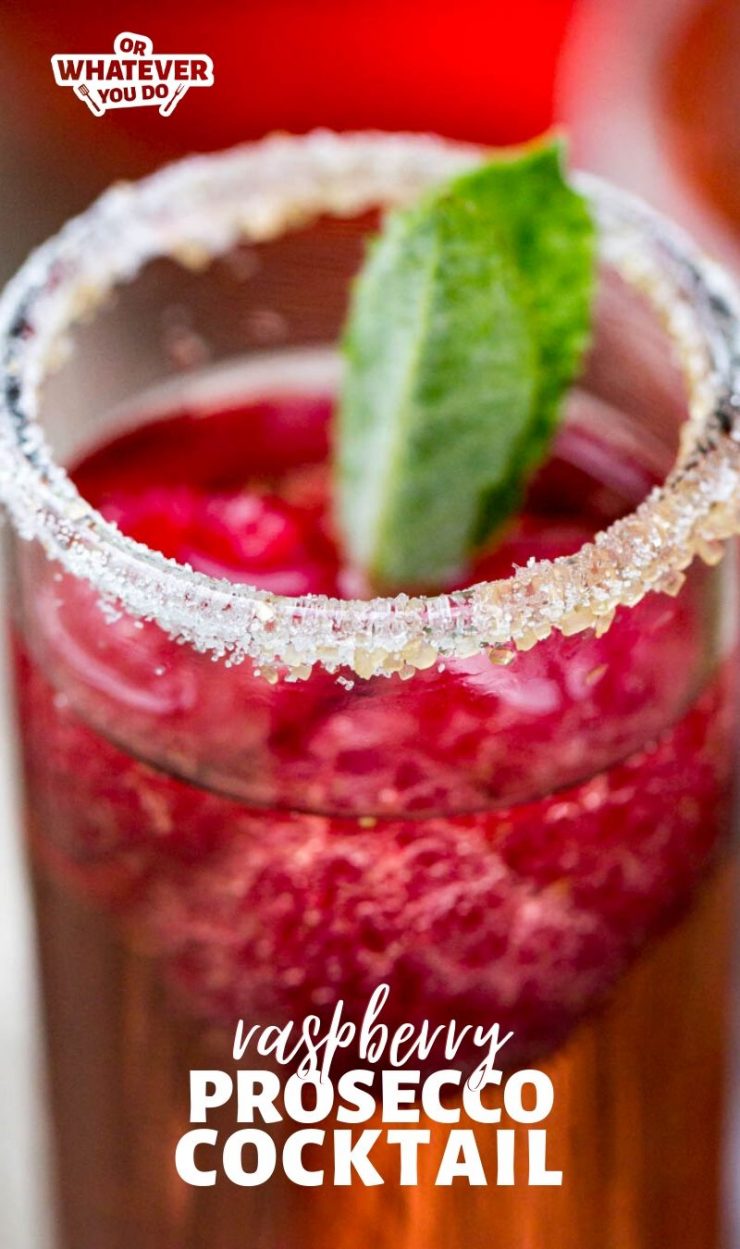 Raspberry Prosecco Cocktail
This amazing fruity drink will have you trying to get all of your friends to taste it! This refreshing drink is a variation on a rose cocktail and has a taste you will not forget.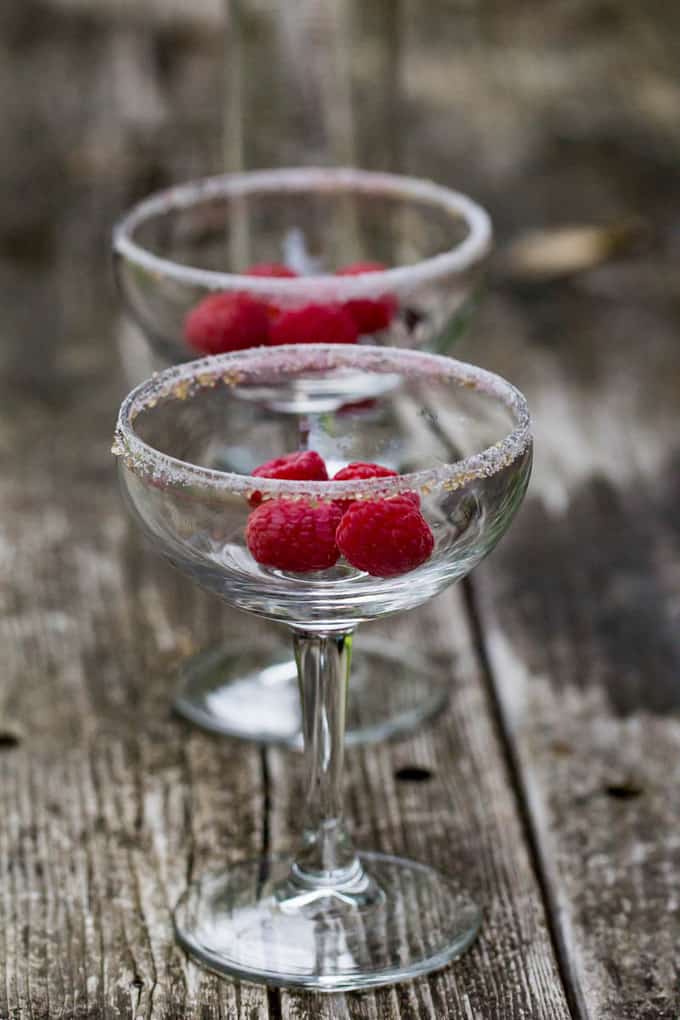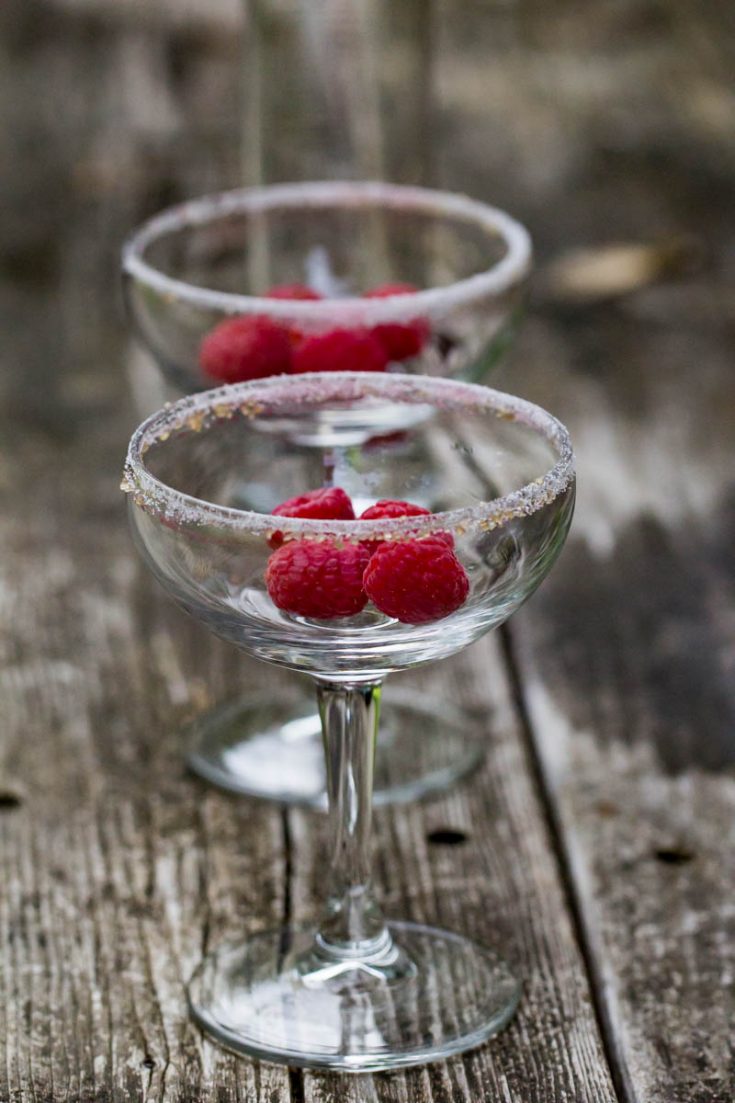 What is in a sparkling raspberry prosecco cocktail?
Rose Prosecco
Chambord
Grand Marnier
Simple Syrup (optional)
Ice
Enjoy this light and refreshing cocktail with some fresh berries and mint sprigs. Make it look even better with a sugared rim. This will also give the drink a touch of sweet in every sip, which is one of the things I love most about Lemon Drops and Margaritas.
More Cocktail Recipes here!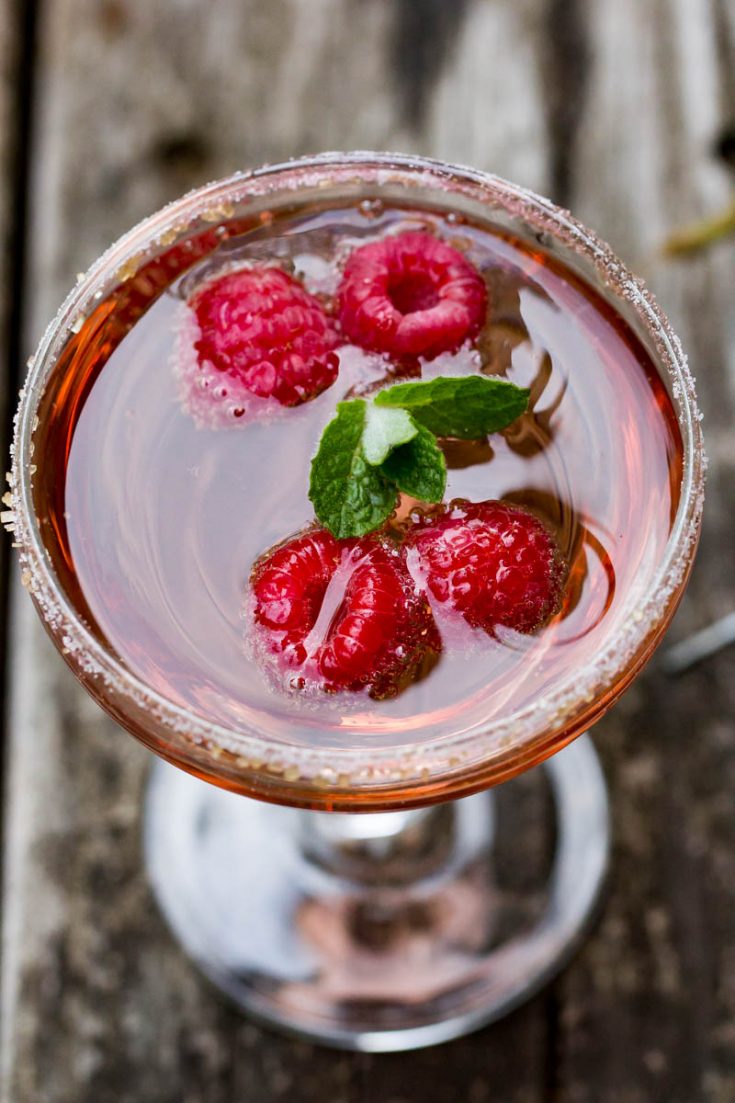 What is Rose Prosecco?
Rose Prosecco is a sparkling wine made with a blend of a variety of grapes and Pinot Noir. It is a combination of rose and prosecco, and it is one of my favorite kinds of prosecco. It also adds beautiful color to the cocktail as well.
What is Chambord?
Chambord is a black raspberry liqueur. This black raspberry liqueur really gives the drink the berry pop that all the berry lovers like myself want.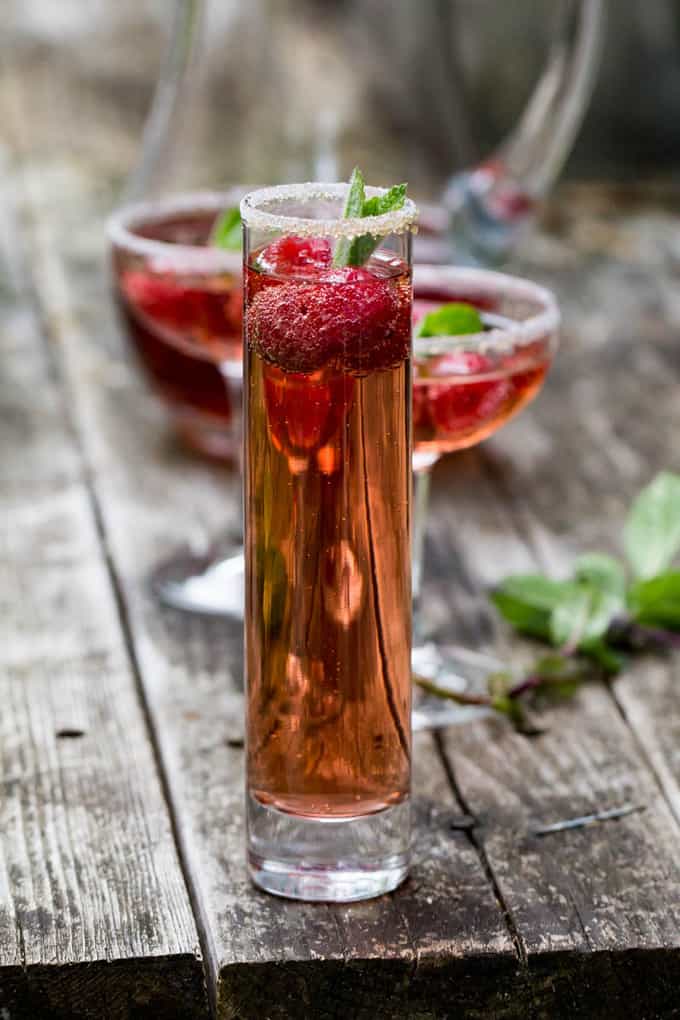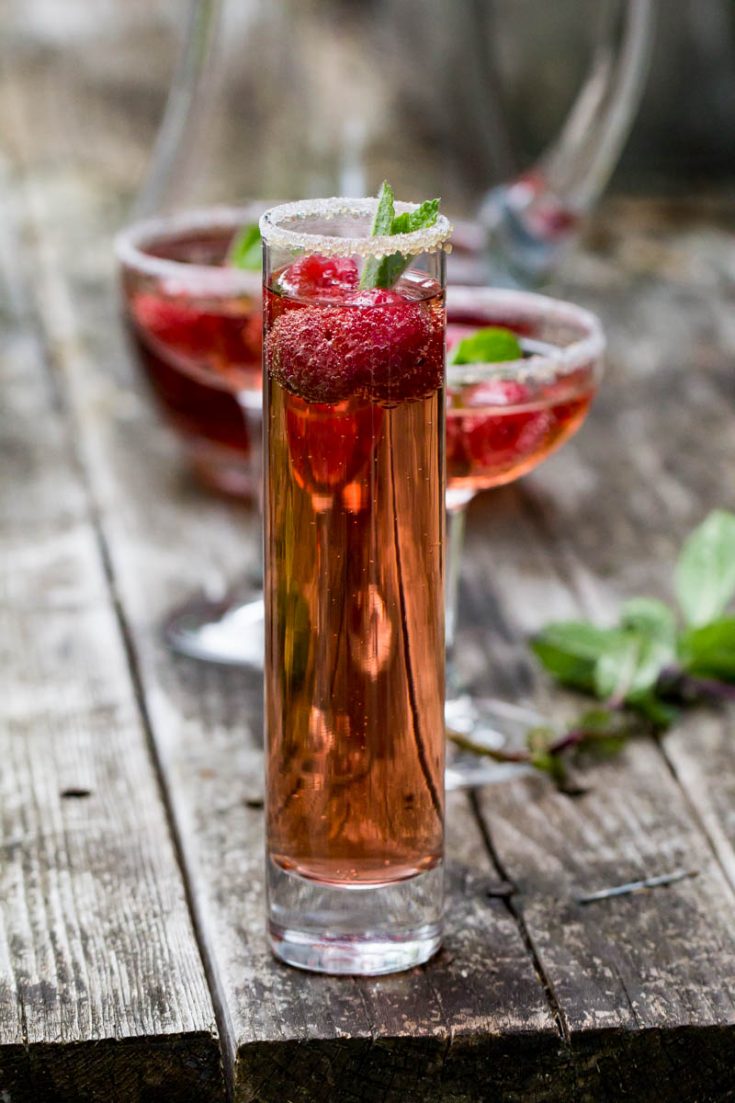 What is Grand Marnier?
Grand Marnier is an orange cognac liqueur. The citrus in the orange flavor really makes this drink have a nice orange note, and meshes the other flavors well.
What is Simple Syrup?
Simple Syrup can be bought, or you can make your own by using equal parts of sugar and water. In this cocktail, it is totally optional and should only be used if you really prefer a sweet drink.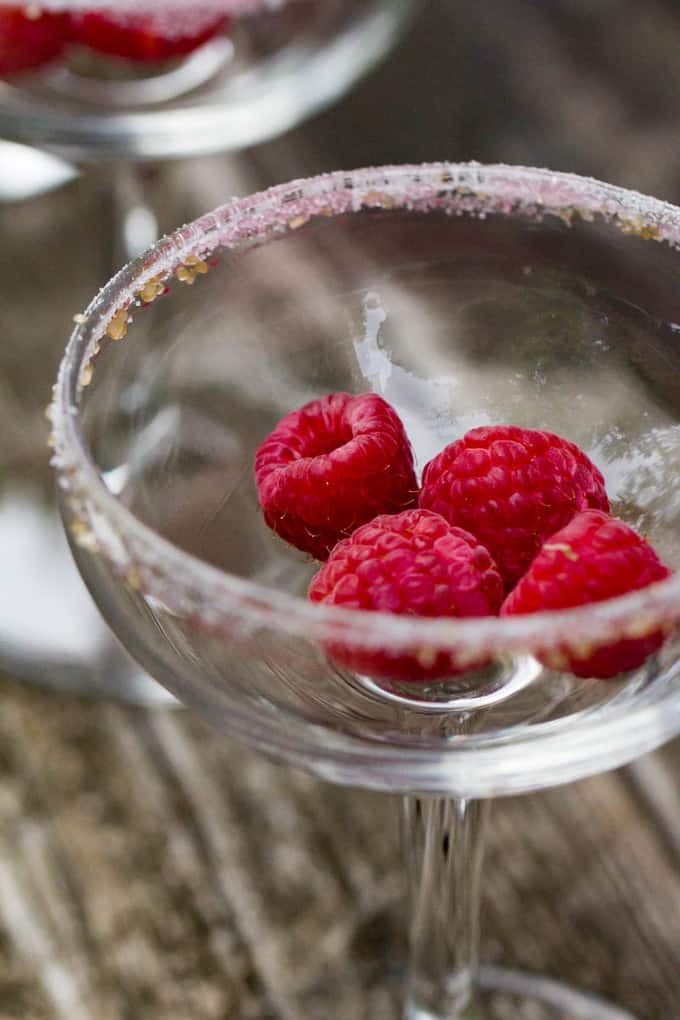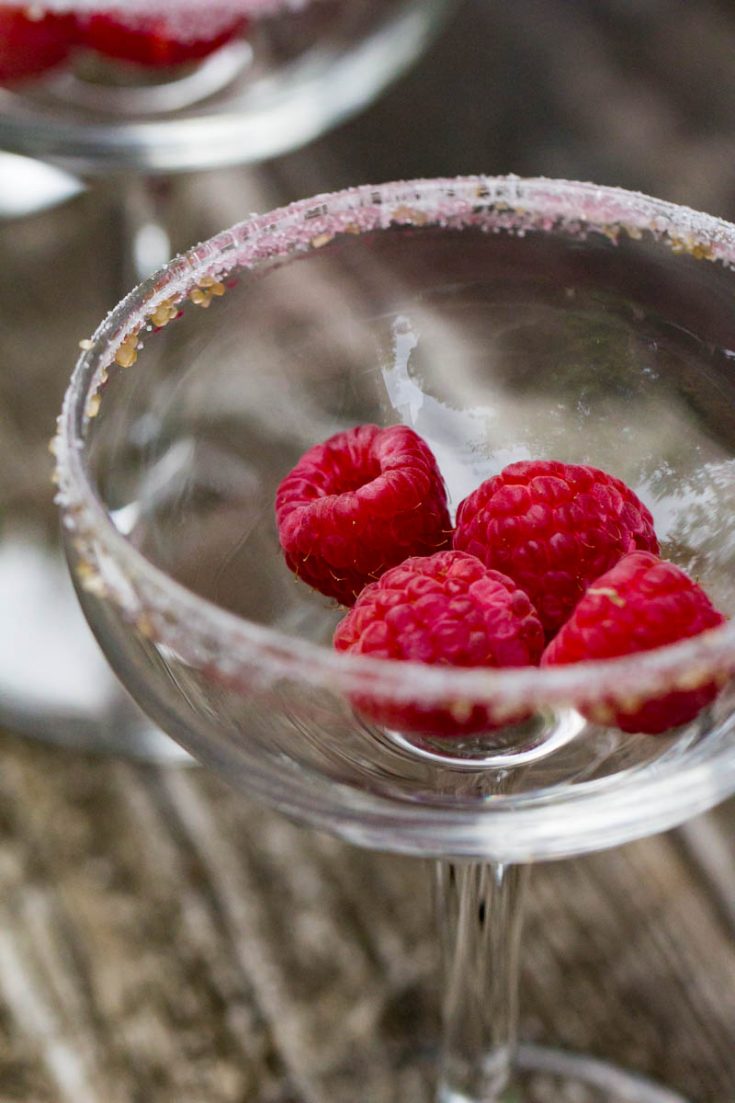 How to make homemade simple syrup
Most popular cocktails have simple syrup as an ingredient. It is really easy to make, and all you need is a jar with a tight lid, water, and sugar.
Pour equal parts water and sugar into the jar and shake it for about 3 minutes. Next, let it rest for a minute and then shake it again for another 30 seconds. To make a rich simple syrup simply add more sugar. Some people use a 2:1 ratio.
Easy Brunch for Mother's Day!
This homemade eggs benedict has a heaping helping of Traeger smoked salmon and lots of creamy homemade hollandaise sauce.
Personally, I like to make a bigger batch of syrup by cooking a 2:1 ratio of sugar to water over medium heat on the stovetop, just until the sugar dissolves. Then I put it in an airtight container in my fridge and I get to use it whenever I have the urge.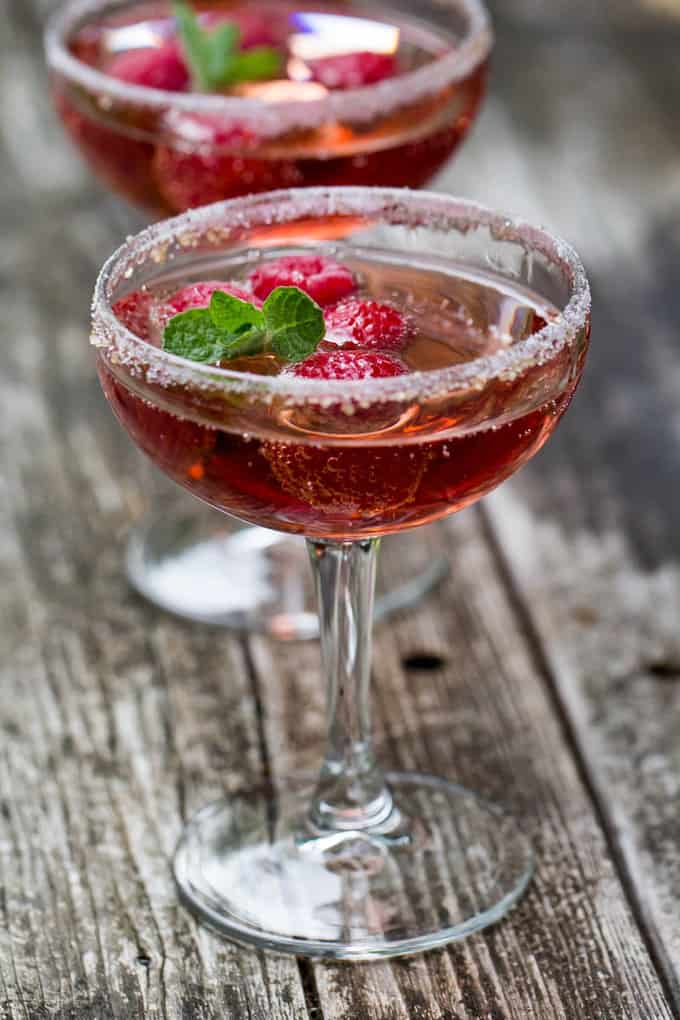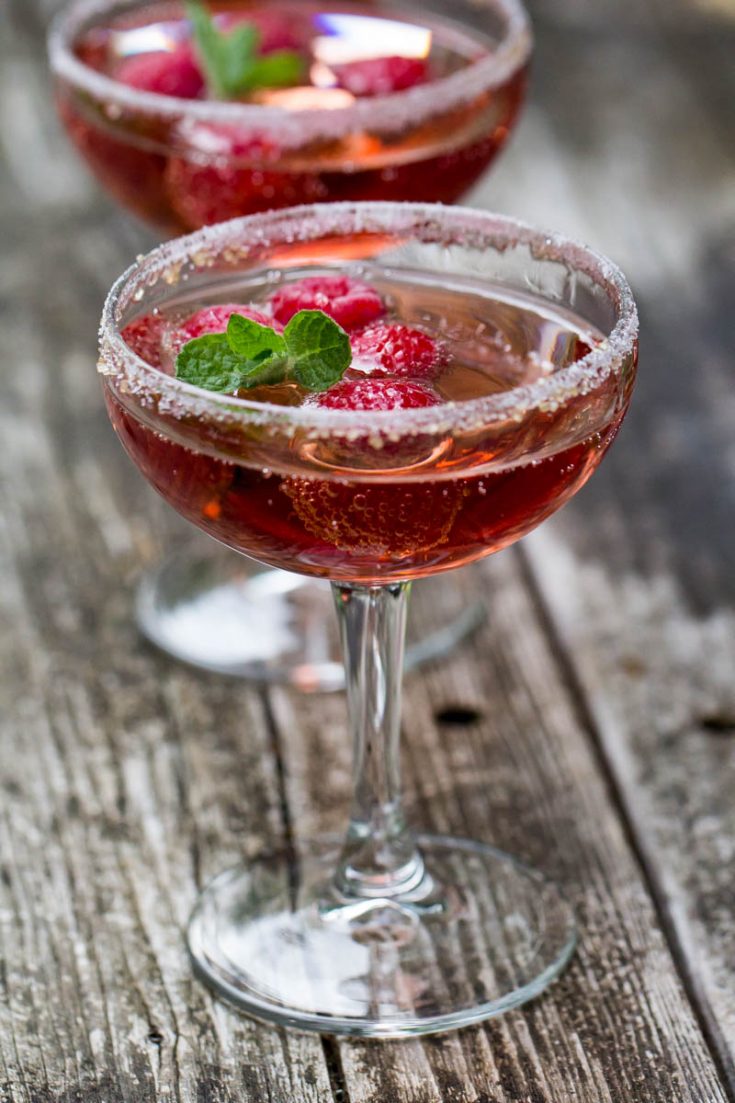 Can I substitute champagne for prosecco?
Oh yeah. You can sub in any kind of sparkling wine, really. If it bubbles, it will work. You could even swap in Sprite or Sierra Mist or a lemon-lime soda of your choice if you want a less potent cocktail.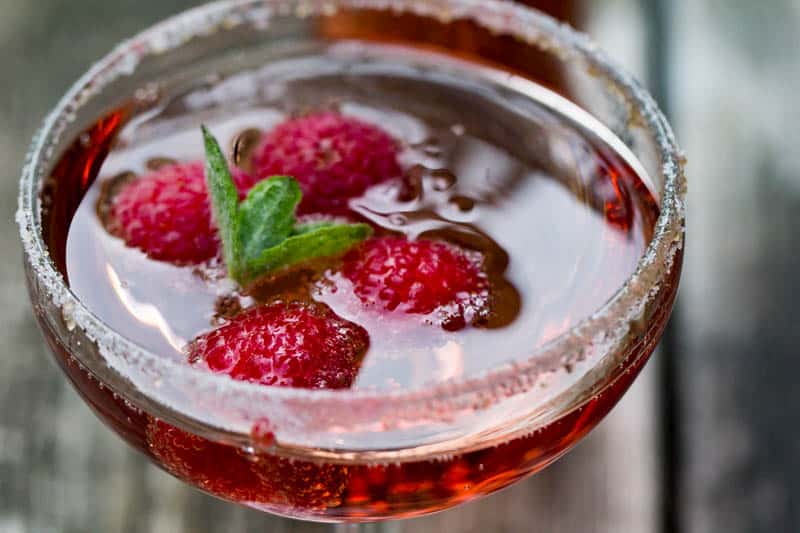 Sparkling Raspberry Champagne Cocktail
There are plenty of drinks out there, but for berry lovers, this refreshing sparkling raspberry prosecco cocktail will refresh you like no other.
The rim of the glass is coated with sugar to help you savor those very delicious sweet tastes mixed into that cute glass. On the next girls weekend, baby shower, or whatever the occasion, this Raspberry Cocktail will not only look elegant next to all the snack trays, it will taste amazing too.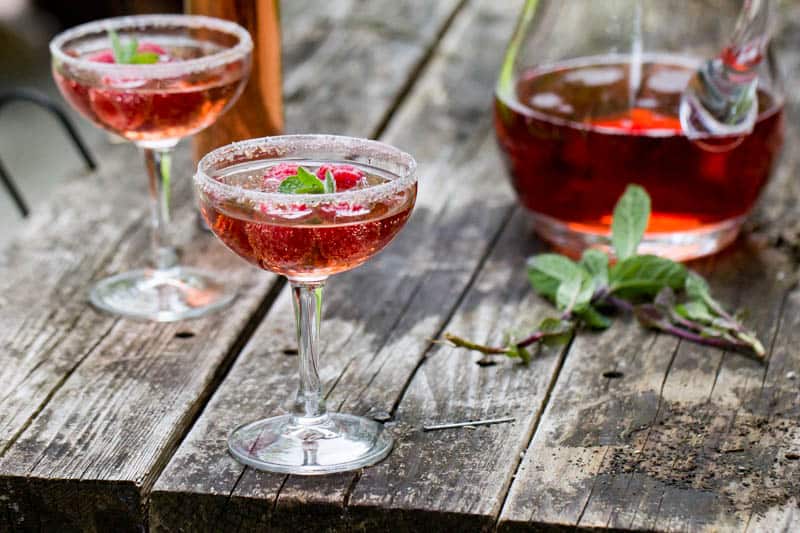 What other berry drinks can I make?
If you are looking for drinks featuring big berry flavors, you are in the right place.
Easy Summer Barbecue Drink
This drink is perfect for a summer barbecue, a Sunday dinner, and or anytime you want to make someone feel special who appreciates a little bubbly. Maybe you have a bridal shower coming up, or even a baby shower. I would personally love to take some out on the boat this summer!
This drink would even be amazing at a campfire side roasting a kabob over the open flame while your favorite song plays in the background off the radio, or just having a fire while you grill on the Traeger.
Get more recipes for your cookout here!
Traeger Grilled Chicken Kabobs are marinated to keep them juicy and tender and are the perfect mix of salty to go with this raspberry cocktail.
And for the seafood lovers, there is Traeger Grilled Shrimp Kabobs. Shrimp Kabobs are fast, and a favorite of mine. Placed over a giant Caesar salad, and dinner is done!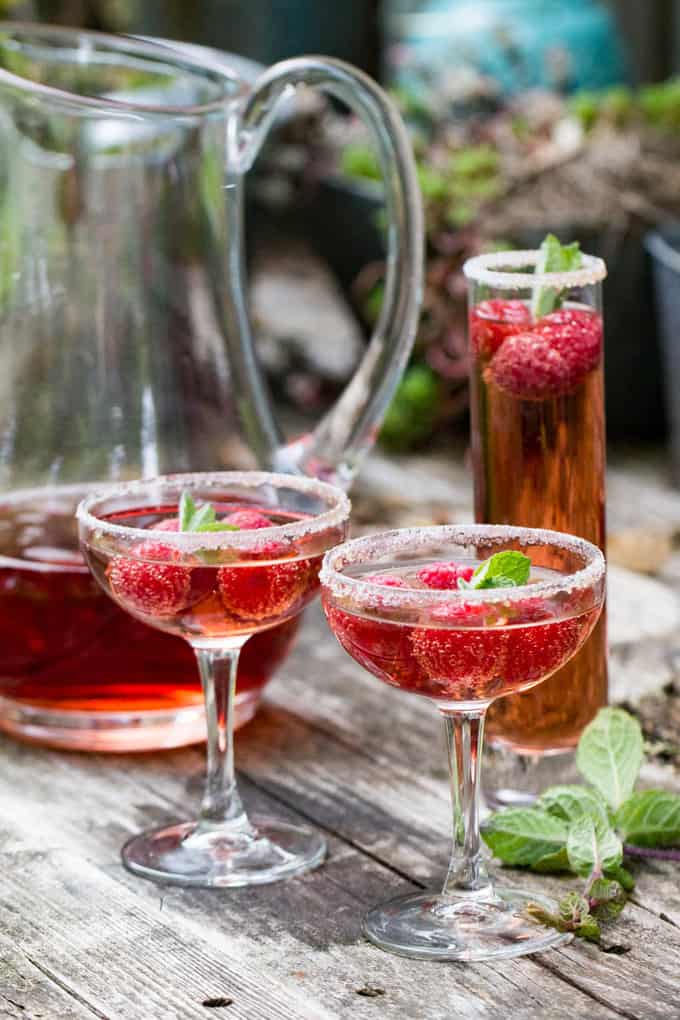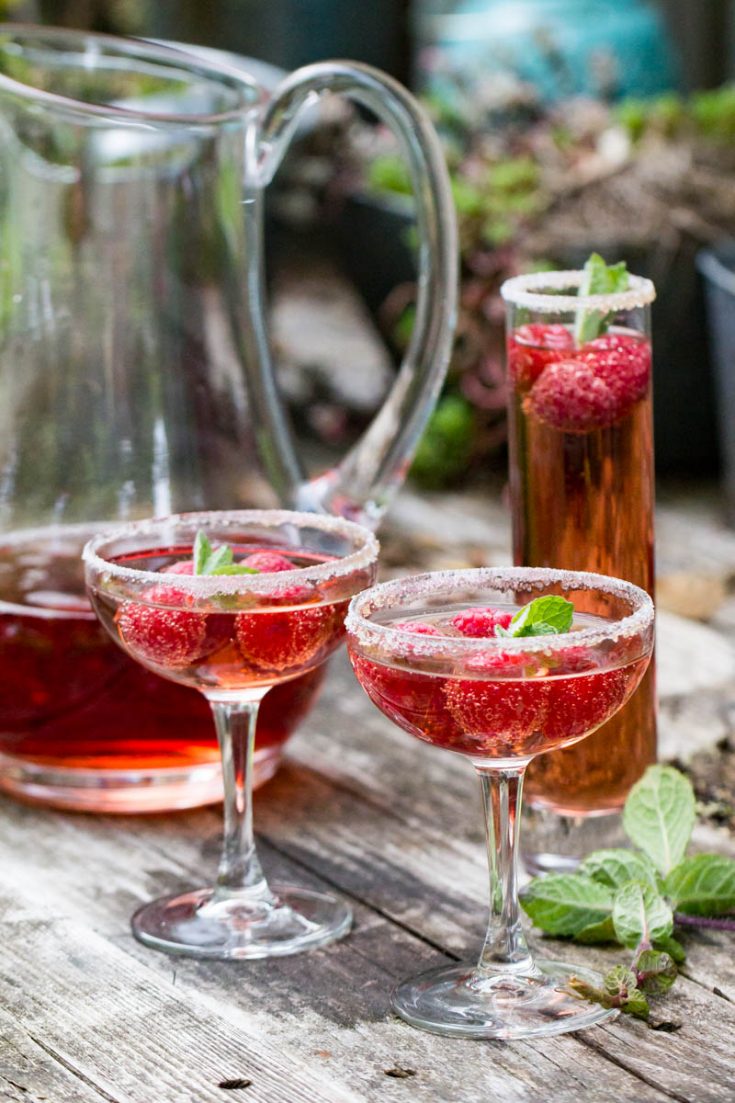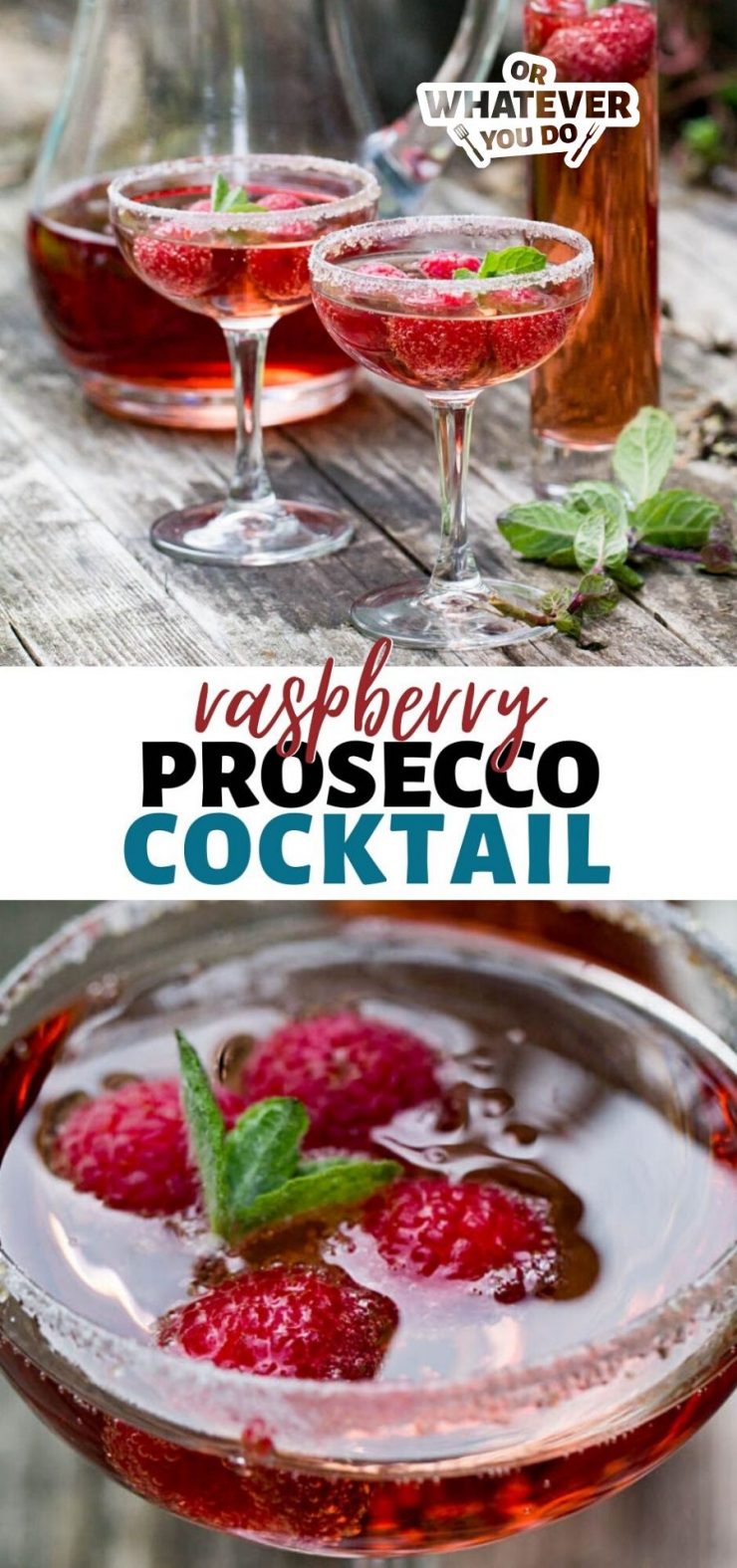 Yield: 4 servings
Raspberry Prosecco Cocktail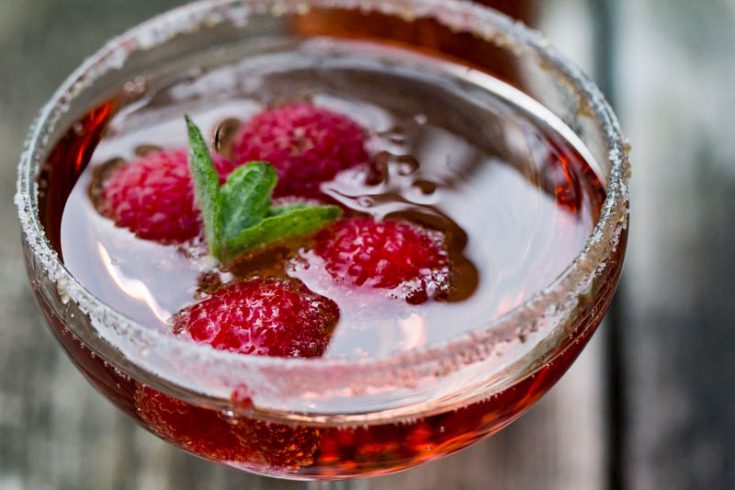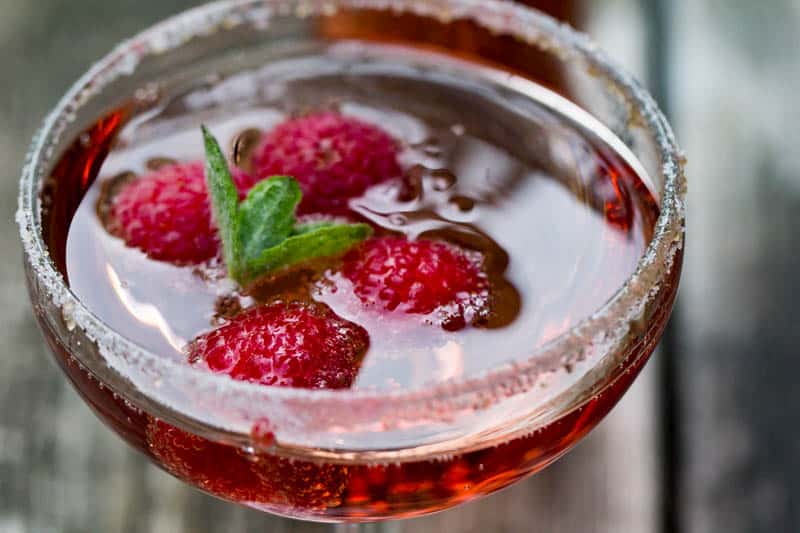 Sparkling raspberry prosecco cocktail is refreshing and delicious! Not too sweet, unless you want it to be!
Ingredients
Cocktail
1 ounce Chambord
1 ounce Grand Marnier
1/2 ounce simple syrup
3 cups prosecco
Garnish
raspberry
mint
sugar for rim of glass
Instructions
Place the Grand Marnier, Simple Syrup, and Chambord in a cocktail shaker and fill with ice. Shake and strain into two glasses.
Top the mixture with the prosecco and garnish with raspberries and mint.
Nutrition Information:
Yield:
4
Serving Size:
1
Amount Per Serving:
Calories:

153
Total Fat:

0g
Saturated Fat:

0g
Trans Fat:

0g
Unsaturated Fat:

0g
Cholesterol:

0mg
Sodium:

8mg
Carbohydrates:

9g
Fiber:

0g
Sugar:

6g
Protein:

0g