Traeger Smoked Pork Chops are coated in a delicious chili garlic rub and then slow-smoked on the Traeger wood-pellet grill.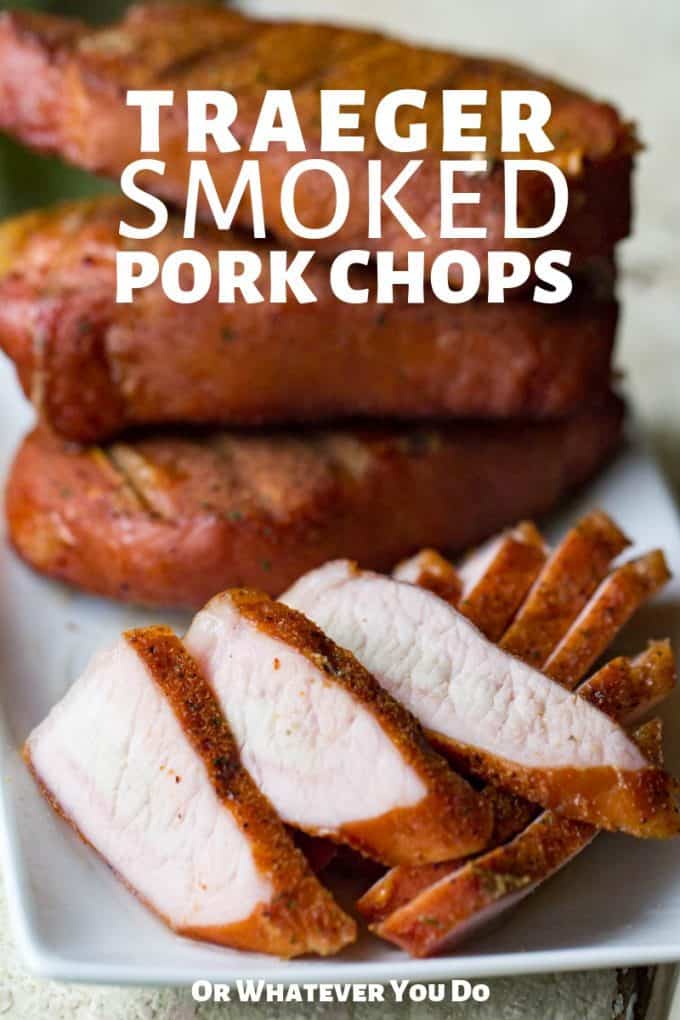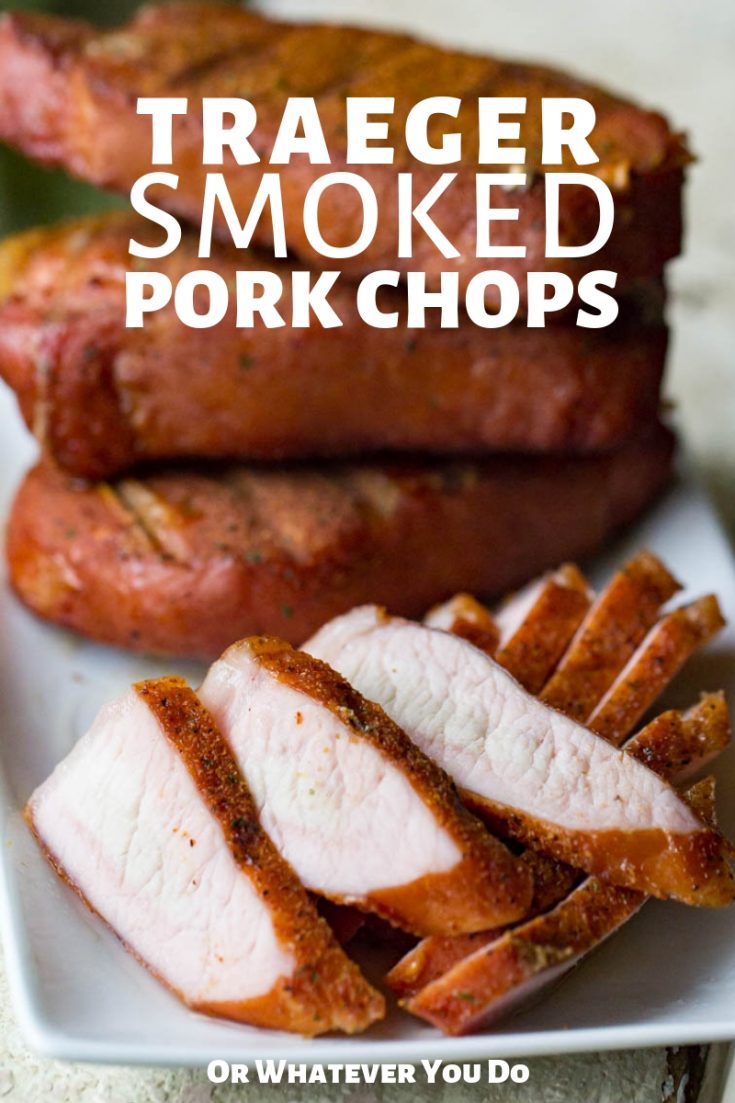 Traeger Smoked Pork Chops
These Traeger Pork Chops are amazing! This meal is perfect for anything from a Saturday lunch or BBQ to Sunday family dinner. Just let the Traeger do its thing. This meat is seasoned with a Chipotle Garlic blend by Spiceology.
Slow smoked boneless pork chops are put on the Traeger to be smoked at 180° for about 45 minutes. Next, you turn up the grill to high and let it cook for 15-20 minutes.
Make sure they reach 150° internal temperature before you pull them off the grill.
More Easy Traeger Recipes here!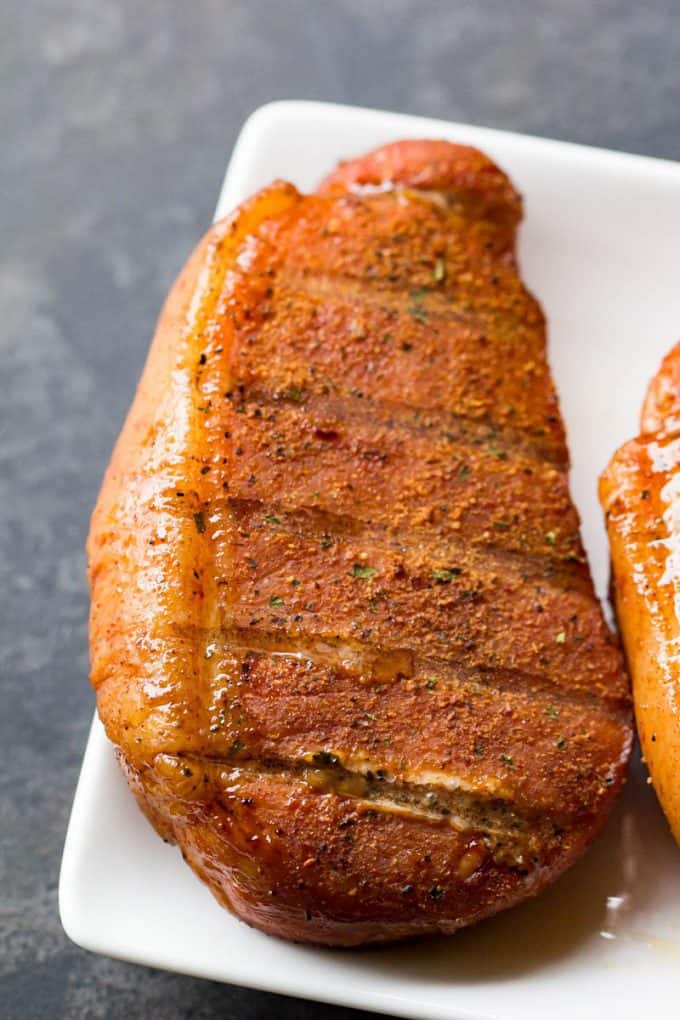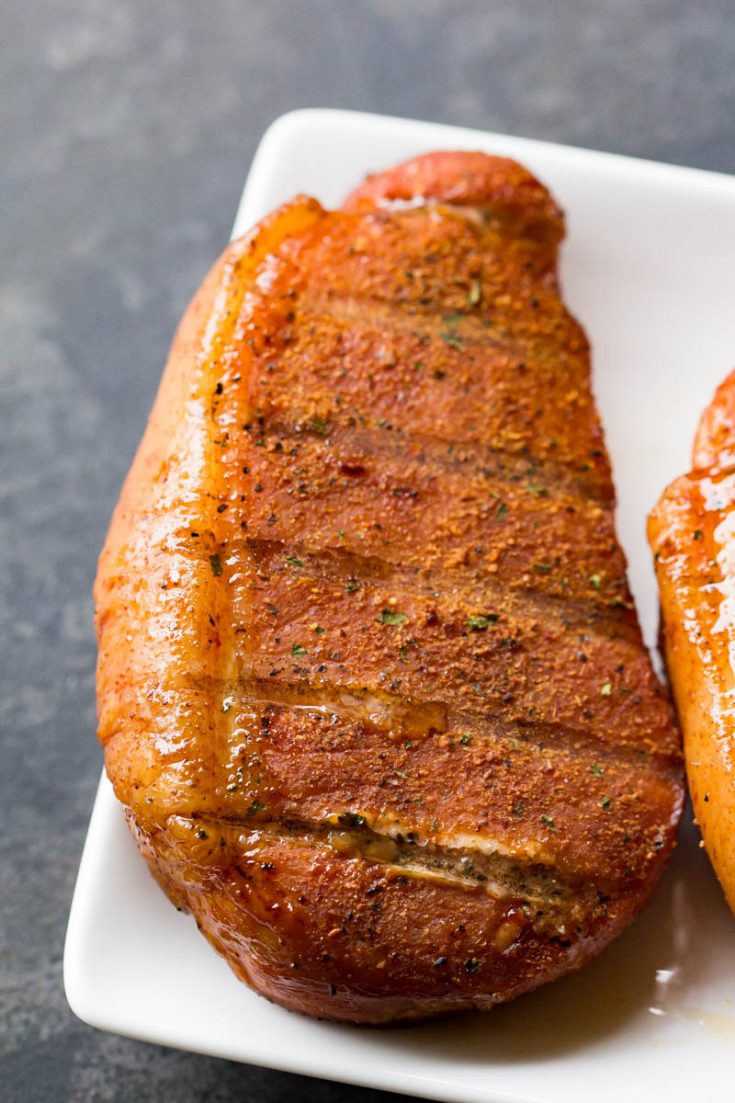 Can pork chops be pink?
Yup! It can be slightly pink in the middle and still be safe to eat.
A few years ago the USDA said that it is alright to have a little pink in the middle. I absolutely love a juicy boneless pork chop, so the end to the dry pork chop was something I really could get on board with.
Some people just aren't a fan of pork chops because their only experience with them has been overcooked, dry pucks of well-done chops. Perhaps a bad experience in a battle between your teeth and the tough, dry, meat.
Let this slow-cooked pork chop be the pork chop to change your mind. I have heard even the pickiest of eaters give praise to this simple old fashion technique.
In the past, if your chops seemed too dry it is because they are a lean cut. They tend to cook pretty quickly and are prone to overcooking. The instructions to cook these low and slow is the key.
Cooking these on the Traeger really brings out an amazing BBQ flavor that you just can't get without a live wood fire.
BBQ Subscription Box!
I love subscription boxes and I love barbecue, so opting into bbq boxes was kind of a no-brainer.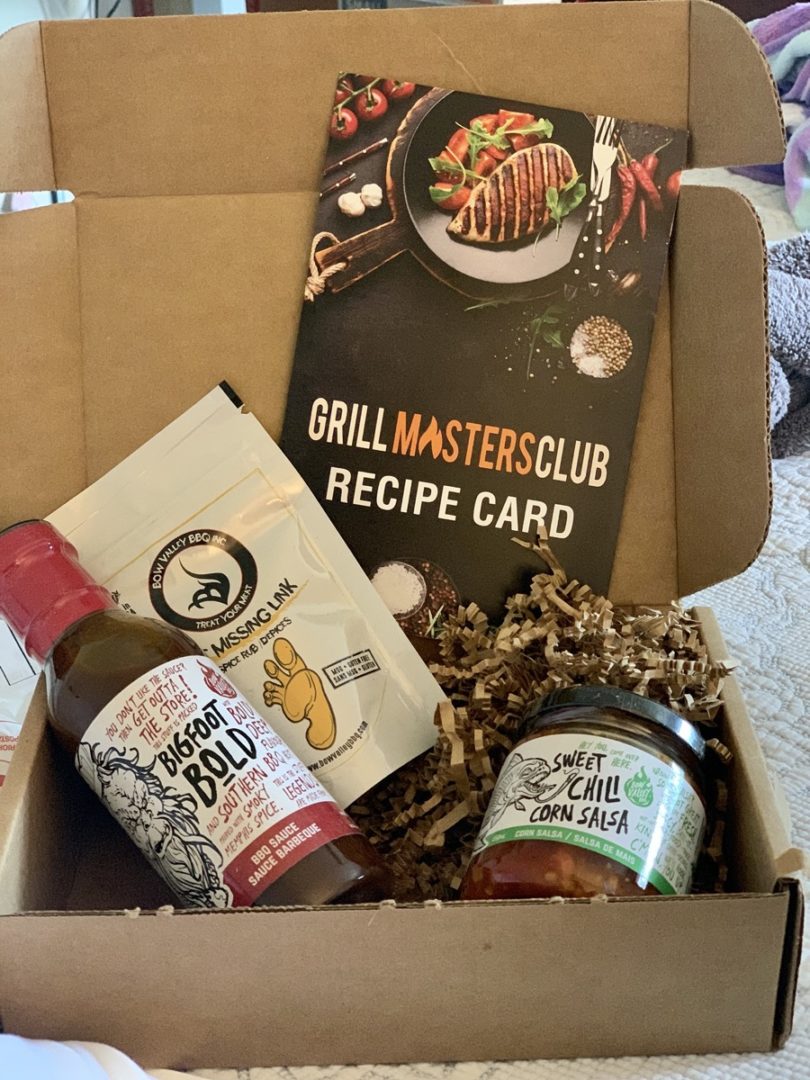 They both send you a rub, a sauce, some wood chips, and sometimes there are snaky things like beef sticks or jerky in the BBQ BOX.
I'm someone who collects rubs, and you can never have enough BBQ sauce and marinades. We've found some of our favorites through Grill Master's Club!
Grill Masters Club Box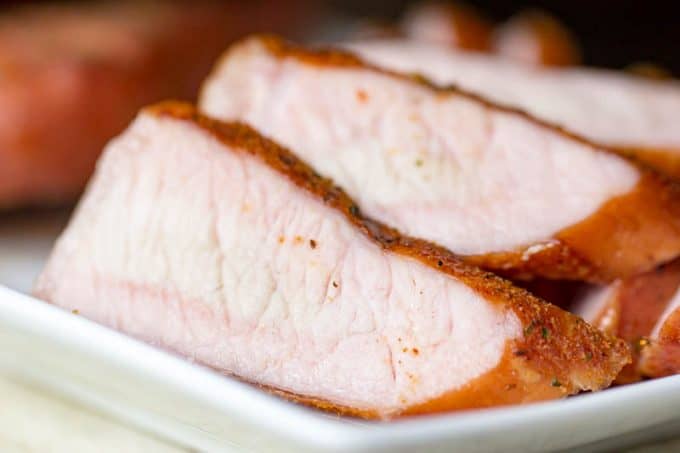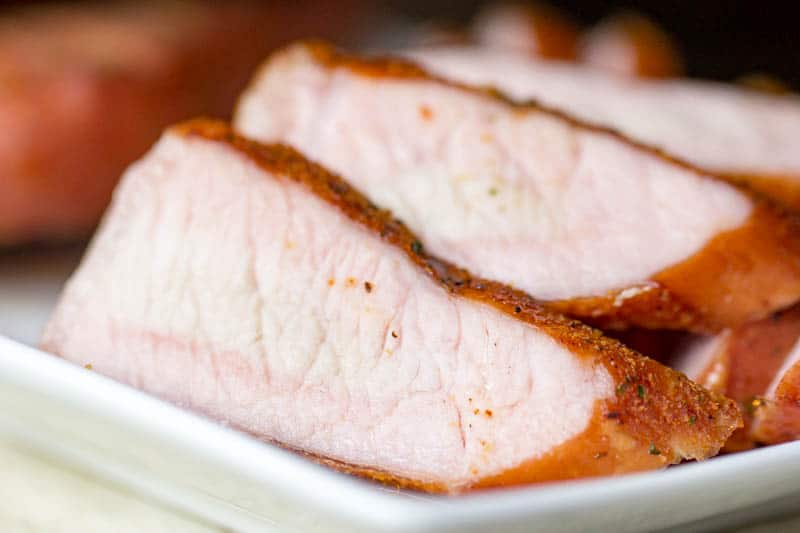 Do I need to tenderize pork chops?
You do not need to, but you can. If you want them to be extra tender, try marinading them. Placing the pork chops in a zip-lock bag with something as easy as some olive oil, garlic, lemon juice, and Worcestershire sauce would do the trick.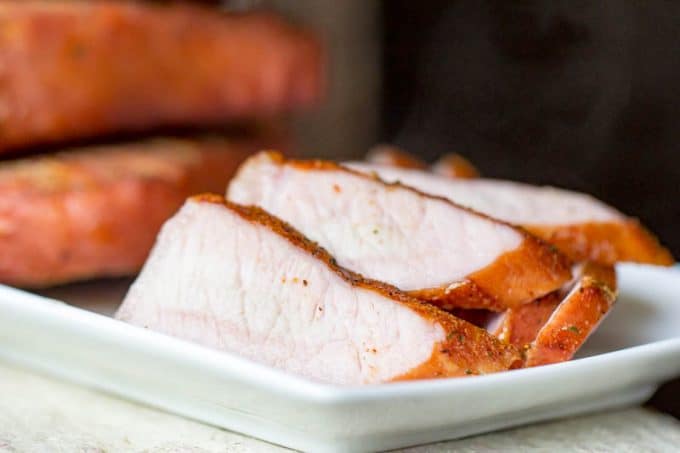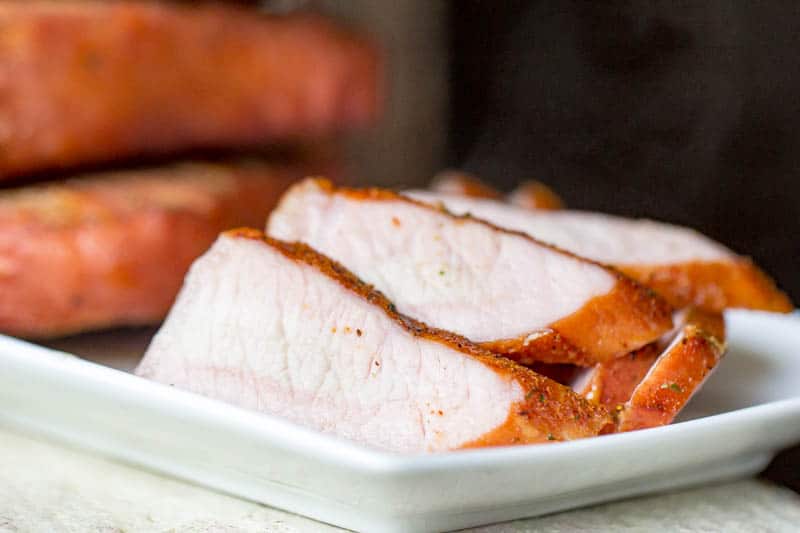 What size pork chops should I buy?
You can buy whatever thickness of pork chop that you prefer, but the thicker the chop the longer it'll need to get up to temp. I prefer 1 inch thick pork chops for smoking, but have also had some amazing thick-cut bone-in pork chops that were totally incredible.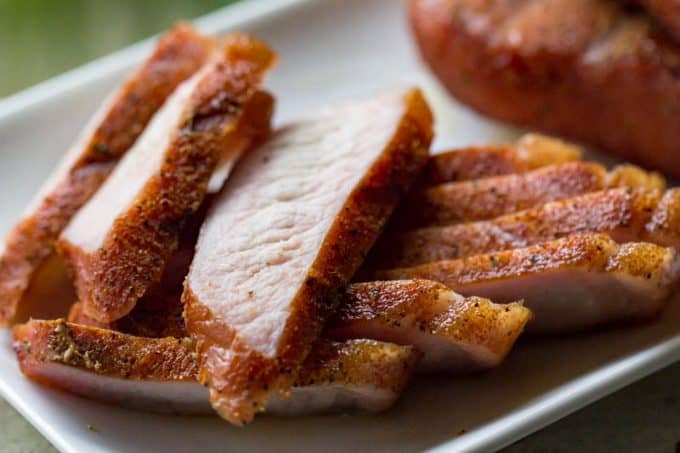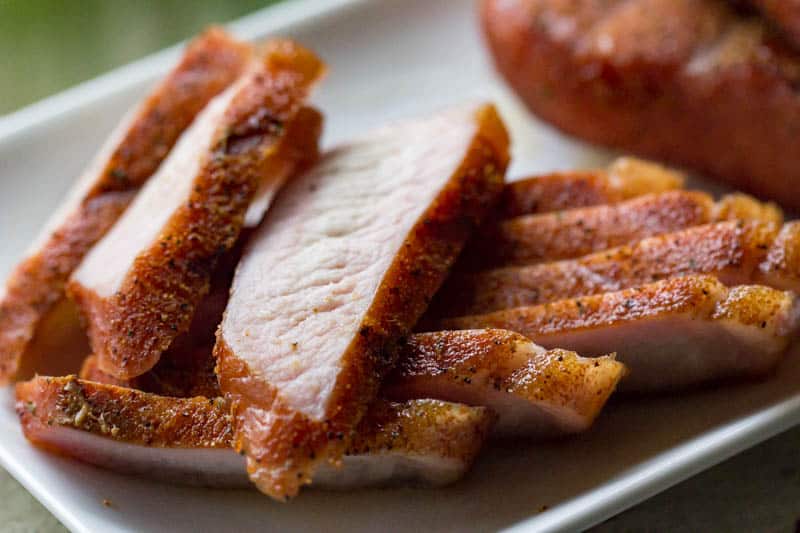 What is the best seasoning for pork chops?
For this particular recipe, I used Spiceology's Chipotle Garlic Blend. It is INCREDIBLE, and I'd highly recommend ordering the big size cause you are going to want this on everything. You can find a link to that down in the recipe card in my Recommended Products section.
My OWYD Everything Rub would also be great on these!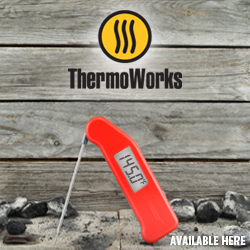 If you don't have Spiceology rub and want to make this now, you can use your favorite rub or mix up some of my homemade all-purpose bbq rub and it will be delicious.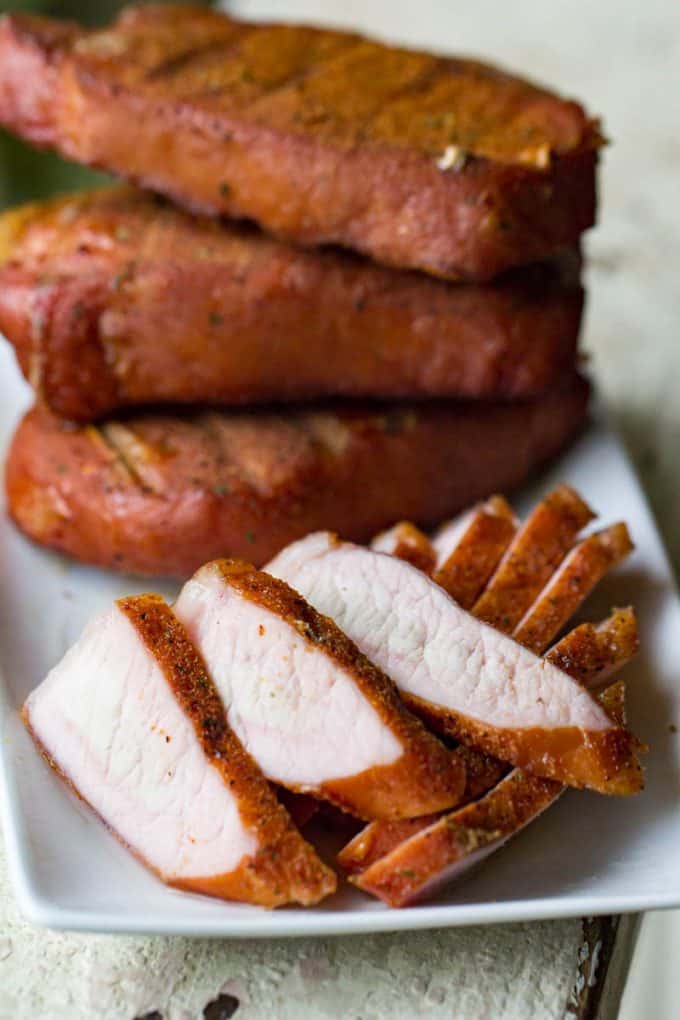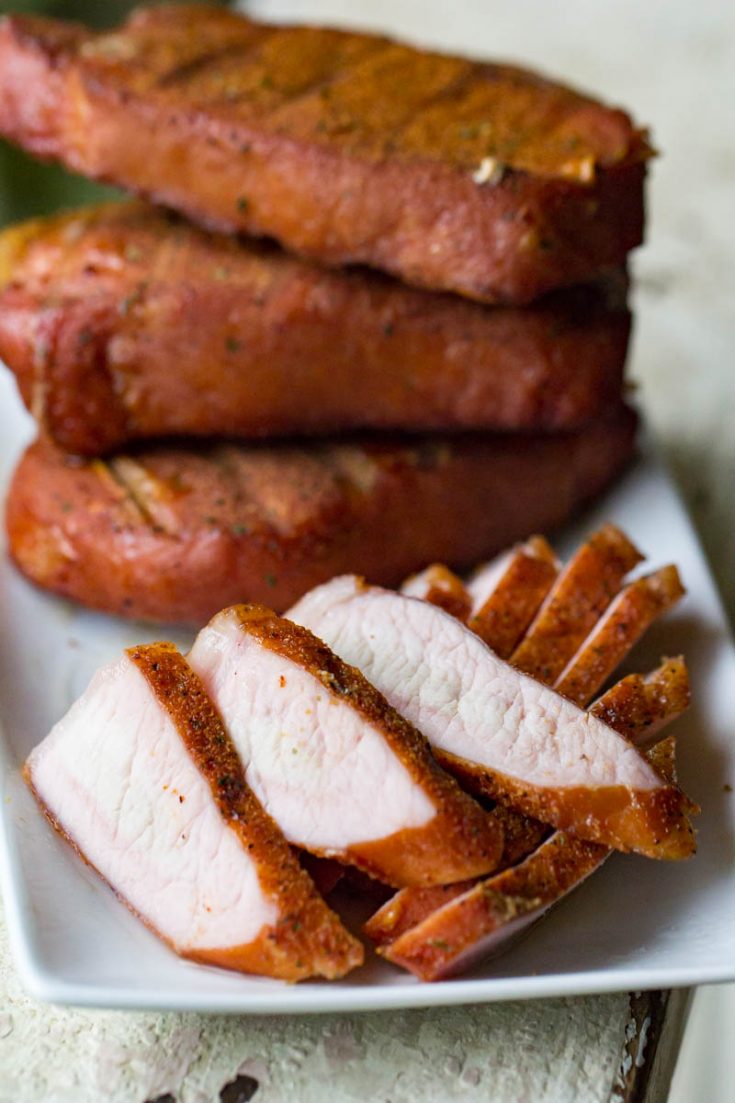 What should I serve with easy smoked pork chops?
The sides are just as important as the main entree so I recommend picking some other homestyle type sides off my website like the Pickled Asparagus and Apple Crisp.
These easy Traeger recipes are suitable for any experience level, and are family-tested and approved!
The Pickled Asparagus Recipe is one of the many things that would go great with these pork chops. Nothing makes a great homestyle dinner like your own canned pickled asparagus. If you haven't checked it out yet then when you decide to make these chops you won't be sorry you used up the excess of your asparagus crops to plan for this.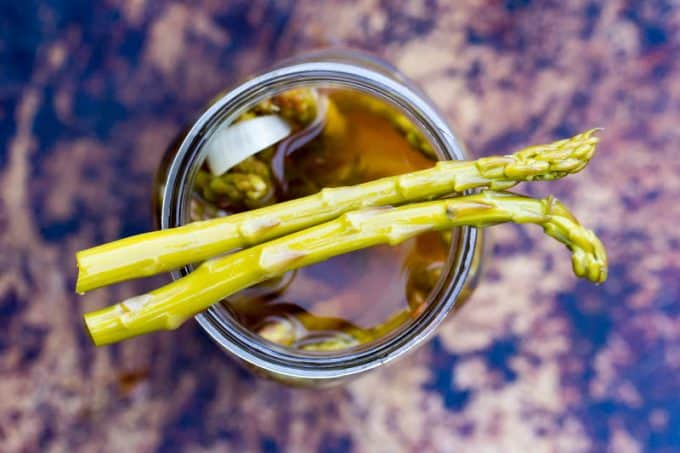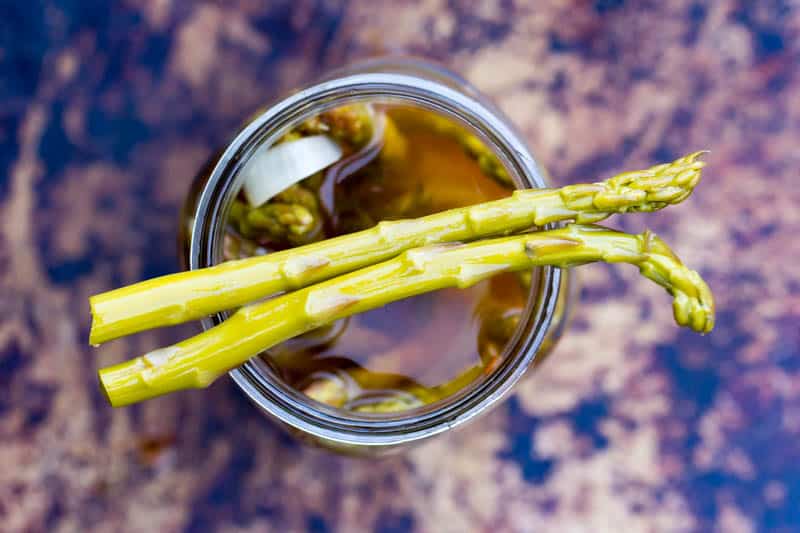 Traeger Apple Crisp is also to die for. Nothing shouts homestyle like apple crisp. Ever since I was young my mom has been making it, and everybody has been trying to eat the whole pan. It's simple and can be a lot of fun for the little ones to help with.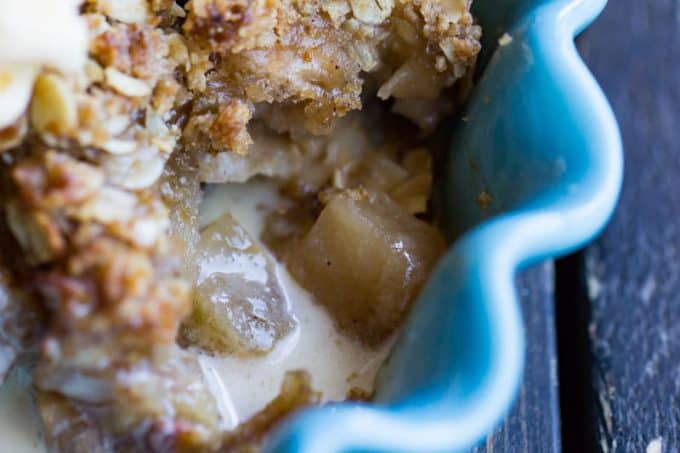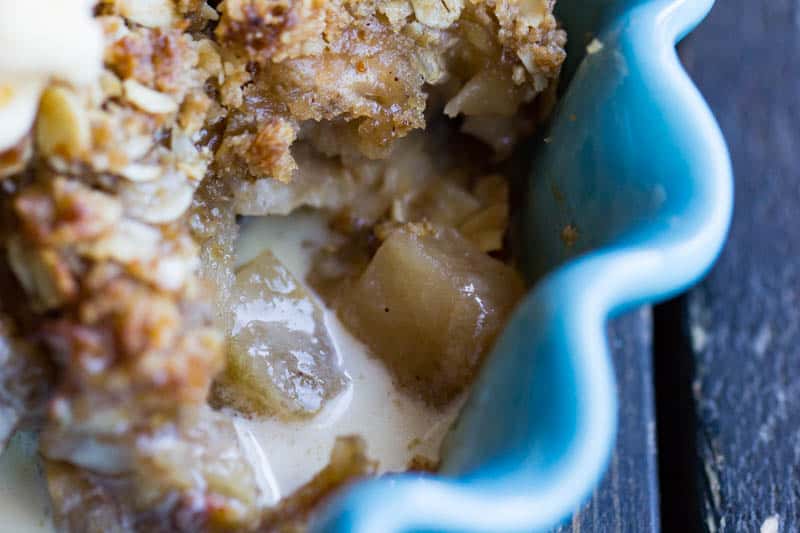 So no matter what the occasion you want to make these for, they will taste delicious and are super easy to make!
If you want something carby, definitely check out my Mushroom Risotto. It is easy, and DELICIOUS with pork chops!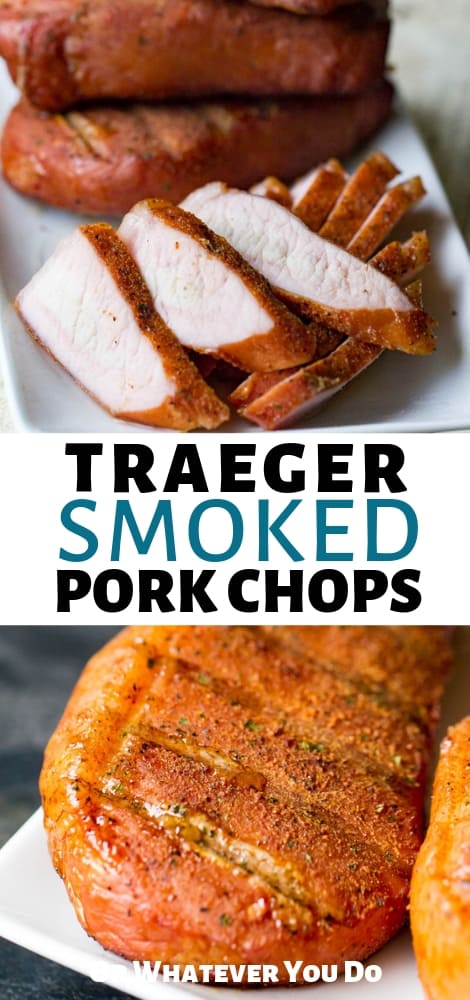 Yield: 6 servings
Traeger Smoked Pork Chops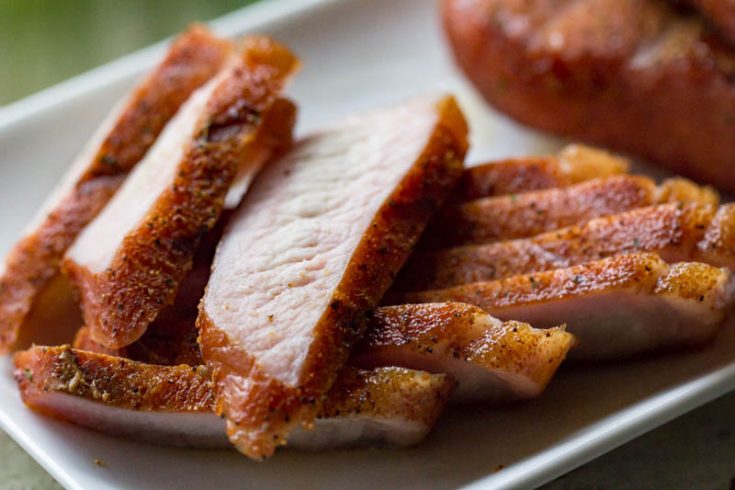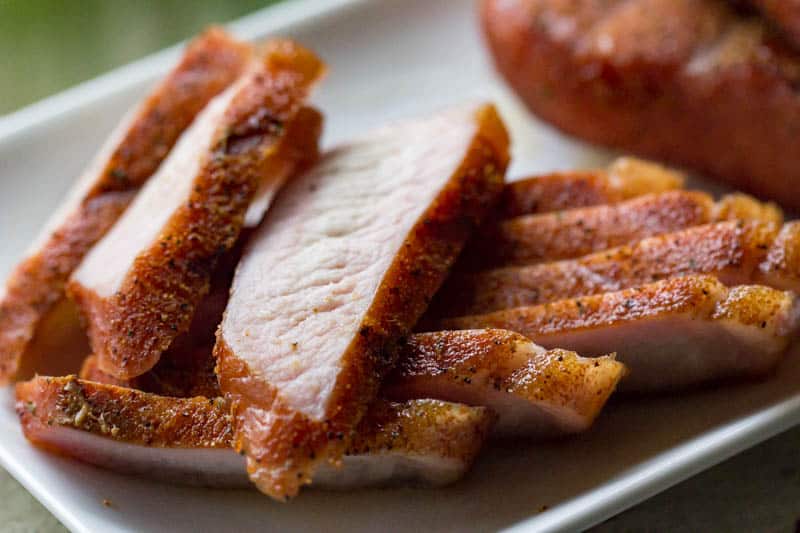 These delicious smoked pork chops are heavily seasoned with a Chili Garlic blend, and then slow smoked on a wood-pellet grill. So tender.
Total Time
1 hour
10 minutes
Ingredients
6 center cut bonesless pork chops
2 tablespoons canola oil
3 tablespoons chili garlic seasoning
Instructions
Preheat your pellet grill according to factory instructions to 175-180 degrees, or "smoke" mode if you have that.
Brush the chops with oil and sprinkle liberally with the seasoning.
Place on the grill grates and close the lid and smoke the chops for 45 minutes.
Remove the chops from the grill, crank the heat up to high, and let preheat for 20 minutes.
Place the chops on the grill again and cook for 15-20 minutes, flipping once in the middle, and removing once the chops reach 145-150°.
Let rest for 10 minutes before slicing.
Recommended Products
As an Amazon Associate and member of other affiliate programs, I earn from qualifying purchases.
Nutrition Information:
Yield:
6
Serving Size:
1
Amount Per Serving:
Calories:

105
Total Fat:

8g
Saturated Fat:

1g
Trans Fat:

0g
Unsaturated Fat:

6g
Cholesterol:

24mg
Sodium:

109mg
Carbohydrates:

1g
Fiber:

0g
Sugar:

0g
Protein:

7g