My Strawberry White Wine Spritzer has delicious white wine, rum, bubbly soda water or lemon-lime pop, and White Cranberry Strawberry juice to make a light and refreshing cocktail you can use anytime to remind you a little bit of what summer tastes like!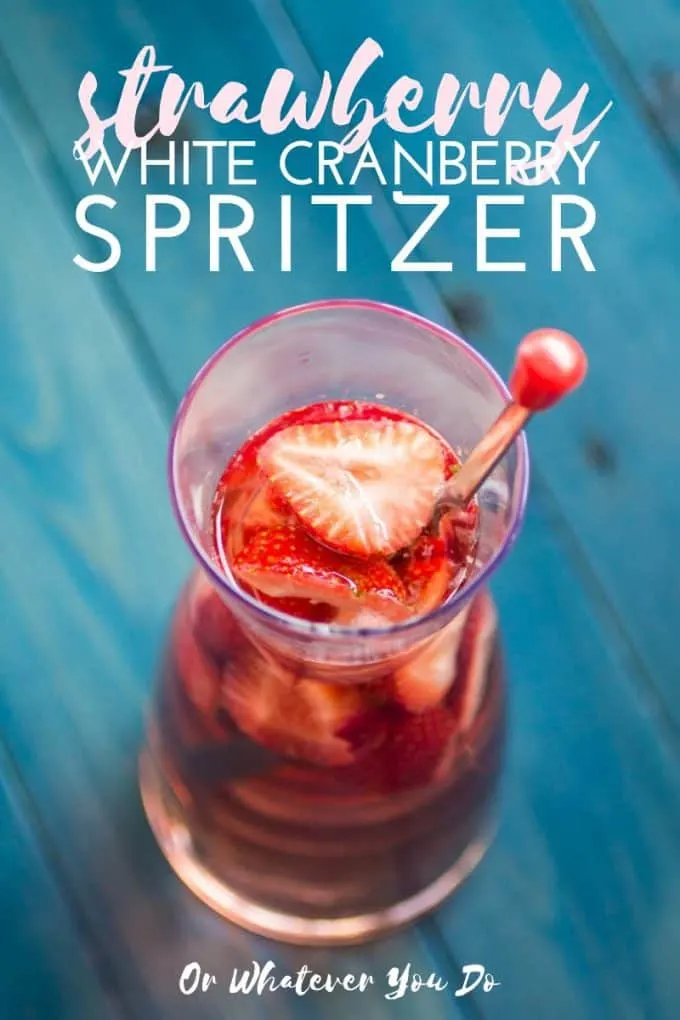 Strawberry White Wine Spritzer
Just because fall is here doesn't mean that you need to stop enjoying fresh fruit!
Nothing says summer quite like fresh strawberries, and when I need a little sunshine to break up the dreary gray fall days, a cocktail like this is perfect. They are juicy and sweet and you can use them in so many different ways!
So let us explore some refreshing ways to drink them, like this Strawberry White Cranberry Spritzer.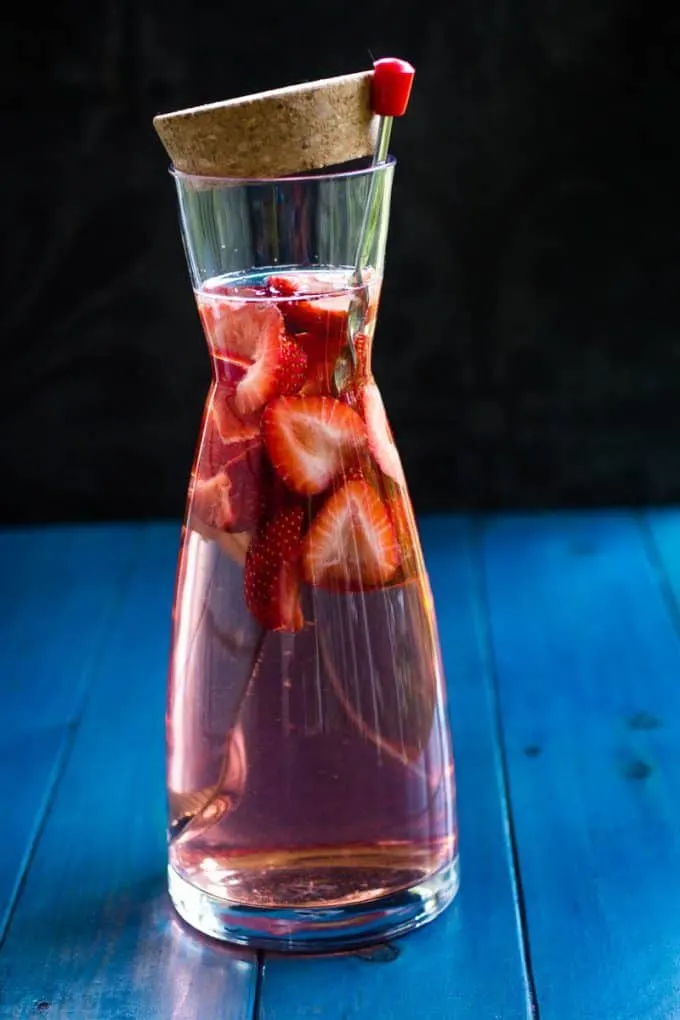 A perfect combination of White Cranberry-Strawberry juice, white wine, rum and 7-UP (or soda water), and don't forget the copious amounts of fresh strawberries!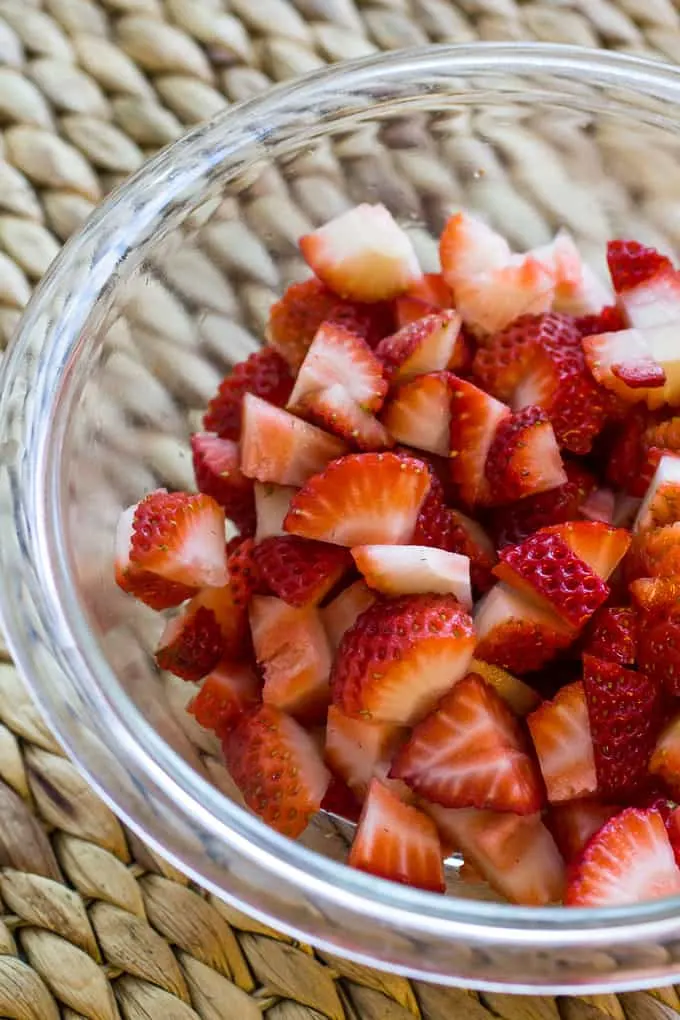 Where Should I Serve White Wine Spritzer?
This is a light, refreshing sparkling drink that would be perfect to serve at a bridal shower, your end of the year pool party, bachelorette party, or at a book club? I might actually join a book club if they served these. NEIGHBORS. Please start a book club! I will bring the refreshments!
How about Friday night cards, or the fun at-home candle, jewelry or storage parties? In fact, if you GO to one of these parties tell them you will definitely buy more if they serve these. (Plus send me all the leggings and candles and fancy mascara.)
You could serve this wonderful spritzer to your special someone on Valentine's Day (BEST VALENTINE'S DAY EVER), or for your family holiday gatherings. The color is beautiful and festive for almost any occasion, and you could sub in cranberries and cranberry juice to make it even more festive.
BUT WHERE IS THE CHAMPAGNE?
I KNOW. I've been super into the bubbly these days, and most of my cocktails include some in one fashion or another.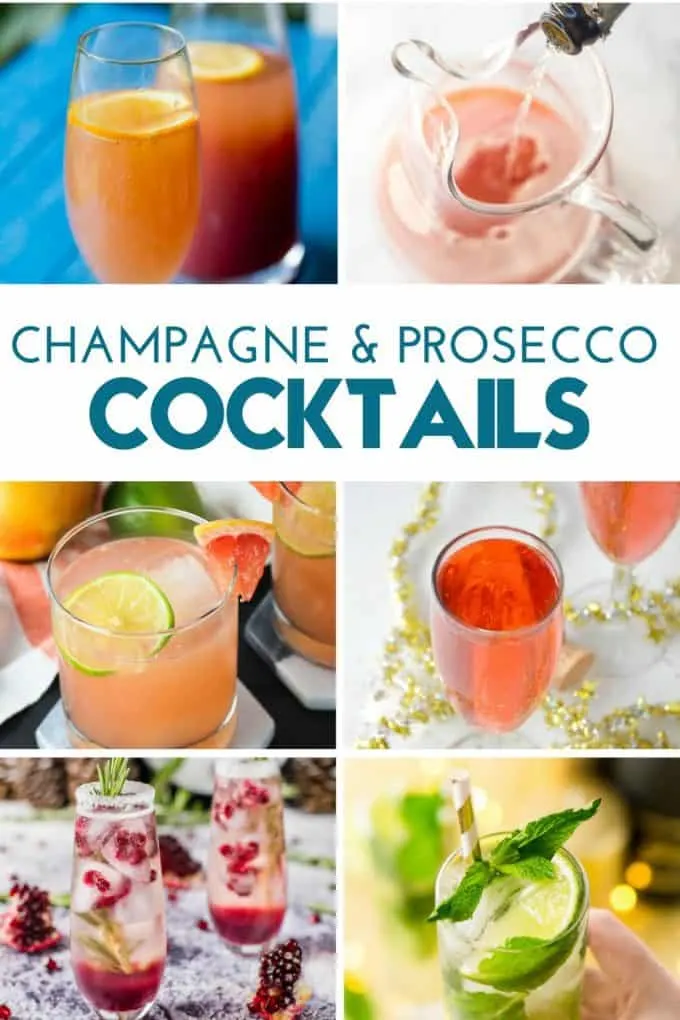 See my Holiday Wine Spritzer, Pineapple Prosecco Cocktail, Cranberry Orange Mimosa, Blackberry Margarita Mimosa, Orange Creamsicle Mimosa, or Cranberry Champagne Punch!
As with all of my recipes (drinks especially), I encourage you to experiment! You can definitely add champagne or prosecco in place of wine (or make it REALLY boozy and replace the lemon-lime soda with prosecco!)
Where Did Wine Spritzers Come From?
According to the Google and various sources, the wine spritzer was invented by a gentleman named Anyos Jedlik in Hungary in the early 1800's. Apparently, soda water was all the rage of the day, so he decided to mix it with wine and VOILA, the wine spritzer was born. It is one of the most versatile cocktails available to you.
This Strawberry White Cranberry Spritzer is no exception.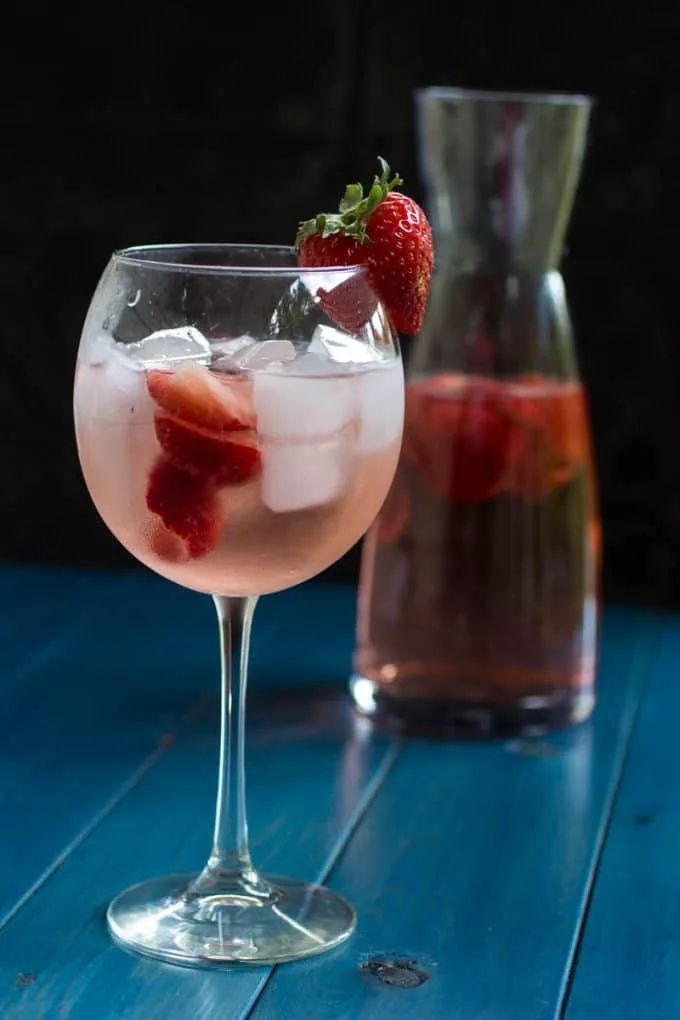 What Kind of Wine Should I Use in a White Wine Spritzer?
The best wine to use in a spritzer is always going to be your favorite wine or rose. Avoid using anything that you wouldn't enjoy in a glass on its own, or you will be sorry and so will your guests! Bubbles and juice can't solve for bad wine. You don't need the ultra-fancy kind
As a rule of thumb, the best varieties of wine for a spritzer are Chardonnay, Pinot Grigio, Sauvignon Blanc and Riesling. I also really enjoy a good Gewurtztraminer too!
You also may want to offer a non-alcoholic version for those who want that option. This is not the recipe for them. Toss them a can of Coke and get back to your wine spritzer because that's where we are at these days and that's where we'll be for a while.
What Can I Substitute For…
Did I mention versatility? You can go wild with different combinations of fruit, juices, and mixers here! Use what you have available, and use what YOU enjoy most. Raspberries, blueberries, pineapple, kiwi? Here are just a few ideas:
White cranberry juice with blueberries and kiwi
Cranberry blueberry blackberry juice with blackberries and raspberries
Cranberry pomegranate juice with fresh cranberries and blueberries
White cranberry juice with strawberries and kiwi
Citrus tangerine orange juice with skewered pineapple chunks and orange sections
Your options for mixers are also numerous. If you don't enjoy the sweetness of 7-UP you can substitute with club soda, ginger ale or my Homemade Sour Mix. A perfect kick of lime and lemon to add some zing to your drink.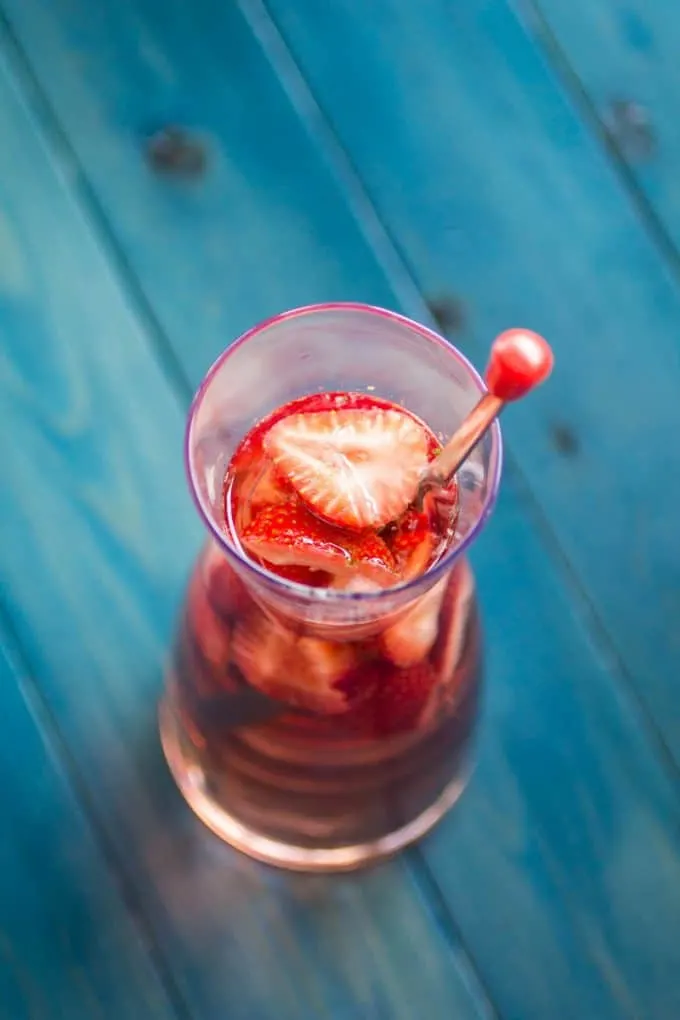 What Food Should I Serve With White Wine Spritzers?
Try my Chewy Chocolate Oatmeal Bars. Serve your spritzer in a pretty crystal goblet and dip some strawberries in chocolate to serve on the side!
For a larger gathering, I recommend my Triple Berry Trifle. You could purchase the cute little cocktail swords and skewer a few strawberries to set inside the glass, and freeze a few fresh raspberries and blueberries in place of ice! So PRETTY!
For a morning gathering, try my Lemon Blueberry Cornmeal Butter Cake. You could serve this as dessert with a steaming cup of coffee after cocktail hour has closed! What better way to end the evening with all of your close friends!
And last but not least, for a wedding reception, bridal shower or your Holiday gatherings, try my Vanilla Cheesecake. Very versatile as you can top it with whatever fruit or fruit glaze you desire! I suggest you use your very best crystal flutes for these occasions and coat the rim of the goblet with sugar. For the Holidays, try freezing fresh cranberries to use in place of ice.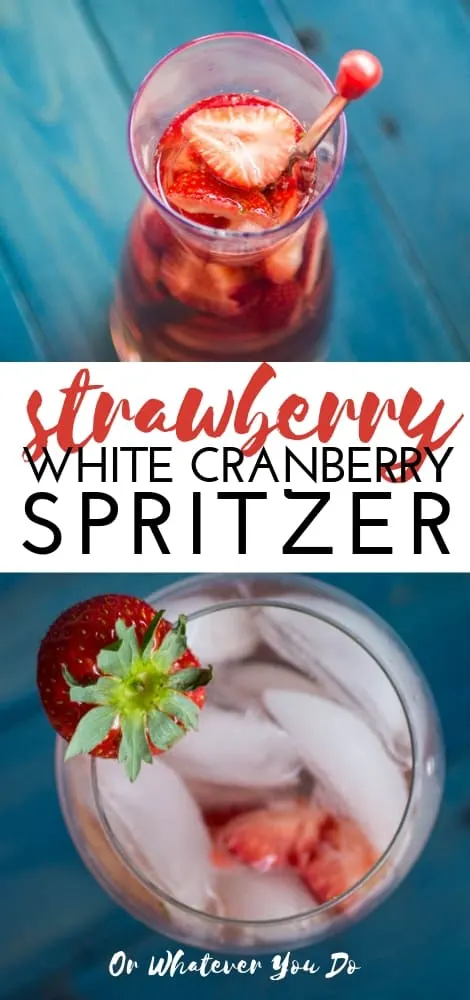 Yield: 1 glass
Strawberry White Cranberry Spritzer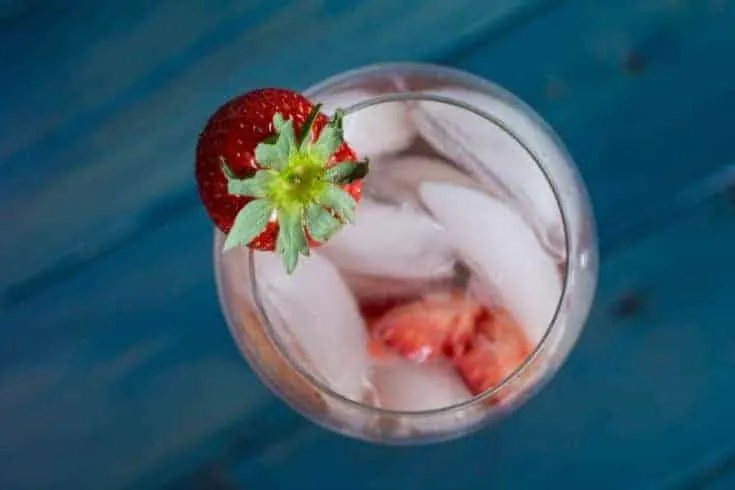 This refreshing wine spritzer has white cranberry and strawberry juice with fresh strawberries, rum, and wine!
Ingredients
3 ounces sparkling white wine, like prosecco
2 ounces white cranberry strawberry juice
1 ounce rum
fresh strawberries
Instructions
Combine all ingredients and serve over ice!
Nutrition Information:
Yield:
2
Serving Size:
1
Amount Per Serving:
Calories:

234
Total Fat:

0g
Saturated Fat:

0g
Trans Fat:

0g
Unsaturated Fat:

0g
Cholesterol:

0mg
Sodium:

80mg
Carbohydrates:

29g
Fiber:

3g
Sugar:

21g
Protein:

1g
Nutrition data provided here is only an estimate. If you are tracking these things for medical purposes please consult an outside, trusted source. Thanks!