Are you feeling the heat this week? Thirsty? I sure was, and this homemade strawberry lemon daiquiri really hit the spot yesterday. It's filled with strawberries and little else. Besides rum, that is. And some lemon juice and simple syrup. Read on for the recipe, and enjoy your holiday weekend!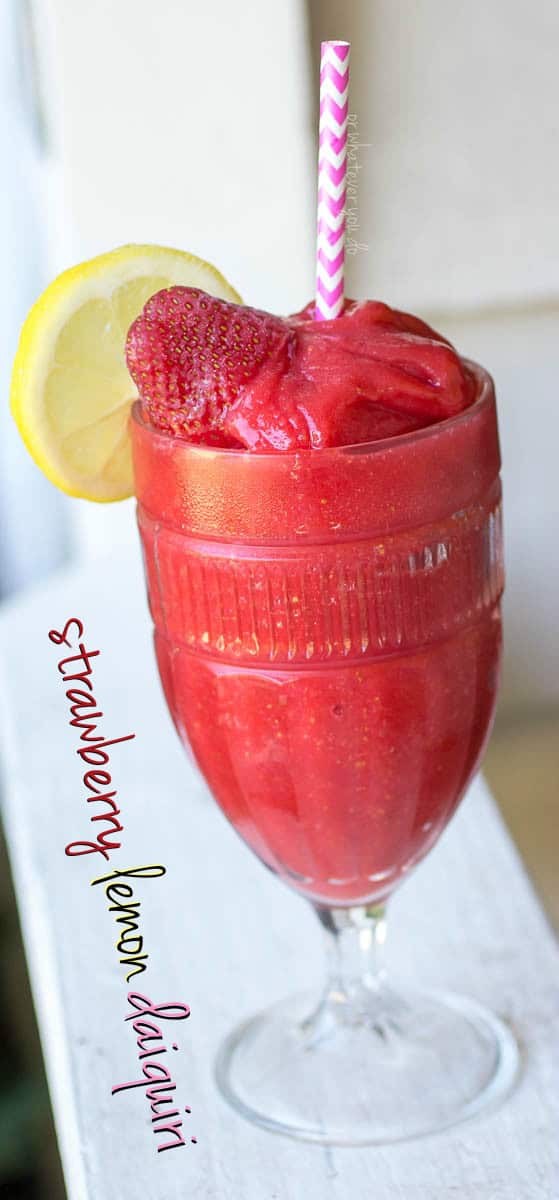 All you really need for a fantastic strawberry lemon daiquiri is a few simple ingredients.
Some frozen strawberries get tossed into a blender. I LOVE my Ninja for these. I got it last year free of charge for testing after attending IFBC in Seattle, and it's quickly become one of my favorite kitchen machines.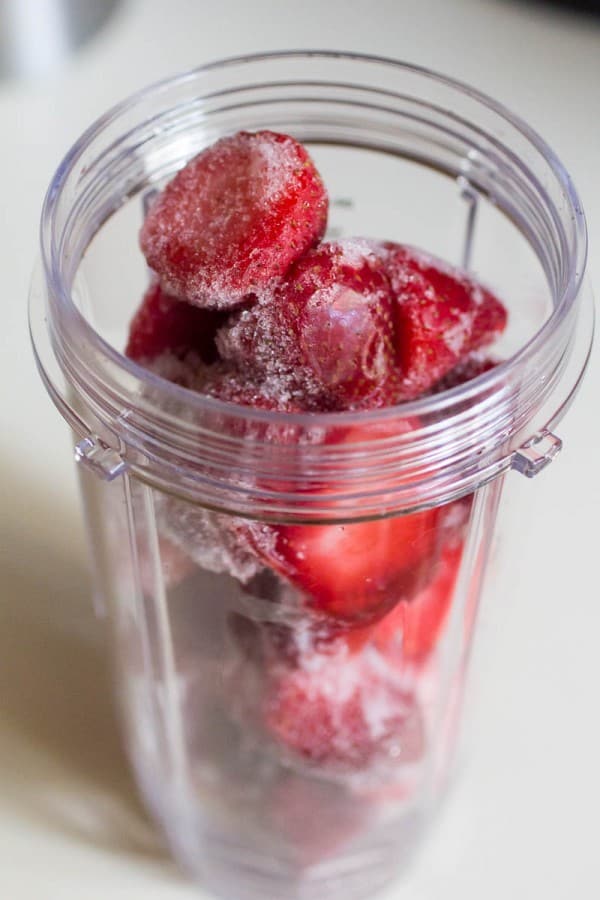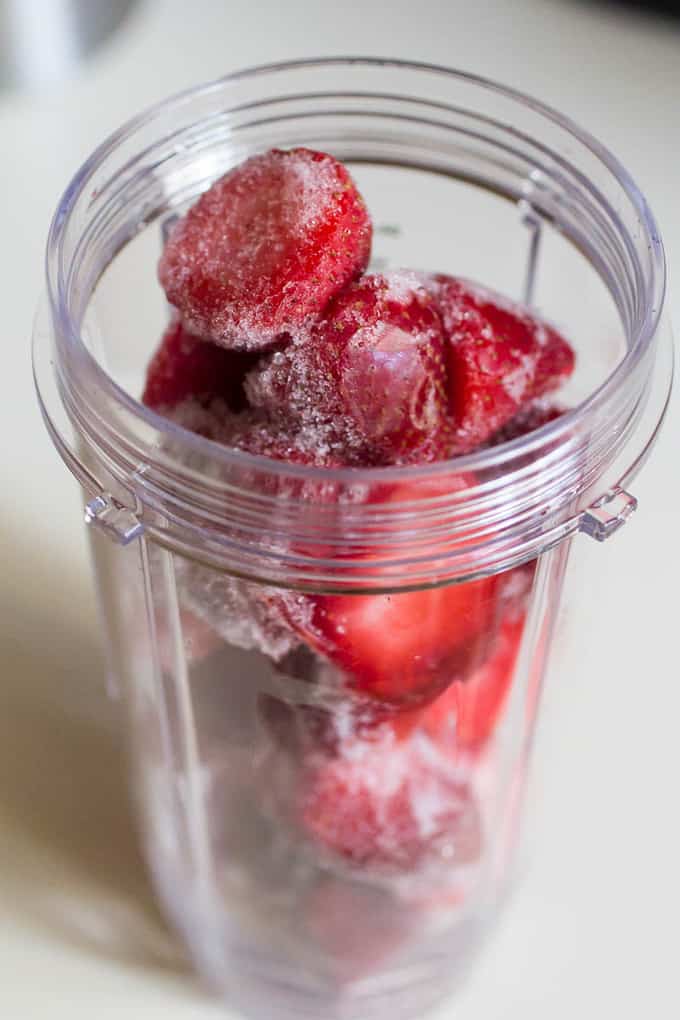 Toss in some rum, juice from 1/2 lemon, and a few tablespoons of simple syrup.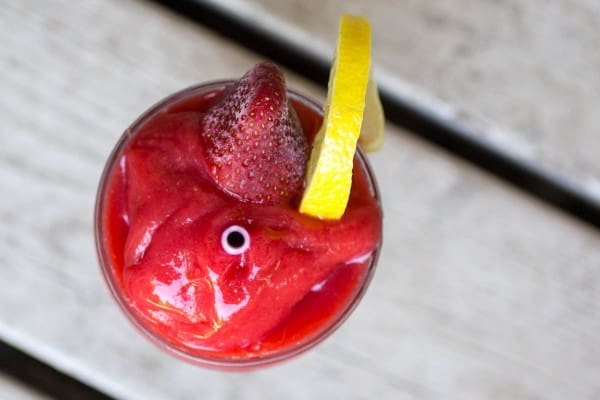 Blend it up! You may want to add a few ice cubes to slush it up a bit. Otherwise it turns into a bit of a strawberry sorbet, which may be exactly what you are looking for, but I wasn't.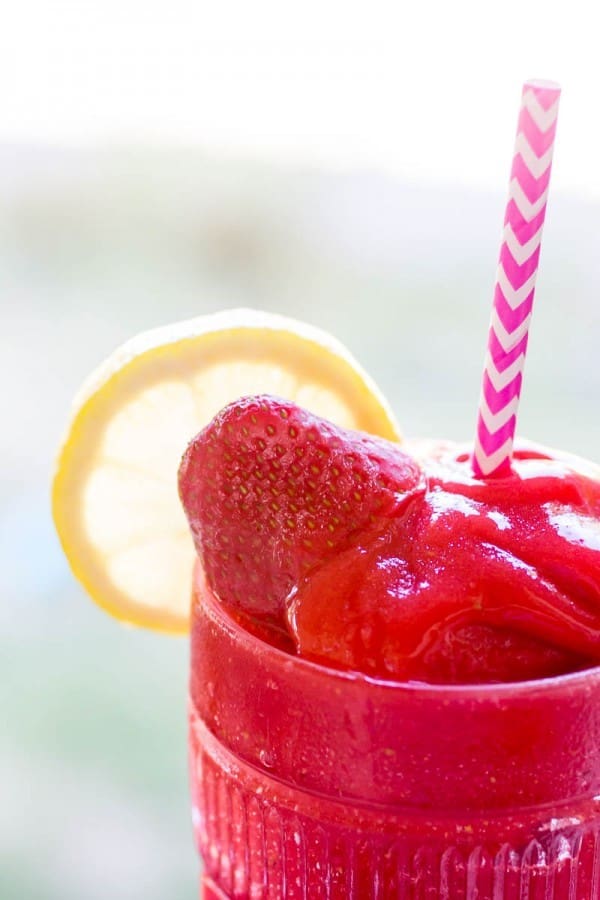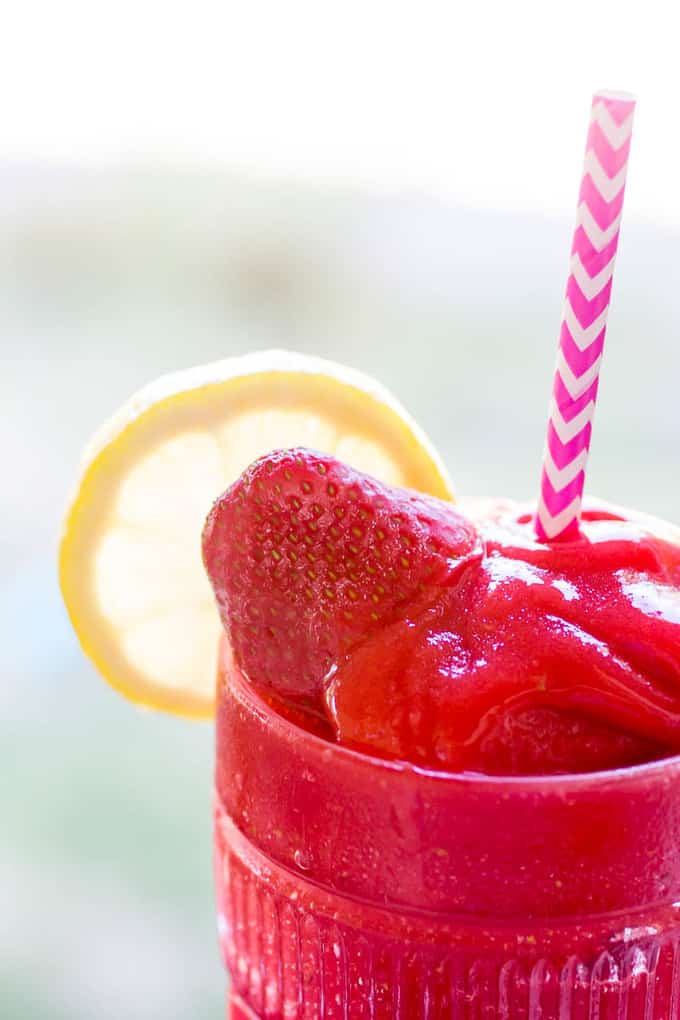 This was the perfect consistency for me. Smooth and light and spoonable for the first half of the drink, and cool and sippable for the last.
---
More delicious drinks and cocktails for you are waiting! 
Fresh Cherry Pina Colada
Lemongrass Lemon Drop
Grown-up Pink Lemonade
Rumberry Punch Cranberry Cocktail Recipe
Holiday Wine Spritzer
Raspberry Sangria
---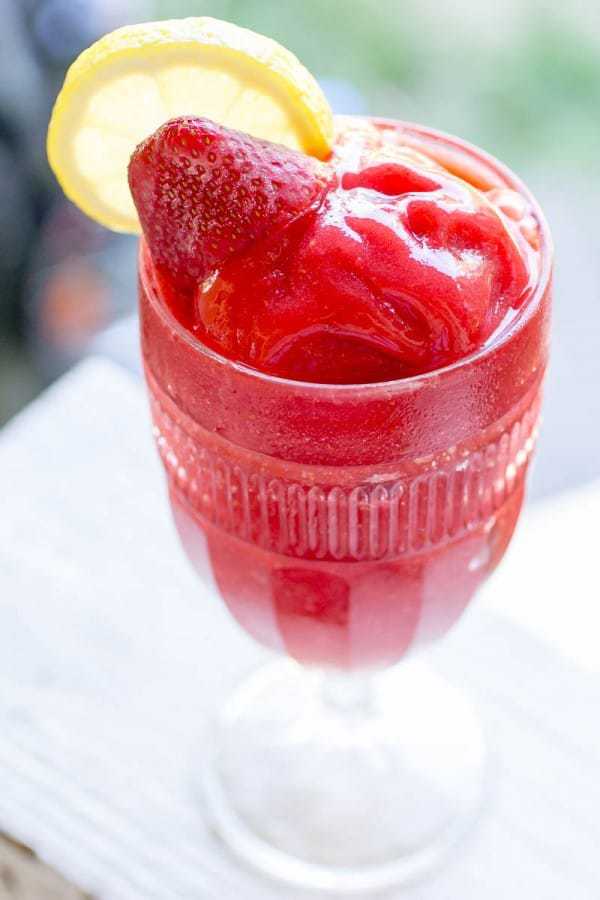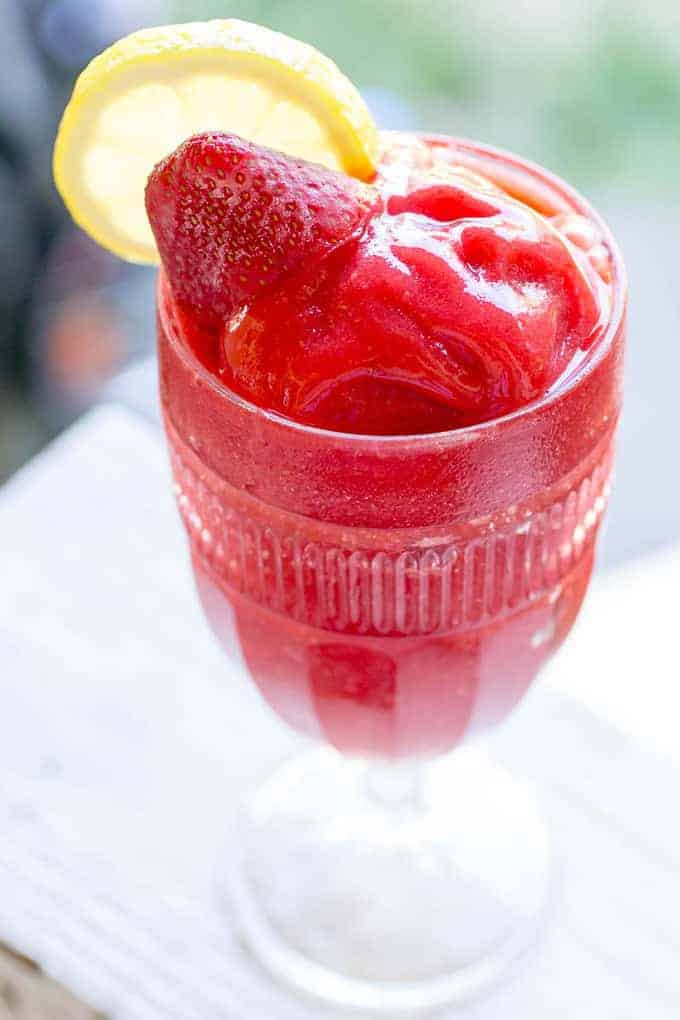 If I can manage to save a bit this time, it's going straight into my popsicle molds. Also, some non-alcoholic versions for the kids to check out. Because YUM. And it is almost all natural fruit and juice.
You could skip the added sugar if you wanted to, and I don't think you'd be missing much in terms of flavor, but I really like a sweet drink.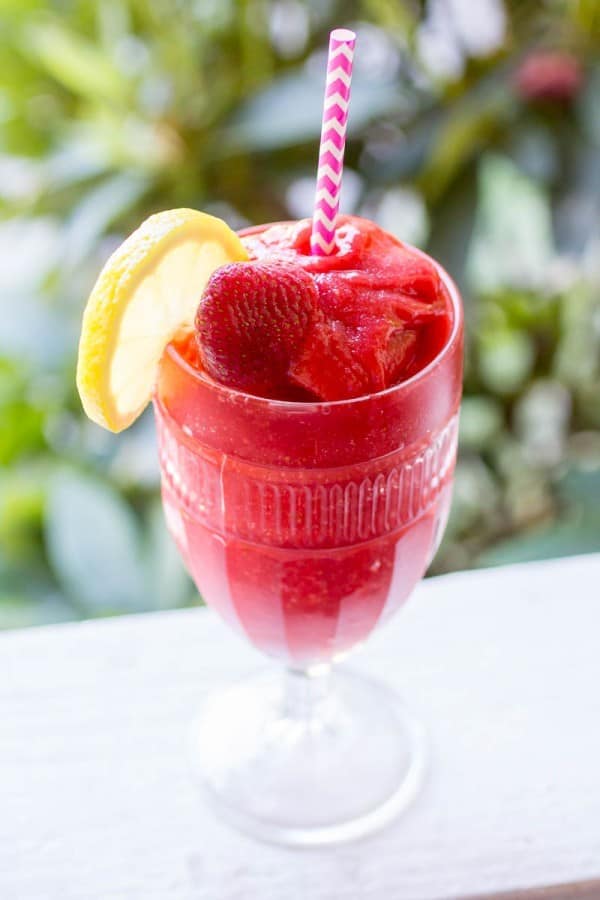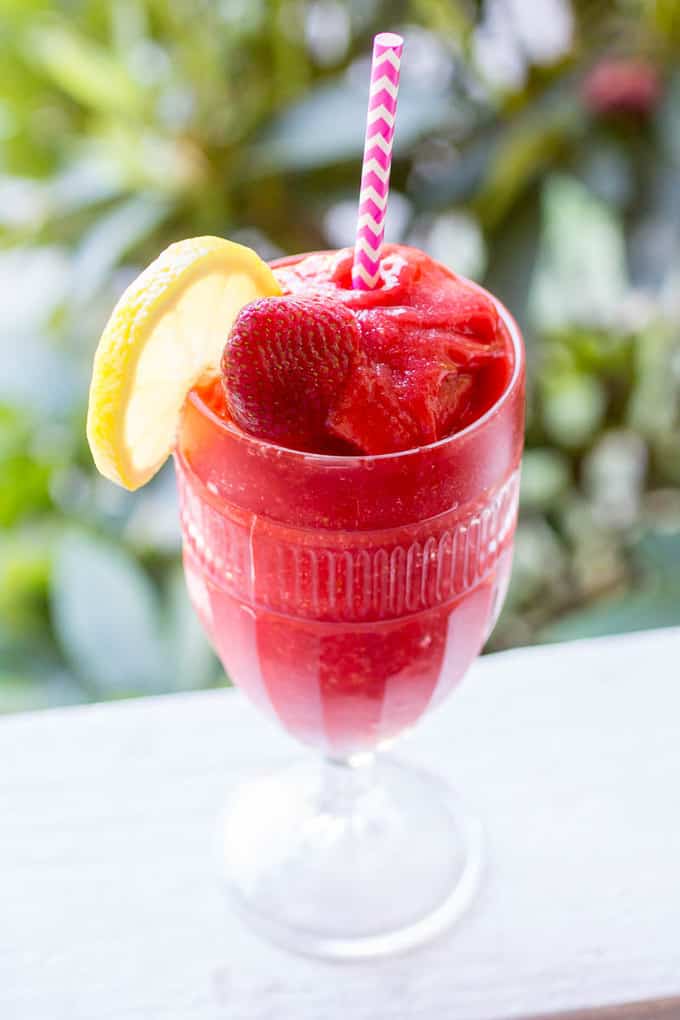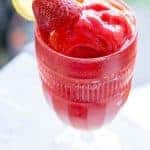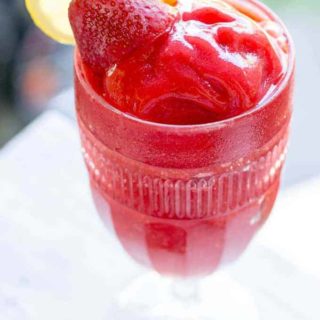 Strawberry Lemon Daiquiri
Ingredients
2

cups

frozen strawberries

4-5

large

ice cubes

juice from 1/2 a lemon

1-2

tablespoons

simple syrup

1/4

teaspoon

vanilla

1/2

cup

of white rum
Instructions
Place all ingredients into a blender and blend until pureed and combined. Serve immediately with strawberry garnish.
Recipe Notes
Simple syrup is made my combining sugar and water and simmering until the sugar is completely dissolved. I like to use a 1:1 ratio of sugar to water, and toss in a little vanilla while its simmering. Keep a small mason jar of that in your fridge for cocktails or homemade lemonade.
Optional add-ins:
7up
Lemon flavored rum
Rose's Lime