The Cosmopolitan may have been made famous by a certain HBO series back in the day, it is still a refreshing option if you are in a martini kind of mood. An easy sipper for a hot summer evening, if you didn't get on the cosmo bandwagon the first time around you need to give them a shot.

Cosmopolitan Cocktail
There's nothing better than a high-quality cocktail like the Cosmopolitan! You don't need to go out on the town to have this one-hit wonder.
Enjoy this super popular cocktail in the comfort of your own kitchen. It only takes a couple of minutes to shake together a delicious Cosmo cocktail, and you'll savor every sip.
Click here to save this post for later!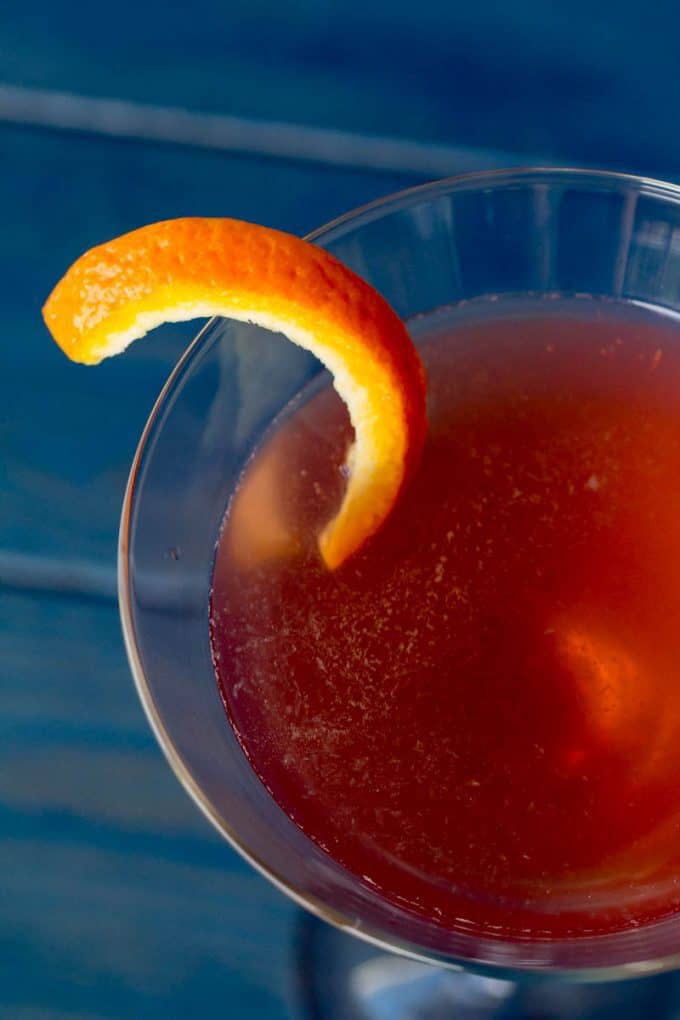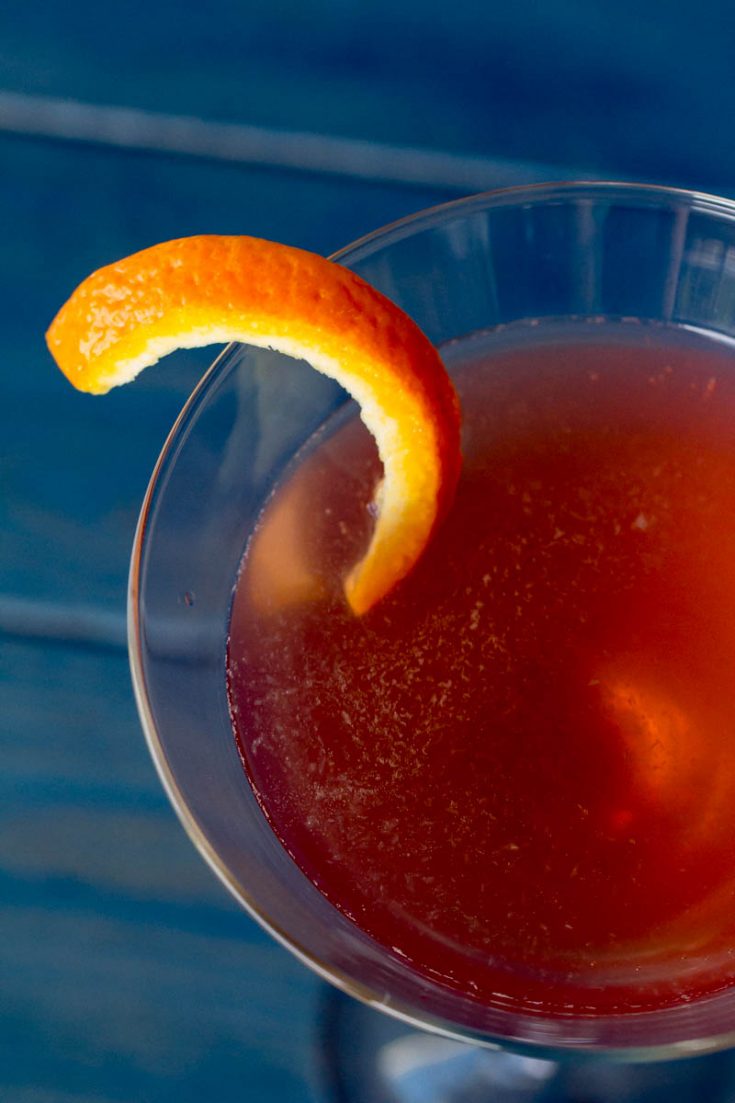 Cosmo
My Cosmo martini has vodka, triple sec, lime, and real cranberry juice that really brings a bright, fresh flavor. Real cranberry juice makes a big difference! It adds a tart twist that translates into a next level drink.
Cosmopolitans are way easier to make than you'd expect! With only a handful of ingredients, you can make your own in a flash. Once you've tried it, this cosmopolitan cocktail recipe will become your go-to.
Whether you're enjoying a few minutes of quiet after the kids are finally in bed (finally!) or you're throwing your very own dance party, you'll adore being able to make your very own Cosmo. Invite a couple of friends over to try out my Strawberry Lemon Drop and Cranberry Champagne Punch too!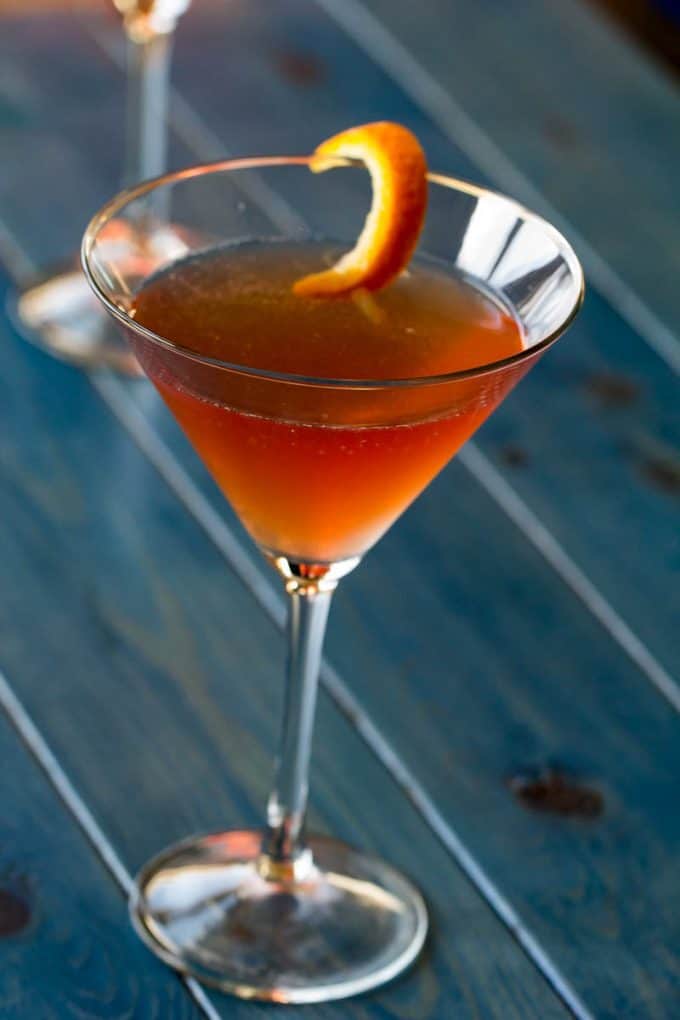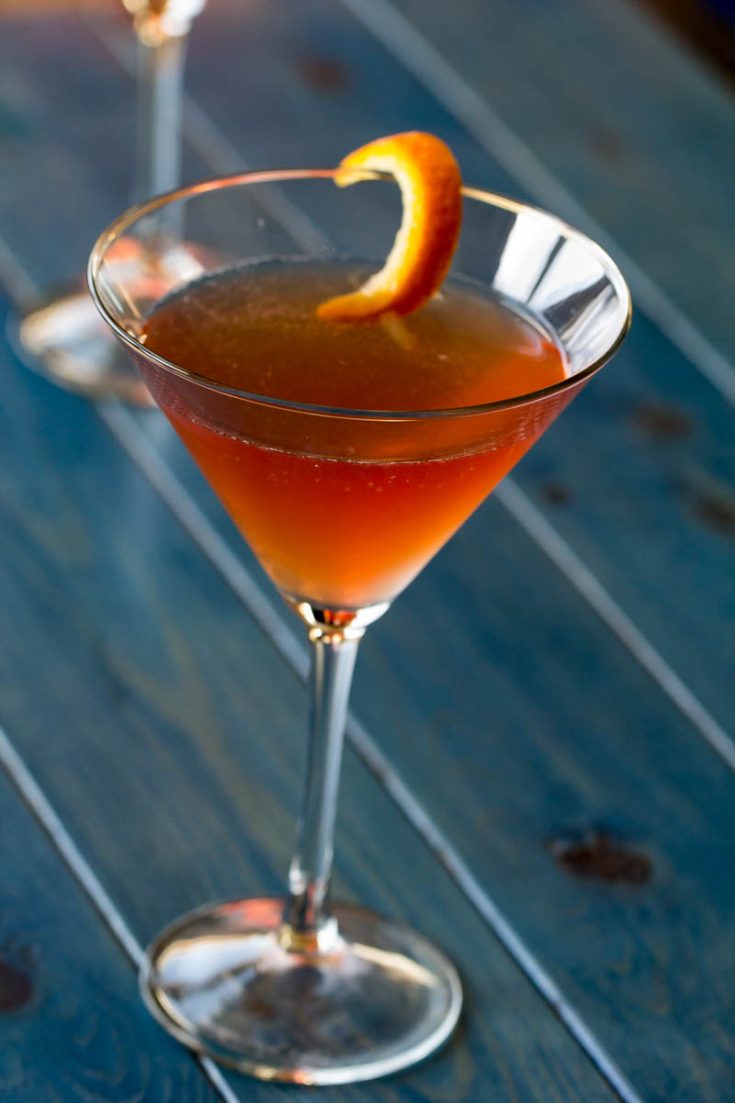 The Classic Cosmopolitan
A modern classic, the Cosmo has roots as far back as the 1930s. There are a few recipes that are very similar to the Cosmo we know, but nothing quite exactly the same. The closest match is the Kamikaze, which is just vodka, triple sec, and lime juice.
The Cosmopolitan really started to come into its own in the 80s. There are a few theories about who perfected the recipe, but the truth is, we aren't really sure.
We do know that by the 90s it had spread across the country, partly because of its smooth taste, and partly because Sex and the City made it an icon for strong, independent women. For a few years, the Cosmo was everywhere.
After Sex and City went off the air, there was a dip in popularity for the Cosmo, but in the last few years its popularity has been on the upswing again.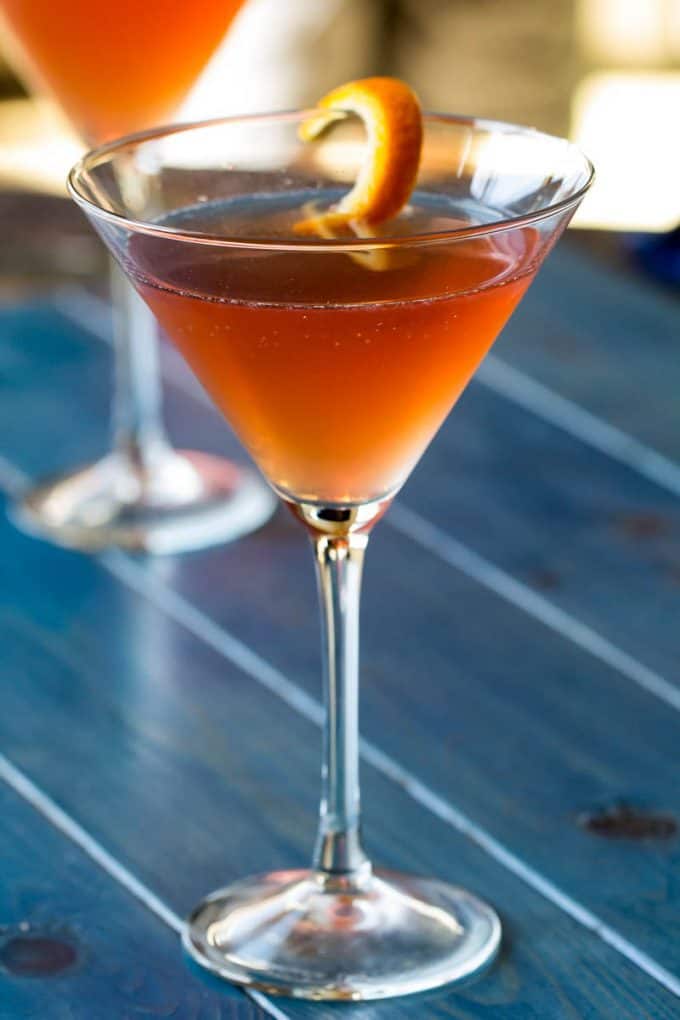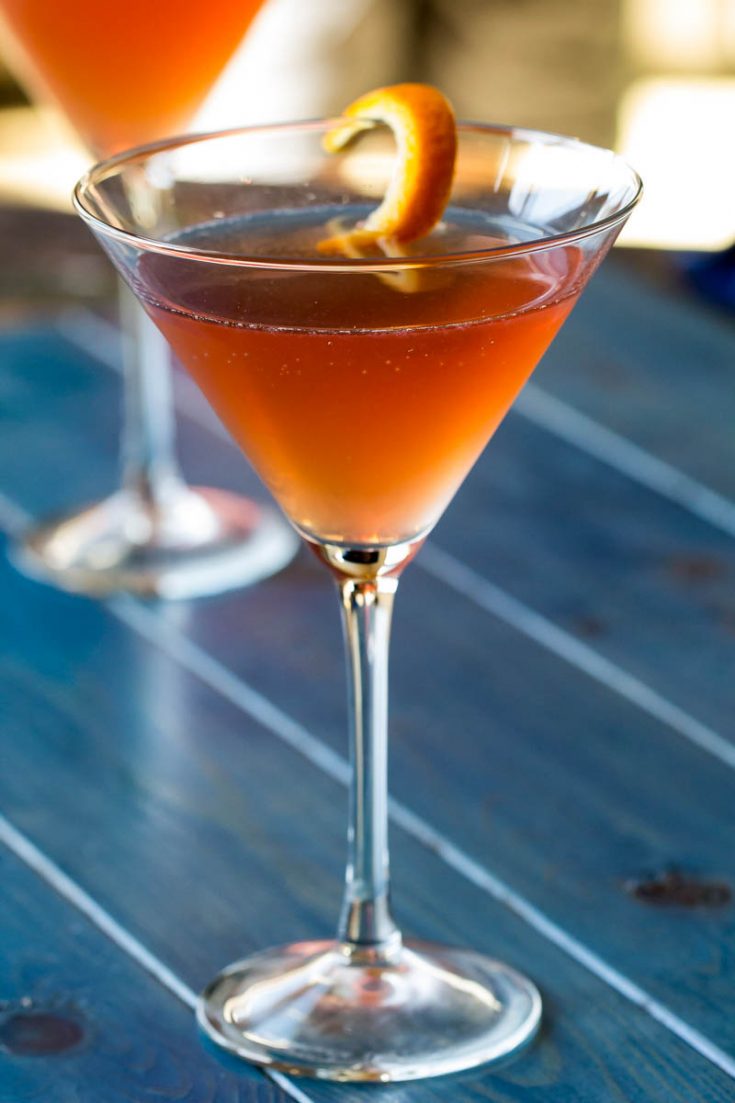 How To Make a Cosmopolitan
Making a Cosmopolitan is easy, and it only takes a few ingredients. If you're like me, and you like to mix your own drinks at home (why wouldn't you??) you probably have most of the ingredients already. What's in a Cosmo?
Vodka
Triple sec
Lime
Pure cranberry juice
Orange twist
Simple syrup is optional but adds a little sweetness that can be necessary when you're not using a cranberry juice cocktail.
You will also need:
Ice
A chilled martini glass
A martini shaker
How to Garnish a Cosmo
One thing you might have noticed on that list that you don't have lying around is an orange twist. But guess what? It's just as easy to make as the Cosmo itself. You can totally make your own orange twist.
It's a great skill to learn because once you've got it down, you can use any kind of citrus fruit to make fancy looking garnishes for all kinds of drink! A citrus garnish adds a touch of pizazz and a hint of flavor that you'll love!
How to make an orange twist
You'll need a canelle knife or a vegetable peeler for this part.
Wash the orange in warm water to remove the food grade wax most grocery stores put on their fruit (Don't worry! It's edible wax, so if you miss a spot it's not a big deal.)
Hold the orange in your non-dominant hand
Gently and firmly pull the canelle knife or vegetable peeler around the rind, taking care to not get too much of the white pith
Turn the orange slowly and smoothly while continuing to keep the pressure on the knife or peeler
Continue until you have the length you like
Roll the strip of peel into a tight spiral and squeeze it a little to help it keep its shape
Drop it in ice water for a minute keep twisted even longer
What to Serve with Cosmos
Cosmopolitans have a strong flavor and are great on their own. If you need something to nibble on I recommend an appetizer with a strong flavor.
Try my Chicken and Chanterelle Crostinis for something savory. My Blueberry Whipped Goat Cheese spread would be fabulous here as well. For something on the spicy side try my Traeger Blackened Fish Tacos.
Want more amazing cocktails? I have them for you!
Try this Frozen Mudslide to cool you down when the weather gets hot!
My Tropical Rum Punch will have you poolside and sipping this sweet hurricane-like cocktail.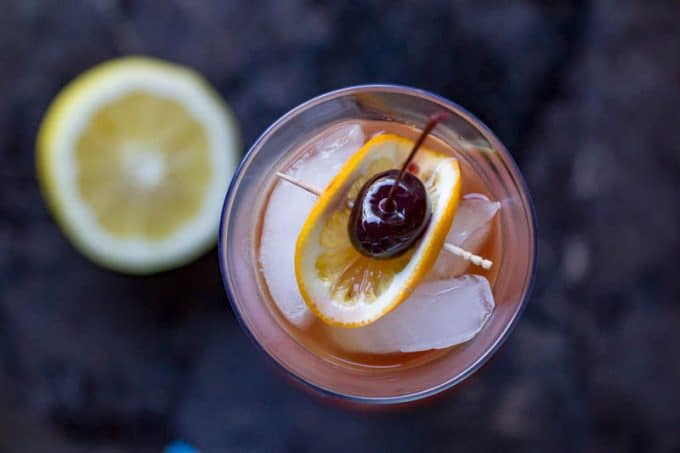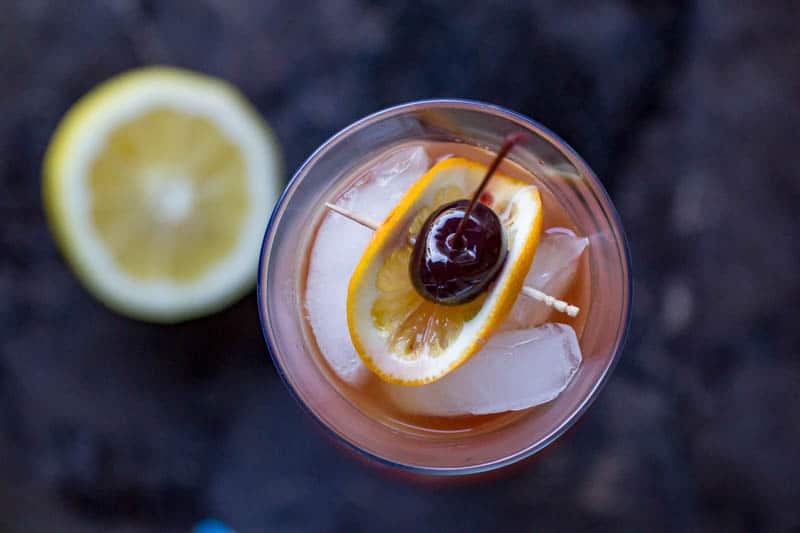 This Raspberry Prosecco Cocktail is sweet and bubbly and perfect for a celebration or a Saturday or just anytime you want something that feels a little fancy but is actually super easy.
Find all of my cocktail recipes here!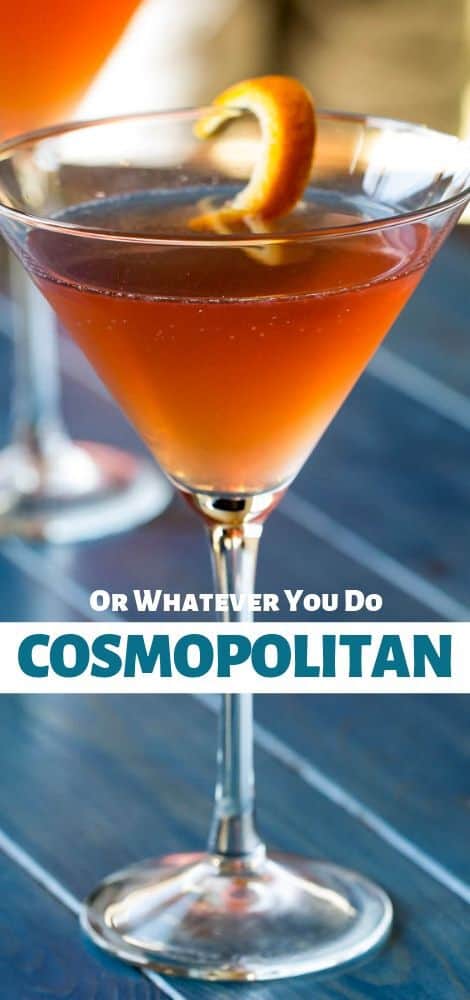 Yield: 2 cocktails
Cosmopolitan Cocktail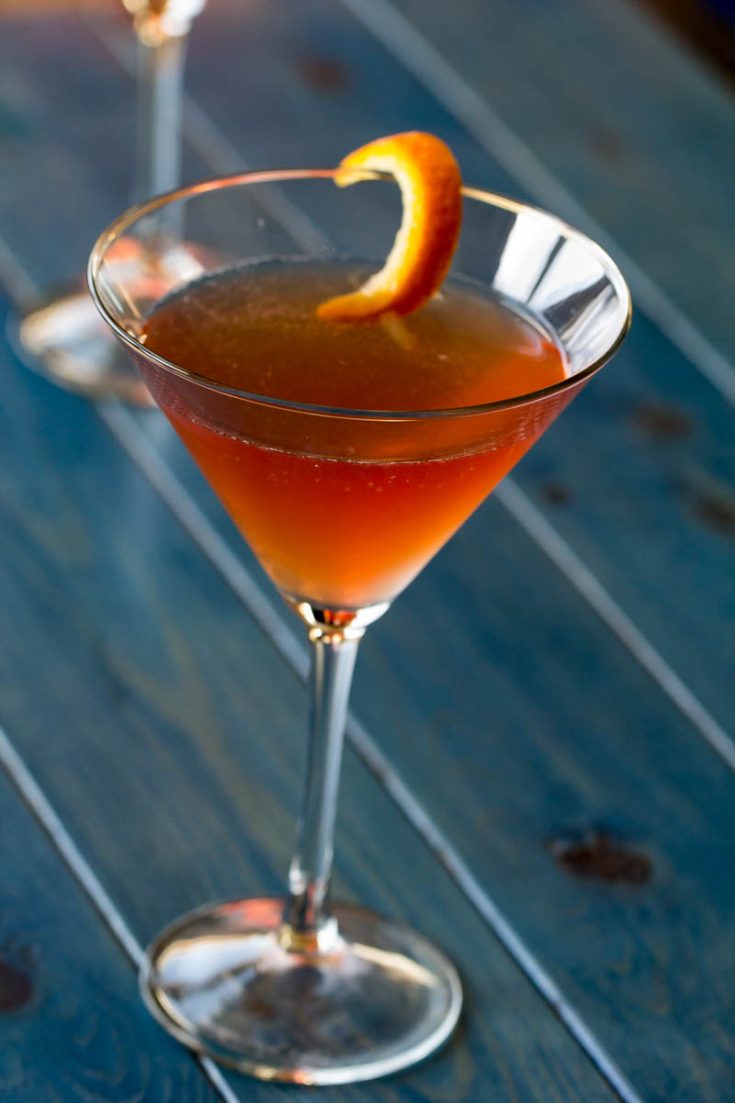 The classic cosmopolitan is an easy drink to whip up, and is a wonderful option for a refreshing martini.
Ingredients
4 ounces vodka
3 ounces 100% cranberry juice
1 ounce triple sec
2 ounces lime juice, freshly squeezed
2 ounces triple sec
orange twist for garnish
Instructions
Fill a cocktail shaker with ice and place all of the ingredients inside except for the orange twist.
Shake vigorously and strain into two cocktail glasses.
Garnish with an orange twist
Recommended Products
As an Amazon Associate and member of other affiliate programs, I earn from qualifying purchases.
Nutrition Information:
Yield:
2
Serving Size:
1
Amount Per Serving:
Calories:

293
Total Fat:

0g
Saturated Fat:

0g
Trans Fat:

0g
Unsaturated Fat:

0g
Cholesterol:

0mg
Sodium:

5mg
Carbohydrates:

27g
Fiber:

2g
Sugar:

22g
Protein:

1g