My Cherry Gin and Tonic is a sweeter twist on a refreshingly classic cocktail. This drink is best served on a hot summer day to someone swinging in a hammock. Or making dinner. Or mowing the lawn. Whatever.

Cherry Gin and Tonic
The gin and tonic remains at the pinnacle of perfect for summer cocktails. The classic gin and tonic takes the herbal and savory notes of gin and balances them perfectly with the slightly bitter flavor of quinine tonic.
Mixed together, they create a beverage that beats the heat and tastes clean and elegant, perfect for summer time. Adding cherry juice adds a touch of sweet and tart that makes it even better.
Click here to save this post for later!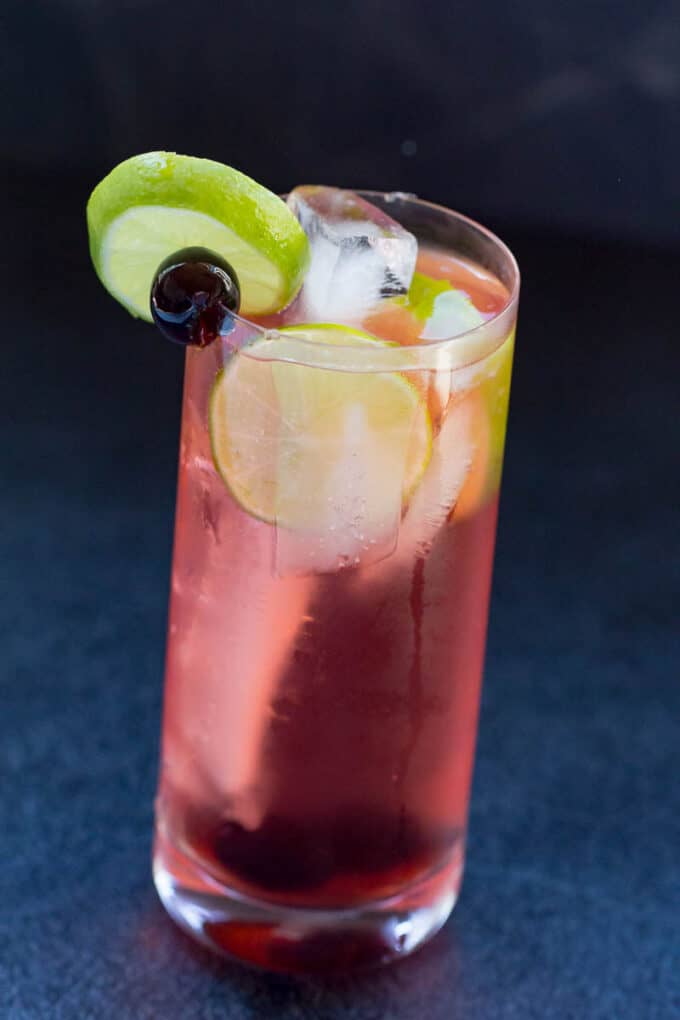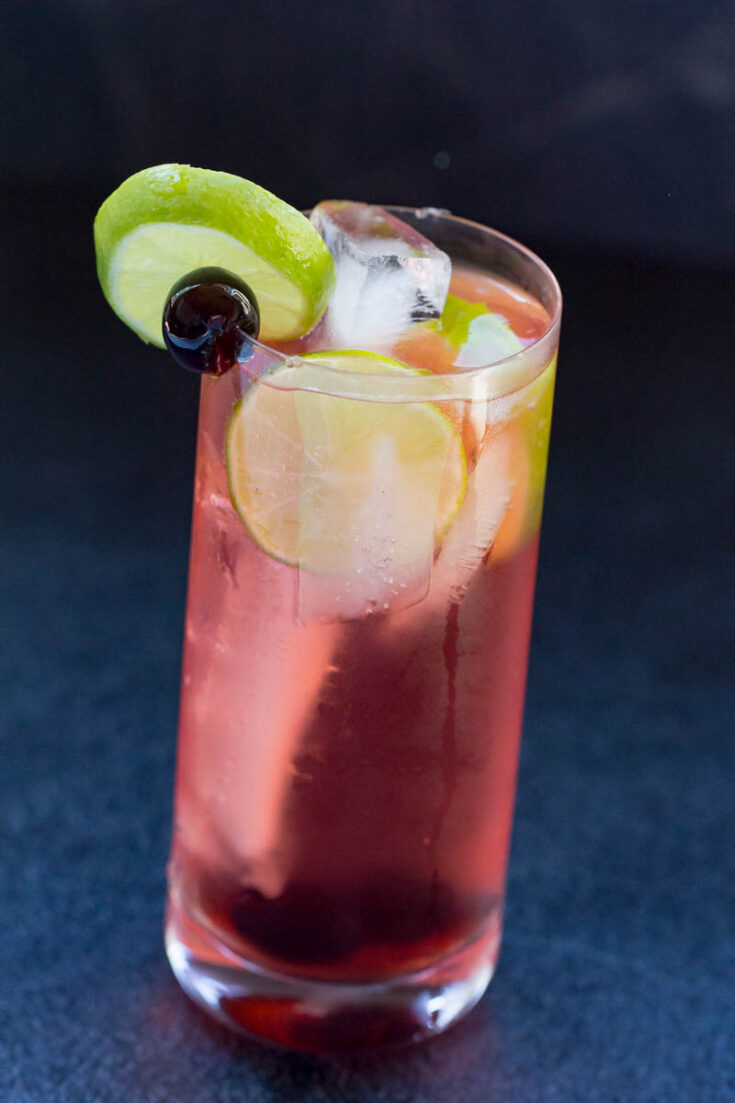 Gin and tonic cocktails, here's to your health
The gin and tonic has been around since the 1700's and started as a way to make taking quinine, which is quite bitter but helped beat malaria, more palatable.
Interestingly, the bitter qualities of both gin and quinine offset each other. Typically a lime or lemon was added for a touch of sweet citrus. Adding cherry juice can take the place of lemon or lime since it also has a bit of tartness along with sweetness.
Personally, I prefer it with both cherry and a squeeze of lime.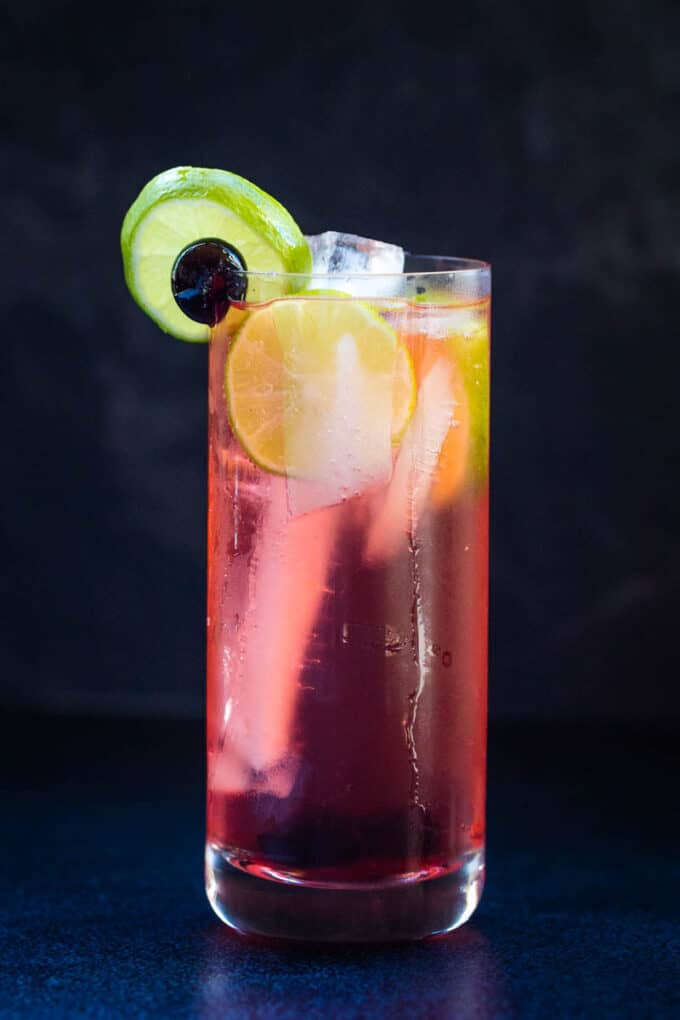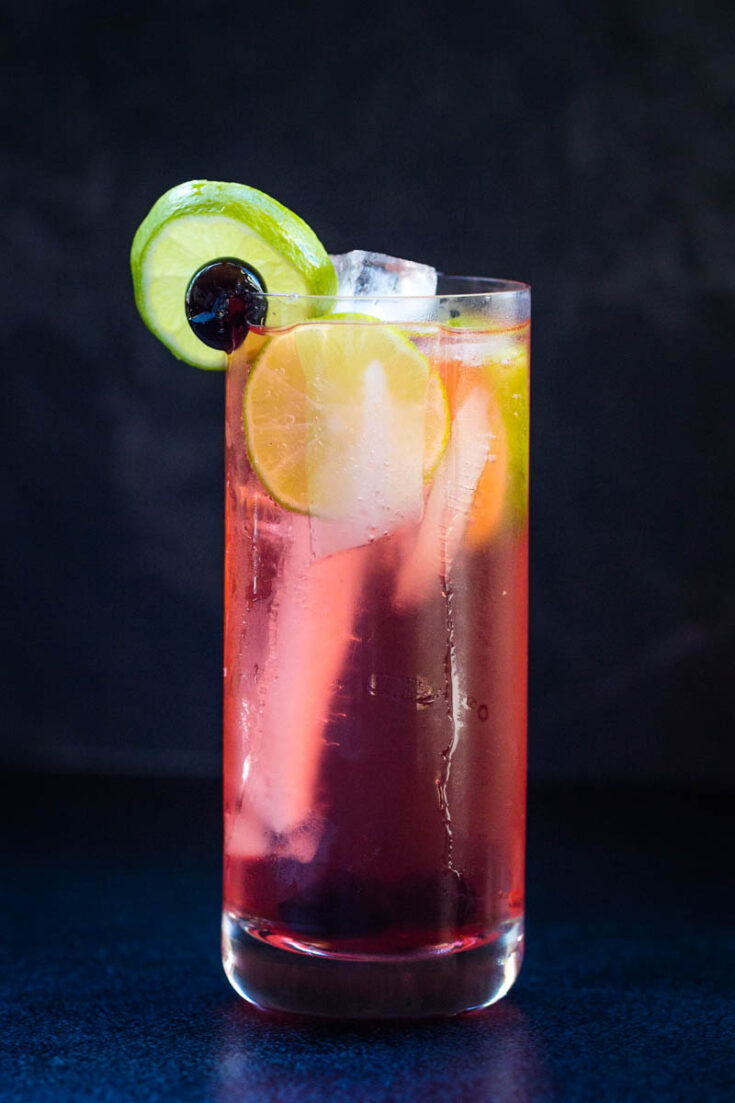 What kind of gin is best for the cherry gin and tonic?
Since gin is made with a complex variety of herbs and berries, notably the juniper berry, there can be a pretty wide range of flavors. Some like the more herbal styles of gin like Hendricks. Others prefer sweeter gin like Tanqueray, and others love the really dry and juniper forward style gins like Gordons.
Whatever kind of gin you prefer is fine. All types of gin work for the cherry gin and tonic. My personal preference is first the gin that I already have on hand. But if I have to hit the store for a bottle, then I will go for the more dry, less sweet, very junipery ones.
It is just a matter of personal preference, but I think it works better to offset the sweetness of the cherries as well as balances the floral and herbal notes really well with the tartness of the cherry juice.
More great drink recipes here!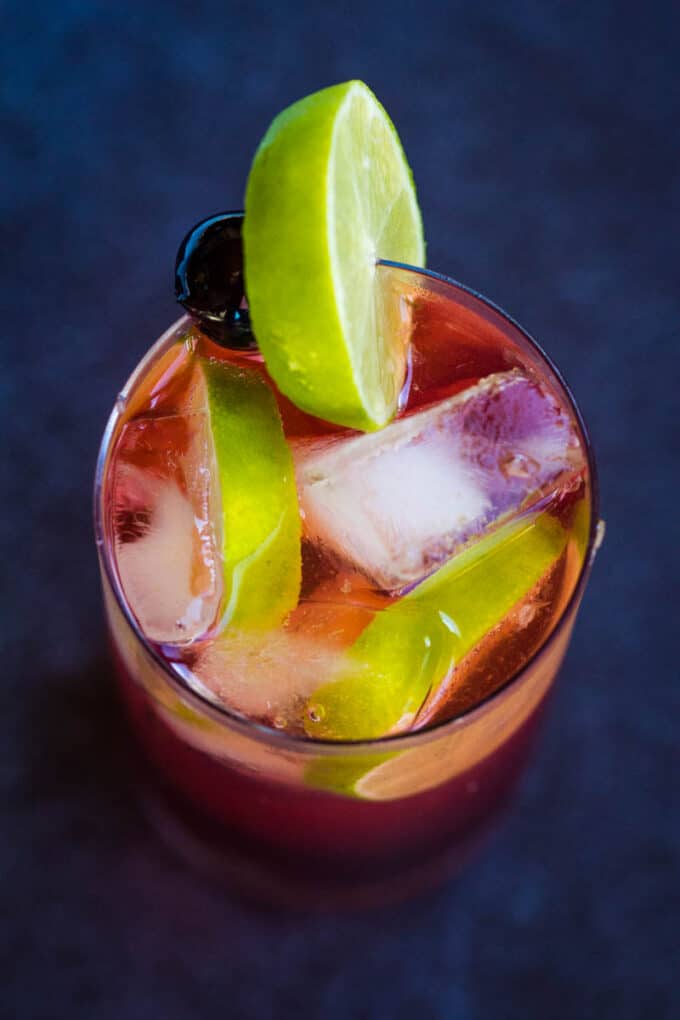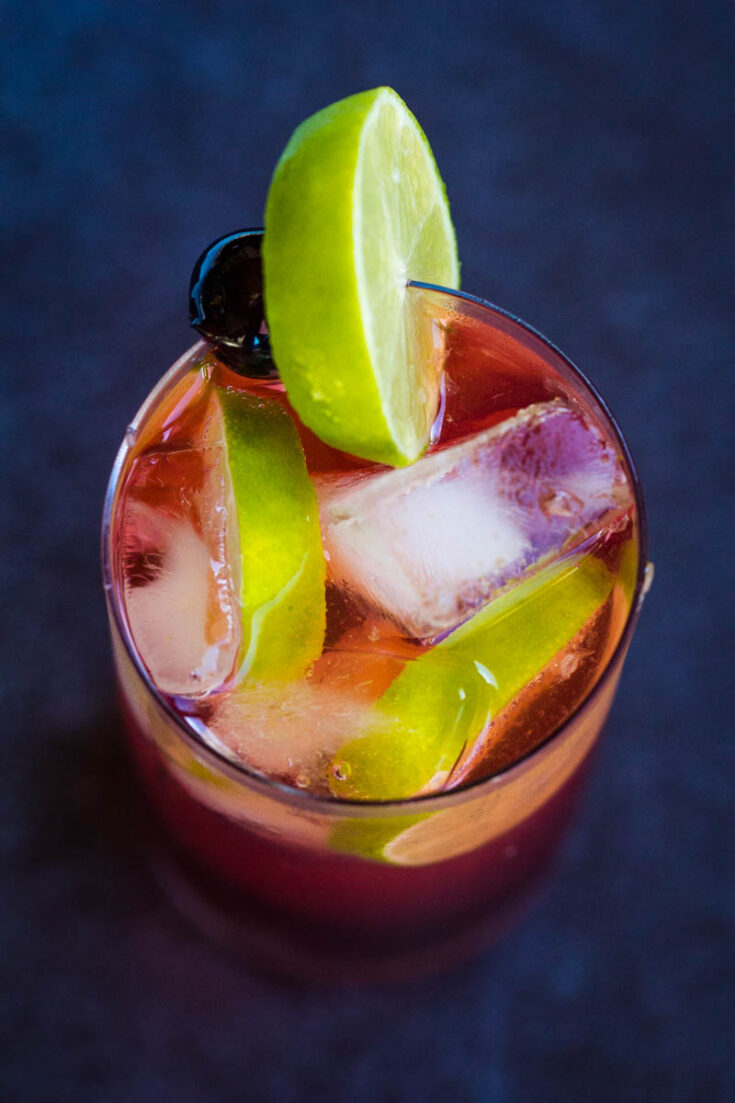 How much gin and tonic in a cherry gin and tonic?
Typically, the gin and the tonic get mixed in a 1:1 or a 1:3 ratio. The amount of cherry juice you splash on top depends on how sweet you want the drink to be as well as how much fizzle and pop you want to feel from the carbonated tonic water.
Nowadays, unless you buy specialty tonic waters, quinine tonic tends to be already sweetened. For that reason, I like just enough cherry juice to keep the drink tasty, but not overly sweet. The gin and tonic is a tropical cocktail in terms of its history, but it isn't like a sweet pina colada or a mai thai when it comes to sweetness.
I am looking for the cherry to add tartness really more than sweetness, but if your guests prefer a sweeter drink, extra cherry juice can really seal the deal.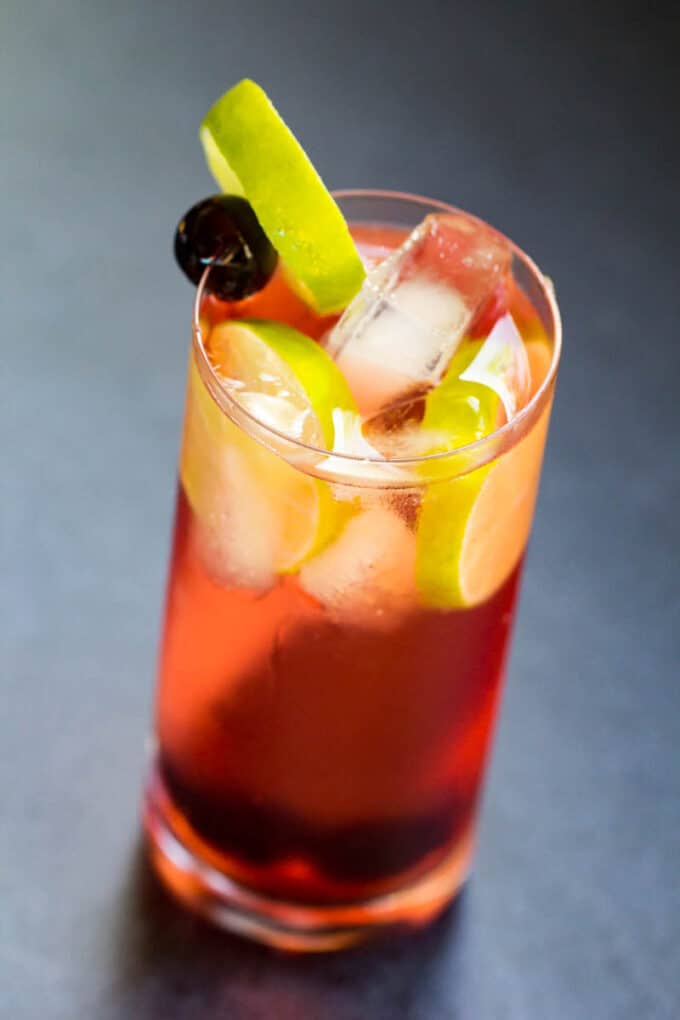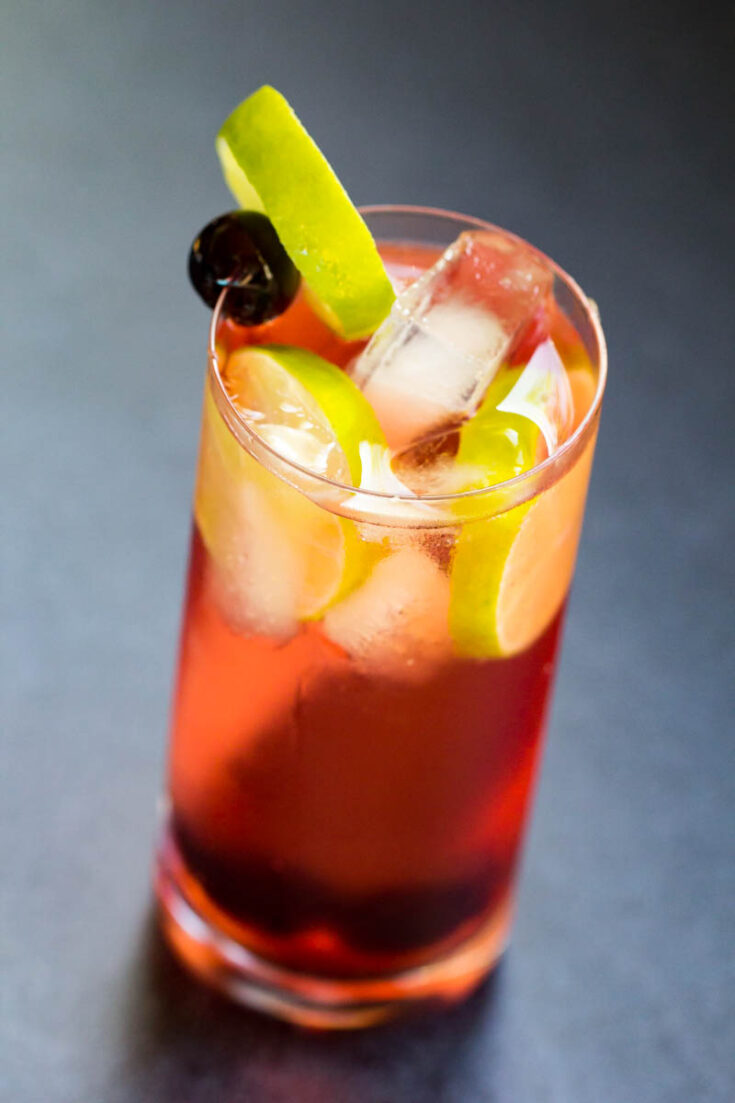 What cherry juice is best for the cherry gin and tonic?
There are a variety of ways to get the cherry juice. First and easiest, if you have a jar of almost gone maraschino cherries hiding in the back of your fridge from that last cocktail party or sundae that you made, then that works well.
You can also take a bag of frozen cherries, hit them in the blender to chop finely, then heat with a bit of water on simmer. Strain out the pulp and pour to cool to create your own cherry syrup. Keep the extra in a mason jar for later. If you add a squeeze of lemon to it then it should keep for a few weeks without any trouble.
You can also find cherry lemonades and pure cherry juice at the grocery store, especially during the summer.
Finally, typically where alcohol is sold there are a variety of tart cherry juice mixers available that are easy to find as well. I always base the decision for what cherry juice to use on convenience first, but if I have to choose, then the more tart the better.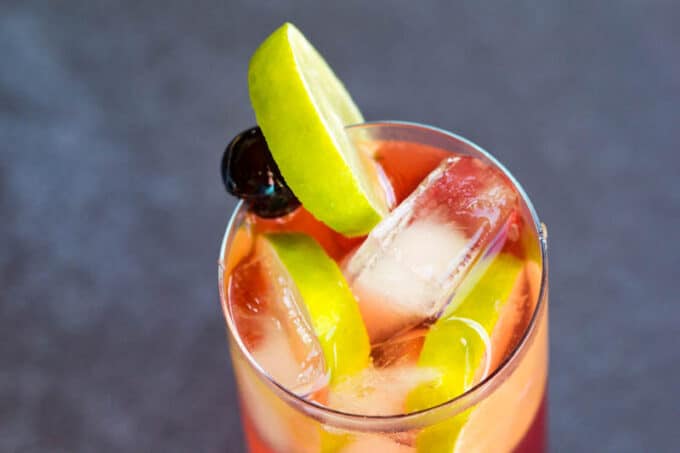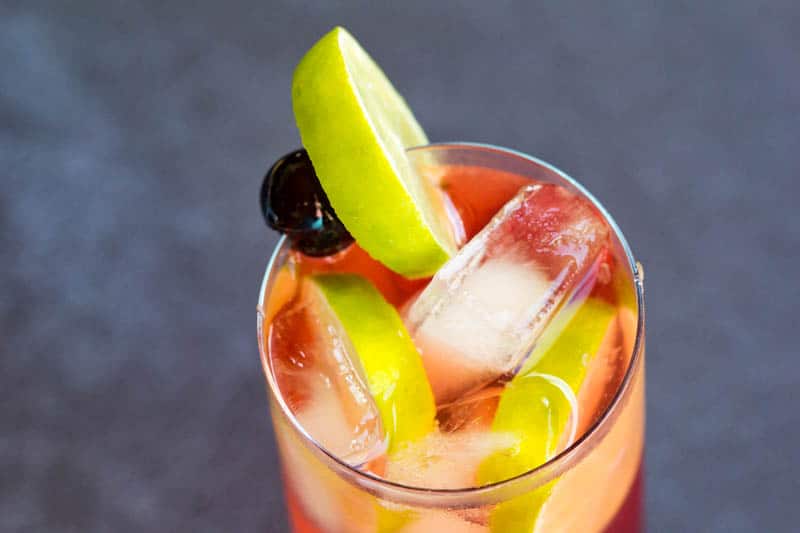 How much cherry juice in a

cherry gin and tonic

?
After you mix the gin and tonic, splash on your cherry juice. As the dark flavorful juice settles into the drink, it looks lovely! I usually add one part cherry juice to one part gin and two or three parts for the tonic.
Honestly, this drink works whether you have more gin or less tonic. I just like to keep a bit of the sparkle from the tonic and like to taste the gin, but not so much that I feel like I am taking gin shots!
The right glass for a cherry gin and tonic
Gin and tonics typically get served in a highball glass over a few rocks of ice. You can go that route, but the drink looks so beautiful in a taller glass that is a great way to go too.
How to garnish the cherry gin and tonic
The slice of lemon or the wedge of lime of course still work as they would to garnish a regular gin and tonic, but you can also use a sprig of mint, or even a sprig of basil. Those herbs work well with all the other flavors of the cocktail and help balance the sweetness as well.
Some appetizers to go with your drink
If you are serving cherry gin and tonics, then maybe you are having company and want to set out some appetizers that go well with the drinks. Here are a few I recommend for the occasion.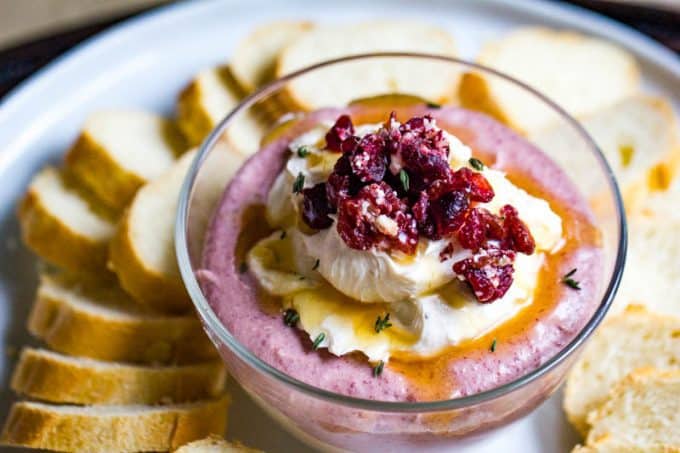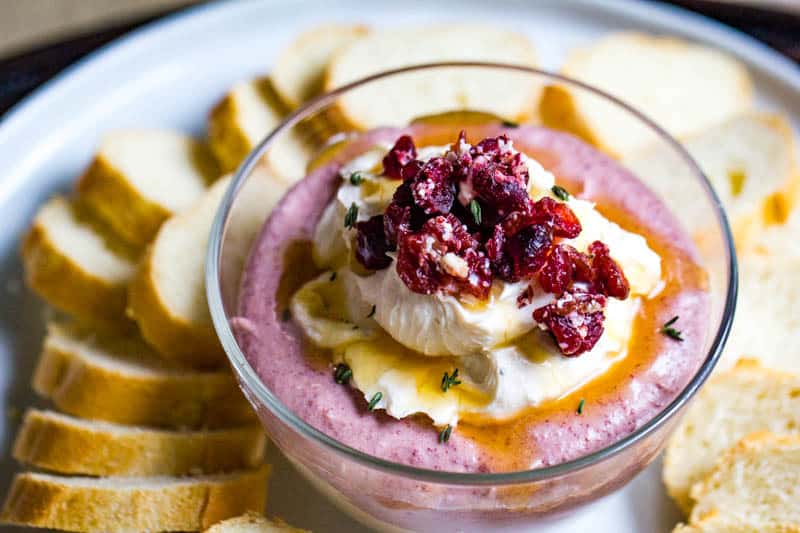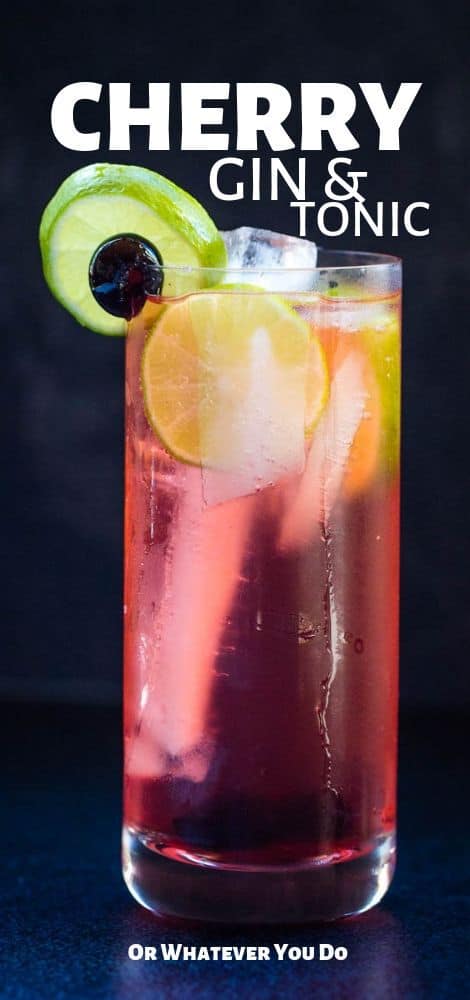 Yield: 2 cocktails
Cherry Gin and Tonic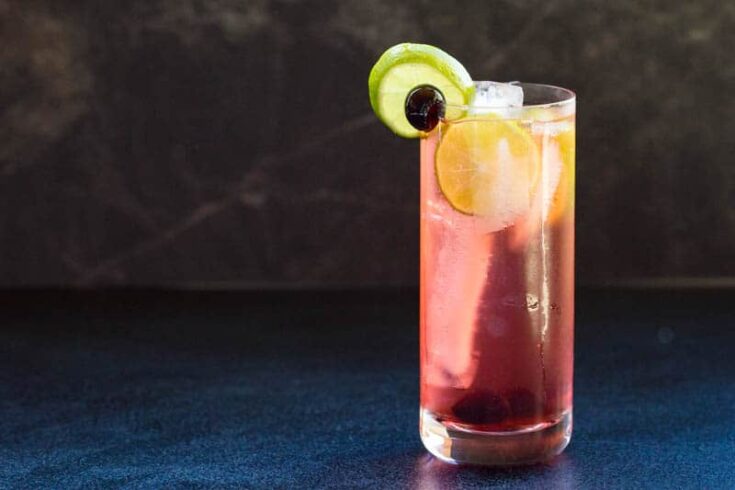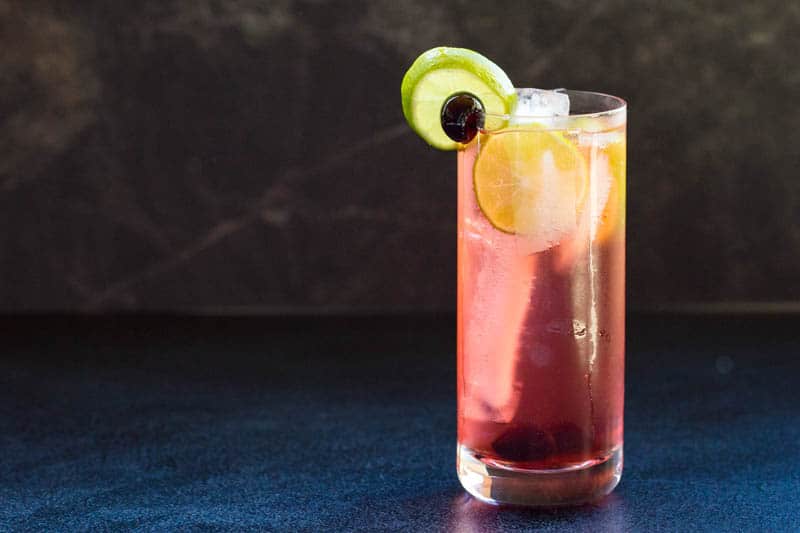 This refreshing cocktail is based on the traditional gin and tonic, but with some cherry juice added for a bit of tart sweetness. One of my favorites this summer!
Ingredients
4 shots gin
4 ounces tonic
1 ounce cherry juice
1 lime wedge, squeezed
Instructions
Fill two glasses with ice and divide the ingredients equally between the two glasses. Add a wedge of lime and a cherry for garnish, if desired.
Nutrition Information:
Yield:
2
Serving Size:
1
Amount Per Serving:
Calories:

233
Total Fat:

0g
Saturated Fat:

0g
Trans Fat:

0g
Unsaturated Fat:

0g
Cholesterol:

0mg
Sodium:

18mg
Carbohydrates:

11g
Fiber:

1g
Sugar:

8g
Protein:

0g
Nutrition data provided here is only an estimate. If you are tracking these things for medical purposes please consult an outside, trusted source. Thanks!