My No-Bake Raspberry Fluff Pie is the best of the no-bake dessert world. It's got a rich raspberry flavor and a cool and creamy texture. You're going to love this easy, fresh raspberry pie dessert.

No-Bake Raspberry Fluff Pie
No-bake pie is awesome! It only takes a few minutes to put together, and you don't have to mess with an oven in the summer heat. That's always a win in my book! I can't wait to make one for our next picnic!
Save this post for later!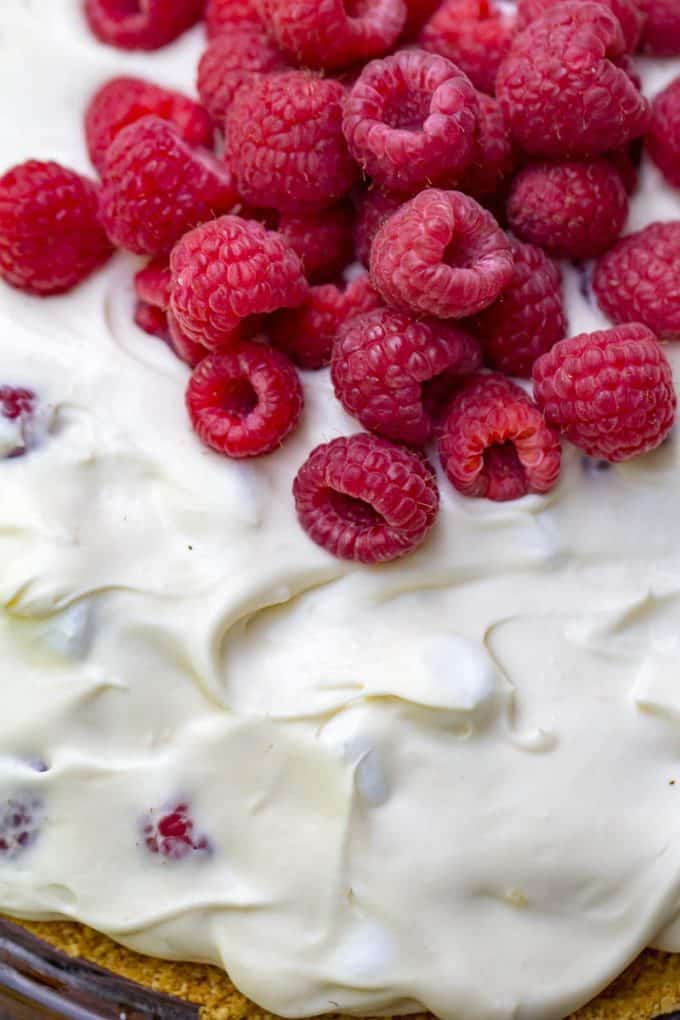 Cheesecake Fluff Pie
There is nothing better than raspberries in the summer. Eating them straight off the bush is great, but for when you want to dress them up a little this recipe is your best bet.
It's quick, easy, light, and fluffy. The texture pairs perfectly with tart raspberries! It has plenty of fresh raspberries to give you that just-picked taste, and it's fancy enough to show off to your friends.
More Delicious Desserts here!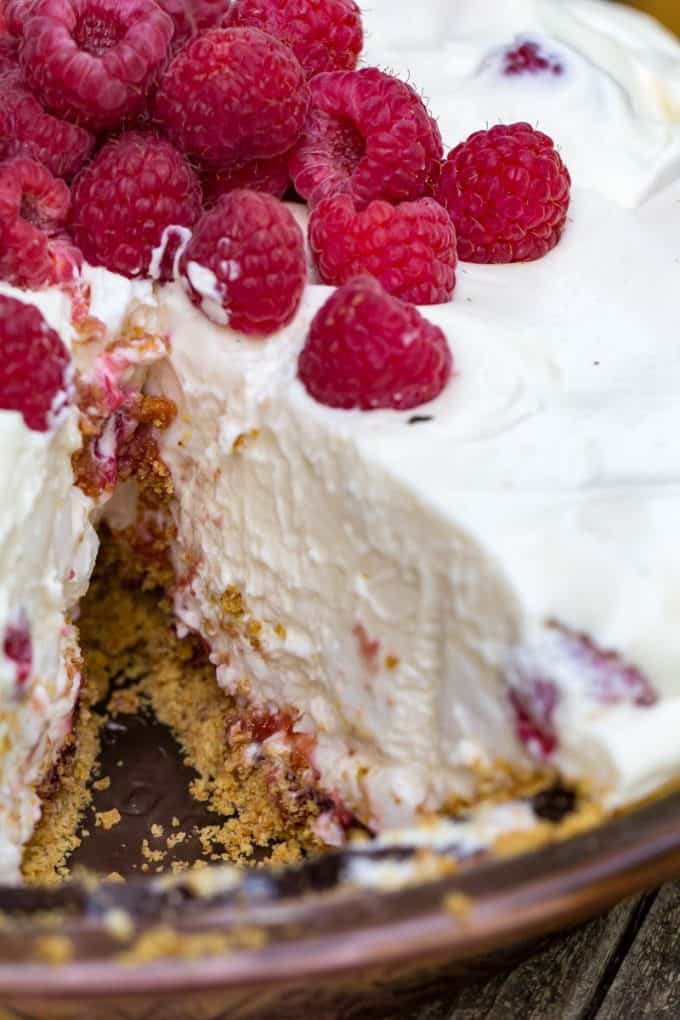 My No-Bake Raspberry Fluff Pie is based on my classic Cherry Cheesecake Fluff Pie, but it swaps the cherries for fresh raspberries and adds seedless raspberry jam. I love the original dish, but the zing of fresh raspberries makes it better than I ever would have guessed!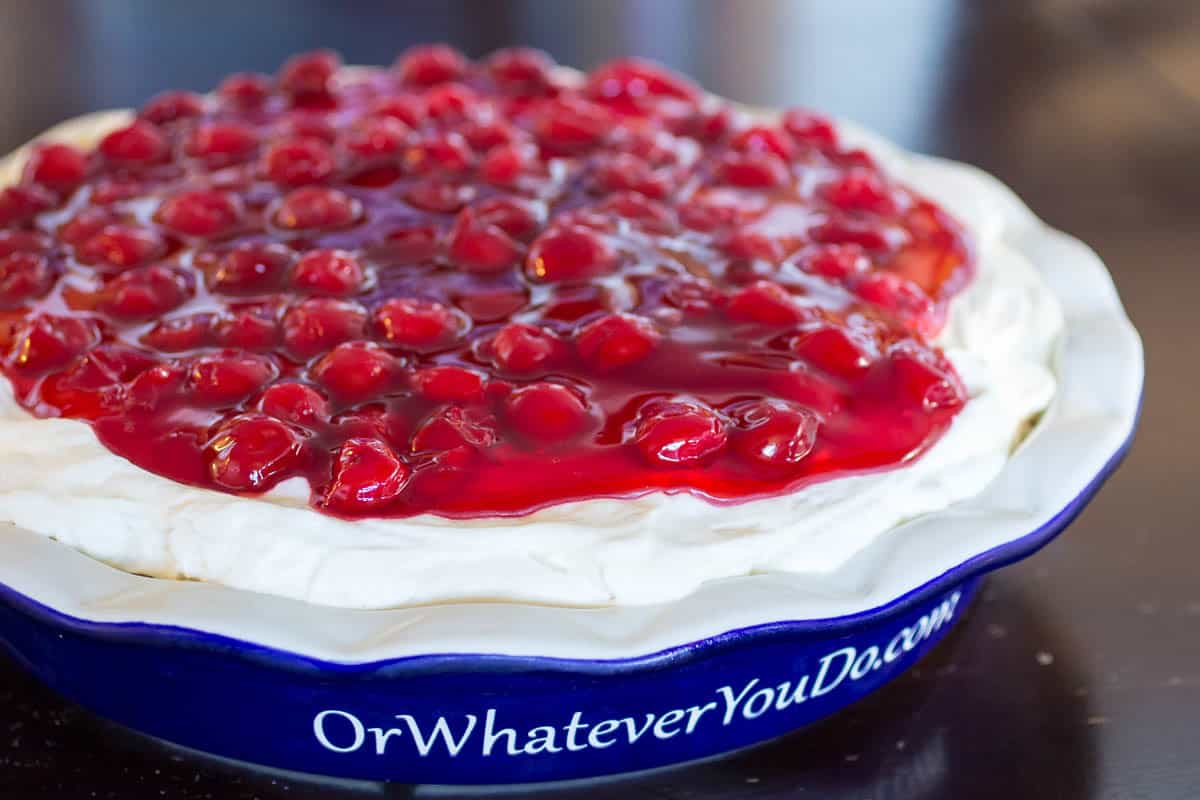 What can I substitute for Raspberries?
Not in the mood for raspberries?
No problem!
You can totally change it up with other kinds of fruit. It's super versatile, which is always great when you're trying new recipes!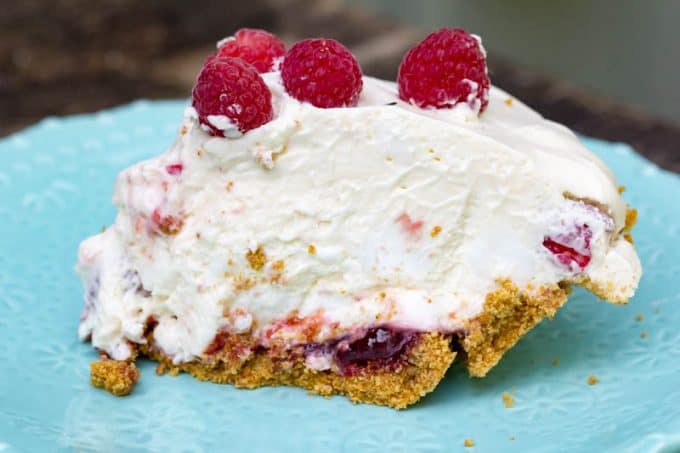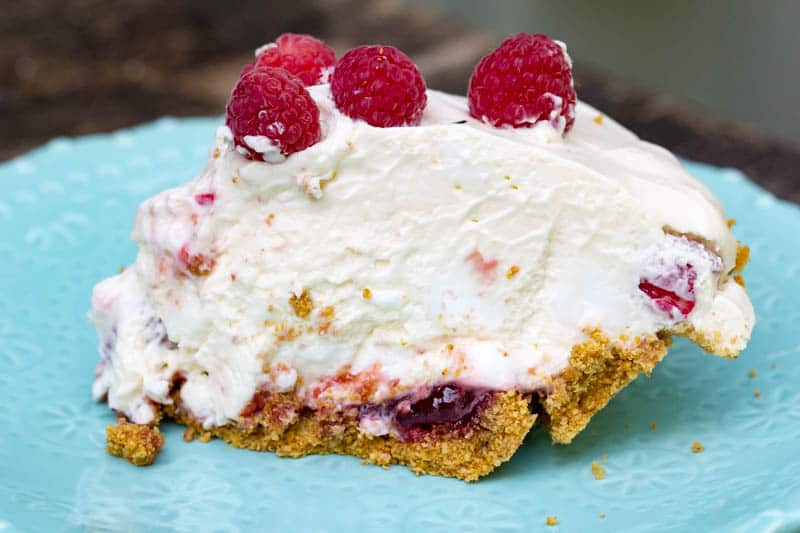 Try my Blueberry Syrup and throw some fresh blueberries on top. You can try out strawberries, or even some candied pineapple. Toss on some toasted coconut and mix in some coconut cream to the fluff and you'll have a Pina Colada Fluff Pie (coming soon!)
If you're feeling decadent you might even want to add a little chocolate and layer ganache on the bottom of the crust instead of jam.
For a more traditional cheesecake, check out my Instant Pot Strawberry Cheesecake.
Going to a BBQ? Get more great BBQ Recipe Ideas here!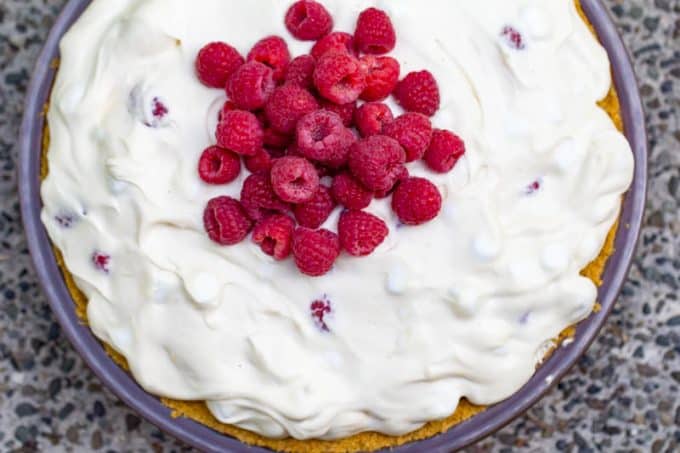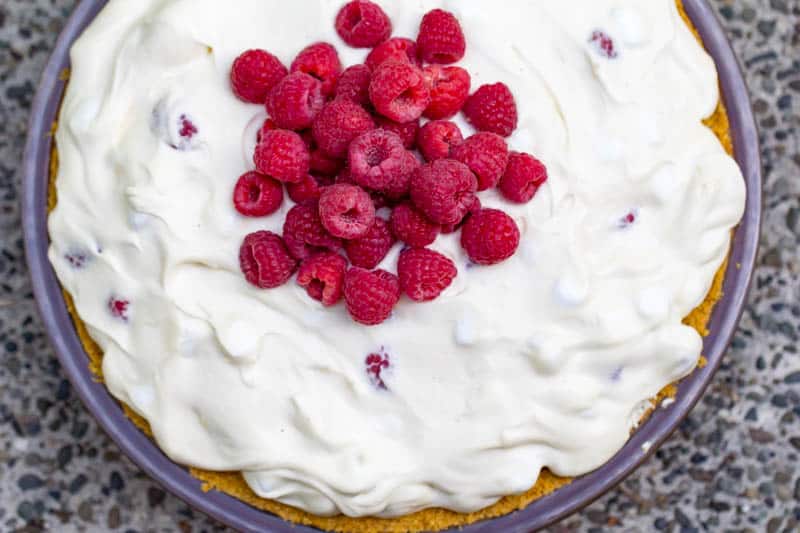 No-Bake Graham Cracker Crust
This graham cracker crust is probably the easiest crust you'll ever make! All you need to do is crush 2 ½ cups worth of graham crackers and mix the crumbs with butter. How simple is that? No baking required, and only two ingredients. It makes a sweet-but-not-too-sweet base for your sweet sweet pie.
If you want to bake it, you can do so at 325° for 10-12 minutes. You want it to toast the crumbs a bit, and it also helps hold the crust together. Totally optional though!
The detail that makes this pie next-level is the layer of tangy raspberry jam layered over the crust. Who doesn't love jam? It even helps hold that crumbly crust together while you enjoy your pie!
Check out my Easy Traeger Recipes!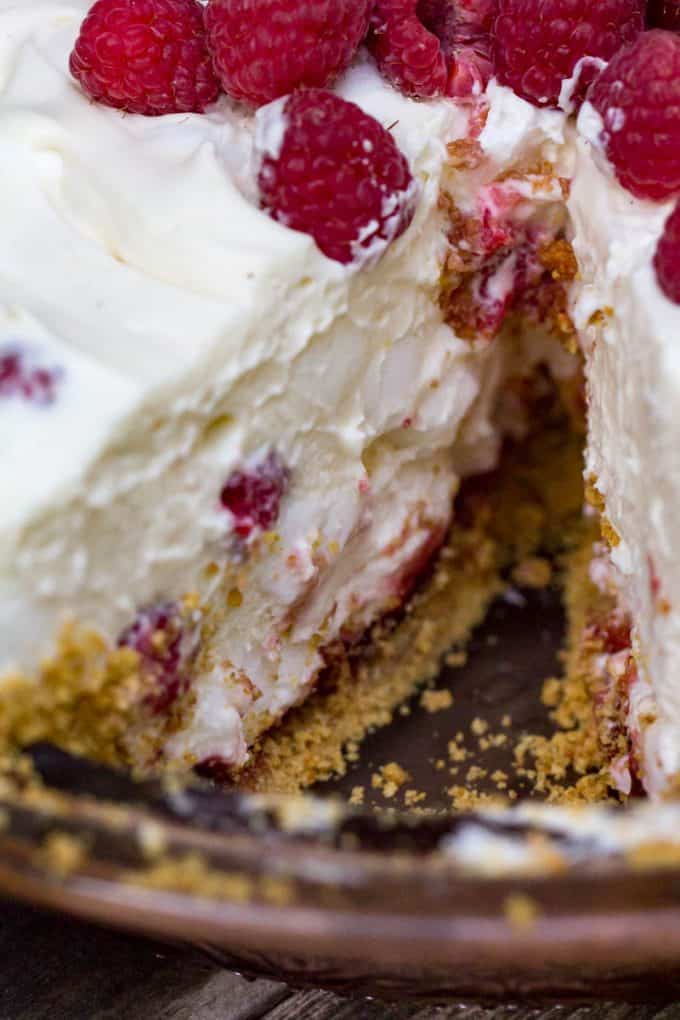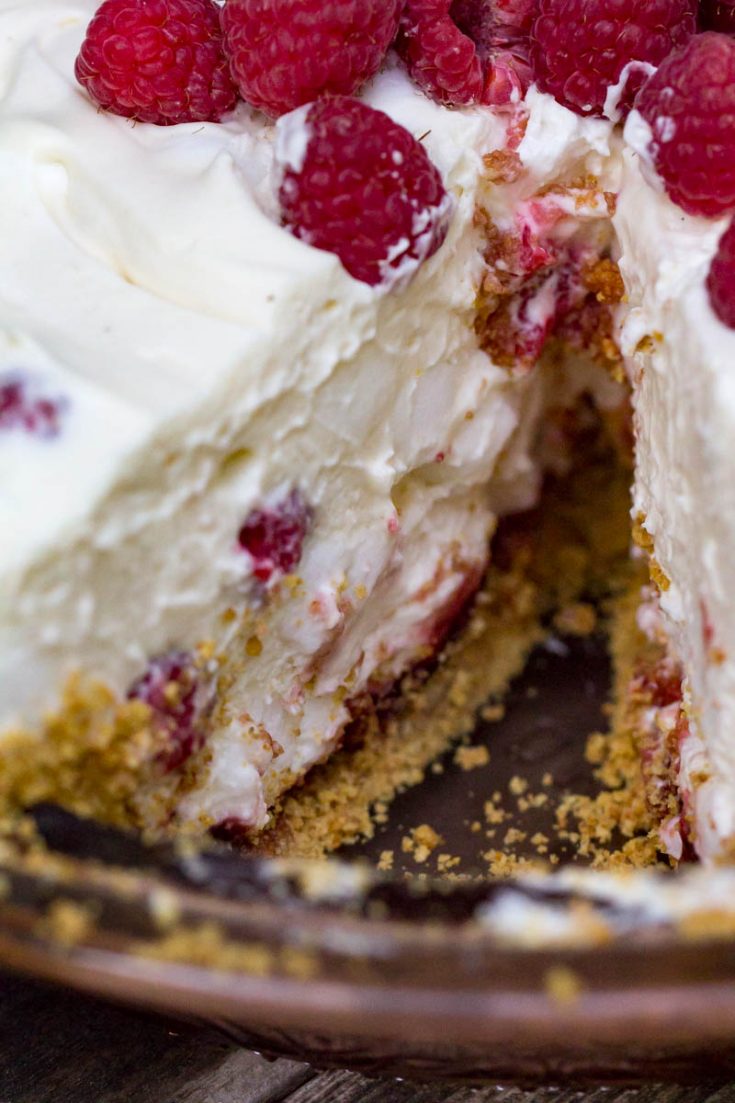 Fluff Desserts
Marshmallow fluff desserts are usually based around whipped cream and sometimes marshmallows. Different recipes will include different amounts and other various ingredients. Sometimes they're mixed with jello and served as a dessert salad. Some recipes add cans of fruit pie filling, and some include marshmallow creme or cookies.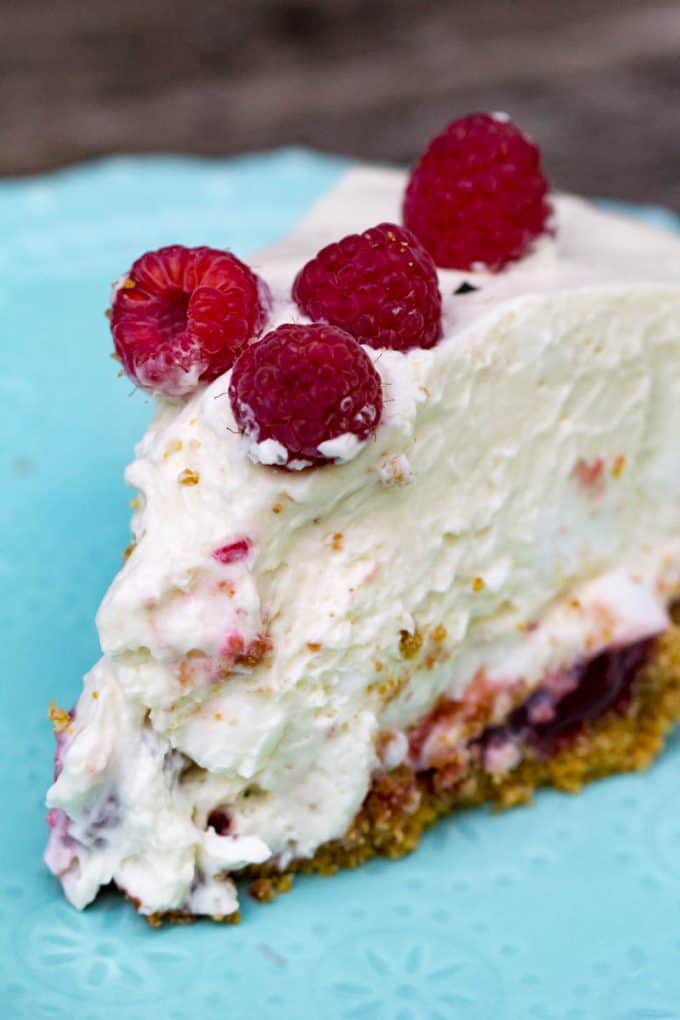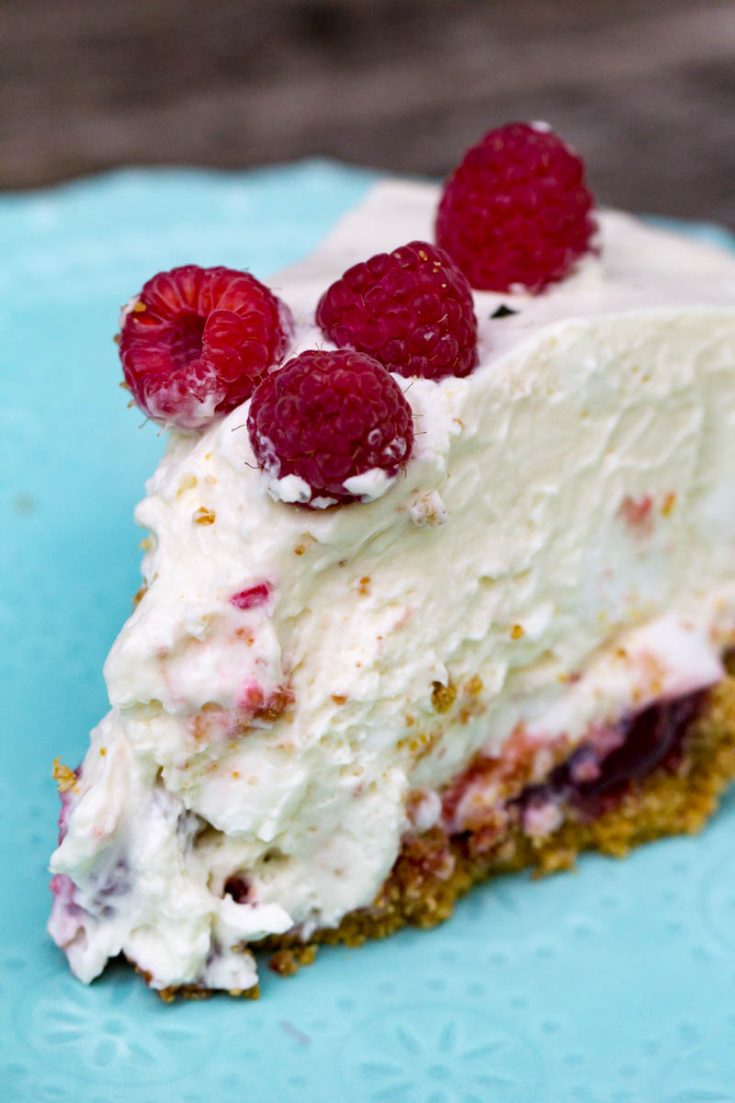 There are a lot of ways to make marshmallow fluff filling work for you. My no-bake pie uses cheesecake pudding mix and cream cheese to add a complex layer of flavor, but remember that you can experiment and find a combination you love!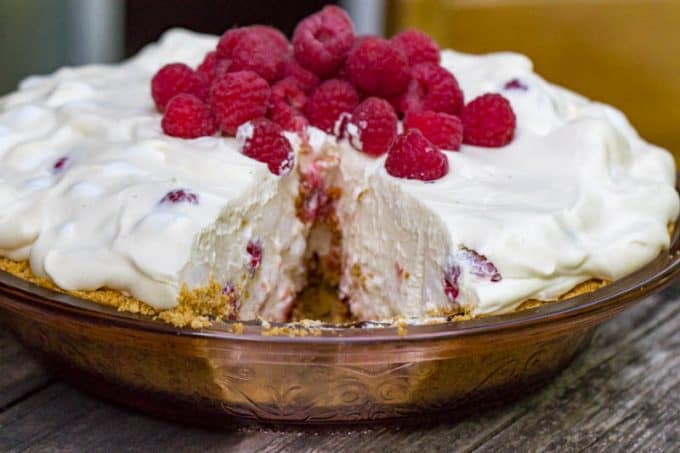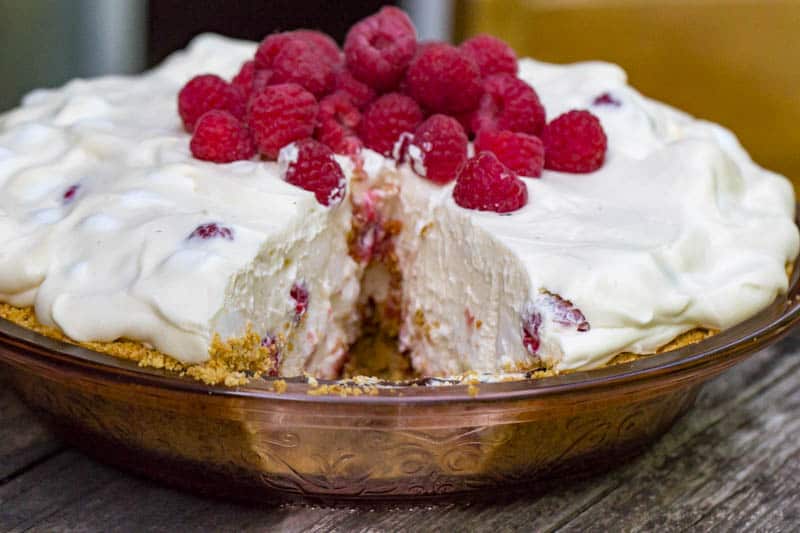 Picnic and Pies
One of my absolute favorite things to do in the summer is going on picnics. On a gorgeous June day, with the warm sun shining in a bright blue sky and a gentle breeze pushing little white clouds around, having a picnic at the park just can't be beaten.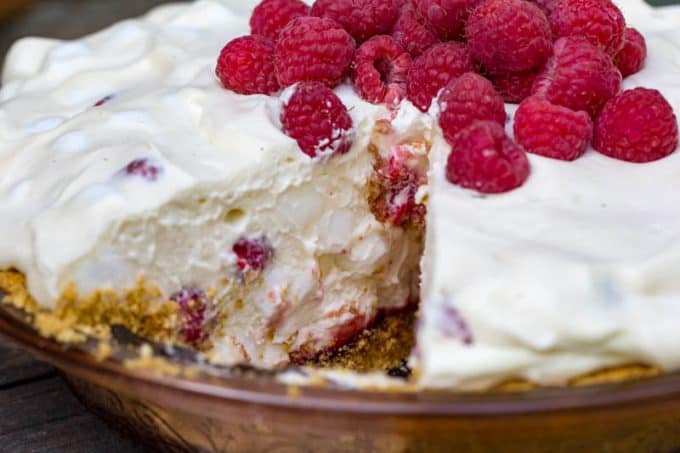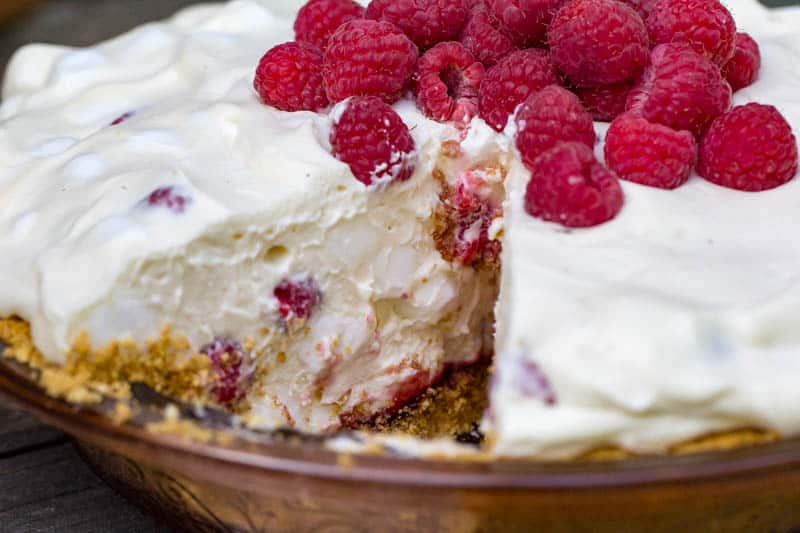 Either spread out on a picnic blanket on a grassy hill, or set up at a picnic table, and you're ready to go!
You've got your Shortcut Smoked Pulled Pork sandwiches, your Greek Pasta Salad, and your Cranberry Champagne Punch, all you need is that No-Bake Raspberry Fluff Pie.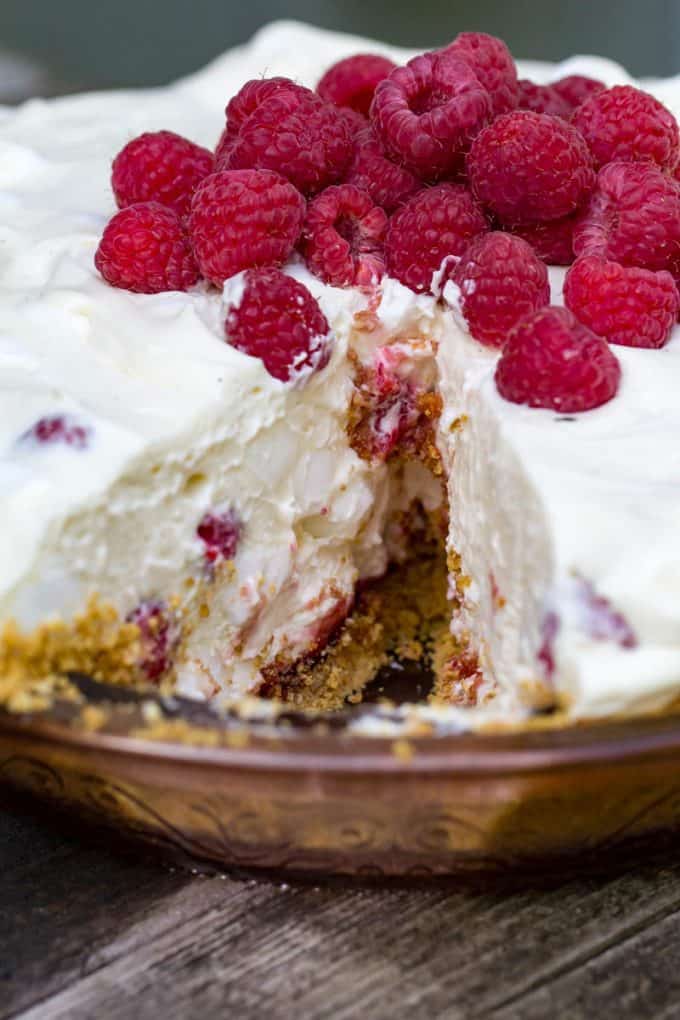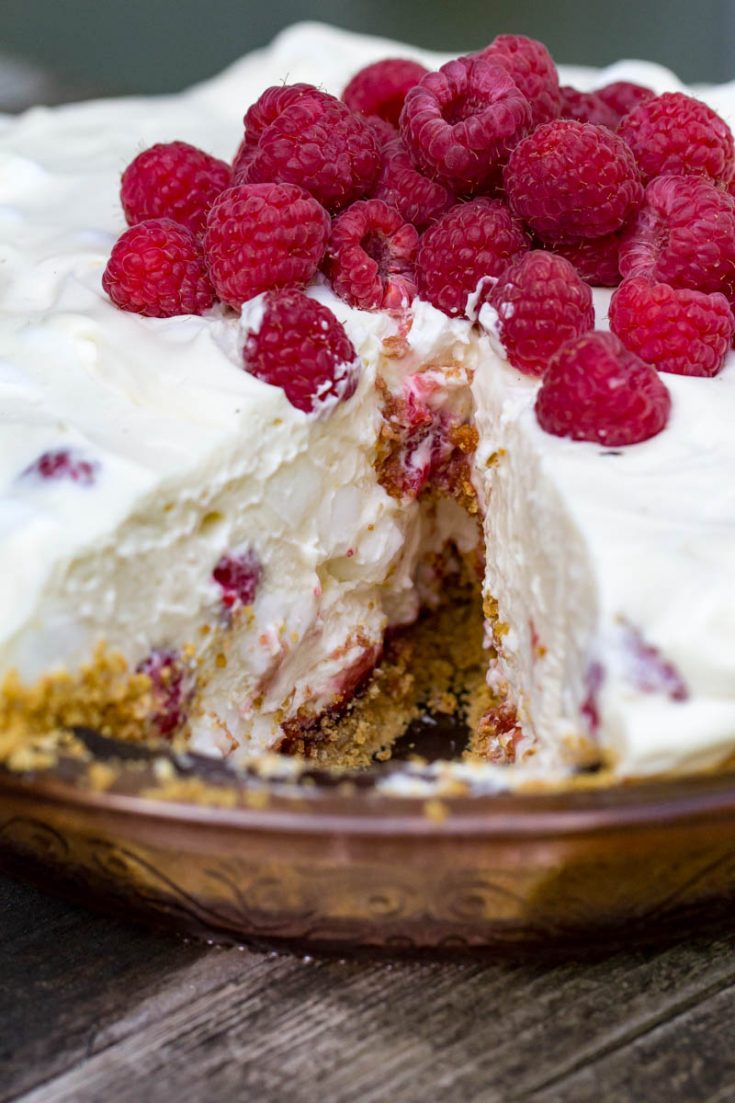 How to Travel With a Pie
If you have a pie carrier, great! But if you don't, how do you safely transport a pie? Here are a few different ways to pack that picnic pie so it won't fall apart before you get to the park!
Put it in a small cardboard box with shelf liner in the bottom so it doesn't slide around
Put it on a baking tray and wrap the whole thing with plastic wrap
Put a dinner plate upside down on top of your pie to protect the top, then wrap everything in plastic
If you transport pies frequently, buy a pie carrier
These work for many kinds of pies, so keep them in mind for next time, too!
Pin for later!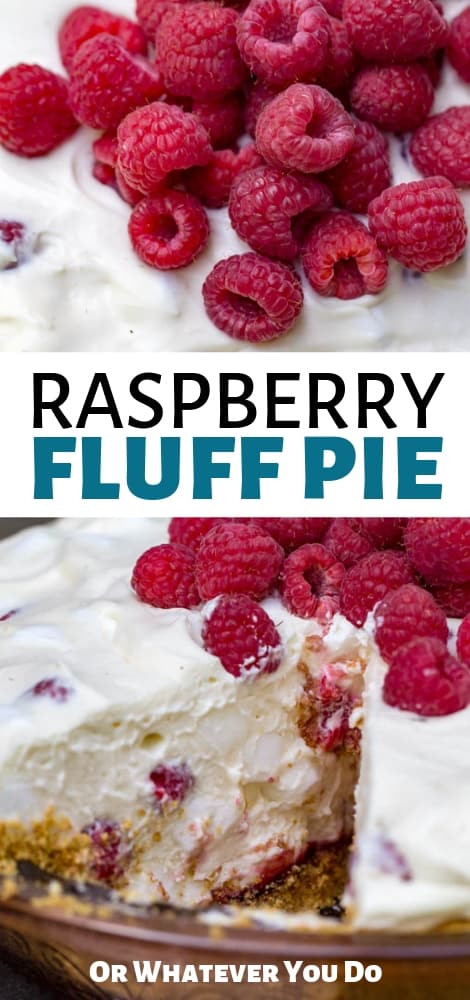 Yield: 8 servings
Raspberry Fluff Pie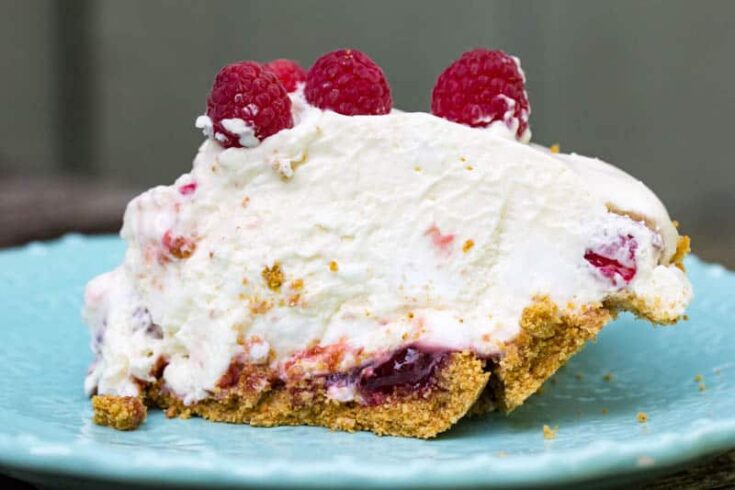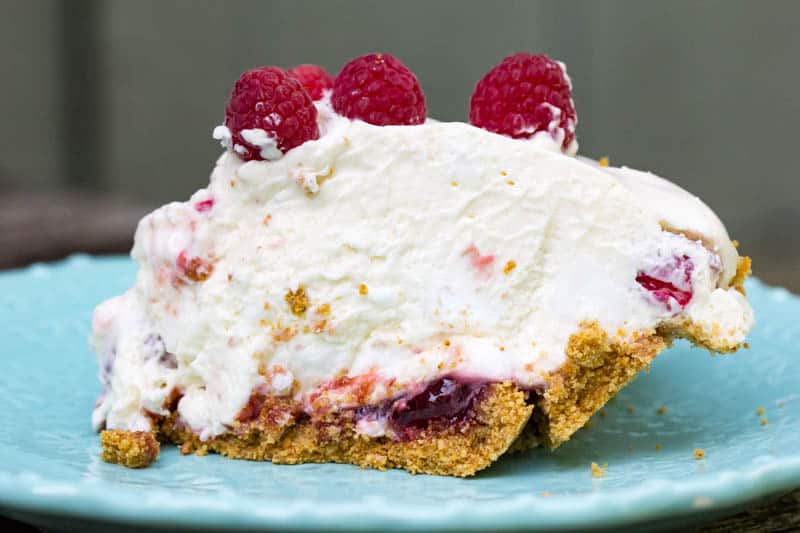 Raspberry fluff pie can be thrown together in a flash, and is one of my favorite desserts. Leave the oven off, and get this awesome pie on your table!
Total Time
4 hours
20 minutes
Ingredients
Crust
2 1/2 cups crushed graham crackers
4 tablespoons butter
1/2 cup raspberry jam
Filling
2 cups whipping cream
3 tablespoons sugar
1/4 teaspoon pure vanilla extract
3 cups mini marshmallows
8 oz cream cheese softened
1/3 cup dark brown sugar
1 3/4 cup whole milk
3.4 oz instant cheesecake pudding mix
2 pints fresh raspberries
Instructions
Crust
Mix together the crushed grahams and the butter. Press into the pie pan.
You can bake it for 10 minutes at 325 if you'd like, but that is optional.
Carefully spread the jam over the pie crust.
Filling
Beat the whipping cream, sugar, and vanilla until stiff peaks form. Stir in the marshmallows, and set aside.
Whip the cream cheese together with the brown sugar until its fully combined. Make sure your cream cheese is totally room temperature or you'll end up with chunks of cream cheese is the final product.
Slowly add the milk and continue mixing until its fully incorporated with the cream cheese and brown sugar. Make sure to scrape your mixer or the mixing bowl.
Add in the pudding mix, and keep mixing until its thickened. About 5 minutes.
Gently stir in the pudding mix with the whipped cream/marshmallow mixture until fully combined.
Stir in 1/2 the fresh raspberries, reserving the other half for the top of the pie.
Assembly
Place mixture into crust(s) and smooth top. Top with the remaining fresh raspberries. Refrigerate the pie(s) for at least 4 hours.
Notes
This will make one very full 9" pie pan, or two full-enough 8" pies. If you make 2 pies you will need to double the crust recipe and the number of berries you buy.
Nutrition Information:
Yield:
12
Serving Size:
1
Amount Per Serving:
Calories:

493
Total Fat:

28g
Saturated Fat:

16g
Trans Fat:

1g
Unsaturated Fat:

9g
Cholesterol:

78mg
Sodium:

333mg
Carbohydrates:

58g
Fiber:

1g
Sugar:

31g
Protein:

5g