Fresh Blueberry Syrup is so easy to make, and is one of my favorite ways to enjoy buttermilk pancakes or a big bowl of ice cream.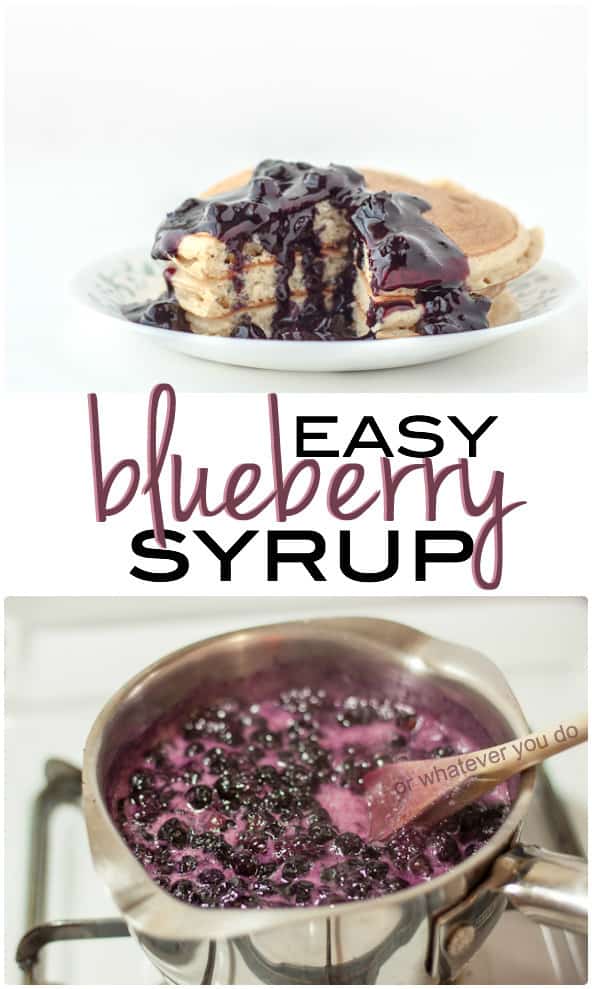 Homemade Blueberry Syrup
I am a sucker for flavored fruit syrups, but I can never bring myself to actually buy them at the grocery store. Have you ever checked out the ingredients on the back?
This blueberry syrup has all real ingredients. It is simple to make, super flavorful, and is a great topping for your favorite buttermilk pancakes, ice cream, or even cheesecake.
I made this just this morning, and it was a huge hit with all the kids. I am going to make a double or triple batch of this next time to keep in the freezer, or to can the next time we are on a canning binge.
Start with a pint of washed and picked through berries. Buy them on sale in bulk and cook up a big batch! If you really want to get berry-licious, toss some in the pancakes as well.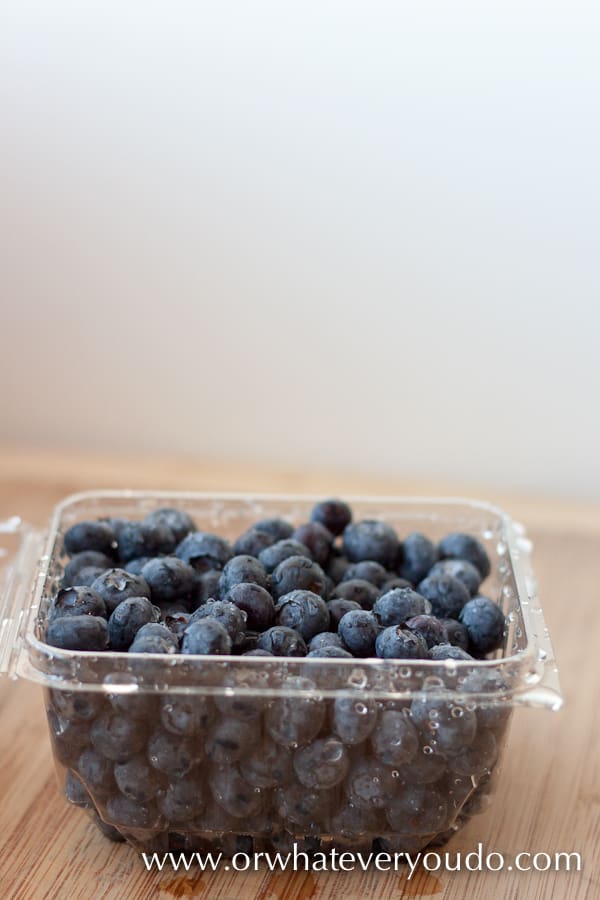 Toss those into a small saucepan along with 1/2 cup of water, 1/2 cup of sugar, 1 tsp vanilla, and the juice of 1/2 a lemon.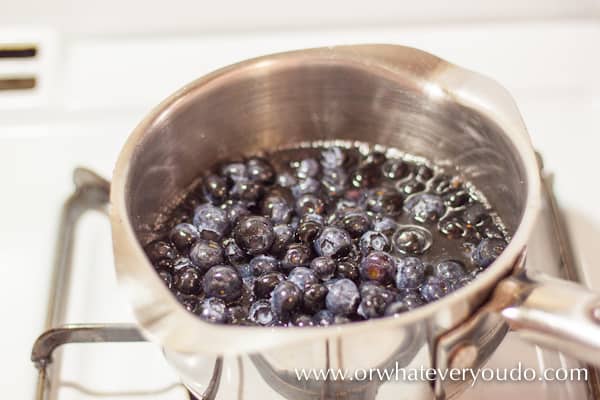 Bring that up to a simmer, and stir frequently. This syrup develops the most beautiful color.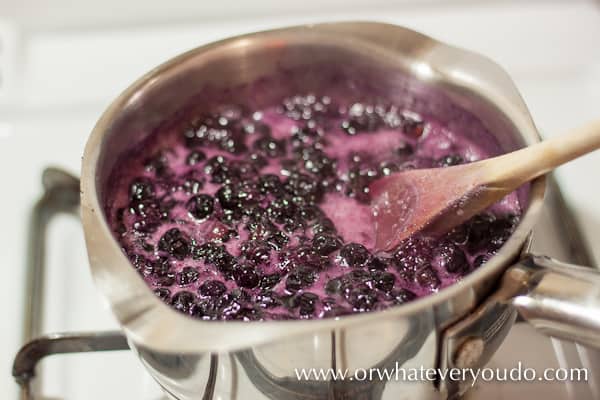 Let this mixture reduce by half, and then add 1 tsp of cornstarch slurry (that's just a teaspoon of cornstarch mixed with enough cold water to make it pourable) and let it thicken the syrup. You can skip this step if you like yours to be a bit thinner, but I prefer a thick, spoonable syrup.
This was great poured over my buttermilk pancakes! I will include a recipe for a smaller batch than the Corner Diner Pancakes I have posted. The recipe is a bit awkward to half, so I reduced it MY way. It made for a slightly different pancake, which I quite liked!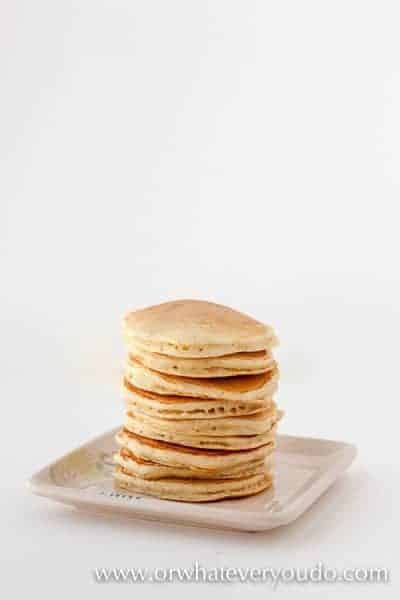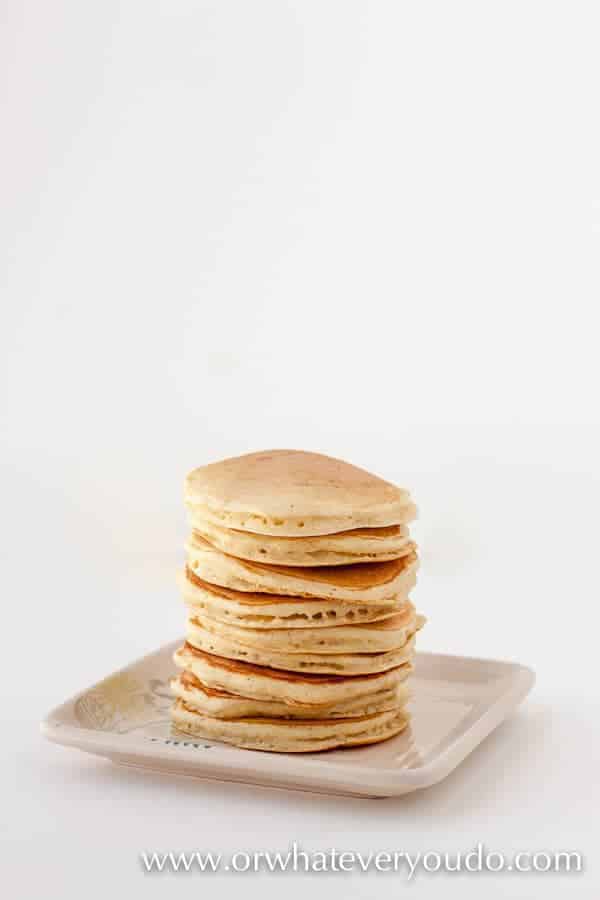 I wish you could taste this right now. I'm going to be tasting it again later on some fresh vanilla ice cream!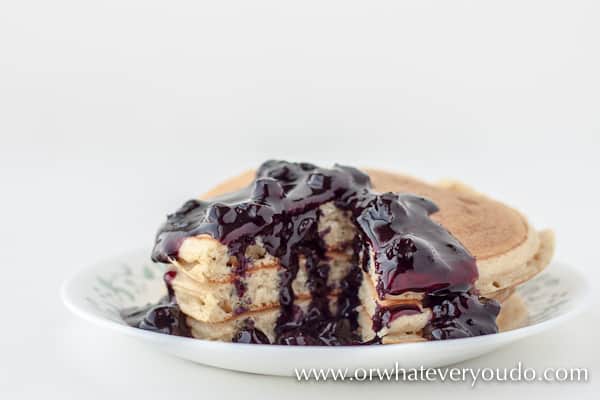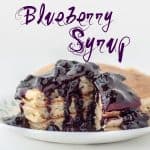 Blueberry Syrup Small Batch Corner Diner Buttermilk Pancakes
Ingredients
1

pint

blueberries

washed and stemmed

1/2

cup

water

1/2

cup

sugar

1

tsp

vanilla

juice of 1 lemon

1

tsp

corn starch

1

TBSP

cold water

2

eggs

2

cups

buttermilk

1

tsp

vanilla

2

cups

flour

2

tsp

baking powder

2

tsp

baking soda

1/8

cup

sugar

3

TBSP

melted butter
Instructions
Combine berries, 1/2 cup water, sugar, vanilla, and lemon juice. Bring to a simmer and stir frequently until the mixture is reduced by half.

Make corn starch slurry by mixing corn starch and 1 TBSP water until no lumps are left. Slowly drizzle into simmering syrup until desired consistency is reached. You may not need the entire amount.

Remove from heat and serve with pancakes, ice cream, or cheesecake. Also great for mixing into yogurt, or blending into a milk shake.

Whisk together eggs, buttermilk, and vanilla. Set aside.

Combine flour, baking powder, baking soda, and sugar. Stir to combine, and then pour in egg mixture. Stir until combined, but mixture will be slightly lumpy. Gently mix in melted butter, and cook immediately on a griddle or pan over medium heat flipping once so that both sides are browned.
Never Miss A Recipe!
Subscribe to get occasional emails and snark direct from ME!