This easy Chicken Broccoli Stir-Fry has been one of my 'go-to' meals for many, many years. It is really quick to prepare, is something that everyone in my family enjoys, and there are always leftovers for lunch the next day.
Plus, vegetables.
Feel free to add in whatever fresh vegetables you have hanging around in your fridge.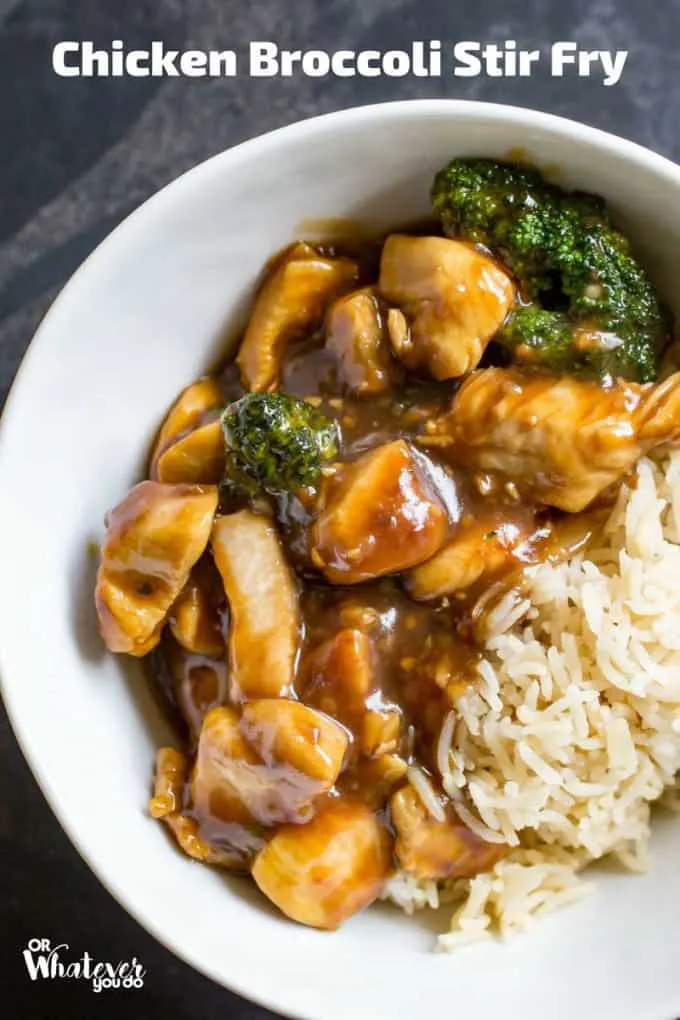 Chicken Broccoli Stir-Fry
My love of stir-fry for quick weeknight dinners is known far and wide. If I have my stuff together well enough to actually have a stocked kitchen, the likelihood of actual home-cooked dinner on the table goes up elevenfold.
I am a horrible freezer cooker. I NEVER pre-plan things, much as I would like to, and am constantly that person at 5:30 digging through my fridge trying to piece things together into something resembling dinner.
It is one of the reasons I love the Instant Pot so much because I can toss frozen stuff in there and just hit the button and it turns into something delicious 9 times out of 10.
Sometimes that ends up being something stupid easy like English Muffin Pizzas, or Tortilla Dogs. Sometimes it is something mindless like my spaghetti and meat sauce.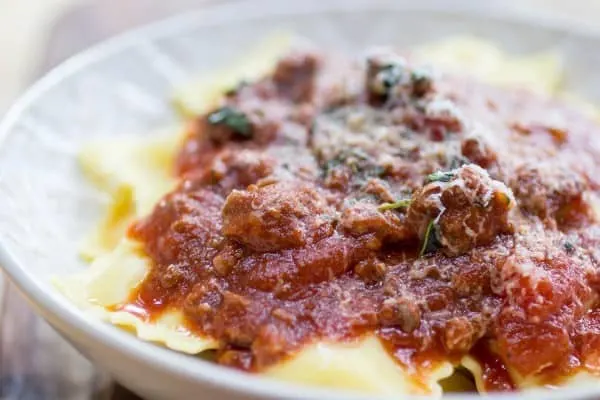 More often though, I'm throwing together one of my many stir-fry recipes.
How To Make Chicken and Broccoli Stir-Fry
This classic Chicken Broccoli Stir-Fry is a wholesome and quick dinner to whip up on a busy weeknight. Sautéed chicken, tender broccoli florets, with soy sauce and real honey that brings this dish to a fantastic finale.

Serve with a side of fluffy rice for a perfect easy dinner. This is a great way to serve up veggies to picky eaters and watch their plates be empty at the end of the meal. A simple, wholesome dish to make that will instantly become a family favorite.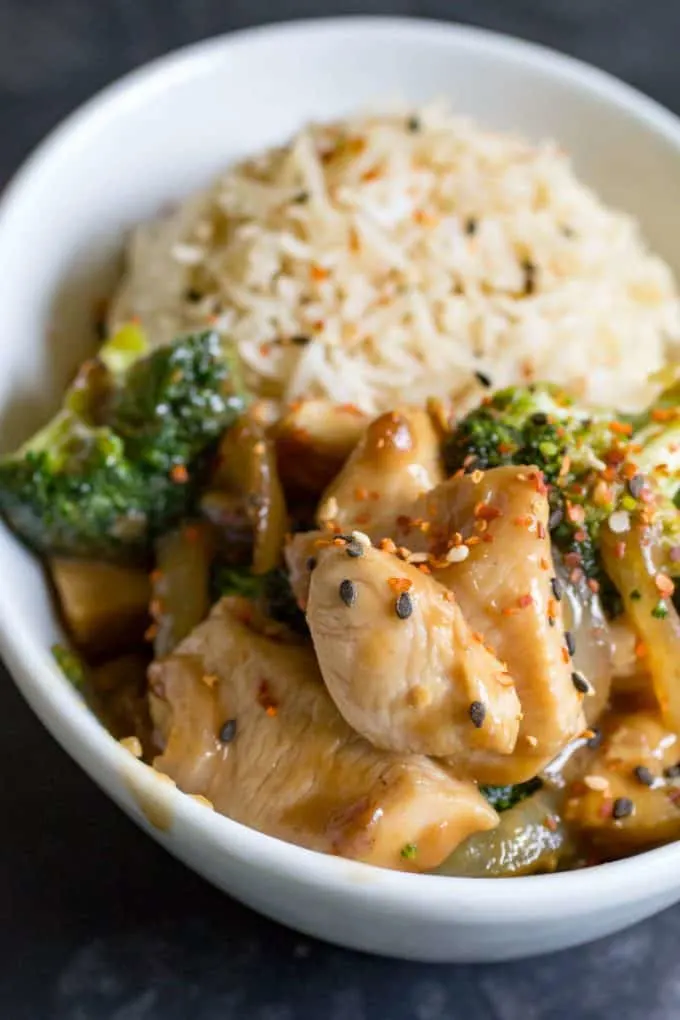 The beauty of this chicken broccoli stir-fry is that it uses really basic ingredients that you probably have on hand in your pantry and fridge.
In a couple minutes notice, I can round up the supplies and cook it up.
The soy and honey-based sauce gives you a hint of sweet with that tangy, savory ending. As the sauce cooks, it almost becomes more of a glaze and sticks to the chicken and broccoli so every bite is incredibly flavorful. Everyone will be fighting over the extra sauce to pour over their rice!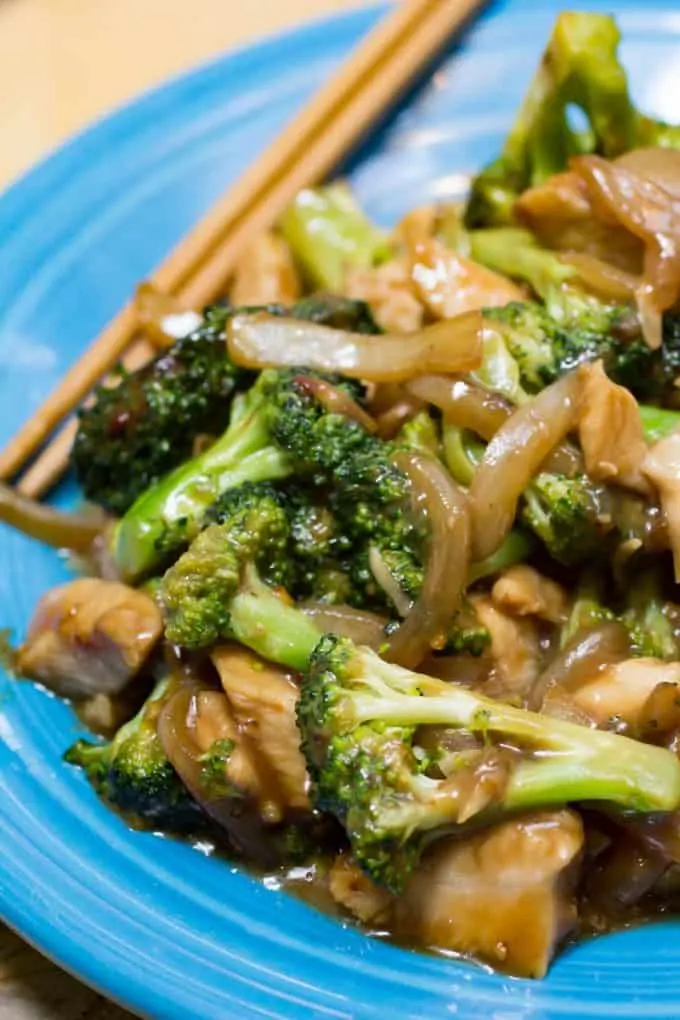 With it being summer we spend most of our time outdoors. Whether it is fun activities for the kids, dipping our toes in the pool, or just enjoying the sunshine which can be kind of a treat in the Pacific Northwest.
I don't want to be inside missing out on the fun, so I pull out quick and easy recipes like this meal.
It takes under 30 minutes to make, and I don't miss out with the family. When we aren't grilling on our Traeger, we are finding lighter dinner options that take minimal prep and cook time.
It is all about creating those memories, not standing in the kitchen cooking for hours. I feel good about this wholesome and tasty dish.
Saucy Chicken and Broccoli Stir-Fry
In our home, stir-fries are the perfect dish to serve up.
The beauty of stir-fry recipes is they are so versatile. As you can see, pretty much anything goes for stir-fry recipes. Pasta, rice noodles, veggies, a variety of proteins, and the sauce will give you a one-of-a-kind dinner.
Whether you use fresh vegetables or frozen, you can create a divine flavor combination with your favorite ingredients. The chicken and broccoli stir-fry is our family favorite, but you can do an onion and pepper mix as well.
It is so much healthier to make your own than order take-out, and best of all you know exactly what is going in your recipe. So if you prefer organic, go for it. Maybe you have some fresh vegetables out of the garden, or need to use up the rest of your CSA.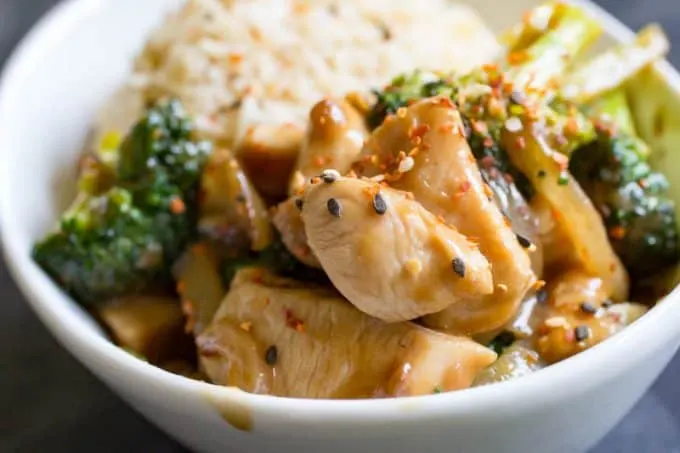 Is Chicken and Broccoli Good For You?
Chicken and broccoli are both an excellent choice to serve your family. You get a good amount of protein and fiber. When you use a stir-fry, the sauce is a great way to add extra flavor to sometimes bland veggies that kids turn their noses up to. I have found our kids eat this stir-fry well because the sauce gives the vegetables the right amount of flavor.
Can You Use Frozen Broccoli In This Stir Fry?
Absolutely! Frozen broccoli is actually best used by cooking it halfway according to the package directions before tossing it into your stir-fry. You can also skip any quick steams that the recipe calls for.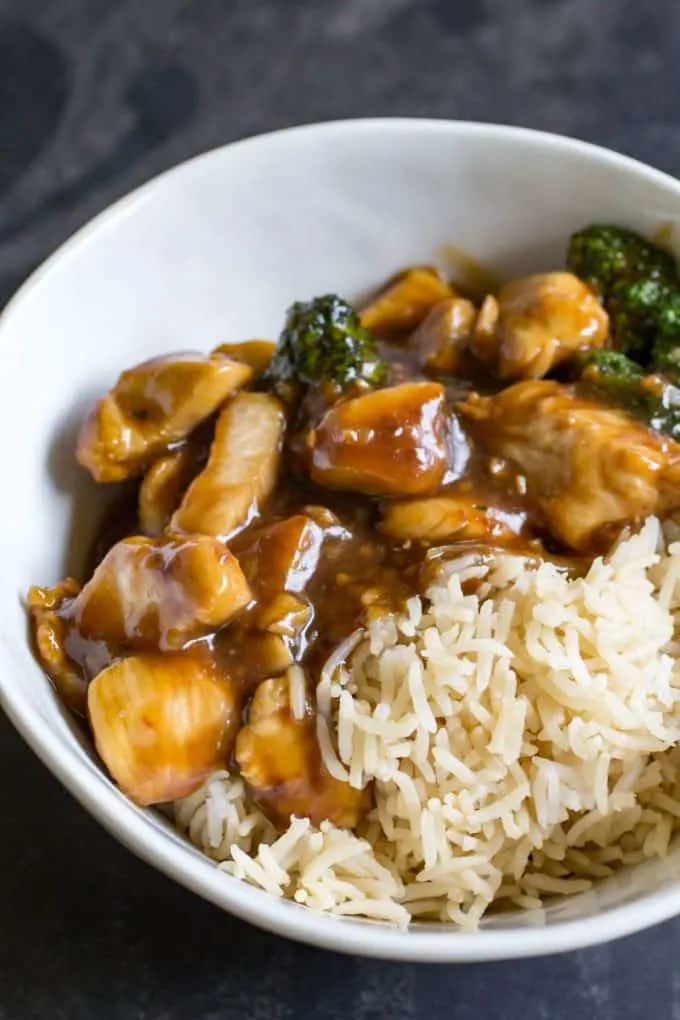 How To Make Restaurant-Quality Stir-Fry
START WITH A HOT PAN.
Make sure you have your pan nice and hot before placing your broccoli in so it gets a nice sear, that will help tremendously with the texture. Having your pan really hot will help keep the chicken moist, give the chicken a nice sear, and then the broccoli will keep that crunchy texture you want.
If you put items in and allow the pan to heat up slowly, it won't give your dish these elements of texture.
As you can see, this stir-fry is a breeze to make. If you are a fan of chicken and broccoli, I think you will enjoy this dish. The sauce is packed full of vibrant flavors but offers a light factor so you don't feel overly heavy after you finish eating. This chicken broccoli stir-fry is good any time of year.
Yield: 8 servings
Chicken Broccoli Stir-Fry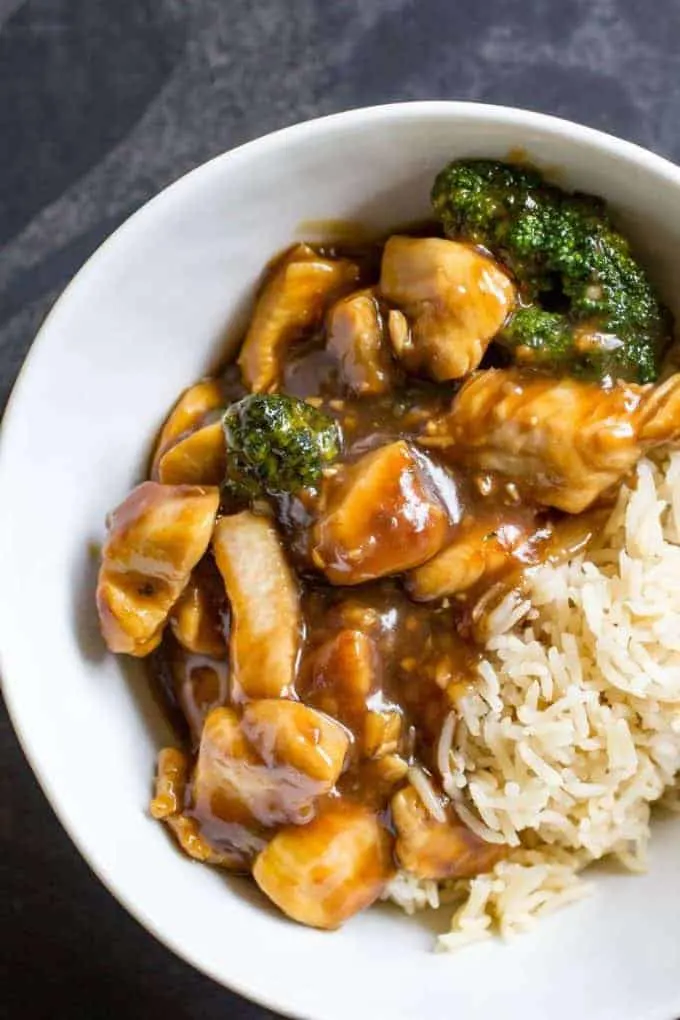 This easy chicken and broccoli stir-fry whips together in a flash, and will quickly become a family favorite!
Ingredients
Sauce
1/4 cup soy sauce
1/4 cup water
1/8 cup white vinegar
1/4 teaspoon sesame oil
2 teaspoons minced garlic
2 tablespoons honey or brown sugar
1/2 teaspoon ground ginger
1 1/2 tablespoons cornstarch
1 teaspoon canola oil
Meat & Veg
2 tablespoons high-smoke-point oil such as avocado oil
4 cups chicken breasts, cubed
4 cups broccoli florets
Instructions
Combine all sauce ingredients and set aside.
Preheat a wok or non-stick pan with a tablespoon of oil in it over high heat until it is shimmering and ALMOST smoking. You want to use a high smoke-point oil like avocado or similar for best results. DO NOT USE OLIVE OIL OMGOSH NO.
Working in small bashes, quickly stir fry the chicken until there is no more pink on the outside. Remove when done, add a little more oil, let it heat up, and repeat until all of the chicken is cooked and set aside.
Repeat the process with the broccoli, but at the very end add the chicken back into the pan, cover, and let cook over medium heat for 3-4 minutes. There should be some liquid on the plate with the chicken. Pour that liquid in with the chicken, it'll help to finish cooking the broccoli and the chicken.
Quickly stir the sauce mixture and pour into the pan with the broccoli and chicken. Cook over medium-high heat until thickened, and serve immediately with rice.
Nutrition Information:
Yield:
8
Serving Size:
1
Amount Per Serving:
Calories:

203
Total Fat:

7g
Saturated Fat:

1g
Trans Fat:

0g
Unsaturated Fat:

5g
Cholesterol:

60mg
Sodium:

523mg
Carbohydrates:

10g
Fiber:

3g
Sugar:

4g
Protein:

24g
Nutrition data provided here is only an estimate. If you are tracking these things for medical purposes please consult an outside, trusted source. Thanks!