Honey Garlic Ginger Stir-Fry is now officially in my permanent dinner rotation. Stir fry is one of my favorite ways to keep my eating on track. It is so easy to get your meat and veggies when you load up with stir-fry. Sometimes I even skip the rice too. Also? Chopsticks. They rock. They are fun to eat with, and they force me to slow down a bit and really focus and enjoy what I'm eating.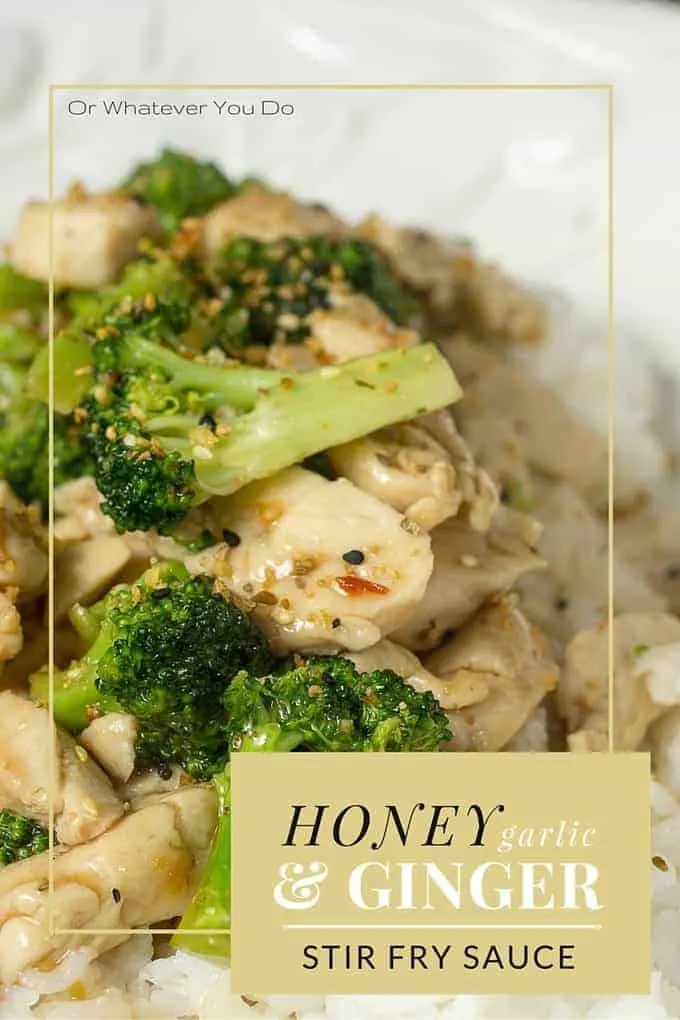 Honey Garlic Ginger Stir-Fry
This honey garlic and ginger stir fry packs a flavor punch! You can spice it up a bit as well by adding some sriracha if you'd like. This is very similar to my Spicy Chili Garlic Stir-Fry Sauce, but packs more of a gingery kick than that recipe. Equally easy to throw together, though!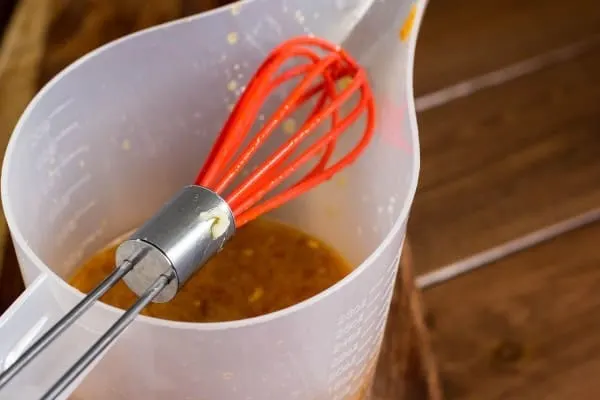 You can get crazy and switch up the vegetables and proteins in this is you'd like, but for tonight's dinner, I really wanted to go with a traditional mix of chicken and broccoli. It's one of my favorite Chinese dishes and this one was a take-out fake-out winner.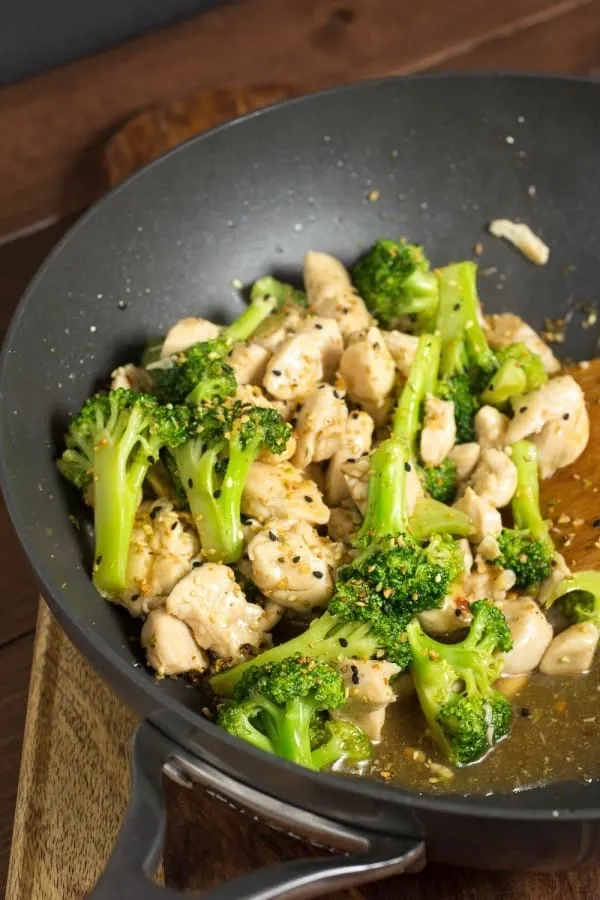 You can use fresh whole garlic if you want to, but I totally make use of those giant jars of minced garlic and don't even think twice. I use it in everything I'd use garlic powder or salt in, everything I'd normally use fresh garlic with – so basically, everything.
Once you mix the sauce together, set it aside and get your wok really hot. Like, super super hot.
It's the key to a good stir-fry.
Also? Work in small batches. Large batches = loss of heat = soggy stir-fry. Small batches also cook much faster, so you aren't really losing any time overall in the cooking process even if you are cooking for an army like I am.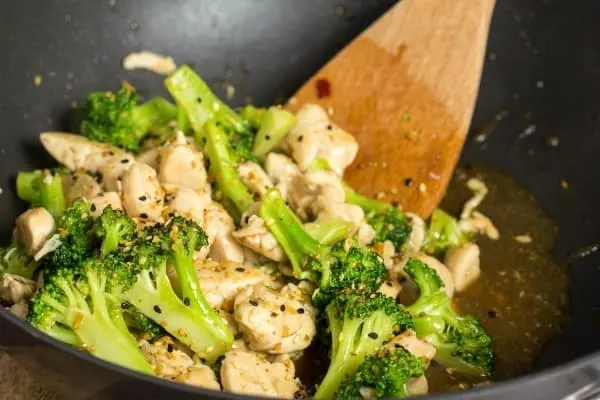 Once the chicken is no longer pink on the outside, toss the broccoli into the pan and stir-fry for 2-3 minutes. With the heat still on high, add a tablespoon of water into the pan and cover to steam for 1-2 minutes. This will finish cooking the chicken and lightly steam the broccoli as well.
Remove the cover and allow any remaining liquid to cook off, and add in the stir-fry sauce. Stir constantly until it is thickened.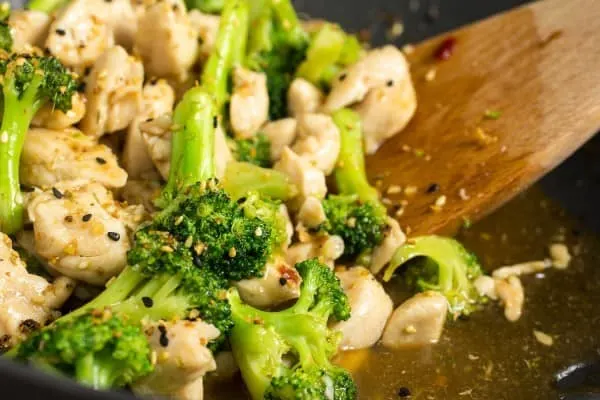 Serve hot with some white rice and sriracha for that little extra kick.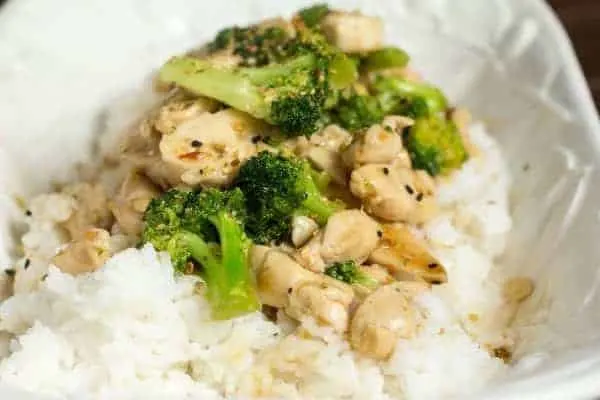 Need some more awesome stir fry ideas? Check these out from some of my blogging buddies!
Peanut Sauce for Chicken Stir Fry from Chelsea's Messy Apron
Slow Cooker Honey Sriracha Chicken Stir Fry from Sugar Dish Me
Pork & Ramen Stir-Fry from Julie's Eats and Treats
Yield: 6
Honey Garlic Ginger Stir Fry Sauce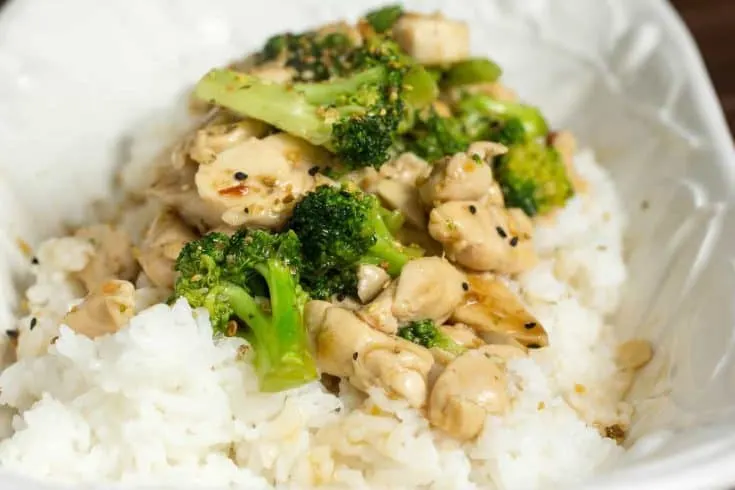 Delicious stir-fry sauce full of flavor, but with super common ingredients that you probably already have laying around. Experiment with different meats and vegetables and see what you can come up with!
Ingredients
2 1/2 tablespoons cornstarch
3/4 cup water
1 teaspoon chicken bouillon
2 tablespoons mirin
3/4 cup soy sauce
1/4 teaspoon sesame oil
1/2 teaspoon dried ginger
1 teaspoon minced garlic
2 tablespoons honey
Instructions
Combine all of the sauce ingredients and add in as last step of stir fry. Cook until thickened and stir immediately.
Nutrition Information:
Amount Per Serving:
Calories:

2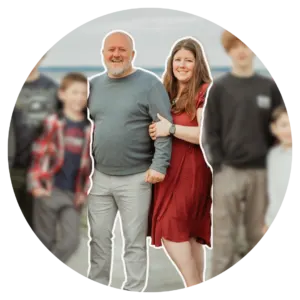 Nicole Johnson, a self-taught expert in grilling and outdoor cooking, launched Or Whatever You Do in 2010. Her blog, renowned for its comprehensive and creative outdoor cooking recipes, has garnered a vast audience of millions. Nicole's hands-on experience and passion for grilling shine through her work. Her husband, Jeremiah Johnson, also plays a pivotal role in recipe development, adding his culinary flair to the mix. Together, they form a dynamic duo, offering a rich and varied outdoor cooking experience to their followers.