Salmon is in season right now, and you are going to want to get some and make this easy Grilled Traeger Salmon for dinner tonight!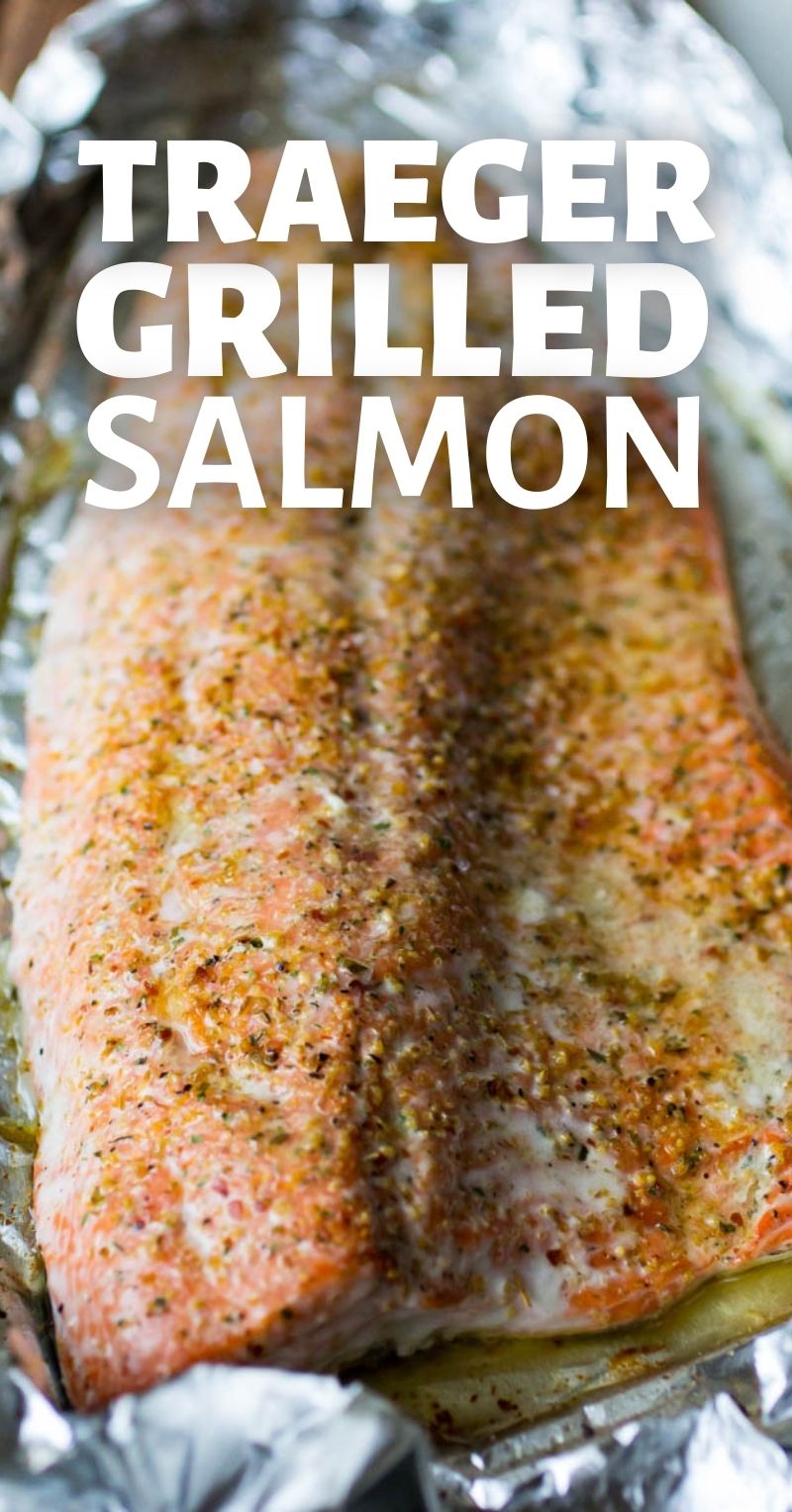 Grilled Traeger Salmon
With a few ingredients, you can create an amazing seafood dish that your entire family will love! Flavorful and perfectly cooked salmon straight off the grill! This Traeger Grilled Salmon is a quick and easy meal to make any day of the week for a light and savory dinner.
Salmon is fresh and in season right now in the Pacific Northwest. We love fishing, and fishing for salmon is one of the most "PNW" experiences you can have.
Grilling is the best way to prepare salmon, in my opinion, and we LOVE our pellet grills for this. Woodfire adds such a key element to the end result.
Fresh or frozen?
Fresh salmon is always going to be the direction I'm going to point you in, but as long as the frozen salmon you are eating is high quality and was vacuum sealed, freezing doesn't overtly affect the quality of the end result all that much. We keep a store of frozen salmon in our freezer almost always, and last season's catch tastes just as good as it did when we pulled it out of the water.
Whatever you do, just make sure to stay away from the farm-raised stuff, if at all possible.
More Easy Traeger Recipes here!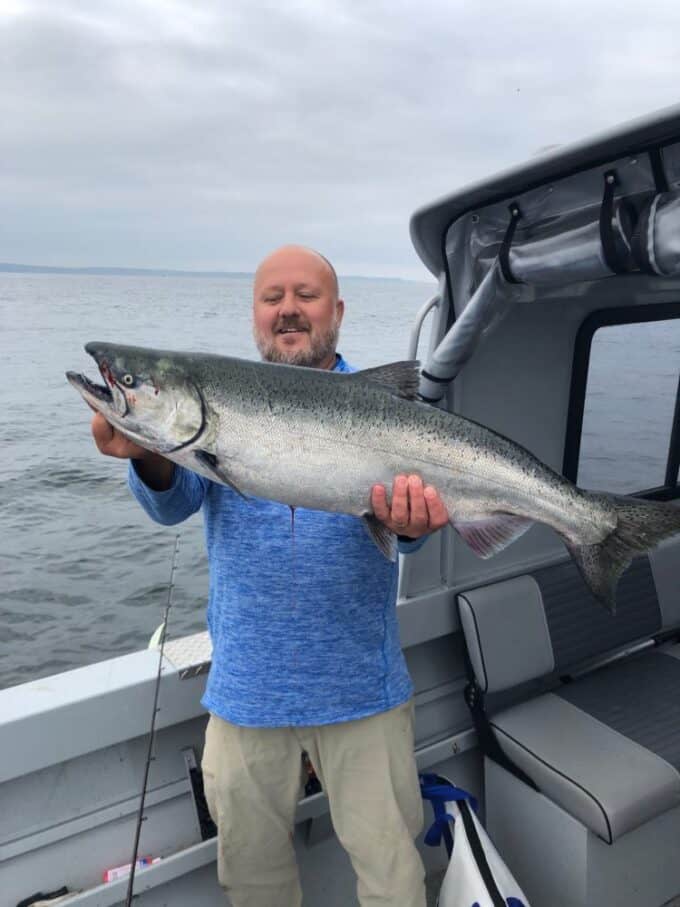 What types of Pacific Salmon are there?
There are many different species of salmon, but for our purposes, I'm going to discuss my favorite species of Pacific salmon.
King (Chinook) Salmon
The biggest of all of the Pacific Salmon, King salmon are highly prized for their rich, fatty filets. We really like King Salmon for smoking and grilling, and have a lot of smoked salmon recipes on the site that you'll love! King salmon has the strongest flavor of the Pacific species, but even if you "hate salmon" you would probably be won over by ocean-caught Kings. People who hate salmon have generally only tried farm-raised Atlantic salmon, which is much lower-quality than what we're talking about.
Chinook and Silver (Coho) salmon can be difficult to tell apart, but one of the best indicators is actually the color of their gums! King salmon have black-colored gums, and Silver salmon has pink-colored gums.
Silver (Coho) Salmon
Coho salmon, also known as Silvers, is our favorite of all the different species of salmon. The flavor is milder than King salmon, and this kind of salmon is great for almost any preparation. We've even skipped the cooking and done a Salmon Miso Poke Bowl.
Get my easy Side Dish recipes!
How to keep salmon from sticking on the grill
I have seen many people complain that their salmon gets stuck on the grates. With any tender fish, I will say this is a genuine struggle. But, I have a secret weapon!
It allows you to protect the flesh of your delicate fish while still cooking it through. You don't have to worry about it sticking to the grates anymore, and the fish will still pick up some of the smoky aromas from the Traeger grill.
Another thing to remember is salmon, like all fish, cooks quickly. Make sure you are ready when you start to grill. I always make sure to have my aluminum foil out and ready, the fish seasoned and any supplies I might need while grilling. You don't want to be stranded looking for tongs, and your fish overcooks in the meantime. Be prepared for a quick cook time, and all will turn out well.
Follow me on Instagram!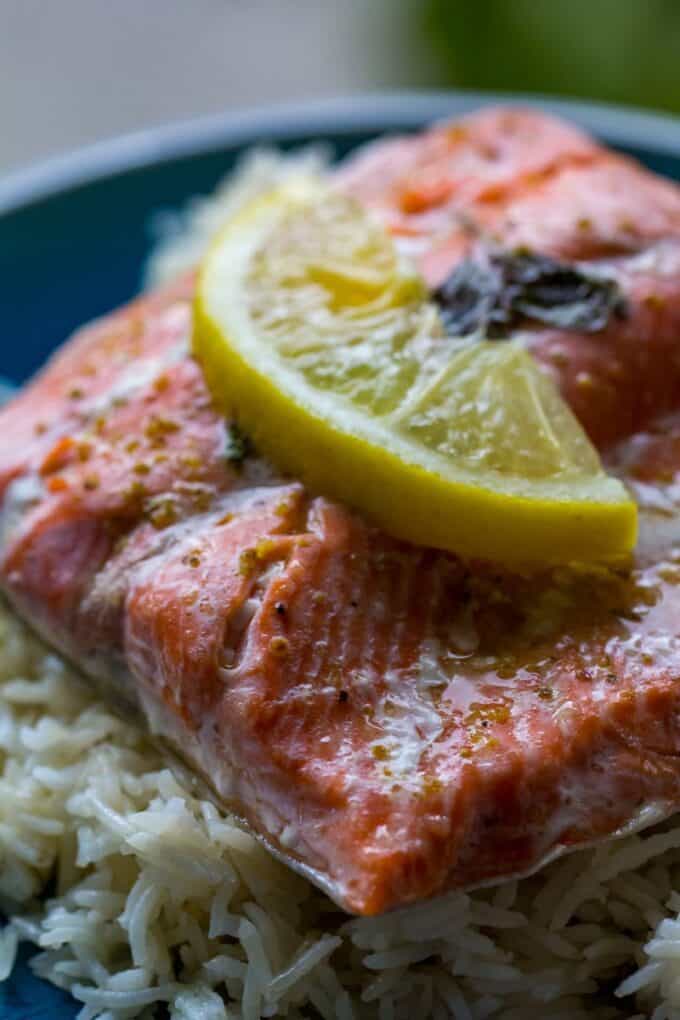 How long does it take to cook salmon on the grill?
It all depends on what size your filet is and also what your desired finished temp is.
On average, a filet that is around an inch thick will take around 8 minutes at 500 degrees. Or for every half inch give around 4-6 minutes of cook time at 500 degrees. This timeframe will result in medium to medium-well doneness. The USDA says the minimum internal temperature of your fish should be 140-145 degrees.
That being said, we don't tend to cook our wild-caught salmon to 140°, basically ever. Our preferred temp is around 125-130°.
Also important to note that our pellet grill doesn't really "do" 500°, so we cook the salmon at around 400-425° degrees.
If you plan to cook your salmon on a plank, you need to preheat the pre-soaked plank for around 5 minutes, or until you begin to see it start to smoke or make a crackling sound. Then gently lay your salmon on the plank and cook for 12-18 minutes, depending on how thick your fillets are. The plank will give you a little bit of a longer cook time. See our whole recipe on cedar-plank salmon here.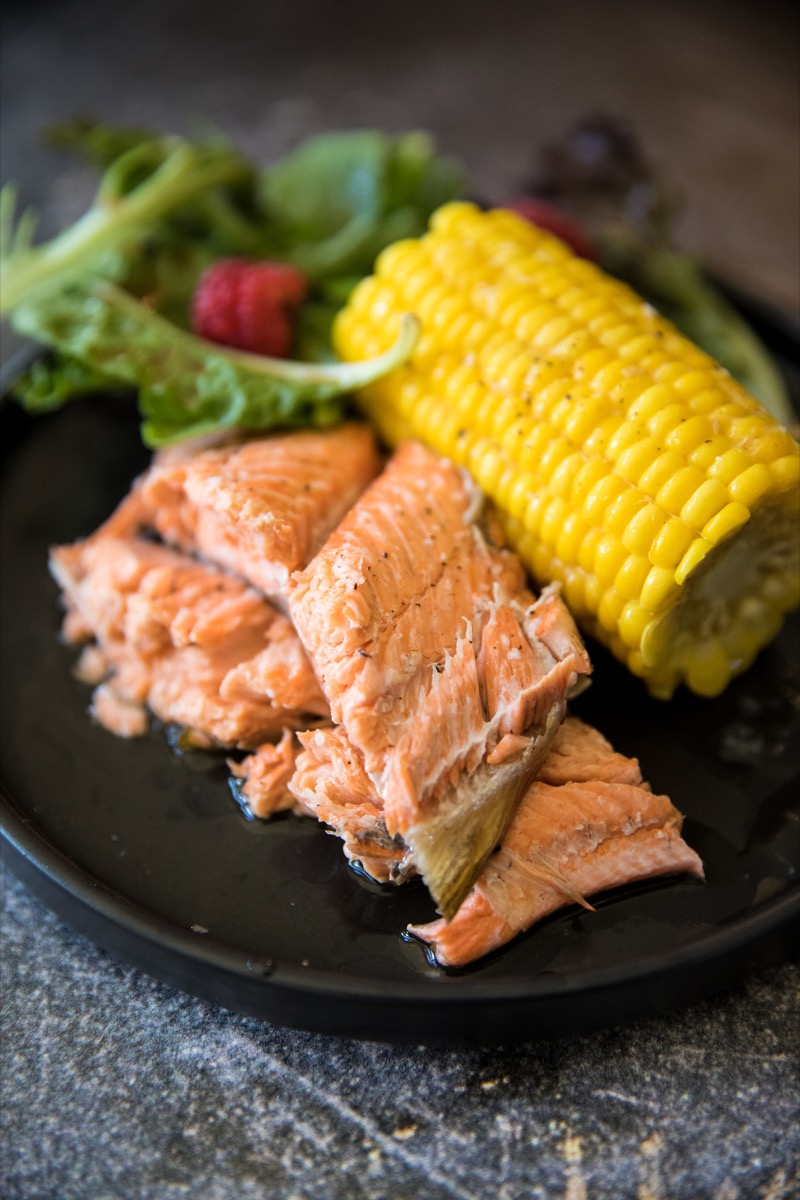 Should you flip salmon while you cook it?
You do not have to flip salmon. If you have a grill that heats evenly, you can lay the salmon down, and it will cook through in around 8 minutes give or take if it is around an inch thick. A lot of people like the fact you don't have to flip through the cooking process as it is a very delicate fish and can fall apart or stick easily.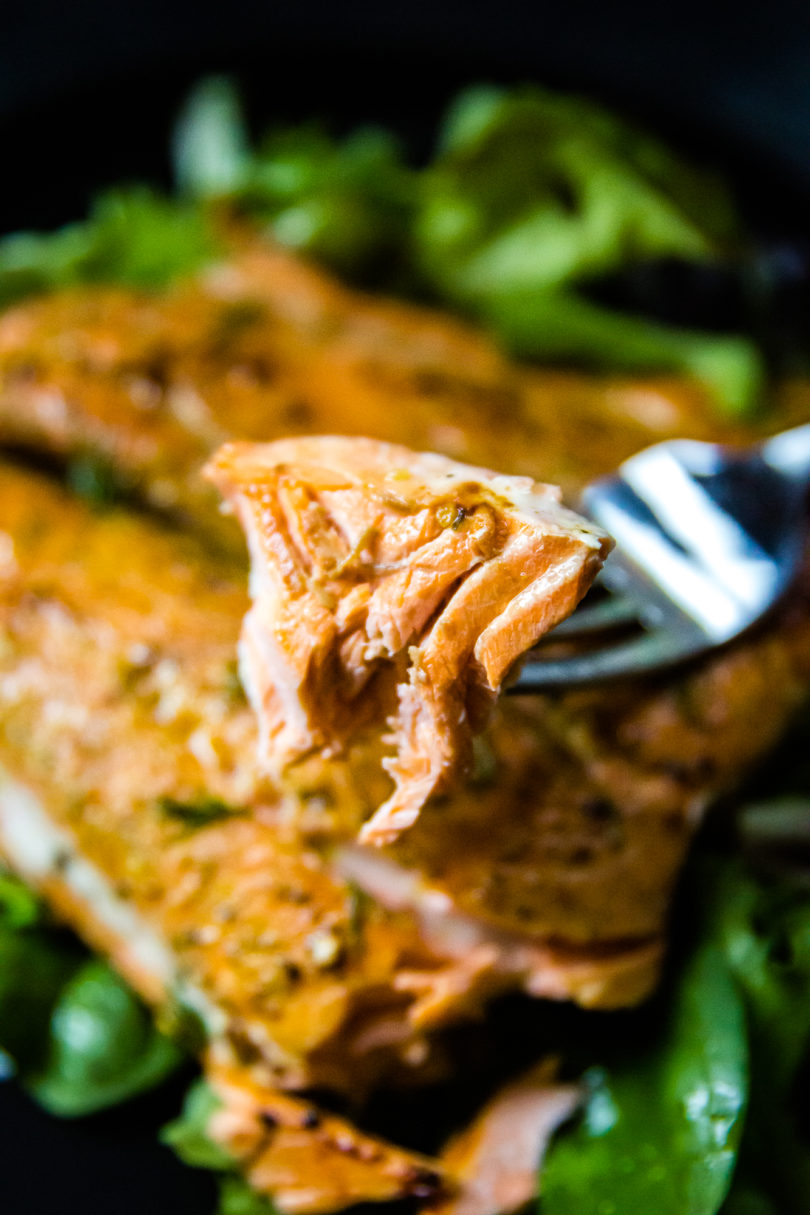 How can you tell if your fish is done?
When you cook with salmon, it can be hard at first to know when it is done. A straightforward way to tell is when you take a fork to it, you will find it flakes very easily.
Some people say at this point it can be overcooked, but it means your fish is well done.
You can also look at the color of the fish. When it starts out the flesh is more of red color in the raw stages, and as it cooks you will find it begins to turn pink throughout. You want to use a knife and look at the center of the fish to see that it is cooked through and is pinker than red in the center.
The guaranteed way is to check with a thermometer and hit that 140-145 degree internal temperature.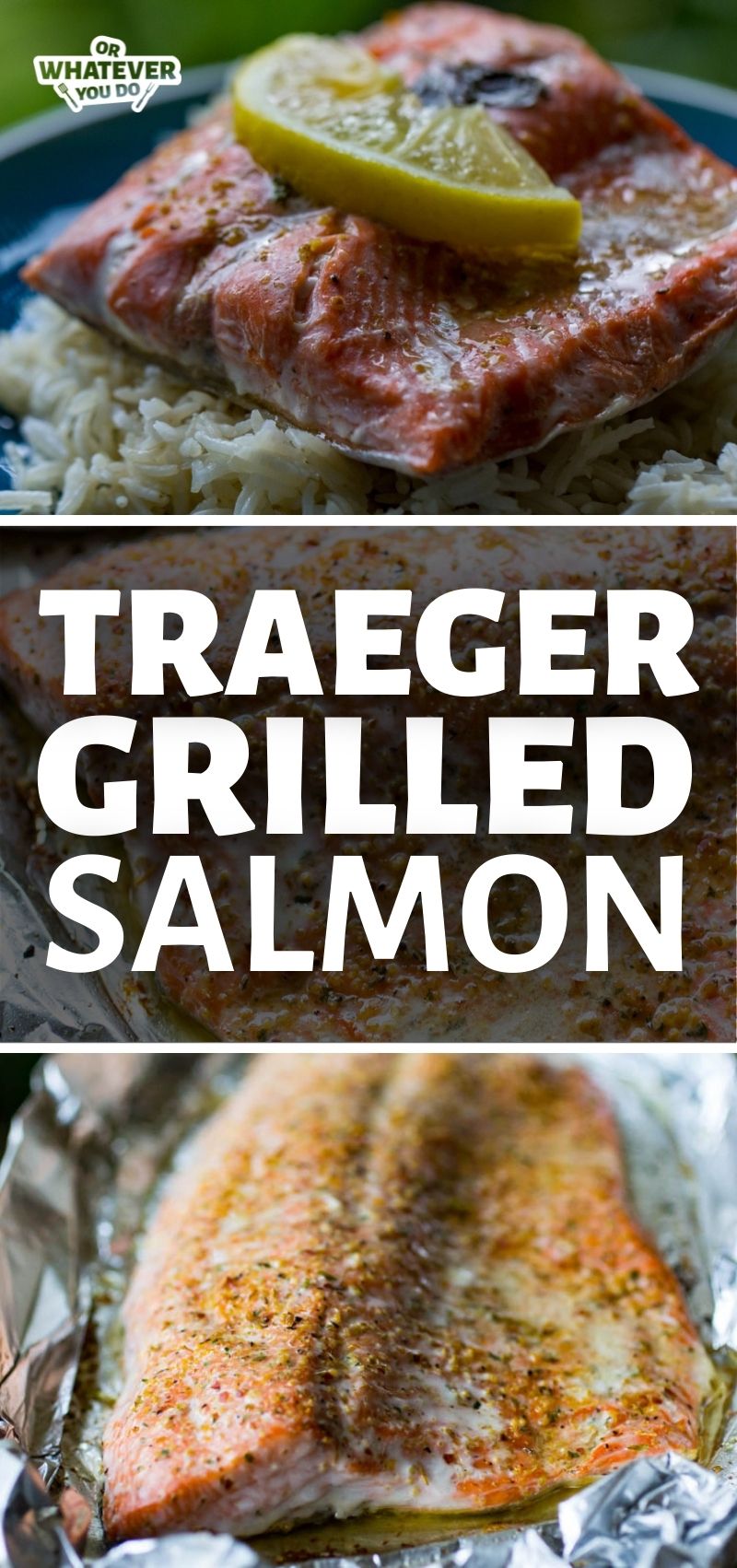 Yield: 3 servings
Traeger Grilled Salmon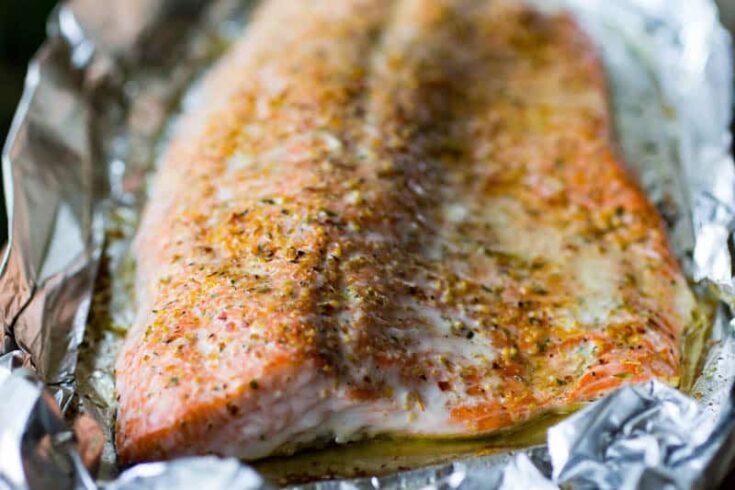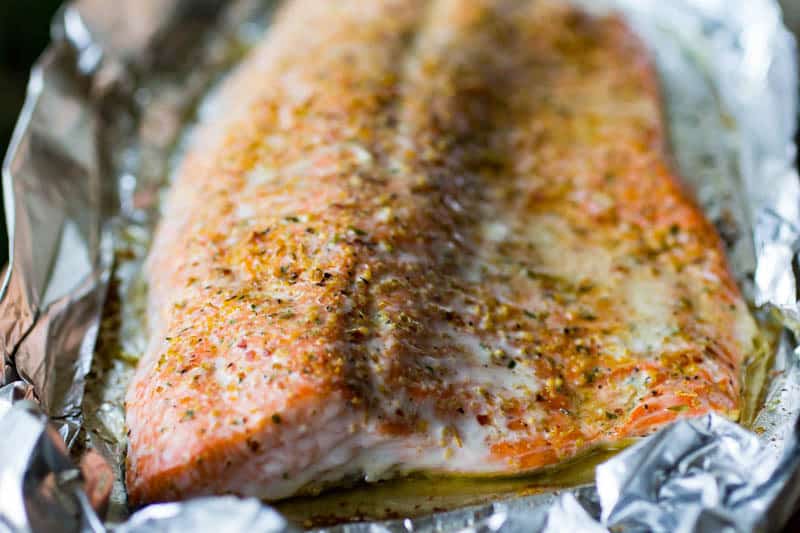 This salmon is SO easy, but is one of my favorite meals! Season with your favorite fish blend, or just simple salt and pepper.
Ingredients
1 large salmon filet, skin on
1/4 cup olive oil
1/2 teaspoon kosher salt
1 tablespoon seasoning blend of your choice (see some suggestions below)
Instructions
Preheat your grill to 400 degrees.
Place the salmon skin-side down on a sheet of non-stick foil.
Gently rub the olive oil into the salmon filet. Sprinkle the fish with the salt and seasoning blend.
Place the foil and salmon onto the grill, close the lid, and cook for 6-10 minutes, or until it reaches your desired finished temp. We like ours in the mid-rare range at around 125-130. USDA min temp for salmon is 145, so choose your own adventure.
Remove from the grill and serve immediately!
Recommended Products
As an Amazon Associate and member of other affiliate programs, I earn from qualifying purchases.
Nutrition Information:
Yield:
3
Serving Size:
1
Amount Per Serving:
Calories:

317
Total Fat:

27g
Saturated Fat:

4g
Trans Fat:

0g
Unsaturated Fat:

22g
Cholesterol:

48mg
Sodium:

1776mg
Carbohydrates:

1g
Fiber:

0g
Sugar:

0g
Protein:

17g
Nutrition data provided here is only an estimate.