This bold and Spicy Beef and Korean Rice Cakes recipe features the delicious and easy-to-prepare Tteokbokki, thinly sliced steak, and vegetables for a fantastic dinner done in about 30 minutes. There are a couple of specialty ingredients here, but both are available from Amazon and once you try them,, you'll want to keep these in your pantry always and forever for a quick meal option.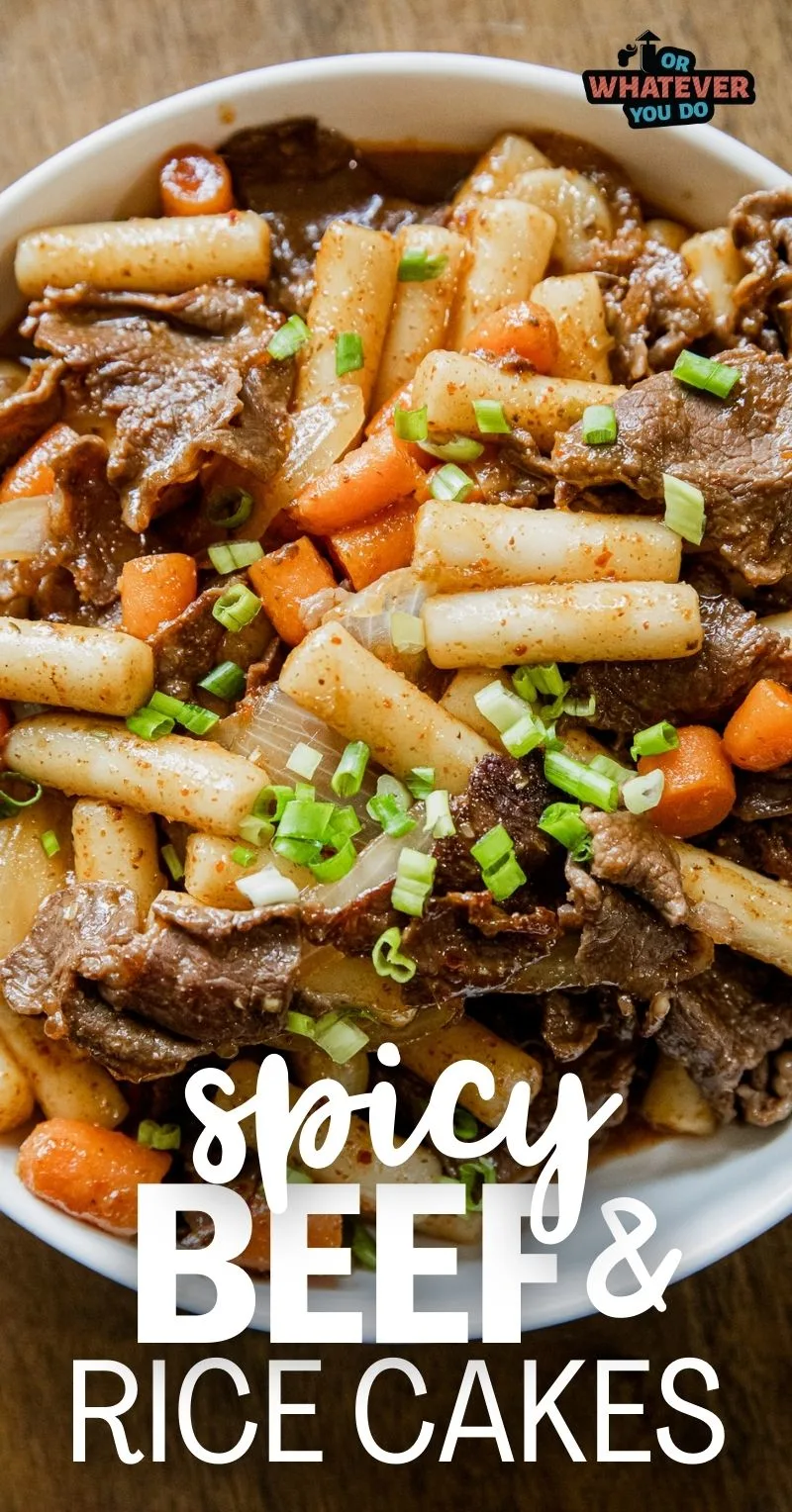 Spicy Korean Rice Cakes with Beef
Korean food is one of our favorite types of cuisine, but this isn't one you'll find on the menu at your local restaurant. This is our spin using classic Korean flavors in a spicy stir fry, full of flavor that works as a whole meal on its own or as a part of a larger feast.
There are a few specialty ingredients you probably don't have in your pantry and might be hard to find at your local corner grocery store, but Amazon will come through for you in a pinch. Plus, these are items you're going to want to keep around for a rainy day. You can use them in a variety of different dishes, and they keep for a really long time. I've got links to the ingredients down in the recipe card or here in my Amazon Store.
This is another one of my recipes made using that amazing thinly sliced New York from Costco! If you don't have a Costco near you or can't find this, just ask your butcher to slice your steak for you for the best results. You can also do it at home. Just slice thinly, across the grain.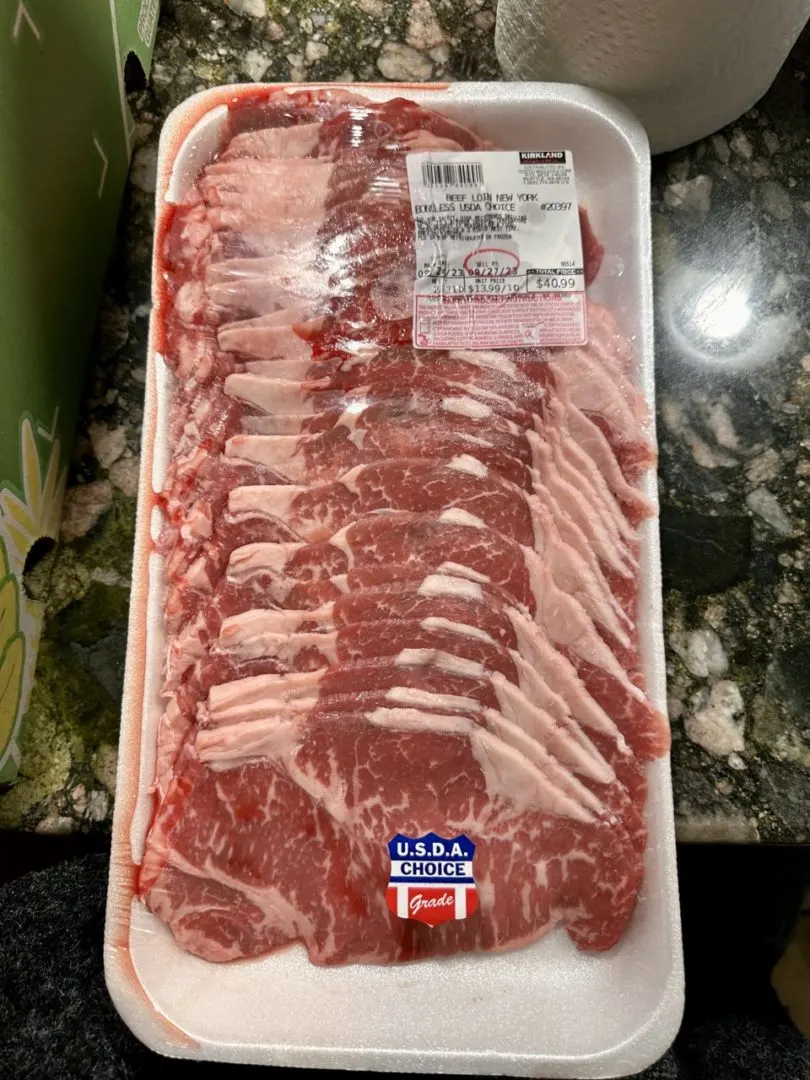 We have a whole series of recipes utilizing this versatile protein in the works, so stay tuned! You can already see our Homemade Hot Roast Beef Sandwich, and Blackstone Beef and Broccoli.
Try all of my Stir-Fry Recipes!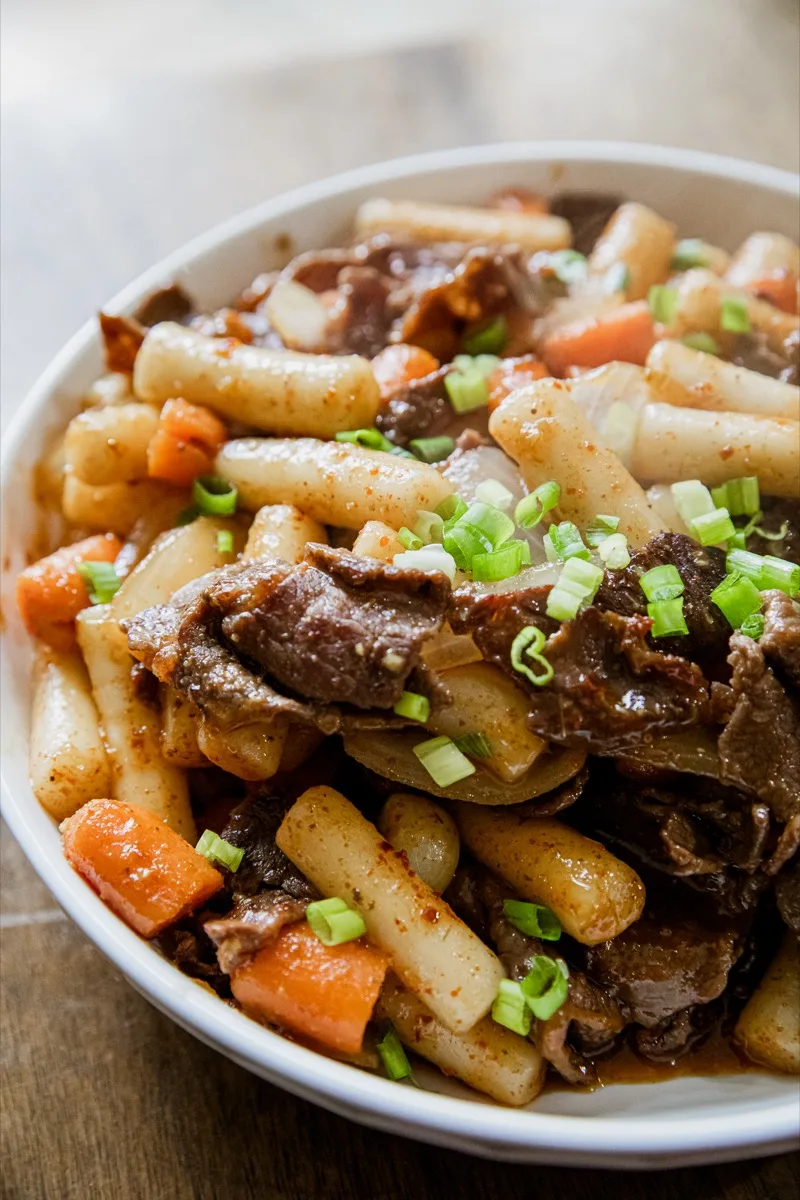 Spicy Korean Rice Cakes with Beef shopping list
Wondering if you have to hit the store? Here's the list of items you'll need to make this recipe. For specific amounts, please refer to the printable recipe card at the bottom of the post.
Korean Rice cakes
Korean chili flakes
Soy sauce
Sriracha sauce
Garlic cloves
Garlic powder
Onion powder
Thinly sliced beef strip steak
Carrots
Onion
Green onion
Brown sugar
Try our Grilled Beef Bulgogi!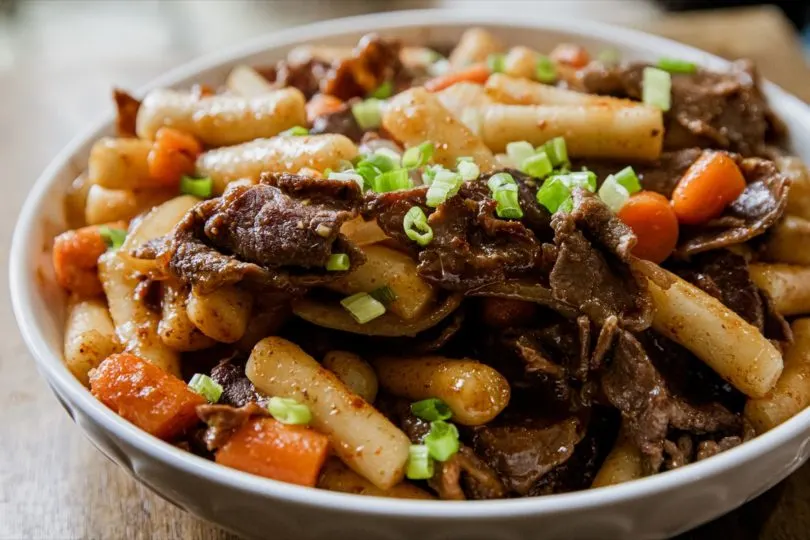 How to make Spicy Tteokbokki with Beef
This is just the overview so you can see what you're actually getting into here. When you are cooking, you'll want to use the full recipe at the bottom of the page.
Cook
Put the cooking liquid ingredients into a pot and bring to a boil. Add the rice cakes. Cook 5 minutes. Add the carrots. Cook 1 minute. Test a rice cake by cutting it in half to make sure it is tender through the entire rice cake.
Remove the carrots, rice cakes, and garlic and reserve along with 1 cup of the cooking liquid.
Stir fry
Stir fry the beef in the oil along with the onions until the beef is cooked and the onions are translucent. Add the brown sugar along with the rest of the stir-fry ingredients.
Cook
Let the stir-fry mixture cook until it is slightly thickened.
Enjoy
Serve hot! You can include a side of rice if you're feeling frisky.
Our Spicy Grilled Galbi is great too!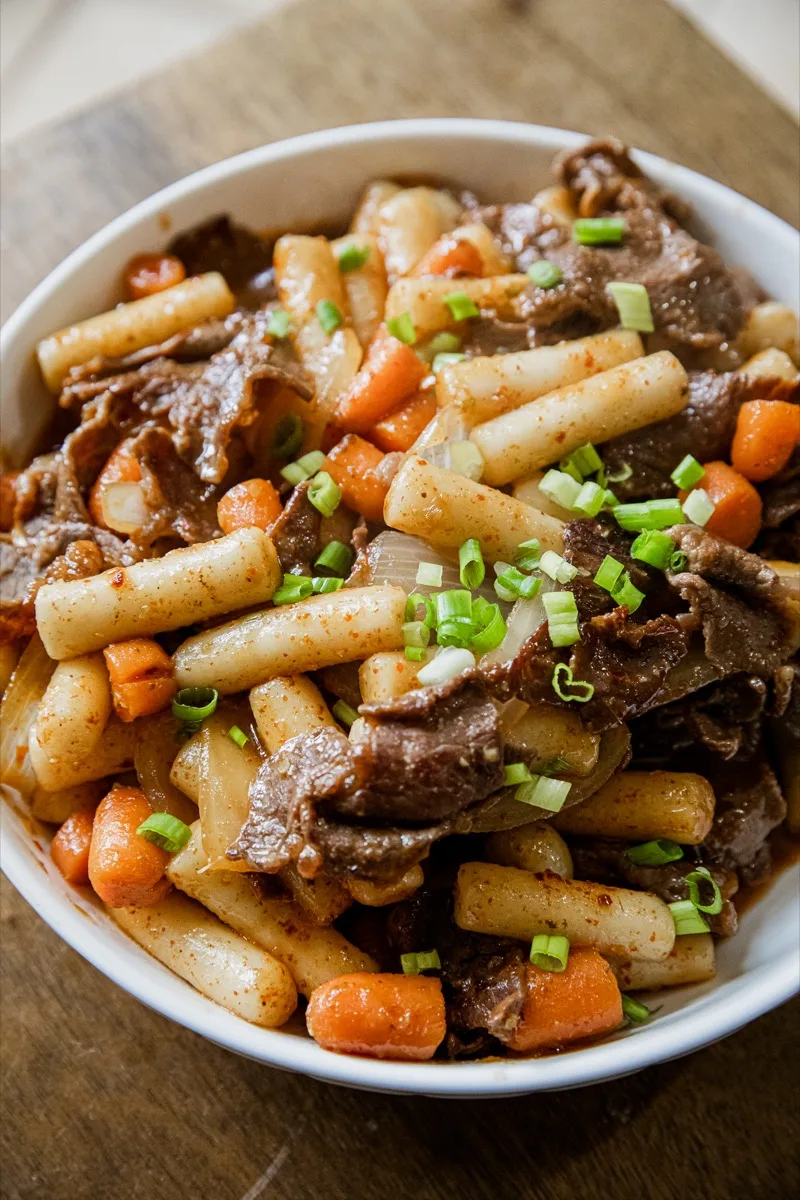 Spicy Korean Rice Cakes with Beef and Vegetables FAQ
What's the best way to store and reheat leftovers?
We store these in any airtight storage container or a big freezer baggie in the fridge. It keeps for 2-3 days in the fridge. The rice cakes will harden in the fridge, but they soften again during the reheat. The microwave works well for reheating.
Are there any recommended substitutions or additions?
Sure! Do you have extra vegetables in the fridge? Zucchini? Cabbage? Bell peppers? Chop 'em up and toss 'em in. You could substitute another hot sauce for sriracha if you've been affected by the worldwide shortages, or you can even use Gochujang instead, making this more authentically "Korean". Even though actual Korean cooks would argue that point with me, and they'd be right. 😅
Traeger Korean Grilled Chicken Legs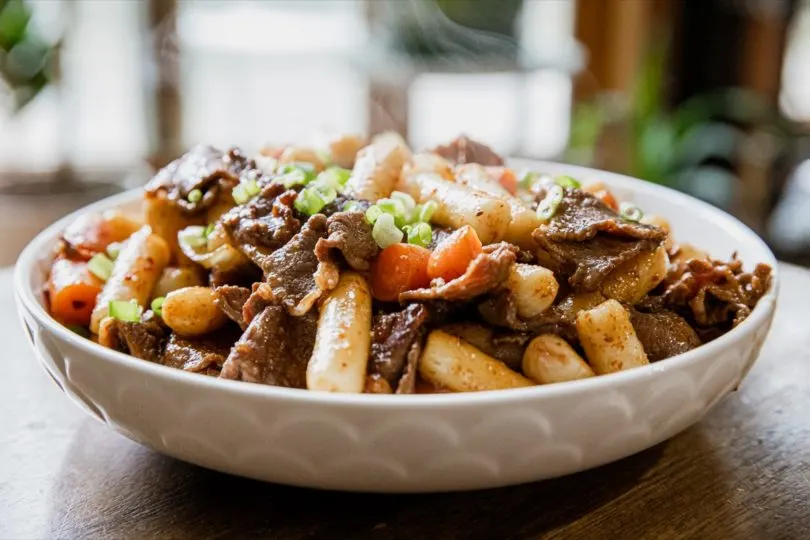 Serve this with…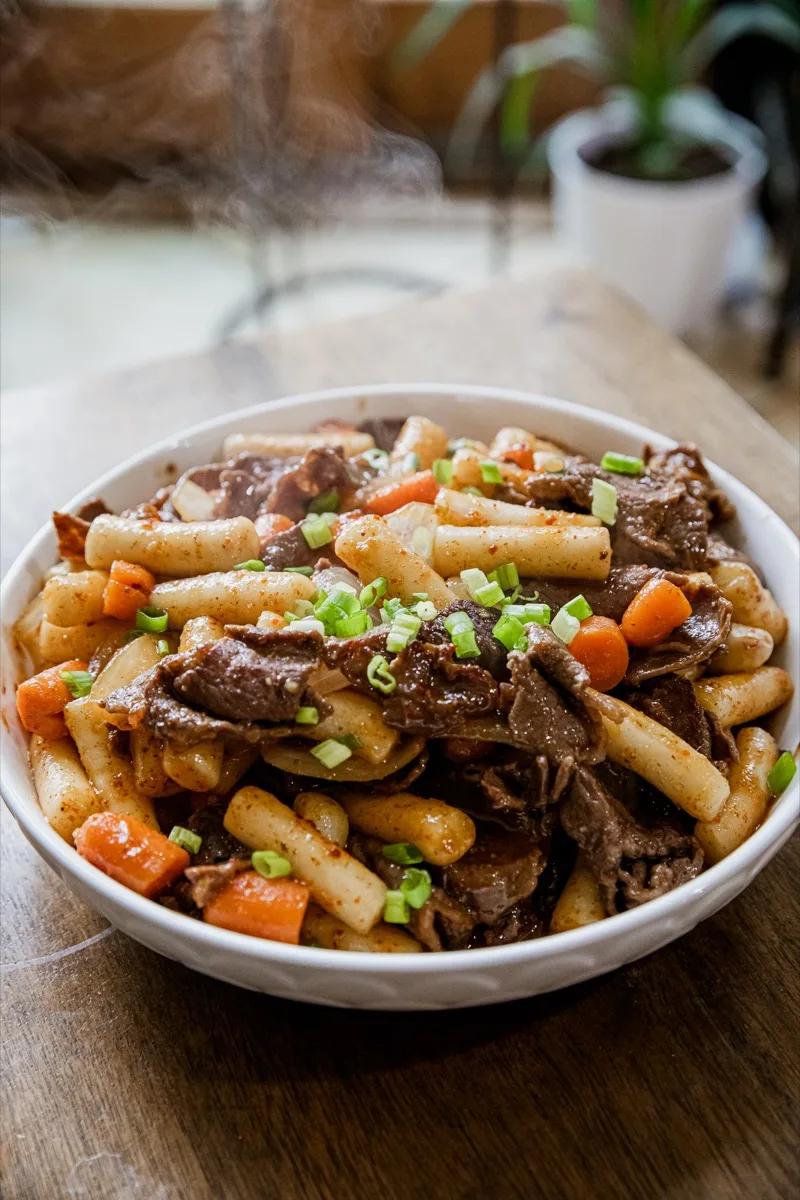 More great recipes to love!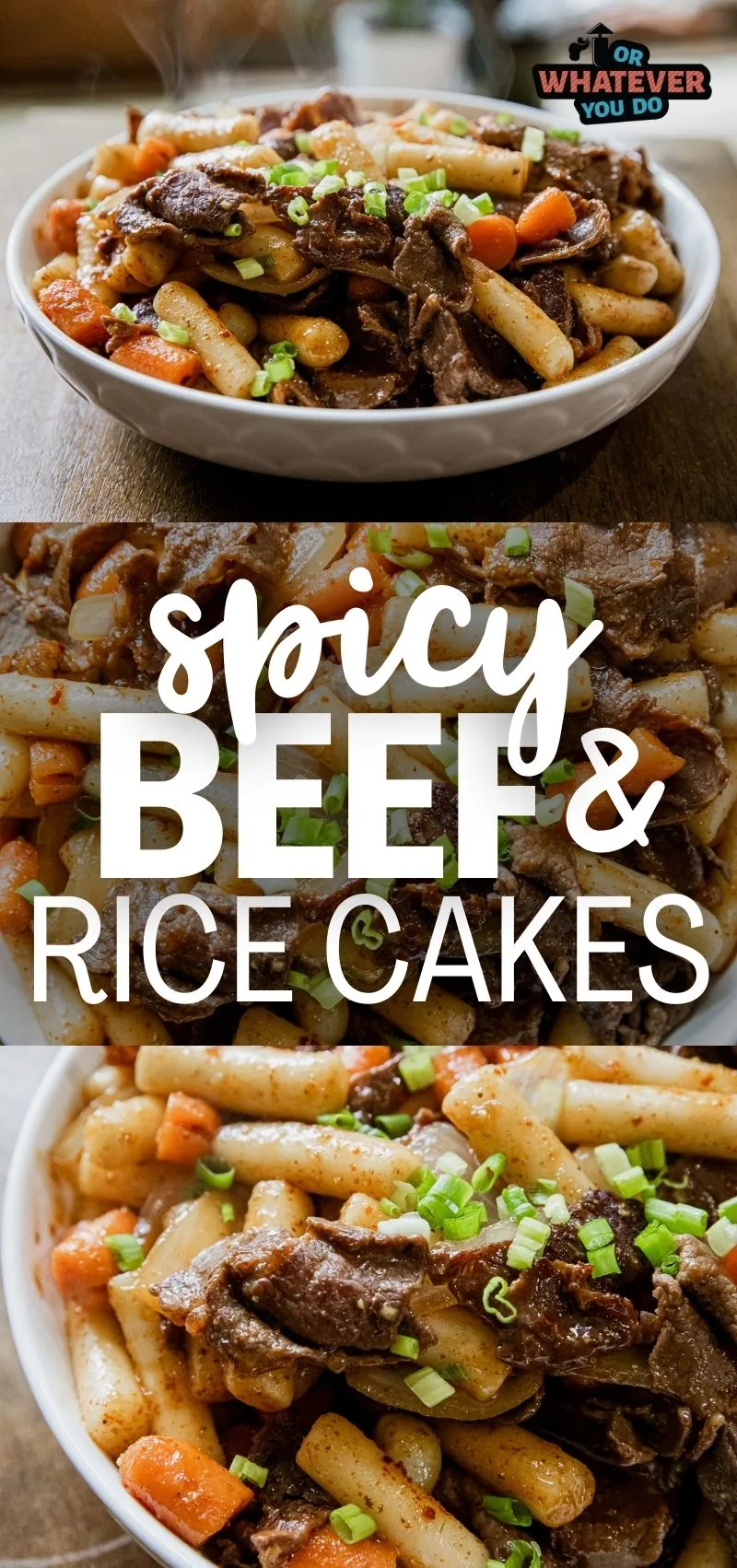 Yield: 6 servings
Spicy Beef and Korean Rice Cakes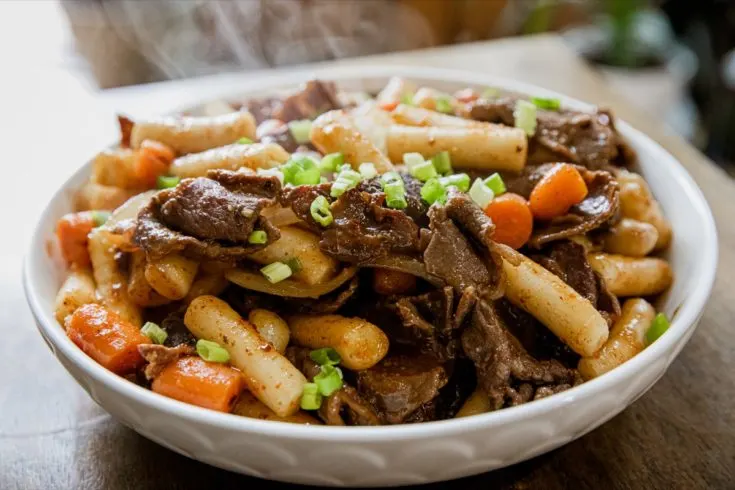 This delicious stir fry is made up of vegetables, thinly sliced beef, and Korean rice cakes! You're going to love this tasty sauce, and this all-in-one meal will have everyone asking for seconds.
Ingredients
Rice cake cooking liquid
21.6 ounces Korean Rice cakes
8 cups water
2 tablespoon Korean chili flakes, divided
1/2 cup soy sauce
3 tablespoons sriracha sauce, divided
5 garlic cloves, crushed
1 teaspoon garlic powder, divided
1 teaspoon onion powder
Stir Fry
1 pound thinly sliced beef strip steak
1 cup chopped carrots
1 cup chopped onion
1/4 cup chopped green onion (divided)
1 cup rice cake cooking liquid
1/4 cup brown sugar
Instructions
Add all your water, garlic, onion powder, and half of your chili flakes, soy sauce, sriracha, and garlic powder to a large stock pot and bring to a boil.
Once it begins to boil, add all of your rice cakes to the pot and let cook for five minutes. During the last minute of cooking, add in the chopped carrots.
Take one of the rice cakes out and cut it in half to make sure it is soft all the way through. If the rice cake isn't cooked through, let them cook for another minute and test another one.
Once they are cooked through, remove them and the carrots from the cooking liquid.
Save one cup of the cooking liquid and the cloves of garlic.
While the liquid is coming to a simmer, put a large sauté pan or wok on the stove over high heat. Once it is good and hot add your olive oil and beef.
Cook your beef until done, and add your chopped onions. Cook the onions until they become slightly translucent at the edges.
Next, add your brown sugar and the rest of your chili flakes, soy sauce, sriracha, and garlic powder. Stir it all in evenly.
Add in your carrots, rice cakes, garlic cloves, and the cooking liquid you saved.
Let cook for 3-5 minutes until the liquids thicken a little.
Pull from the heat and add in the chopped green onion.
Serve hot.
Recommended Products
As an Amazon Associate and member of other affiliate programs, I earn from qualifying purchases.
Nutrition Information:
Yield:
6
Serving Size:
1
Amount Per Serving:
Calories:

863
Total Fat:

20g
Saturated Fat:

7g
Trans Fat:

1g
Unsaturated Fat:

11g
Cholesterol:

77mg
Sodium:

1909mg
Carbohydrates:

133g
Fiber:

8g
Sugar:

13g
Protein:

38g
Nutrition data provided here is only an estimate.
Spicy Beef and Korean Rice Cakes Web Story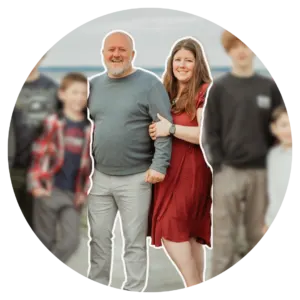 Nicole Johnson, a self-taught expert in grilling and outdoor cooking, launched Or Whatever You Do in 2010. Her blog, renowned for its comprehensive and creative outdoor cooking recipes, has garnered a vast audience of millions. Nicole's hands-on experience and passion for grilling shine through her work. Her husband, Jeremiah Johnson, also plays a pivotal role in recipe development, adding his culinary flair to the mix. Together, they form a dynamic duo, offering a rich and varied outdoor cooking experience to their followers.