This classic Miso Soup Recipe is comfort food – Japanese style. Miso soup is so easy to make, and it goes great not just with Japanese cuisine, but just about everything else too. Make your restaurant favorite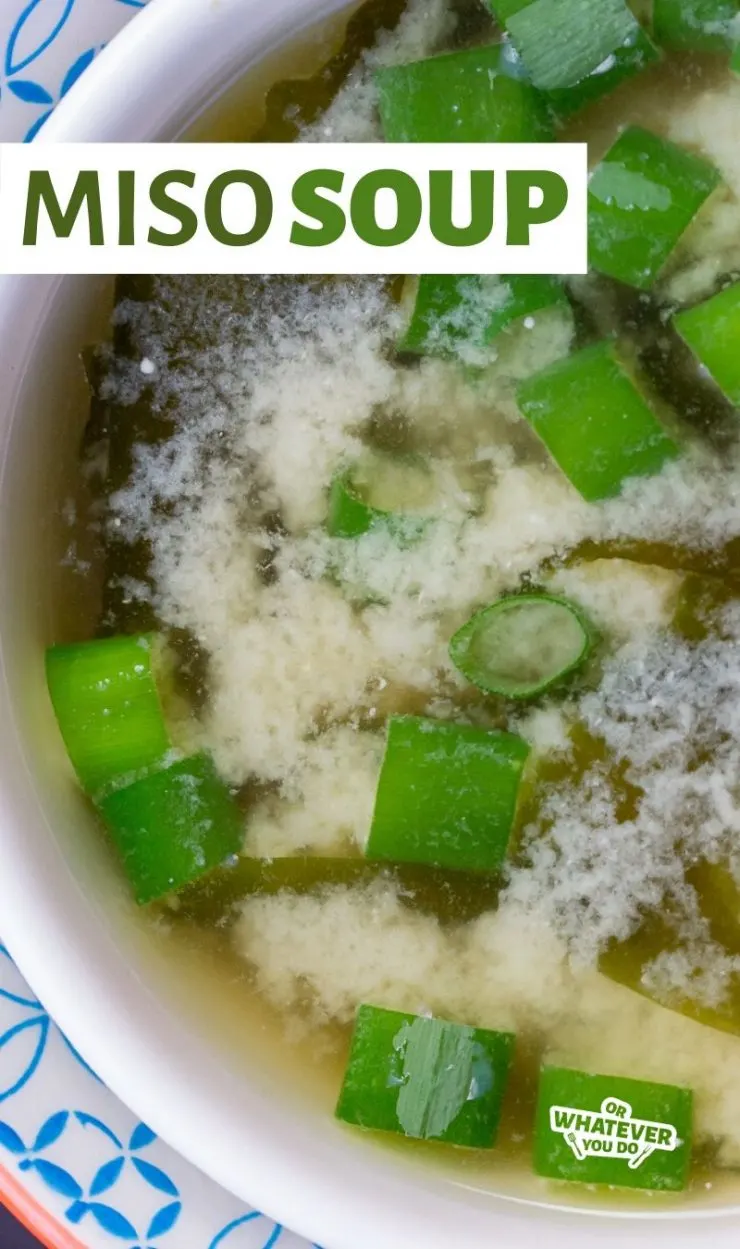 Easy Miso Soup Recipe
Miso soup has complexity in its simplicity. With only a few ingredients, it manages to have genuine depth to it. From the sea, the seaweed adds not just a bit of veggie, but also adds wonderful mineral nutrients. From the soil, the fermented soy paste is full of umami and salty brininess, but also very helpful bacteria to aid digestion.
There is a good reason it is served with practically every meal in Japanese cuisine.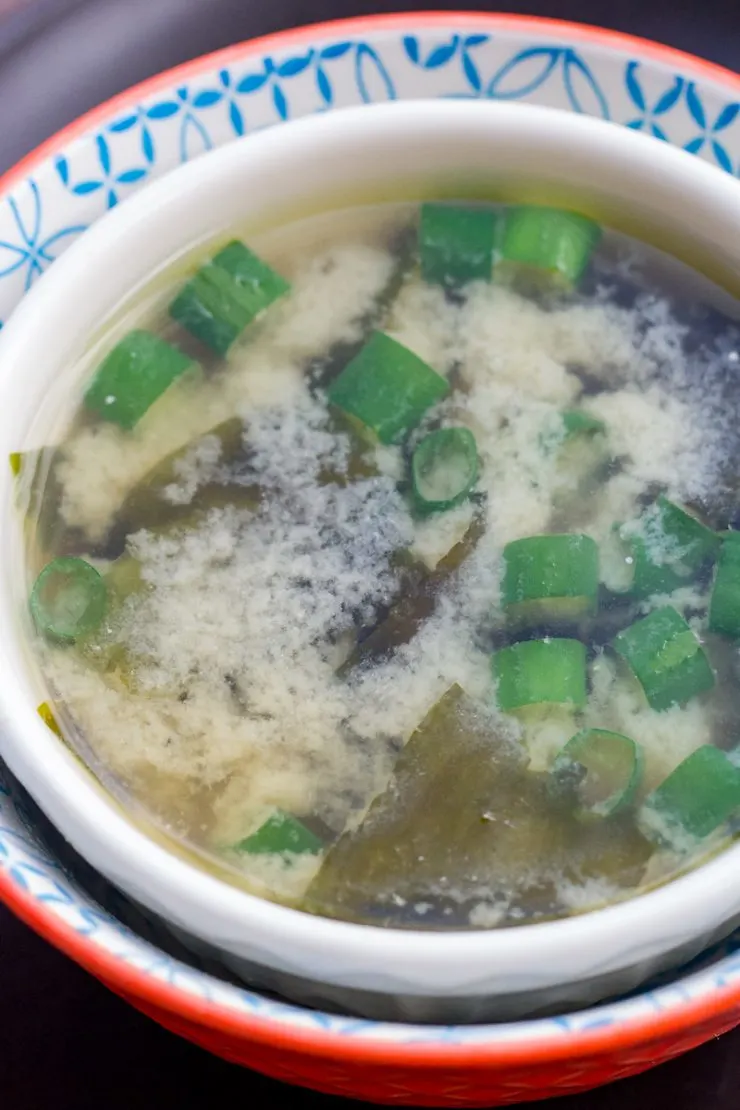 What is miso?
Miso is a fermented paste of soybeans. Like all fermented foods, it contains very beneficial bacteria that aid the digestive process. That's why it is important not to overheat the broth once the miso has been added.
If the water is too hot, then you risk killing all of those bacteria and losing the healthy benefits of that fermentation.
Some people have a real issue with the term "bacteria". If you are one of those folks, then use the more appetite-friendly term, "probiotics". Miso is chock full of the probiotics that will love your guts as much as you do.
To avoid killing the probiotics, do NOT boil the liquid. If it gets that hot you don't get any of the benefits.
In fact, the best temp to heat miso is 114°. Any hotter, and goodbye probiotics. A thermometer comes in handy at first but you can learn to sense too. Just take a spoonful when it hits the right temp. If you can sip it down without burning your mouth, then you know everything is cool enough. Literally and figuratively.
Make some Fried Pork Dumplings with this Miso Soup!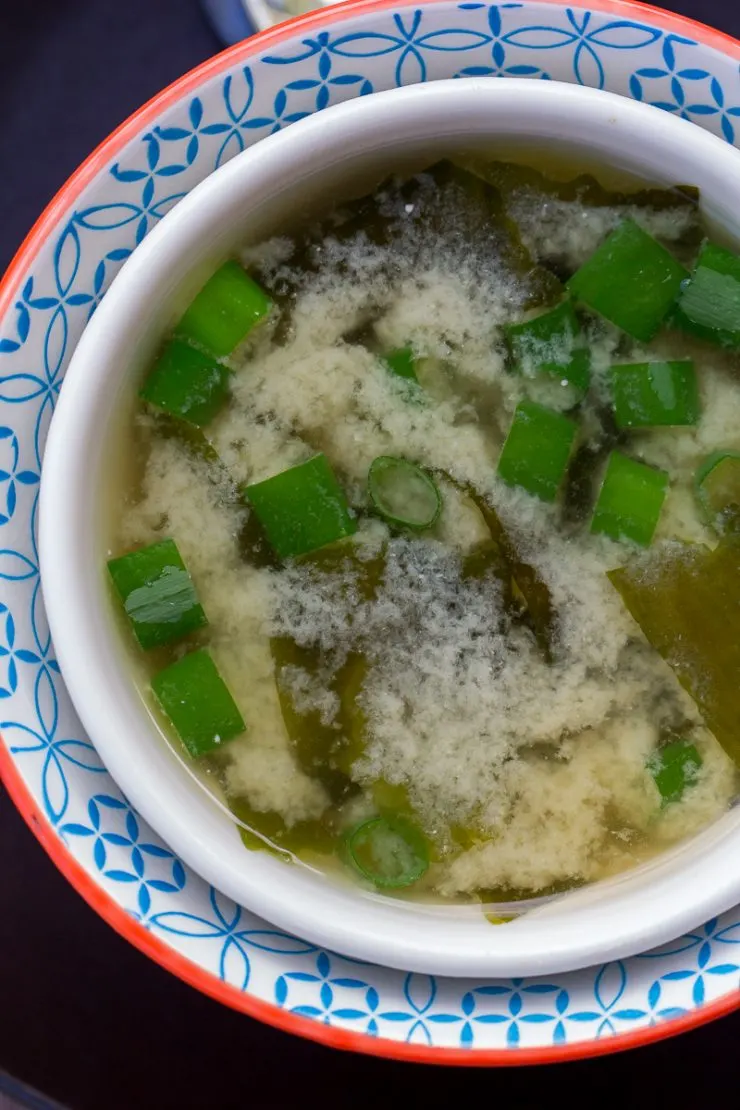 What is kombu?
The word "kombu" refers to a type of edible kelp. Kombu not only comes as dried strips but also ground into a seasoning powder as well as in a vinegar solution. Kombu is an essential ingredient in making "dashi", the traditional style of broth used in many Japanese dishes.
Kombu is full of iodine and that is usually a good thing. Many people don't get enough of it in their diets.
For this recipe, I use a dashi that is made from all of the traditional ingredients, but it is packaged in a tea-bag for easy brewing. There's a link to it below in the recipe card if you are interested! You can also make homemade dashi.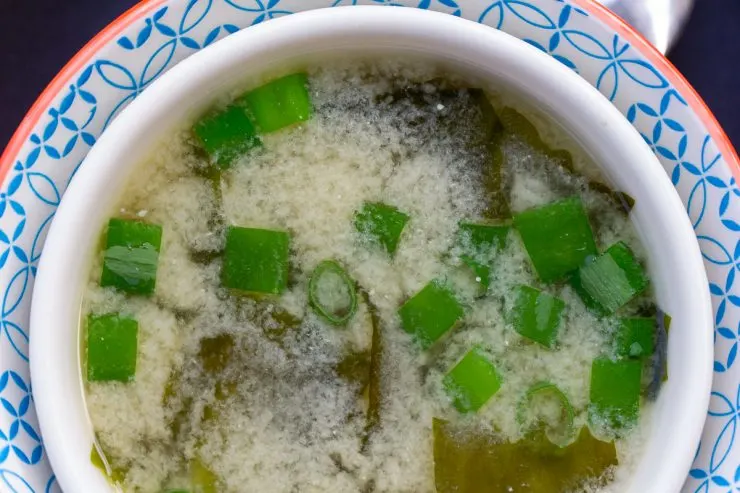 What is wakame?
Wakame is a more generic term for edible seaweed. There are many types of wakame and you will typically find them in the Asian foods aisle. If you want to be amazed at how many types of wakame there are, then shop in an Asian food market.
Not only will you be amazed at the selection of seaweed, but you will also usually find it for way cheaper than you would at the usual grocery store.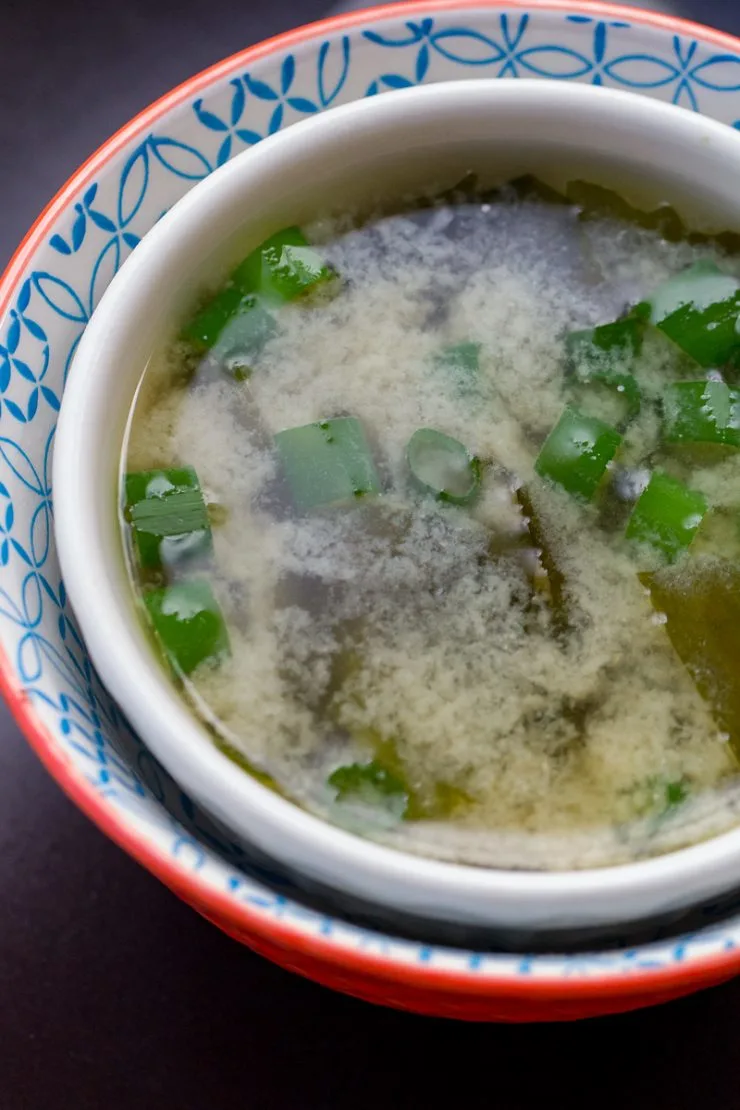 What kind of miso paste should you use?
Just like there is a wide variety of wakame, you can also find different types of miso paste. Each variety of miso has a special character. Any type of miso paste can be used for miso soup. It really boils down to what kind you like best.
Only don't boil it. We covered that earlier…
White miso is called "Shiro miso". This is miso made from soybeans fermented with rice. It has a pale yellow color which I guess could be called off white. It has a milder flavor and is great for miso soup.
Shinshu miso is referred to as "yellow miso". Instead of rice, barley is the other grain fermented with the soybeans. Yellow miso has a bolder flavor but it is still great for miso soup.
Finally, there is red miso, also known as "aka miso". This is the saltiest tasting and most funky of the fermented soybean pastes. It also will work in miso soup, but you don't have to add quite as much.
Follow me on Instagram!
What about tofu?
Ok, you probably already guessed and you are correct.
There are a few types of tofu, too. Most of the different styles of tofu are separated by texture. There is "soft tofu" and "firm" or "extra firm" tofu. The texture is mostly based on how much water is in it.
The higher the water content, the softer the tofu. However, you can also find dried and seasoned, and even smoked tofu. I haven't tried that yet but I think I hear my smoker calling my name!
Smoked tofu probably tastes amazing in miso soup!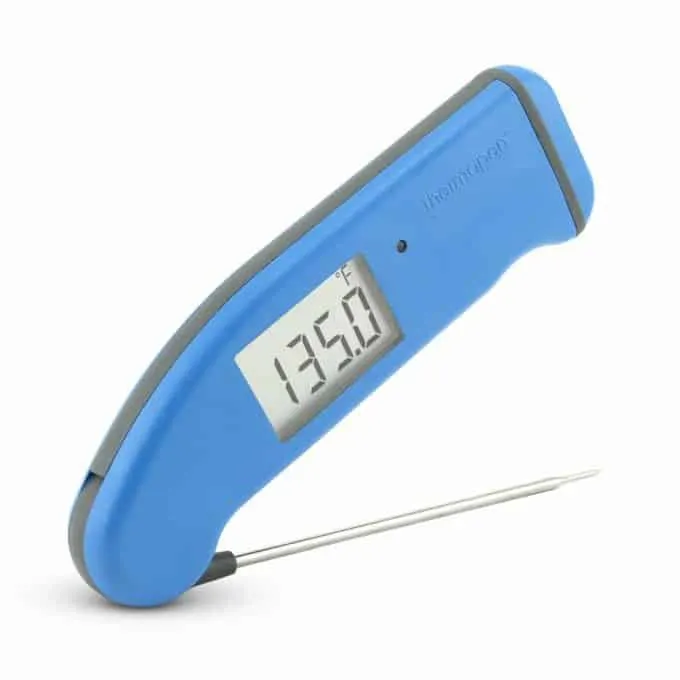 This is the best instant-read thermometer on the market, and I've tried a lot of them. Accurate and fast results, which is paramount when pellet grilling.
Want some other Japanese-inspired dishes to try?
I'm a giant fan of pretty much all kinds of Asian cuisine, so it is no surprise that I have a fair smattering of them on the site.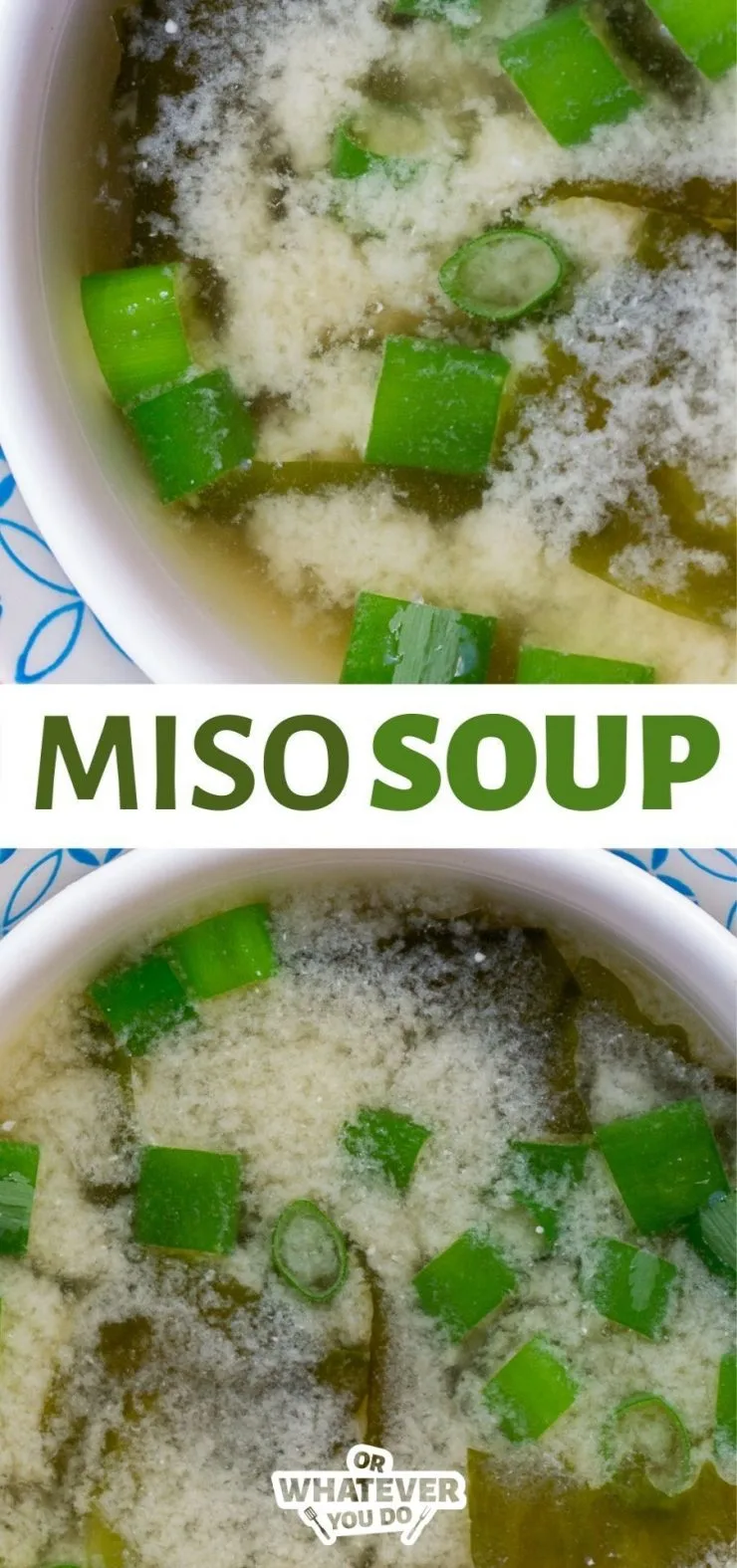 Yield: 4 cups
Miso Soup Recipe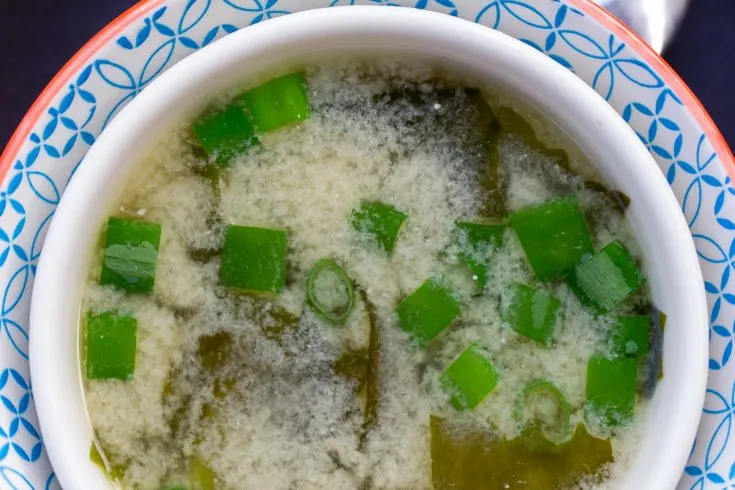 Easy homemade miso soup is going to be on your table in no time!
Ingredients
2 tablespoons dried wakame
6 cups dashi stock (homemade, or instant is fine)
6 ounces tofu, diced into chunks
3 tablespoons diced green onions
5 tablespoons white miso
Instructions
Soak the wakame in hot water for 15-20 minutes. Drain well.
Bring the dashi stock up to a simmer, and then remove from the heat. Let sit for 5 minutes.
Add in the tofu, reconstituted wakame, and miso. Stir gently.
Serve hot with green onions on top!
Recommended Products
As an Amazon Associate and member of other affiliate programs, I earn from qualifying purchases.
Nutrition Information:
Yield:
6
Serving Size:
1
Amount Per Serving:
Calories:

90
Total Fat:

4g
Saturated Fat:

1g
Trans Fat:

0g
Unsaturated Fat:

3g
Cholesterol:

2mg
Sodium:

896mg
Carbohydrates:

4g
Fiber:

1g
Sugar:

1g
Protein:

10g
Nutrition data provided here is only an estimate.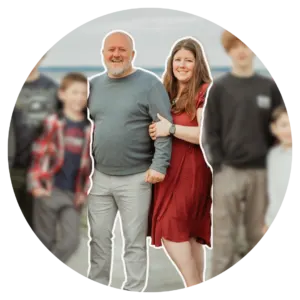 Nicole Johnson, a self-taught expert in grilling and outdoor cooking, launched Or Whatever You Do in 2010. Her blog, renowned for its comprehensive and creative outdoor cooking recipes, has garnered a vast audience of millions. Nicole's hands-on experience and passion for grilling shine through her work. Her husband, Jeremiah Johnson, also plays a pivotal role in recipe development, adding his culinary flair to the mix. Together, they form a dynamic duo, offering a rich and varied outdoor cooking experience to their followers.