This classic sandwich is on diner menus all across the Midwest, and for good reason. It is hearty and delicious and a stick-to-your-ribs meat and potatoes classic that is full of flavor, warms you up, and keeps you full forEVER. Try our Homemade Hot Roast Beef Sandwich today, no matter where in the country you are!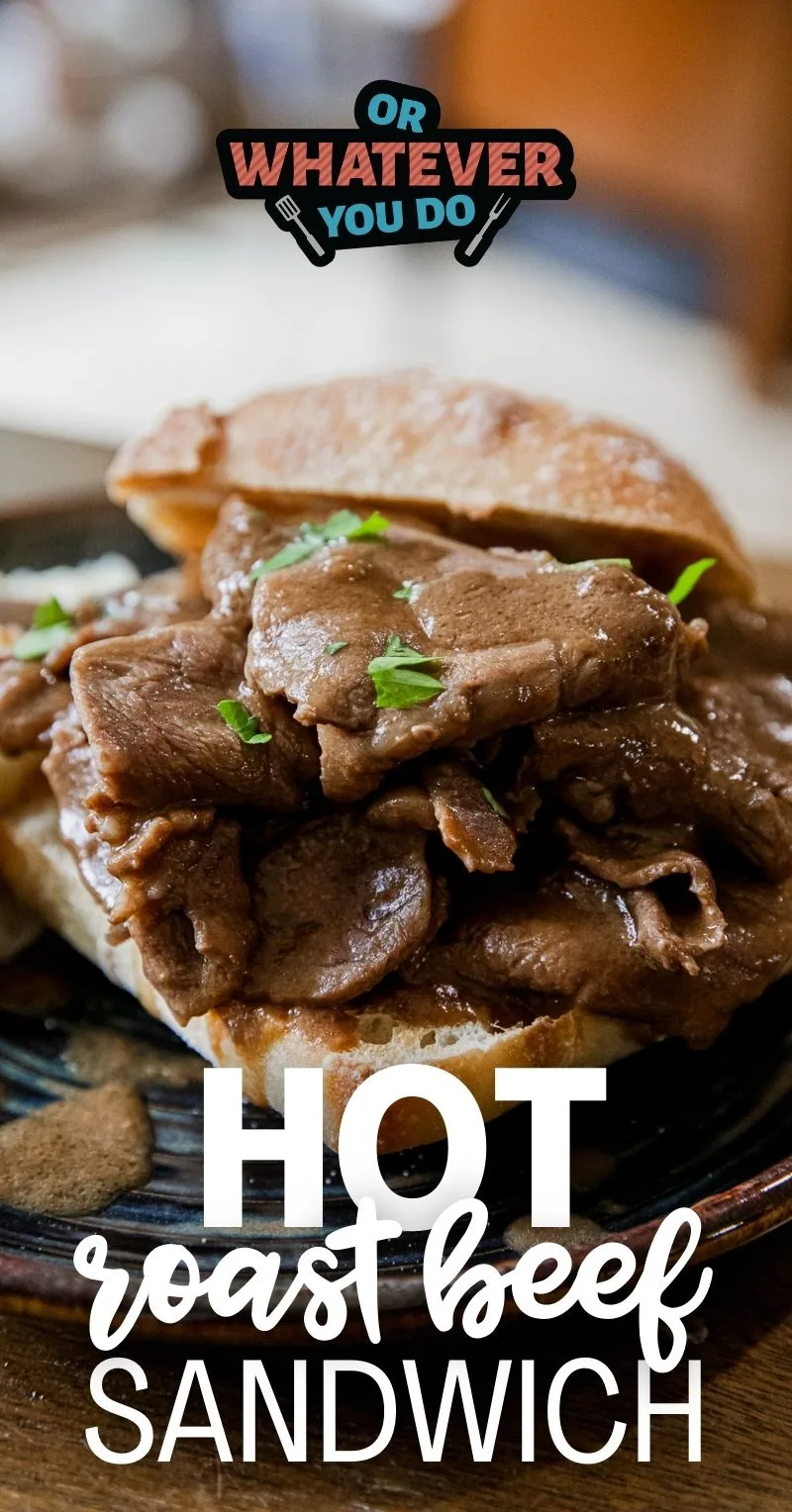 Hot Roast Beef Sandwich
This diner food classic is the one that I order most whenever I'm back in the Midwest. Meat and potatoes with LOTS of gravy on top is one of my very favorite things, but you have to know where to order it, too. Many diners will make this with roast beef sandwich meat and canned gravy, which can make for a less-than-ideal experience. It's still edible, usually, but not my favorite.
Once in a while, you'll find a spot that does it RIGHT with a slow-cooked shredded beef roast and scratch-made gravy, and if you can find a sandwich like that, you are set. They'll usually be called Pot Roast Sandwiches and not Hot Roast Beef Sandwiches, from what I've seen.
Another variation you'll see is restaurants that serve Prime Rib using their leftover rib roasts shaved down and made into hot roast beef sandwiches. Sometimes, they'll make those leftovers into Prime Rib French Dips, aka a hot roast beef sandwich with jus instead of gravy. Both are delicious and items you should order if you get the chance.
None of those options are what we're talking about here, however.
For this version, we used one of my FAVORITE meats from Costco, their thin-sliced New York steak.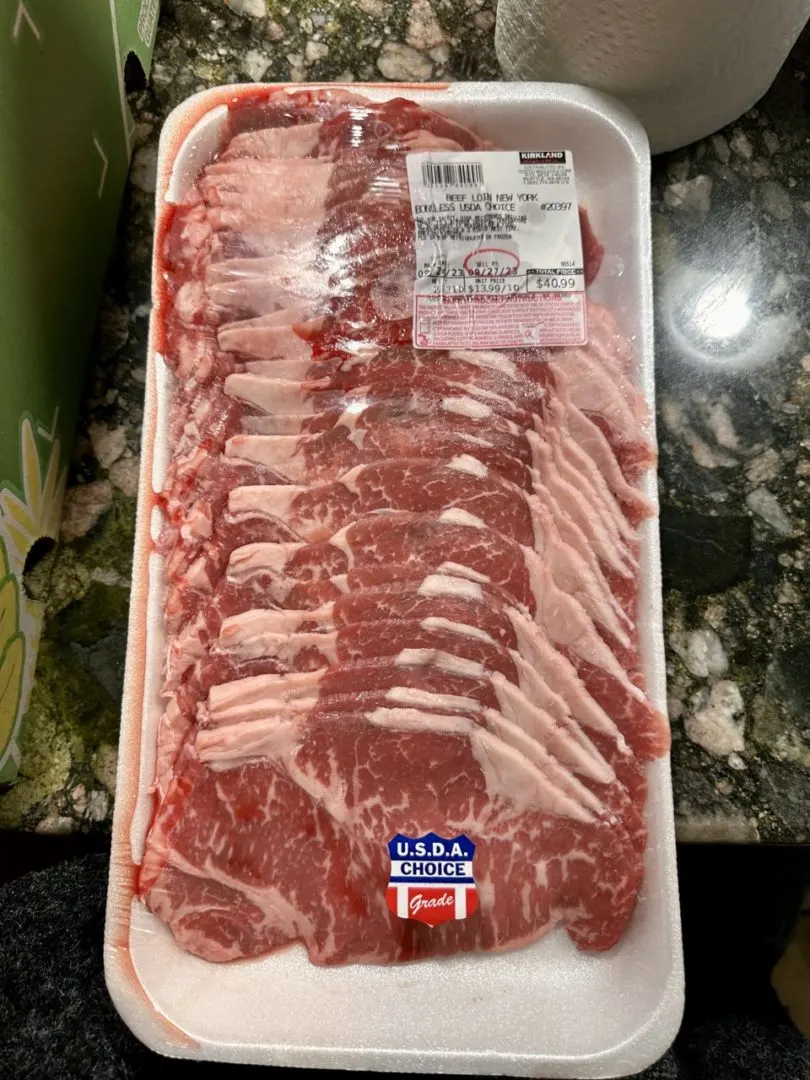 I buy this almost every time we go to Costco. Yes, it is a little spendy, but it is delicious and saves a ton of prep time in my life. We make a great Blackstone Beef and Broccoli with it, and a host of other fun, FAST, and amazing meals from this versatile protein. Those will be coming to the blog soon; don't worry.
More Diner Food Favorites here!
Hot Beef Sandwich shopping list
Wondering if you have to hit the store? Here's the list of items you'll need to make this recipe. For specific amounts, please refer to the printable recipe card at the bottom of the post.
Butter
Flour
Beef Better Than Bouillon
White wine
Onion powder
Kitchen bouquet
Sliced steak (we get the big packs from Costco)
Ciabatta buns
Try our Prime Rib Beef Barley Soup too!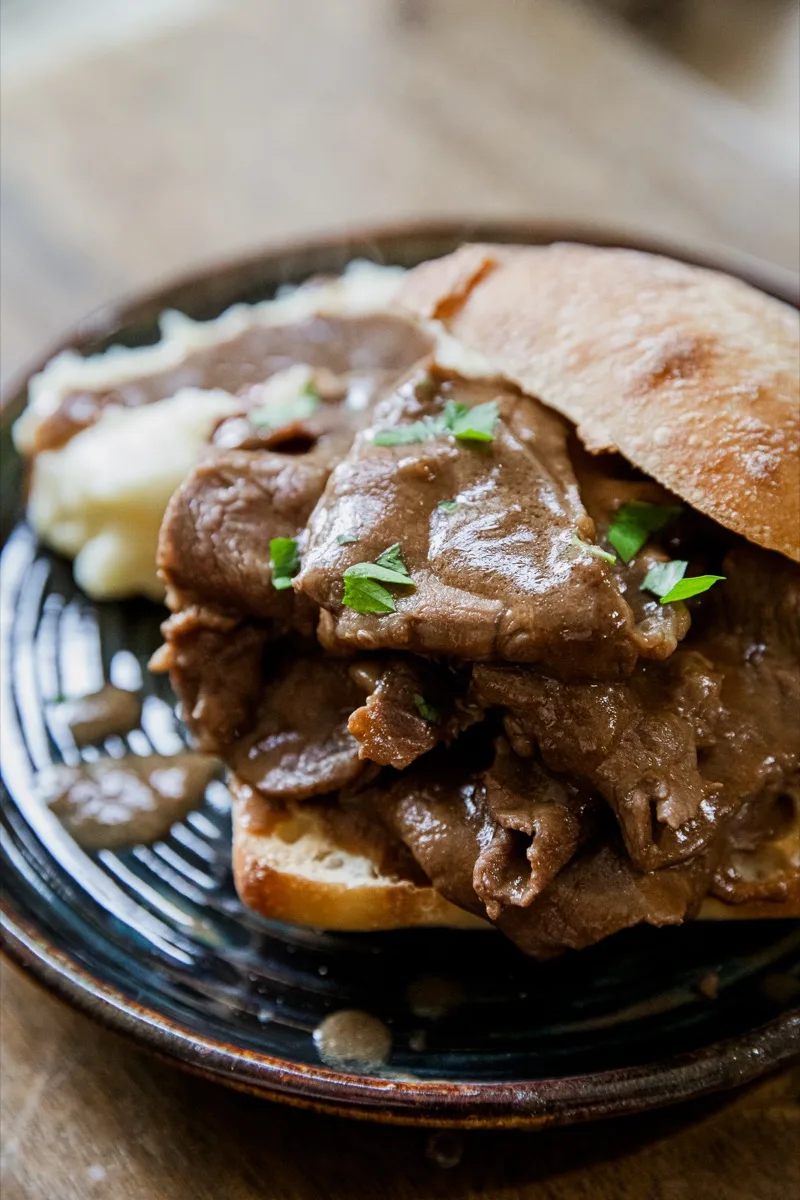 How to make Quick Hot Roast Beef Sandwiches
This is just the overview so you can see what you're actually getting into here. When you are cooking, you'll want to use the full recipe at the bottom of the page.
Gravy
Melt butter and whisk in flour. Whisk and cook for a few minutes. Whisk in the rest of the gravy ingredients. Let simmer.
Cook meat
Melt some butter in a skillet and cook the meat on both sides.
Toast
Toast the buns on the cut sides and load up with the cooked meat. Cover with gravy.
Try our Traeger Pot Roast!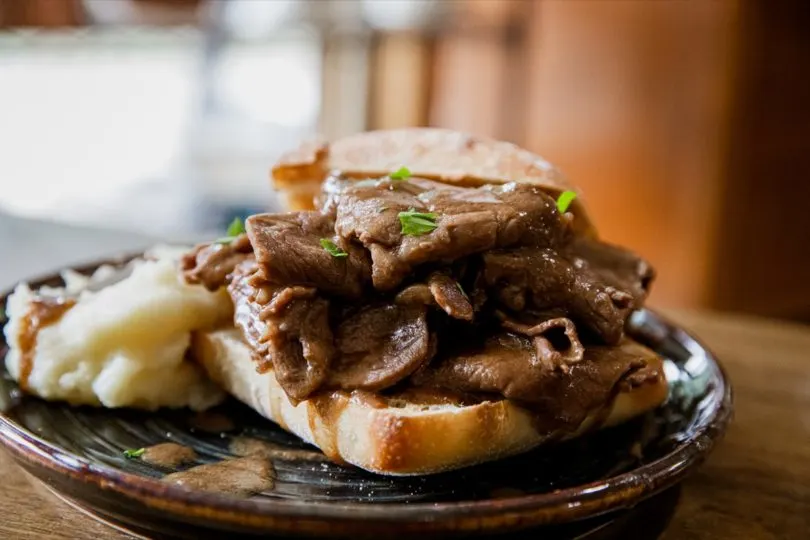 Hot Roast Beef Sandwich FAQ
Can this recipe be made in advance?
Sure! The gravy, especially, works well, even made in advance. The thinly sliced steak isn't all that friendly to reheating, but you can in a pinch. It'll be better quality if you wait to cook the meat before serving it. It is still delicious, though, even the next day.
What's the best way to store and reheat leftovers?
Store the meat and gravy apart from the buns to avoid getting soggy. Reheat before serving in the microwave, then pile onto the toasted buns.
Try our Smoked Short Ribs!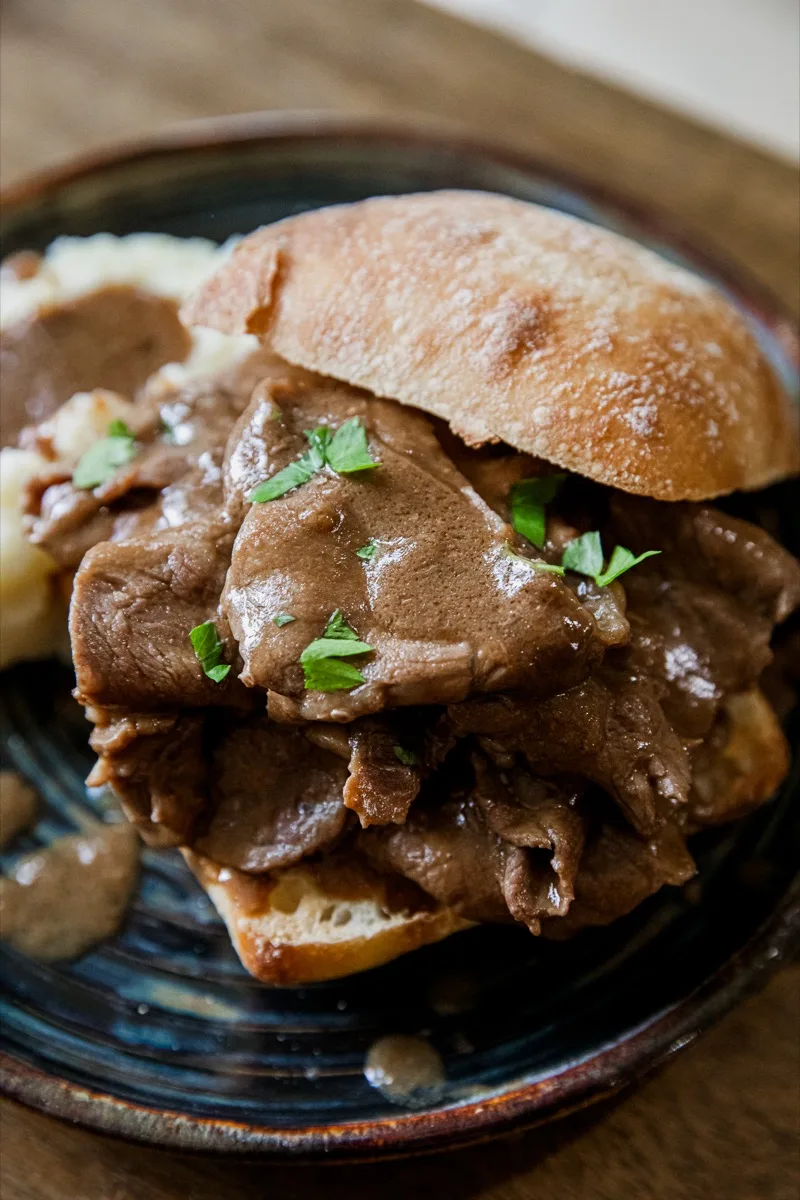 Serve this with…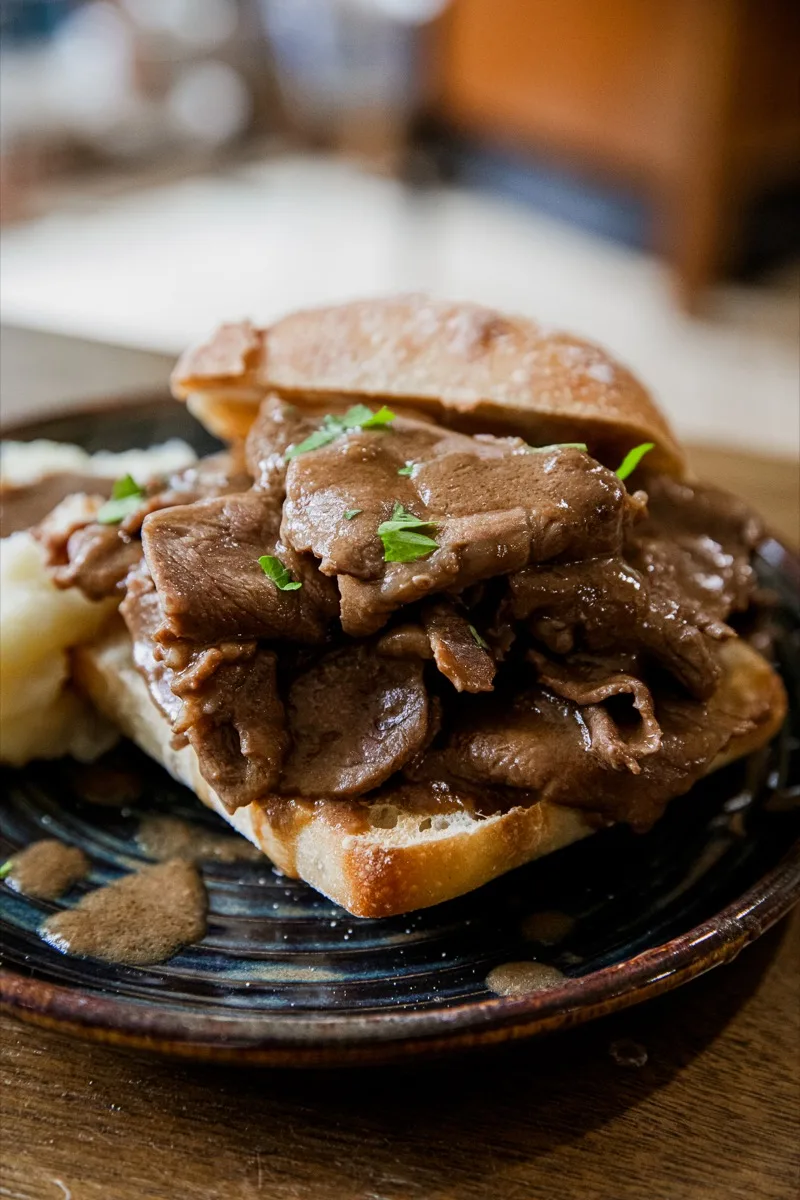 More great diner food to love!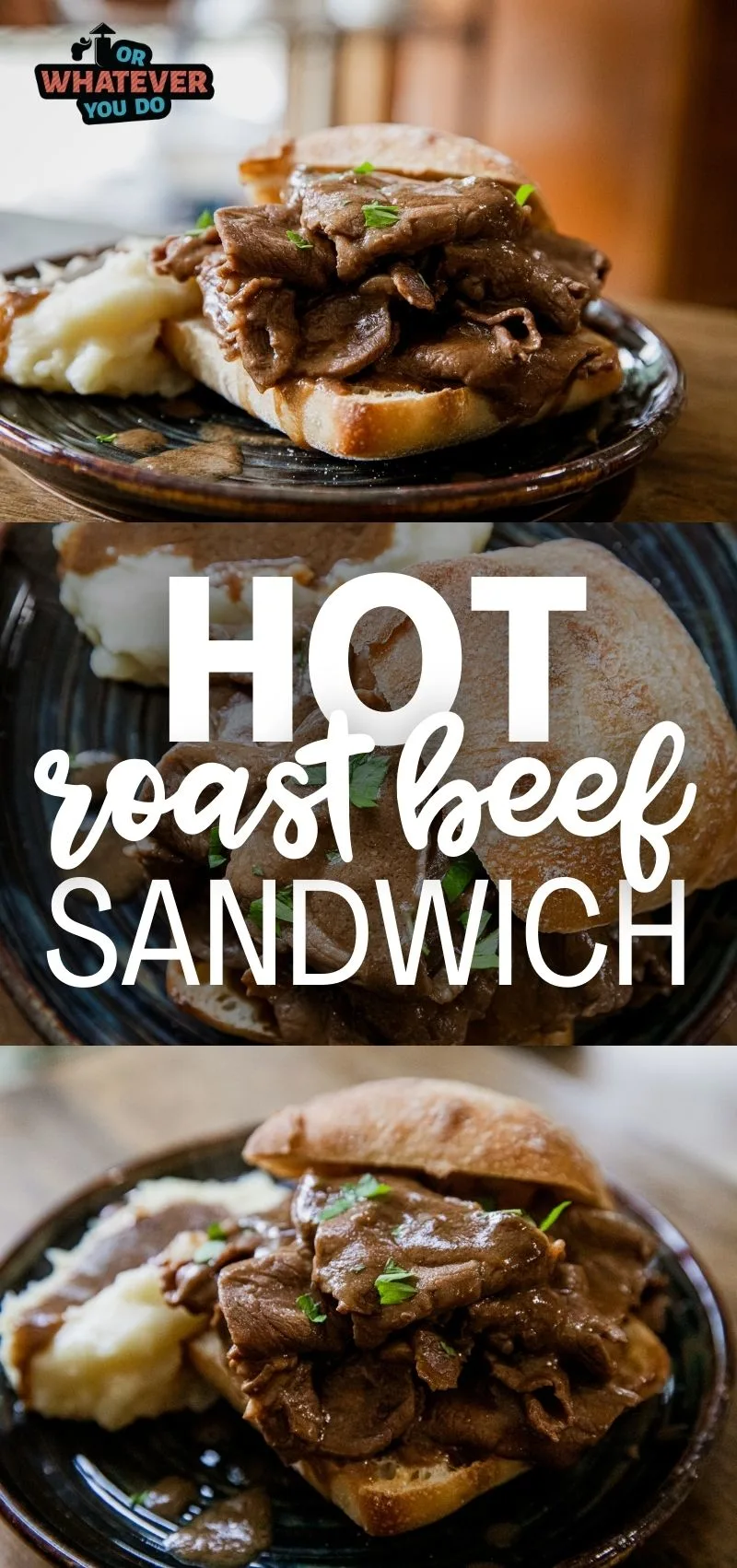 Yield: 2 servings
Homemade Hot Roast Beef Sandwich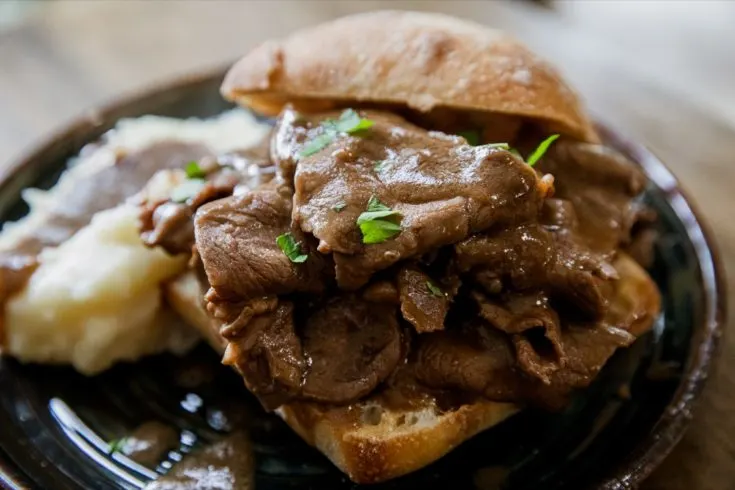 This homemade hot roast beef sandwich is perfect to make for a quick lunch or dinner option! It is homemade, but comes together in about 20 minutes and is so much better than using lunch meat or waiting all day for a pot roast to cook!
Ingredients
Gravy
3 tablespoons butter
2 tablespoons flour
1 cup water
2 teaspoons Beef Better Than Bouillon
1 tablespoon white wine
1/4 teaspoon onion powder
1/2 teaspoon kitchen bouquet
Sandwiches
1 tablespoon butter
1 pound thinly sliced steak (we get the big packs from Costco)
2 ciabatta buns
Instructions
In a medium-sized saucepan, melt the butter over medium heat. Once it is melted, whisk in the butter. Reduce the heat to low and cook for a few minutes, whisking frequently.
Add in the water, bouillon, wine, onion powder, and kitchen bouquet.
Whisk and increase the heat to medium-low. Simmer until thickened. Keep hot over low heat.
Take the thinly sliced steak and separate it. Preheat a skillet over high heat. Add a small amount of butter. Add single slices of the steak to the pan and quickly brown on both sides.
Toast your buns on the cut sides.
Load the meat up onto the open-faced buns and pour the gravy over the top.
Serve hot.
Recommended Products
As an Amazon Associate and member of other affiliate programs, I earn from qualifying purchases.
Nutrition Information:
Yield:
2
Serving Size:
1
Amount Per Serving:
Calories:

1052
Total Fat:

63g
Saturated Fat:

28g
Trans Fat:

1g
Unsaturated Fat:

26g
Cholesterol:

270mg
Sodium:

903mg
Carbohydrates:

47g
Fiber:

2g
Sugar:

5g
Protein:

69g
Nutrition data provided here is only an estimate.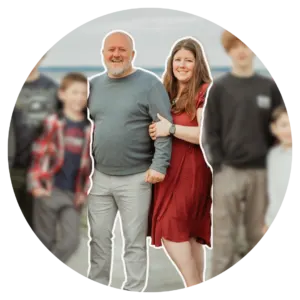 Nicole Johnson, a self-taught expert in grilling and outdoor cooking, launched Or Whatever You Do in 2010. Her blog, renowned for its comprehensive and creative outdoor cooking recipes, has garnered a vast audience of millions. Nicole's hands-on experience and passion for grilling shine through her work. Her husband, Jeremiah Johnson, also plays a pivotal role in recipe development, adding his culinary flair to the mix. Together, they form a dynamic duo, offering a rich and varied outdoor cooking experience to their followers.