Want to make a killer Bloody Mary, without resorting to the pre-made bottled mixes? You're in the right spot. Our Homemade Bloody Mary Mix is fresh, flavorful, and easily adjustable to suit your own personal tastes.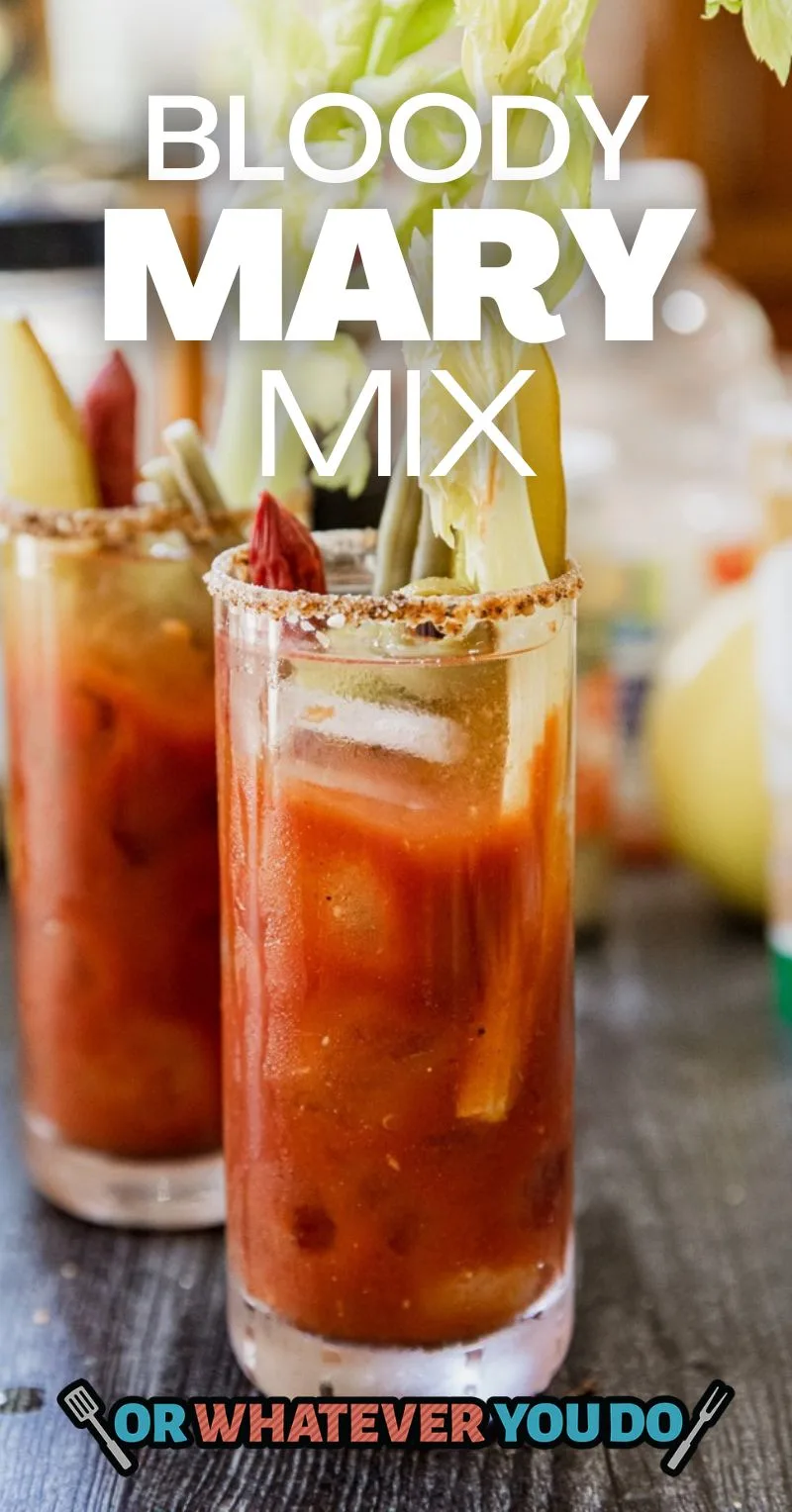 Homemade Bloody Mary Mix
A good bloody mary is really hard to beat, and with this homemade mix, you'll be the star of the brunch party because this makes a tangy, flavorful Bloody with no crazy ingredients or preservatives, all made at home.
The Bloody Mary is a popular cocktail known for its vibrant red color, tangy flavors, and savory garnishes. While its exact origins are somewhat debated, this iconic drink has a rich and intriguing history that dates back several decades.
One popular theory traces the origins of the Bloody Mary to 1920s Paris, where an American bartender named Fernand Petiot was working at Harry's New York Bar. Petiot claimed to have invented the cocktail by combining equal parts vodka and tomato juice, along with spices and seasonings, to create a refreshing and zesty drink. Originally, it was called the "Bucket of Blood," but its name was later changed to "Bloody Mary" due to objections from patrons.
Another theory suggests that the drink was actually created in the United States during the 1930s. It is believed to have been inspired by a bartender named George Jessel, who enjoyed mixing tomato juice and vodka together. He reportedly named the cocktail after his friend Mary Brown Warburton, who was known for her fair complexion, hence the name "Bloody Mary."
Regardless of its exact origins, the Bloody Mary gained popularity in the 1940s and 1950s, particularly in the United States. It quickly became a brunch staple and a go-to hangover cure due to its invigorating combination of flavors. Over time, variations of the Bloody Mary emerged, with different regions and establishments adding their own twists and unique ingredients to the mix.
Today, the Bloody Mary remains an iconic cocktail and is enjoyed around the world. It has become a customizable drink with countless variations, allowing individuals to experiment with different spices, hot sauces, garnishes, and even alternative base spirits. Whether enjoyed at brunch, during social gatherings, or as a refreshing pick-me-up, the Bloody Mary continues to captivate cocktail enthusiasts with its bold taste and colorful history.
Get more Cocktail Recipes here!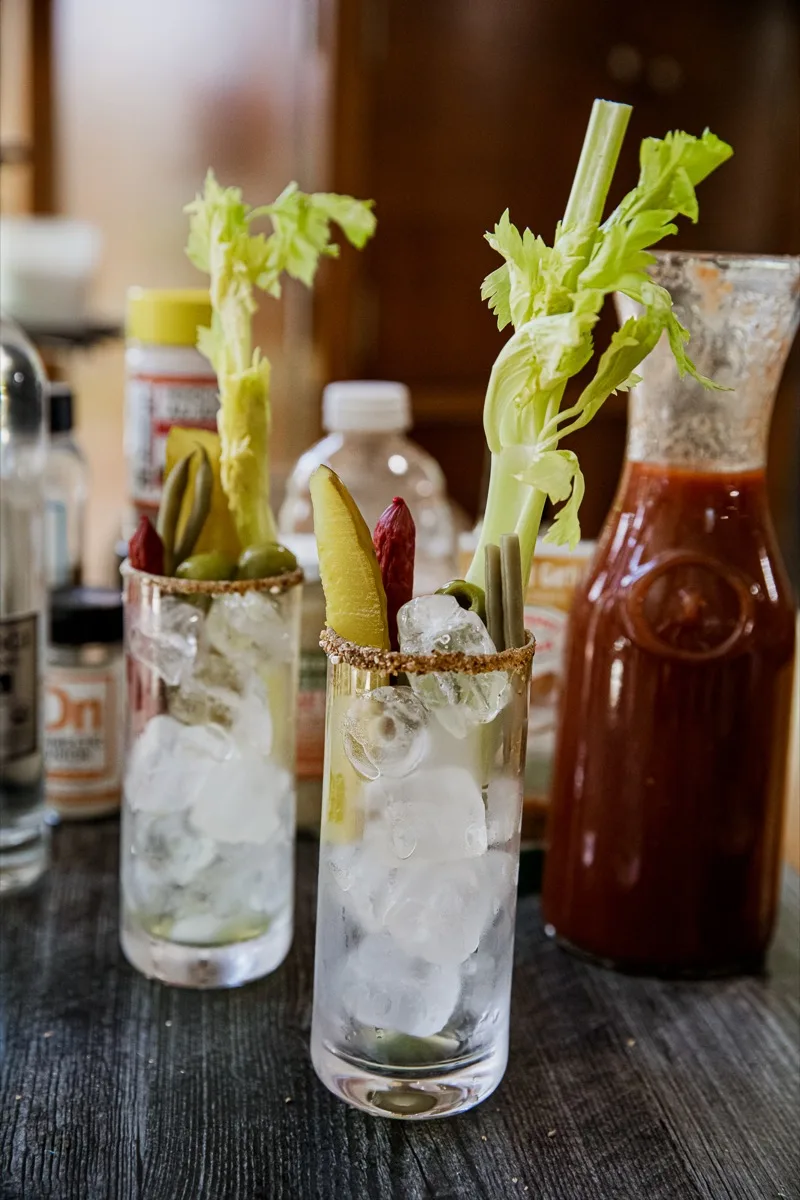 Bloody Mary Mix shopping list
Wondering if you have to hit the store? Here's the list of items you'll need to make this recipe. For specific amounts, please refer to the printable recipe card at the bottom of the post.
Onion powder
Toasted garlic powder
Horseradish powder (optional)
Sriracha salt (can use regular salt + a little cayenne if you don't have this)
Pepper
Celery salt
Au jus powder (optional)
Tomato juice
Prepared horseradish
Worcestershire Sauce
Hot Sauce
Roasted garlic paste (Gourmet Garden)
Lemon juice
A1 steak sauce
Pickles
Pickled green beans
Celery stalks
Smokes sausage sticks
Garlic-stuffed olives
Try with our Homemade Summer Sausage!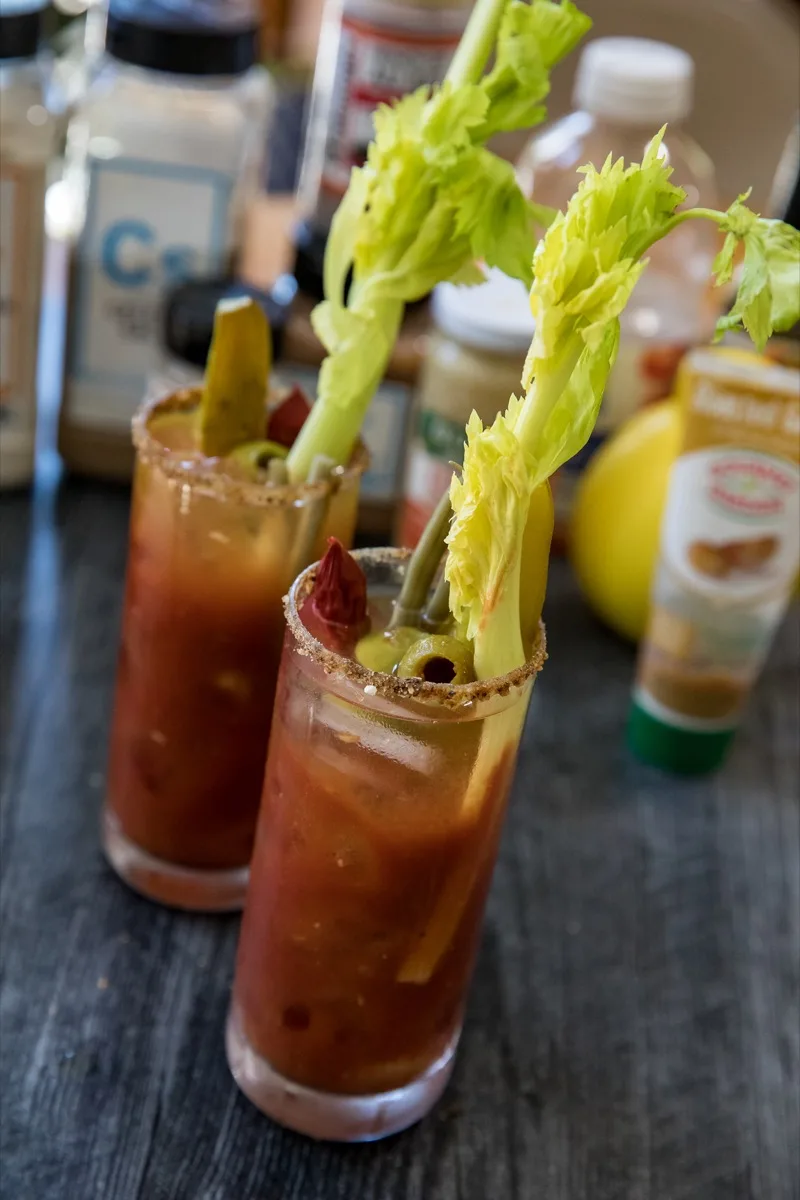 How to make Homemade Bloody Mary Mix
This is just the overview so you can see what you're actually getting into here. When you are cooking, you'll want to use the full recipe at the bottom of the page.
Rimmer
Mix together the rimmer ingredients and set aside.
Mix
Mix together all the mix ingredients and set aside. Stir in 2-3 tablespoons of the rimmer mixture.
Build
Add your ice and load up your garnish skewers. Rim the glass with your reserved Bloody Mary Rimmer. Pour a couple ounces of vodka over the ice and then top with the Bloody Mary Mix.
Enjoy
Sip or slam, either way, you'll love this awesome Bloody Mary!
Try our Tropical Mimosas too!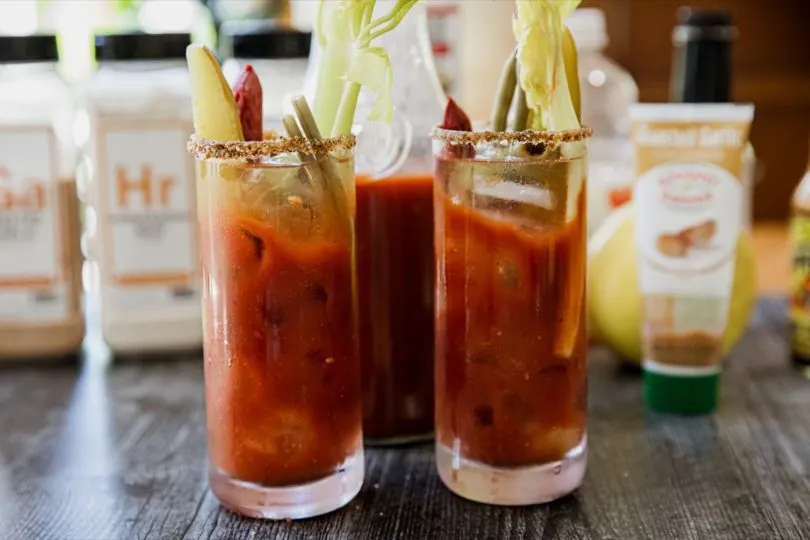 Homemade Bloody Mary Mix FAQ
Can this be made in advance?
Yup! This can be made ahead of time and stored for up to a week before you use it. The flavors will get a chance to meld more too, so feel free
Are there any recommended substitutions or additions?
As with most of our recipes, this Bloody Mary Mix is very customizable. Some additions I like are to add a few shots of pickle juice to the mix, extra hot sauce for more of a kick, and to add some pickled or candied jalapenos to the garnish assortment. Get creative!
How long can the leftovers be stored?
You can safely store any leftover mix in the fridge for up to a week. If you're going to keep it longer than a week, I'd recommend freezing it in ice cube trays and then putting those ice cubes in a big freezer baggie for the best results.
What are some common variations of the classic Bloody Mary?
Bloody Maria
A twist on the original, the Bloody Maria substitutes vodka with tequila for a Mexican-inspired version. Combine 2 ounces of tequila, 4 ounces of tomato juice, 1/2 ounce of lime juice, Worcestershire sauce, hot sauce, and your favorite seasonings. Shake well, pour over ice, and garnish with lime wedges and a salted rim.
Bloody Caesar
Popular in Canada, the Bloody Caesar replaces tomato juice with Clamato juice, which is a blend of tomato juice and clam broth. Mix 2 ounces of vodka, 4 ounces of Clamato juice, a squeeze of lime juice, Worcestershire sauce, hot sauce, and a sprinkle of celery salt. Serve over ice and garnish with a celery stalk and a lime wedge.
Bloody Maria Verde
This variation adds a fresh and vibrant twist to the Bloody Mary. In a blender, combine 2 ounces of blanco tequila, 4 ounces of green tomato juice, a handful of fresh cilantro, a squeeze of lime juice, jalapeño slices, and a pinch of salt. Blend until smooth, pour over ice, and garnish with cilantro leaves and a lime wheel.
Bloody Bull
The Bloody Bull combines the flavors of a Bloody Mary with beefy richness. Mix 2 ounces of vodka, 4 ounces of tomato juice, 2 ounces of beef broth, Worcestershire sauce, hot sauce, and your preferred seasonings. Shake well, pour over ice, and garnish with a celery stalk and a beef jerky stick.
Try our Bloody Mary Buffalo Sauce!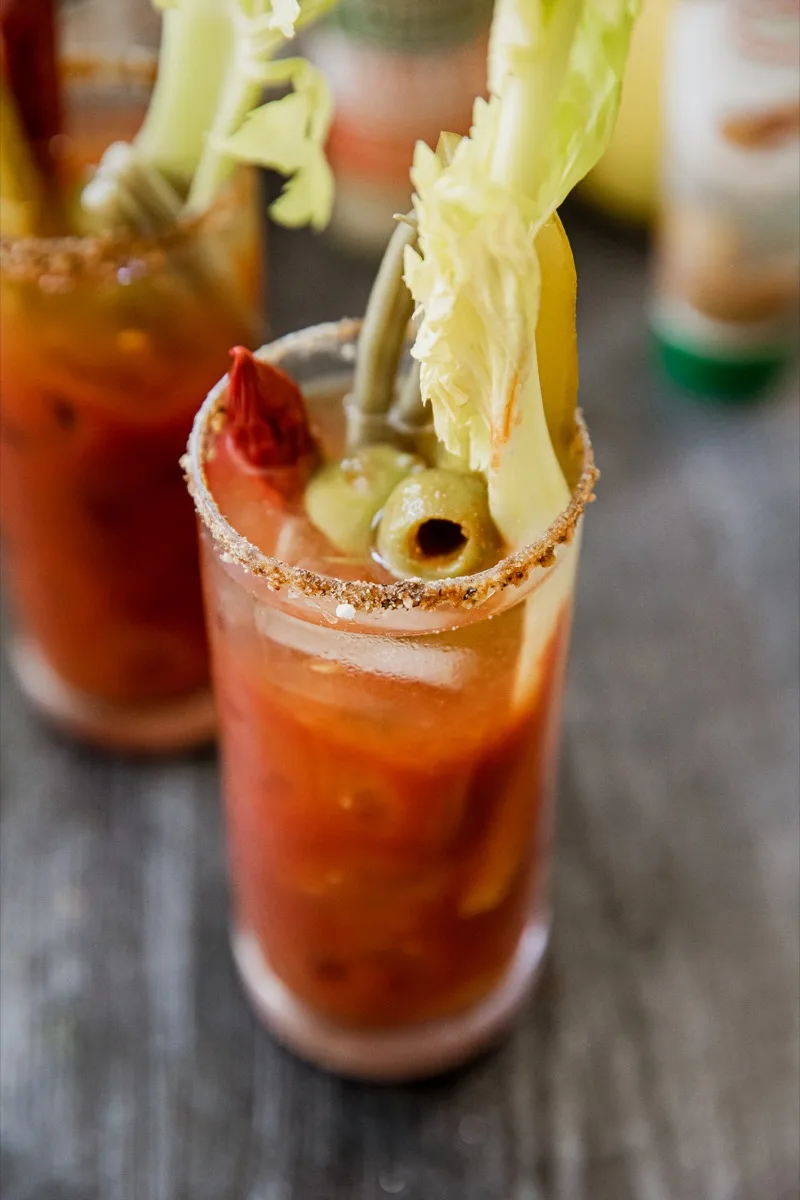 More great breakfast recipes to love!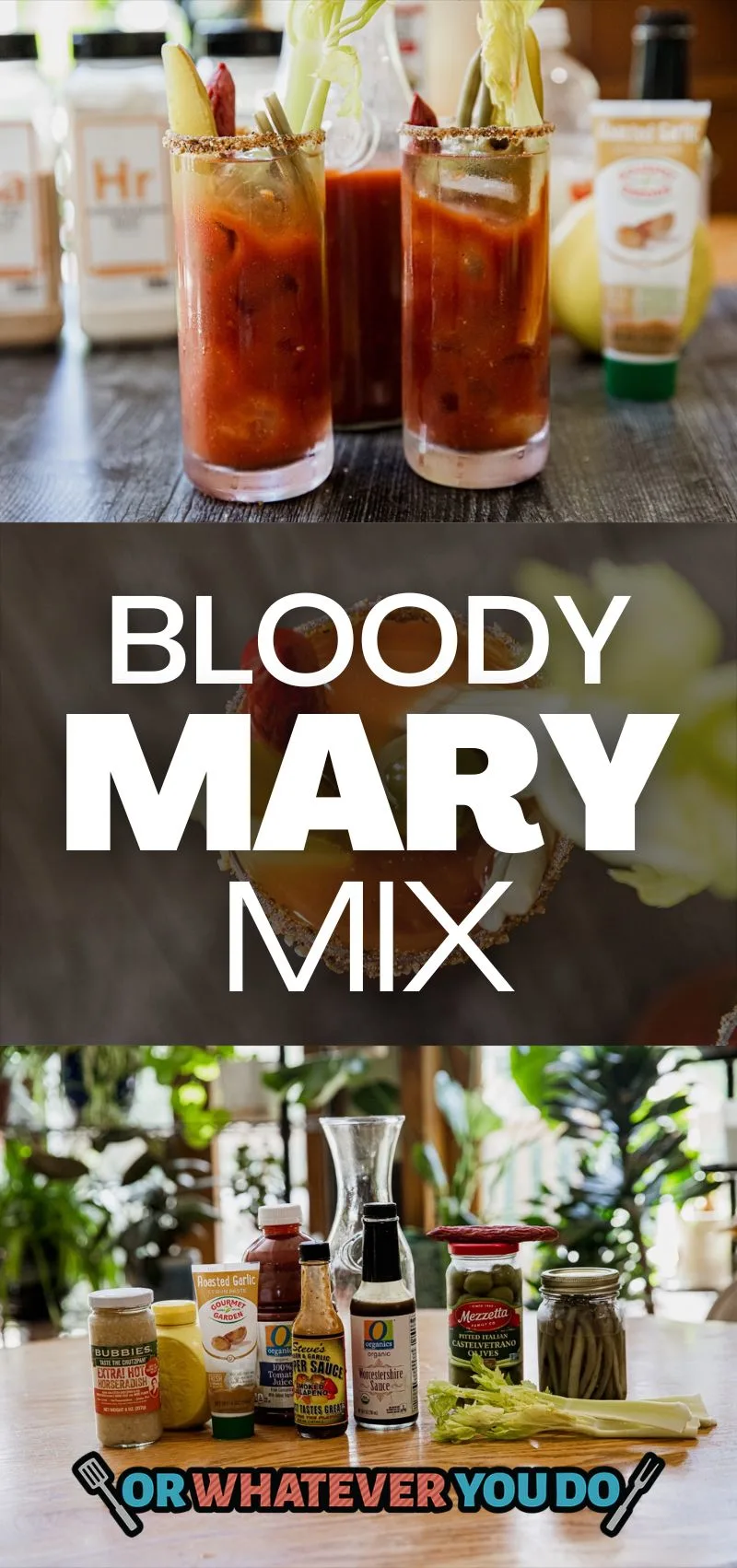 Yield: 6 servings
Homemade Bloody Mary Mix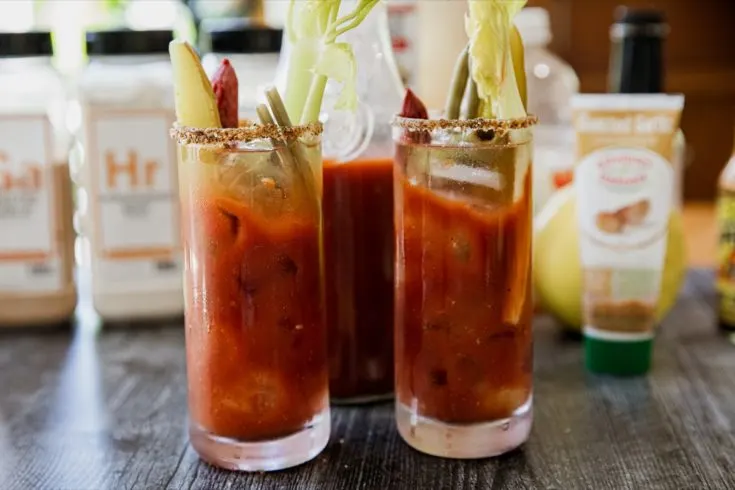 This homemade Bloody Mary mix is easy to throw together and makes incredible cocktails!
Ingredients
Seasoning & Rimmer
1 tablespoon onion powder
1 tablespoon toasted garlic powder
1 tablespoon horseradish powder (optional)
1 tablespoon sriracha salt (can use regular salt + a little cayenne if you don't have this)
1 tablespoon pepper
1 tablespoon celery salt
1 1/2 teaspoons au jus powder (optional)
Bloody Mary Mixer
32 ounces tomato juice
2 tablespoon prepared horseradish
2 tablespoons Worcestershire Sauce
1 tablespoon Hot Sauce
2 teaspoons roasted garlic paste (Gourmet Garden)
1/3 cup lemon juice
1 teaspoon A1 steak sauce
Garnish
6 pickles
12 pickled green beans
6 celery stalks
6 smokes sausage sticks
12 garlic-stuffed olives
Instructions
Mix together all of the seasoning and rimmer ingredients and set aside.
Mix together the Bloody Mary Mixer ingredients. Add 2-3 tablespoons of your Rimmer and Seasoning mixture and stir to combine. I advise starting with 2 tablespoons, tasting, and then adding more if you want it to have more of a kick.
Rim your glasses by wetting the rim (I like using pickle juice) and then swirling in the reserved rimmer.
Fill the glass with ice, add a few ounces of vodka, and then top with your Bloody Mary Mixer.
Add whatever garnishes you want, and enjoy!
Recommended Products
As an Amazon Associate and member of other affiliate programs, I earn from qualifying purchases.
Nutrition Information:
Yield:
6
Serving Size:
1
Amount Per Serving:
Calories:

304
Total Fat:

21g
Saturated Fat:

7g
Trans Fat:

0g
Unsaturated Fat:

11g
Cholesterol:

42mg
Sodium:

2248mg
Carbohydrates:

19g
Fiber:

4g
Sugar:

9g
Protein:

12g
Nutrition data provided here is only an estimate.