I'm slightly obsessed at the moment with fresh udon noodles. You can combine them with about any combination of meat and vegetables plus some flavorful Asian-inspired sauce, and you've got yourself an amazingly easy and delicious meal. Our Blackstone Steak Udon plays on our Brown Butter Miso Udon recipe, but includes some tender steak slices marinated in Bachan's. It was so incredible!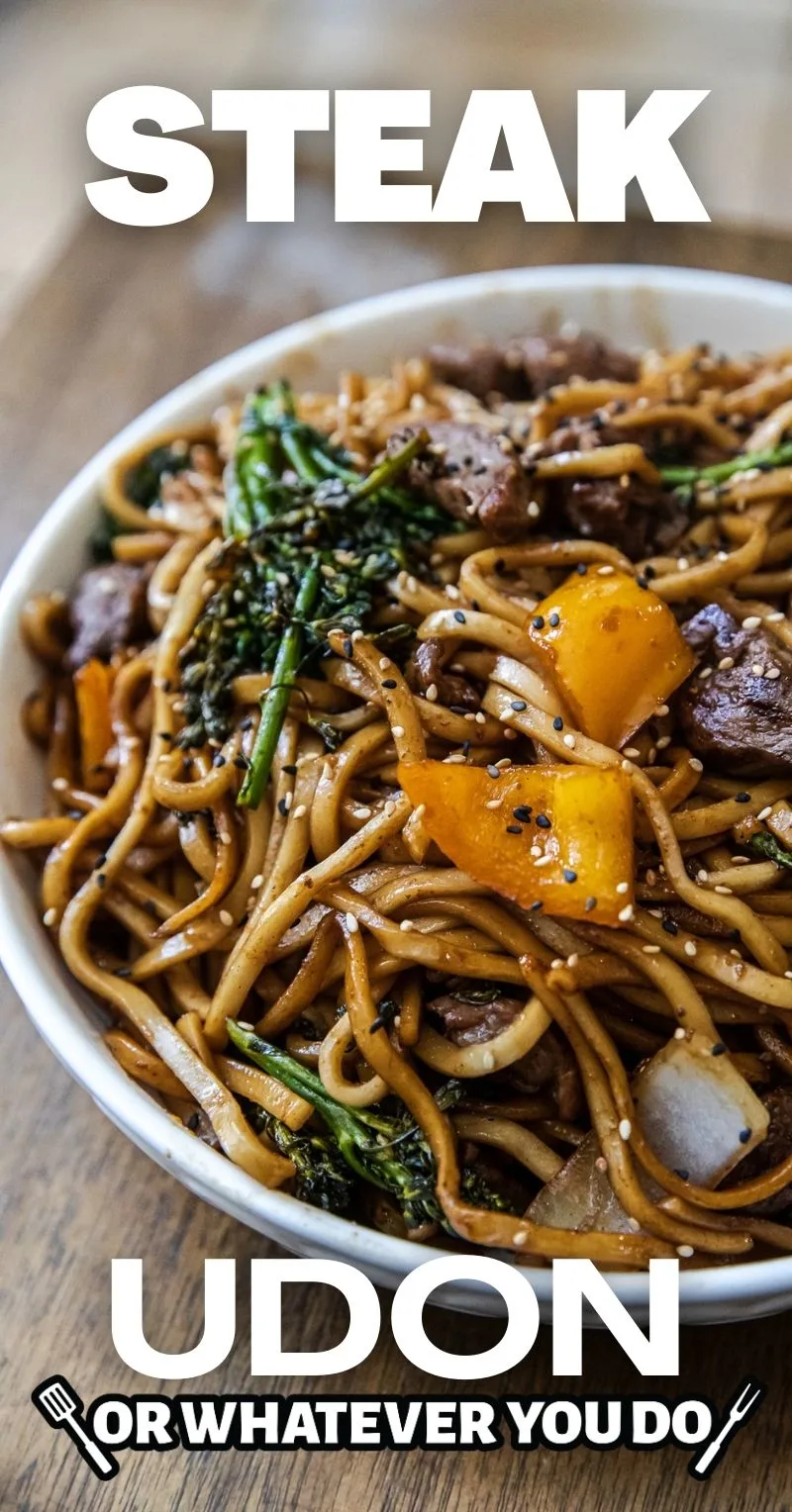 Blackstone Steak Udon
I'm not going to lie. I could happily eat a variation of stir fry every day of my life very happily. It hits our table often, and lately, I've been on a total udon kick since finding a local grocery store that carries great fresh udon.
Udon is a type of thick noodle traditionally made in Japan. Fresh udon noodles are often preferred for their superior texture and flavor compared to dried or pre-packaged versions. Fresh udon has a uniquely soft and chewy texture that's unlike most other noodle types.
Udon noodles are usually made from wheat flour, salt, and water. The dough is rolled out and then cut into thick, long strands. The process of kneading and rolling the dough is crucial for developing the texture of the noodles. Udon can be made at home, but it requires time and effort to achieve the right texture and thickness. I haven't attempted it yet, and probably won't because of the easy access to fresh udon.
Udon is so versatile, and can be used in a variety of dishes. They're often served in a hot soy-based broth as a noodle soup, with various toppings like green onions, tempura, and tofu. They can also be used in stir-fry dishes, chilled and served with a dipping sauce, or in a curry udon dish.
The flavor of udon noodles is mild, allowing them to easily absorb the flavors of the dish they're served in. This makes them a versatile ingredient that can be used in many different types of Japanese cuisine. The unique texture and thickness of the noodles also make them a satisfying and comforting food to eat.
More Blackstone Recipes here!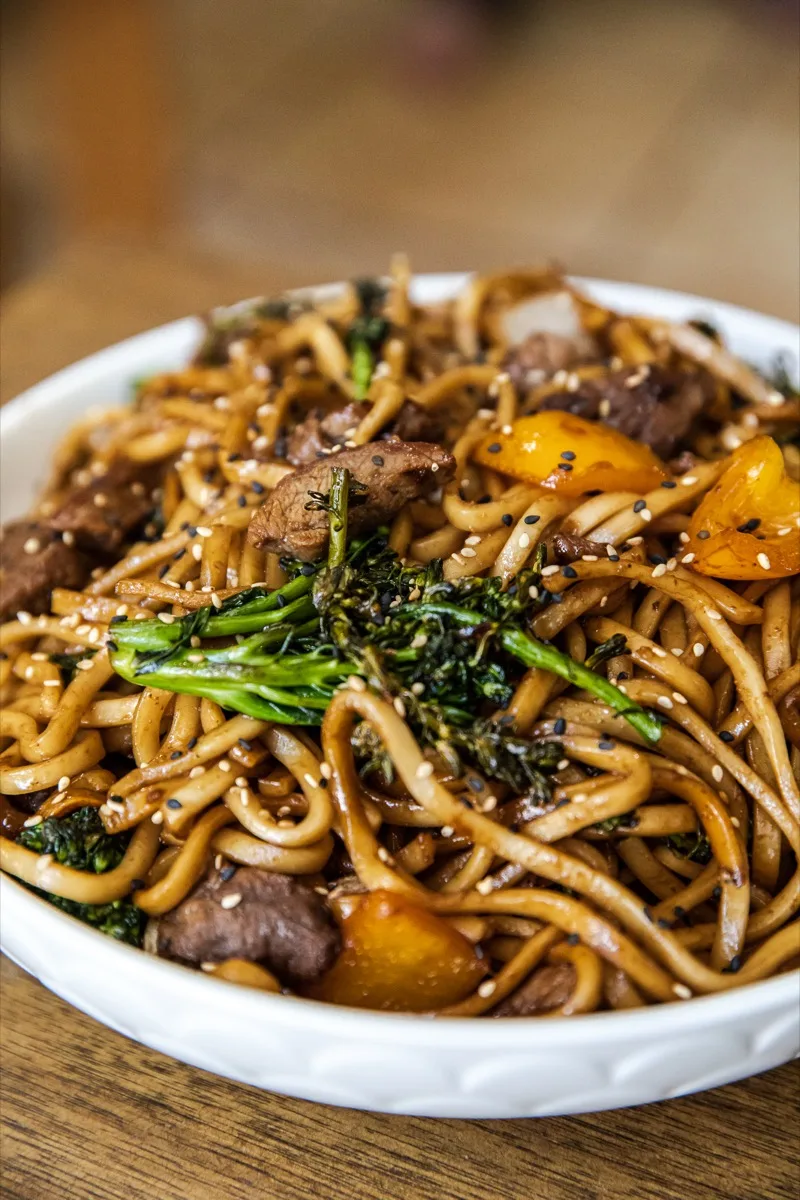 Why the Blackstone Griddle?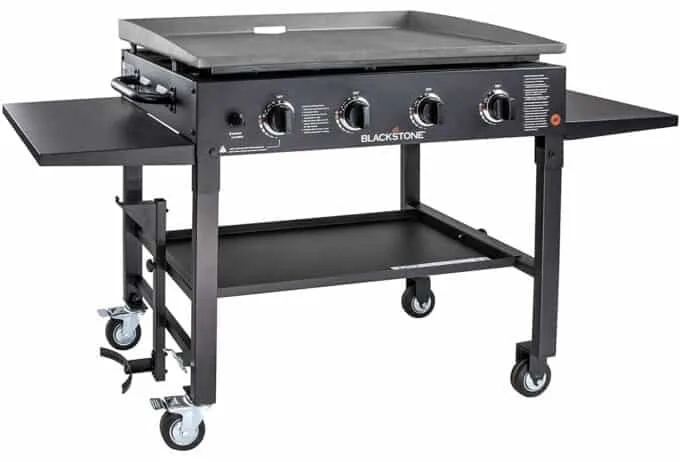 Flat top griddles are so versatile! Make pancakes for an army, or the best hibachi fried rice you've ever had. Reverse sear a steak, whip up some smash burgers, or cook basically anything you could cook in a pan that doesn't require a sauce. You need this!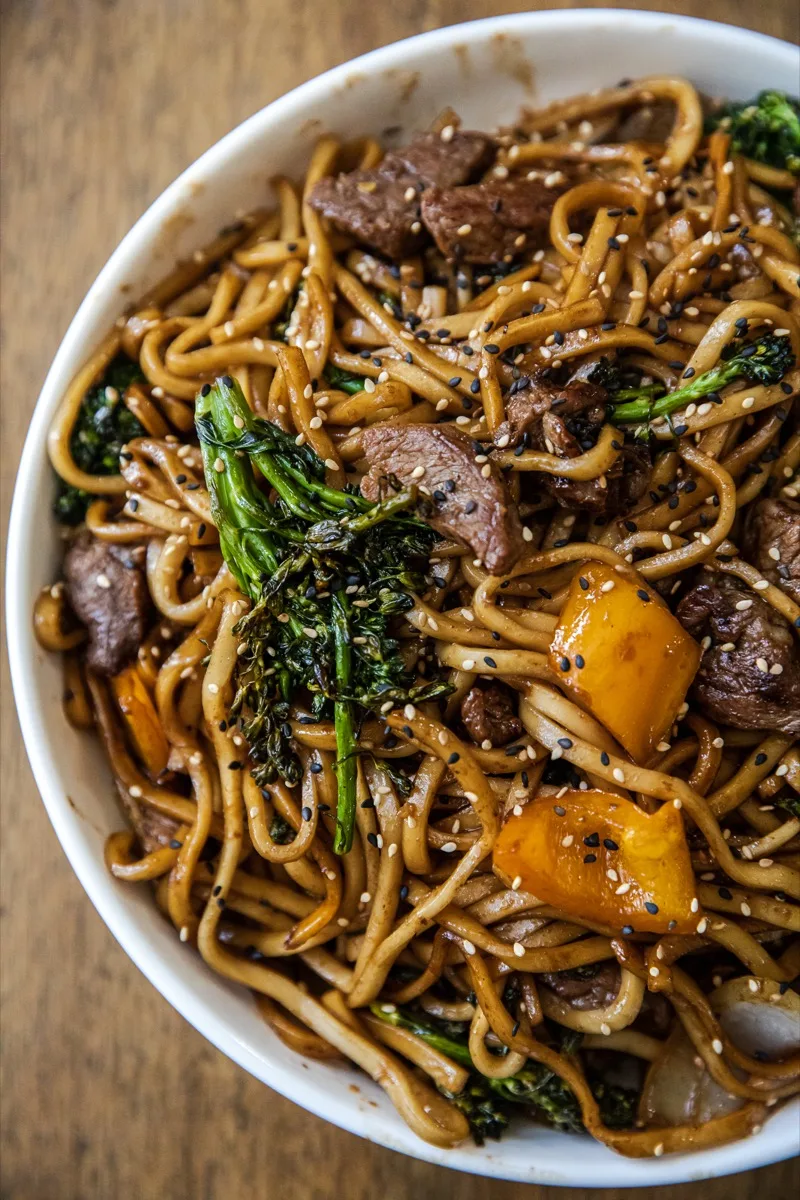 Blackstone Steak Udon shopping list
Wondering if you have to hit the store? Here's the list of items you'll need to make this recipe. For specific amounts, please refer to the printable recipe card at the bottom of the post.
New York Strip
Bachan's Japanese BBQ Sauce
Miso
Soy sauce
Sambal Oelek
Butter
Sesame oil
Yellow onion
Garlic
Yellow bell pepper
Chinese broccoli
Udon noodles
Sesame seeds
How about our Chicken and Eggplant Stir Fry?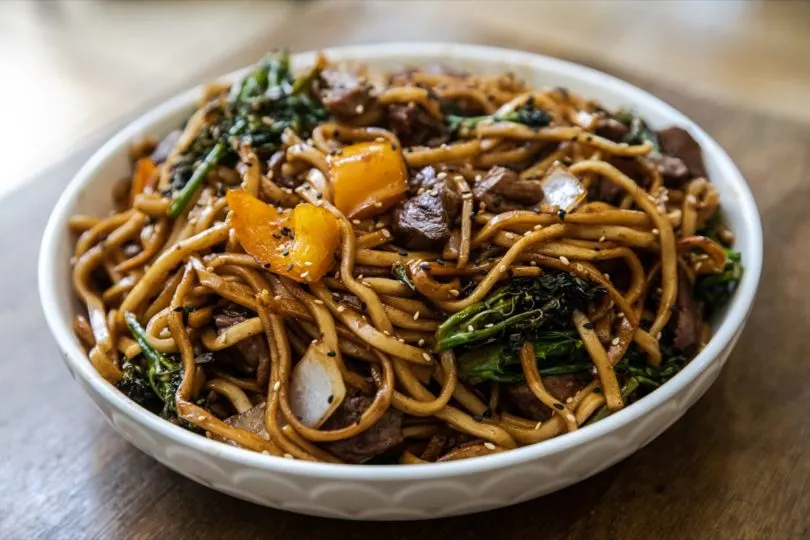 How to make Steak Udon on the Griddle
This is just the overview so you can see what you're actually getting into here. When you are cooking, you'll want to use the full recipe at the bottom of the page.
Marinate
Slice your steak and marinate it in some Bachan's for at least 30 minutes.
Mix
Mix up your udon sauce and set aside.
Preheat
Fire up the griddle and let it preheat over medium heat.
Cook
Cook the vegetables. Cook the steak. Push them aside to a cooler part of the griddle. Put more oil down and cook the udon. Steam it with the water.
Mix the udon with all the other ingredients. Drizzle the udon sauce over and stir until combined and coats the noodles.
Garnish and enjoy
Sprinkle with sesame seeds and enjoy!
Blackstone Chicken and Pea Pods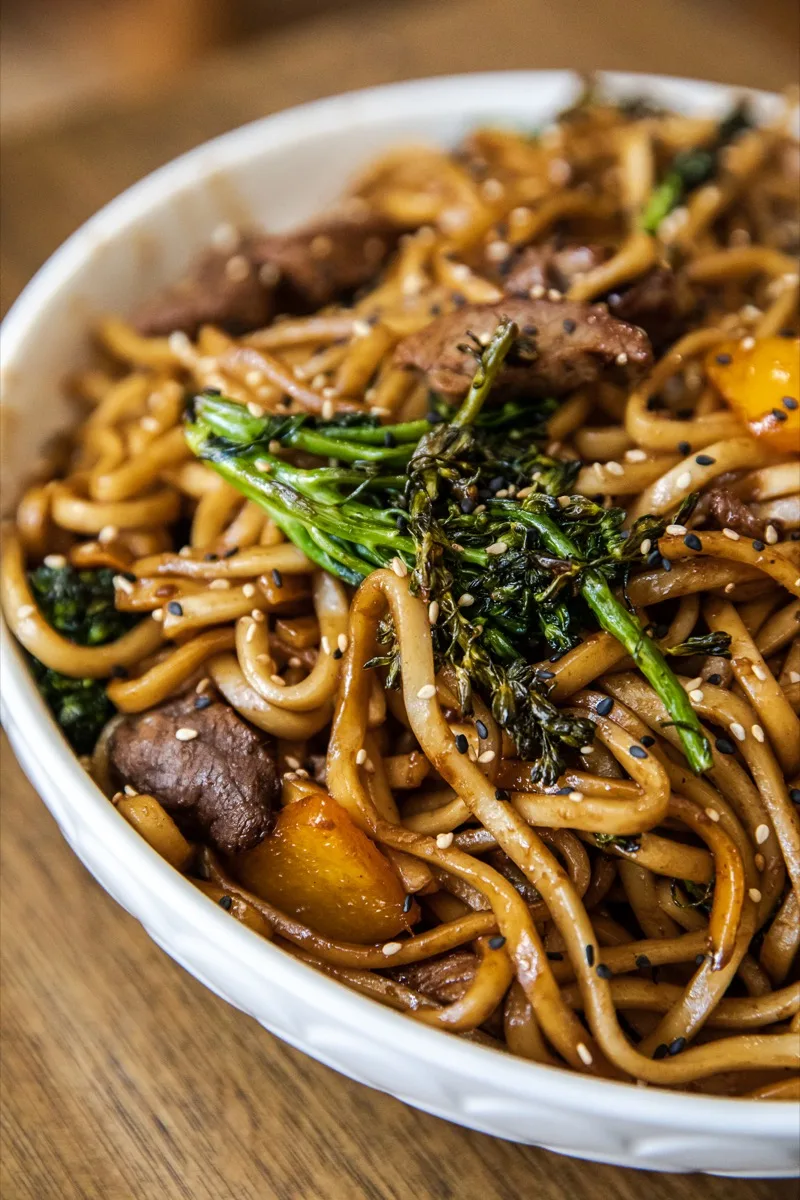 Blackstone Steak Udon FAQ
What's the best way to store and reheat leftovers?
This dish makes great leftovers! Just store it for up to 2-3 days in the refrigerator, covered. Reheat in the microwave until it is steaming hot, and serve with some extra Bachan's on the side.
Are there any recommended substitutions or additions?
This recipe is very versatile. You could throw in some shrimp and make it a surf & turf udon. I am also a big fan of using spinach and red bell peppers in this dish. Use extra Sriracha to turn the heat up, or less of the Sambal if you can't handle the heat.
Can you use another kind of noodles?
Sure! I love udon, but if you can't find fresh udon, fresh yakisoba noodles also work really well for this type of dish.
Try our Fried Wontons!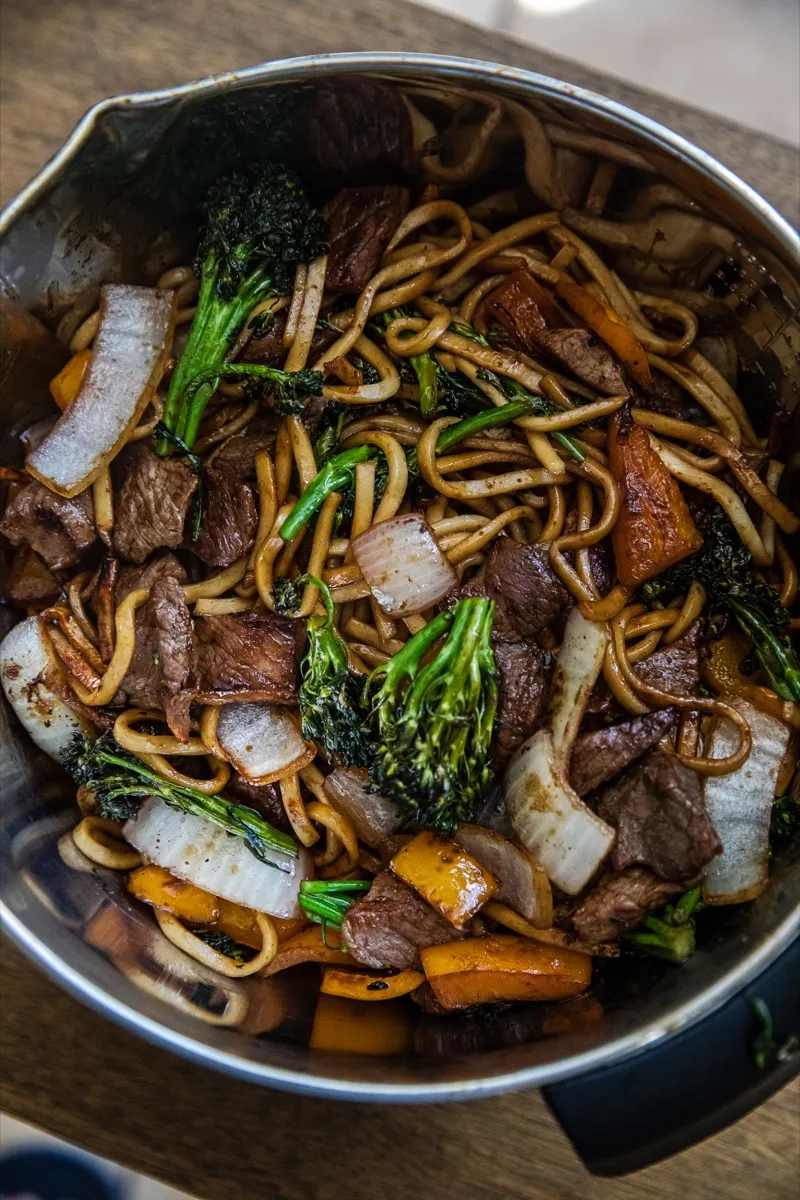 More great recipes to love!
Our whole collection of Blackstone Fried Rice Recipes is here to make sure your dinner is DONE! From steak, shrimp, chicken, to bbq pork, we've got fried rice recipes for everyone here!
Smoked Beef Pancit Bihon uses some leftover smoked beef roast to take your pancit to the next level!
This delicious and flavorful Chicken and Eggplant Stir Fry needs to hit your kitchen STAT!
Our unique and spicy Traeger Chicken Wings with Spicy Miso is a great way to use miso, which is a popular Japanese ingredient. So much umami, you don't need any dipping sauce with these wings!
I LOVE Gochujang. If you haven't experimented with this bold and spicy Korean staple yet, get some and make this easy Smoked Gochujang Pork Tenderloin!
If you have super fresh sushi-grade salmon, a Salmon Miso Poke Bowl is a fantastic lunch!
Get smoking with our Smoked Chinese BBQ Pork recipe! All the flavors you're familiar with, but none of the fake food color nonsense. Dunk in some spicy mustard and sesame seeds. Great for a snack or on a charcuterie board!
A Togarashi Salmon Rice Noodle Bowl is the perfect way to use up that fresh salmon you've got in the fridge! Big bold flavors from the Togarashi perfectly complement the salmon.
Fire up the grill because Traeger Grilled Steak Kabobs are on the menu tonight! Skewer tender chunks of steak with all of your favorite vegetables and dinner is done.
Want an incredible meal that's also fast and simple to make? Our Grilled Beef Bulgogi is one of my favorite Korean take-out dishes, made right at home!
Our easy grilled Traeger Chicken Teriyaki uses my favorite teriyaki rub for one of the easiest dinners ever!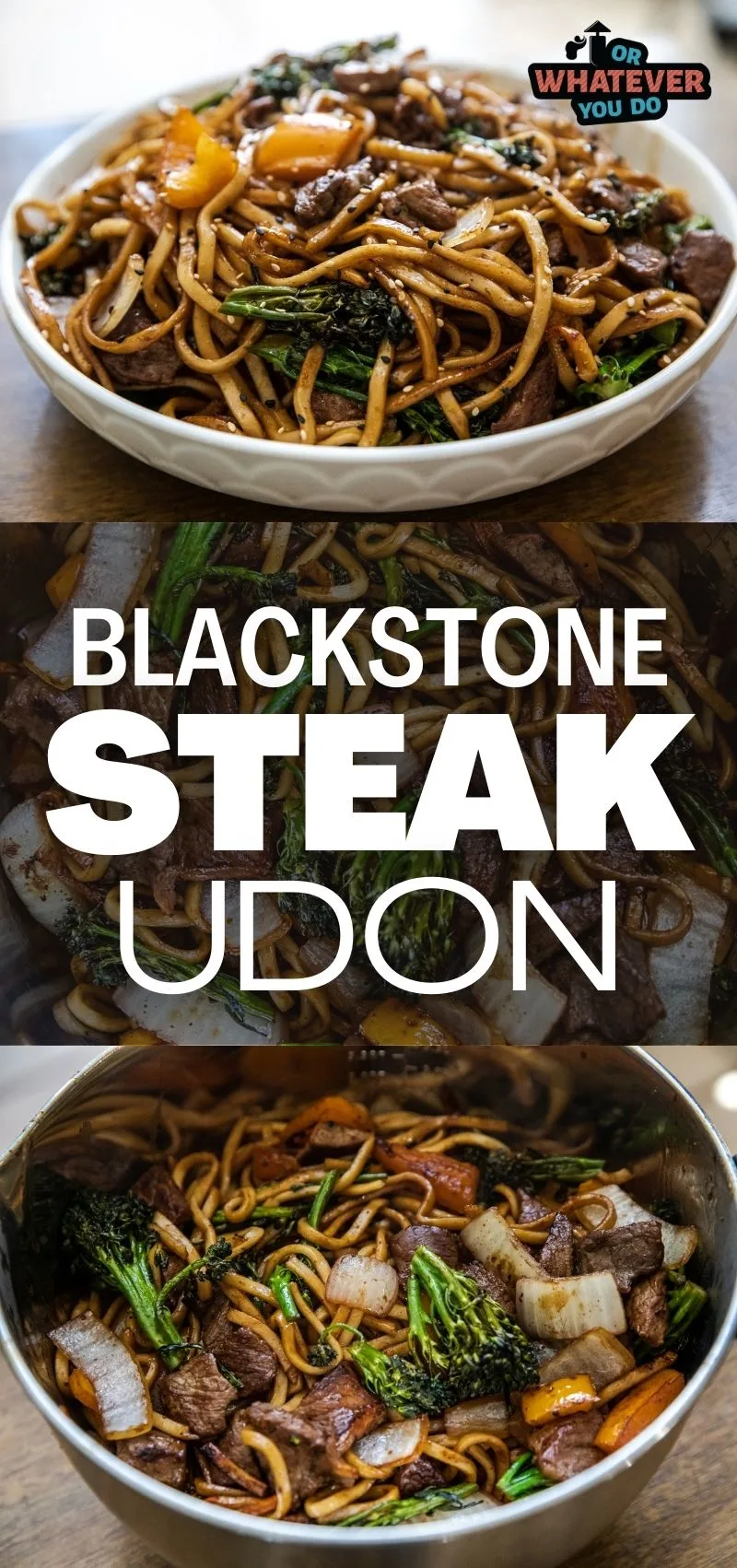 Yield: 6 servings
Blackstone Steak Udon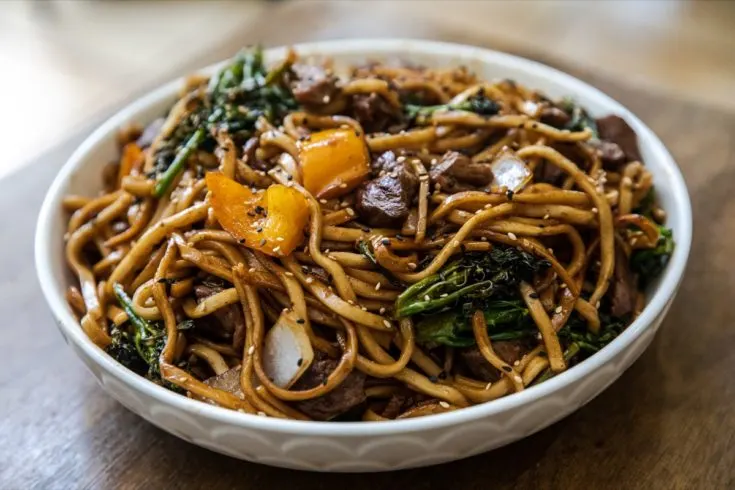 Fire up your gas griddle and get out the fresh udon noodles because today we're going to make a delicious savory steak udon on the Blackstone!
Ingredients
Meat
1 New York Strip, sliced against the grain
1/4 cup Bachan's Japanese BBQ Sauce
Udon Sauce
1 tablespoon miso
2 tablespoons soy sauce
3 tablespoons Bachan's Japanese BBQ Sauce
2 tablespoons Sambal Oelek (or 1-2 teaspoons Sriracha)
Udon
2 tablespoons butter
1 tablespoon sesame oil
1 small yellow onion, sliced
1 teaspoon garlic
1 cup sliced yellow bell pepper
3 cups Chinese broccoli
1 pound udon noodles
1/4 cup water
2 tablespoons sesame seeds
Instructions
Take your sliced steak and put it in a baggie with the 1/4 cup of Bachan's BBQ Sauce. Let it marinate for 30 minutes.
In a small bowl, make the Udon sauce by mixing together the miso, soy sauce, Bachan's, and sambal. Set aside.
Preheat your griddle to medium heat. Melt your butter and add the sesame oil along with the onion, garlic, bell peppers, and Chinese broccoli.
Cook the vegetables until they are lightly browned and tender crisp. Move aside to a part of the griddle on low heat.
Add your steak and the extra Bachan's sauce it was marinating in to the griddle along with a little more oil. Let it cook on both sides for 2-3 minutes. Push to the side over low heat with the vegetables.
Add your udon noodles to the griddle. Stir, and drizzle the water over the noodles.
Cover, and let the udon steam for a minute or two before using a set of tongs and breaking them up and mixing them in with the rest of the ingredients.
Drizzle the udon sauce over the noodles and vegetables and stir until it is hot, bubbling, and soaked into the noodles.
Garnish with sesame seeds and serve hot!
Recommended Products
As an Amazon Associate and member of other affiliate programs, I earn from qualifying purchases.
Nutrition Information:
Yield:
6
Serving Size:
1
Amount Per Serving:
Calories:

236
Total Fat:

11g
Saturated Fat:

4g
Trans Fat:

0g
Unsaturated Fat:

6g
Cholesterol:

21mg
Sodium:

758mg
Carbohydrates:

26g
Fiber:

3g
Sugar:

8g
Protein:

8g
Nutrition data provided here is only an estimate.