These easy Indian Fry Bread Tacos are simple to throw together and taste amazing! If you've never tried these unique twist, you're in for a special treat. Plus, it makes a very convenient way to use up all of your leftovers too!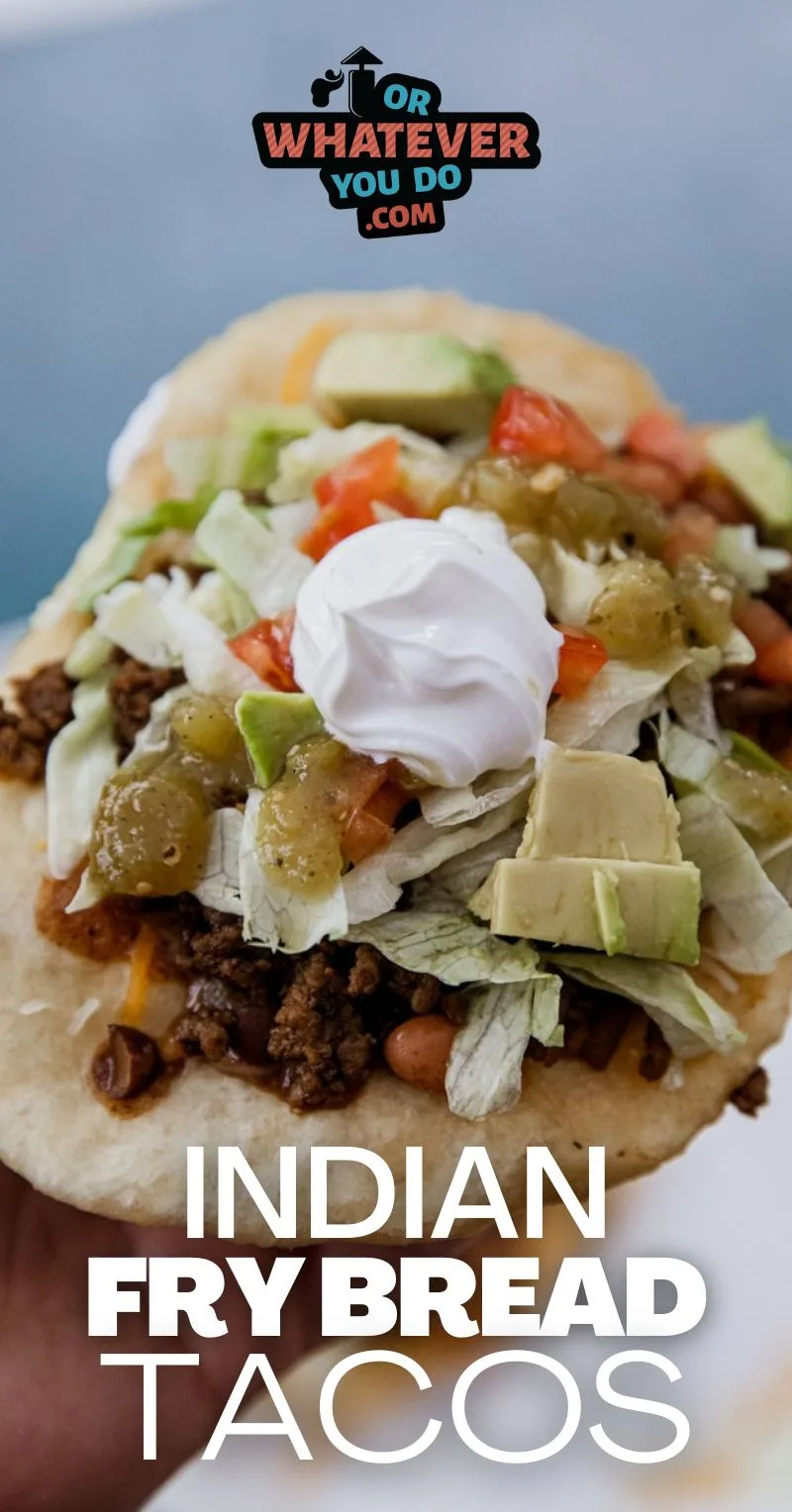 Indian Fry Bread Tacos
Indian Fry Bread Tacos, often referred to as Navajo Tacos or Indian Tacos, are a dish that combines elements of Native American and Mexican cuisine. They're typically made by topping a piece of traditional Native American fry bread with ingredients you might find in a taco.
Fry bread is a type of bread made by frying a simple dough in oil or fat. It has a light, airy texture and a rich, savory flavor that's not unlike that of a doughnut, albeit without the sweetness. Its origin traces back to the Native American communities, particularly the Navajo tribe.
The toppings for Indian Fry Bread Tacos often include seasoned ground beef or other meats, beans, cheese, lettuce, tomatoes, onions, and sometimes sour cream and salsa or other sauces. Some versions might include ingredients like olives, avocado, or jalapeños.
Despite the name, Indian Fry Bread Tacos are more akin to a tostada than a traditional taco due to the flat, open-faced nature of the dish. The fry bread serves as a base or plate, and the toppings are piled on top.
It's worth noting that while fry bread is an important cultural symbol for many Native American tribes, it also has a complex history. It originated during the Long Walk in the 1860s when the U.S. government forcibly relocated the Navajo from Arizona to New Mexico and gave them ingredients like flour, sugar, salt, and lard to survive. Despite its painful origins, fry bread has become a symbol of resilience and strength for many Native American communities today.
In modern times, Indian Fry Bread Tacos are a popular dish at state fairs, festivals, and in restaurants that serve Native American cuisine. They're celebrated for their unique combination of textures and flavors—crispy, soft fry bread paired with savory, spicy, and sometimes creamy toppings.
A note on the name of this recipe
The term "Indian Tacos" can be sensitive due to its use of the term "Indian" to refer to Native Americans, a term some Native individuals and communities find outdated or offensive. Many people prefer the terms "Native American" or the names of specific tribes or nations.
Since people are actively searching for an "Indian Taco" recipe as opposed to a "Native American Taco" recipe, we've kept the original name for this post. As with all of the recipes here that originate from cultures outside of my own, we strive to honor and respect the origins of the dish while also celebrating and respecting the flavors and the people which it came from.
More South-of-the-Border Inspired Recipes here!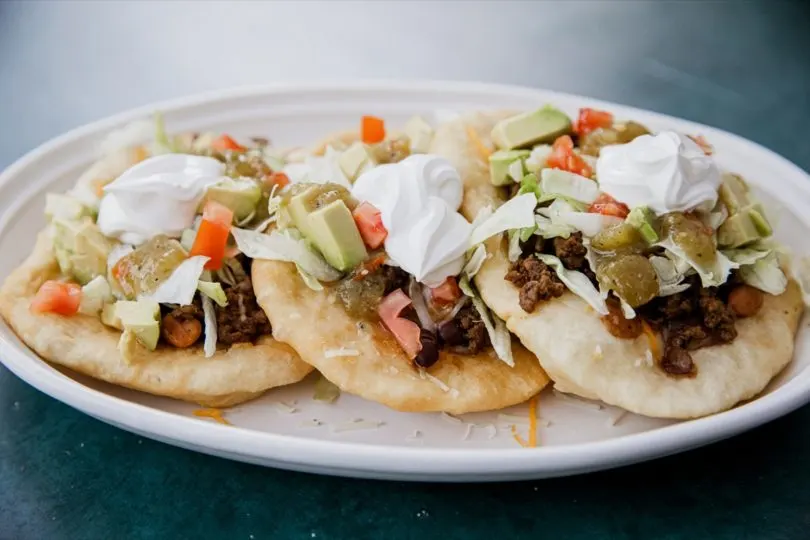 Indian Fry Bread Tacos shopping list
Wondering if you have to hit the store? Here's the list of items you'll need to make this recipe. For specific amounts, please refer to the printable recipe card at the bottom of the post.
Flour
Baking powder
Salt
Vegetable oil
Oil
Ground beef
Taco seasoning
Pinto beans
Black beans
Taco seasoning
Salsa verde
Mexican blend cheese
Onion
Sour cream
Salsa
Avocado
Black olives
Diced tomatoes
Try our Blackstone Chicken Fajitas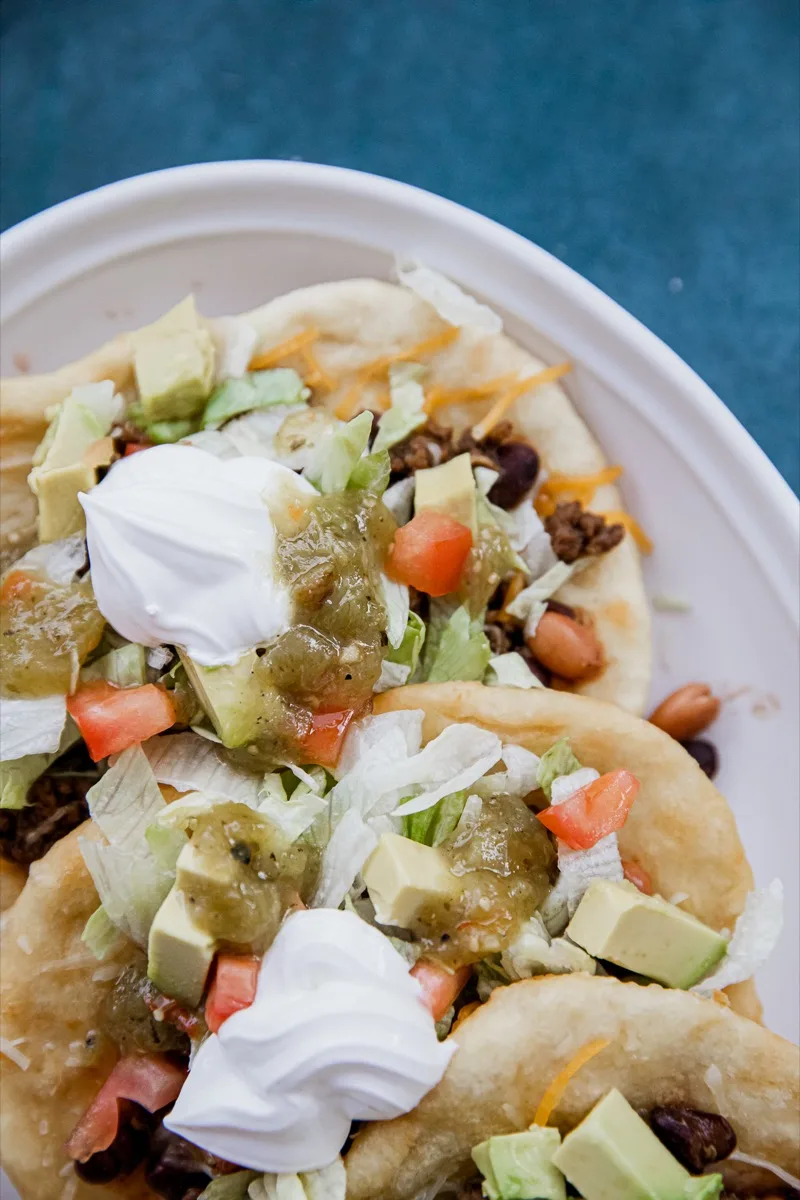 How to make Indian Fry Bread Tacos
This is just the overview so you can see what you're actually getting into here. When you are cooking, you'll want to use the full recipe at the bottom of the page.
Mix
Mix up the dough and set it aside to rest.
Fry
Preheat your oil and roll out the dough into 8 equally sized balls. Roll out thin and fry until golden brown on both sides.
Top
Heat up your leftover meat (or cook some new stuff if you're going that route) and load it up on the freshly cooked fry bread.
Enjoy
Put all the fixings you want on those bad boys and dig in!
Try our Traeger Carnitas Taquitos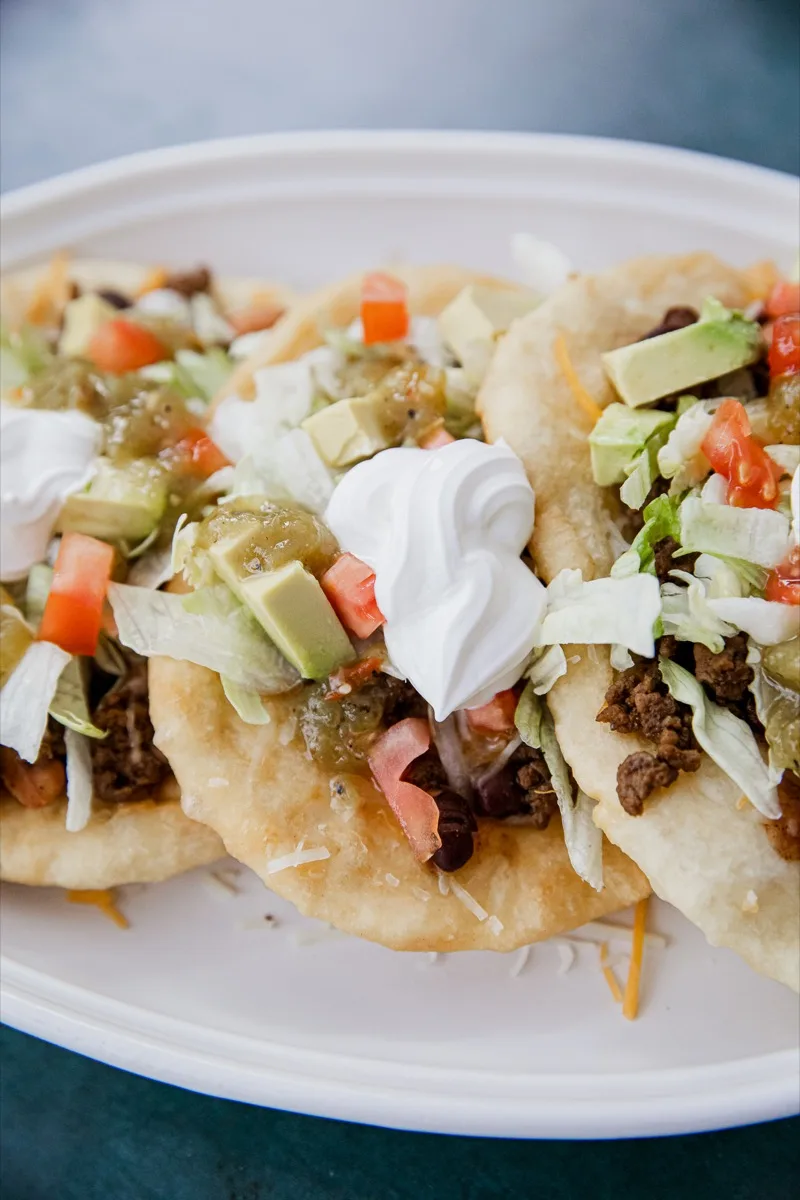 Indian Fry Bread FAQ
Can these be made in advance?
Fry bread is best eaten right after frying for the best results. I wouldn't purposely make them in advance. A few hours would be okay, but try and fry the bread as close to when you'll be eating them as you can.
What's the best way to store and reheat leftovers?
If you do make a bit more than your family can tackle in one night, store the fry bread in an airtight container. Reheat in an air fryer, oven, or your toaster on warm for the best result.
Make some Homemade Salsa Verde with this!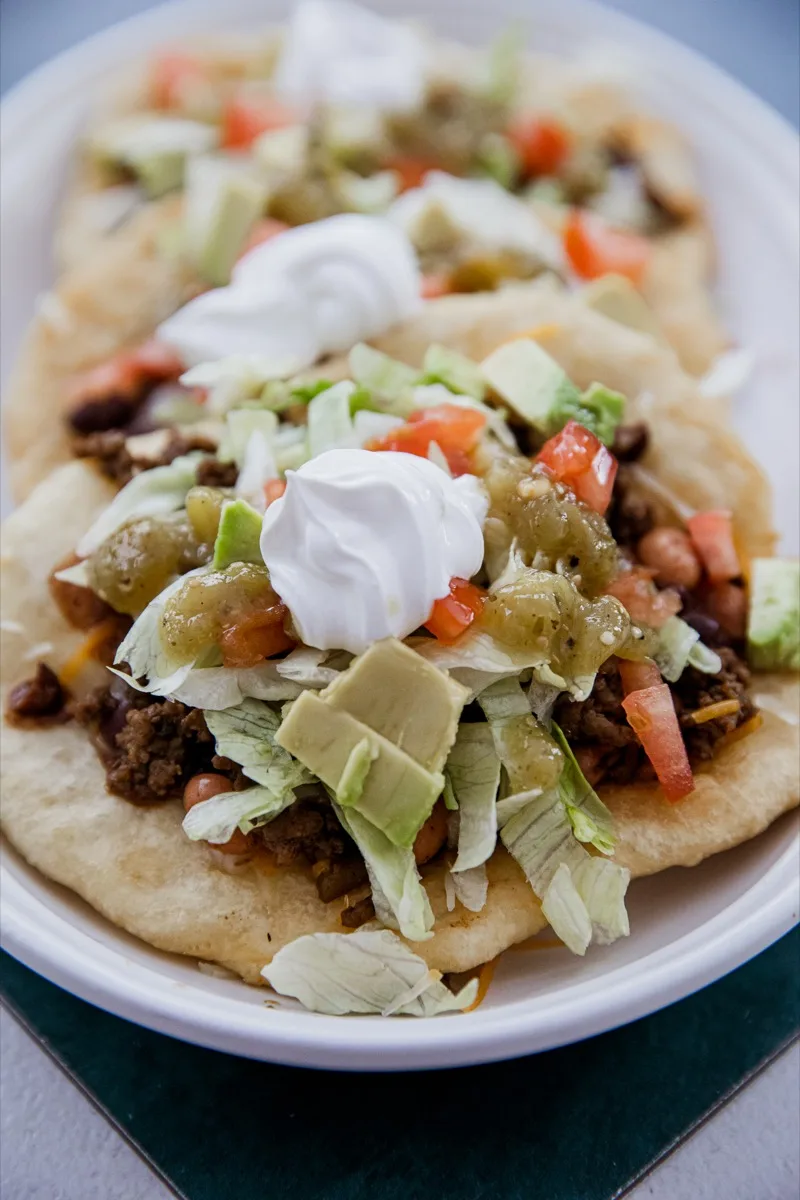 More great recipes to love!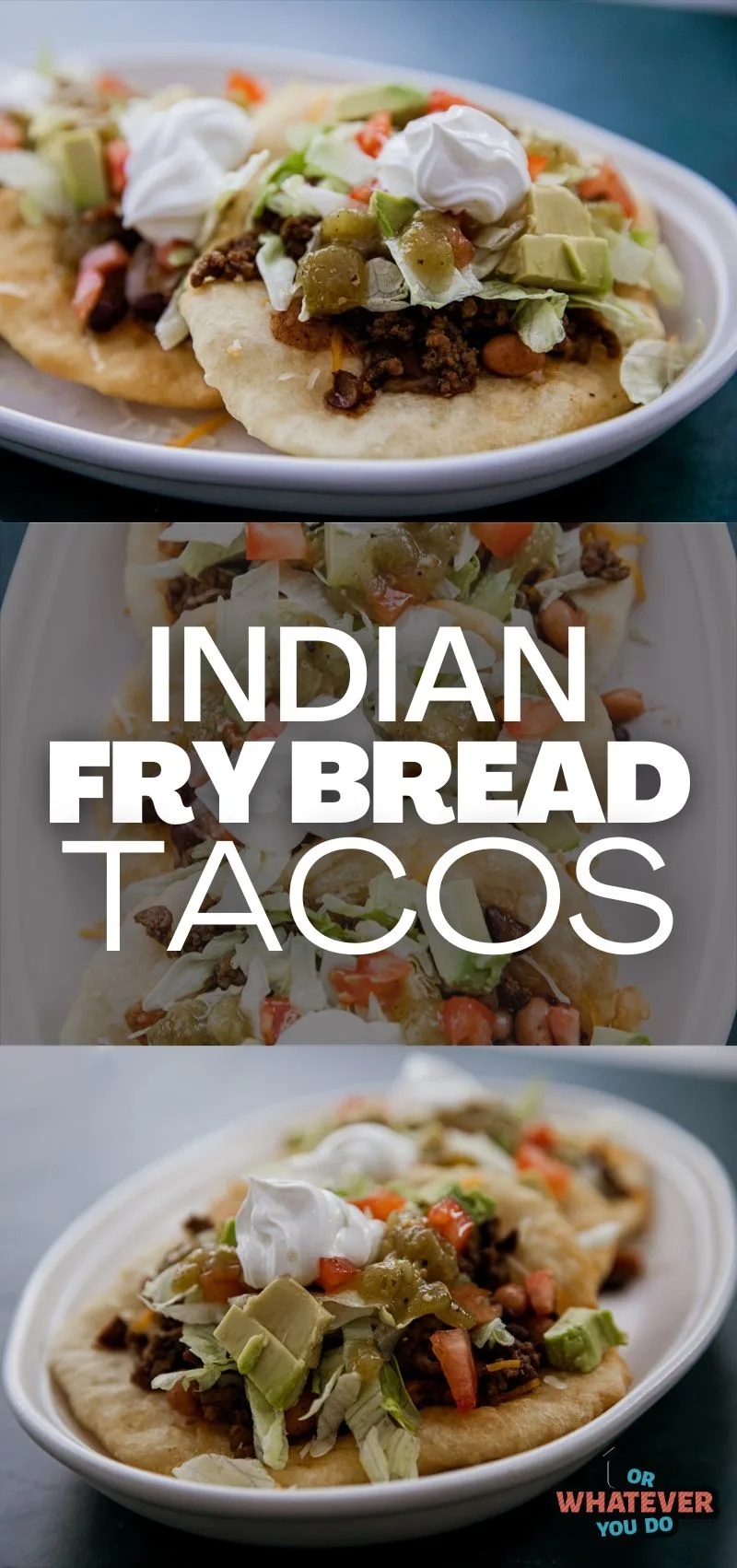 Yield: 8 servings
Indian Fry Bread Tacos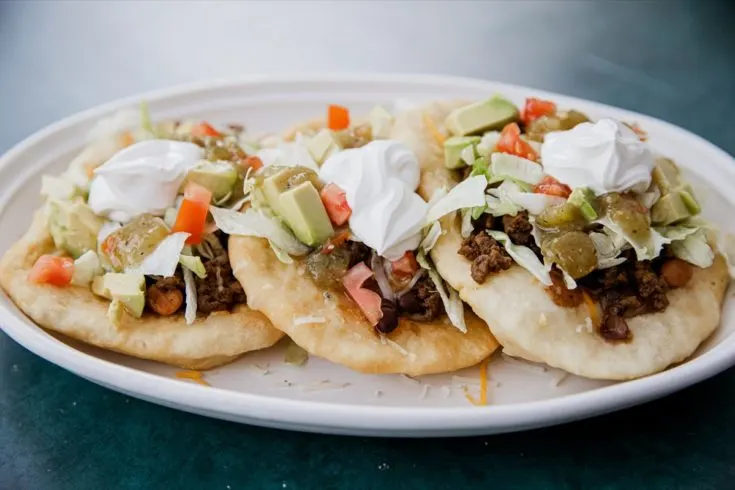 These delicious fry bread tacos are made with homemade dough that's fried until they are golden brown and then topped with every taco fixing you can handle.
Ingredients
Fry Bread
2 cups all-purpose flour
2 teaspoons baking powder
½ teaspoon salt
¾ cup cold water
1 tablespoon vegetable oil
3 cups oil (for frying)
Taco Meat
2 pounds ground beef
2 tablespoons taco seasoning
Beans
1 can pinto beans, drained
1 can black beans with garlic and onion, drained
1 tablespoon taco seasoning
1/4 cup salsa verde
Fixings
2 cups shredded Mexican blend cheese
chopped onion
sour cream
salsa
avocado
black olives
diced tomatoes
Instructions
Combine the flour, baking powder, salt, and water in a mixing bowl. Stir until a dough forms, and knead a few times until it is smooth. For a ball. Add the 1 tablespoon of vegetable oil and coat the outside of the ball. Cover with plastic wrap and let sit for 15-20 minutes.
While the dough is resting, cook the taco meat. Or if you are using leftovers, heat them up.
Combine all the pinto bean ingredients in a pot and let heat over medium-low heat.
In a high-sided frying pan, add the oil and let it heat over medium heat. You're aiming for about 350°-375°F for the oil temp.
While it is preheating, cut your dough into 8 equally sized pieces. Roll into balls, and then roll out into rounds with a rolling pin. about 4-6" in diameter is about right.
Fry each of the rolled-out rounds until they are golden brown, about 2-3 minutes.
Assemble the tacos with the cheese, meat, and beans, and let everyone top them with all of the fixings they could possibly want.
Nutrition Information:
Yield:
8
Serving Size:
1
Amount Per Serving:
Calories:

705
Total Fat:

34g
Saturated Fat:

13g
Trans Fat:

1g
Unsaturated Fat:

17g
Cholesterol:

128mg
Sodium:

1147mg
Carbohydrates:

50g
Fiber:

10g
Sugar:

4g
Protein:

48g
Nutrition data provided here is only an estimate.