Traeger Smoked Brisket is bold and beefy and makes the most out of this tough cut of beef. Serve this up for holidays, Sunday barbecue, or even a week's (or more) worth of lunches.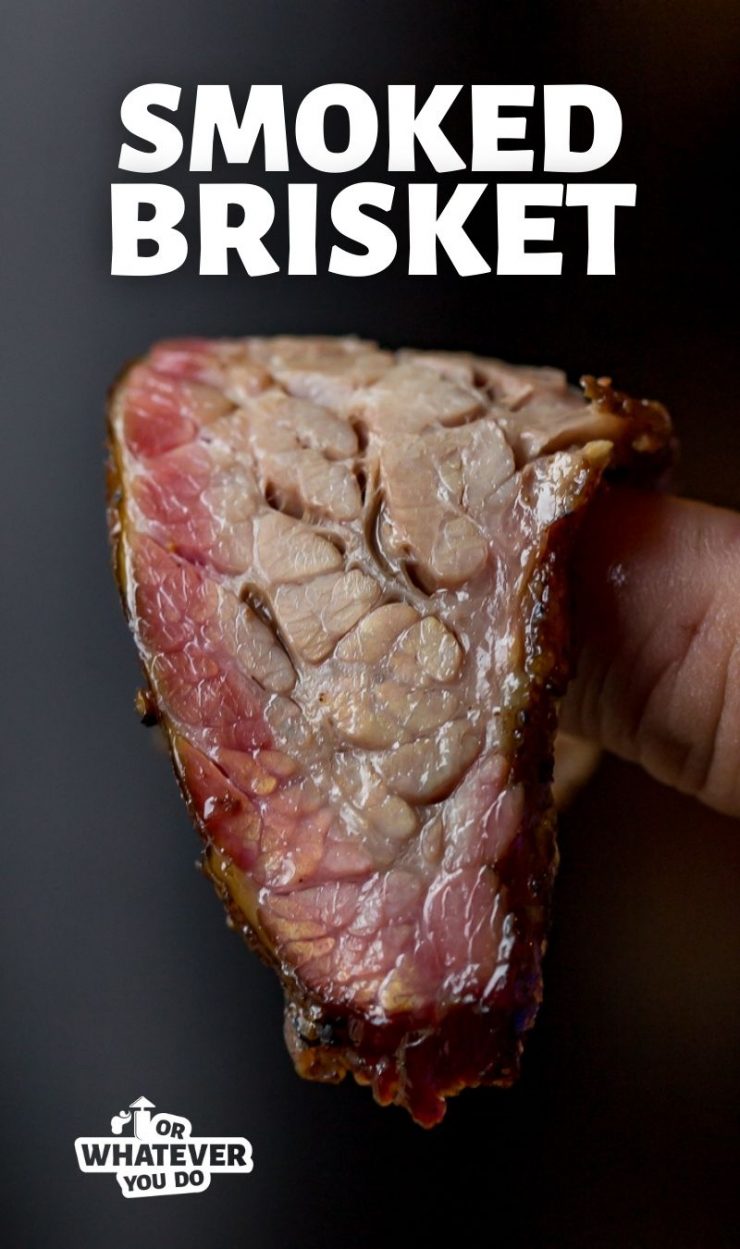 Traeger Smoked Brisket
Smoking your brisket on the Traeger helps to infuse the brisket with incredible flavor from the wood smoke and all of the spices and seasonings you layer on. You won't need to make a pit stop at your local barbecue joint with a recipe like this!
Many people are intimidated by brisket, but there are all kinds of tricks you can use to make sure your brisket stays tender and juicy. I am always looking for ways to master the grill, but with a straightforward, no-fuss approach.
While slow-cooking or oven-cooking brisket is a tasty option, nothing compares to a brisket cooked over a live wood fire.
This post was updated in September 2020 with fresh instructions and photos.
More Easy Traeger Recipes here!
Smoked Brisket Shopping List
beef brisket
salt
pepper
garlic
More Traeger Beef Recipes here!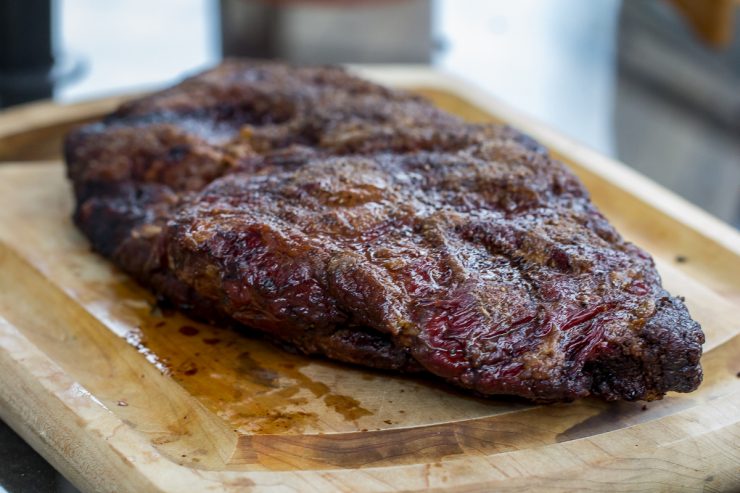 How to make a Traeger Brisket
This is just the overview so you can see what you're getting into here. When you are cooking, you'll want to use the full recipe at the bottom of the page.
Preheat
We're aiming for around 225° for this stage of the game.
Rub & Smoke
Rub your brisket with your SPG and put it on the smoker. Smoke until it reaches 180-190° internal temperature.
REST
Take your wrapped brisket and wrap it in a few bath towels, and then place it into a cooler. Rest for at least 1 hour before slicing. 2-3 hours is better, but a 1-hour minimum is acceptable.
Slice and Eat
Slice against the grain and enjoy! Only slice what you'll be eating at that sitting. Keep the rest together for the best results with any leftovers.
Join our Easy Traeger Recipes Facebook Group!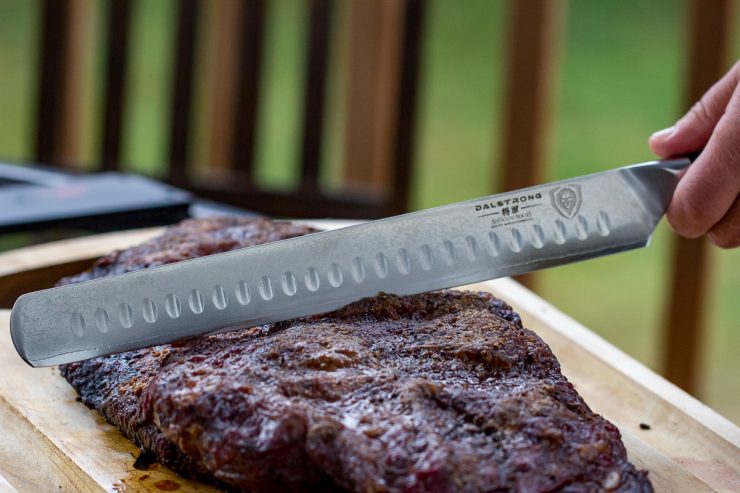 Traeger Brisket FAQ
Is corned beef the same thing as brisket?
No.
While a corned beef starts out as a brisket, it is then brined and cured. If you were to make a corned beef to cook, you would get a totally different flavor as it is packed with spices.
Can you shred brisket?
Sure, but I'm not sure why you'd want to.
If you are going for a pulled beef, I'd recommend using a chuck roast instead, like in my shredded barbecue beef recipe or this smoked bbq beef sandwich recipe.
Brisket is best served sliced with all of the classic fixings. My favorite is to slap a thick slab of it into a hot dog bun, topped with my favorite barbecue sauce, and then a generous scoop of coleslaw.
What makes brisket tough?
Brisket is outstanding when cooked properly. Brisket is tougher and chewier meat compared to other cuts of beef.
When you cook it on the pellet grill, you need to cook it low and slow. If you pull the brisket off too soon, it's gonna be a tough slab of meat.
When you go to slice brisket, and it's tough, it means you need to cook it longer so it can break down the connective tissues and become tender and juicy as you want. Ideally, you want it to be "probe" tender, usually around 204-205°.
Can you freeze cooked brisket?
Yes!
You can freeze any of your brisket that you don't plan to eat within a few days. Use a Foodsaver for vacuum sealing or a freezer bag.
Bonus because the best way to reheat this will be in a hot-water bath or sous vide machine.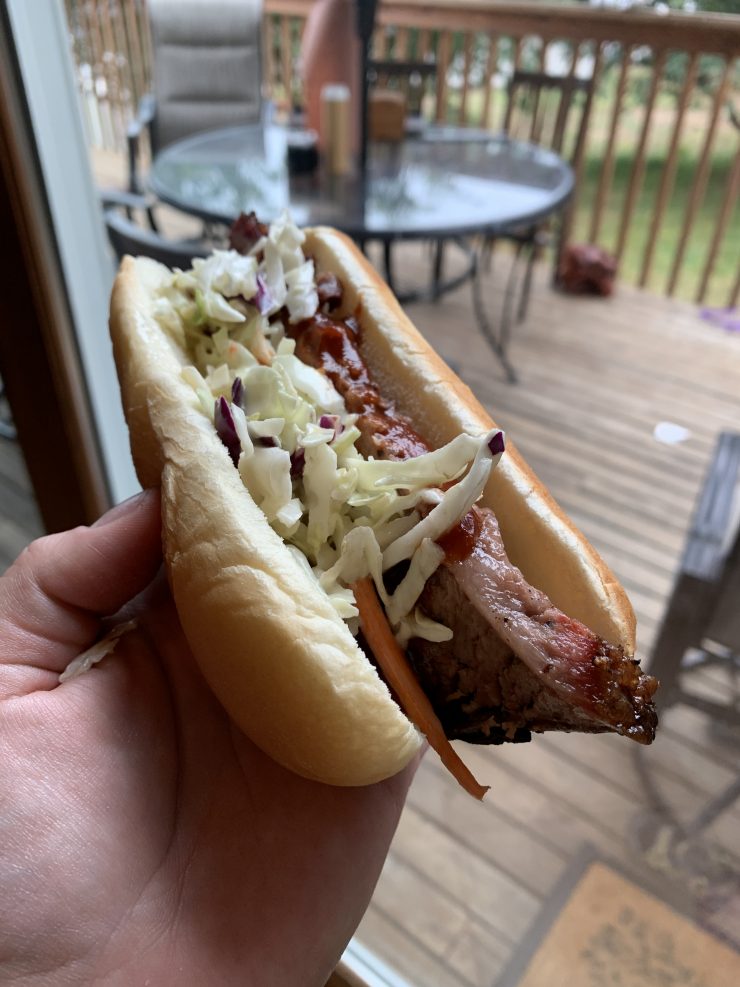 Best side dishes for smoked brisket
Brisket is versatile, so you could pick a handful of sides and make it work.
Follow me on Instagram!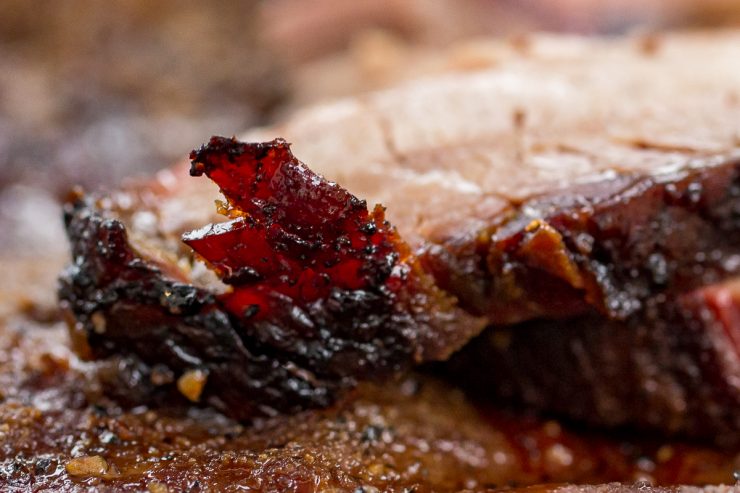 Check out our OWYD shop!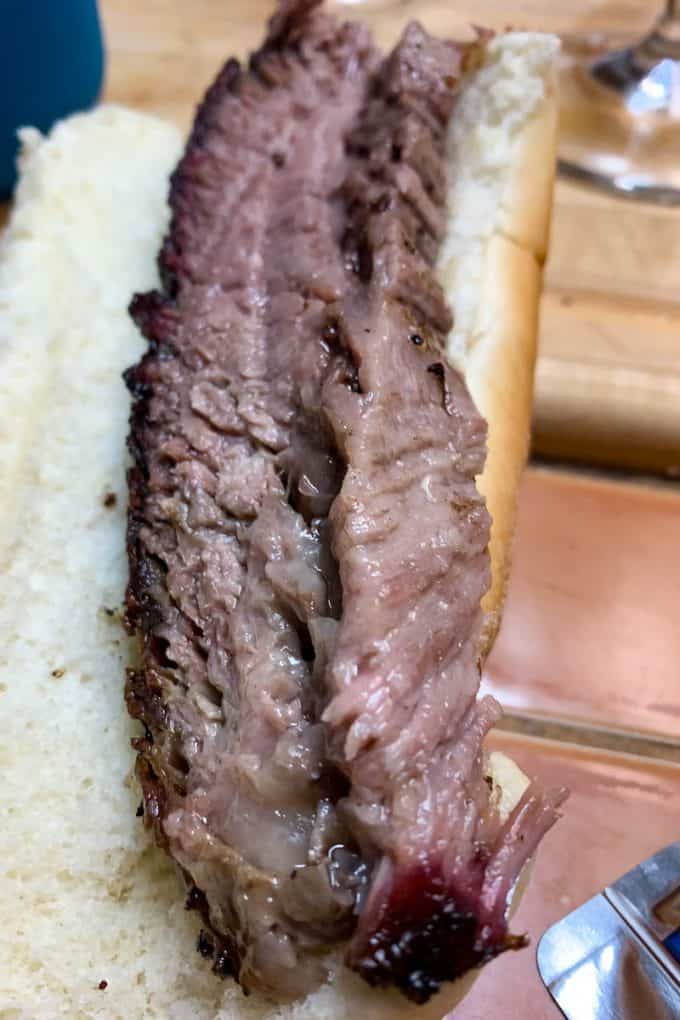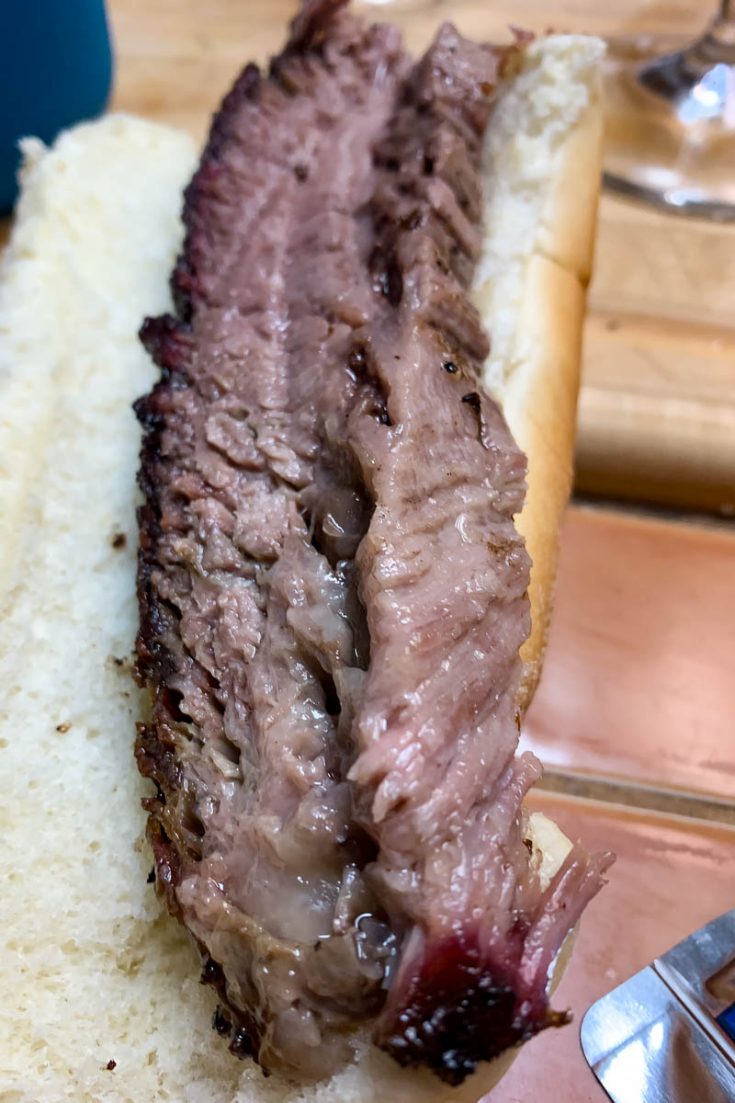 Recipes using leftover Brisket
Get creative and use up your leftover brisket in a handful of ways!
The

Ultimate Grilled Cheese

with brisket and cheese toasted on buttery bread.

Quesadillas are another fantastic option.
Try my Beef and Mushroom Pockets. You could use sharp cheddar in there too!
Create brisket enchiladas instead of using basic roast or hamburger!
Or skip the variations, warm it up, and serve with your favorite sides. This brisket reheats like a champ. Same fantastic grilled flavors in every single bite.
I have a whole post dedicated to leftover roast beef recipes, and brisket is a perfect piece of leftover beef for this.
More recipes to enjoy!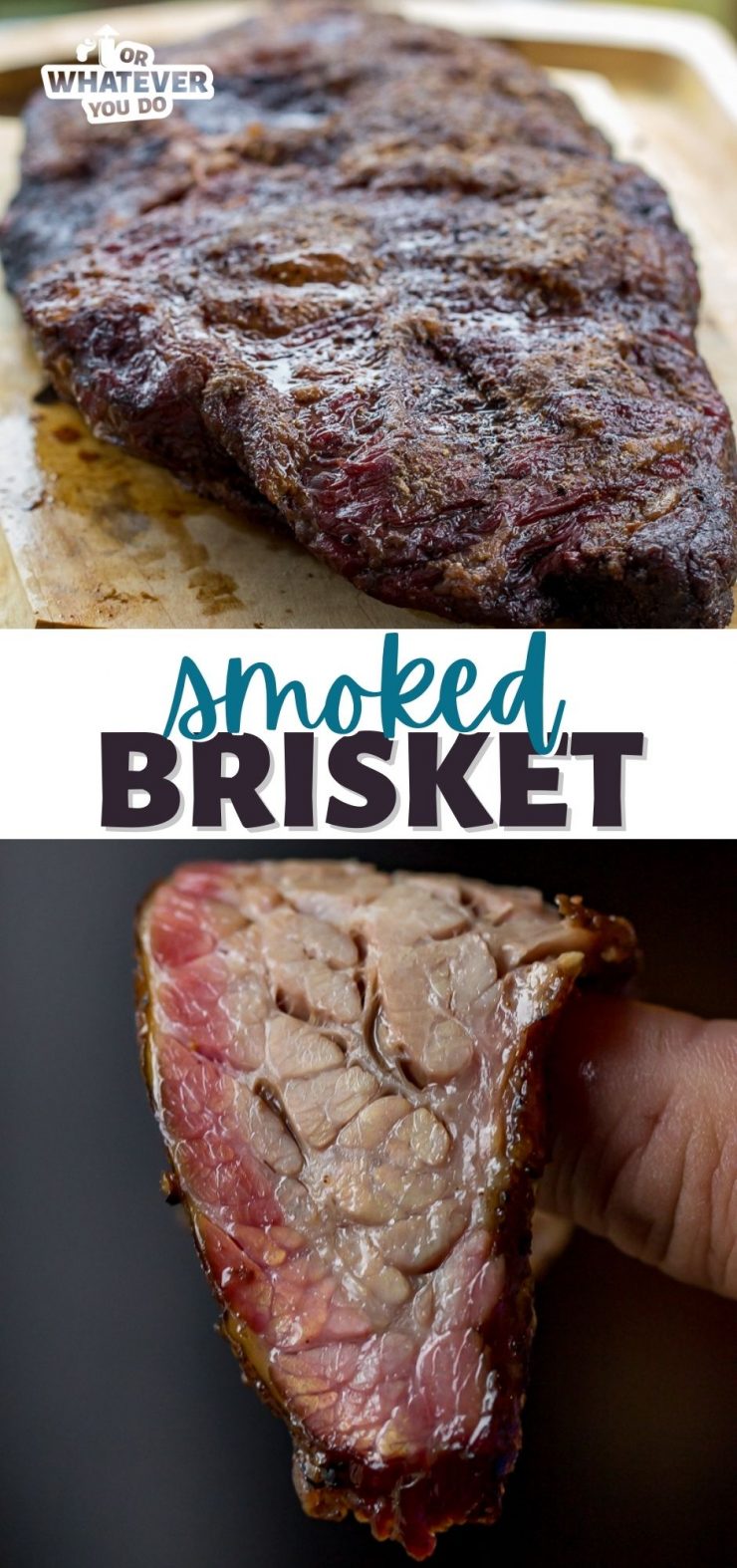 Yield: 15 servings
Smoked Brisket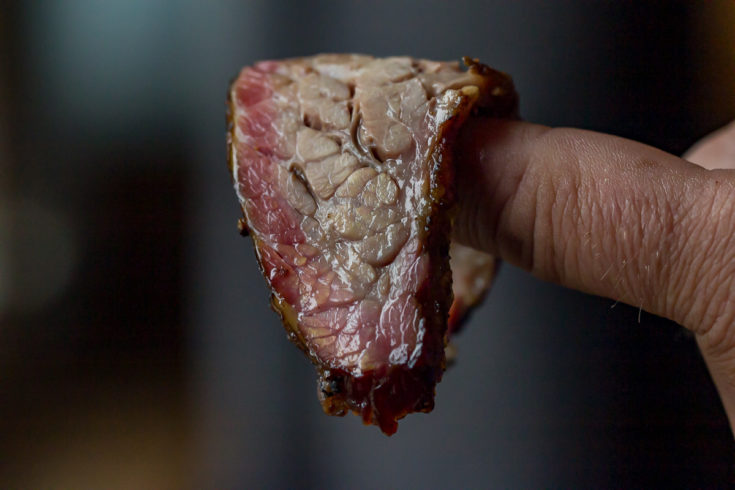 My easy smoked brisket recipe is cooked on a Traeger Pellet Grill, and is one of the best meals I've ever had. Simple seasonings and attention to detail make for a piece of meat you won't soon forget.
Total Time
12 hours
25 minutes
Ingredients
15-18 pound beef brisket
1/2 cup Salt, Pepper, Garlic blend
Instructions
Take your Brisket out of the refrigerator and let sit out at room temperature for 1 - 1 1/2 hours. Trim off the excess fat.
Preheat your grill to 225°.
Coat the brisket with rub on both sides.
Place your brisket directly on the grill surface, shut the lid, and smoke it for until the internal temperature reaches 180-190°. Wrap with butcher paper, and put back on the grill.
Cook wrapped until the internal temperature of the brisket is 204-205°.
Remove, let rest for 1 hour wrapped in the butcher paper as well as a couple of bath towels, and place it into a clean cooler.
Pull from the cooler, unwrap, and slice.
Notes
Our brisket took about 13 hours until it was done. Yours may take more or less time. With brisket, especially, you really have to just go with it.
Recommended Products
As an Amazon Associate and member of other affiliate programs, I earn from qualifying purchases.
Nutrition Information:
Yield:
24
Serving Size:
1
Amount Per Serving:
Calories:

797
Total Fat:

51g
Saturated Fat:

20g
Trans Fat:

0g
Unsaturated Fat:

24g
Cholesterol:

291mg
Sodium:

149mg
Carbohydrates:

0g
Fiber:

0g
Sugar:

0g
Protein:

79g