This Grilled Chicken Sandwich recipe is packed with flavor from juicy chicken seasoned with salt, pepper, and Italian herbs – the perfect lunchtime option for those looking for a delicious and easy-to-make meal.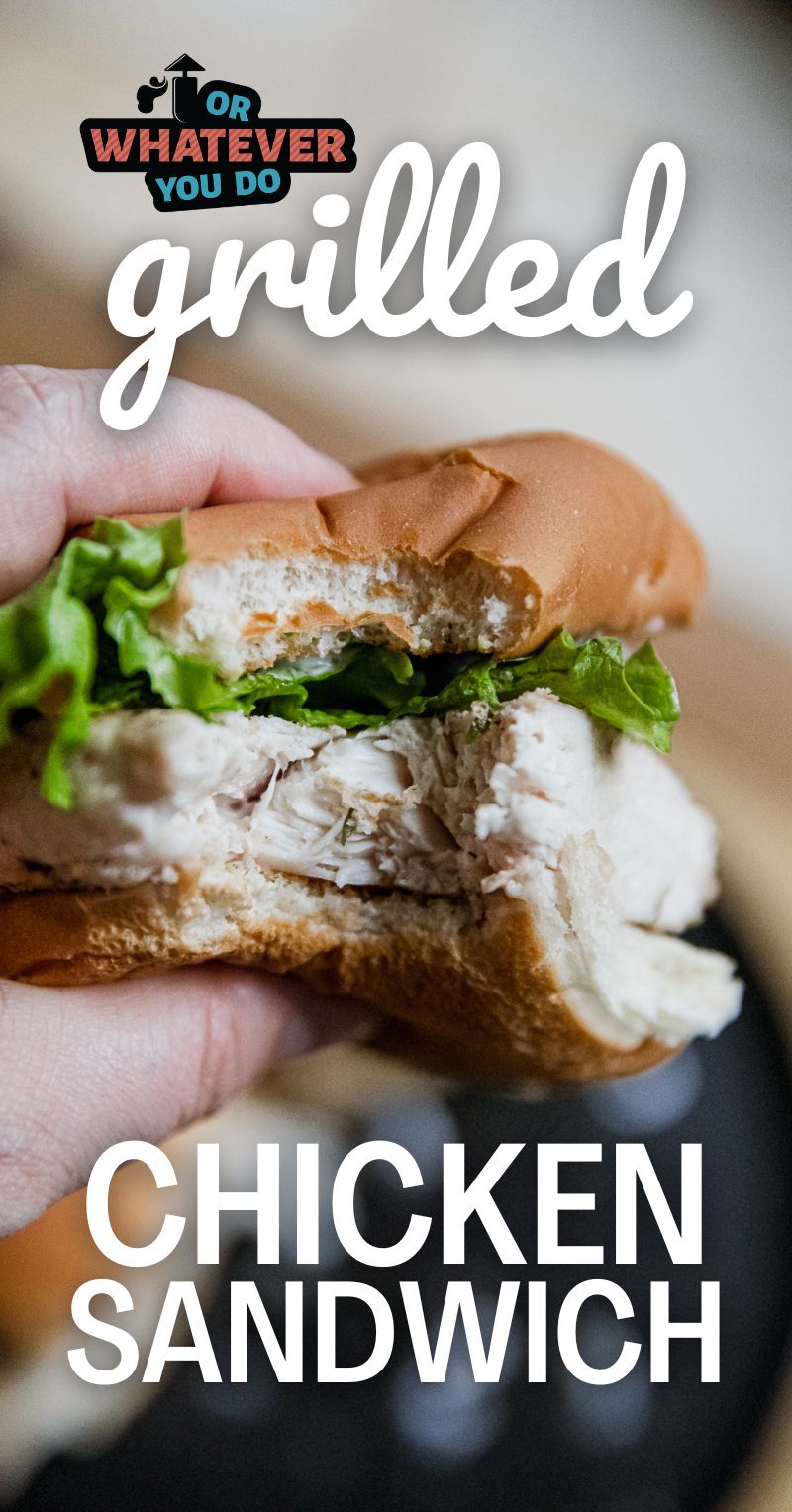 Traeger Grilled Chicken Sandwich
There's nothing quite like a perfectly cooked chicken sandwich – juicy, flavorful, and just as simple as it is satisfying. If you want to take your chicken sandwich game to the next level, using a pellet grill is the way to go. Not only does it infuse your chicken with a subtle smoky notes, but it also ensures even cooking and temperature control.
Now, let's talk about the star of the show – the chicken. When it comes to grilling chicken, the key is to keep it juicy. One of the most common mistakes people make is overcooking the chicken, which leads to dry, tough meat. This is the main reason people tend to list when they "don't like" chicken. To prevent this, make sure you are using a good thermometer and pull the chicken off the grill 165°F.
To make this grilled chicken sandwich recipe, you'll need chicken breasts, salt, pepper, and Italian herbs. Season the chicken generously with the herbs, salt, and pepper, and then cook on your pellet grill. You can also add your favorite toppings, like cheese, lettuce, tomato, and avocado, to make it even more delicious. This sandwich will quickly become a go-to in your meal rotation.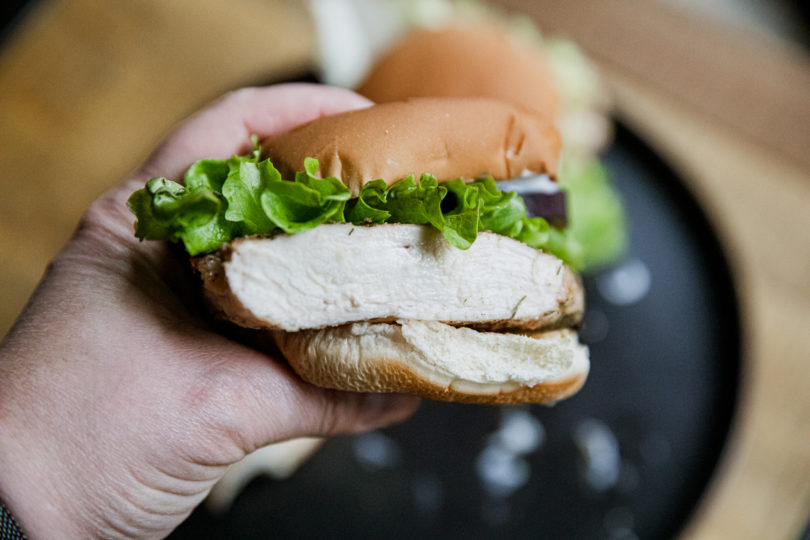 Grilled Chicken Sandwich shopping list
Wondering if you have to hit the store? Here's the list of items you'll need to make this recipe. For specific amounts, please refer to the printable recipe card at the bottom of the post.
chicken breasts
oil
pepper
garlic powder
dry Italian Herbs
mayo
lemon juice
salt
fresh basil
sandwich buns
tomato
leaf lettuce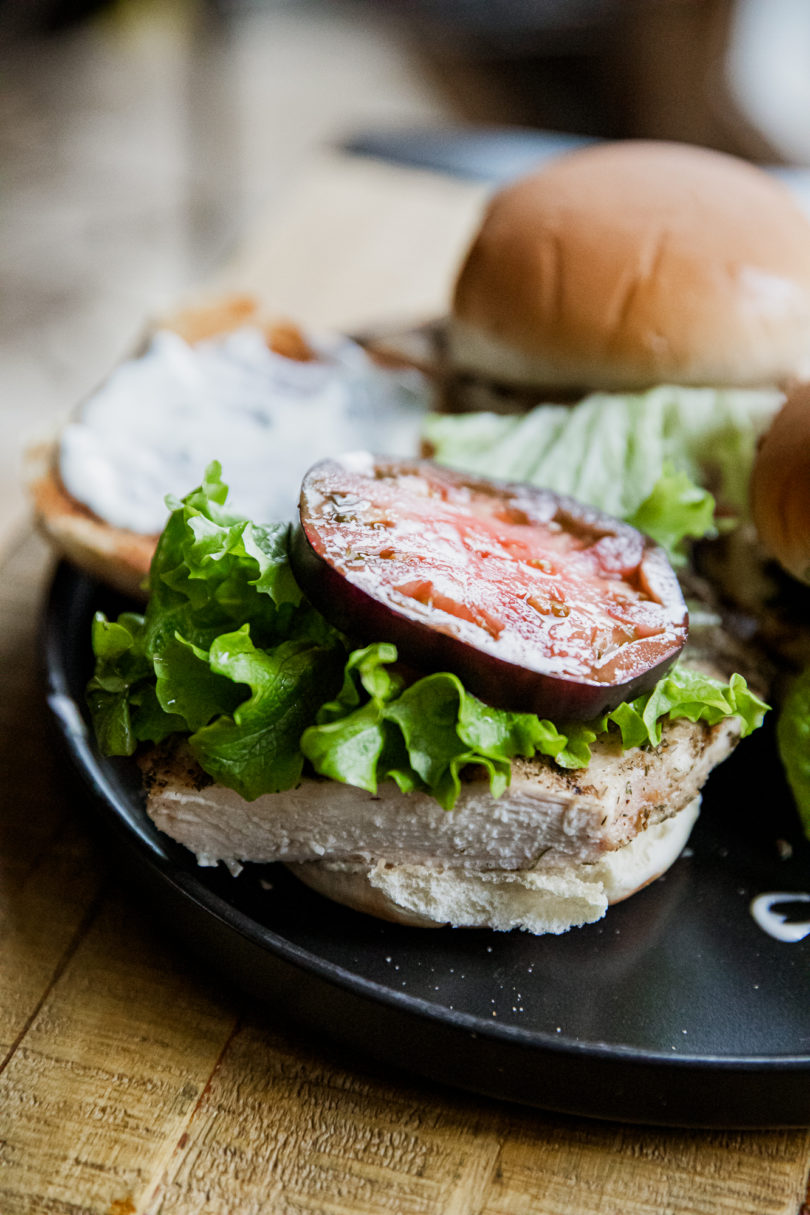 How to make a perfect Grilled Chicken Sandwich
This is just the overview so you can see what you're actually getting into here. When you are cooking, you'll want to use the full recipe at the bottom of the page.
Preheat
We're going to cook these at 325°F, so get that pellet grill pre-heated!
Prep
Pound your chicken breasts out and get them seasoned up.
Grill
Don't overdo it! Flip after 6-8 minutes and cook until the internal temp is 165°F.
Mix
The "aioli", that is. And really, this is just some doctored mayo, but we're calling it aioli anyway.
Enjoy
Toast buns, slather on that fancy mayo, top with the chicken breast, and add some lettuce and tomato if you're into it!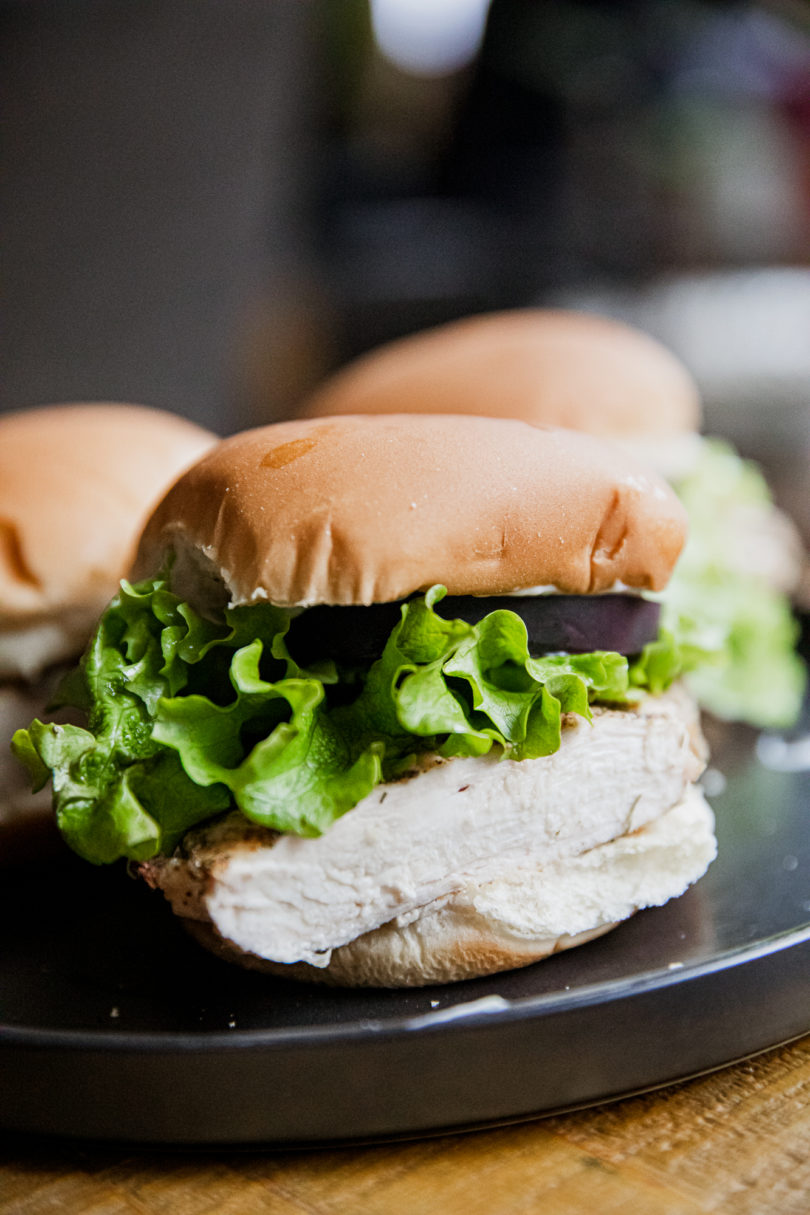 Grilled Chicken Sandwich FAQ
Can I make this recipe without a pellet grill?
Yes, you can! While using a pellet grill adds a delicious smoky flavor to the chicken, you can also grill the chicken on a gas or charcoal grill, or even in a grill pan on the stove. The key is to make sure the chicken is cooked but not OVERcooked.
How should I store the leftover grilled chicken?
If you have leftover grilled chicken, store it in an airtight container in the refrigerator for up to 3-4 days.
Can I use a different type of herb seasoning instead of Italian herbs?
Yes, feel free to use your favorite herb seasoning blend if you don't have Italian herbs on hand. Basil, oregano, thyme, or rosemary would all work well with grilled chicken.
How can I prevent my chicken from sticking to the grill grates?
To prevent the chicken from sticking to the grill grates, make sure the grill grates are clean and well-oiled before cooking. You can also use a non-stick cooking spray or brush the chicken with a bit of oil before placing it on the grill. And be patient! Don't try to flip the chicken too soon – wait until it releases easily from the grill grates before flipping.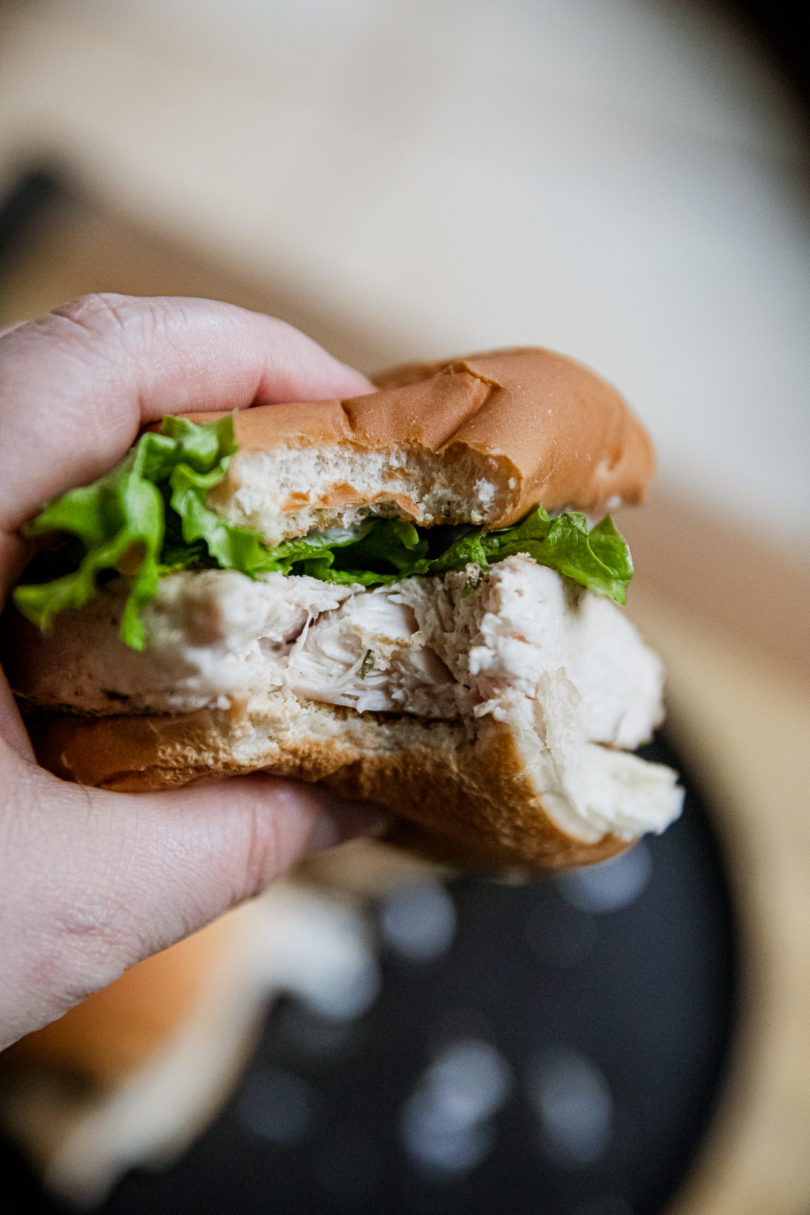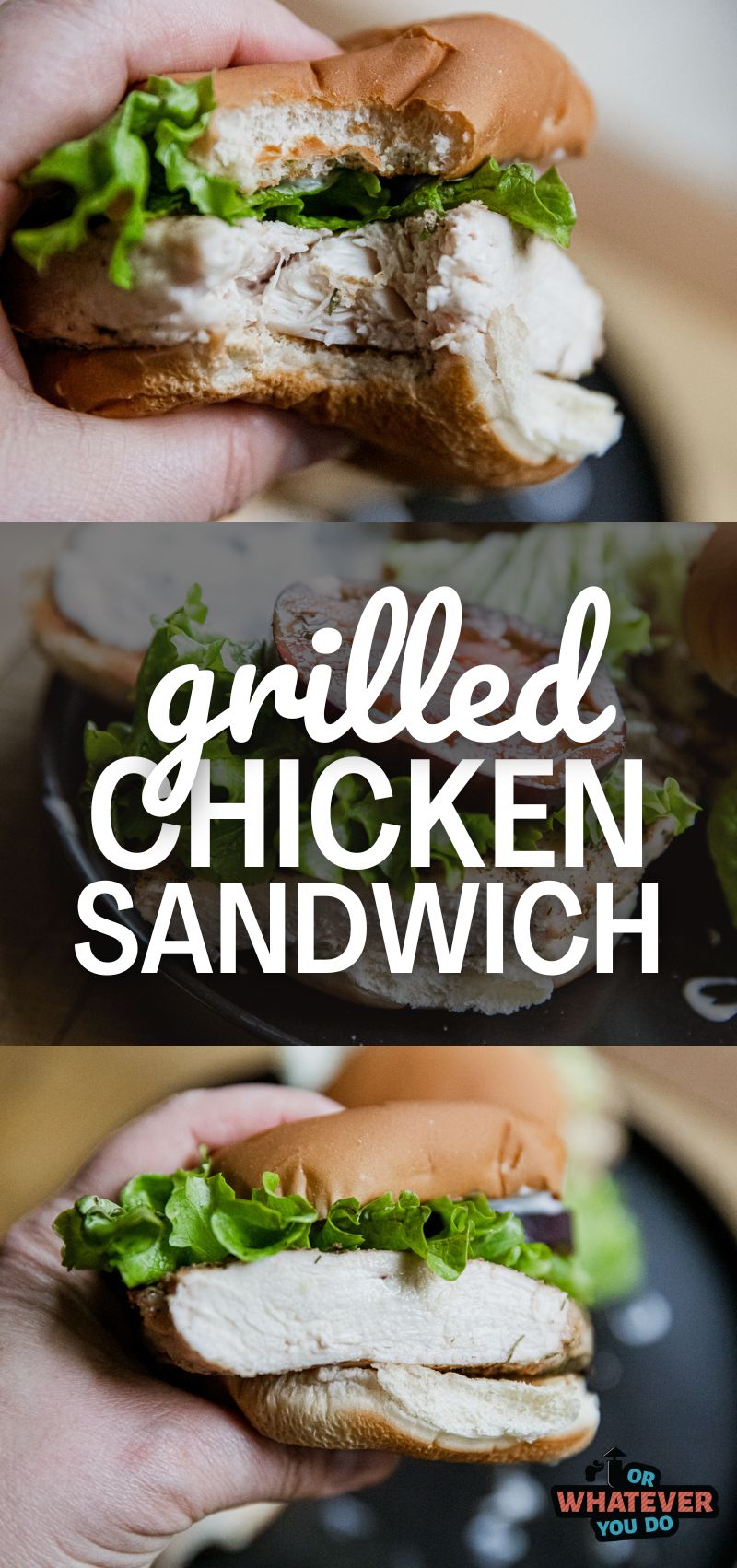 Yield: 4 servings
Grilled Chicken Sandwich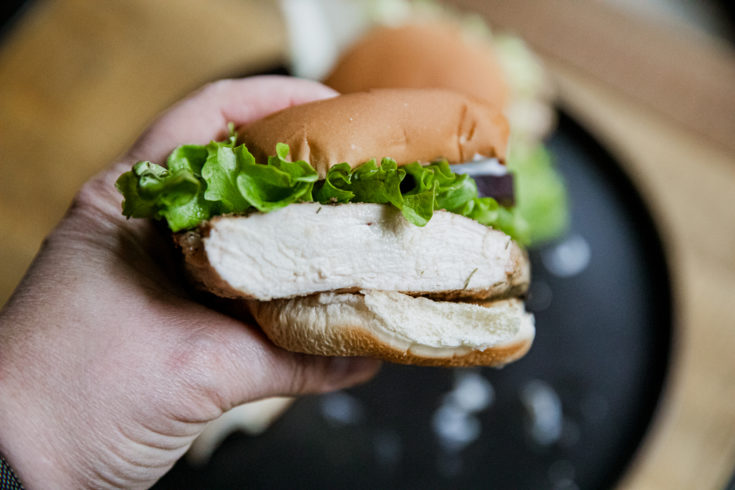 Simple and delicious Traeger Grilled Chicken Sandwich with a basil aioli! Perfect quick lunch or make-ahead meal.
Ingredients
2 large chicken breasts
1 tablespoon oil (I use avocado oil for this)
1 teaspoon salt
1/2 teaspoon pepper
1/2 teaspoon garlic powder
1/2 teaspoon dry Italian Herbs
Basil Aioli
1/3 cup mayo
1/2 teaspoon lemon juice
1/2 teaspoon salt
1 tablespoon chopped fresh basil
Sandwiches
4 large sandwich buns
4 slices tomato
4 large pieces leaf lettuce
Instructions
Preheat your pellet grill to 325°F.
Cut the chicken breasts in half to create two roughly equal sized pieces for each breast (so four total).
Place the chicken breast halves into a large plastic baggie or between two sheets of plastic wrap. Using the flat side of a meat tenderizer or a large sturdy rolling pin, pound the chicken breasts out a bit so they are about 1/2"-1" thick.
Lightly brush all sides with the avocado oil.
Season both sides of the chicken breast halves with your salt, pepper, garlic powder, and dry Italian herbs.
Place the breasts directly on the grill and cook for 6-8 minutes before flipping.
While the chicken cooks, mix up your aioli by combining all the ingredients and letting sit.
Continue cooking until the internal temperature of the breasts at the thickest point reaches 165°F.
Remove from the grill and let cool a bit before plating.
Put generous amounts of basil aioli on both sides of a toasted bun before serving.
Recommended Products
As an Amazon Associate and member of other affiliate programs, I earn from qualifying purchases.
Nutrition Information:
Yield:
4
Serving Size:
1
Amount Per Serving:
Calories:

404
Total Fat:

22g
Saturated Fat:

3g
Trans Fat:

0g
Unsaturated Fat:

17g
Cholesterol:

59mg
Sodium:

1253mg
Carbohydrates:

28g
Fiber:

2g
Sugar:

1g
Protein:

24g
Nutrition data provided here is only an estimate.