Smoked Deviled Eggs are the next level. If you have never tried smoked deviled eggs, then you are in for a serious treat! The smoke from the pellet grills adds so much complexity to an already almost perfect dish!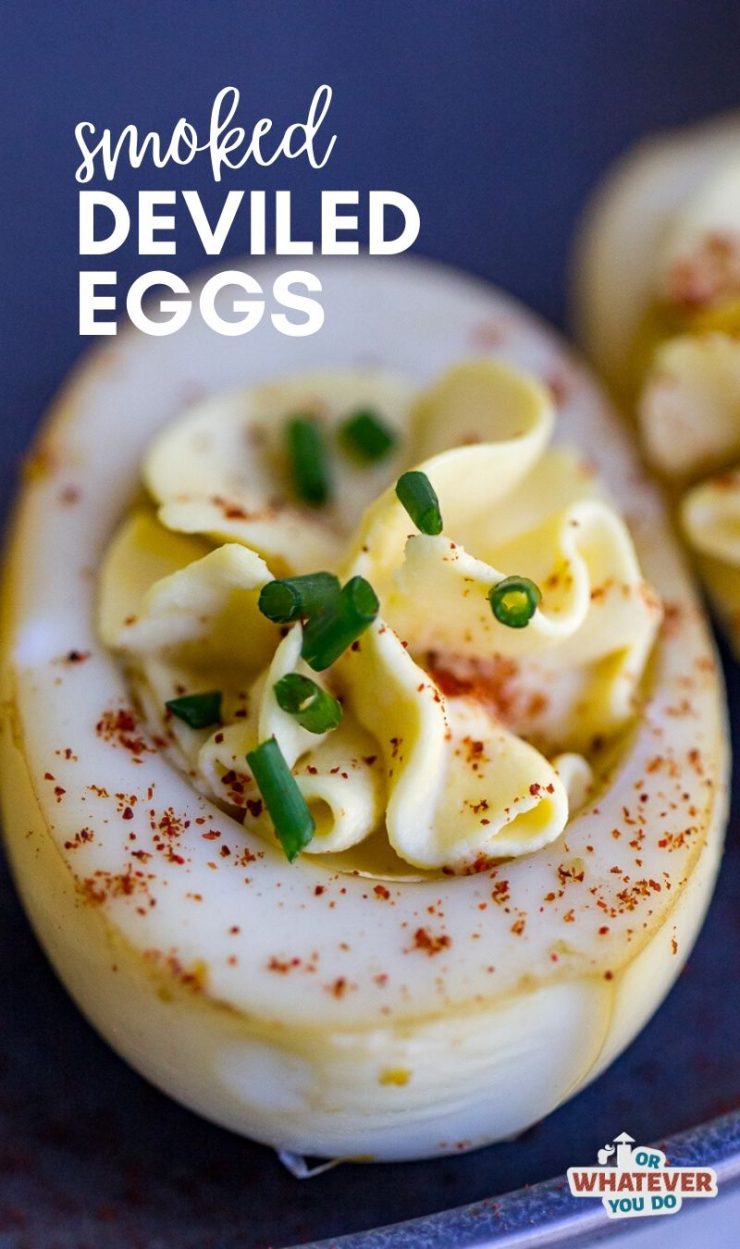 Smoked Deviled Eggs
A boiled egg white offers the perfect vessel for the smoke to permeate. It gathers all the best from that bath of smoke. Even better, you don't need much time in the smoke for the egg to pull in all the bittersweet and savory from it.
Add the filling after you pull the whites from the smoke and let them cool. You don't want the piped-in filling to melt…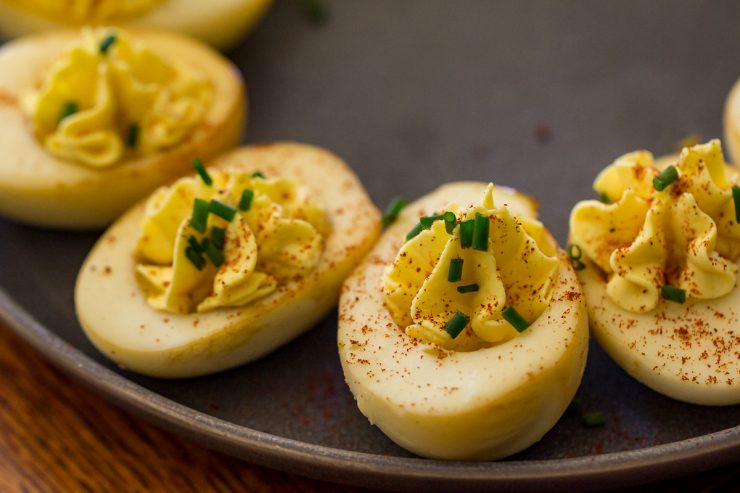 How to cook perfect hard-boiled eggs
Before you get to the smoker, the key is starting with a nice hard-boiled egg white. Do your eggs for twelve minutes in boiling water with a teaspoon of baking soda. Transfer them to cool water. Let them sit until they are cool.
Peel and slice and separate the yolks out for your filling. You are off to the races. If you already have the smoker going then even better.
Try with our Stuffed Smoked Mini Bell Peppers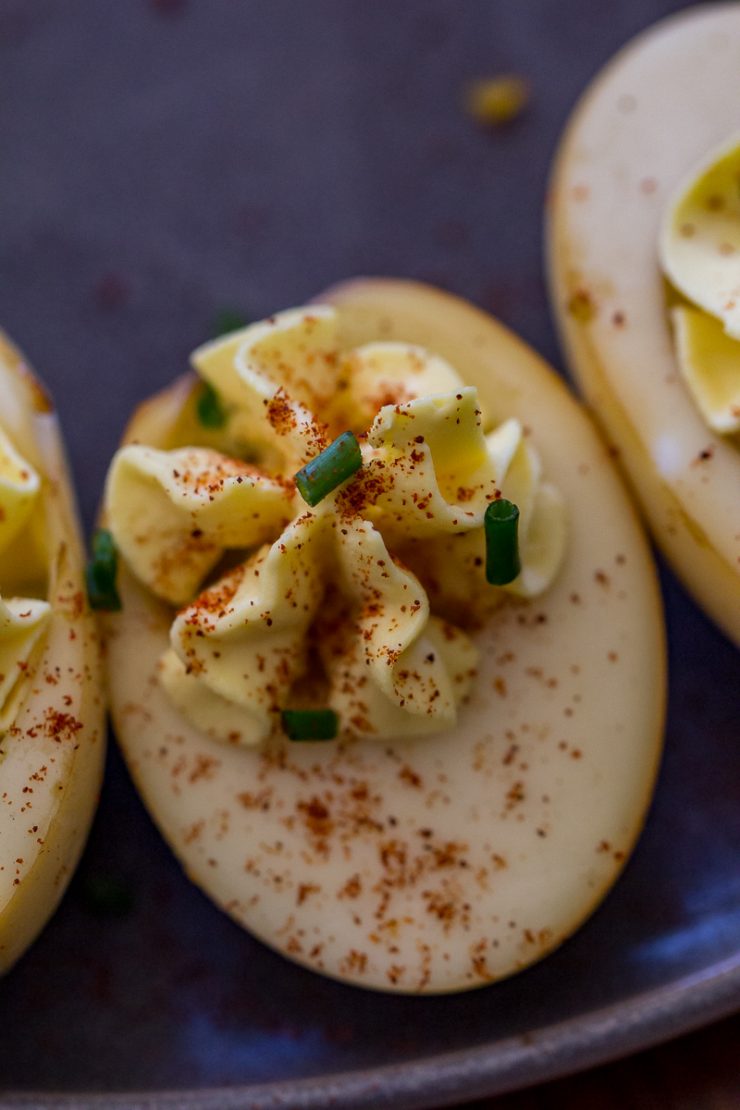 Which pellets should you use?
I recommend the milder fruit woods like apple, maple, or cherry. Alder and hickory are good too. The egg absorbs a lot of flavor from the smoke, so you are better off staying away from the bolder flavors.
Some woods like mesquite, for example, have more savory and bitter notes. That can work depending on how you season the egg yolk filling, but sticking with the milder woods is probably best.
Buy Pellets here!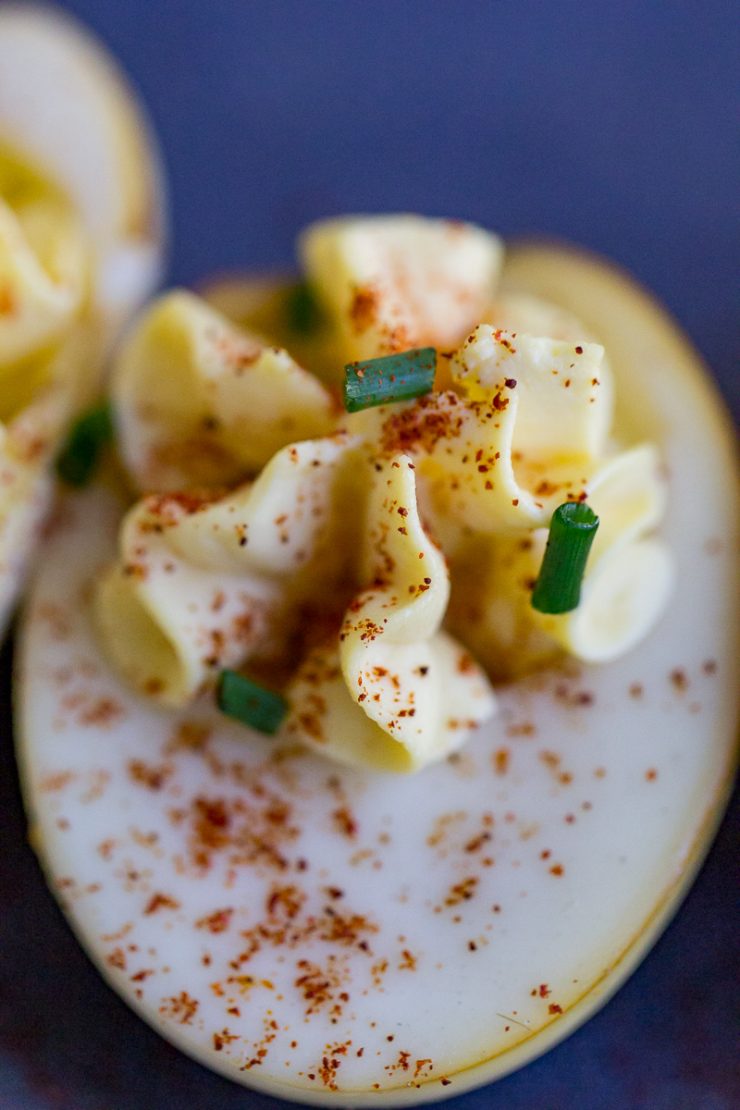 Miracle Whip vs mayonnaise for deviled eggs
People tend to be pretty evenly divided about what works best for deviled eggs, mayo or Miracle Whip. Both sides can be pretty passionate about defending what is better, but really it just comes down to personal preference.
Mayo is easy to season, and Miracle Whip is sort of like a pre-seasoned mayo. Actually, Miracle Whip is really more like a thickly emulsified salad dressing. It is mostly seasoned with garlic but there are many other unnamed "herbs and spices" in there too.
If you prefer mayo in your deviled eggs but want to liven things up a bit, there are all kinds of ways to go.
More Easy Traeger Recipes here!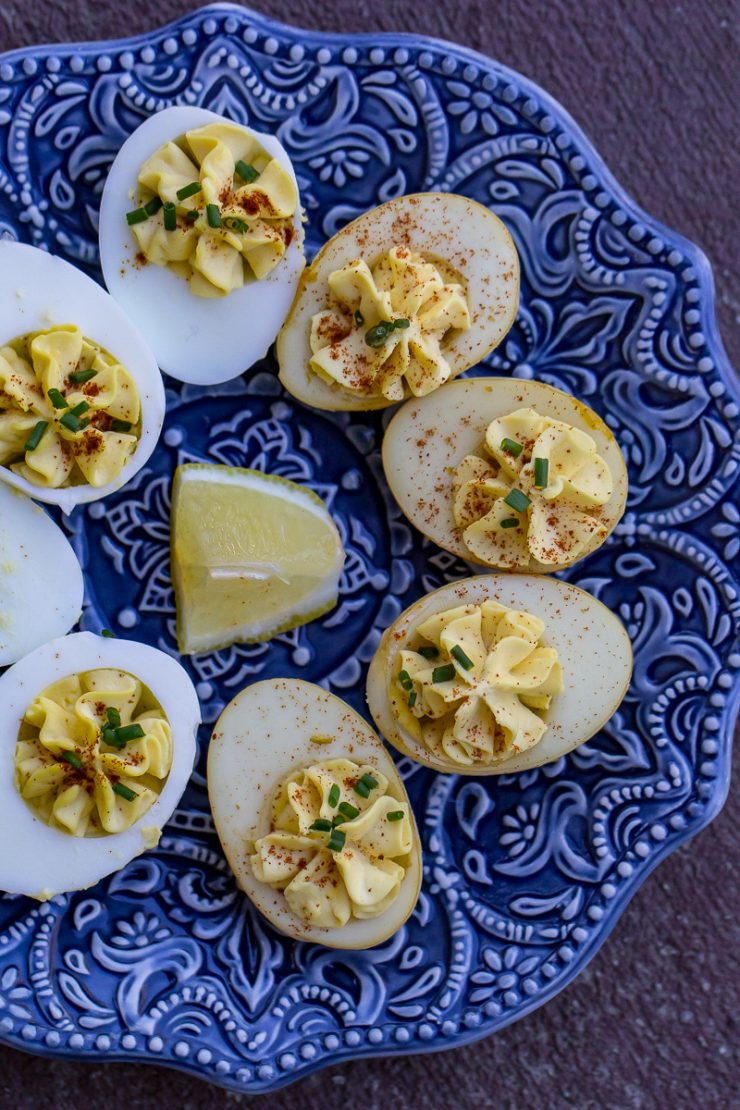 How to season the egg yolk mixture for deviled eggs
Some people like just using a bit of hamburger or hot dog style sweet pickle relish. The sky's the limit in terms of potential. A little bit of dry mustard powder or horseradish can help brighten the flavor.
If you have some fresh herbs handy like dill or cilantro then mincing them into the yolk is great too.
Since the eggs are smoked, instead of the usual favorite sweet paprika sprinkled over the tops for color, try either hot paprika or smoked paprika instead. Either way, you still get the same touch of color but you also add a bit of flavor to the mix too.
Why are they called deviled eggs?
Smoked deviled eggs actually go back a couple of thousand years as an appetizer of choice. However, they earned the term "deviled" back in the 1700s. Back when the Puritans were telling everyone to only wear black and abstain from anything and everything, even using spices in food was considered an invitation to the devil.
Because the style of smoked deviled eggs popular at the time involved making the filling spicy with peppers and mustard, they picked up the "deviled" description. Hopefully eating a few deviled eggs wasn't cause to burn anyone at the stake!
Follow me on Instagram!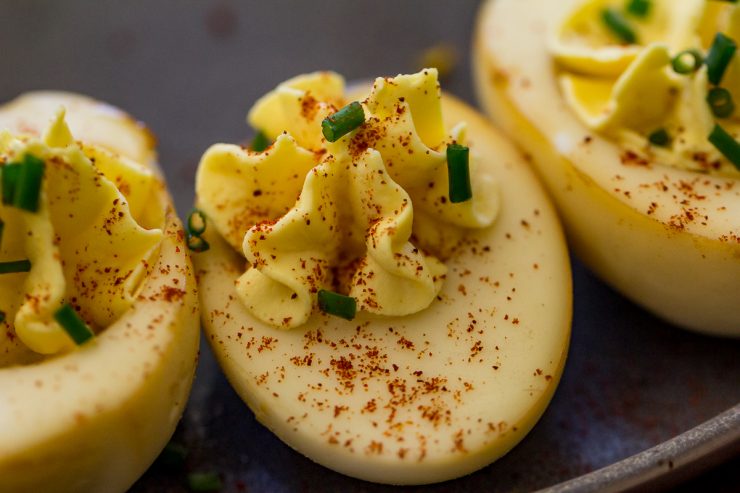 What else can you serve for brunch?
Deviled eggs are great for a brunch item and they pack well for taking on a picnic or going tailgating. (Especially if you have one of those handy deviled egg covered trays to carry them in)
Doing brunch and need a few more recipes to help round things out? I can recommend a few things.
If you are the type who likes a lot of options, then best to start by checking out these 62 ideas for brunch. If you can't find anything there then all I can say is you must do brunch a lot more than the average person!
Here are some of my favorites:
Bacon egg breakfast wraps are not complicated to make, easy to serve, and always get devoured
Chilaquiles with hatch chilis. This is also done on the smoker so you can do the eggs and this at the same time.
Blood orange mimosas because what is brunch without a tasty mimosa to sip and relax with?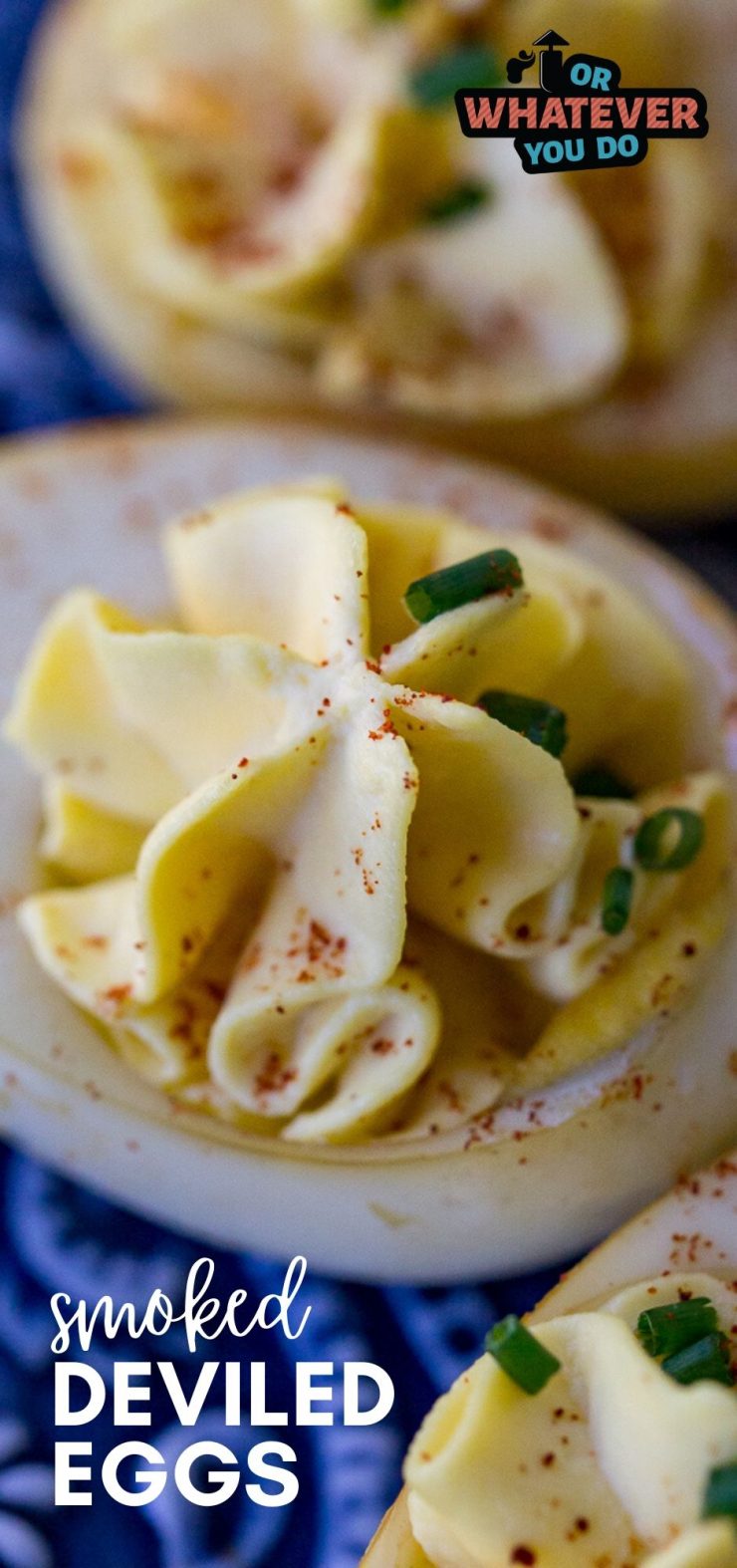 Yield: 6 servings
Traeger Smoked Deviled Eggs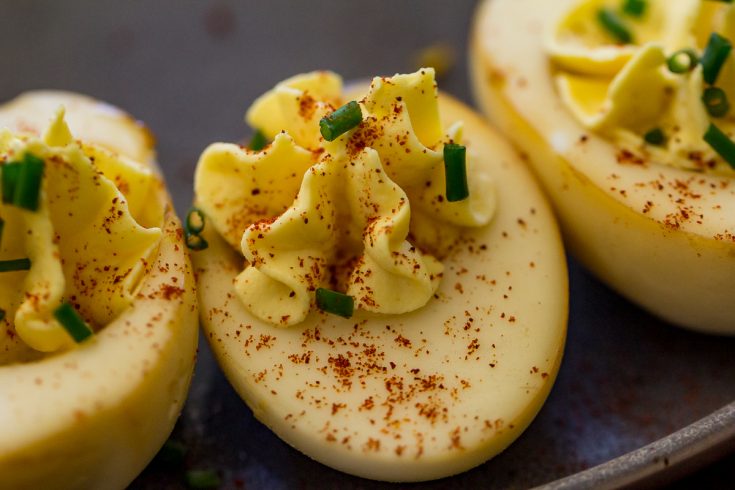 Traditional deviled eggs get a trip into the pellet grill for the ultimate deviled egg experience.
Ingredients
12 eggs
Water (enough to cover the eggs plus 2 inches)
1/8 cup mayo
2 teaspoons sugar
1 tablespoon white vinegar
1 tablespoon Dijon prepared mustard
½ teaspoon salt
1 tablespoon chopped chives
1/8 teaspoon paprika
Instructions
Place a large pot of cold water on the stove, and place 12 eggs and 1 tablespoon of vinegar inside. Turn the stove up to high and bring the water to a boil.
Turn the heat off the burner, cover the pot, but leave the pot on the warm burner for 12 minutes.
Drain the eggs and rinse in cold water. Place in the fridge until they are fully chilled.
Turn your grill onto smoke, or preheat to 180°.
Peel the eggs, rinse in cold water, and carefully slice them in half. Scoop out the yolks and place into another bowl. Set out the egg whites on a rack that's been sprayed with cooking spray.
Place the rack on a tray with ice. You want to cold smoke the eggs so the whites don't get rubbery. Smoke for 20 minutes, and then remove from the grill.
Mash the egg yolks together with the mayo, sugar, 1 tablespoon white vinegar, mustard, and salt. Continue mashing until it is smooth and there are no more lumps.
Place into a piping bag with a 1m star tip attached, and pipe into the egg white hollows.
Garnish with chives and paprika.
Notes
You can smoke these for more or less time, depending on how intense you like your flavor!
Recommended Products
As an Amazon Associate and member of other affiliate programs, I earn from qualifying purchases.
Nutrition Information:
Yield:
8
Serving Size:
1
Amount Per Serving:
Calories:

136
Total Fat:

10g
Saturated Fat:

3g
Trans Fat:

0g
Unsaturated Fat:

6g
Cholesterol:

280mg
Sodium:

318mg
Carbohydrates:

2g
Fiber:

0g
Sugar:

1g
Protein:

10g
Nutrition data provided here is only an estimate.