Our Smoked Chuck Tender Roast is a delicious and savory dish that is perfect for any occasion. The chuck tender roast, a cut of beef taken from the shoulder, is slow smoked on our pellet grill until it is tender and juicy.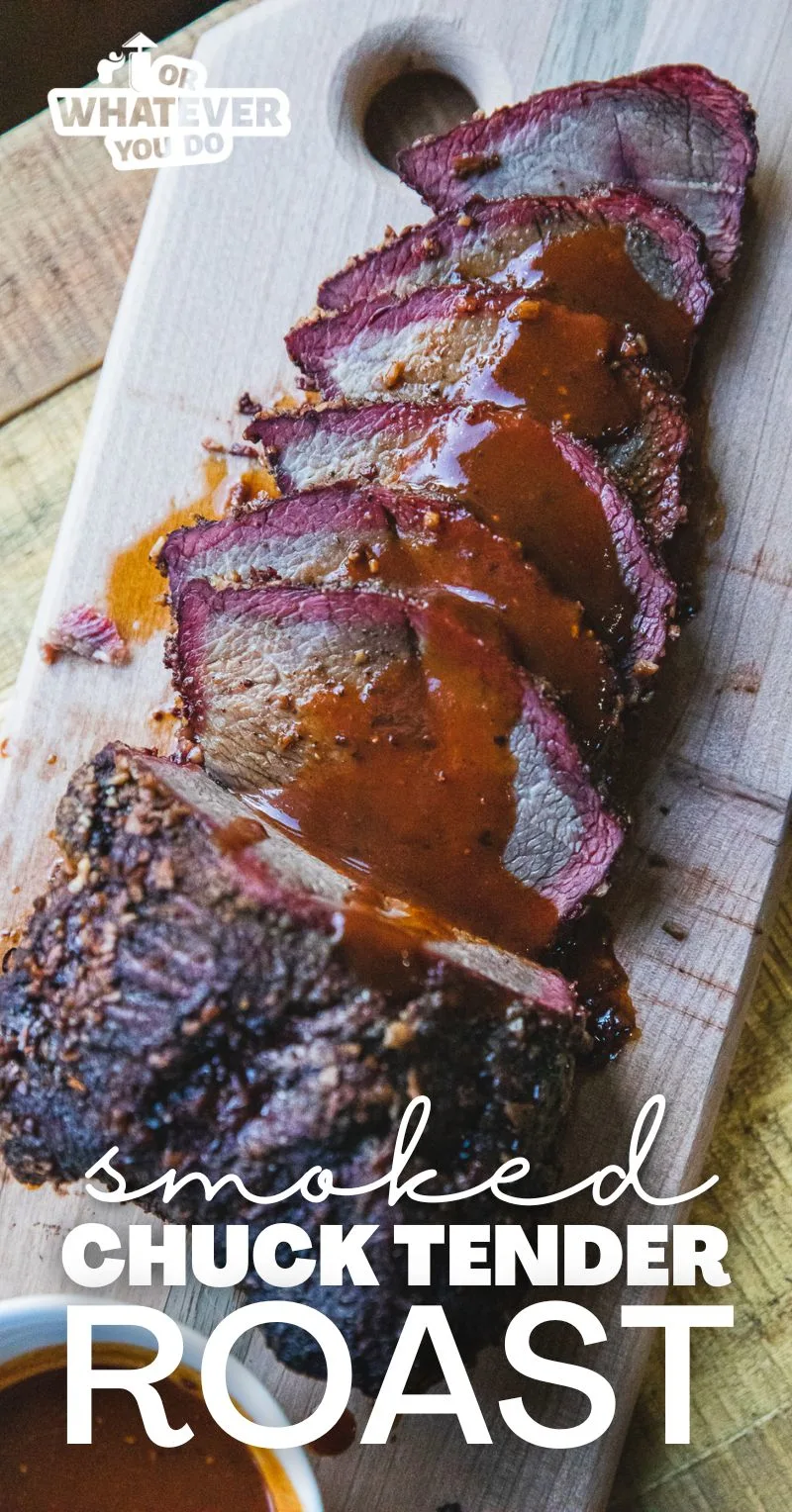 Traeger Smoked Chuck Tender Roast
This recipe is perfect for those of you who love the smoky flavor of barbecue but want to try something different from the usual brisket or ribs. Serve it with your favorite bbq sides and enjoy a hearty and satisfying meal.
Chuck roasts are one of our favorite cuts of beef to cook. In fact, we have several pages of Chuck Roast Recipes to choose from. One of my favorites is our fork-tender Traeger Smoked Mississippi Pot Roast!
What is a chuck tender roast?
The chuck tender roast and regular chuck roast are both cuts of beef that come from the shoulder area of the cow, but they have some differences in terms of texture, tenderness, and flavor.
Chuck tender roasts come from the beef chuck primal, which is part of the supraspinatus muscle. It is a smaller and more tender cut compared to regular chuck roast because it is not heavily used by the cow. This cut is described as being similar to the filet mignon, but with more marbling. In fact, sometimes it is even referred to as a "mock tender roast".
The chuck roast comes from a larger area of the shoulder and includes different muscles, such as the shoulder clod and the top blade. It is a tougher cut of beef that requires slow cooking methods like braising or slow roasting to break down the connective tissue and make it tender. We use regular chuck roast is known for its rich flavor and is often used in dishes like pot roast or beef stew.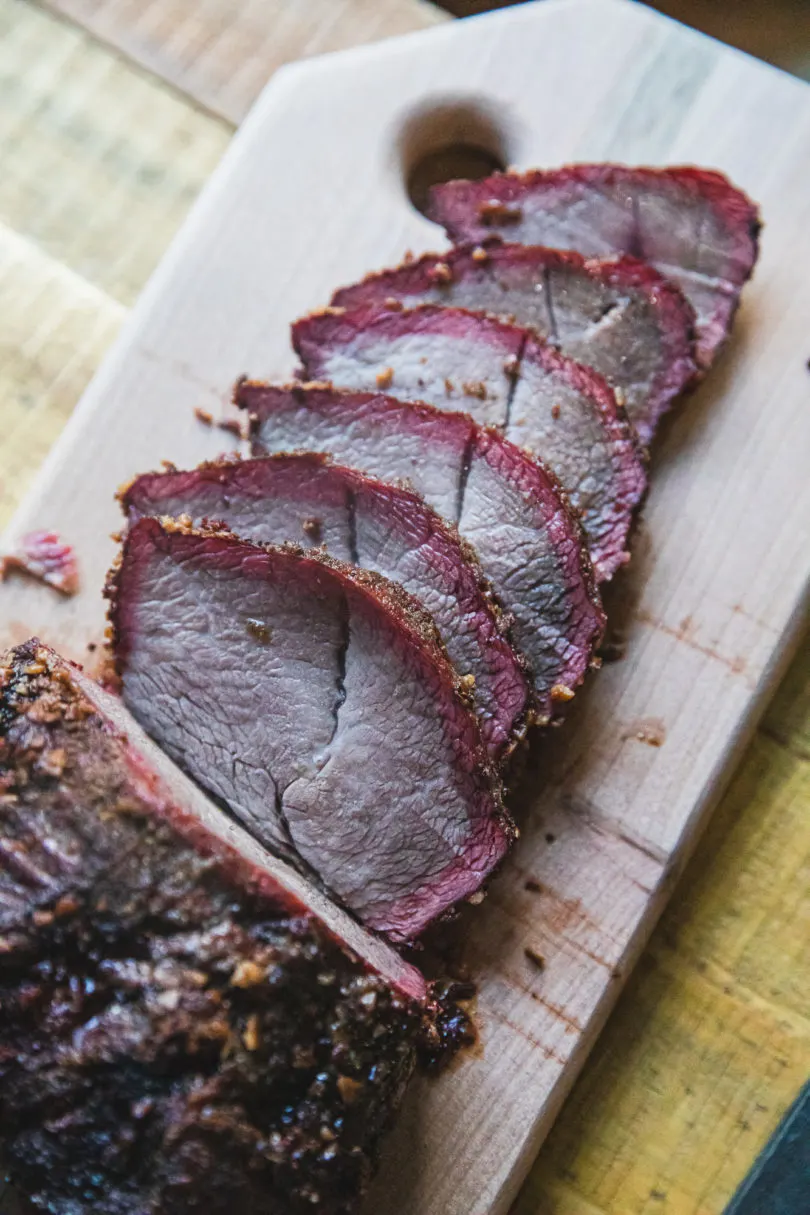 Smoked Chuck Tender Roast shopping list
Wondering if you have to hit the store? Here's the list of items you'll need to make this recipe. For specific amounts, please refer to the printable recipe card at the bottom of the post.
chuck tender roast
SPG (salt, pepper, garlic – see notes)
apple cider vinegar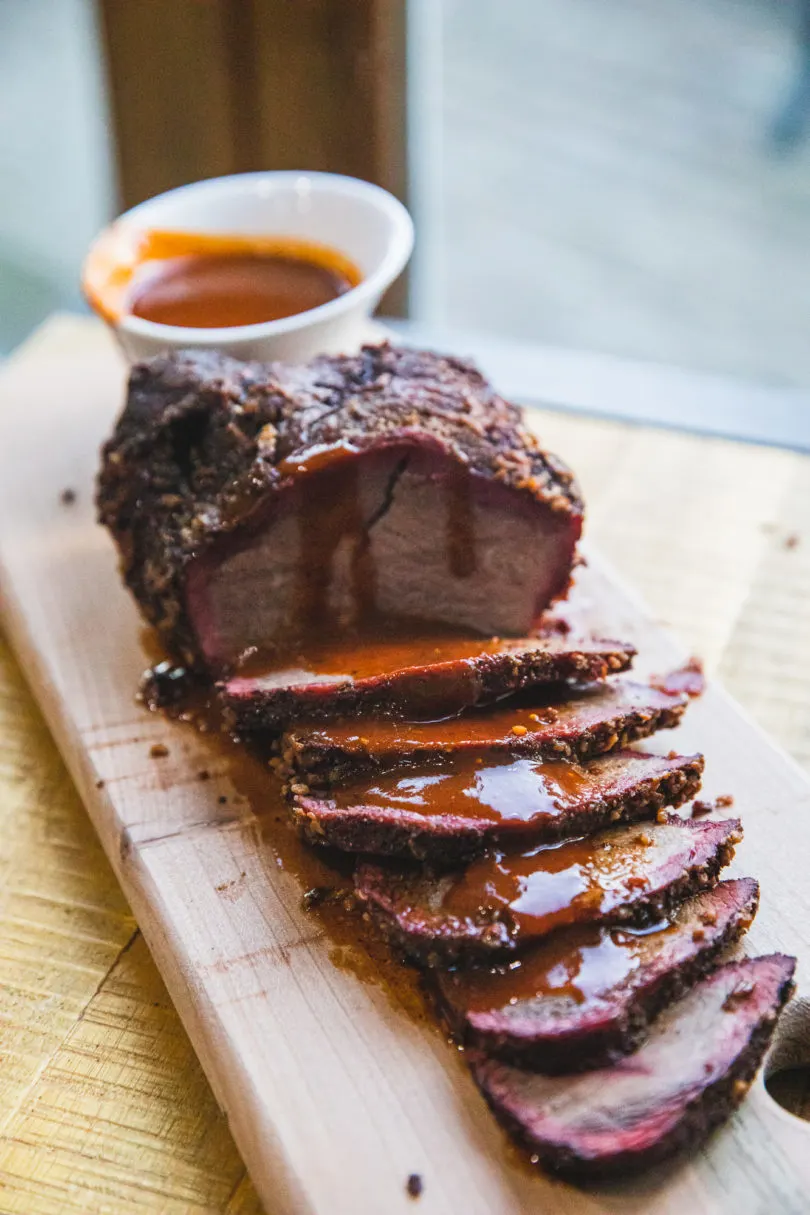 How to make Smoked Chuck Roast Stroganoff
This is just the overview so you can see what you're actually getting into here. When you are cooking, you'll want to use the full recipe at the bottom of the page.
Preheat
Fire up your smoker and preheat it to 225°F.
Season and Smoke
Season your roast with SPG and put it on the grill. Let is smoke until it hits 160°F internal.
Spritz every hour with apple cider vinegar.
Wrap
Wrap the roast with foil, but before sealing it, add a few tablespoons of ACV to the packet. Seal well and place back on the grill.
Turn the heat up to 250°F and continue cooking until the roast is probe tender, or reaches 205°F. Probe tender is the important part, but different roasts reach that at different temps, so start monitoring at about 198°F. A wireless thermometer like the Meater or a ThermoWorks Smoke are great options.
For all of your wireless grilling needs, the Smoke is the most reliable wireless thermometer I've ever used.
Rest
Let the roast rest for at least an hour, wrapped in a towel in a cooler, before slicing for best results. Reserve the liquid that's inside the packet and drizzle it back over the meat after slicing.
Enjoy
Serve with some vinegary bbq sauce and enjoy!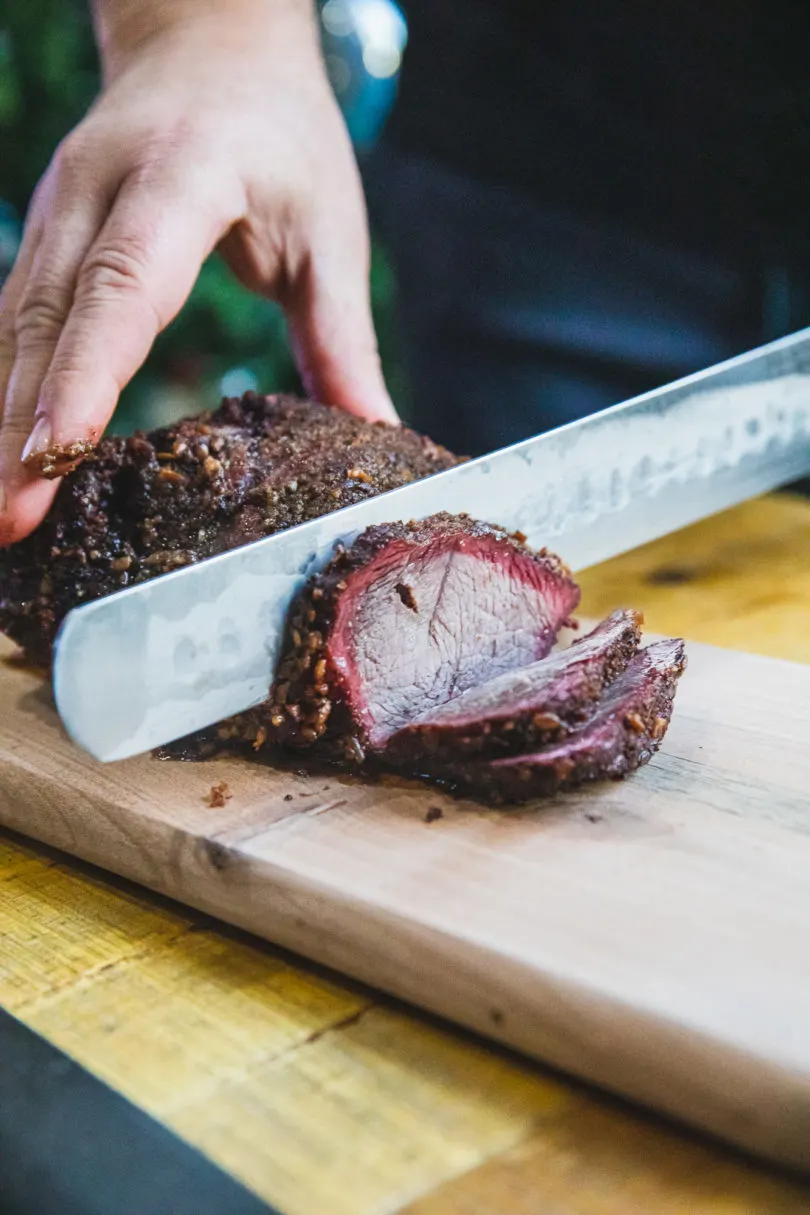 Smoked Chuck Roast FAQ
What's the best way to store the leftovers?
Store these wrapped in the fridge for 3-5 days, total.
Are there any substitutions for the apple cider vinegar?
Sure! You can use beef broth, a tangy vinegar-based bbq sauce, hard apple cider, and beer are all good options.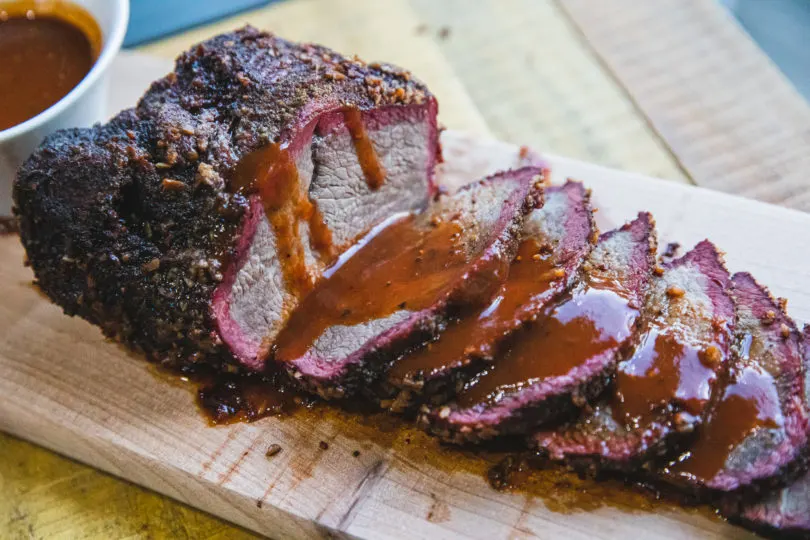 More great recipes to love!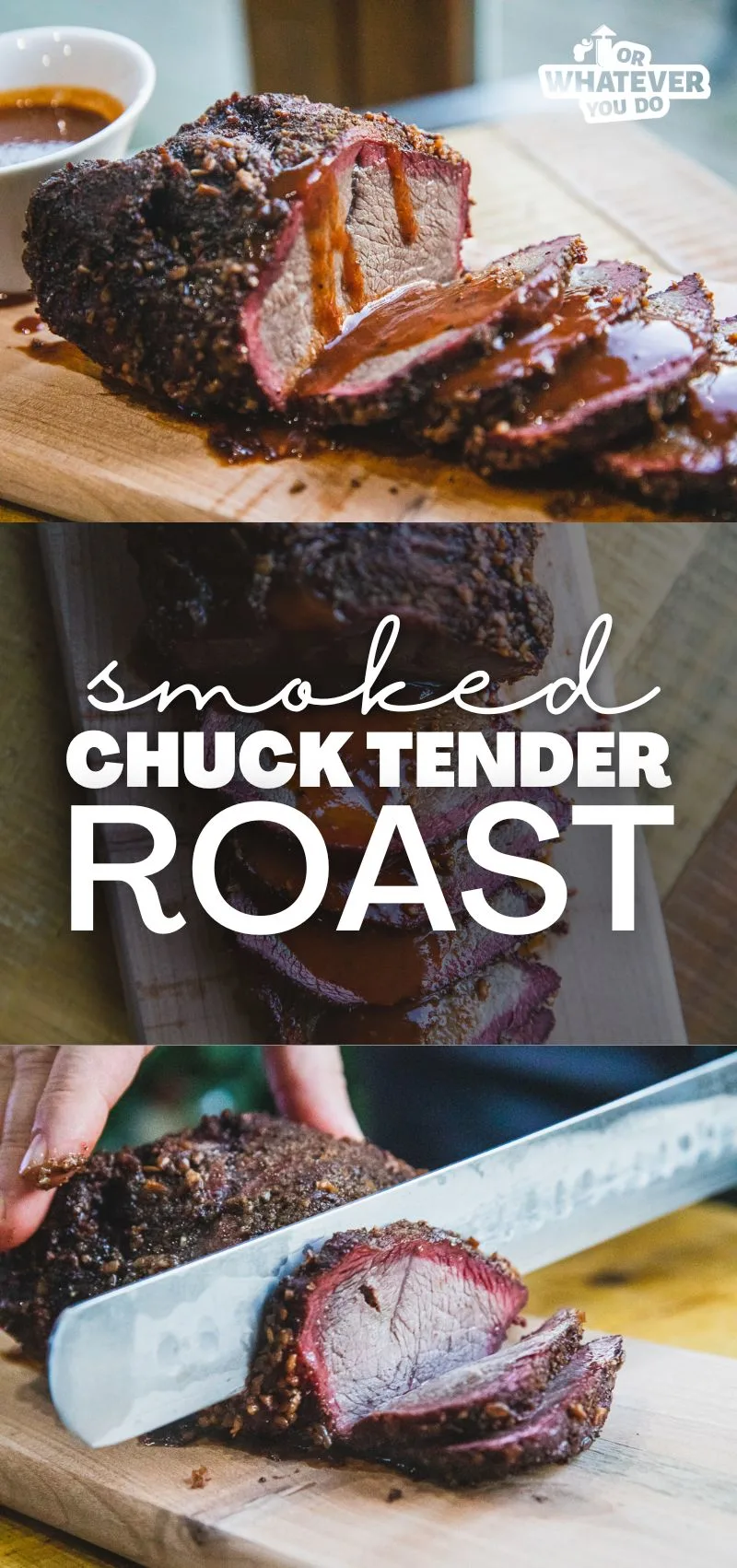 Smoked Chuck Tender Roast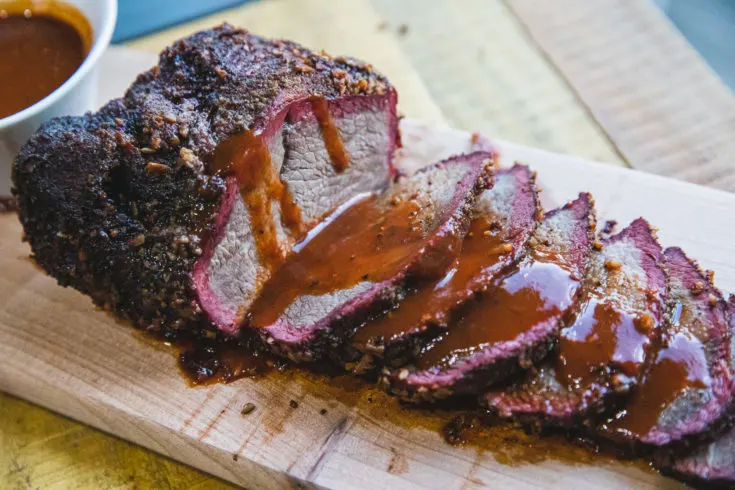 Ingredients
5 pound chuck tender roast
3 tablespoons SPG (salt, pepper, garlic - see notes)
1/2 cup apple cider vinegar
Instructions
Preheat your grill to 225°F.
Season your roast with the SPG and rub into all sides of the meat. Place the meat on the grill.
Cook the roast until the internal temperature reaches 160°F, spritzing with the apple cider vinegar (ACV) every hour.
Once the roast reaches 160°F, wrap in foil and pour in several tablespoons of the ACV with the meat. Wrap tightly, so none of the liquid can escape.
Bump up the grill temp to 250°F and continue cooking, wrapped, until the internal temperature reaches 205°F (or is probe-tender).
Remove from the grill and let rest. Reserve the liquid from the foil packet when you open it up.
Slice and serve with the braising liquid and some tangy barbecue sauce.
Notes
If you don't have a premade SPG, you can mix up your own. We like a 2:1:2 ratio.
Recommended Products
As an Amazon Associate and member of other affiliate programs, I earn from qualifying purchases.
Nutrition Information:
Yield:
6
Serving Size:
1
Amount Per Serving:
Calories:

788
Total Fat:

30g
Saturated Fat:

12g
Trans Fat:

1g
Unsaturated Fat:

17g
Cholesterol:

394mg
Sodium:

311mg
Carbohydrates:

1g
Fiber:

0g
Sugar:

0g
Protein:

128g
Nutrition data provided here is only an estimate.