As much as I dig a delicious reverse-seared steak, there is a special place in my heart for a diner-style griddle-cooked steak, and the Blackstone is the perfect place to get your crust on with a giant, delicious Blackstone Tomahawk Ribeye.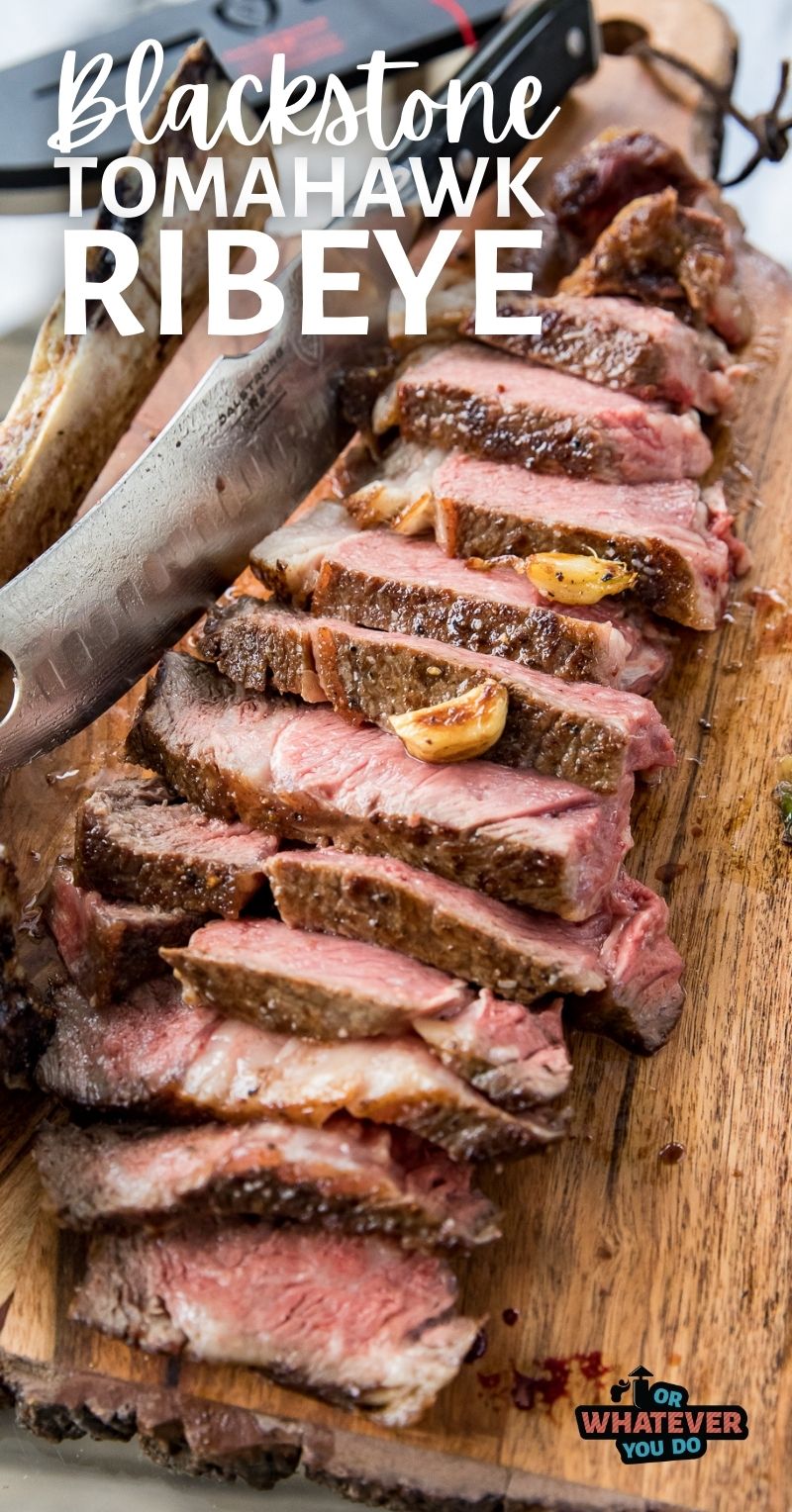 Perfect Blackstone Tomahawk Ribeye
If you post a photo of a raw tomahawk steak in a Blackstone group on Facebook, you've got a very good chance of being lambasted and told that "not everything belongs on a griddle".
That may be true as a general concept (I've seen some crazy things cooked on the Blackstone), but in the case of a good steak, they are totally wrong.
I spent a lot of years working in restaurants, both in the front and back of the house, and cooking steak on the flat top is not only done VERY frequently, but it might also be the most common way of cooking steak in a restaurant.
More Blackstone Recipes here!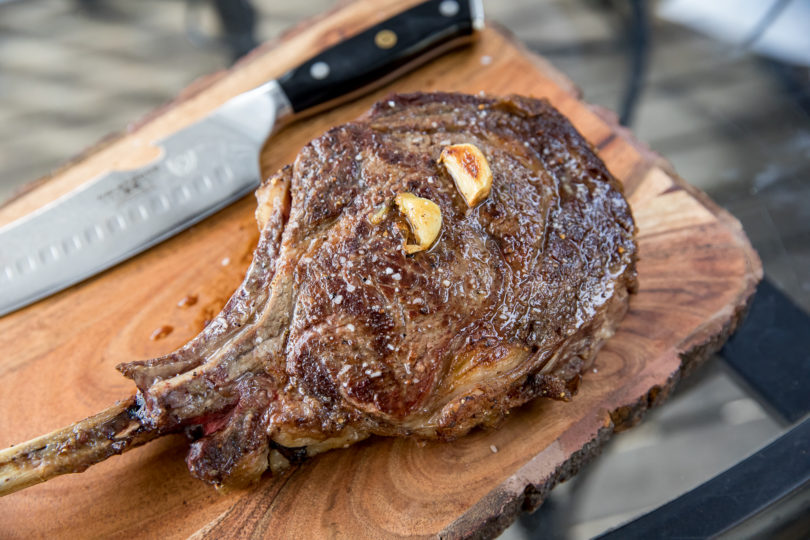 Where's the best place to buy a Tomahawk steak?
Your local butcher shop will always be the BEST place to buy a nice, thick tomahawk steak. Look for a place that sources from local small farmers, too.
If you don't have one of those around, keep looking, you'll probably be surprised and find a hidden gem, but in the meantime you local fancy grocery store, Costco, or if you want to get fancy – a dry-aged tomathawk steak from Snake River Farms or a Cowboy Steak from Crowd Cow are all good options too.
More great BEEF recipes here!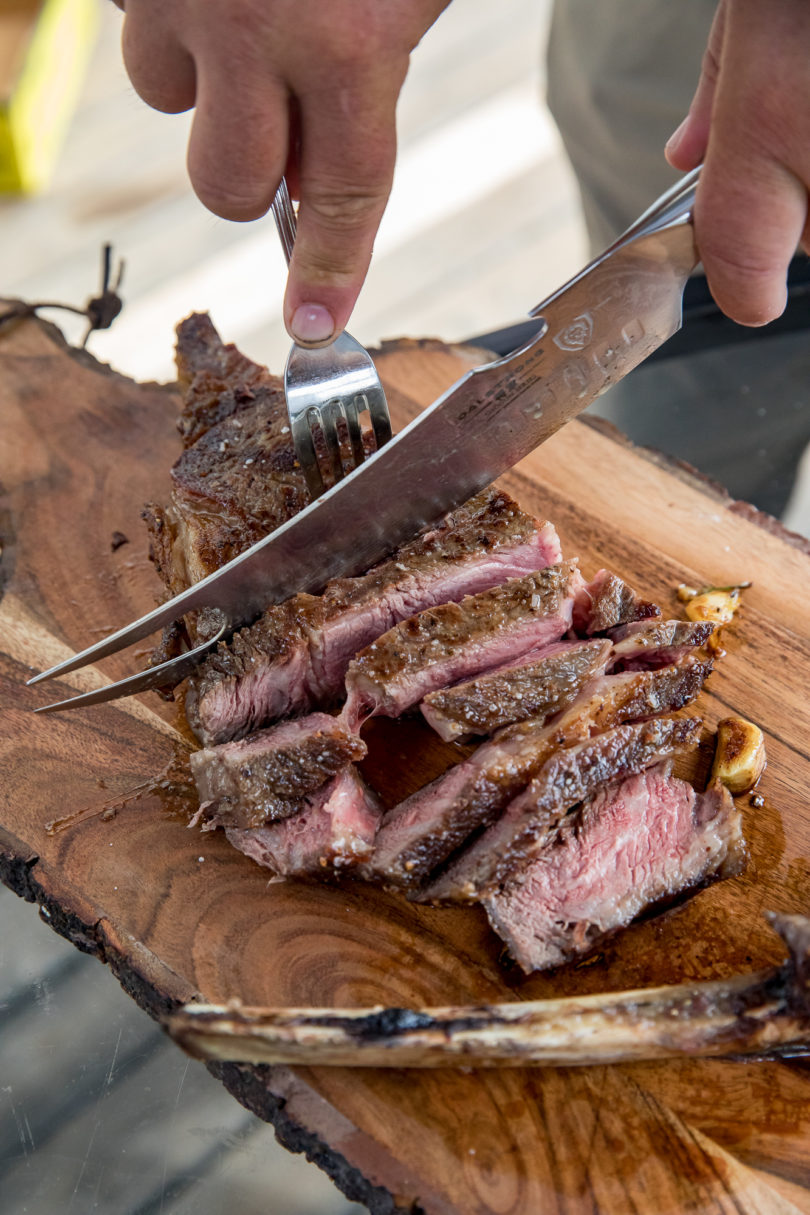 Blackstone Tomahawk Ribeye shopping list
Wondering if you have to hit the store? Here's the list of items you'll need to make this recipe. For specific amounts, please refer to the printable recipe card at the bottom of the post.
Get your Blackstone Griddle here!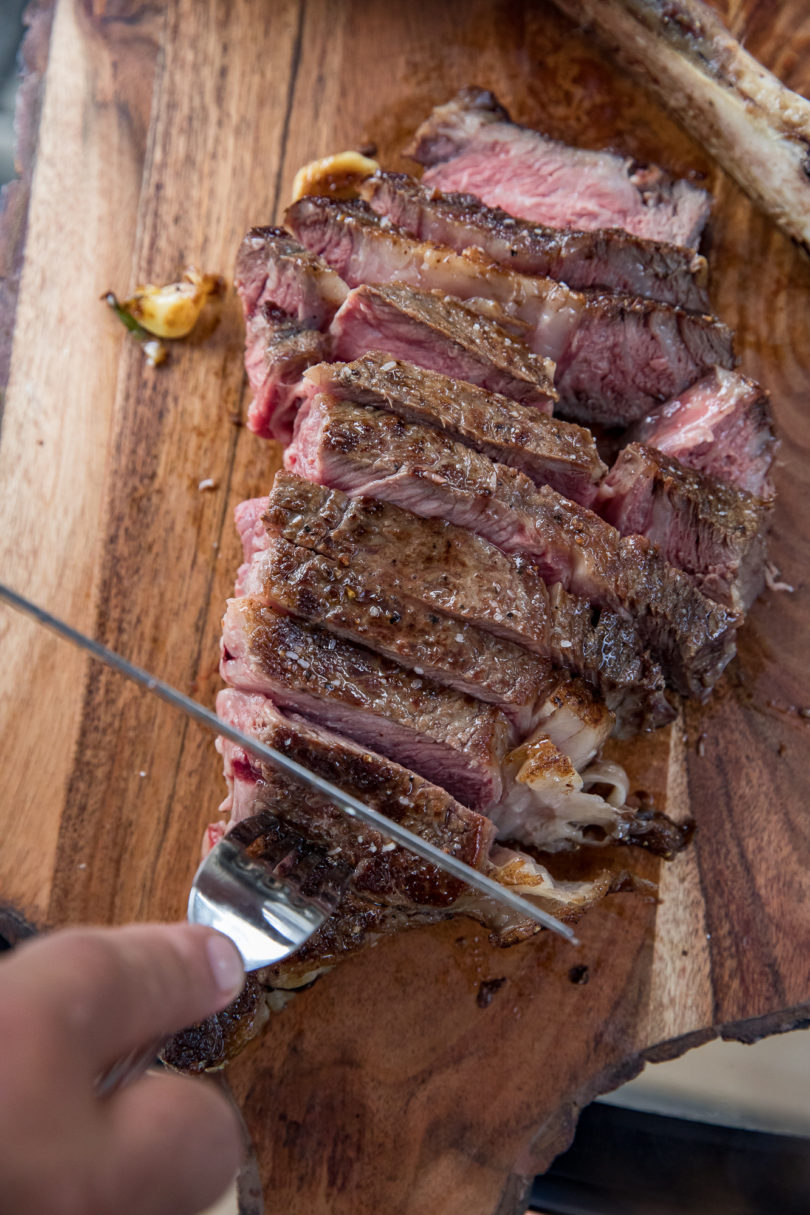 How to make a perfect Tomahawk steak on the Blackstone
This is just the overview so you can see what you're actually getting into here. When you are cooking, you'll want to use the full recipe at the bottom of the page.
Pre-heating is not optional
Give it 15 minutes on medium heat.
Season your steak
Pat your steak dry with paper towels and season both sides with salt and pepper. Let it rest on the counter while the Blackstone preheats. While it is resting, gather your tools (including your thermometer).
Cook it
Lay down a pat of butter on the griddle and let it melt. Immediately put the steak down on the melted butter. Let it cook for 4-5 minutes, or until a brown crust has formed on the bottom side. Don't move it around prematurely or you can ruin the crust.

Cook the garlic alongside the steak on the griddle, and rub it around on the steak surface and in the butter you put down for extra flavor.

Put down another pat of butter next to the steak and flip it over onto that melted butter and repeat the browning process. You want to use a different part of the griddle for this for the best results because the surface will be dry and hot, unlike the surface of the stone that's currently cooking side 1 of your meat.
Once the second side is browned, temp the middle of the steak. A nice thick Tomahawk shouldn't be even approaching rare at this point. We're still in "blue" territory here.

At this point, we want to lower the heat of the griddle, throw down some more butter, and continue to cook on low heat, flipping occasionally, and temping until you get to your desired "pull at" temperature. (Use the chart below.)
Pull and rest
Once your steak reaches the "pull at" temp, pull it off the griddle and let it rest, tented with foil, for 5-10 minutes. This allows the juices to redistribute through the meat, and is very important!
Enjoy
While the presentation of a tomahawk ribeye is half of the fun, eating it directly off the bone isn't the most convenient. We like to cut ours off the bone and slice it for the actual eating.
Join our Easy Griddle Recipes Facebook Group!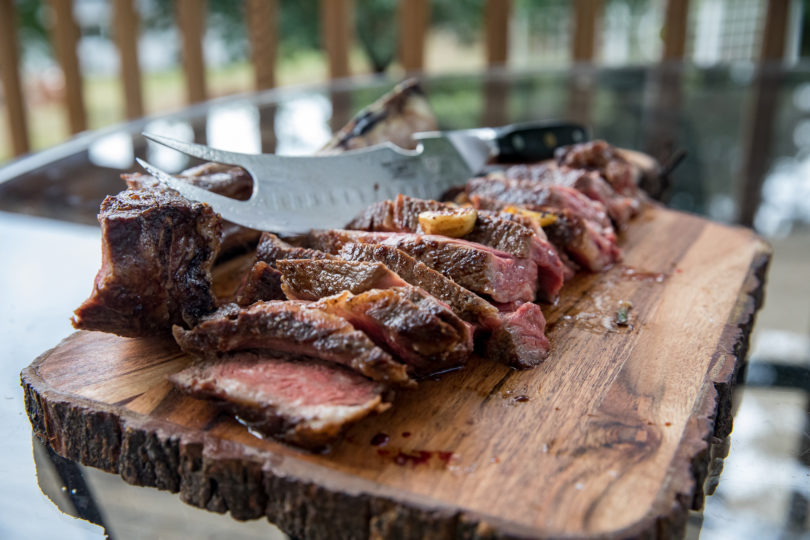 | | | |
| --- | --- | --- |
| STEAK TEMPERATURES | PULL | FINAL |
| RARE | 115° | 120° |
| MID-RARE | 125° | 130° |
| MEDIUM | 130° | 135° |
| MEDIUM-WELL | 135° | 140° |
| WELL | 140° | 145° |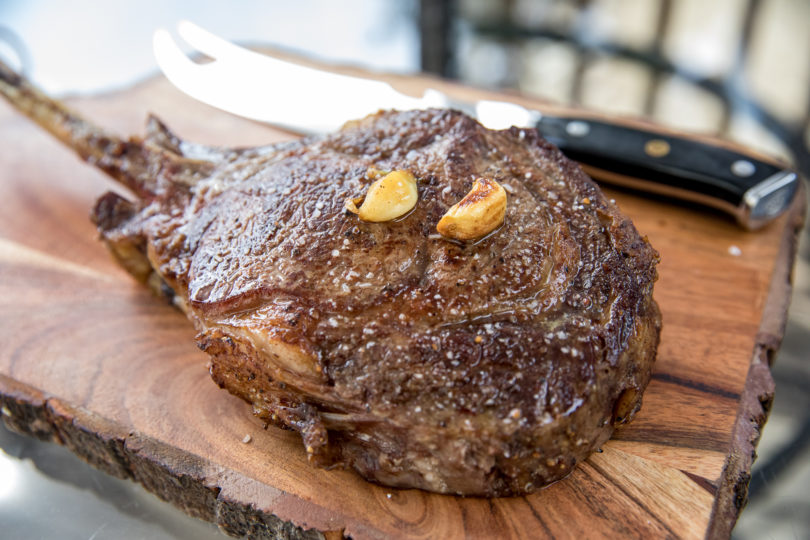 How to cook any steak on the Blackstone
Steaks
Nothing is like a REALLY great steak at a cookout. Here are a few of our all-time favorite steaks!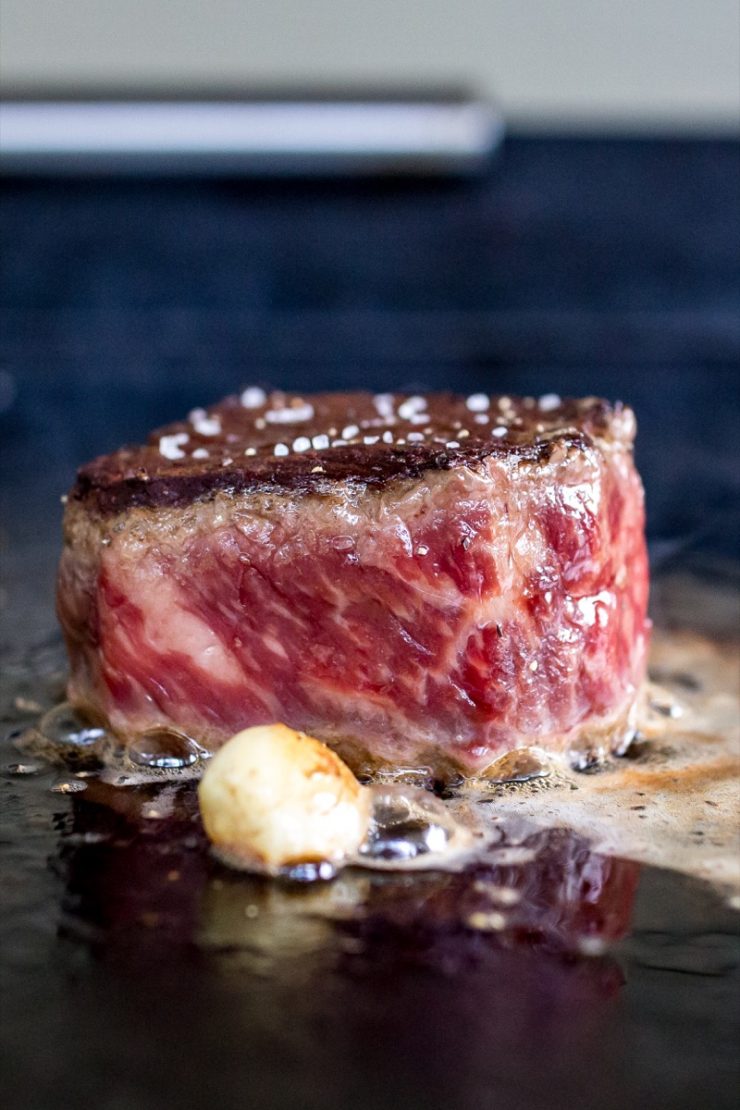 The ultimate steak for the beef fanatic in your life. This American Wagyu filet is hands down the BEST steak I've ever had.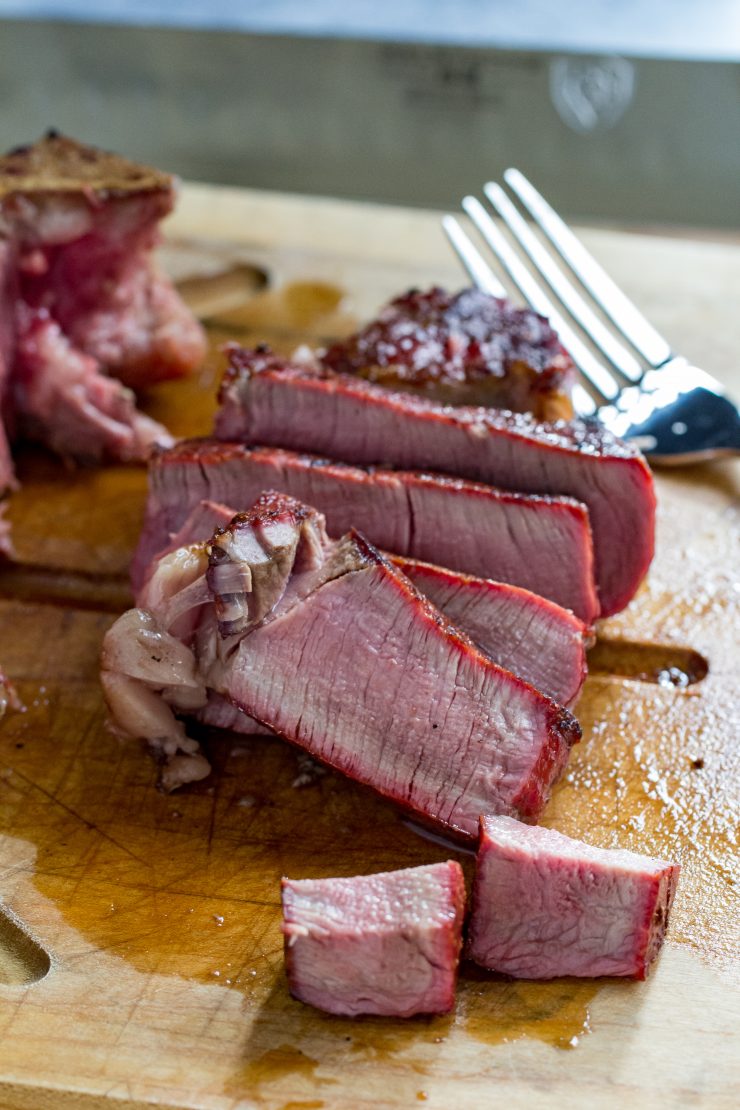 The t-bone is the best of several steak worlds, in my book, and the reverse sear is the perfect way to cook them!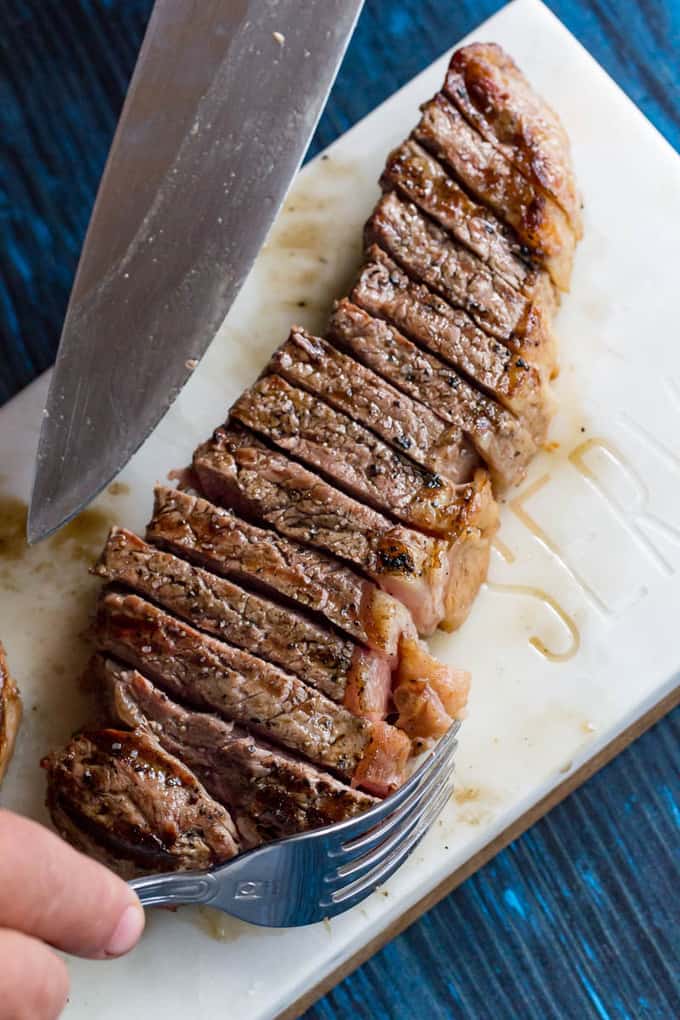 New York Strips are an affordable and delicious option for a delicious steak dinner! Cook it on whatever kind of grill you've got.
More Traeger Beef Recipes here!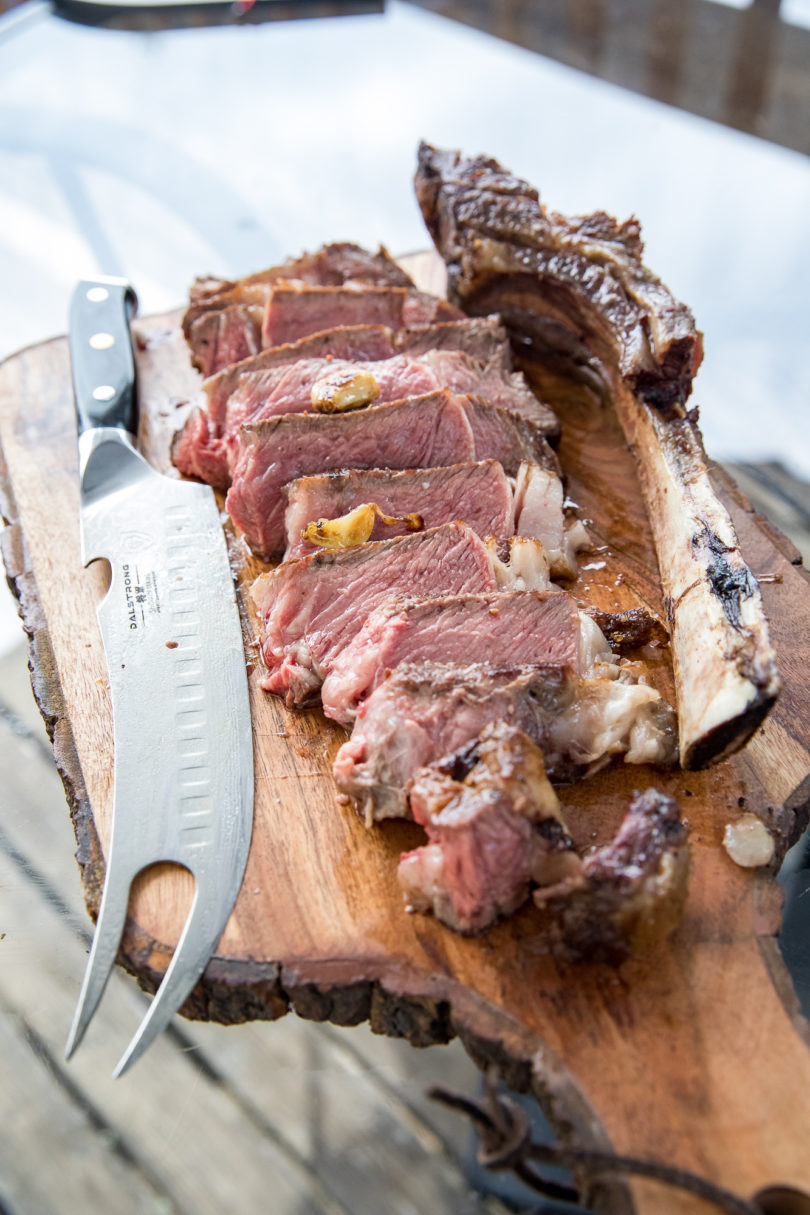 Want the best bbq knife around?
If you've been admiring the knife pictured in these photos, I don't blame you. It is my FAVORITE knife when almost anything is hitting my grills and griddles.
We have a ton of these knives, and the pitmaster in your life would love one of these in their outdoor kitchens!
Follow me on Instagram!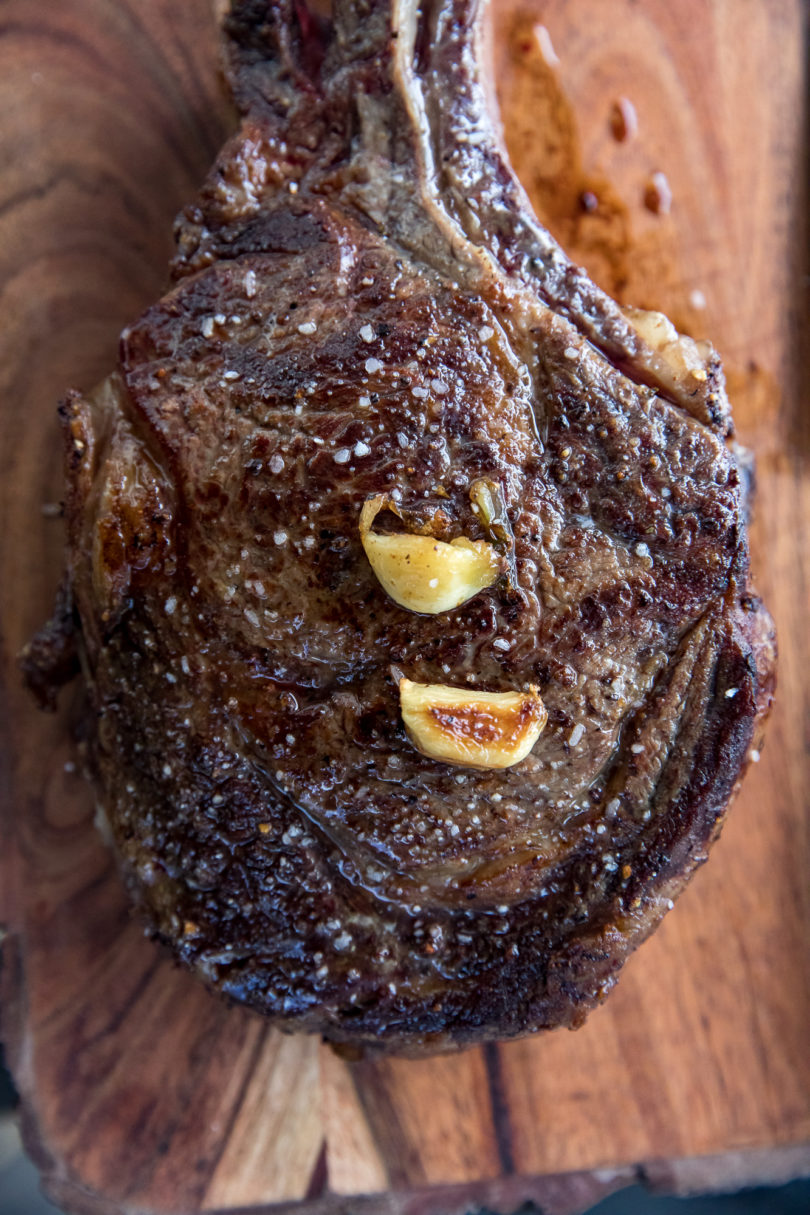 What are the best sides to serve with a fancy steak?
You don't have to go all-out on sides with steak. Sometimes we keep it super simple and just have a salad or whip up a quick one-pot pasta alongside.
Then other times if we want to do a whole "steakhouse" vibe at home, we'll get nuts.
Wanna get nuts with us? Fire up one of these decadent sides.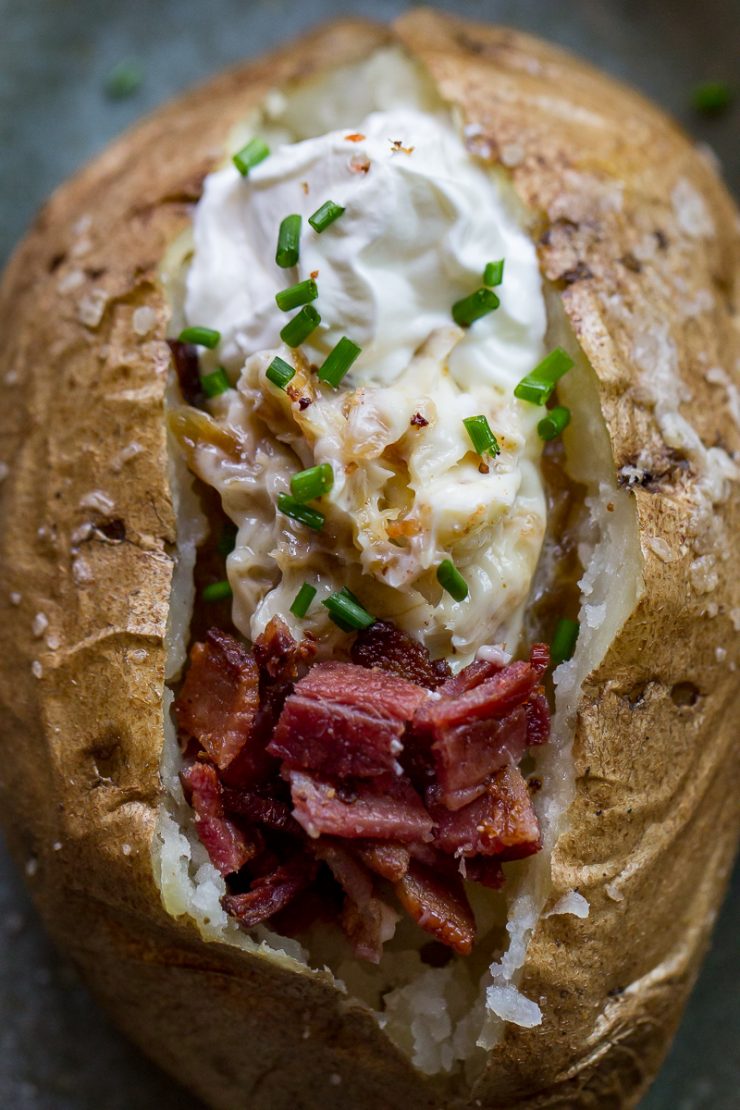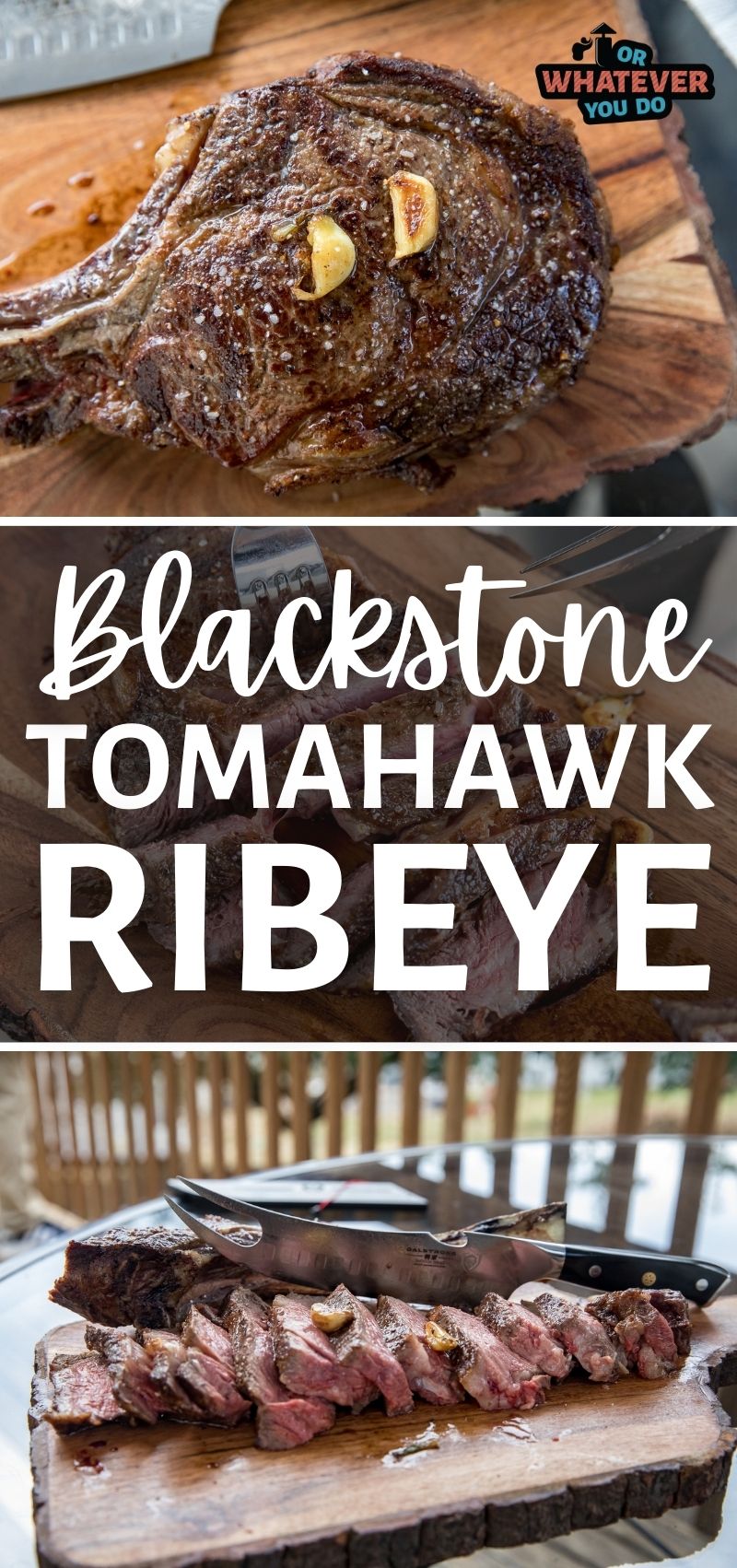 Yield: 2 servings
Blackstone Griddle Tomahawk Ribeye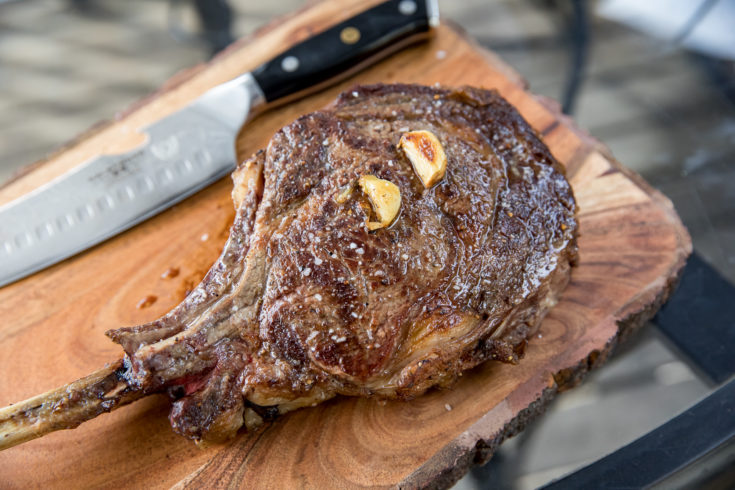 This popular steak is simple to cook perfectly right on your Blackstone Griddle! Find out our simple method here.
Instructions
Preheat the griddle over medium heat for 10-15 minutes. Season the steak on both sides with salt and pepper.
Place a tablespoon of butter down on the griddle and immediately place the steak on top. Don't move the steak at all for about 4-5 minutes. Place the garlic cloves on the griddle beside the steak. Rub it around on the steak surface occasionally.
Pick up the steak with tongs, put more butter down, and flip over to sear the other side.
Check the temperature with a thermometer at this point and use the chart in the post above as a guide. We pull ours off the griddle at 125°, max.
Let it rest for 5-10 minutes before slicing.