The OWYD Traeger Pot Roast recipe take a chuck roast and some onions and turns it into one of the best pot roasts of your life. Fork tender and with a gravy that you'll want to put on every pot roast for life.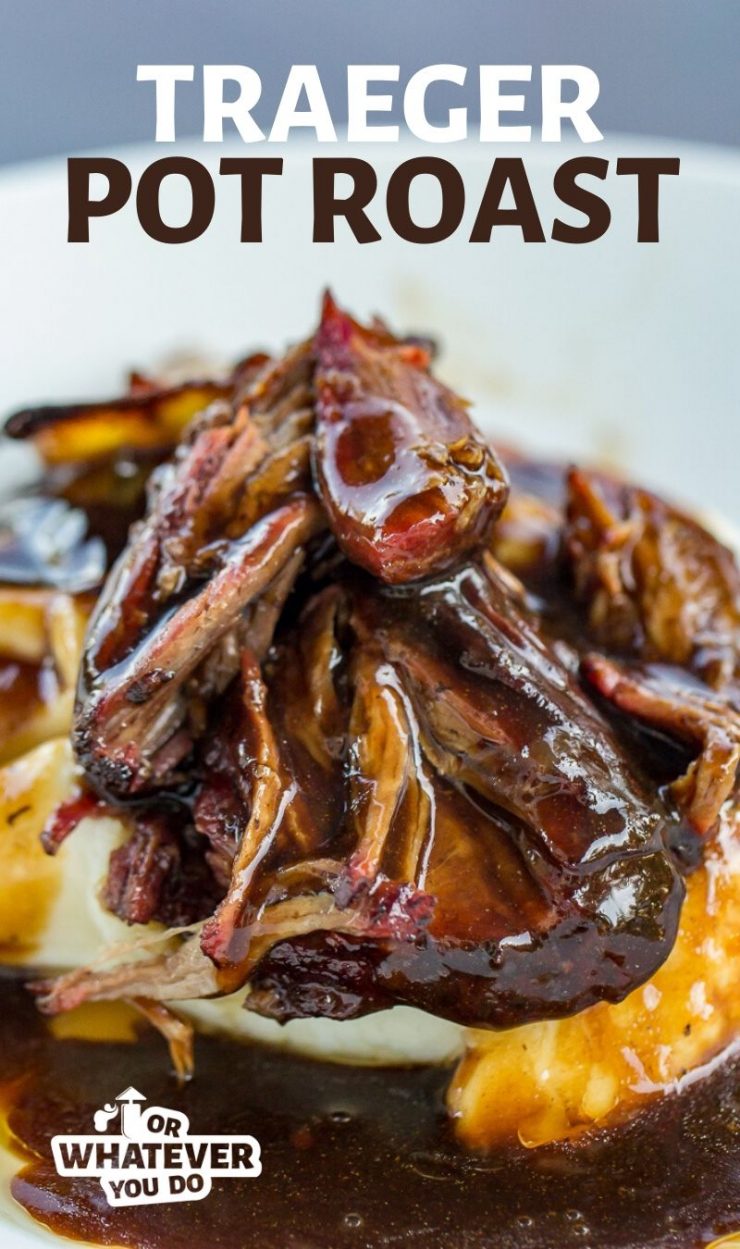 Traeger Pot Roast Recipe
Pellet Grill Pot Roast makes you wonder why you even have an oven any more. You can sear the pot roast easily on the grill, and then it is a smokey outdoor oven to finish things off. The result is a pot roast that tastes like an old-world feast that you just can't duplicate, even in a gas oven.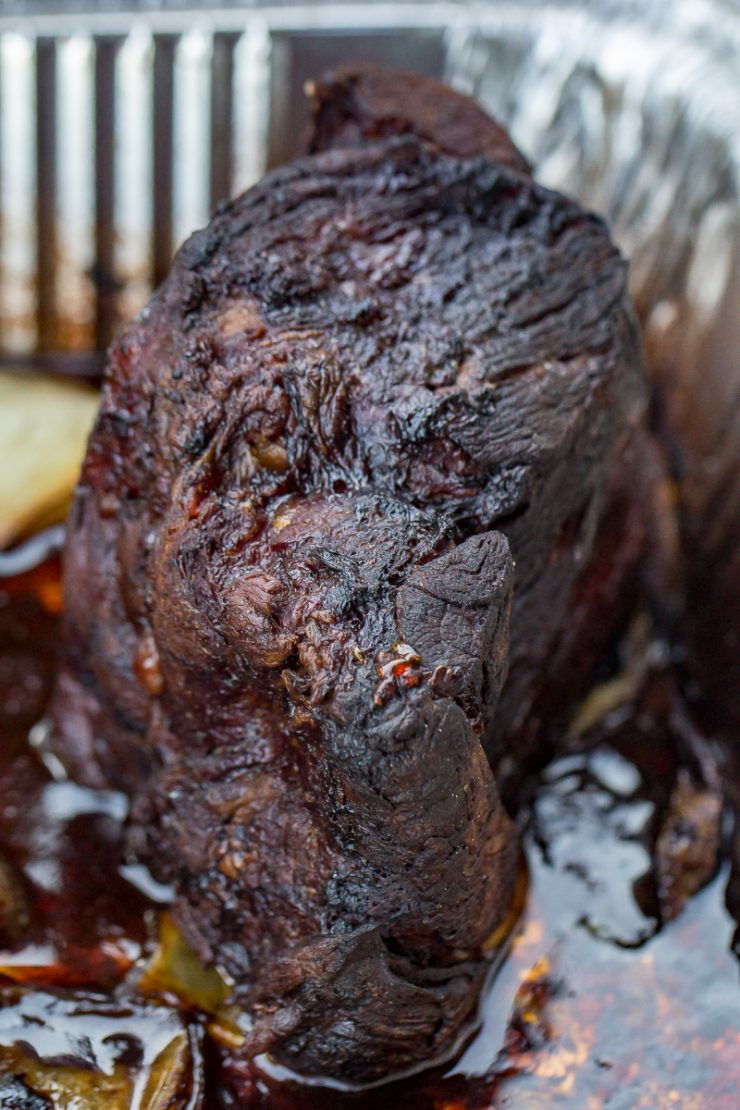 How to grill a pot roast
If you don't have a Traeger, then any other pellet grill will work. I've made this on my Camp Chef and my Louisiana Pellet Grill successfully.
You can even do it on a non-pellet grill if you have to. You just have to make sure that your coals will hold the temperature long enough, and your pot roast is not going to be taking direct heat over any flame, and that you get some smoke in the mix.
You don't want it to dry out or cook unevenly. The idea is to let the meat braise in the liquids for a few hours until it is fork tender.
Save every bit of the jus at the end, because it will make a phenomenal gravy for your meat and any potential sides like potatoes or rice.
More Easy Traeger Recipes here!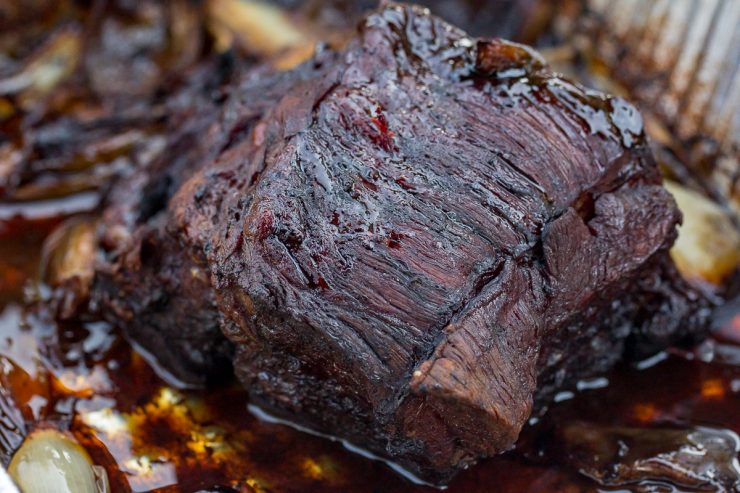 Tips for great Traeger pot roast
Everyone assumes the only way to cook a pot roast is the oven or on the stove. However, for a few thousand years, people made roasts in clay or iron pots that cooked over coals. How easily modern conveniences like ovens make us forget!
In this case, though, you bring back all of those old-time flavors but with the convenience of a pellet grill. The best of both worlds!
Get a good sear
There are some tricks to make sure you cook the roast properly, but you can essentially follow the same rules of cooking in the oven. First, make sure to season the meat well and then hard sear the outside on a blazing hot grill, griddle, or in a cast-iron pan on the stove or grill.
Make sure you sear all sides of the pot roast. Searing the exterior is important. On a pellet grill, you want to get the iron skillet extra hot first. So just make sure to heat up the skillet over the hottest part of the grill when you get it started.
Be patient, and cook to temp and not time!
Keep the heat nice and even throughout the cook. Trust the grill to do the work without checking it by opening the lid a lot.
I recommend using a meat thermometer that you can keep in the meat with a wire that makes it possible to do readings without opening the grill. That way you can't go wrong when it comes to doneness.
If you want the meat to be extra tender and flavorful, then marinate the meat in the wine and onions for 24 hours before you set it up on the grill.
You can and should open the grill to baste the meat a few times. Use a ladle or baster for best results.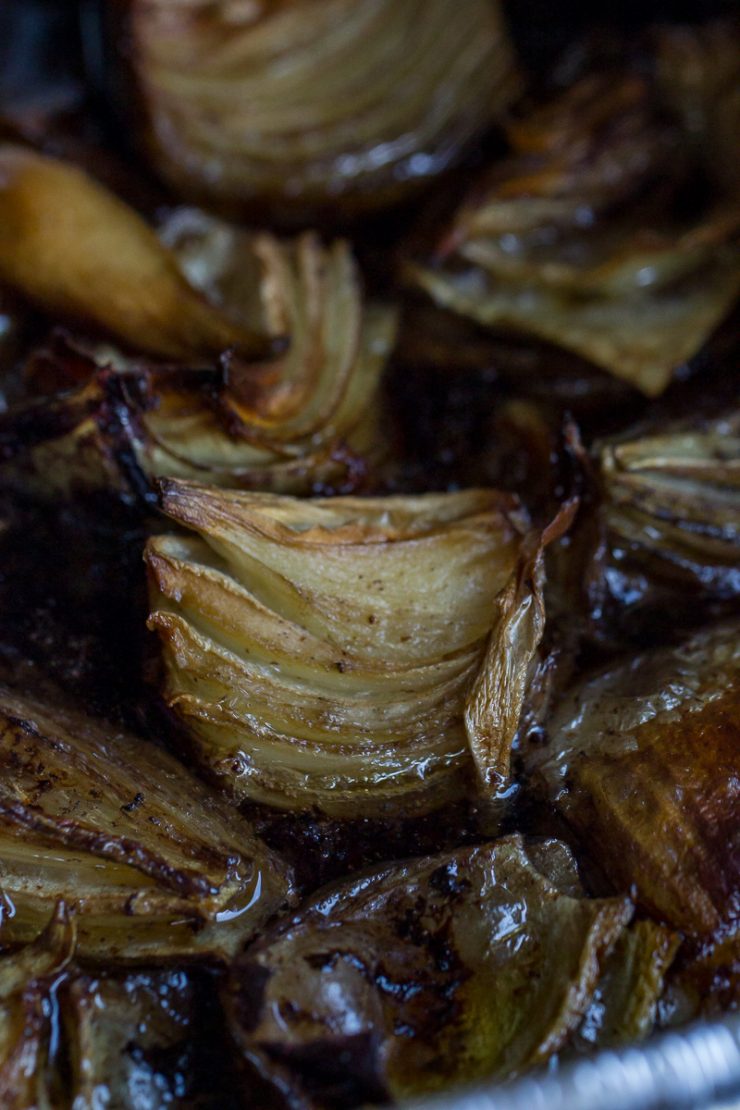 To cover or not to cover the roast
When you cook a pot roast in the oven, then chances are you might be using a cast iron dutch oven or an enamel pot with a big heavy lid. When you're cooking on the pellet grill, ideally you'll want to leave the lid off so you get the benefit of that wood-fire flavor.
In this case, the heavy lid of the grill serves the purpose of keeping your moisture in as much as possible. You really want to let the smoke do its number on the meat.
The great thing about Traeger grills is how well they control the temperature. If you are doing this on a regular grill where that sort of temp control isn't possible, then you might want to add some extra broth or wine to make sure you have plenty at the end.
Because that jus is the magic to making a great sauce to cover your meat and sides in.
More great BEEF recipes here!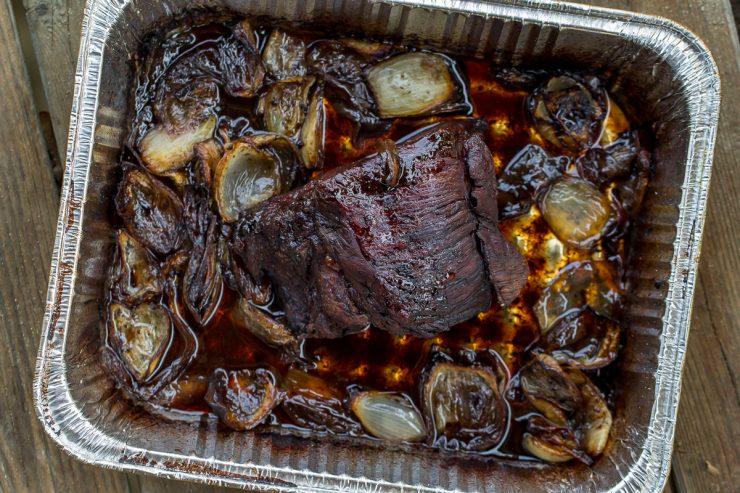 How to make the gravy
When the meat comes out, remove the roast and the onions from the pan and cover tightly with foil. Now is the time to make your gravy!
You're going to need 3 cups of liquid in the pan, so if your pan drippings evaporated down to less than that, you'll need to add water or beef broth to compensate. I like using beef broth, myself!
No matter what you add, give the jus a taste once you add the additional liquid to make sure it is salty and beefy enough. If it isn't, add some beef bouillon and/or salt to compensate.
Next, bring it up to a simmer on the stove, and use a fork or a whisk to completely dissolve the cornstarch into the cold water. This way you make sure to get out any lumps before it goes into the gravy. As soon as you add the slurry of cornstarch back into the pan with the rest of the jus it will begin to thicken, so stir continuously!
If it thickens too quickly much, then add a bit more stock or water to it.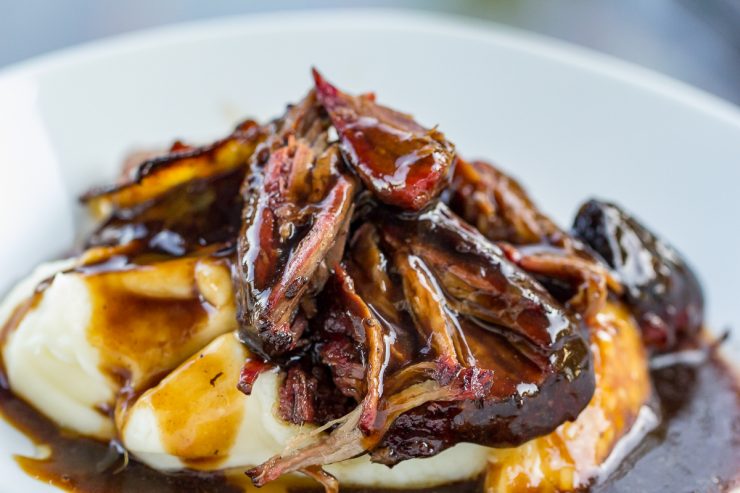 What should you serve with Traeger Pot Roast?
I have a few suggestions for sides. At the top of the list, good old fashioned favorite mashed potatoes, garlic mashed potatoes, or baked potatoes gets my vote.
Some folks prefer rice to potatoes with their pot roast. In that case, I recommend this easy Rice Pilaf Recipe.
Featured Reader Reviews
"10/10 fully recommend this. It was a huge hit!"

– Casey from Pinterest
"Made this last night & it was absolutely AMAZING. Very similar to a Beef Bourguignon. Only change I made was using 2 C of red wine with the 4C of beef stock. Family LOVED IT! Thanks!"

-ehmomma from Pinterest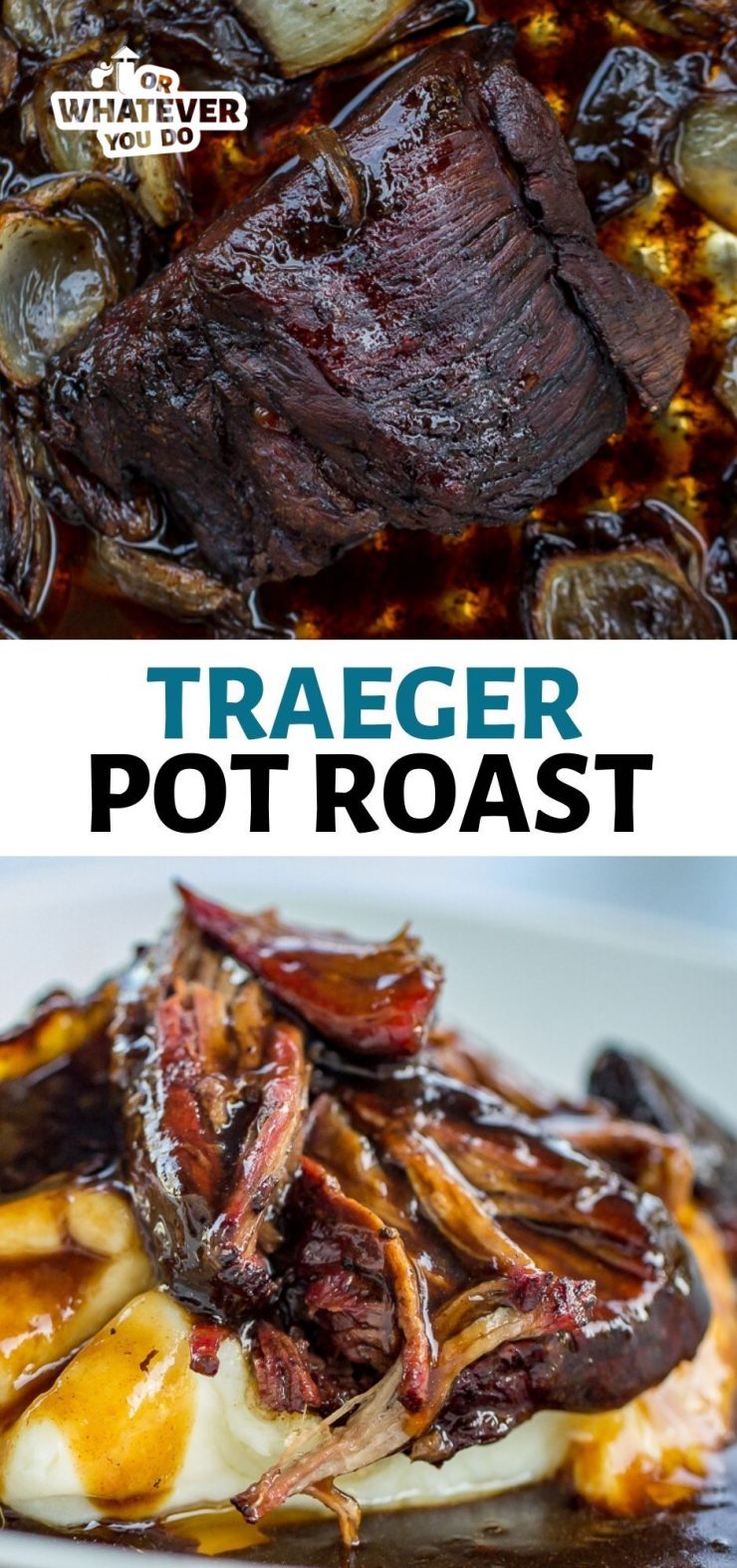 Some of our content is only for OWYD+ members. Membership is FREE! Find out more here, or sign up below!
Yield: 8 servings
Traeger Pot Roast with Gravy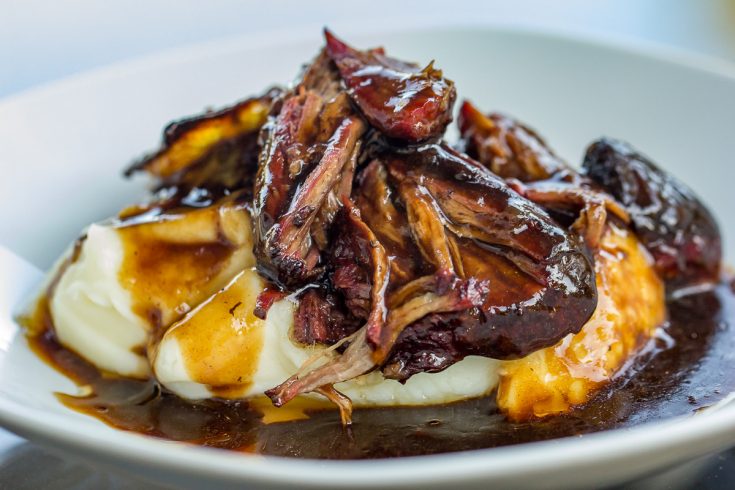 Traeger Pot Roast take a simple chuck roast and onions and transforms it into something incredible. Wood-fired flavor, deep and rustic gravy, and a recipe you need in your back pocket for sure.
Total Time
3 hours
30 minutes
Ingredients
2 tablespoons canola or avocado oil
salt, pepper, onion powder, garlic salt, seasoned salt, (generous amounts)
3-4 pound beef chuck roast
2 large onions
3-4 large carrots, peeled (optional)
4 cups beef broth
1 cup red wine
Cornstarch Slurry
3 tablespoons cornstarch
1/3 cup cold water
Instructions
Place the oil in the bottom of your cast iron pan, if using, and turn the heat on the burner to medium-high. Preheat your grill to 275°.
Season the piece of beef well with the salt, pepper, onion powder, garlic salt, and seasoned salt.
Place the roast into the cast iron pan, and let cook for 4-5 minutes, or until the bottom is well-browned.
Carefully flip the roast over onto the other side and brown that side well for another 4-5 minutes.
Place the roast into the pan it'll be cooking in. Place the sliced onion, carrots, beef broth, and red wine into the pan with the roast.
Cook at 275° for 2-3 hours, then increase the heat to 325° until your roast reaches 200° internal temperature and is fork-tender. How long this will take depends on the size of your roast, your grill, and what phase the moon is in, basically. Cook to temp and NOT to time.
Once the roast is done, remove from the grill. Carefully remove the roast and vegetables from the pan and set aside, covered tightly.
Strain out or spoon out most of the grease from the drippings (a grease tool works so well for this!) and then bring the rest of the drippings to a simmer. You need 3 cups of liquid, so if you need to add more beef broth be prepared to do so.
Mix together the cornstarch and cold water. Whisk into the gravy mix and reduce heat to low, stirring until thickened.
Serve with your favorite roasted or mashed potatoes, crusty bread, and corn.
Recommended Products
As an Amazon Associate and member of other affiliate programs, I earn from qualifying purchases.
Nutrition Information:
Yield:
12
Serving Size:
1
Amount Per Serving:
Calories:

423
Total Fat:

26g
Saturated Fat:

10g
Trans Fat:

1g
Unsaturated Fat:

14g
Cholesterol:

125mg
Sodium:

537mg
Carbohydrates:

6g
Fiber:

1g
Sugar:

2g
Protein:

39g
Nutrition data provided here is only an estimate.