My Traeger Mississippi Pot Roast recipe makes a Southern-style pot roast that is full of big beefy flavors, a bit of spice, and plenty of smoke. This recipe started with a home cook in Mississippi, and it as simple as it is delicious. When you pair that with the live wood fire flavor from your smoker or pellet grill, it is a perfect match.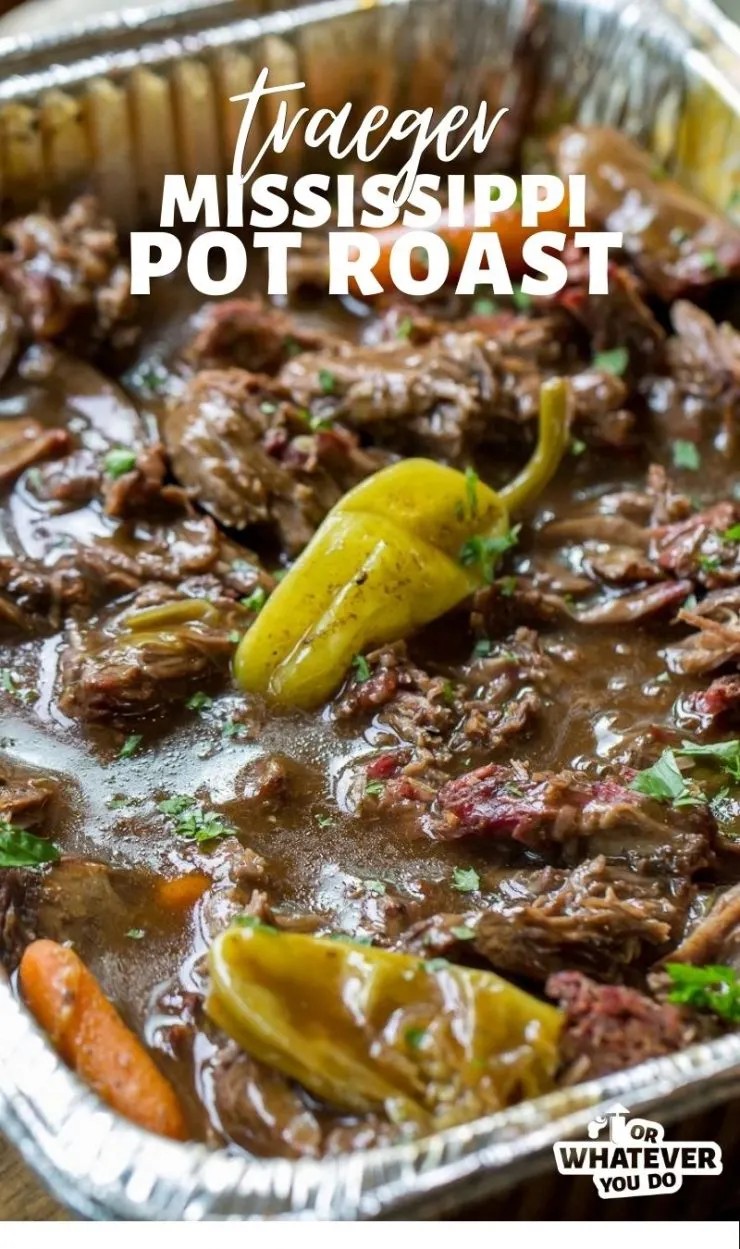 Traeger Mississippi Pot Roast Recipe
I know most people associate Cajun cooking with Louisiana, but plenty of Acadian French, aka "Cajuns", settled in Mississippi too. That's why this slow-roasted smoked pot roast recipe does have a slight resemblance to a French-style pot roast.
Simple ingredients working together plus a little spice from the peppers and you have yourself a unique pot roast that has been loved all over the country and the world.
What I love most about any pot roast is how hands-off it is to prepare. The end result tastes like you spend all day standing over a stove when in actuality you maybe browned it a little bit, chopped a fun things, and dumped some other things in a pan. It is so easy, and there's nothing more satisfying on a cool fall or winter evening than a big hearty bowl of Mississippi Pot Roast spooned over some Smoked Garlic Mashed Potatoes.
Get our 75 ESSENTIAL Traeger Recipes here!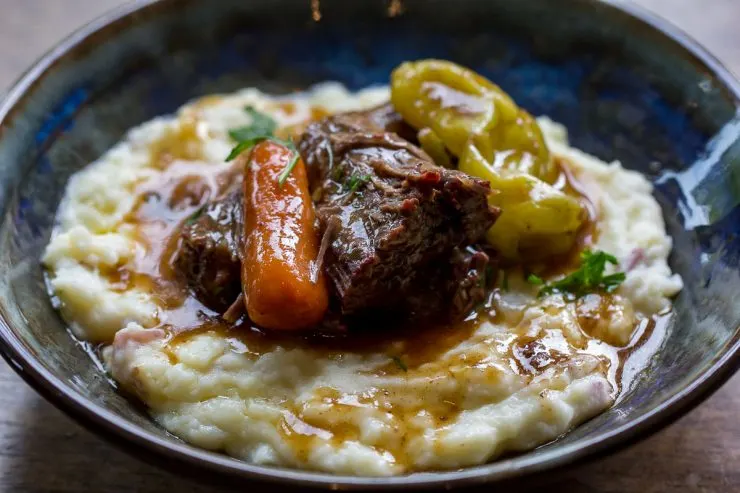 Mississippi Pot Roast Shopping List
This is the general list of the ingredients you'll need in order to make this recipe. For specific amounts, please refer to the recipe card at the bottom of the post.
Beef chuck roast
Salt
Paprika
Onion powder
Black pepper
Pepperoncini peppers
Au jus powder
Dry ranch dressing mix
Granulated garlic
Carrots
Salted butter
Try our Traeger Smoked Pot Roast too!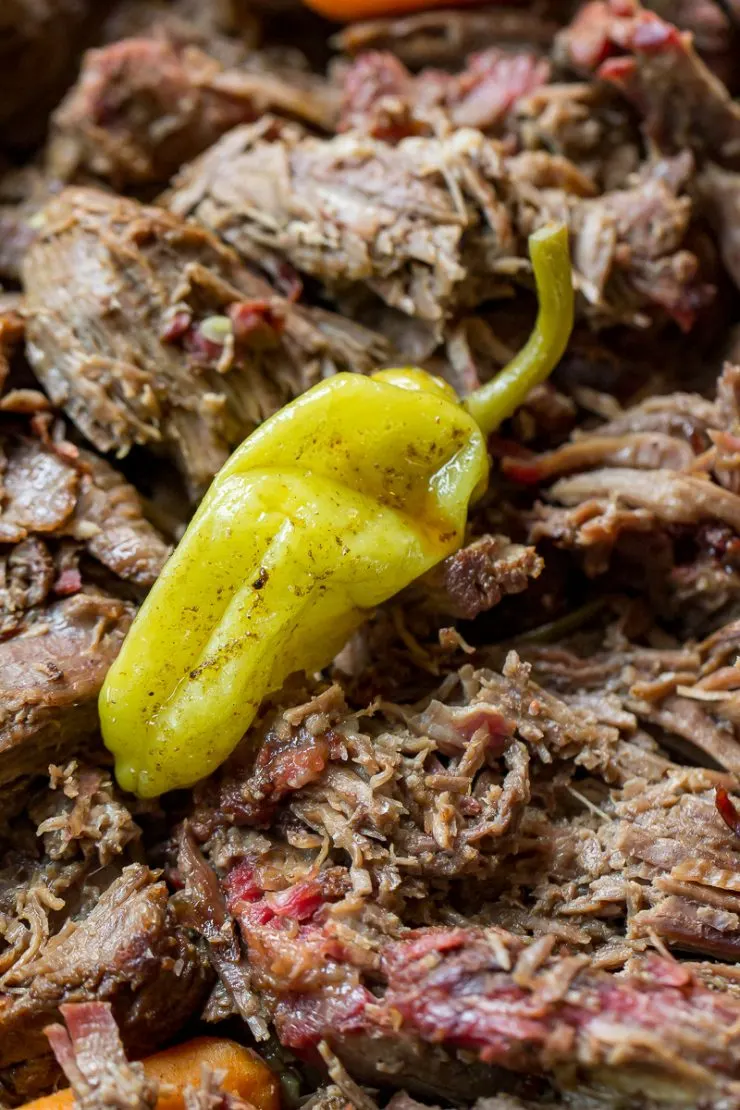 How to make Smoked Mississippi Pot Roast
This is just the overview so you can see what you're actually getting into here. When you are cooking, you'll want to use the full recipe at the bottom of the page.
Preheat & Season
Preheat your smoker to 275°F and season your roast.
Sear
Sear both sides of the roast in a cast iron pan with a little oil or butter in it until a nice crust forms.
Smoke
Put the seared roast in a grill-safe baking dish and pour in the pepperoncini, au jus, ranch mix, garlic, carrots, butter, and water. Smoke until the internal temperature of the roast reaches 204-205°F.
Impatient?
If it has been 2-3 hours and it still isn't close, you can cover the roast and turn the heat up to 325°F to finish it off. Just watch the level of liquid in the pan if you do this. You might have to add some more water or beef broth. The roast should be fork tender when it reaches that magic 204-205°F range.
Enjoy
Serve with mashed potatoes, fresh bread, and plenty of the au jus spooned over the top of it all.
Try with our Grilled Dinner Rolls!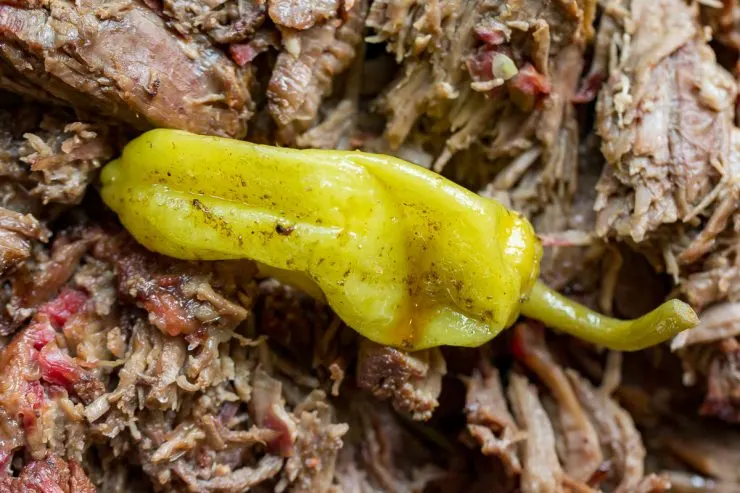 Traeger Mississippi Pot Roast FAQ
What's the best cut of beef to use for this recipe?
When you are in the mood for beef, most people think of steak like a ribeye or filet mignon. Me? I dream of pot roast. Roast beef and gravy is one of my favorites, and this one is no exception.
The best cut of beef for pot roasts, in my opinion, happens to be the chuck roast. A chuck roast is the top of the rear legs of the cow. It is a dense cut, and can be fairly lean – so make sure to look for a roast with lots of marbling.
Chuck roast is often cut into cubes and used in slow-cooked stews. It is also ideal for pot roast. It is a tough cut of meat, which is why it is perfect for the low-and-slow cooking that Traegers are so good at. Suddenly, that big tough chunk of meat becomes fork-tender and melt-in-your-mouth amazing.
Do you have to use the peppers?
The pepperoncini is one of the "secret" ingredients that make the Mississippi Pot Roast unique. Pepperoncini are the bright yellow-green peppers you typically see offered in salad bars, and sometimes they are offered as a topping on pizzas.
They are not too hot, and much less spicy than their cousin the banana pepper, which look fairly similar. Some people do still find them too hot, so if you are concerned about them adding too much heat, then feel free to cut back on a few.
I would still recommend using just a bit of the juice from the jar, even if you use fewer peppers than the recipe calls for. The vinegar will have a touch of heat, but it will also help break down the meat to be more tender and it is really what gives this dish its signature flavor.
How can you tell when a pot roast is done?
Some people worry about overcooking pot roasts. I get the concern, but it isn't like overcooking a big prime rib. You have way more wiggle room cooking chuck roast, and as long as you keep the heat low it is really hard to overcook them.
With a pot roast, you can easily tell if it is ready with just a fork. If you can stick a fork in easily and twist it and pull out shreds of beef on it, then you know it is ready to eat.
As long as you have plenty of braising liquid in the pot, then the chuck will not dry out.
Another good way to tell is by using a thermometer.
For all of your wireless grilling needs, the Smoke is the most reliable wireless thermometer I've ever used.
If you want to minimize the opening and shutting of your grill, I highly recommend getting a wireless thermometer, like the Thermoworks Smoke. It is my favorite thermometer, and I swear by it for almost every cook.
Your beef should be shreddable when it gets up to 204°, but I'd start checking it around 195°.
How long does it take to cook?
With the five-pound chuck I recommend in this recipe, you will be looking at about 3 to 4 hours in the Traeger, but it also depends heavily on the specific cut of meat you purchase too so always cook to temp and not to time.
More Traeger Beef Recipes here!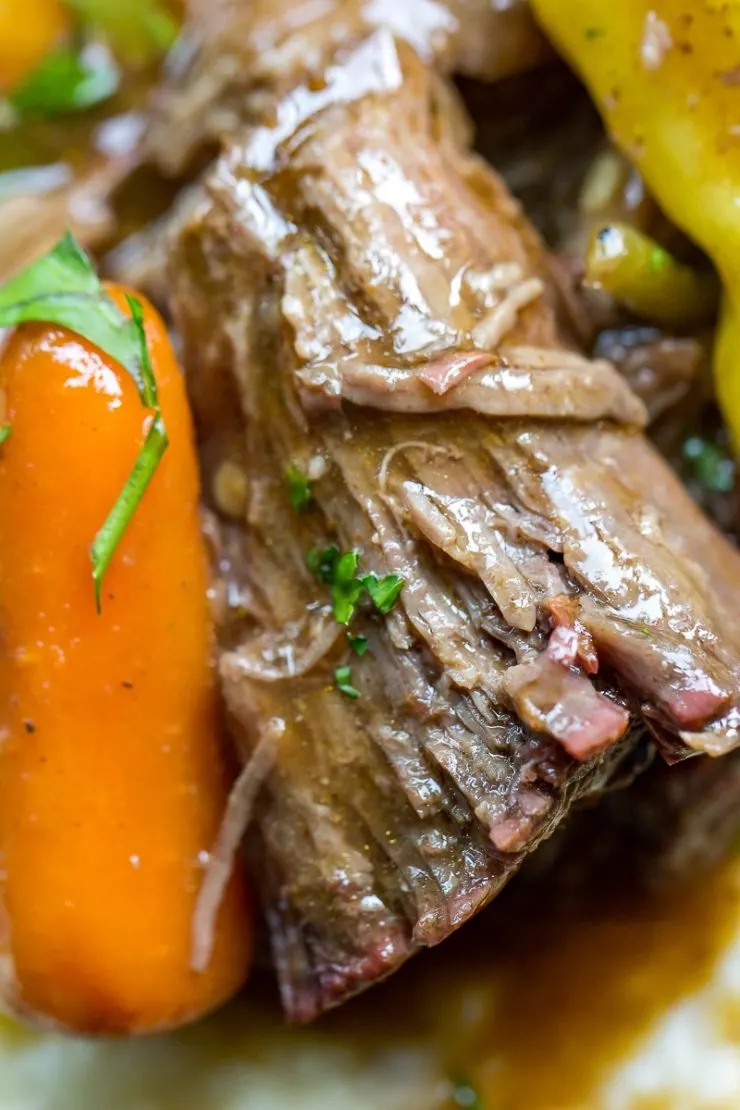 Serve these sides with your Mississippi Pot Roast
Pot roasts always work well with mashed potatoes, especially if you plan on using the jus to make a nice gravy.
Want to keep it Southern? Then try this collard greens recipe too. Also, cornbread should have a place on the plate as well, so check out this cornbread muffin or my griddle corn cakes so you have something to mop up that sauce.
More recipes featuring pot roast
Chuck roast is one of my favorite cuts of meat! Here are a few more fun things you can do with it, that I love:
Check out these great recipes too!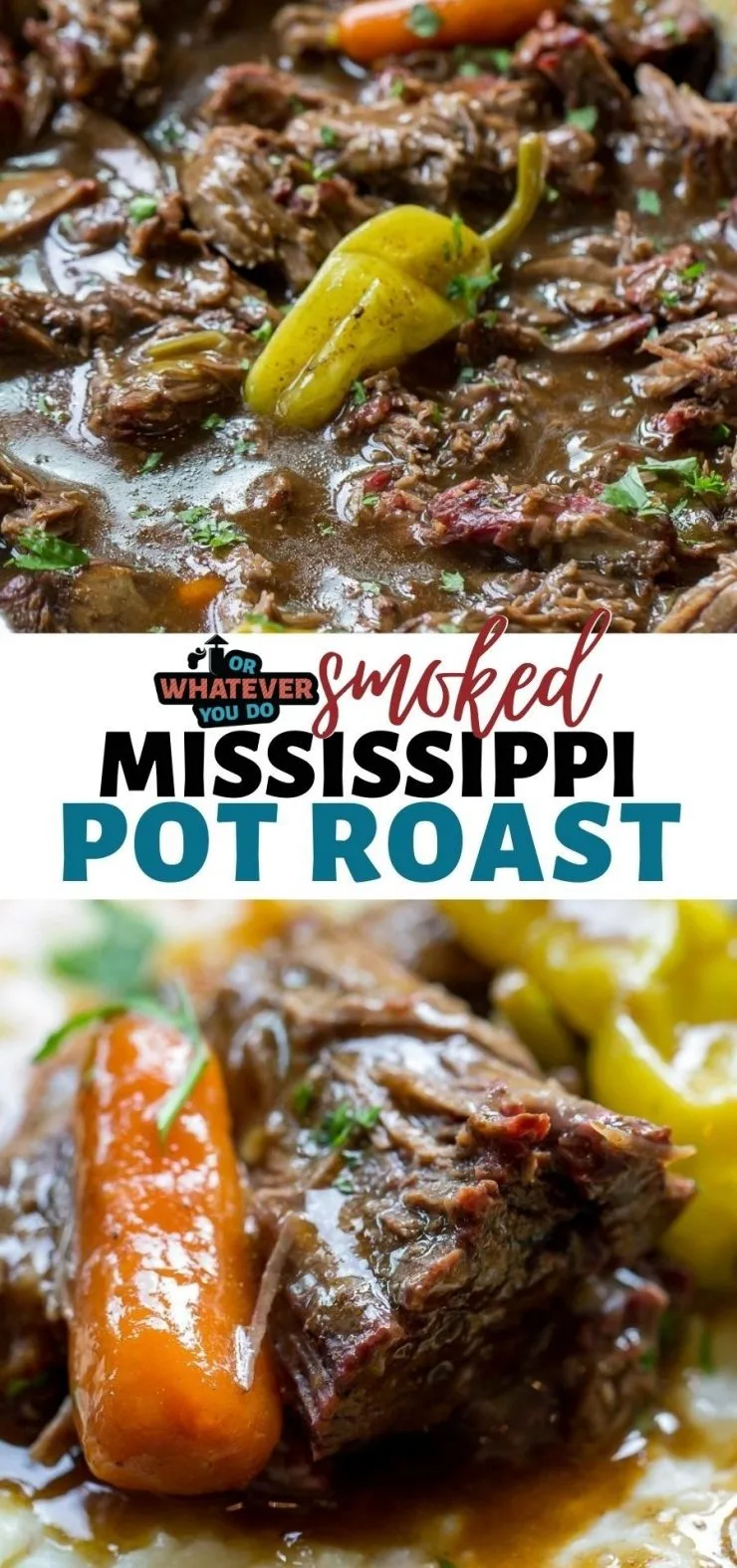 Yield: 8 servings
Traeger Smoked Mississippi Pot Roast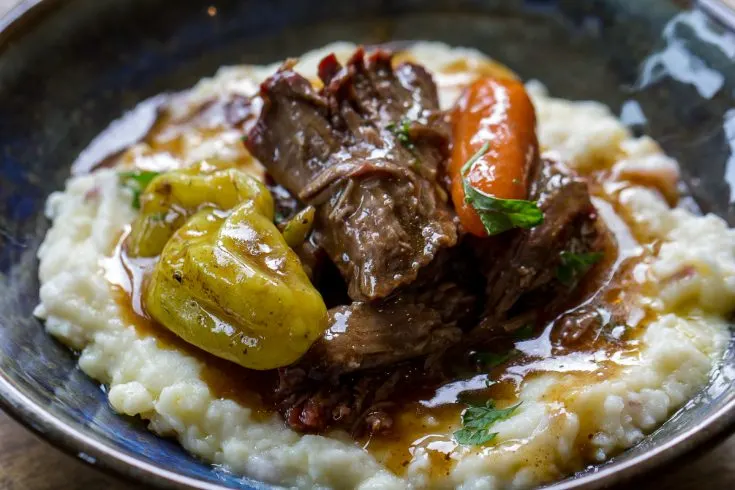 This tender Mississippi Pot Roast is cooked on your pellet grill, and is all kinds of amazing. If you've never tried a Mississippi Pot Roast, NOW is the time!
Total Time
5 hours
15 minutes
Ingredients
5-pound beef chuck roast
1 teaspoon salt
1 teaspoon paprika
1 teaspoon onion powder
1 teaspoon black pepper
8 whole pepperoncini peppers
1 packet au jus mix
1 packet dry ranch dressing mix
1/2 teaspoon granulated garlic
1/4 cup chopped carrots
1 stick salted butter
1/2 cup water
Instructions
Season the meat with the salt, paprika, onion powder, and black pepper. Preheat a cast-iron skillet or fire up your Blackstone (or another flat top griddle) and give both sides of the meat a good sear.
Preheat your pellet grill to 275°.
Place the seared chuck roast into the bottom of a tinfoil high-sided pan. Pour in the pepperoncini, au jus, ranch mix, garlic, carrots, butter, and water.
Put the whole shebang on the grill, close the lid, and let it ride.
Check the roast every hour or so, and adjust the placement on the grill as needed. You want to avoid hot spots so nothing burns. It shouldn't, but with live fire, you have to pay attention.
Continue cooking until the meat reaches 200-205°, and is fork-tender.
Serve with mashed potatoes, buttered rice, and/or fresh bread.
Recommended Products
As an Amazon Associate and member of other affiliate programs, I earn from qualifying purchases.
Nutrition Information:
Yield:
8
Serving Size:
1
Amount Per Serving:
Calories:

812
Total Fat:

56g
Saturated Fat:

26g
Trans Fat:

3g
Unsaturated Fat:

26g
Cholesterol:

267mg
Sodium:

1767mg
Carbohydrates:

8g
Fiber:

2g
Sugar:

3g
Protein:

72g
Nutrition data provided here is only an estimate.