This simple made-from-scratch Traeger Roasted Tomato Soup is something I love to throw together for a quick lunch or easy weeknight dinner. It is almost all hands off cooking, takes less than an hour to make, and tastes light years better than anything you can pour out of a can.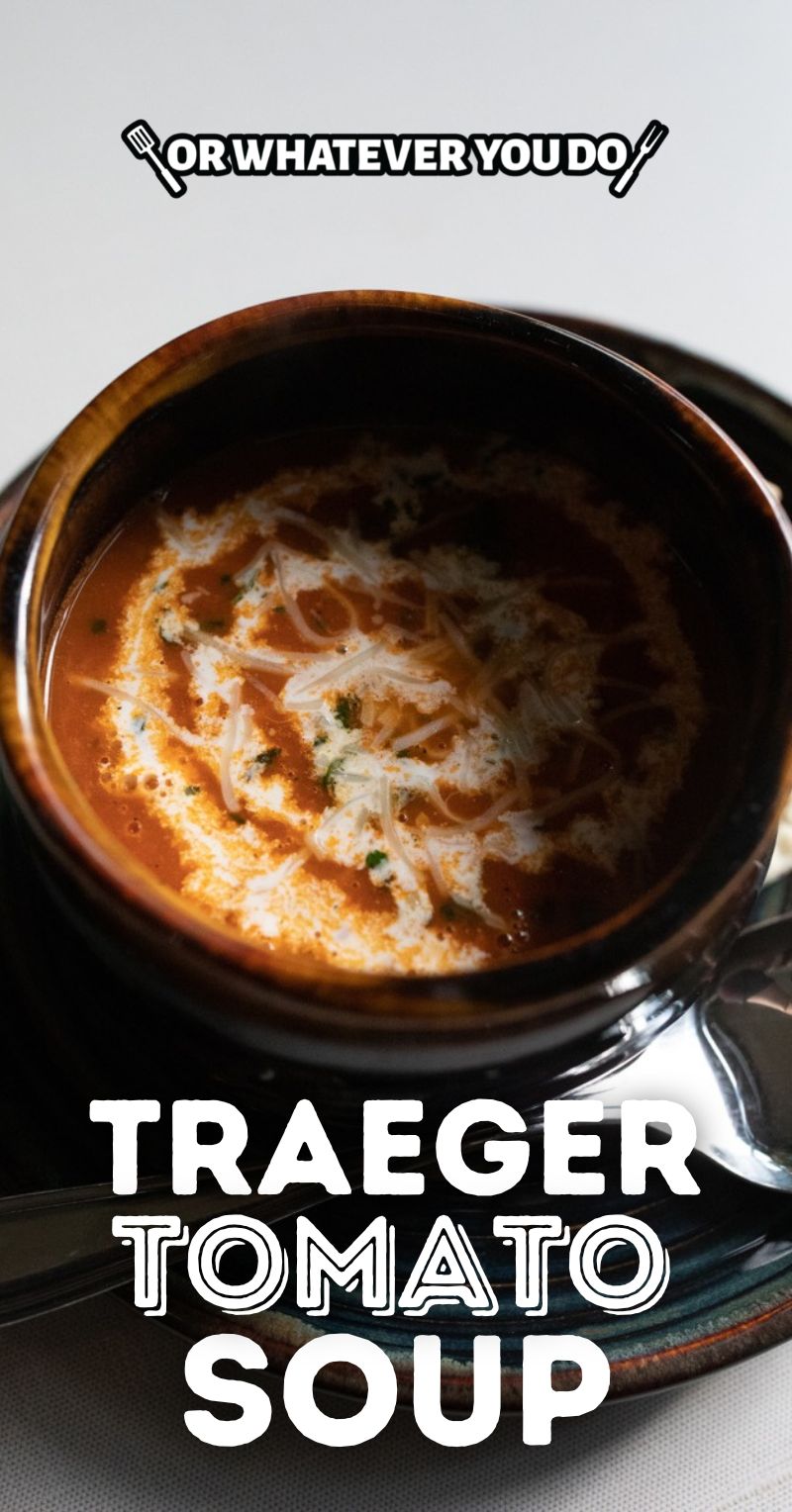 Traeger Tomato Soup
This recipe can be made either on the Traeger, in the oven, or even right on the stovetop. My favorite way is to fire up the Traeger because I love what that live wood-fire does to tomatoes, but if your grill is buried, frozen shut, or the climate is just generally not one you want to venture out into at the moment, it'll still be delicious. I promise, I won't judge.
What tomatoes work best for homemade tomato soup?
You can use whatever fresh tomatoes look the best at the grocery store for this recipe, but I find cherry and grape tomatoes are consistently decent all year long, even way up north here in the Pacific Northwest, have good flavor, and make excellent tomato soup.
If you are reading this in the summer and find some fresh, vine-ripened beefsteak tomatoes, I'm not going to deter you from using those. I'm making this in the dead of winter though, and even the tomatoes on the vine in the grocery store and looking a little SUS. You do you. Almost any tomatoes will work for this recipe.
What tools are going to make your life easier when making homemade tomato soup?
For this recipe I used several types of kitchen tools and gear. Obviously, the Traeger is the biggest one and the most expensive too. Any type of pellet grill or smoker works here that'll get up to 375° though. I've tried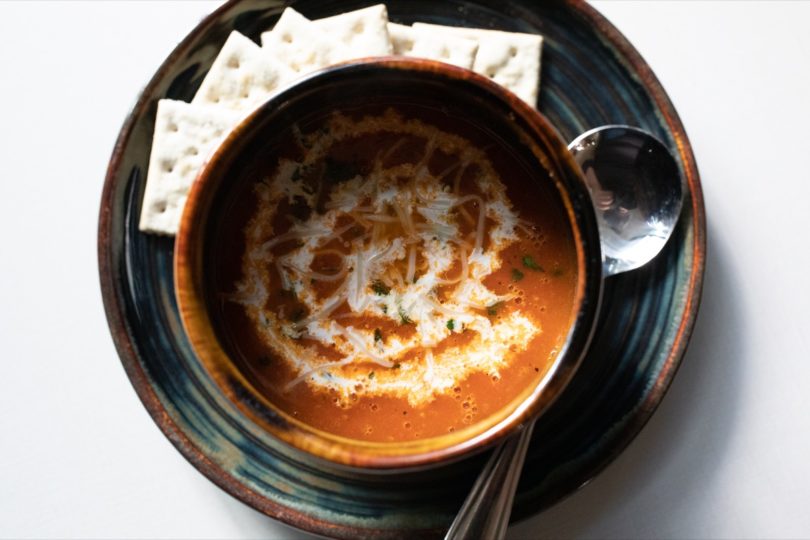 Homemade Tomato Soup shopping list
Wondering if you have to hit the store? Here's the list of items you'll need to make this recipe. For specific amounts, please refer to the printable recipe card at the bottom of the post.
cherry (or grape) tomatoes
yellow onion
garlic
olive oil
salt
pepper
sherry
vegetable (or chicken) stock
heavy cream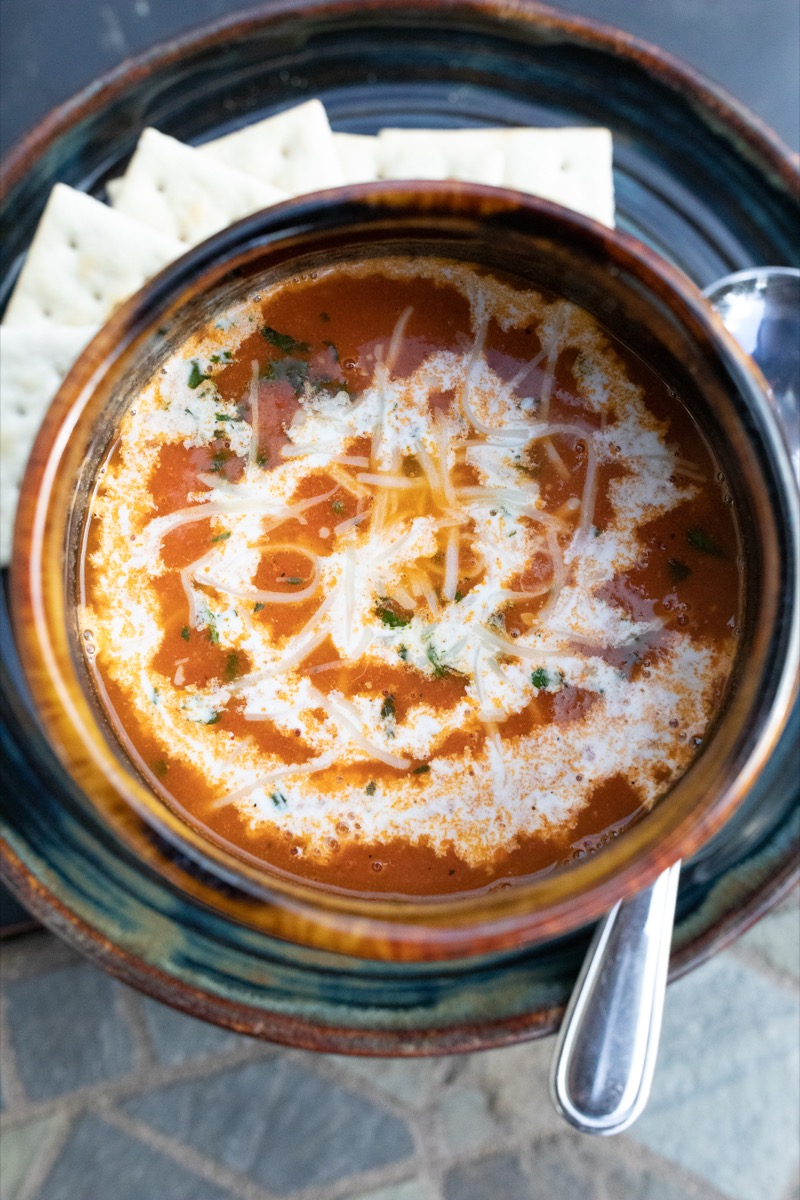 How to make Traeger Tomato Soup
This is just the overview so you can see what you're actually getting into here. When you are cooking, you'll want to use the full recipe at the bottom of the page.
Preheat
Fire up the grill and heat it to around 375°F.
Prep
Put the tomatoes, garlic, and onion on a grill safe pan. Drizzle with olive oil and season with salt and pepper.
Roast
Roast the vegetables for 25-30 minutes. Remove the garlic if it starts getting too toasty.
Blend & Boil
Put the roasted vegetables and sherry in a blender and pulse until they are liquified. Add in the stock. Blend on high.
Place the blended soup into a stock pot and simmer over low to medium-low heat for about 15-20 minutes. Taste and add more salt if necessary.
Serve
Serve hot with a drizzle of cream on top, and garnish with fresh basil and parmesan cheese (if desired).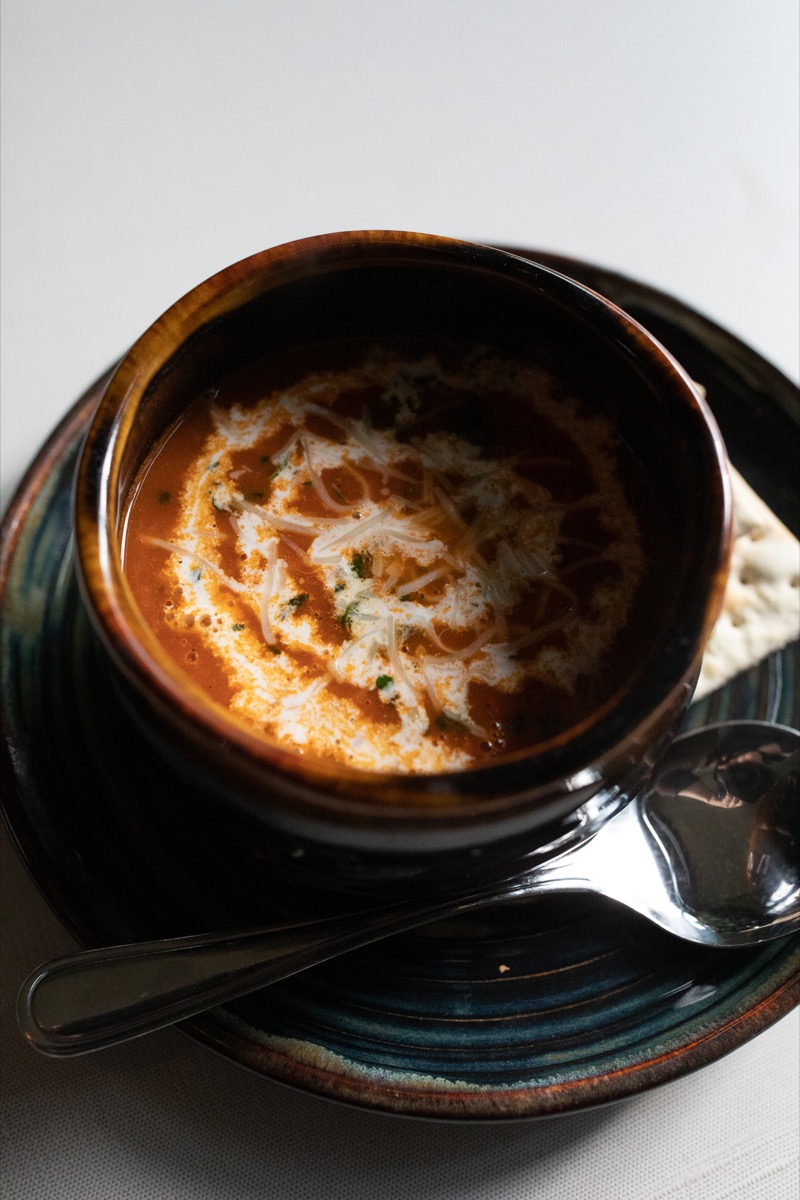 Roasted Tomato Soup FAQ
What's the best way to store this soup?
This soup, minus the cream, can be frozen for up to 2 months. You might be able to stretch it longer than that if you store it well. It also lasts well in the fridge for 3-5 days. Just omit the cream until you are ready to serve.
How should you reheat tomato soup?
The microwave works really well for reheating this soup. Otherwise the stovetop will do a fine job as well.
Can you use half and half instead of heavy cream?
Yup! But be careful not to add half and half to soup until it is slightly cooled. The heat + acid from the tomatoes can cause half and half or milk to "break". It doesn't impact the taste, but the texture isn't great and it looks a little funky. If you've ever added milk to canned tomato soup and then got it a little too hot on the stove, you've probably seen this in action. Using heavy cream, which is harder to break, is a good way to avoid it. Plus, a little goes a long way.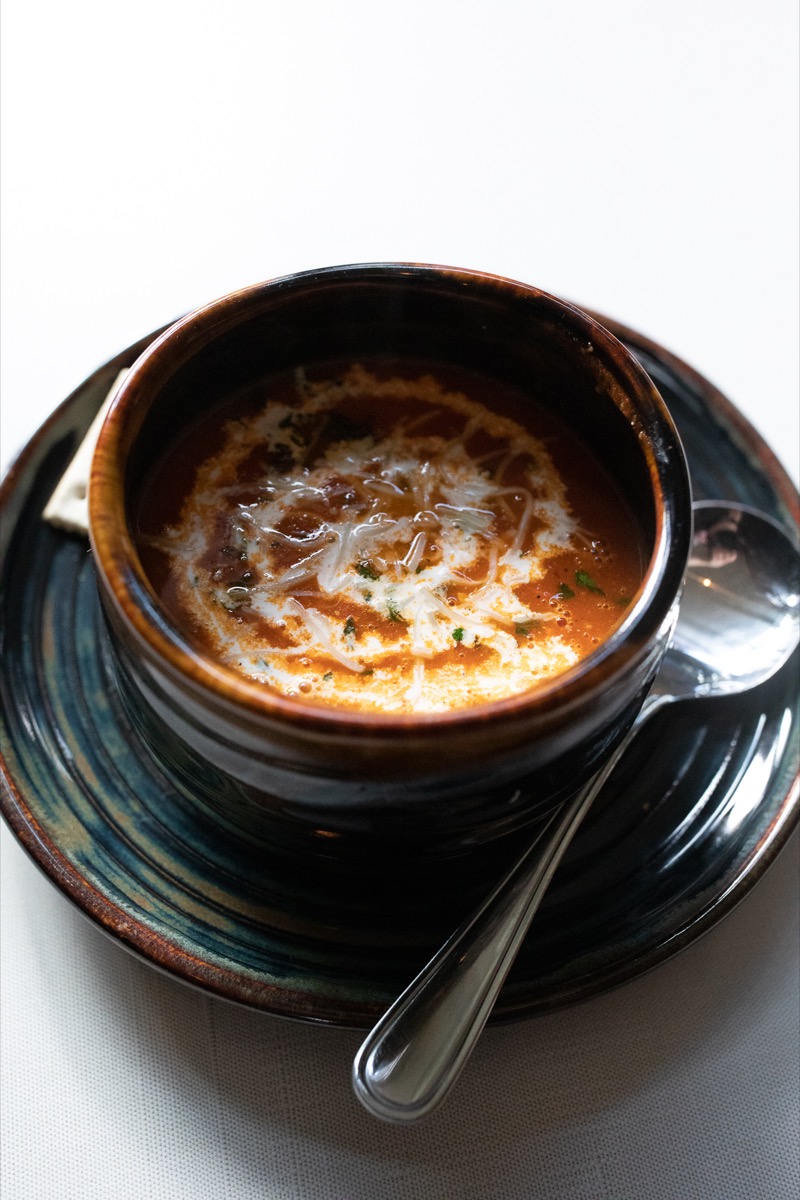 More great soup recipes to love!
Make it a meal! Eat these delicious foods with your soup!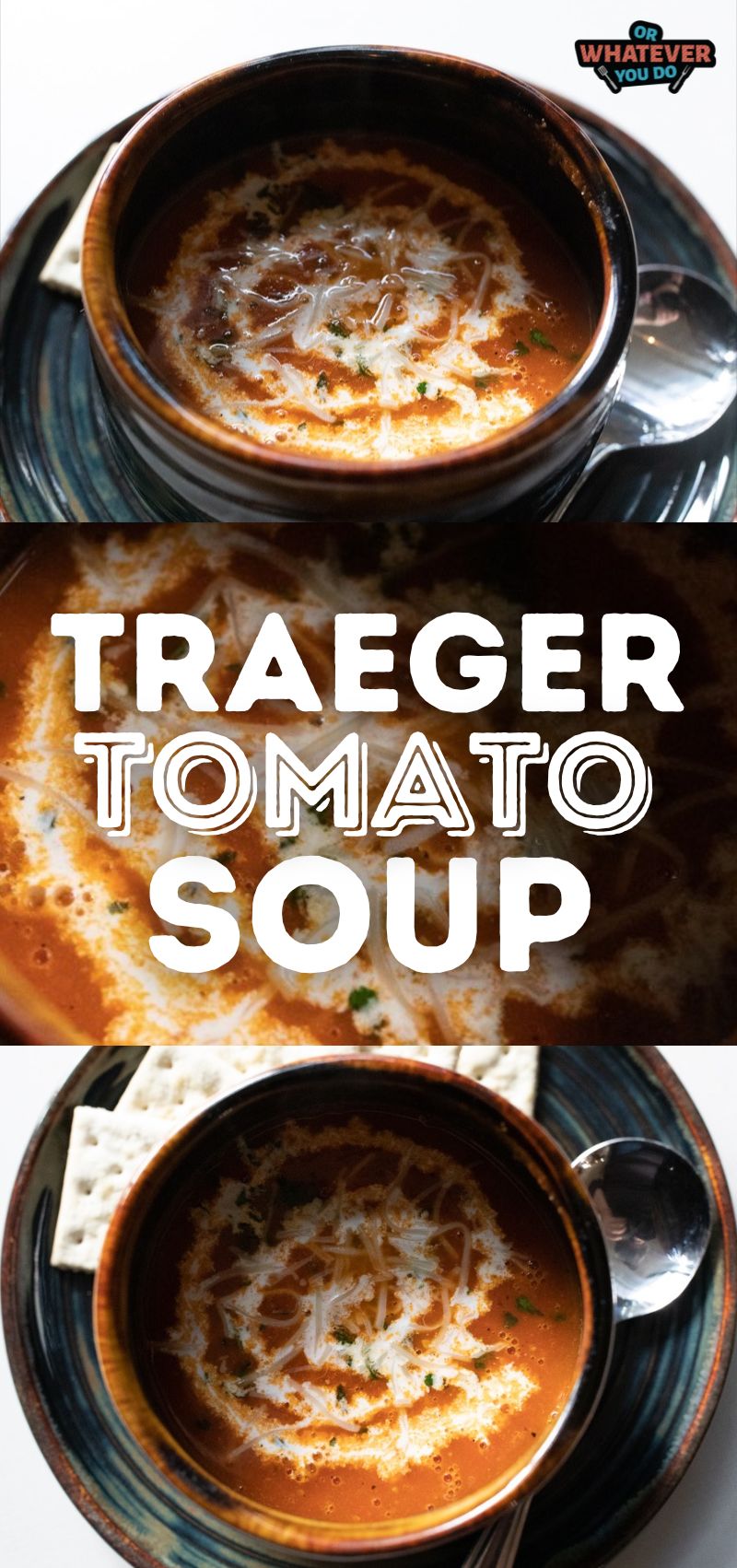 Yield: 4 servings
Traeger Roasted Tomato Soup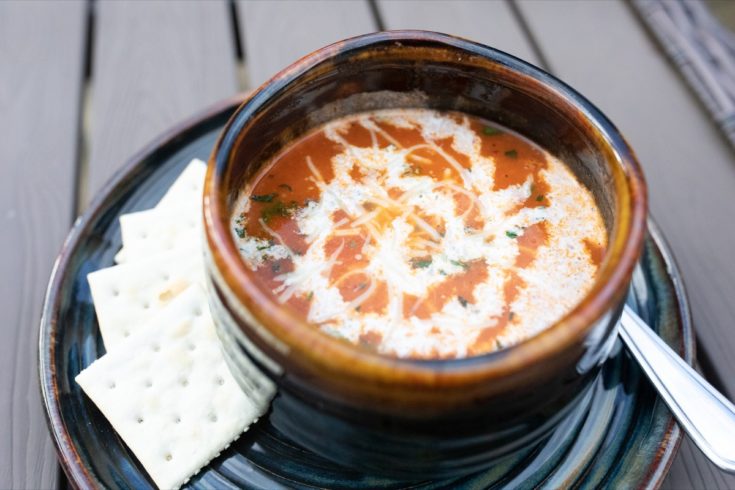 This fresh, easy, made-from-scratch roasted tomato soup uses cherry or grape tomatoes which are readily available year round all over the country, and can be roasted in either your Traeger, the oven, or even the stovetop.
Ingredients
1 pound cherry or grape tomatoes
1 small yellow onion, peeled and finely chopped
4 cloves garlic, peeled and diced
3 tablespoons olive oil
1/2 teaspoon salt
1/4 teaspoon pepper
1 tablespoon sherry
2 cups vegetable stock (or chicken stock)
1/2 cup heavy cream
Instructions
Preheat your Traeger to 375°.
Place the tomatoes, yellow onion, and garlic and place them onto a grill-safe baking sheet with sides. Drizzle with oil and sprinkle with the salt and pepper.
Roast in the Traeger for 25-30 minutes, or until the tomatoes are starting to split and burst and are getting a little roasty toasty. Make sure your onions and garlc aren't burning. You may want to keep things separated on the pan in case one or both needs to get pulled before the tomatoes. Nothing worse than bitter garlic.
Remove from the grill and add to a blender along with the sherry. Pulse until everything is blended. Add in stock and blend some more to combine.
Add the blended soup to a pan on the stovetop and lightly simmer for 15 minutes.
Taste and add salt as needed. Serve with the heavy cream drizzled in at the end and freshly cracked pepper. Garnish with fresh basil and shaved or grated Parmigiano Reggiano.
Recommended Products
As an Amazon Associate and member of other affiliate programs, I earn from qualifying purchases.
Nutrition Information:
Yield:
4
Serving Size:
1
Amount Per Serving:
Calories:

282
Total Fat:

21g
Saturated Fat:

8g
Trans Fat:

0g
Unsaturated Fat:

12g
Cholesterol:

34mg
Sodium:

630mg
Carbohydrates:

23g
Fiber:

3g
Sugar:

17g
Protein:

3g
Nutrition data provided here is only an estimate.