Our Smoked Chicken Tortilla Soup is made with tender, smoked chicken, a rich, homemade broth, and all of the delicious toppings you can pile on top. Hearty and easily can be made into a whole meal!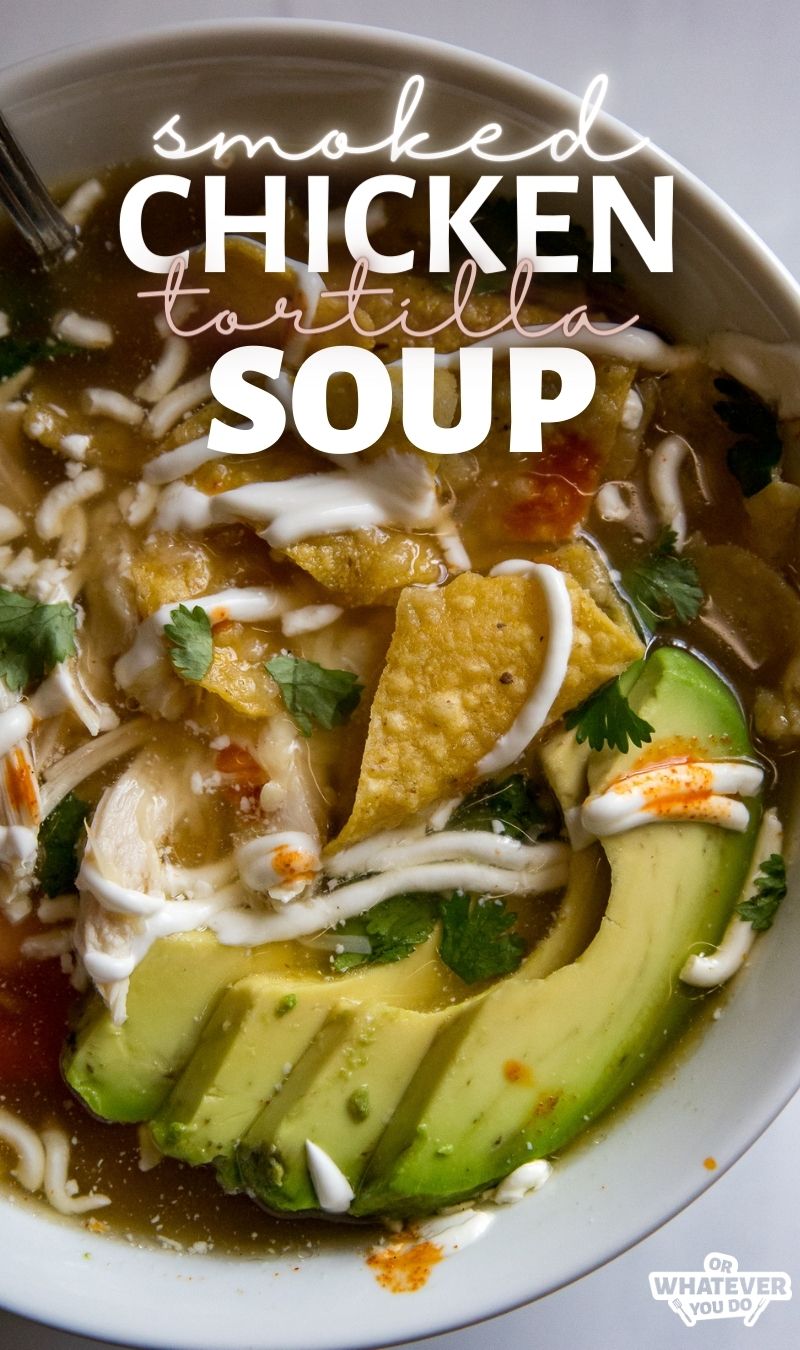 Smoked Chicken Tortilla Soup
This soup achieved legendary status in this house last week, and that's really hard to do at this point with soup. We LOVE soup and have made some pretty amazing variations throughout the years (more on that below).
This soup, though, just jumped up near the top of the list pretty quickly for almost everyone in our family who tried it.
The broth is rich and full of flavor and has a slight kick that I usually like to expand upon quite a bit too by adding extra hot sauce to my bowl. Next time I think I'll serve this with a bowl of cilantro-lime or Mexican rice, in case anyone wants to add that to the soup for some more heft.
More Easy Traeger Recipes here!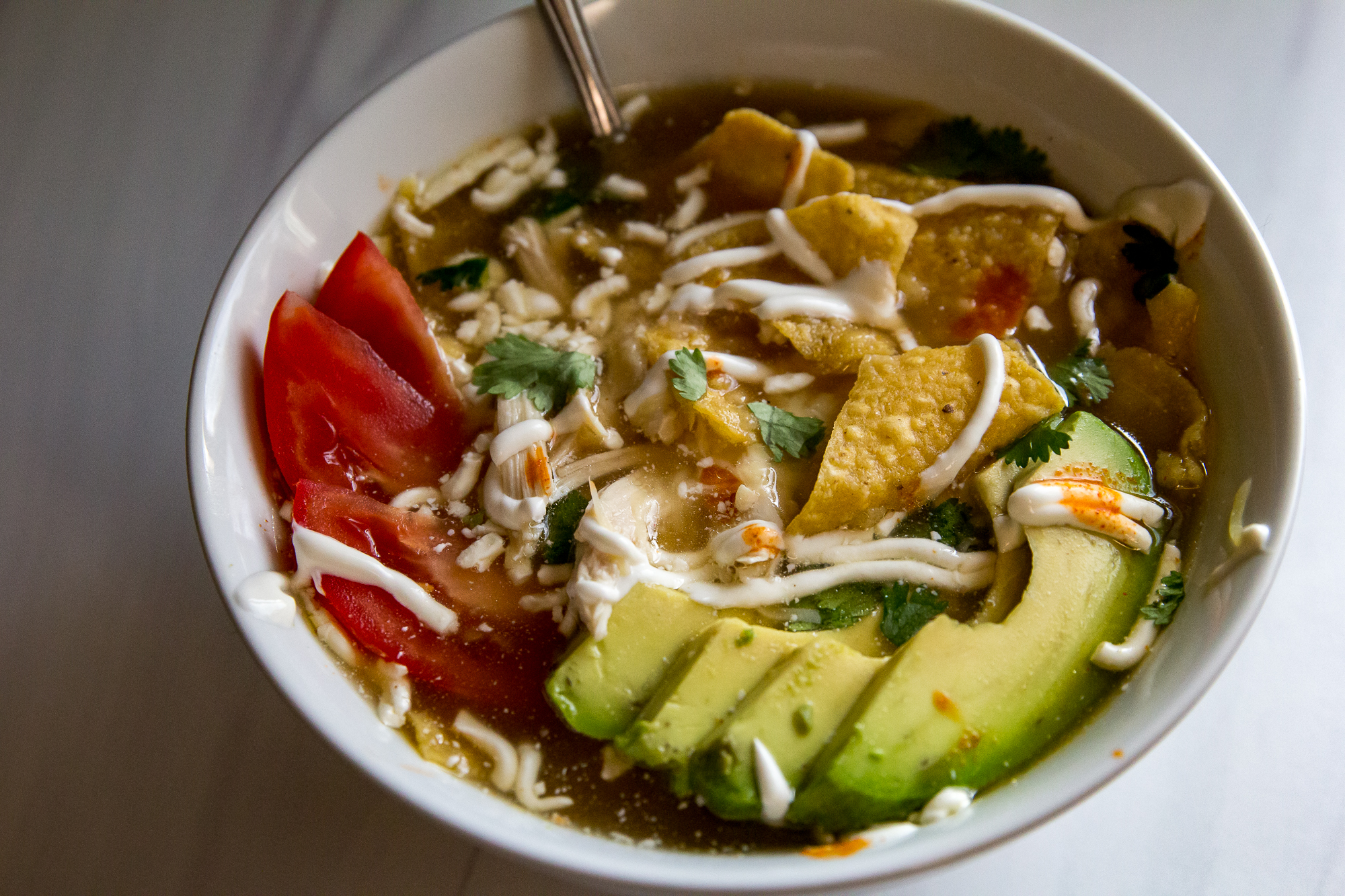 Smoked Chicken Tortilla Soup shopping list
whole chicken
Mexican oregano
ground cumin
salt & black pepper
garlic
white onion
hot sauce
jalapeno peppers
avocados
corn tortilla chips
cheddar cheese
cilantro
tomatoes
sour cream
limes
How to make Smoked Chicken Tortilla Soup
This simple soup is homemade and packed with flavor! Even if you've never made soup from scratch before, you can make this recipe. Here's a quick overview of the steps so you know what you're in for. Make sure to follow the detailed instructions below when you're making the actual dish.
Season and smoke the chicken. Remove the meat from the bones.
Submerge the chicken carcass in water with seasonings and vegetables and simmer for an hour.
Strain the broth, put together your bowls of soup, and enjoy!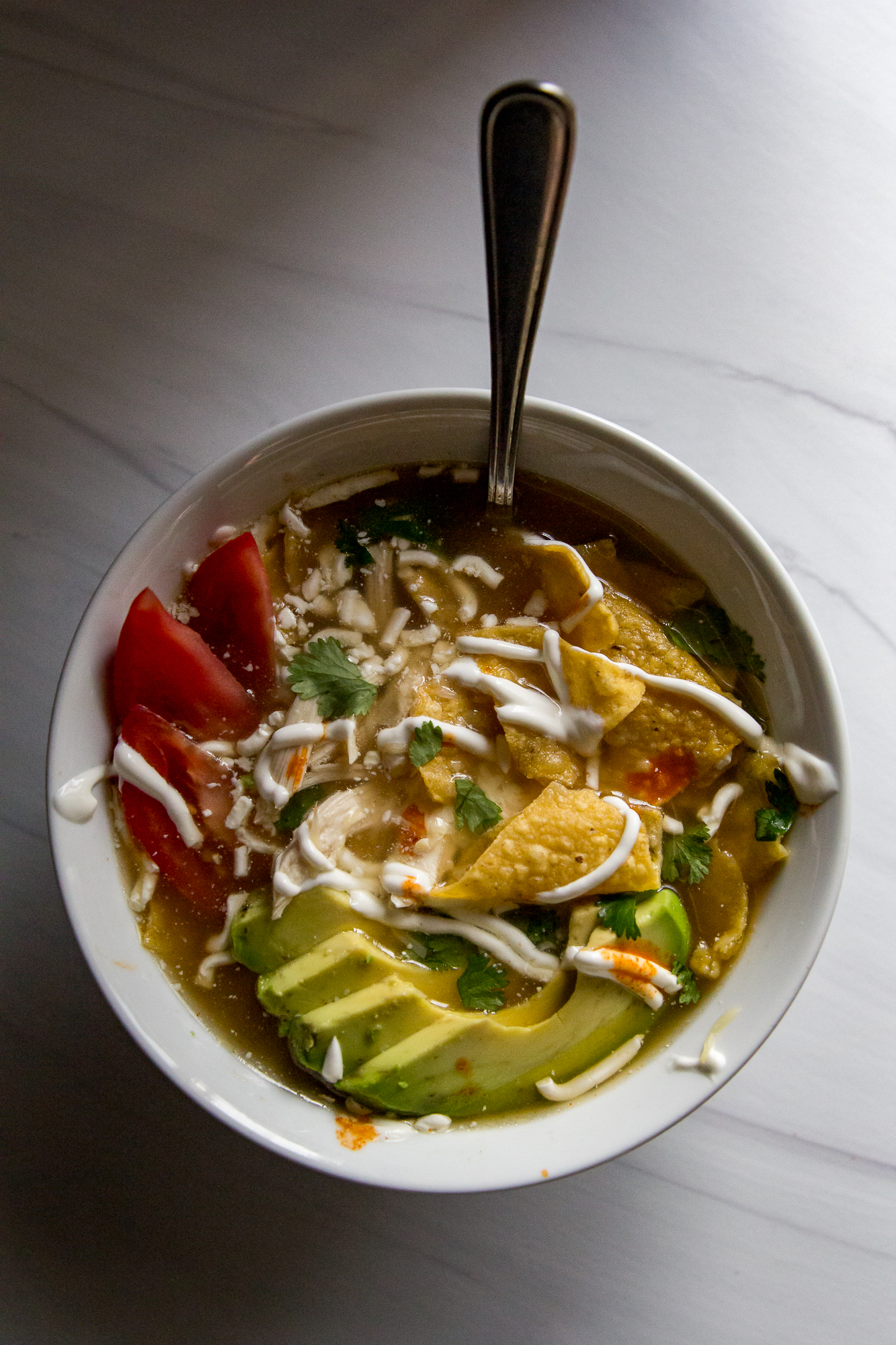 Smoked whole chicken for Traeger Chicken Tortilla Soup
The first thing we ever made on our very first pellet grill was a whole smoked chicken, and it was so fantastic we knew we were hooked. Eventually, there were variations, like my Grilled Nashville Hot Chicken, and the chicken that got turned into this soup.
Grilling a whole chicken is so much better than buying the grocery store rotisserie versions, but if you are short on time or energy or the will to make another meal – that is totally an option you can utilize. It won't be smoked chicken tortilla soup, but it'll still be awesome and it'll still be dinner, and these days I'm calling that more than just a WIN.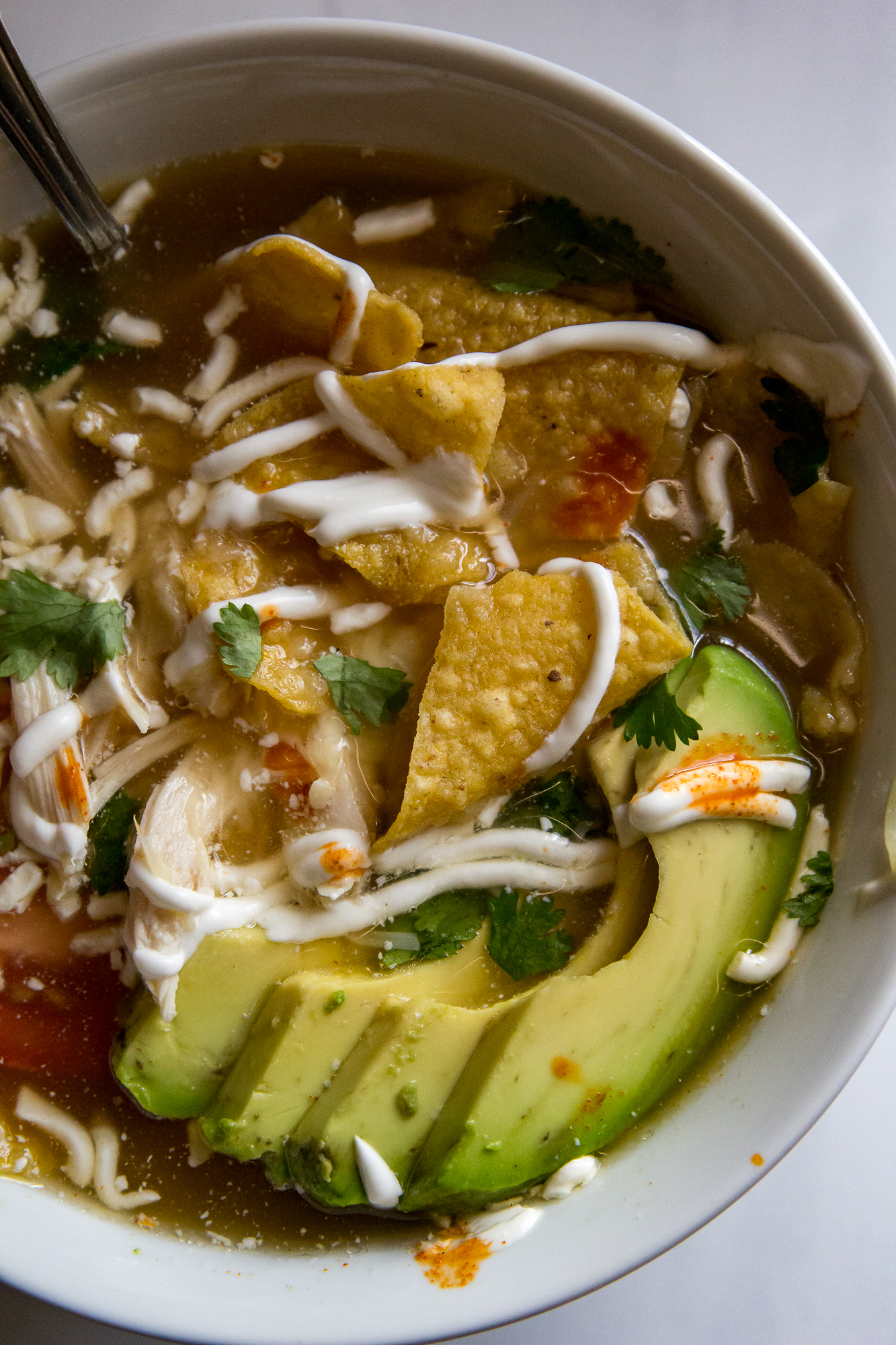 How to store the leftovers
One of the best things about this soup is how awesome the leftovers are. Since you don't mix everything together, you don't wind up with soggy tortilla chips the next day.
Store the broth separately from the soup toppings in a covered container in the fridge.
See all of my chicken recipes!
How to reheat the leftover soup
For the best results, bring the soup broth up to a rolling boil and then remove it from the heat. This can be done on the stovetop or in the microwave.
Add the cold chicken from the fridge and let it heat up in the hot broth.
Top with the additional garnishes and stir-ins and enjoy!
You can also just throw it all together in a bowl (minus the tortillas) and nuke it, too. I won't tell.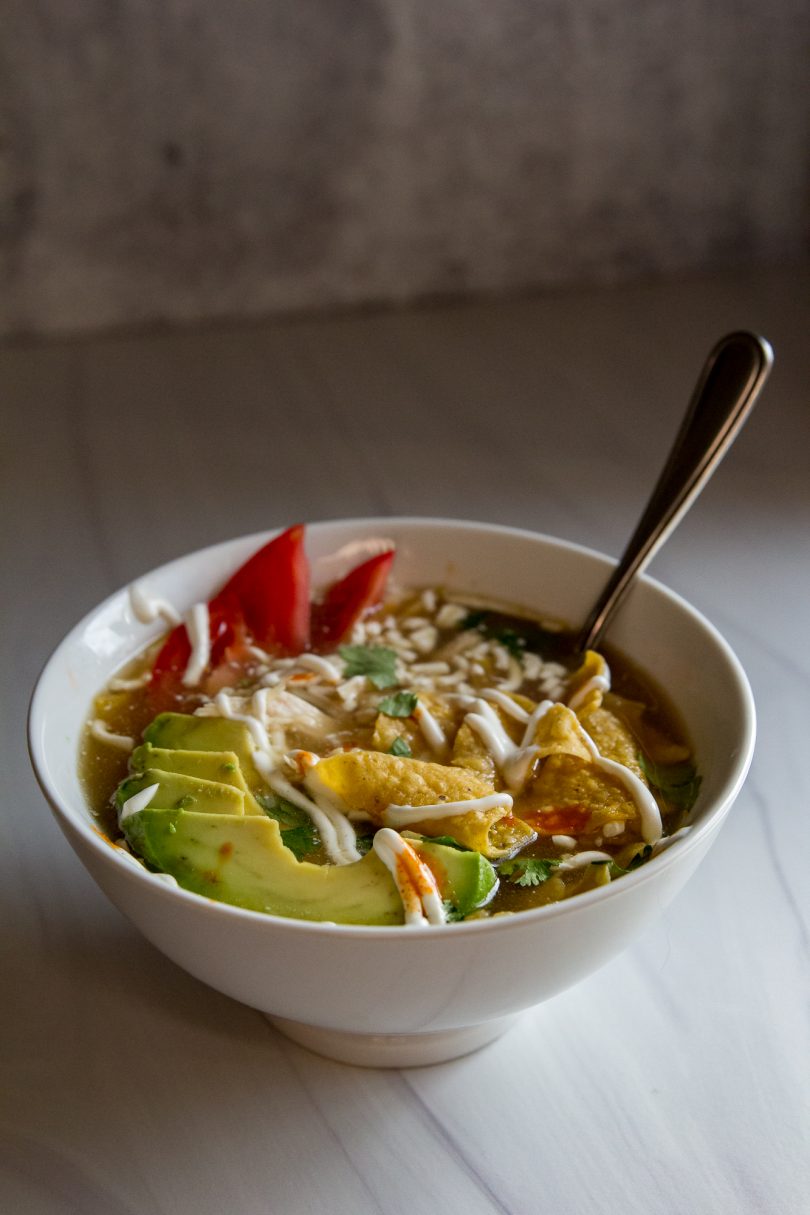 What substitutions and extra add-ins work well with Smoked Chicken Tortilla Soup?
Swap chicken thighs for a whole chicken
Chicken thighs work really well for soup, so if you don't want to mess with a whole chicken you can totally cheat and use thighs and it won't negatively impact the end results. We have a great Smoked Chicken Thighs recipe that would be perfect!
Use a rotisserie chicken instead of smoking your own
You don't get the "smoked" flavor in that case, but it'll still be an awesome bowl of soup so I'm pretty sure no one will be complaining.
Add in a packet of taco seasoning
Want the flavor kicked up a notch or two? Mix in a packet of your favorite taco seasoning mix!
More vegetables
Stir in corn, beans, more raw onion, or whatever you want to toss in the pot at the moment.
More peppers
We used jalapenos because they add a ton of flavor without adding so much heat that the kids can't handle it. If you don't have to account for that, you could toss in some additional peppers at your discretion. If they are really hot ones, make sure to take a video and tag me!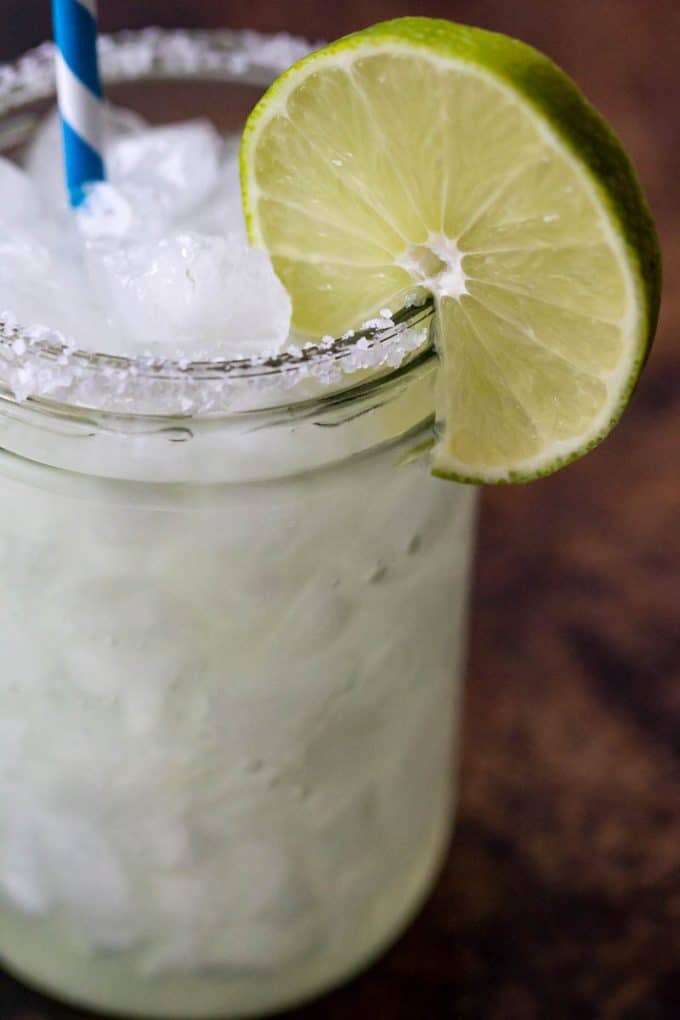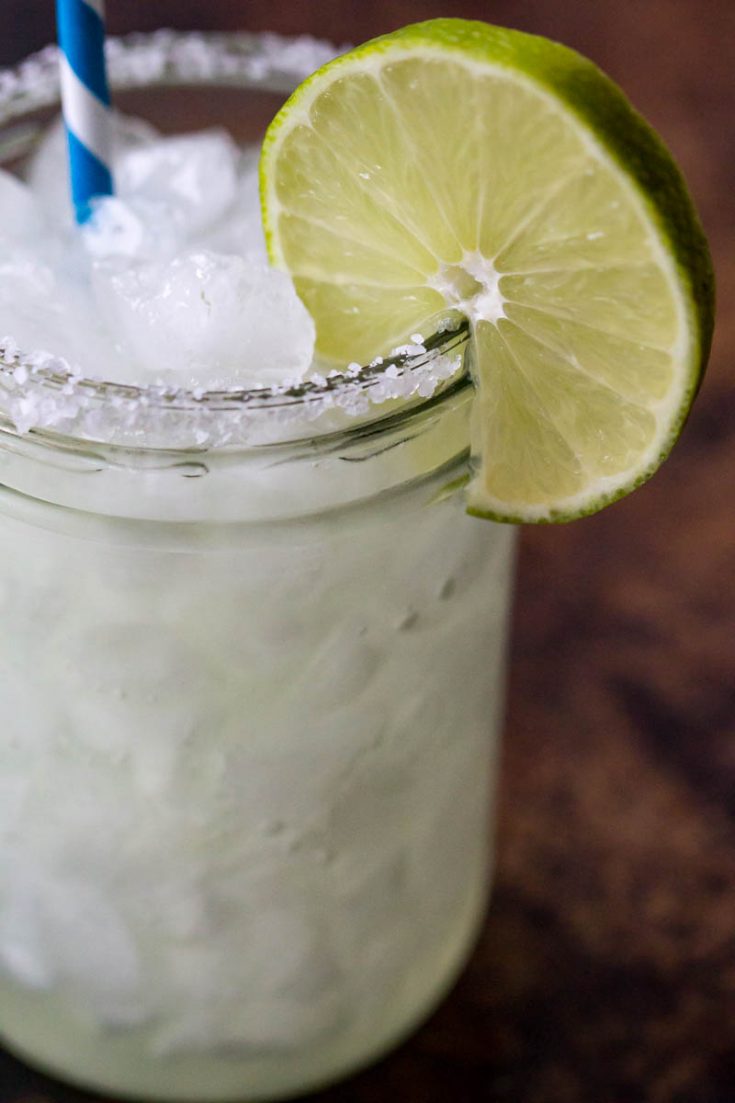 Easy sides for Chicken Tortilla Soup
Honestly, this doesn't even really need a side with it. The soup + the chips is a pretty hearty meal.
If you want to get a little fancy, my Jalapeno Cheddar Cornbread Muffins is an oldie, but a very very VERY goodie.
Otherwise? Give the adults who partake one or two of my Classic Margaritas or Blackberry Margaritas and call it a day.
More great recipes to enjoy!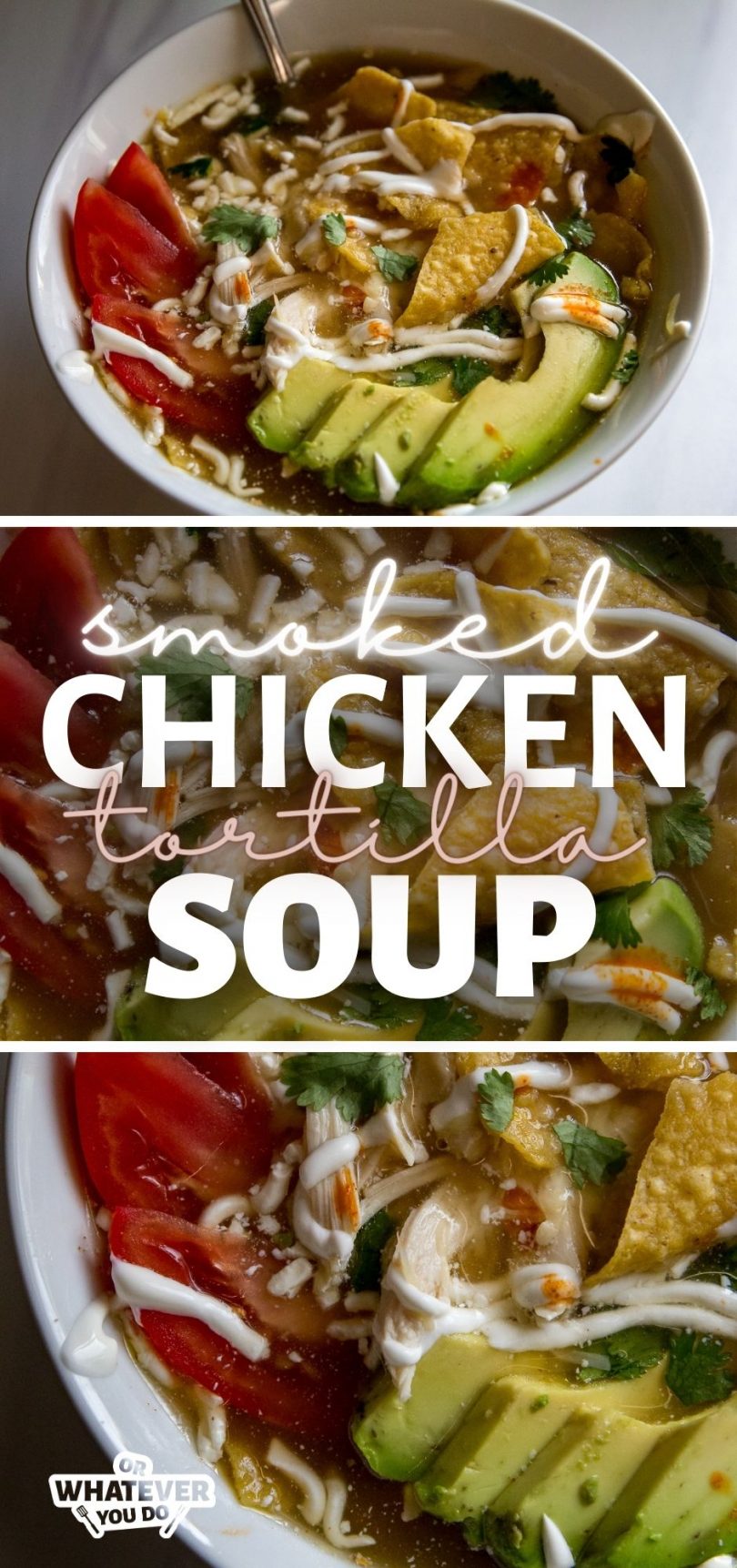 Yield: 12 servings
Smoked Chicken Tortilla Soup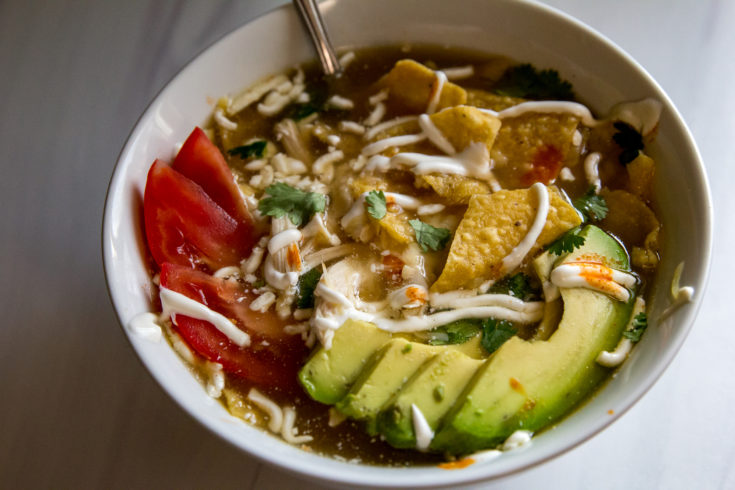 Smoked Chicken Tortilla Soup is a simple but flavorful soup full of chicken, seasonings, and ALL of the toppings. Make some today!
Total Time
3 hours
20 minutes
Ingredients
1 whole chicken
1-gallon water
2 tablespoons Mexican oregano (1 teaspoon set aside)
2 teaspoons ground cumin (1/2 teaspoon set aside)
1 tablespoon salt (1/2 teaspoon set aside)
1/2 teaspoon black pepper
3 cloves garlic
1 medium white onion
1 tablespoon hot sauce (Tapatio or Cholula are great)
2 jalapeno peppers
2 avocados
1 bag corn tortilla chips
1 cup shredded cheddar cheese
1/4 cup chopped cilantro
2 medium tomatoes
1 cup sour cream or creme fresh
2 limes
Instructions
Set your grill to the smoke setting, or around 180-200° if your smoker doesn't have a "smoke" setting.
While your grill is heating up, prepare your chicken by patting it dry with a paper towel and seasoning it with 1 teaspoon of oregano, 1/2 teaspoon each of salt, pepper, and cumin.
Put your chicken on the grill and let it smoke for 90 minutes, then turn the heat up on your grill to 350 degrees and finish cooking the chicken. When the internal temperature of the chicken reaches 165 degrees, it is done.
Pull your chicken from the grill and let it cool down.
When your chicken is cool enough to touch, pull all the meat off, put in a bowl, and then place it in your fridge.
Get out a large stockpot (at least 10 quarts) and pour a gallon of water inside.
Place the chicken carcass into the pot, along with 1 tablespoon of the oregano, the rest of your salt and cumin, 3 cloves of diced garlic, the onion, 1 diced jalapeño pepper, and 1 tablespoon hot sauce.
Bring to a boil and then reduce the heat slightly and let simmer for 1 hour.
Pull the chicken carcass from the pot and then strain your stock using a fine mesh strainer.
Put your stock back into the stockpot and bring it back up to a simmer.
Slice your avocados, tomatoes, and 1 jalapeño pepper and set aside.
To serve the soup, first place 2-3 ounces of the pulled smoked chicken along with a few jalapeño slices in the bottom of a soup bowl.
Ladle broth on top of the chicken until the bowl is half full.
Layer tortilla chips, cheese, sour cream, cilantro, avocado slices, and a couple of tomato wedges on top, in that order.
Squeeze the juice from a lime wedge and sprinkle a little oregano on top and it is ready to serve.
Recommended Products
As an Amazon Associate and member of other affiliate programs, I earn from qualifying purchases.
Nutrition Information:
Yield:
12
Serving Size:
1
Amount Per Serving:
Calories:

358
Total Fat:

23g
Saturated Fat:

7g
Trans Fat:

0g
Unsaturated Fat:

13g
Cholesterol:

67mg
Sodium:

748mg
Carbohydrates:

20g
Fiber:

4g
Sugar:

2g
Protein:

19g
Nutrition data provided here is only an estimate.