Traeger Pulled Pork takes your typical crock-pot version and puts it RIGHT TO SHAME. Like, there'll always be a place in my heart for a braised pork sandwich, but there is no pulled pork like a smoked pulled pork, and doing it at home is definitely the way to go when you are feeding a crowd.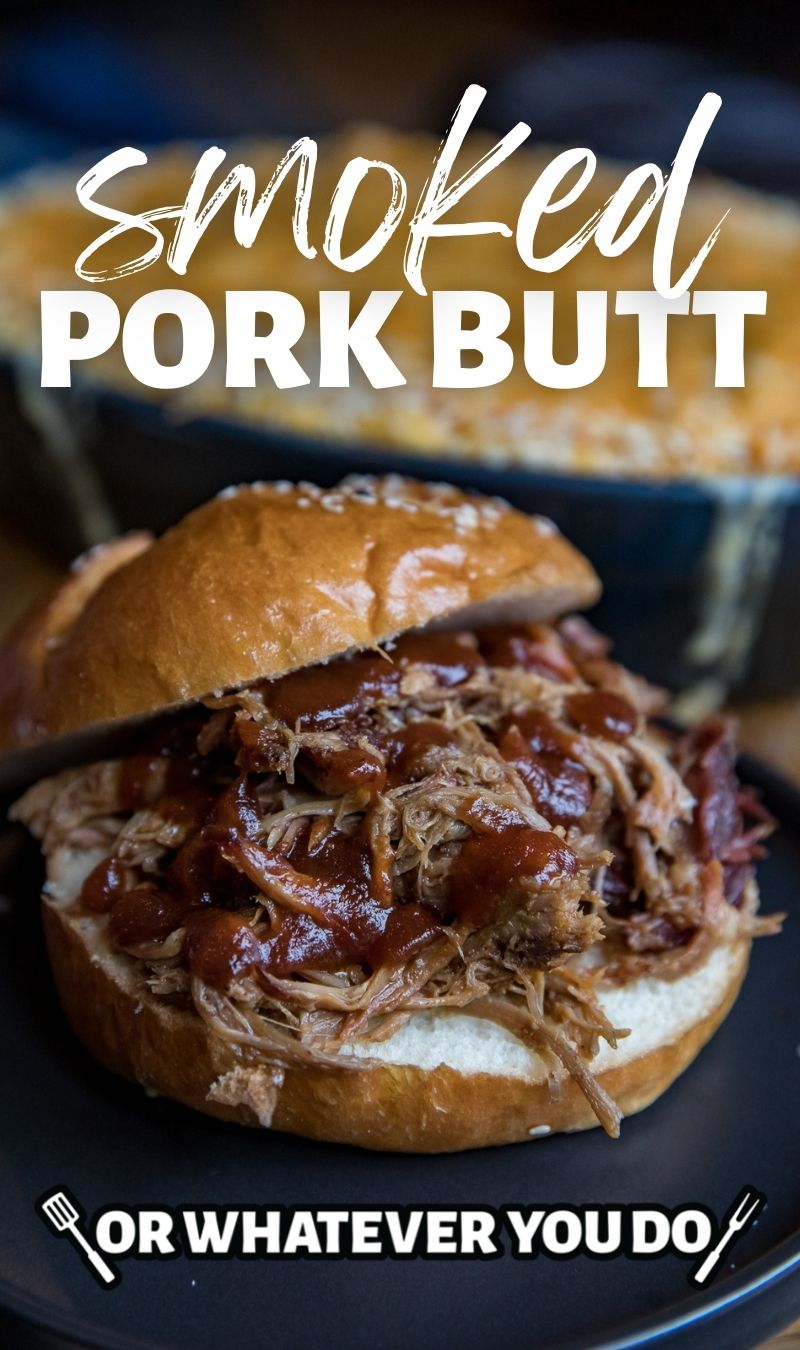 Traeger Smoked Pulled Pork
When most people list their favorite smoked dishes, you'd better bet that a great pulled pork sandwich is near the top of the list.
There's something pretty magical about pork butts that are smoked for the better part of a day until they are so tender that the bone just falls right out of the meat when you grab it.
It is also really easy to do. It takes a while, sure, but with my fool-proof method you'll both be able to eat at a normal hour, but you also won't have to smoke overnight, either.
Check out all of my Traeger Recipes!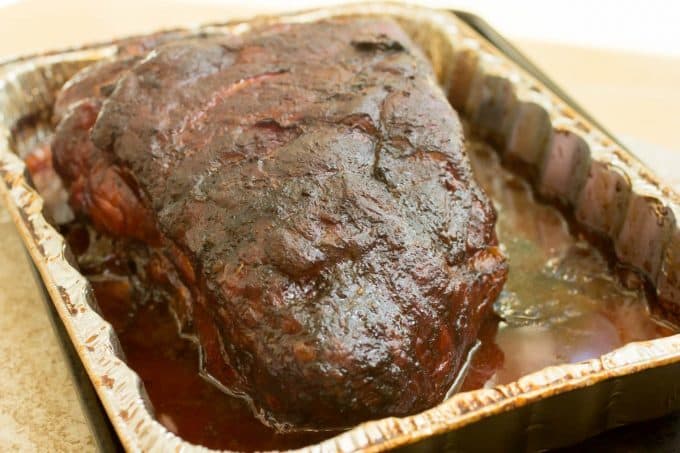 Smoked Pulled Pork Shopping List
Wondering if you have to hit the store? Here's the list of items you'll need to make this recipe. For specific amounts, please refer to the printable recipe card at the bottom of the post.
More Easy Traeger Recipes here!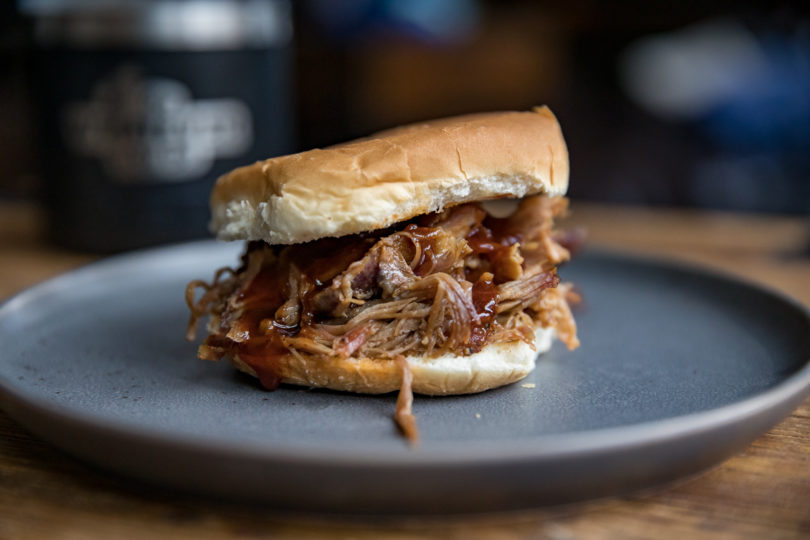 How to make Traeger Pulled Pork
This is just the overview so you can see what you're actually getting into here. When you are cooking, you'll want to use the full recipe at the bottom of the page.
Rub it
Don't skimp on the rub, here. Give it a thorough coating. Some people like to use a binder like mustard for the rub, and I've done that quite a few times with great success. It is optional, and I never have issues with my rub sticking to the pork.
Smoke it
On the smoker the pork butt goes. Don't let it run out of pellets, and flip it over once or twice during the 10-12 hours it is on the smoker.
Slow cook
Pull the pork off the grill and place it into a slow cooker, Instant Pot, or a high-sided casserole dish. Throw in some hard apple cider along with your favorite BBQ sauce, and cover. Cook overnight and shred in the morning, removing the bone and any gross bits you come across.
Serve
Pile it up on some buns, top with coleslaw if that's your thing, and chow!
All my PORK RECIPES here!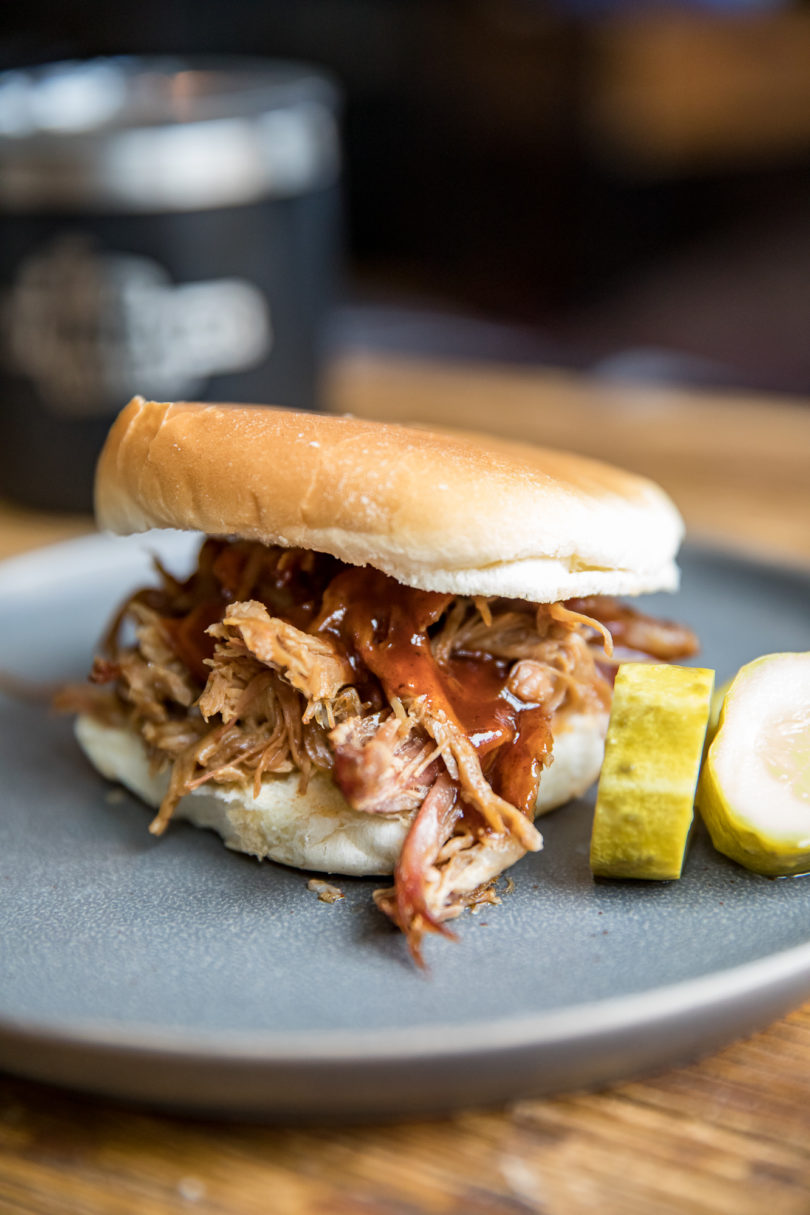 How long does Pulled Pork take to cook?
Smoked Pulled Pork requires one major thing – patience. With my method, you'll be smoking the pork butt for 10-12 hours over the corse of an entire day. Then it gets tossed into the slow cooker or Instant Pot on slow cook mode overnight with some barbecue sauce and a bottle of hard apple cider.
In the morning, you can pull the bones out and shred the roast and season with some more rub before letting it ride until it is time to eat.
Good luck waiting all the way until dinner, though.
If you don't have a slow cooker or pellet grill you can also place the pork butts into an oven-safe high-sided baking dish, add the liquids and then cover tightly with foil. Place that into a 200°.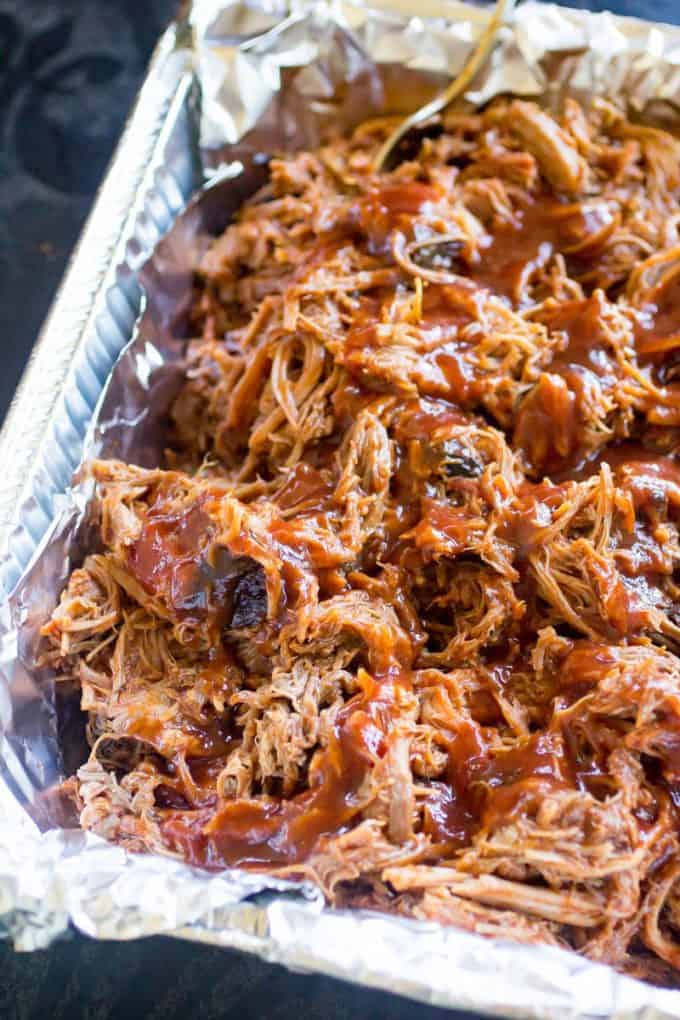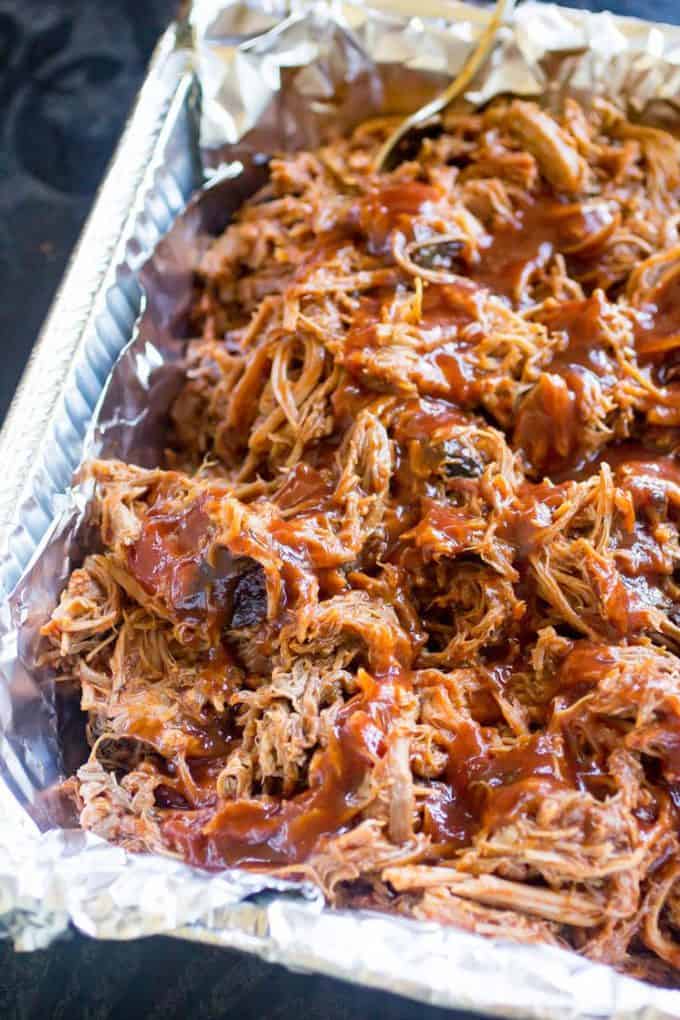 How do you tell when your Pulled Pork is done?
With most meats you really need a good thermometer to check internal temperature. That's still a tool that will be very helpful with pulled pork, but it isn't actually essential.
Follow me on Instagram!
What if your pulled pork isn't tender and/or flavorful enough?
Sometimes, in the Facebook groups, I sometimes see complaints about people making pulled pork being using various recipes from across the web and the end result being "bland" or "tough". Here's what I tell them to fix that problem.
More salt
There's SO MUCH meat there, and people don't put nearly enough salt in the rub to account for it.
Don't wrap it, douse it in liquid and then cover it
Instead of wrapping in foil, stick it in a roaster or disposable foil grill pan and throw in some liquid and cover it tightly. I like to use hard apple cider or beer. A lot of people use apple juice.
Cook until it is tender and shreddable
For pulled pork I cook it until it shreds easily. Sometimes that is right at 205, sometimes not. Kind of like brisket, start poking around in it and if there's tough resistance anywhere it probably isn't done.
Re-season it once it is shredded
You have to season it again after you shred it. It is a whole piece of meat, and that dry rub doesn't penetrate all the way inside of it. Sprinkly your favorite rub on the shredded meat. This is also the reason why a lot of people mix IN some bbq sauce to the shredded meat before serving.
Give it a final hit of smoke at the end
Forgot one. The last thing I like to do with my shredded pulled pork is sauce it and throw it BACK on the smoker for like 20ish minutes on smoke right before serving.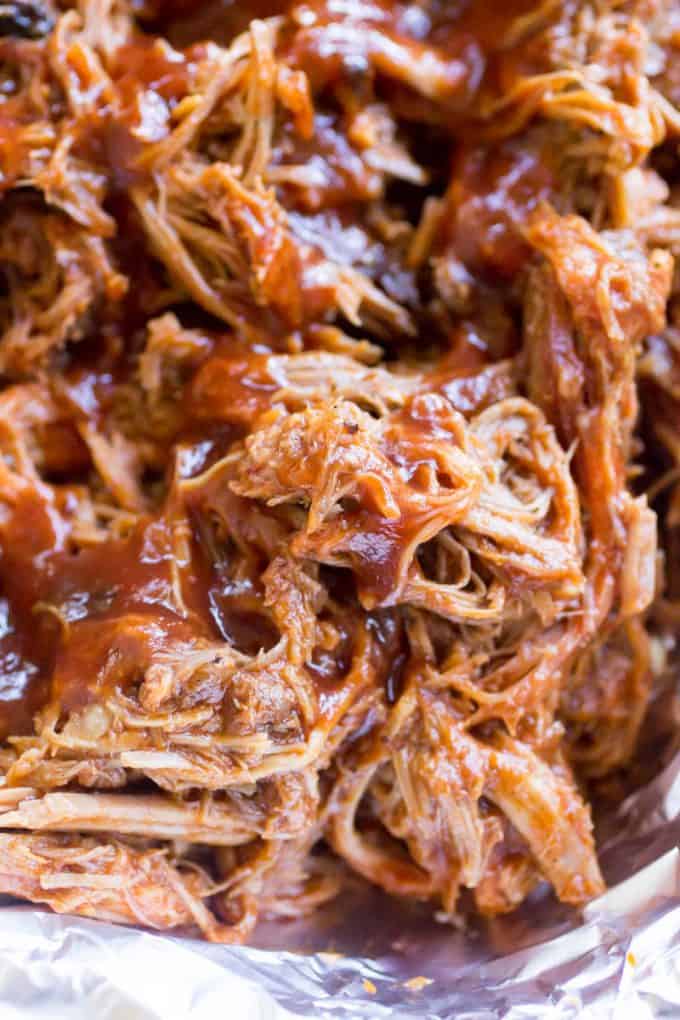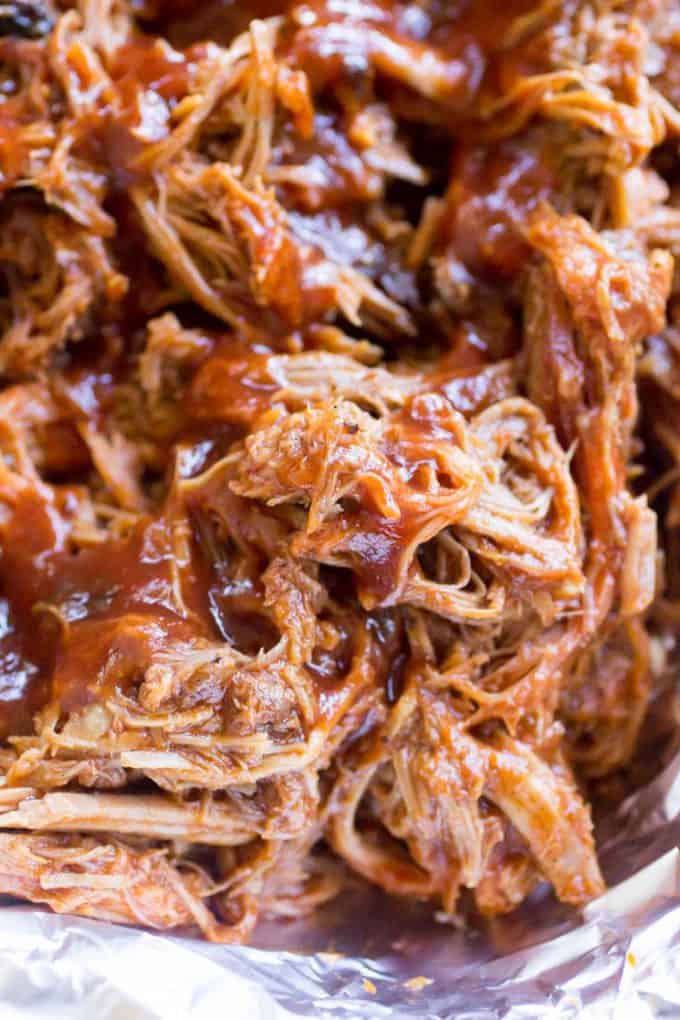 What should I serve with pulled pork?
You should serve this with my favorite rolls, OWYD coleslaw, and one of my awesome pasta salads!
I'm also a huge fan of serving a big casserole dish of Smoked Mac and Cheese with this too. Go big or go home, right?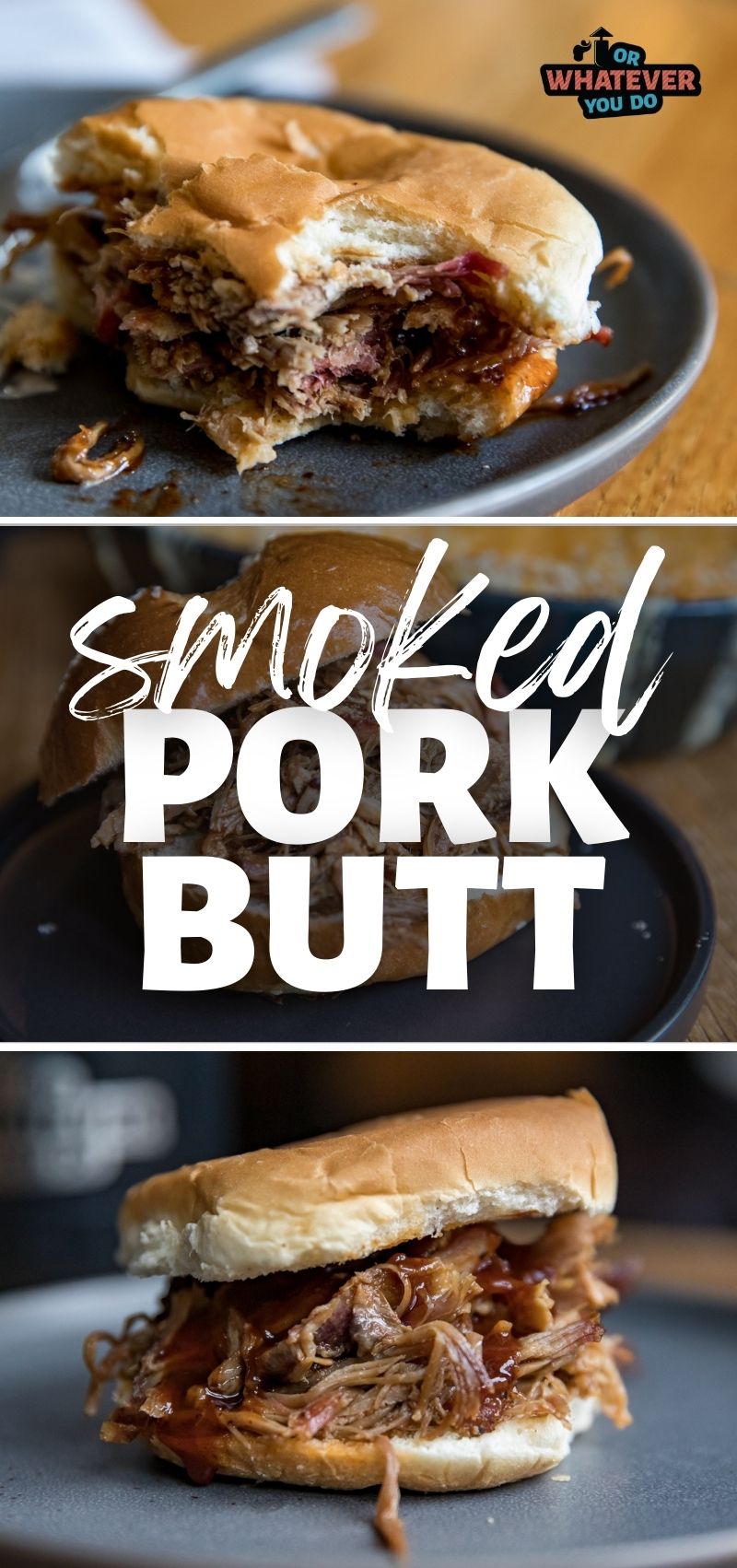 Yield: 12 servings
Traeger Pulled Pork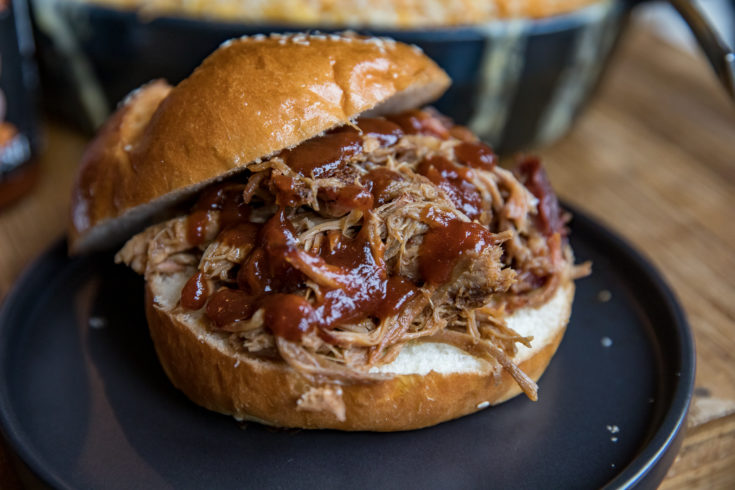 This Traeger Pulled Pork takes a while to get on the table, but the long cook is mostly hands-off and totally worth it. This one needs to be started the day BEFORE you want to eat!
Total Time
1 day
15 minutes
Ingredients
6 pound bone-in pork shoulder roast
copious amounts of BBQ Rub
3 cups dry hard apple cider
1 - 8 ounce bottle barbecue sauce
Instructions
Fire up your pellet grill according to manufacturer instructions. Place the grill on "smoke", or turn to 220° if your grill doesn't have a "smoke" mode.
Liberally rub the bbq rub into the outside of the shoulder on all sides. Place the shoulder on the grill grates and smoke for 10-12 hours. Make sure to stir your pellets every hour or so to make sure they don't tunnel.
Remove the pork shoulder to a slow cooker, foil pan, or Instant Pot. Pour in a bottle or can of hard cider and then pour your favorite barbecue sauce over the top too. Don't be shy!
Slow cook overnight. In the morning, pull the bones out of the roast and shred, removing any unappetizing bits as you shred things.
Add in some more Everything Rub and serve with buns.
Recommended Products
As an Amazon Associate and member of other affiliate programs, I earn from qualifying purchases.
Nutrition Information:
Yield:
12
Serving Size:
1
Amount Per Serving:
Calories:

723
Total Fat:

49g
Saturated Fat:

18g
Trans Fat:

0g
Unsaturated Fat:

26g
Cholesterol:

204mg
Sodium:

351mg
Carbohydrates:

15g
Fiber:

0g
Sugar:

12g
Protein:

53g
Nutrition data provided here is only an estimate.