There is nothing more comforting on a cold day or when you are feeling under the weather than a big bowl of piping hot Chicken Noodle Soup. This version is homemade, but you can make substitutions as necessary and still end up with a fabulous bowl of soup.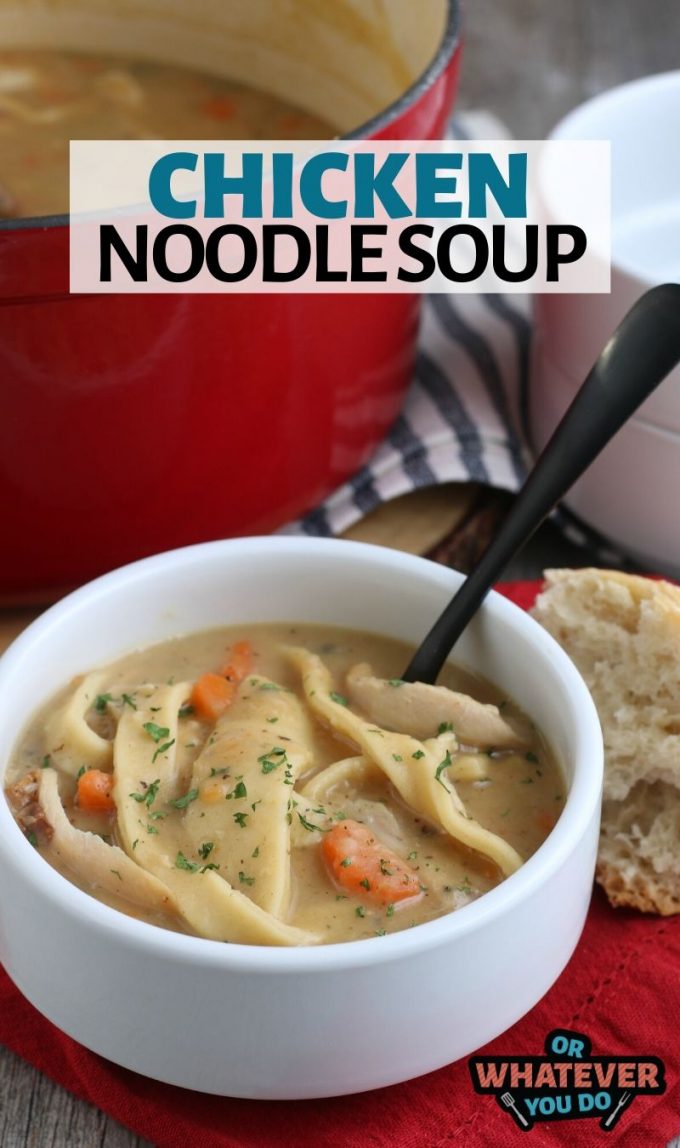 Chicken Noodle Soup Recipe
Homemade chicken noodle soup might be one of my top 3 comfort foods. It has been a dish that I've always loved, and word has it that this noodle recipe was passed down from my great grandmother.
It has been adapted over time, but the basics are the same.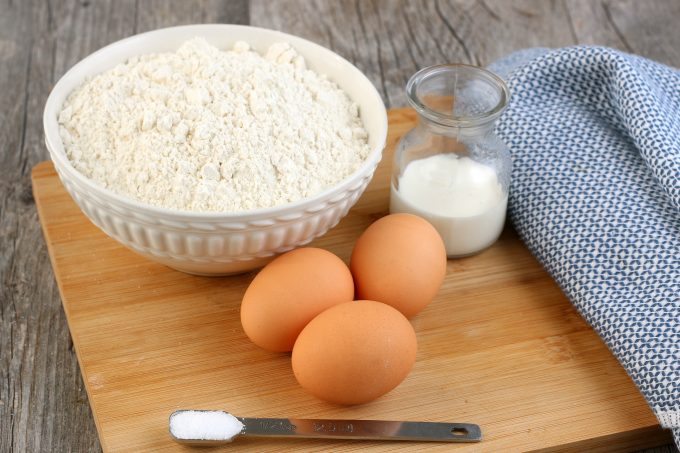 How to make homemade chicken noodle soup
Making homemade soup is pretty simple, but it does take some time, and ingredients matter.
Good stock is not optional
The best way to ensure you are going to have a fabulous soup is to start with fabulous chicken stock. The easiest and least expensive way to accomplish this is by roasting your own chicken and then making the stock from the carcass.
In this post, Roasted Chicken Stock, I walk you through the basics and if you follow the directions included you'll end up with one of the best chicken stocks you've ever had. No worries if you don't have a pellet grill, you can use the same recipe in the oven as well.
If this is just a much-too-much for you, for whatever reason, you can also start with boxed stock. You won't be sad at the end when you have a piping hot bowl of soup, I promise.
Fresh Vegetables are your friend
As much as I use dried onion, celery salt, and frozen carrots, when it comes to soup-making I really like to have fresh vegetables to use. You can control the end result better, and make sure you aren't overcooking. You want the veg to still have some bites at the end and not disintegrate as soon as they hit your mouth.
Again, use what you have on hand. If that's frozen veggies or even canned vegetables, don't let it deter you from the soup. Let NOTHING get in the way of your goal here, people.
Make the noodles at home, or buy the good ones at the store
Nothing beats a batch of homemade noodles. And really, you can't go wrong with only 3 ingredients either. They will taste the best, reheat the best, and you won't be sorry for the 20 minutes they take to whip up. At all.
BUT, sometimes we just want a darn bowl of soup, and we want as few steps between us and the soup as we possibly can, and that's okay.
In that case, use the good noodles. Either the 'homestyle egg noodles' that you can get some places that take like 12 minutes to cook, or the egg noodles in the frozen section of the store also work really well. Please put away the "extra wide egg noodles" that take 3 minutes to cook and are used for things like stroganoff. They need not apply. Also please put away any rotini or other pasta you have laying around that isn't designed to hold up to the rigors of soup.
More great SOUP RECIPES here!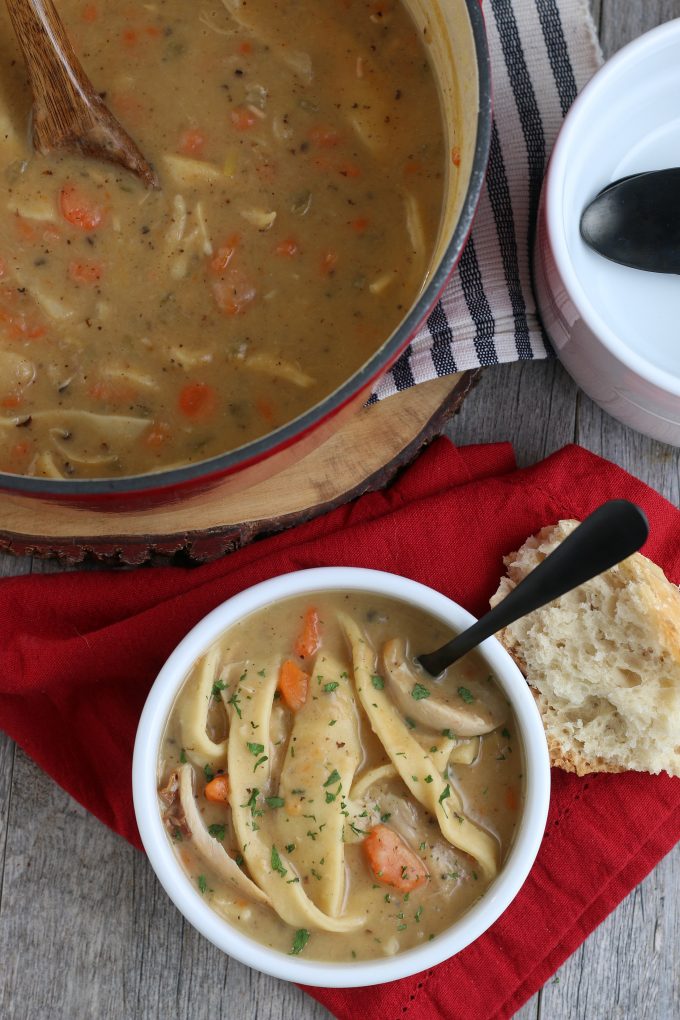 Chicken Noodle Soup Shopping List
Noodles
Chicken
Chicken Stock
Carrots
Celery
Onions
Bay Leaves
Salt & Pepper
Parsley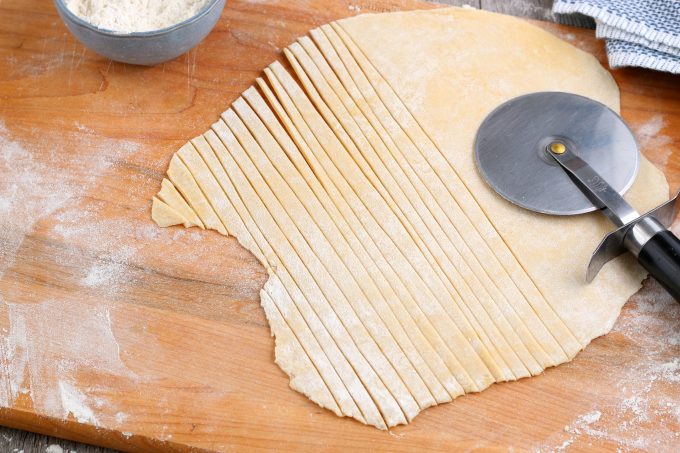 How do you store leftover chicken noodle soup?
I always store my leftover chicken soup in covered plastic storage containers if I have a LOT left that the family will be eating together for another meal.
If I only have enough for a few bowls or want to make it an easy grab-and-bring lunch, store it in canning jars in the fridge.
If you want to freeze in single-serving portions for somewhere down the line, you can use ziplock pint or quart-sized freezer baggies.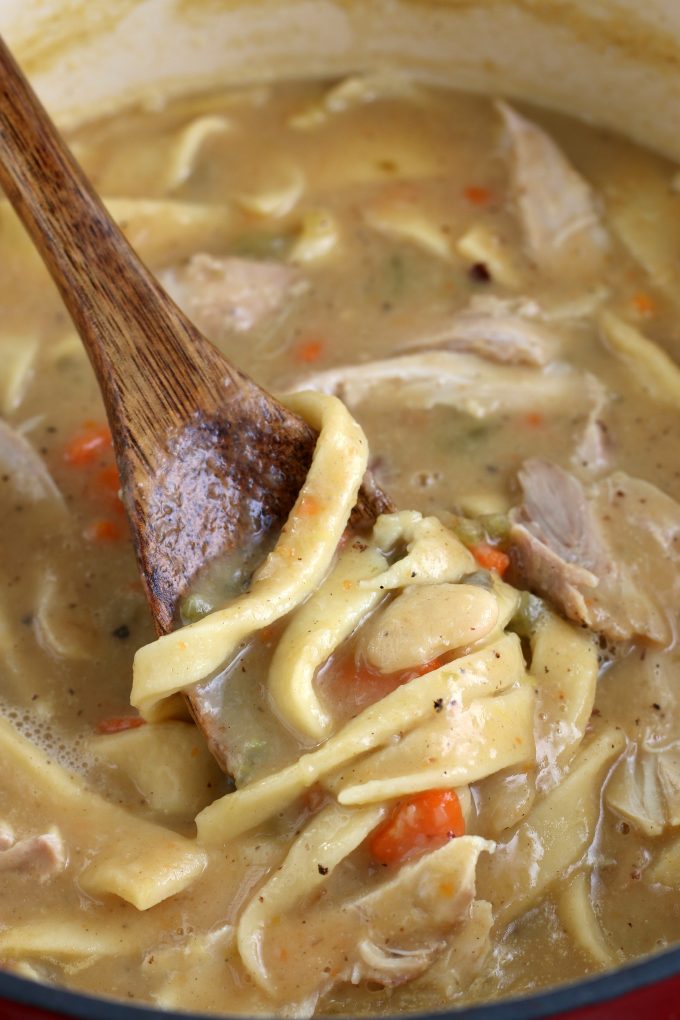 How do you reheat leftover chicken noodle soup?
From chilled
I typically reheat chilled soup in the microwave, in single portions.
If I'm heating up a large batch of leftovers, it goes on the stovetop.
Often times the noodles will soak up a lot of the excess broth, so you might have to extend it a bit with some boxed chicken stock if you don't want to eat chicken noodle stew. I usually just opt for the stew version because it is delicious on a cracker, but my family tends to like the thinner version.
From Frozen
If you have frozen your soup in a freezer baggie, the best way to reheat it will be to let it thaw in the fridge overnight, first, and then cook it according to the "from chilled" directions.
If you can't do that, let the soup thaw in a bowl of warm water until it can be broken up and put into a soup pot minus the baggie.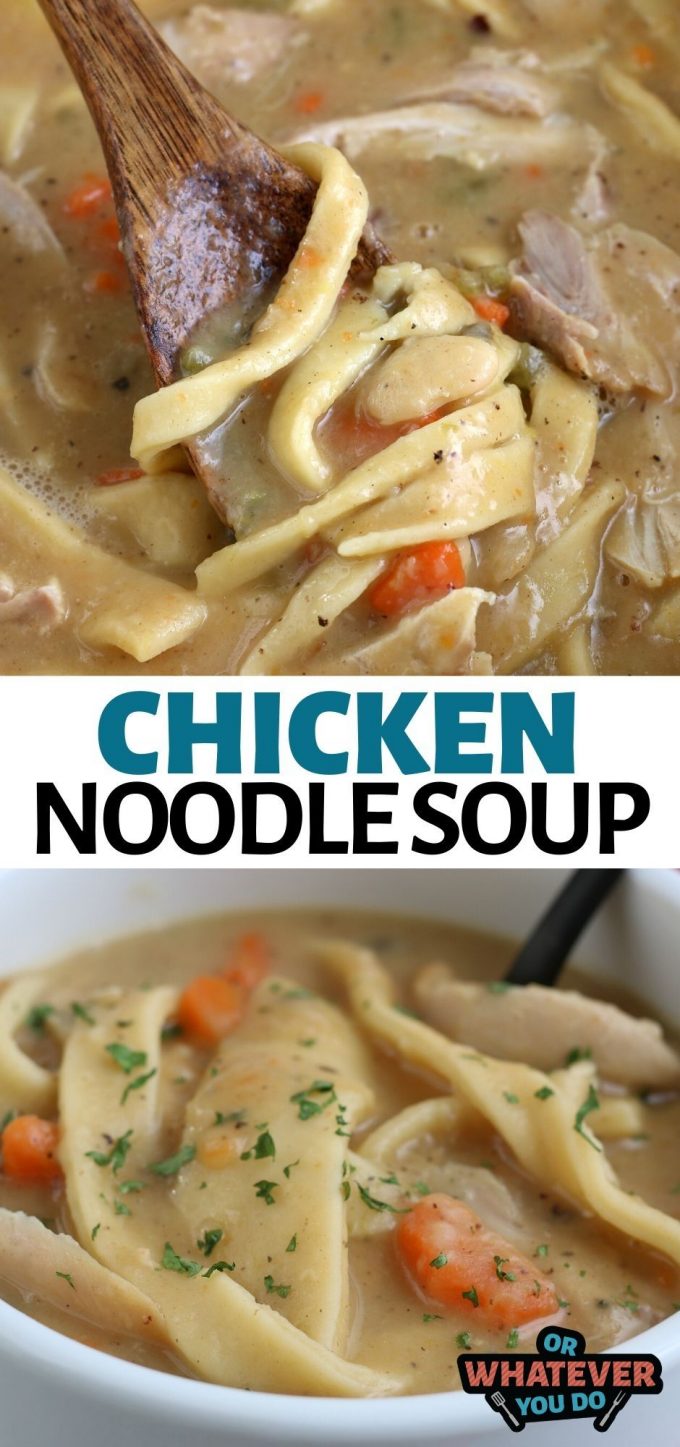 Yield: 12 servings
Chicken Noodle Soup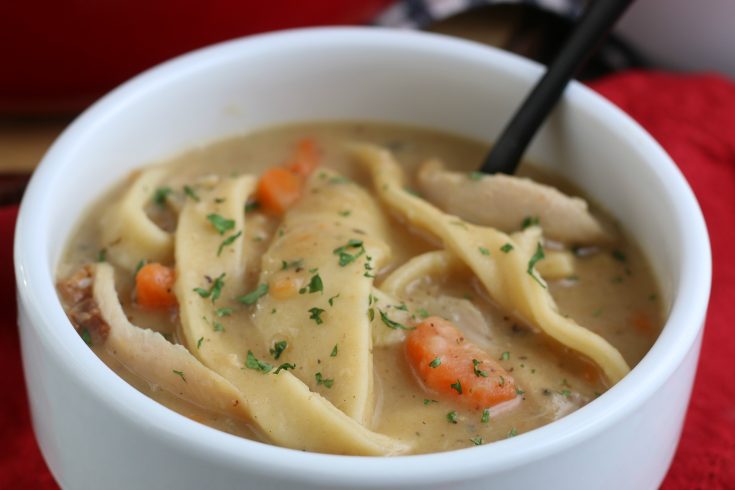 This hearty homemade chicken noodle soup is good for a cold day, or just a big bowl of comfort food. Make it from scratch from the stock to the noodles, or use some pre-made items for a quick, filling meal.
Total Time
1 hour
10 minutes
Ingredients
4 quarts chicken stock
4 cups diced cooked chicken
4 cups sliced carrots
2 cups diced celery, some leaves included if possible
1 medium onion, chopped
salt & pepper
1/2 teaspoon sage
2 tablespoons chopped fresh parsley
1 batch homemade noodles*
Instructions
Heat the chicken stock, chicken, carrots, celery, and onion into a large stockpot over medium heat.
Bring the soup up to a simmer, and let cook for 10-12 minutes.
Add the salt, pepper, sage, parsley, and homemade noodles. Keep simmering for an additional 5-10 minutes, or until the noodles are tender.
Notes
* Or enough pre-made noodles for 12 servings
Recommended Products
As an Amazon Associate and member of other affiliate programs, I earn from qualifying purchases.
Nutrition Information:
Yield:
12
Serving Size:
1
Amount Per Serving:
Calories:

126
Total Fat:

6g
Saturated Fat:

2g
Trans Fat:

0g
Unsaturated Fat:

4g
Cholesterol:

42mg
Sodium:

110mg
Carbohydrates:

6g
Fiber:

2g
Sugar:

3g
Protein:

12g
Nutrition data provided here is only an estimate.