Our Smoked French Onion Soup is made with slowly caramelized onions, broths, wines, and all of the cheese you can handle. Caramelizing the onions takes the longest, but it is well-worth the wait!
Pellet Grill French Onion Soup Recipe
If you take a cast iron pan, a whole wack of onions, a little olive oil, and a bunch of hours inside your pellet grill you will end up with the start of one of the best bowls of soup you'll ever have.
It is also one of the easiest! Cooking the onions down takes a long while, but it is mostly passive. If you'll be home and have a few minutes an hour to stir things around, you're good to go.
The mixing of the actual soup is the easy part.
More Easy Traeger Recipes here!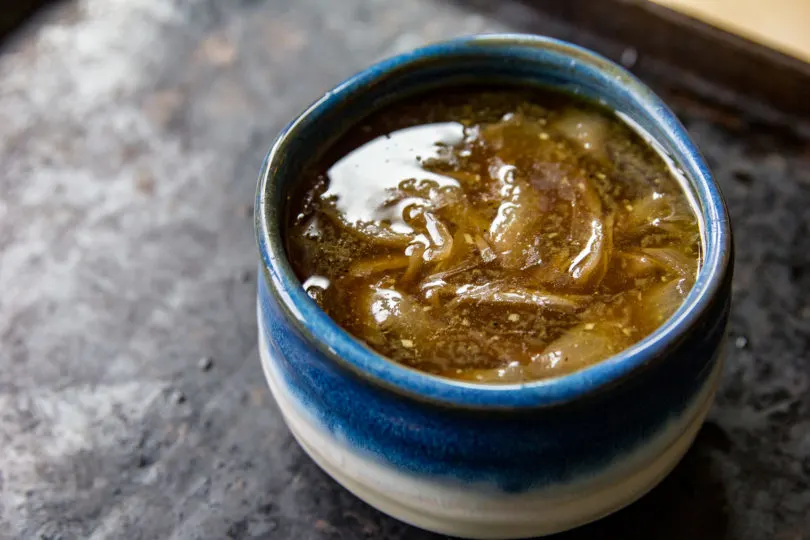 French Onion Soup shopping list
Want to know if you need to hit up the store or not? Here's the list of ingredients you'll need to make this easy Smoked French Onion Soup! Make sure to scroll down to the recipe card for the full recipe, including the ingredients.
sweet onions
olive oil
salt & pepper
fresh garlic (or smoked garlic, even better!)
fresh thyme
beef broth
chicken broth
red wine
white wine
smoked provolone
french bread
Follow me on Instagram!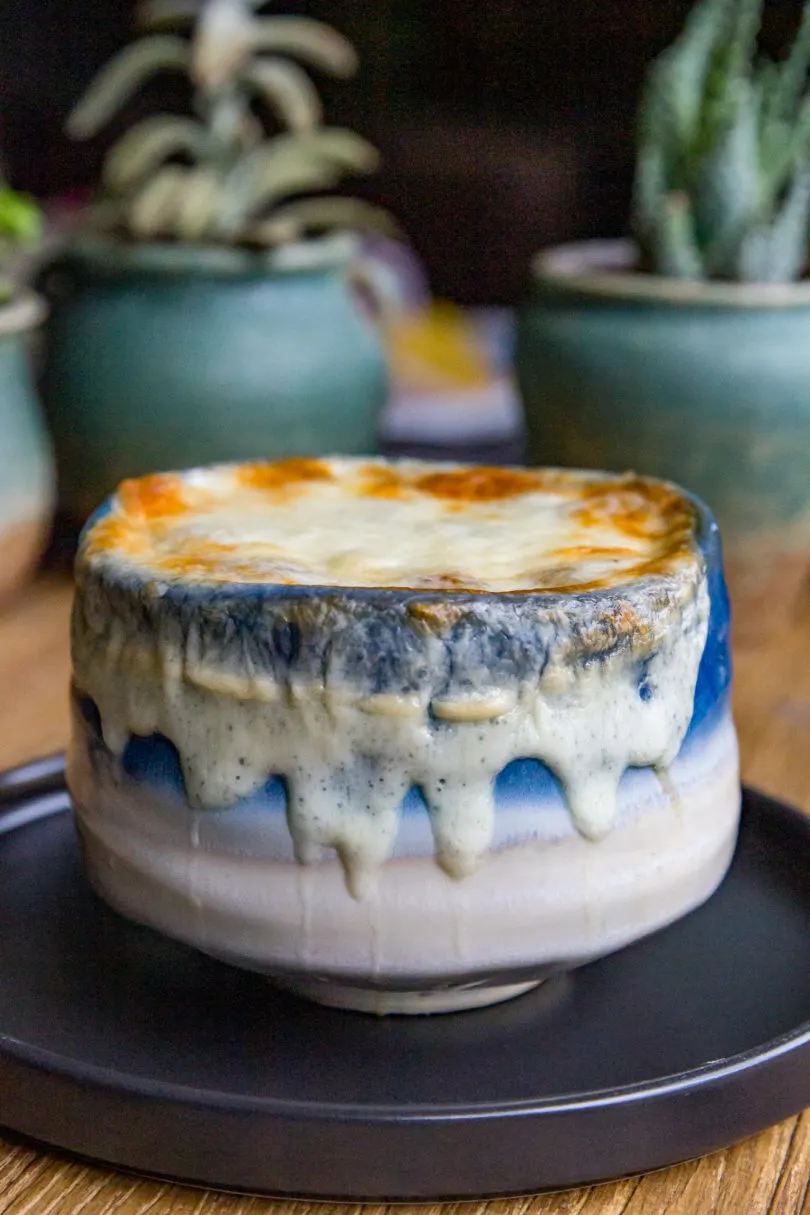 How to make Smoked French Onion Soup
Here's the general overview of what you are in for if you make this recipe. When you're actually cooking, make sure to use the recipe card below!
Also – pro tip, you can make the onions one day and the soup another!
Smoke those onions
Slice all your onions or bribe someone else to do it for you. Preheat your smoker to 225°, put the onions into a large cast-iron skillet, top with some olive oil, and let them ride. Stir every 30-45 minutes until they are cooked down and golden brown.
Put the soup together
Put the onions, both of the broths, and all that wine in the pot along with the garlic, herbs, and spices. Let the soup simmer gently for about an hour.
Get cheesy
Fire up your Traeger again on high heat, or alternatively you can hit the easy button and use the broiler on your oven. You'll want to toast your bread and top them with a couple pieces of cheese. You can do this in bowls or on their own for people to drop in their soup individually.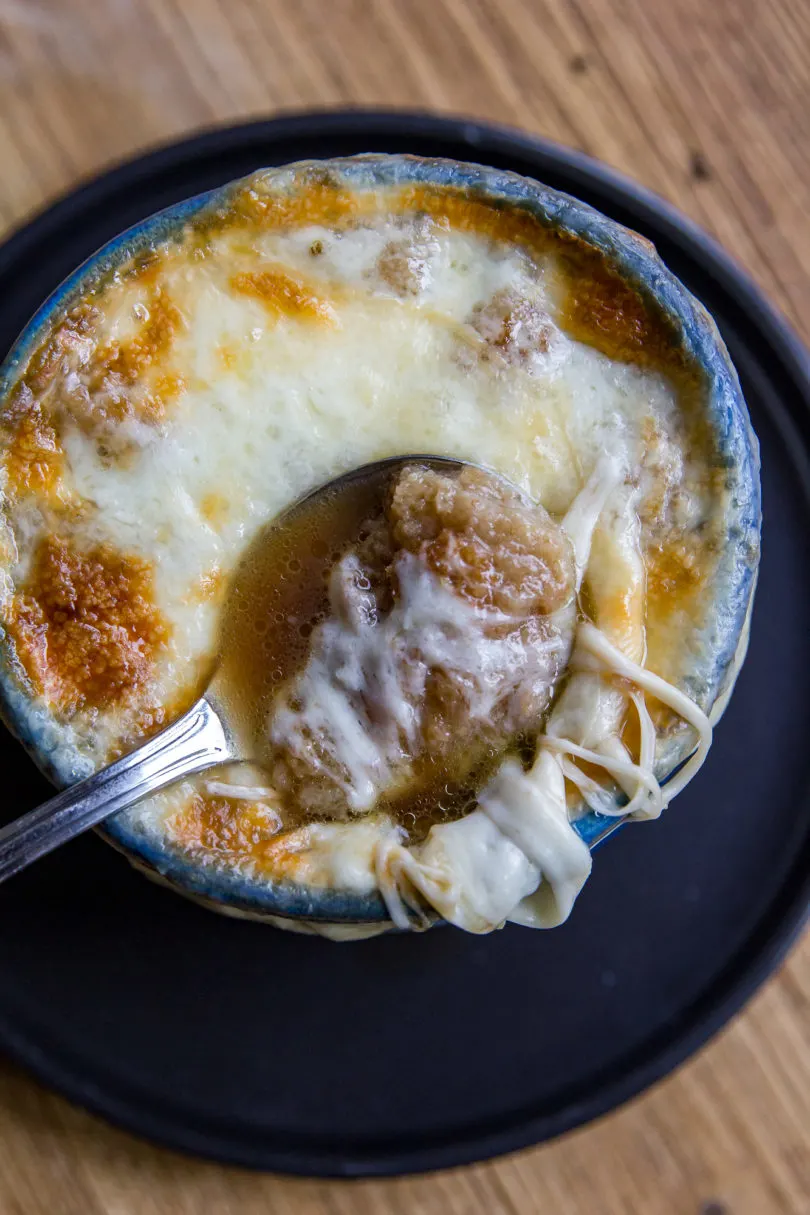 Tips and Tricks for the BEST French Onion Soup
French onion soup is really simple to make, but surprisingly there are a lot of ways you can screw it up. From not taking enough time and patience caramelizing the onions to not using the right kinds of broth or wine, there are a few things that can really take things from "meh" to "amazing".
YOU NEED ALL THE ONIONS AND ALL THE PATIENCE
The most important part of making a great French Onion soup is to take your sweet time caramelizing the onions and to use about twice as many onions as you probably think you need.
There's no downside to caramelizing too many onions. Even if you don't use them for this soup you can also put them on your burgers, hot dogs, on a crostini with some goat cheese, or about 100 other awesome things you can do with them. Like my Smoked Caramelized Onion Butter. Oh.My.Gosh.
BETTER BASES MAKES BETTER SOUP
For this soup, I would not suggest using bouillon cubes or dry broth mixes. Get high-quality boxed broths, or make your own if you want to be really serious about it.
The same goes for the wine you choose. You want a dry white and a robust red for this, and the kind of stuff you'd be able to easily drink. Look for highly rated wines that are relatively inexpensive, highly drinkable, and short on any prominent floral notes.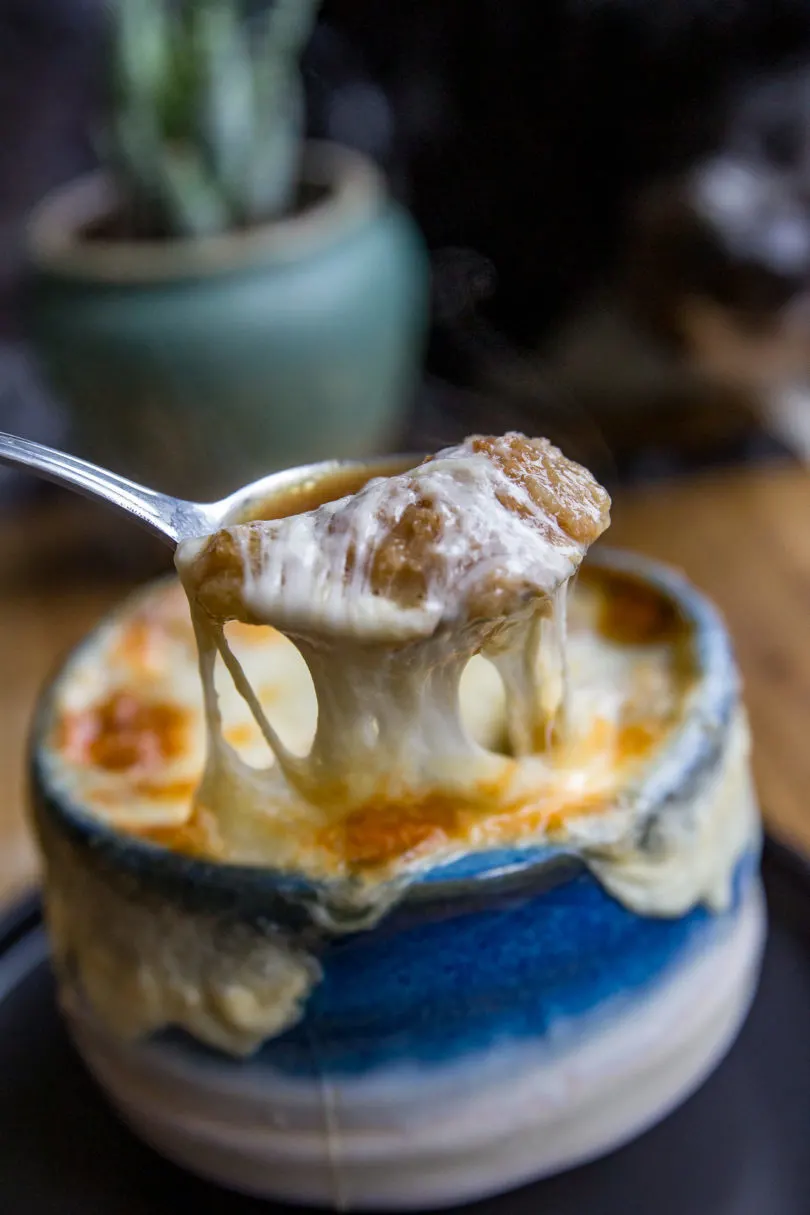 Smoked French Onion Soup FAQ
What kind of onions are best for French Onion Soup?
You can use any kind of onion you'd like for this, but our favorite are sweet yellow onions. You can also get great results from using a combination of different kinds of onions as well! Red, yellow, sweet, and throw in some shallots for good measure.
What is the best way to store leftover French Onion Soup?
The most important thing about storing leftovers is to keep the bread OUT of it unless you'll be eating it right then. Other than that? Just use standard leftover procedures and keep it in an airtight container in the fridge
How do you reheat leftover French Onion Soup?
Reheat the soup part in the microwave until it is piping hot, and then top with your toasted bread and cheese and melt under the broiler.
Try it with this fresh homemade French bread from Mel's Kitchen Cafe!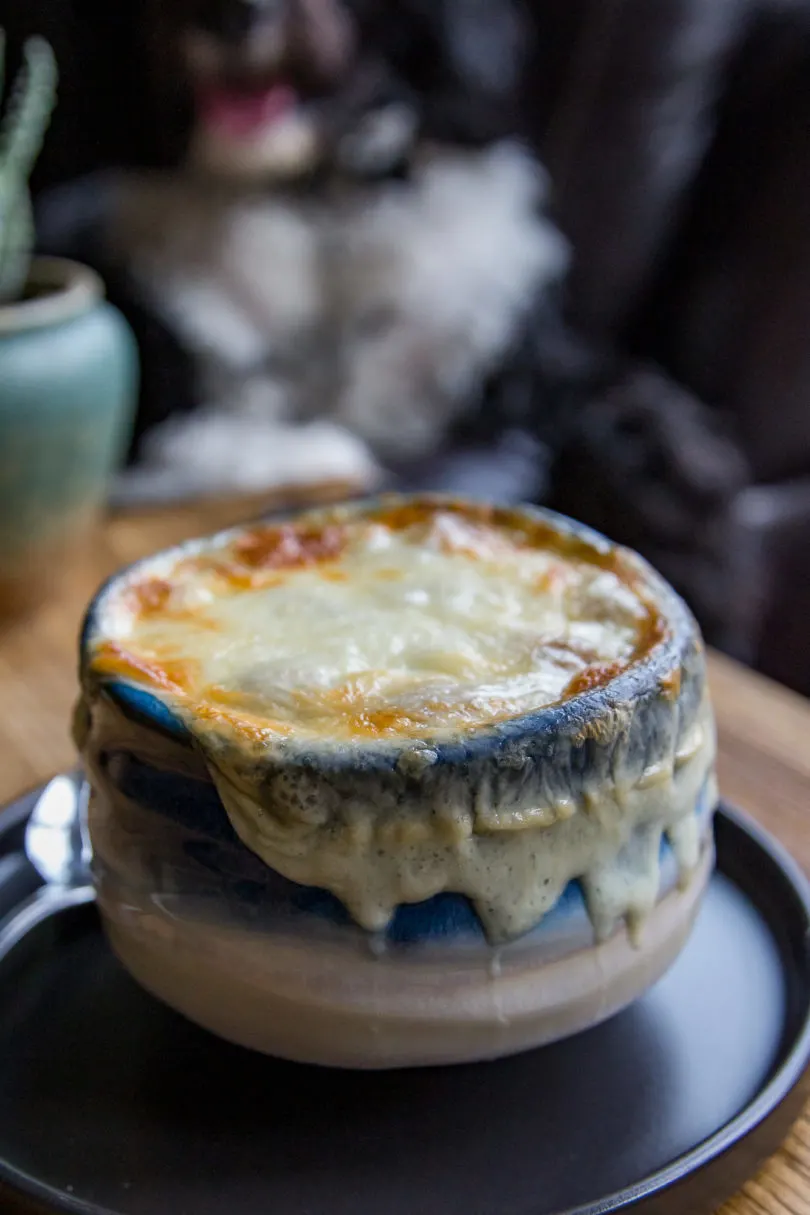 More recipes to love!
Check out these great recipes too!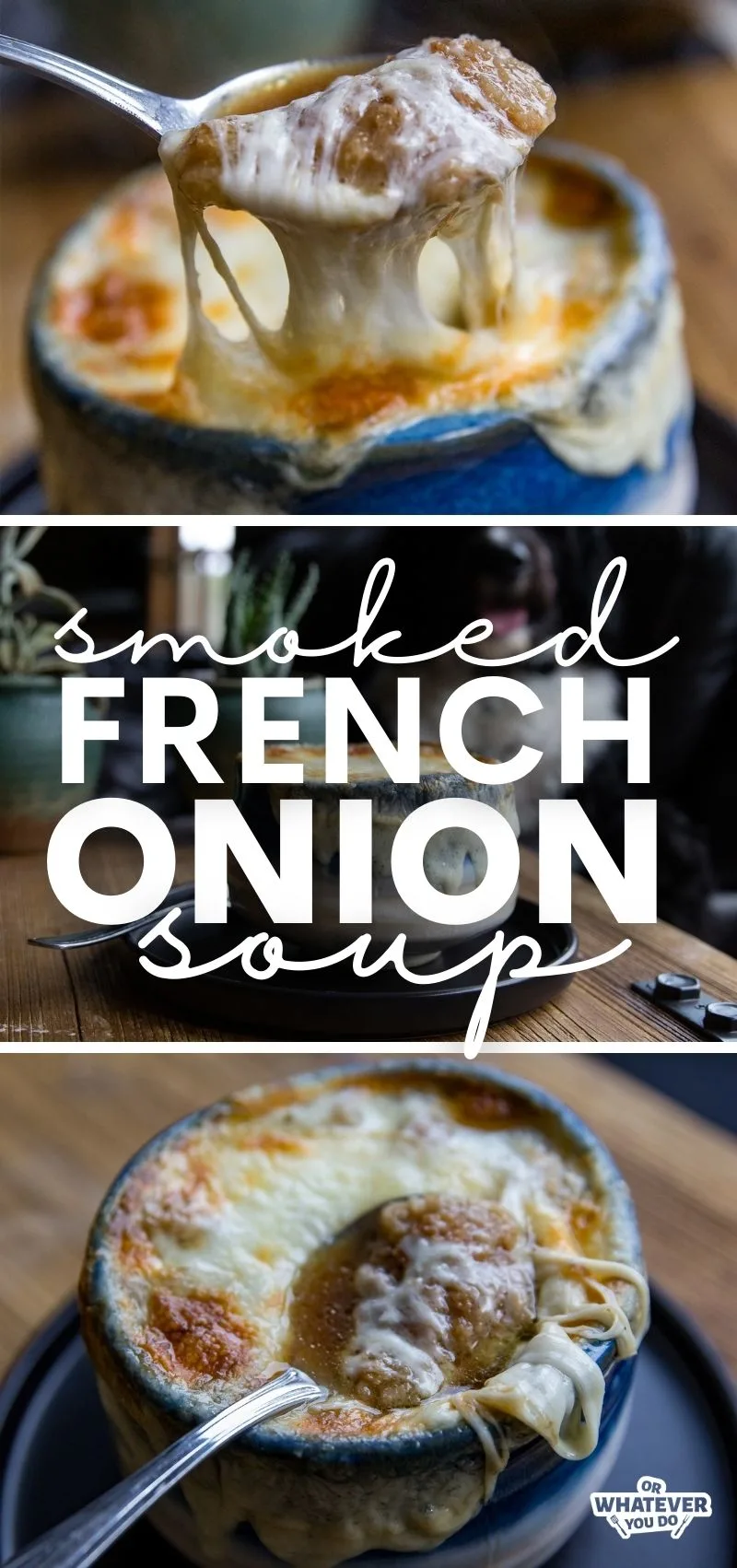 Yield: 6 servings
Smoked French Onion Soup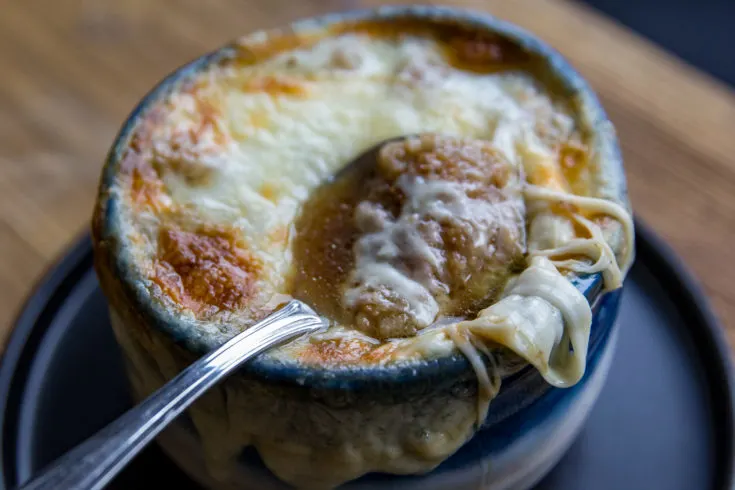 Hearty French Onion soup is made with onions that were smoked on the pellet grill for the ultimate bowl of rich broth, melted cheese, and soft toasted bread.
Total Time
4 hours
10 minutes
Ingredients
4 large sweet onions. sliced
4 tablespoons olive oil
4 cups chicken broth
4 cups beef broth
3/4 cup white wine (like Chardonnay or Pinot Grigio)
3/4 cup red wine (like Cabernet or Pinot Noir)
2 cloves garlic
1/4 teaspoon ground thyme
12 slices smoked Provolone cheese
12 slices toasted french bread
Instructions
Placed the sliced onions and olive oil into a large cast-iron skillet on your pellet grill that's been preheated to 275°. Caramelize, stirring occasionally, for 3-5 hours, or until the onions are golden brown and soft. If you want to speed this part up a bit, you can turn the grill up to 325° and it should only take an hour or two.
Place the cooked onions into a stock pot, and pour in the broths, wine, garlic, and thyme. Taste, and add salt and pepper according to your preferences. The amount will vary depending on what types of stocks and wines you used.
Let this mixture simmer over medium-low heat for an hour.
Preheat your broiler and lightly toast the sliced French bread. Next, place your bowls on a large baking sheet, carefully ladle your soup into the oven-safe bowls, top with a toasted round of French bread and two slices of smoked provolone.
Carefully place the tray of soups under the broiler, and cook until the cheese is melted and bubbly, about 2 minutes. Don't walk away from the broiler!
Remove and serve immediately! They will be HOT!
Recommended Products
As an Amazon Associate and member of other affiliate programs, I earn from qualifying purchases.
Nutrition Information:
Yield:
6
Serving Size:
1
Amount Per Serving:
Calories:

799
Total Fat:

28g
Saturated Fat:

16g
Trans Fat:

0g
Unsaturated Fat:

9g
Cholesterol:

67mg
Sodium:

2659mg
Carbohydrates:

93g
Net Carbohydrates:

0g
Fiber:

6g
Sugar:

17g
Sugar Alcohols:

0g
Protein:

35g
Nutrition data provided here is only an estimate.