My homemade Dungeness Crab Bisque is one of my favorite soups to eat in the fall and a special treat that is easy to make at home without sacrificing any of the flavors that come with a restaurant version.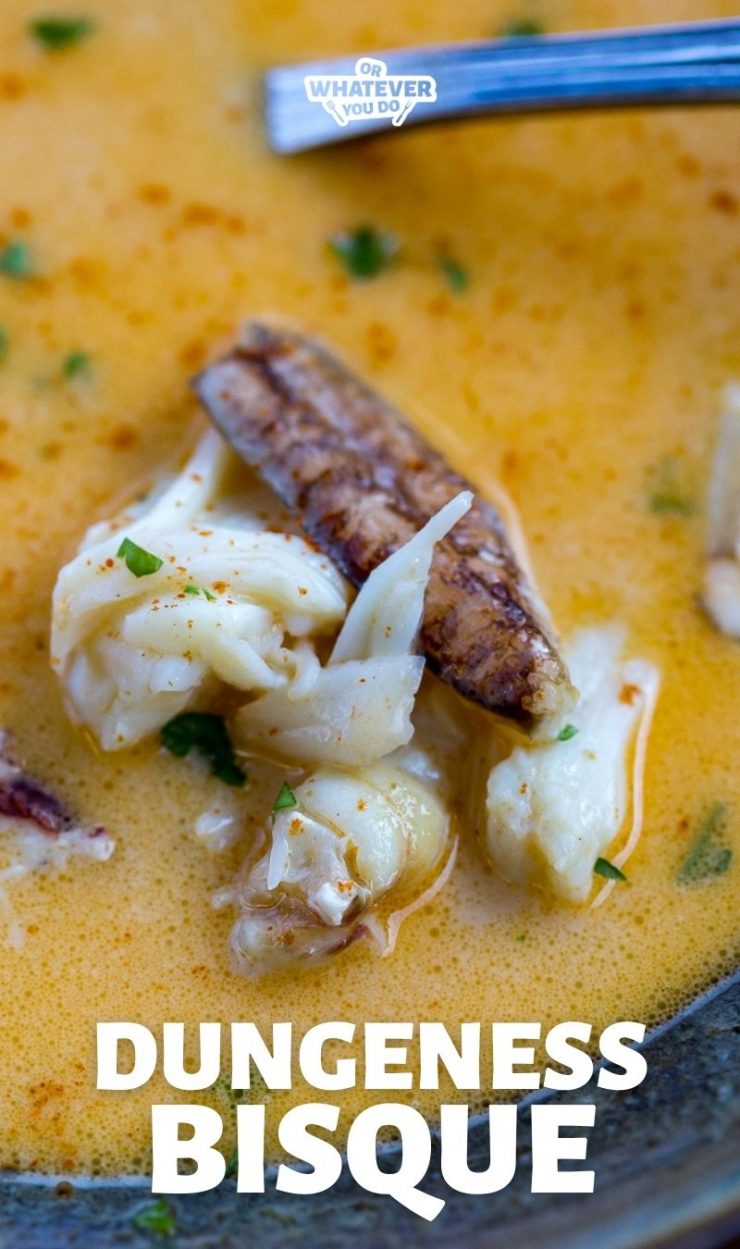 Dungeness Crab Bisque
Homemade bisque is a special treat no matter what you put in it, but use fresh Dungeness Crab and you've taken something great and made it even better.
This is easy enough to make on a Tuesday, but fancy enough to serve at any holiday dinner if you want to treat your friends and family to something really special.
See more of my Soups, Stews, and Chowders!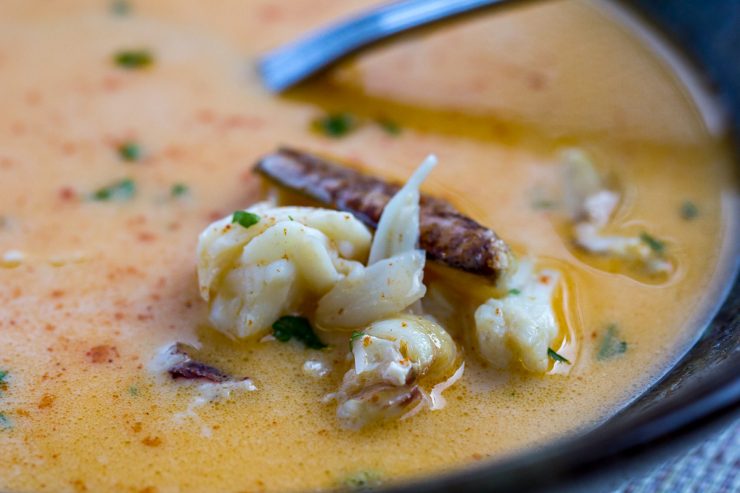 How to make crab bisque
A bisque is a type of soup that is typically made from a seafood broth, hit with cream, and slightly thickened with a browned-butter roux. It originated in France and is one of the world's most popular seafood soups.
This one uses butter and flour slow-cooked and stirred until it is golden brown, and then with a fresh seafood stock whisked in until you have a silky smooth stock. Hit with some heavy cream at the very end and all of the fresh crab you have laying around, this could easily be made into a meal if you serve it along with a crusty baguette and fancy butter.
Get my easy Side Dish recipes!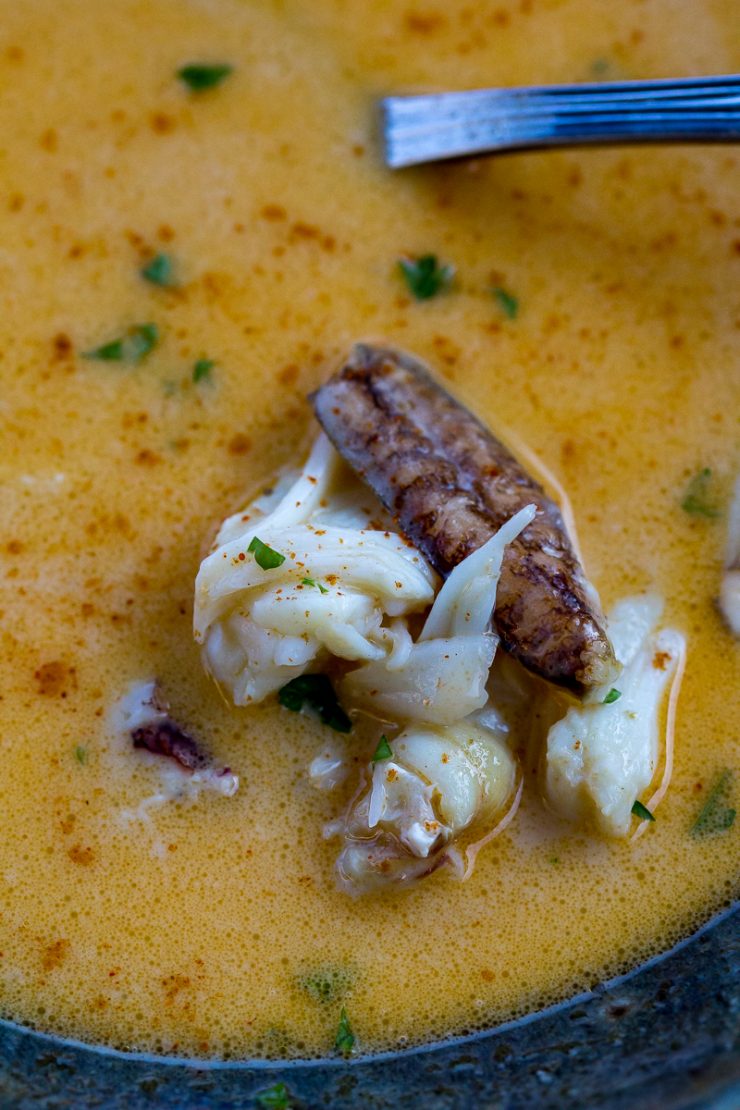 How to make a roux
Making a roux is a very simple process, but few people take the time to properly develop their roux and it impacts the end result substantially in bisque and chowders.
For this soup, you want to reserve about 30 minutes of your day to watch this, maybe a little more, but it'll be worth it to infinity and you'll be hooked.
Melt the butter in a saucepan and whisk in the flour until it is smooth. Cook over LOW heat, stirring frequently until the whole thing is golden brown. The color of wheat or resembling a light oak is a good point to stop the process.
You can make roux in bulk if you want and keep it in the fridge for later use, if you make a lot of these types of dishes in the fall and winter.
This roux is also ideal for mac and cheese, so don't be shy!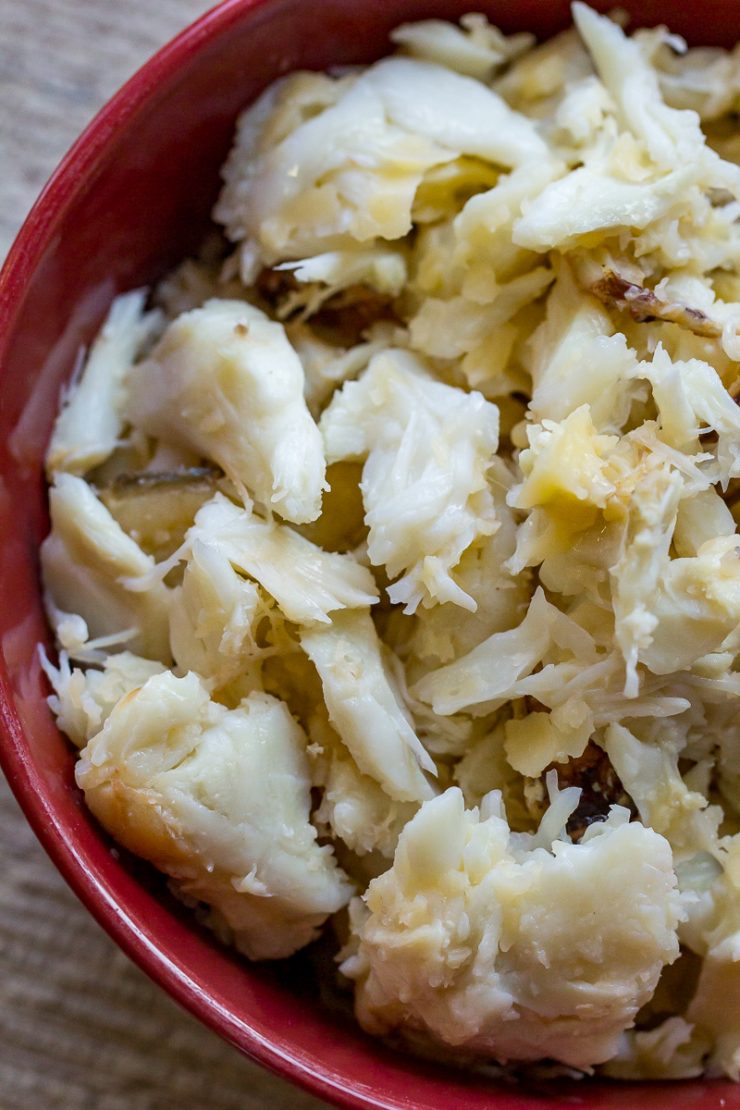 How to make seafood stock
For this recipe, you can use boxed seafood stock if you'd like. It'll still be delicious. But if you are going to the trouble of getting fresh Dungeness you might as well go to the trouble of making seafood stock too. In for a penny, and all.
If you are new to making seafood stock, it is quite easy and just involves a mirepoix (onions, celery, and carrots) with vegetables and seafood shells and some other fun stuff and simmered until it is a golden, rich seafood stock.
For the full instructions, check out this awesome version on Honest-Food.net. Hank is the real deal, has been on the Joe Rogan podcast (who is also a big Traeger fan, it turns out, ZOMG), and posts all of the recipes and techniques for wild game and fish that you could ever possibly want.
Fun fact – one time I basically chased him through the parking lot of a hotel in Salt Lake City at a Food Blogging Conference just because I wanted to say hi. I'm not above a well-deserved fangirling.
I'm glad I did. 2020 saw a stop to all fun parking lot shenanigans and opportunities to tell people you appreciate their work, to their faces, and if this year is teaching me anything it is to seize the day, and that connections with people are really the whole point of all of this, anyway.
Make sure to check out Hank Shaw's podcast here!
This would be great with Bread Sticks!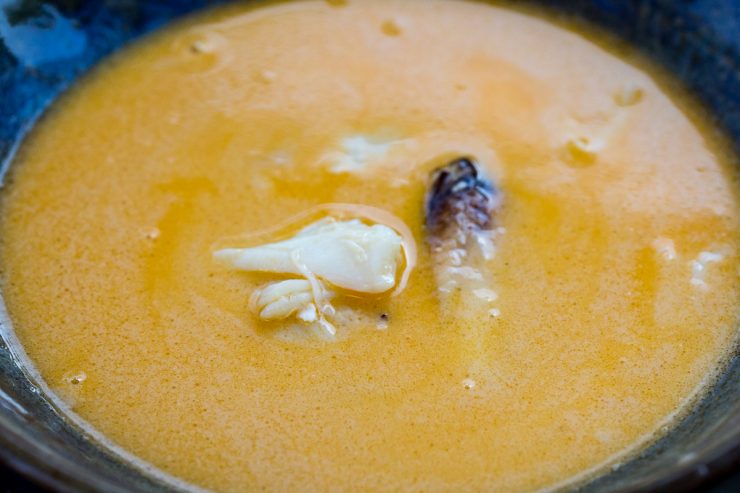 Do you have to use Dungeness?
Dungeness crab are found along the West Coast of the US, from Alaska down to California. If you live near the coast, crabbing is a popular past time.
If you don't have access to any Dungeness crab, you can substitute any REAL crab for this soup. Just stay away from the krab, or fake imitation crab, no matter how tempting it might be.
Dungeness crab is a special thing though, even as someone who would consider crab one of my top favorite things to eat, ever. Dungeness is special. If you have the chance to try some, don't pass it up!
Follow me on Instagram!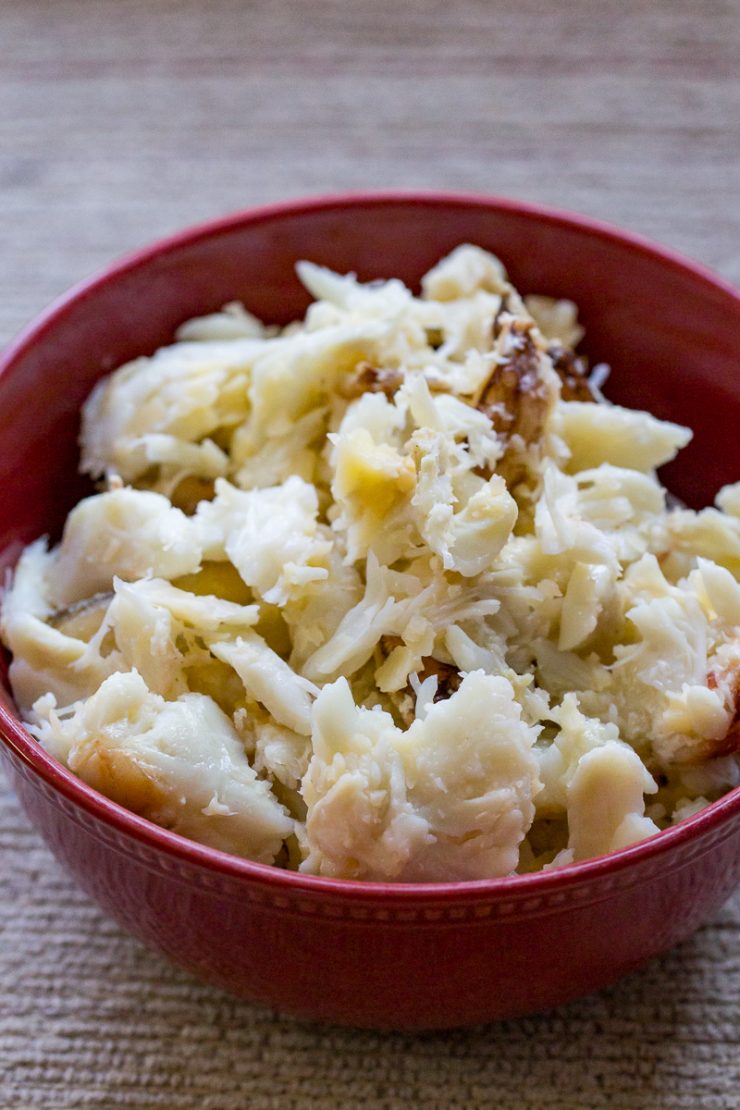 What should you serve with Dungeness Crab Bisque?
This could be served as the first course at a fancy dinner party, as a whole meal with a side of crusty bread, or as something in between with salad and a sandwich. It is easy enough to make any day of the week, but fancy enough to be served at even the fanciest of occasions.
I suggest fresh bread, bread dip, a Greek Salad, and homemade croutons. Throw in a Filet Mignon or a full Traeger Surf and Turf experience and you can make even an anniversary at home a really cool culinary experience.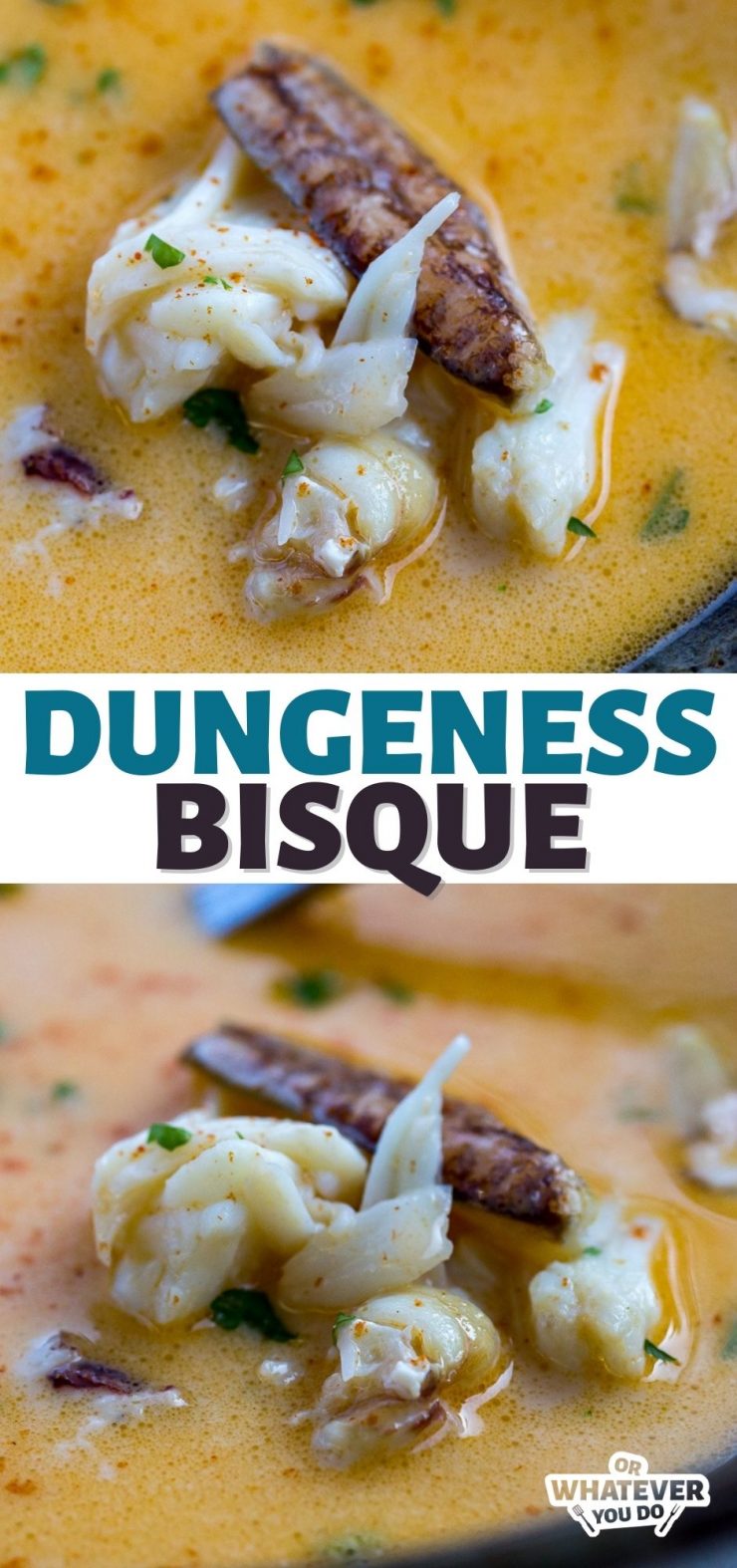 Yield: 4 servings
Dungeness Crab Bisque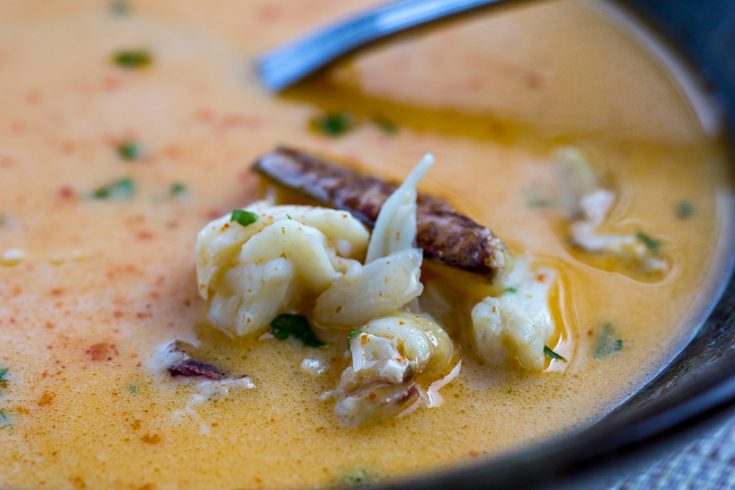 There's nothing better than a homemade Dungeness crab bisque! This soup is so full of flavor, it can turn any meal into something special.
Total Time
1 hour
5 minutes
Ingredients
1/3 cup butter
1/4 cup flour
4 cups seafood broth
1/2 teaspoon garlic & herb Old Bay seasoning
1/4 teaspoon onion powder
2 tablespoons tomato paste
1/8 cup dry sherry
1 cup heavy cream
1.5 - 2 cups Dungeness crab, shelled
Instructions
Melt butter over low heat and whisk in flour. Whisk frequently, and continue cooking over low heat until the roux is golden brown.
Whisk in the seafood broth until it is combined with the roux. Increase heat to medium, and stir frequently. Add old bay seasoning, onion powder, tomato paste, sherry, and cream. Simmer gently for 10-15 minutes.
Add seafood and heat gently for 3-4 minutes, or until heated through. Serve immediately.
Recommended Products
As an Amazon Associate and member of other affiliate programs, I earn from qualifying purchases.
Nutrition Information:
Yield:
4
Amount Per Serving:
Calories:

531
Total Fat:

41g
Saturated Fat:

24g
Trans Fat:

1g
Unsaturated Fat:

13g
Cholesterol:

195mg
Sodium:

1565mg
Carbohydrates:

14g
Fiber:

1g
Sugar:

4g
Protein:

27g