There's not much better in life than eating a perfectly cooked, high-quality steak. If you decided to treat yourself to a tender, rich American Wagyu Ribeye, this post is going to cover the ins and outs of how to cook it perfectly!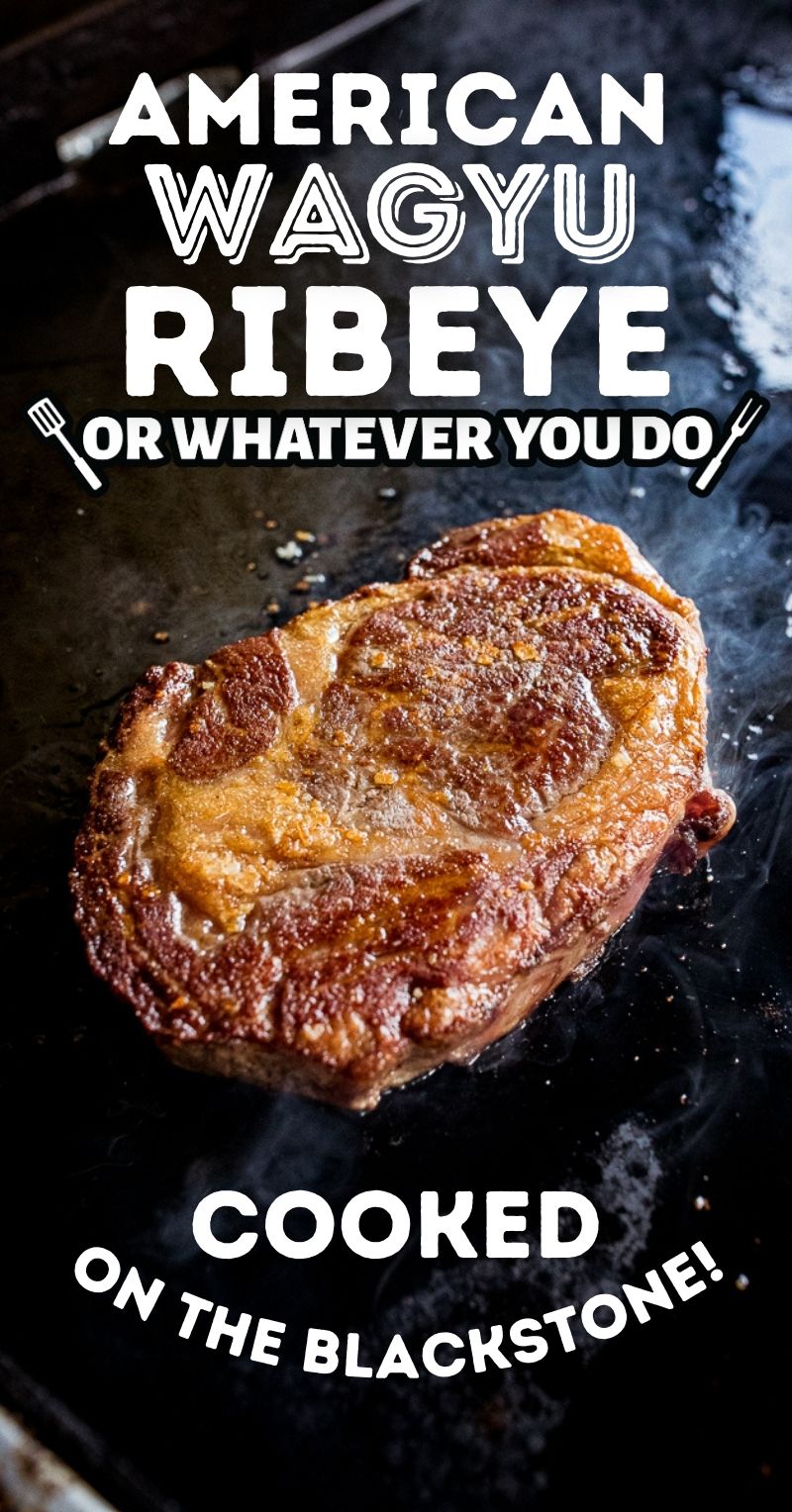 How to cook American Wagyu Ribeye
Whether you want to fire up your grill, smoker, griddle, or just a cast iron pan on the stovetop, cooking a steak is one of the easiest things to master. We're going to walk you through it step-by-step, and in no time you'll be eating a restaurant-quality steak right in your own kitchen.
This steak was provided to us for testing purposes from Holy Grail Steaks. We were not compensated in any way for making this post, and all opinions are my own.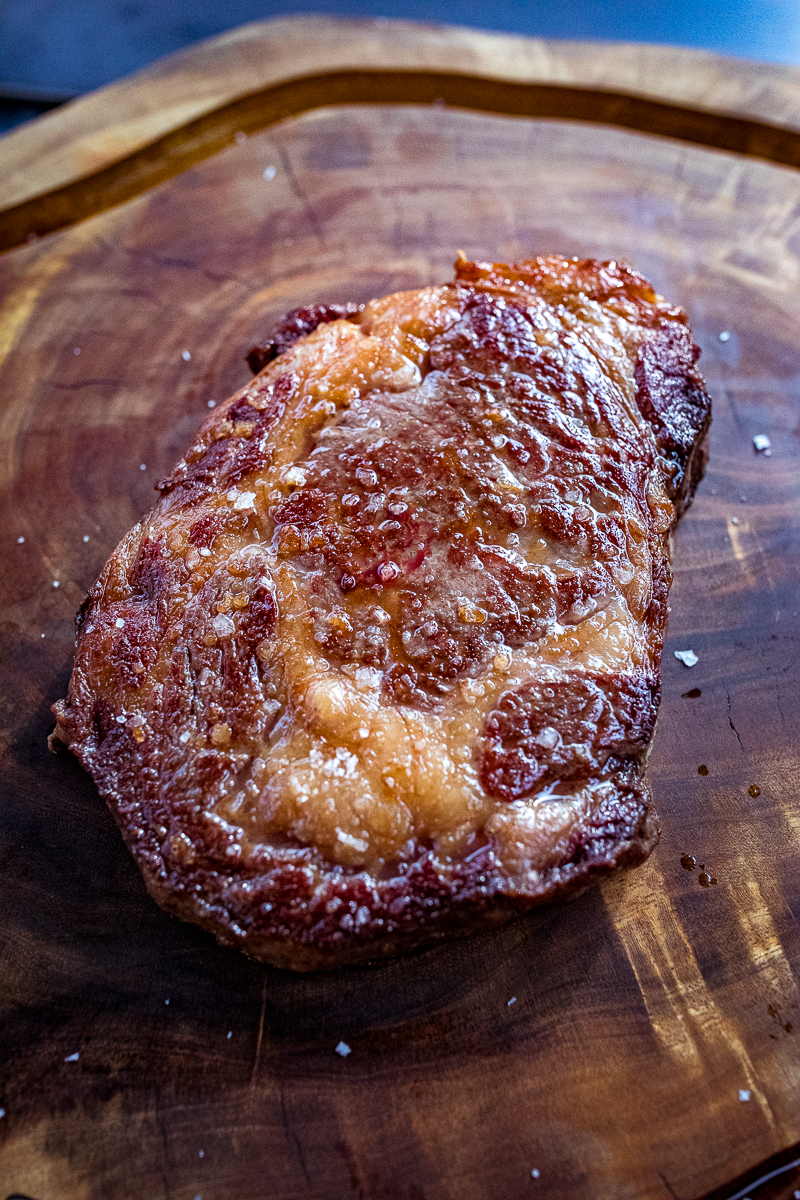 Shopping list
Wondering if you have to hit the store? Here's the list of items you'll need to make this recipe. For specific amounts, please refer to the printable recipe card at the bottom of the post.
steak (We used a dry-aged American Wagyu Ribeye)
salt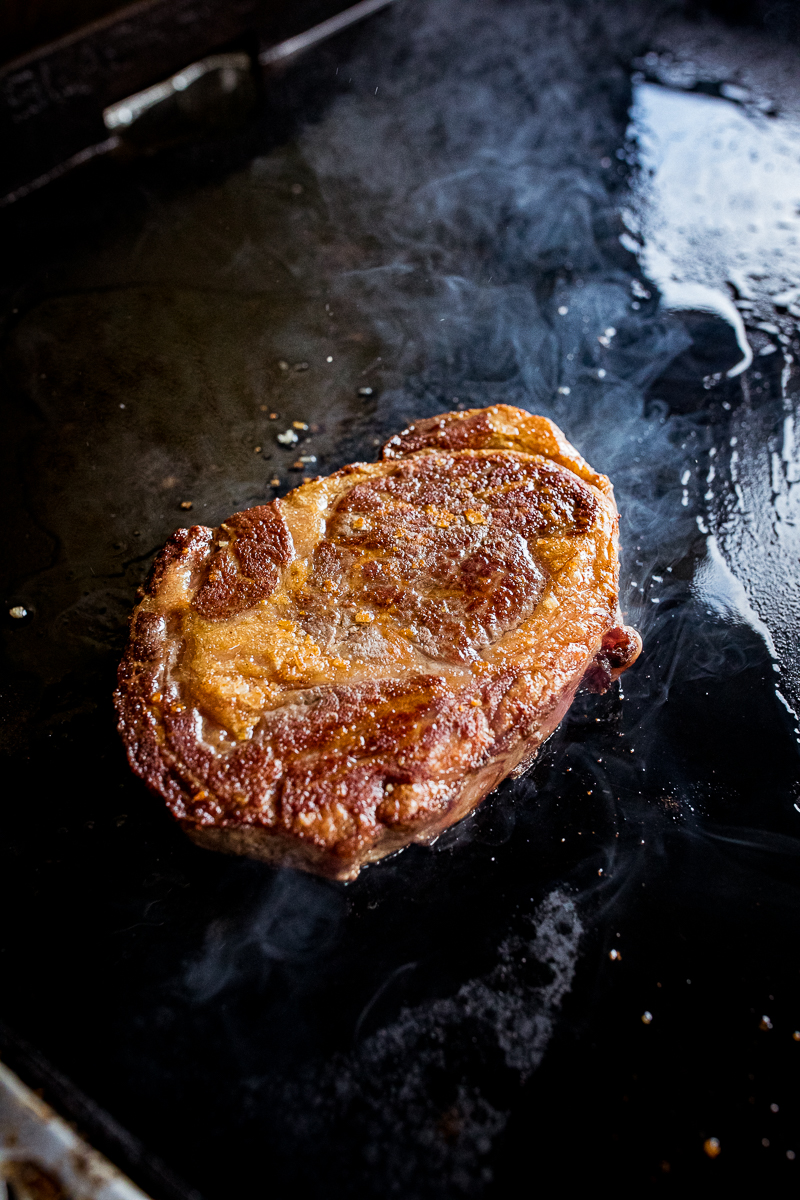 How to make an American Wagyu Ribeye
This is just the overview so you can see what you're actually getting into here. When you are cooking, you'll want to use the full recipe at the bottom of the page.
Preheat
The key to a great crust on your steak is to make sure your pan is fully preheated before you put the steak in it. Whether you are using a gas griddle outside or a cast iron pan on your stovetop, make sure to give it adequate time to preheat.
Season
With American Wagyu, you really don't need much in the way of seasoning. We tend to stick to some course or flaky salt with ours, and that's the perfect way to bring out the natural flavor in the meat.
Cook
Whatever cooking method you choose (see second chart below for some options), the key to a great steak is to not overcook it. Always cook to temp and never according to a time, and know your goal temp and your pull temperatures (see first chart below) to ensure success.
IDEAL STEAK TEMPERATURES
| | | |
| --- | --- | --- |
| STEAK TEMPERATURES | PULL | FINAL |
| RARE | 115° | 120° |
| MID-RARE | 125° | 130° |
| MEDIUM | 130° | 135° |
| MEDIUM-WELL | 135° | 140° |
| WELL | 140° | 145° |
WAGYU COOKING METHODS
Wagyu Ribeye Cooking Options
Pros
Cons
Cast Iron

– Convenient
– Indoors
– Great for 1-2 steaks
– Not great for groups
– Can smoke up house

Gas Griddle

– Great for crowds
– Surface gets very hot
– Keeps cooking odors outdoors
– Not ideal in poor weather
– Requires propane

Grill (Pellet or Gas)
– Live fire cooking is great for steaks
– Adds smokey notes to the meat
– Good char
– Not ideal in poor weather


Reverse Sear
– Even cooking all the way through
– Very precise and forgiving method
– Adds more smoke flavor to meat (if using a smoker)
– This method takes the longest
– Requires two different methods in one (can dirty more dishes)

Sous Vide
– Most precise way to cook steak
– While sous vide isn't ideal for A5 wagyu, American Wagyu is perfect for Sous Vide.
– Steaks can be made ahead and "held" at temp for longer periods of time.
– Requires an extra step at the end to sear the meat for the best flavor
– Requires special equipment
– One of the longest methods






Rest
Once you pull the steak from the heat, let it rest for at least 5 minutes before slicing across the grain.
Enjoy
Eat this steak with people you love, and alongside the side dishes you like most. Life is meant to be lived!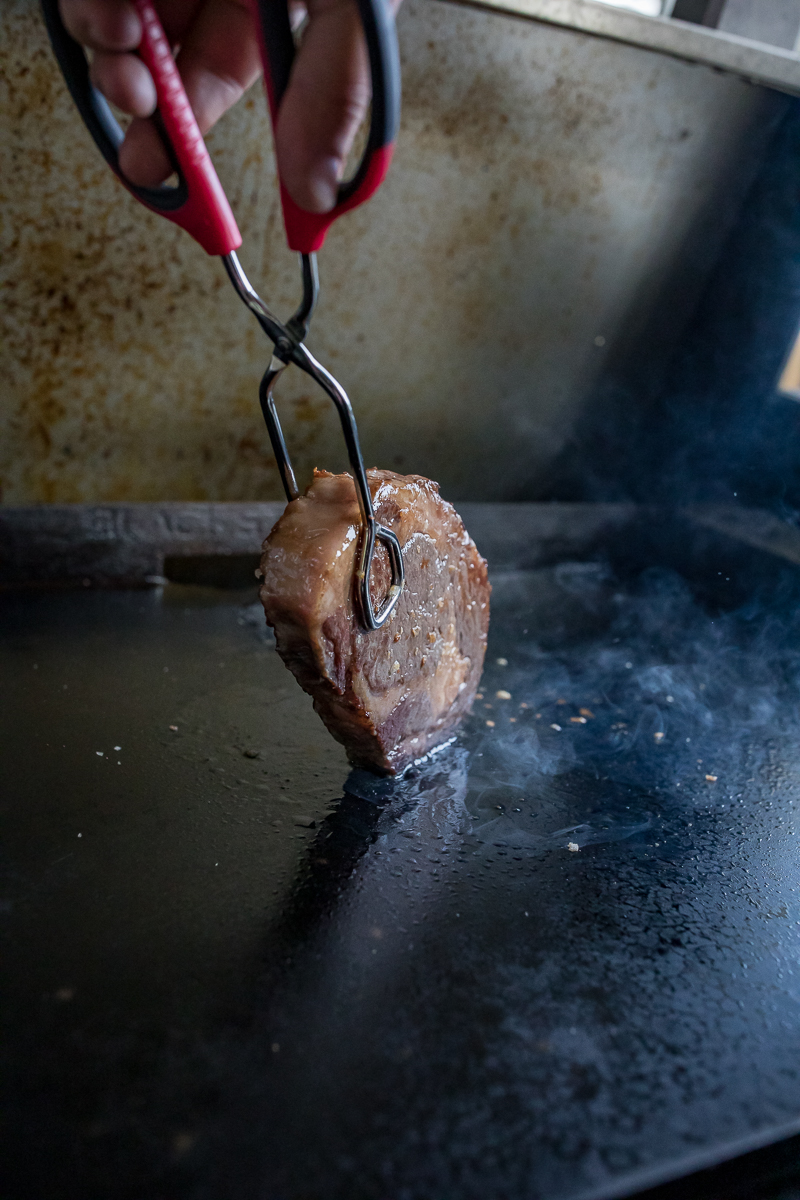 American Wagyu Ribeye FAQ
What's the best way to store the leftovers?
We keep it simple and toss these is a baggie in the fridge usually. They keep well for a couple of days.
How should you reheat American Wagyu?
Reheating in some melted butter on the stovetop is always a good option. I tend to avoid the microwave for steak though!
Does this method work on other types and cuts of steak?
Yes! You can use this method for just about any steak you can buy at the store or order online.
Where is the best place to get an American Wagyu Ribeye?
I got this steak from Holy Grail Steaks. However, at the time I'm writing this they are entirely sold out of all of their American Wagyu selection. If you are looking to try this before they are back in stock, you can usually find this type of steak via Snake River Farms and I've seen some high-end grocers carry American Wagyu too.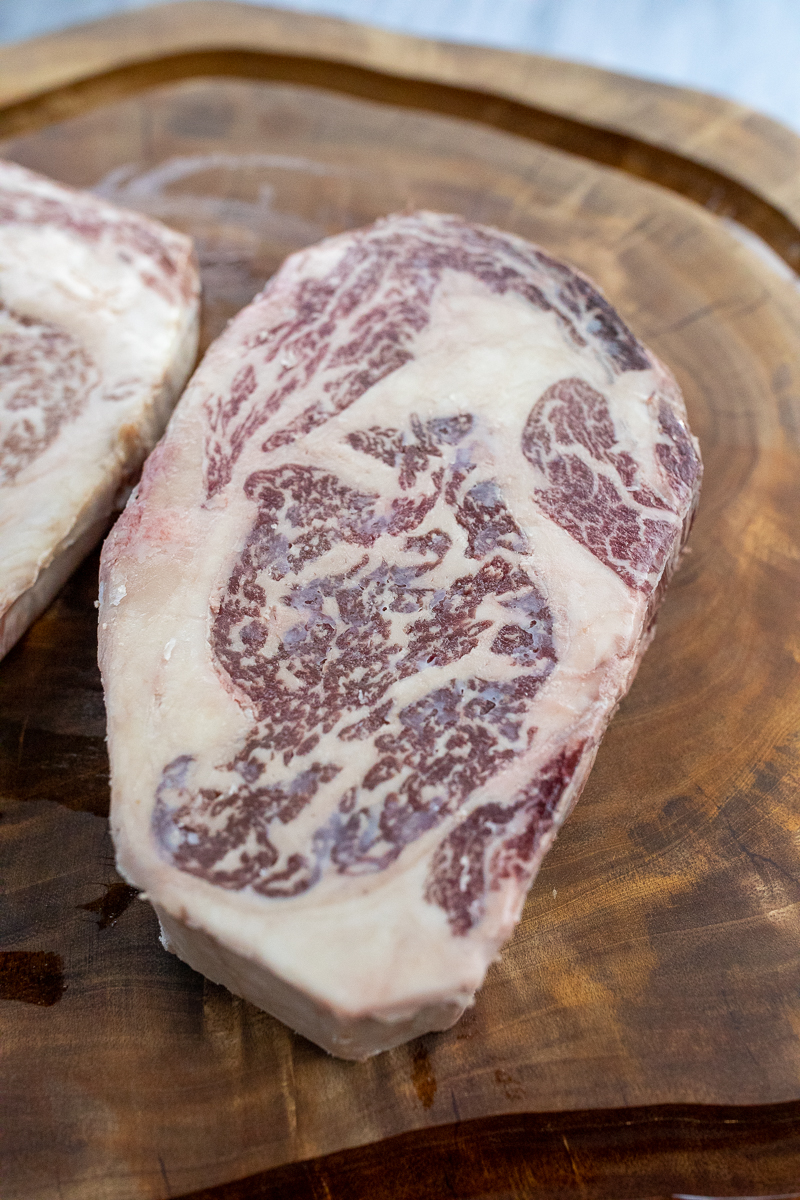 Eat more steak!
Best Side Dishes for steak
Yield: 2 servings
How to cook an American Wagyu Ribeye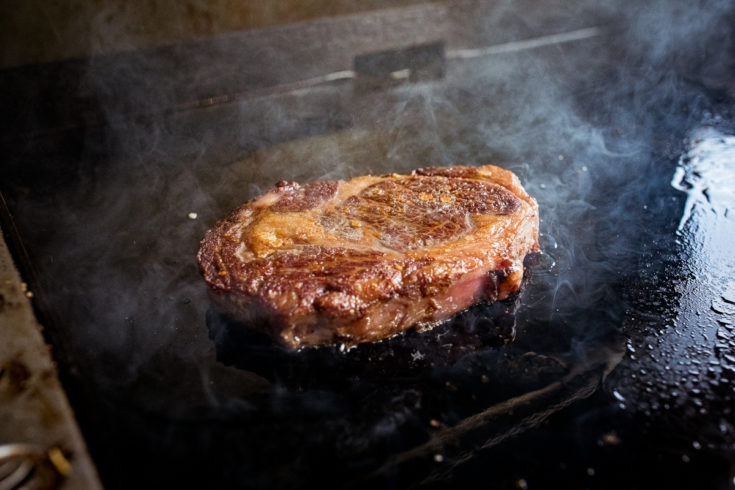 Cooking steak is one of the easiest things to master in the kitchen. In this recipe we're going to walk you through how to make a perfectly cooked American Wagyu Ribeye, but you can apply this method to any cut of steak you happen to have on hand.
Ingredients
1 American Wagyu Ribeye
1 teaspoon coarse salt
Instructions
Preheat your griddle or cast iron pan over medium-high heat for 10 minutes.
Salt the steak on both sides and place onto the hot griddle. No need for oil, this steak has enough fat in it to grease the griddle or pan.
Don't touch the steak for several minutes. You want a good crust to form.
Use an instant read thermometer to keep an eye on the internal temperature and refer to the chart in the blog post for ideal temps. We like our steak medium rare, so we pull it off of the heat source at about 125° to allow for carry-over cooking.
Let rest for 5 minutes before serving.
Recommended Products
As an Amazon Associate and member of other affiliate programs, I earn from qualifying purchases.
Nutrition Information:
Yield:
2
Serving Size:
1
Amount Per Serving:
Calories:

224
Total Fat:

15g
Saturated Fat:

7g
Trans Fat:

0g
Unsaturated Fat:

8g
Cholesterol:

67mg
Sodium:

1119mg
Carbohydrates:

0g
Fiber:

0g
Sugar:

0g
Protein:

22g
Nutrition data provided here is only an estimate.