Traeger Grilled Brussels Sprouts are the Brussels sprouts you wish you tried before you decided that you hated Brussels sprouts as a kid. If anyone ever claims to not like these, if any version can change their mind – this is it.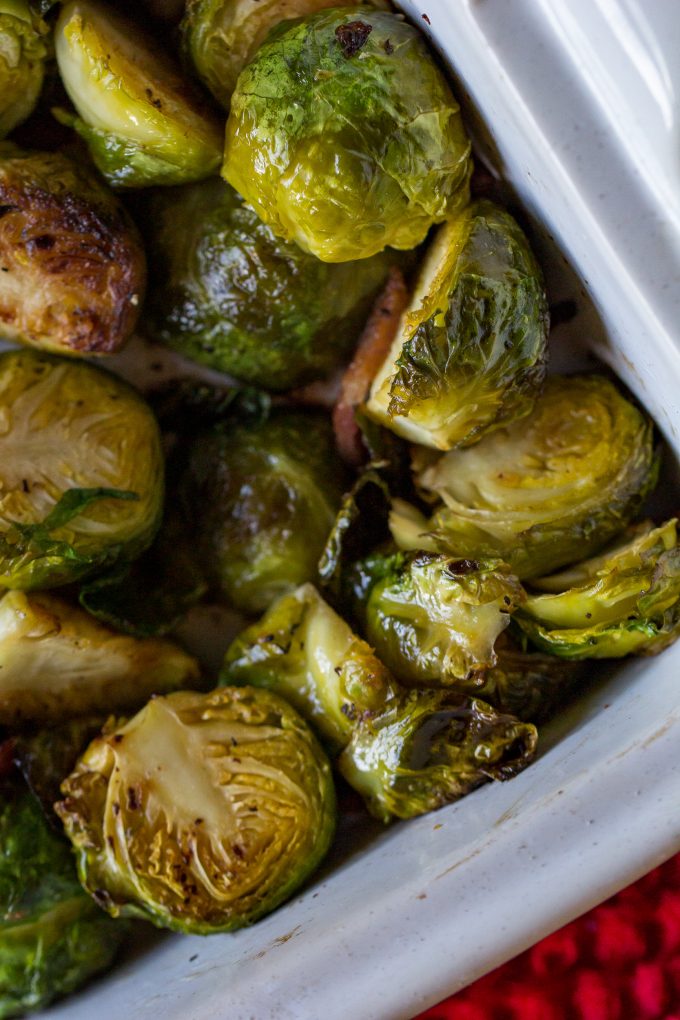 Grilled

Brussels

Sprouts
I love grilled side dishes and am always looking for ways to expand in our offerings in that area, but I always avoided Brussels Sprouts because I was pretty sure I hated these for the first 25 years or so of my life. I was also pretty sure I'd never tried them, but it didn't seem like I was really missing out on anything either.
Man was I wrong.
Did you know that for most people think these are called "brussel sprouts"? It is a small difference, but incorrect.
These tiny vegetables are actually in the cabbage family and originated back in the 16th century in Belgium. That means when you talk about them you should be capitalizing the "B" and also making sure to use the proper name, which is Brussels.
Brussels Sprouts got a bad rap for a long time because of a slew of horrible cooking techniques that were employed in years past, mainly consisting of boiling them until they were disgusting.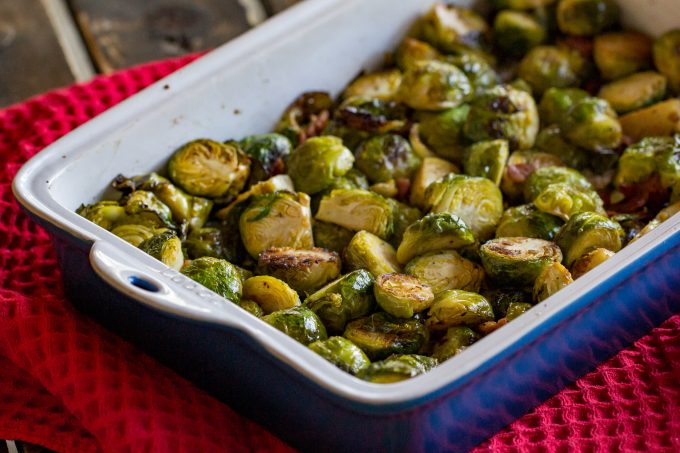 How to make Brussels sprouts on the pellet grill
Making grilled Brussels sprouts on the grill is easy and only takes about twenty minutes. There is a minor amount of prep, but not much.
Prep the sprouts
First, chop off the ends of the Brussels sprouts and pull off any loose leaves. You don't have to do this but it does make the finished dish look a little more elegant.
Fry the bacon
Next, chop up some bacon into a medium chop. Not too small and not too big. You will fry the bacon up and use it for bacon bits to toss over your grilled Brussels sprouts. Also, you use the rendered oil from the bacon to briefly sizzle up the Brussels sprouts.
Bonus points, cook your Bacon on the Traeger too!
Brown the Brussels sprouts
Fry the Brussels sprouts in the hot bacon grease for just a few minutes. You are looking to brown them up just a bit on the outside. If you do it in a cast iron pan then you can drain the oil and keep the Brussels sprouts in the pan and place the pan on the grill.
After lightly browning the Brussel sprouts, then add a bit more salt and pepper to season the sprouts before you toss them on the grill.
Get grilling!
Put them on the grill with a temp of about 350-400°. Check them once or twice and shake the pan up to allow them to roll around and cook evenly.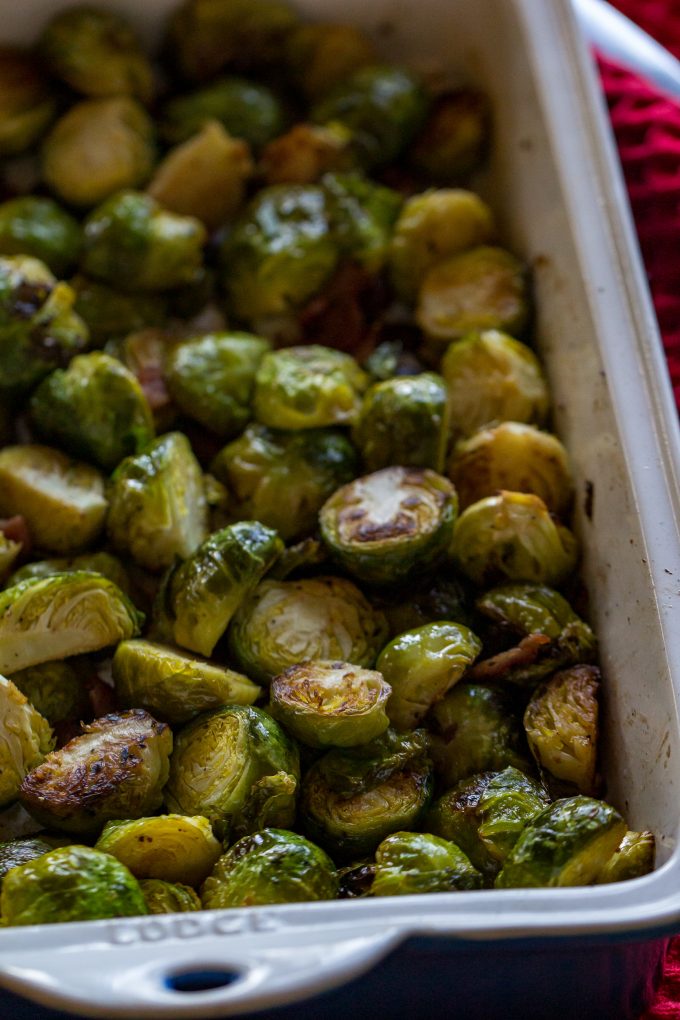 Why grilled Brussels Sprouts are the best Brussels Sprouts
One reason people have issues with Brussels sprouts is that they find them to be mushy and watery. Cooking them on the smoker helps overcome those issues to a great extent, but you still don't want to overcook them.
The smoke from the grill, as well as the heat, helps add layers of flavor between the smoky bitter notes and the sweet caramelized ones. However, leaving a bit of crunch to them makes the texture work best as well.
Check out all of my Traeger Recipes!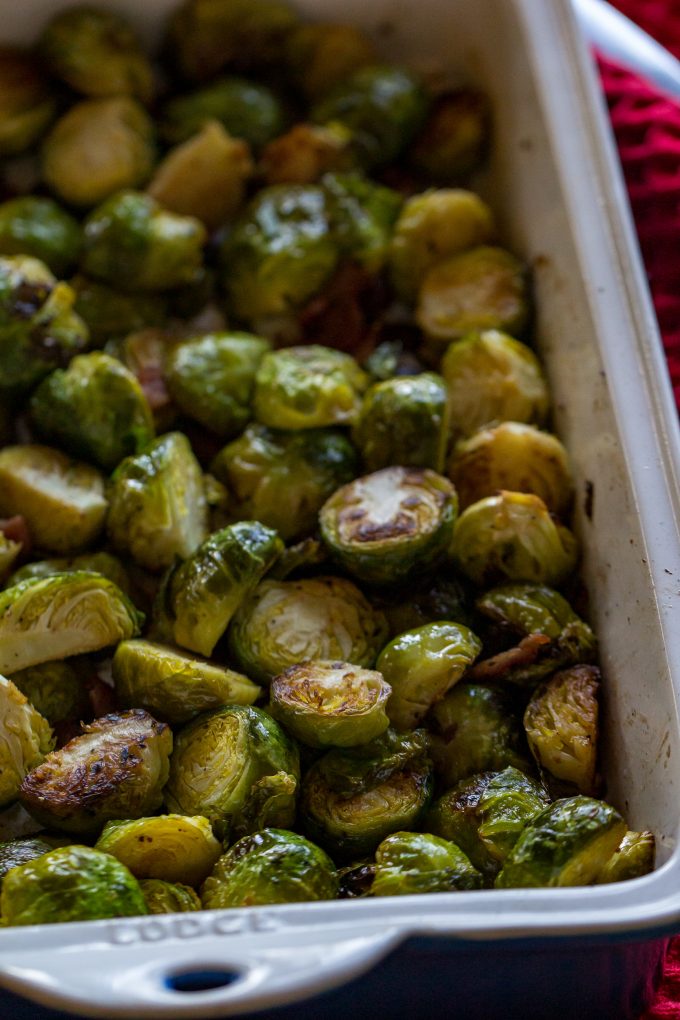 Fresh Or Frozen Brussels Sprouts?
Fresh is always best when it comes to vegetables, but sometimes it can be a challenge to find fresh Brussels sprouts in the vegetable section of the grocery store. In season, you can occasionally find them still on the giant stalk. Brussel sprouts on the stalk look a bit like a monster in a sci-fi movie!
Of course, paying by the pound with sprouts on a stalk means paying for a lot of woody stalks that you won't be able to eat. Not unless you are part beaver and there are no trees handy to chew on.
So, frozen Brussels sprouts are always an option as well. If you do have to go with frozen Brussels sprouts, then be sure to pat off some of the ice crystals or excess water with a paper towel before adding them to the hot bacon grease. You don't want the oil to pop too much from the water.
See all of my Traeger Side Dishes here!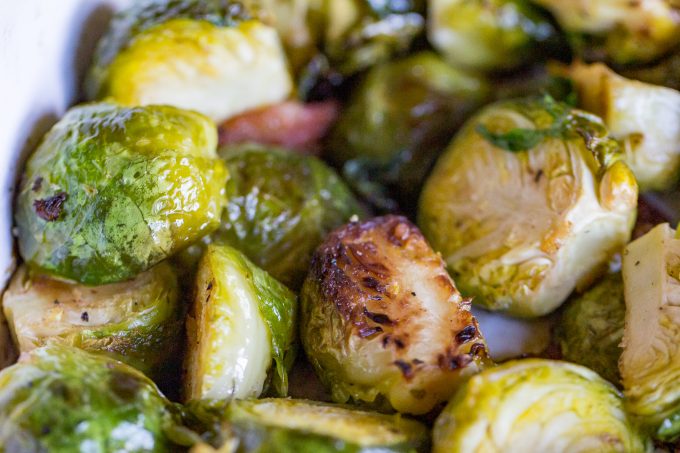 Why Brussels Sprouts Are So Wonderful
Grilled Brussels sprouts bring out all the best flavors of the much-maligned sprout. Which is great, because everyone can benefit from eating more Brussels sprouts.
These leafy green "mini cabbages" are full of vitamins and minerals. They are high in fiber, no fat, and plenty of minerals. They help control blood sugar and are anti-inflammatory. They may help prevent certain types of cancer. How can you get much better than that?
Brussel sprouts get a bum rap, but it is probably due to the way they have been prepared. Traeger grilled Brussel sprouts will change minds quickly. Usually, if I serve them, then they are one of the first things everyone finishes and wants more of…and that is not just because bacon is involved.
You might also love my Grilled Zucchini!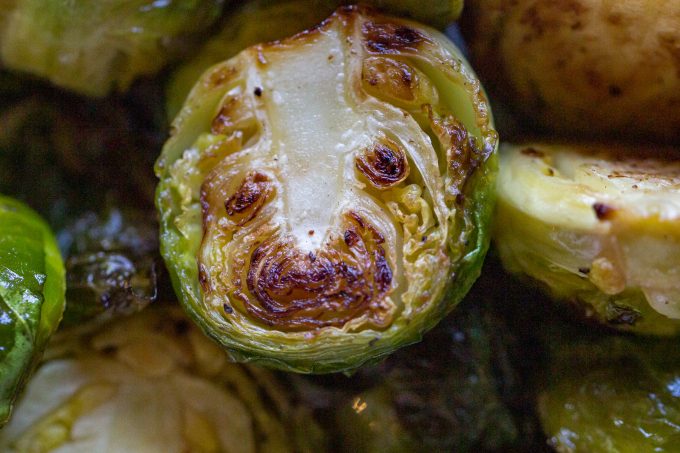 Can You Suggest Any Other Seasonings?
Salt and pepper are all you need for wonderful grilled Brussels sprouts, but feel free to season them up more liberally. A dash of garlic powder or onion powder works wonders. You can add a bit of color and a hint more smokiness with a light sprinkle of smoked powdered paprika.
Toss a bit of Japanese Togarashi seasoning on if you are feeling adventurous. This is typically a mix of sesame seeds and a hit of spice. Goes great on rice but works on many other dishes as well, including grilled Brussels sprouts.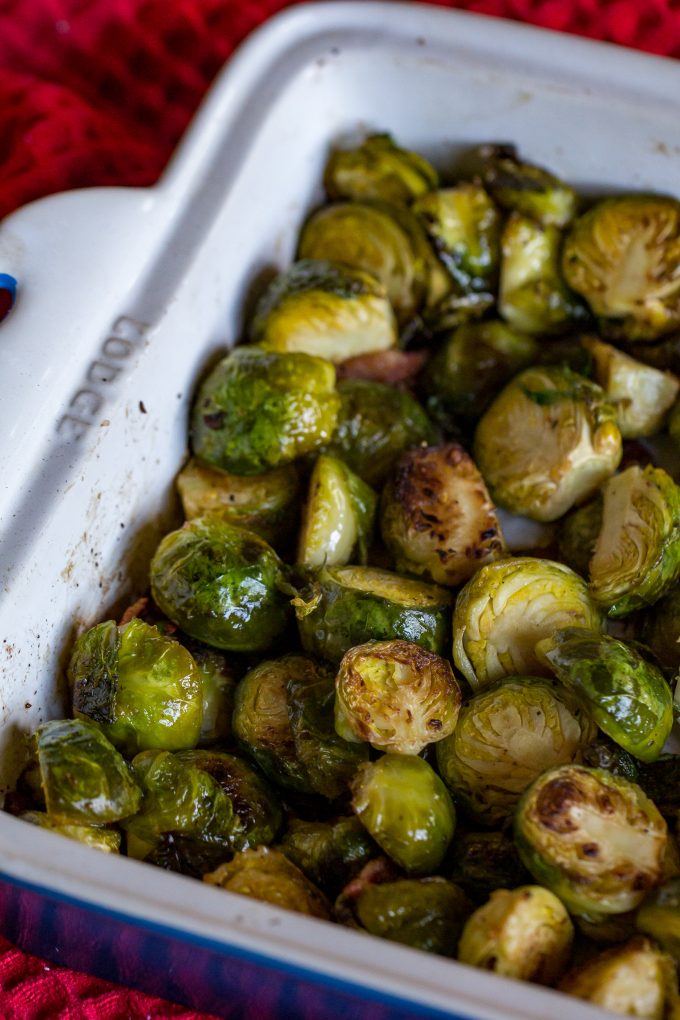 Can you serve Brussels sprouts cold?
You can eat grilled Brussels sprouts chilled and they taste great too. If you need to store them, then do so in a Tupperware or similarly sealable container. They will keep up to a week in the fridge. Brussel sprouts are naturally resistant to mold. You can also freeze them but I don't recommend it, since then they become mushy.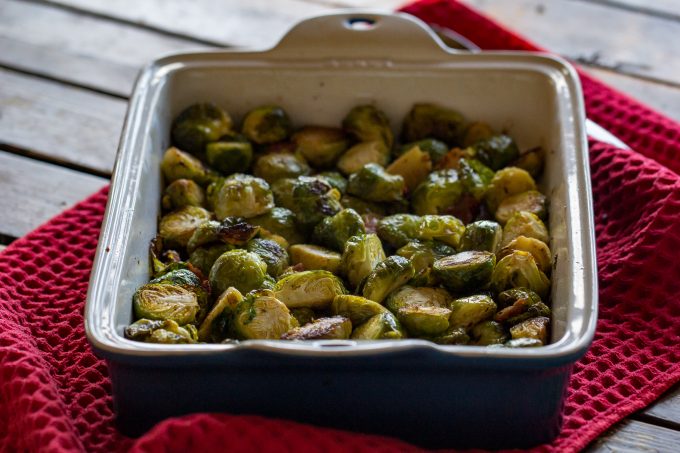 What to serve with grilled Brussels sprouts?
Enjoy your Traeger grilled Brussels sprouts! I personally recommend a few dishes I would serve them with: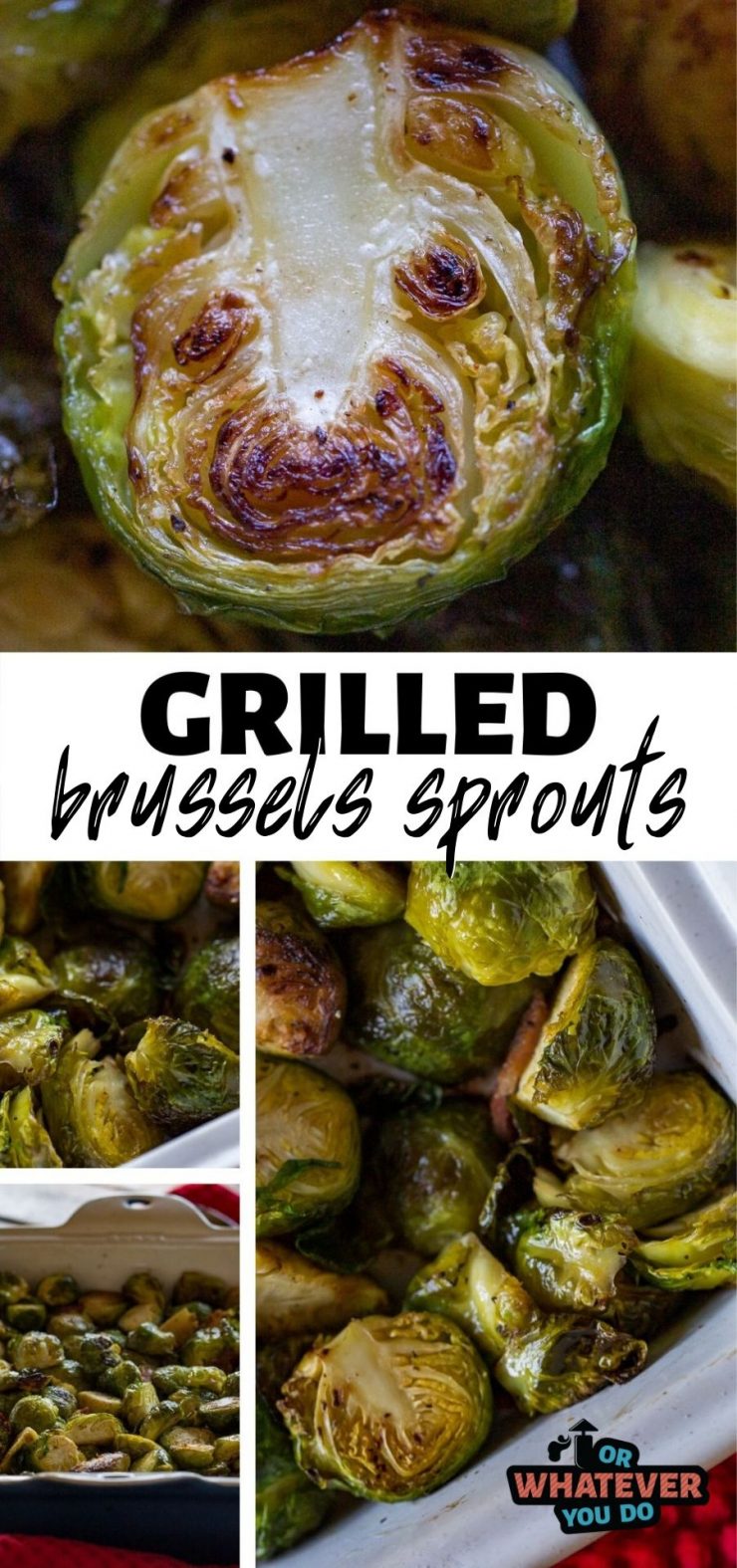 Yield: 8 servings
Traeger Grilled Brussels Sprouts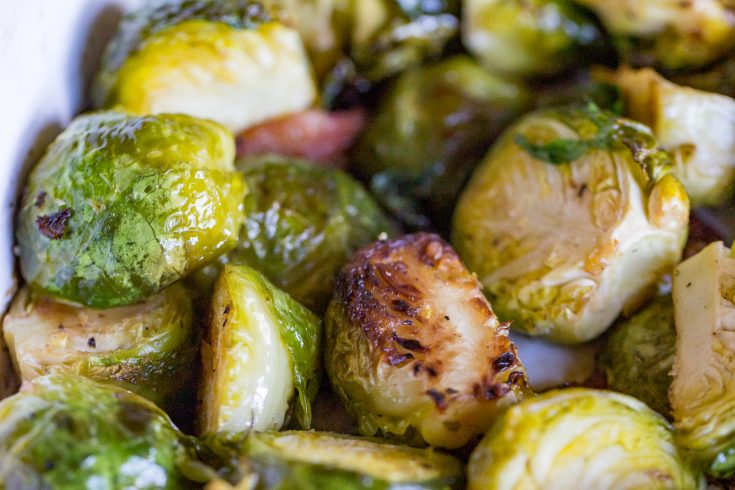 Crispy grilled Brussels Sprouts are a perfect side for almost any main course! We love these bacon-tossed vegetables, and think you will too!
Ingredients
1/2 pound bacon (reserve grease)
1 pound Brussels Sprouts
1/2 teaspoon salt
1/2 teaspoon pepper
Instructions
Cook the bacon on the stovetop until it is crispy. Reserve the grease, and chop up the bacon into small pieces.
Prep the sprouts by washing and trimming off the dry end, if necessary, and removing any dried leaves from the outside. Cut them in half, and set aside.
Put about 1/4 cup of bacon grease in the bottom of a cast-iron pan, and heat over medium-high heat. Season the sprouts with salt and pepper.
When the grease is hot, place the sprouts in, cut side down, and let brown for 3-4 minutes.
Preheat your grill to 350-375°.
Place the browned sprouts and the chopped bacon into a grill-safe pan (I used an enameled cast iron baking dish. If you use cast iron I suggest preheating it in the grill first.)
Cook for 20 minutes on the grill, and serve immediately.
Recommended Products
As an Amazon Associate and member of other affiliate programs, I earn from qualifying purchases.
Nutrition Information:
Yield:
8
Serving Size:
1
Amount Per Serving:
Calories:

153
Total Fat:

10g
Saturated Fat:

3g
Trans Fat:

0g
Unsaturated Fat:

6g
Cholesterol:

28mg
Sodium:

622mg
Carbohydrates:

5g
Fiber:

2g
Sugar:

1g
Protein:

11g
Nutrition data provided here is only an estimate.