A Classic Potato Salad Recipe might be the most iconic dish at an American barbecue. Especially in the midwest, if there's not potato salad it isn't a proper party in the summer. This recipe comes to you straight from my mother-in-law, who is our family's go-to potato salad pro (among many other things), and also one of my favorite people.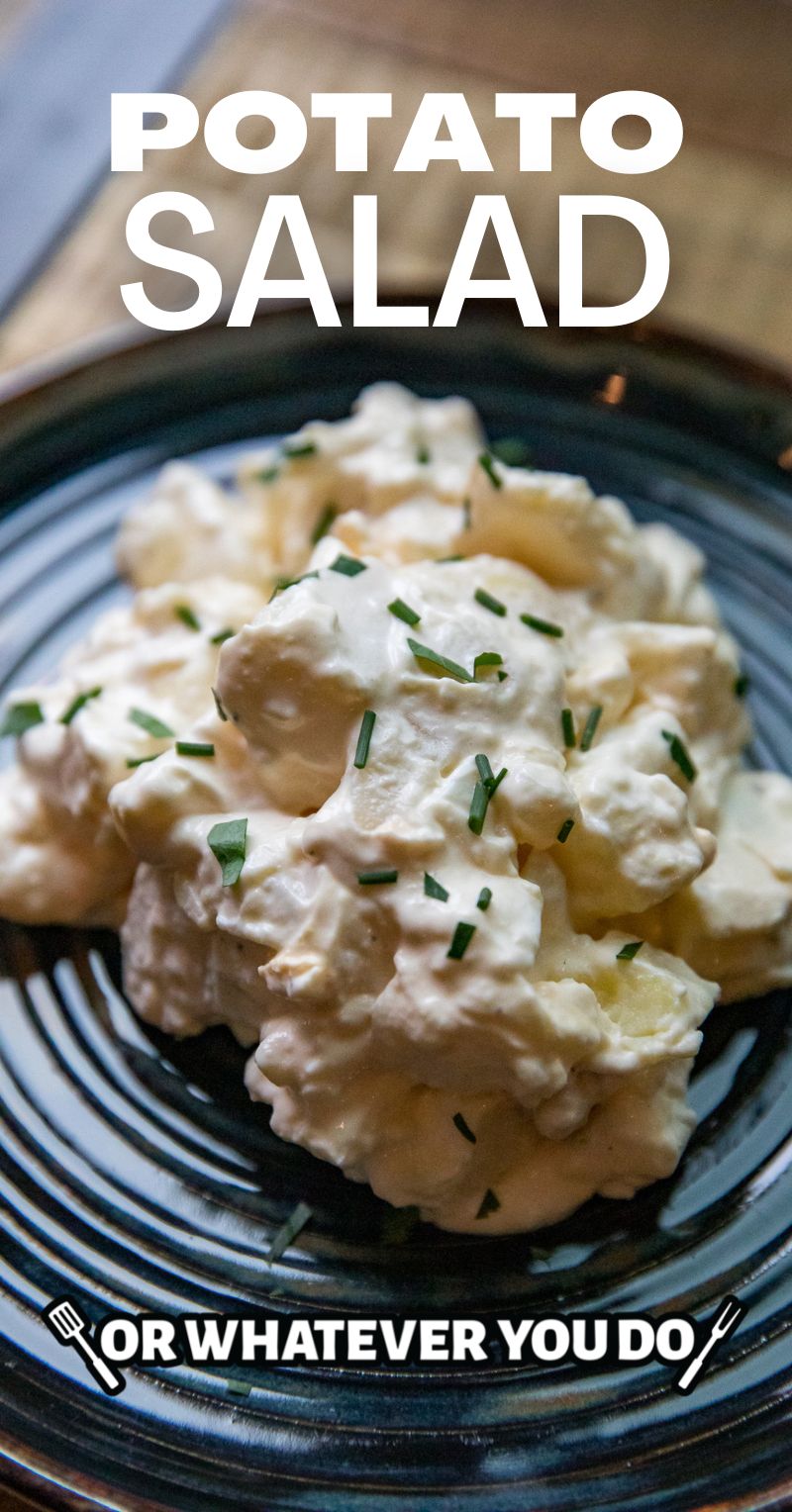 Homemade Potato Salad Recipe
All hail the potato salad. This is another one of those dishes I had NO time for love for when I was growing up, but once I tried my mother-in-law's version it was all over.
This is a simple potato salad with just a few ingredients in the sauce, and in this case simplicity is best.
We also omit the raw onion because I don't know who made raw onion a thing in salads, but they can keep it, and we're also in a fight. Raw onion only belongs on a street taco, as far as I'm concerned, and that's why you won't see it in many recipes around these parts. COOKED onion, I'm all for, and in large amounts, but raw is not my thing (and probably no cooked onion in potato salad either if we're being real.)
What's the best kind of potato for potato salad?
I prefer red or yellow potatoes for potato salad. Russet potatoes are too starchy, and don't stay together well enough after cooking.
How long should you boil potatoes for potato salad?
Boil potatoes just until they are fork tender. Too long, and they'll fall apart when you dice them.
Can you use Miracle Whip instead of mayo?
I don't recommend using Miracle Whip in place of mayo in this recipe, but I'm not the boss of you and if you love Miracle Whip, do your thing.
Is it better to boil potatoes whole or cut them up for potato salad?
If your potatoes are large, cut them into quarters before boiling. If they are small, just leave them whole.
Can you dress the potatoes while they are still warm?
Since we're using a mayo-based sauce, you definitely want to chill the potatoes for a bit before dressing or the heat from the potato can break down the mayo.
How salty should the potato water be for potato salad?
The potatoes are going to get a big boost of flavor from the water they are cooked in, so make sure your water is well-salted. Like VERY salted. It won't all be absorbed into the potatoes, and potatoes are dense and relatively large. When you taste the water it should be a little saltier than sea water. In a big 8 quart stock pot, I add 1/3-1/2 cup of kosher salt.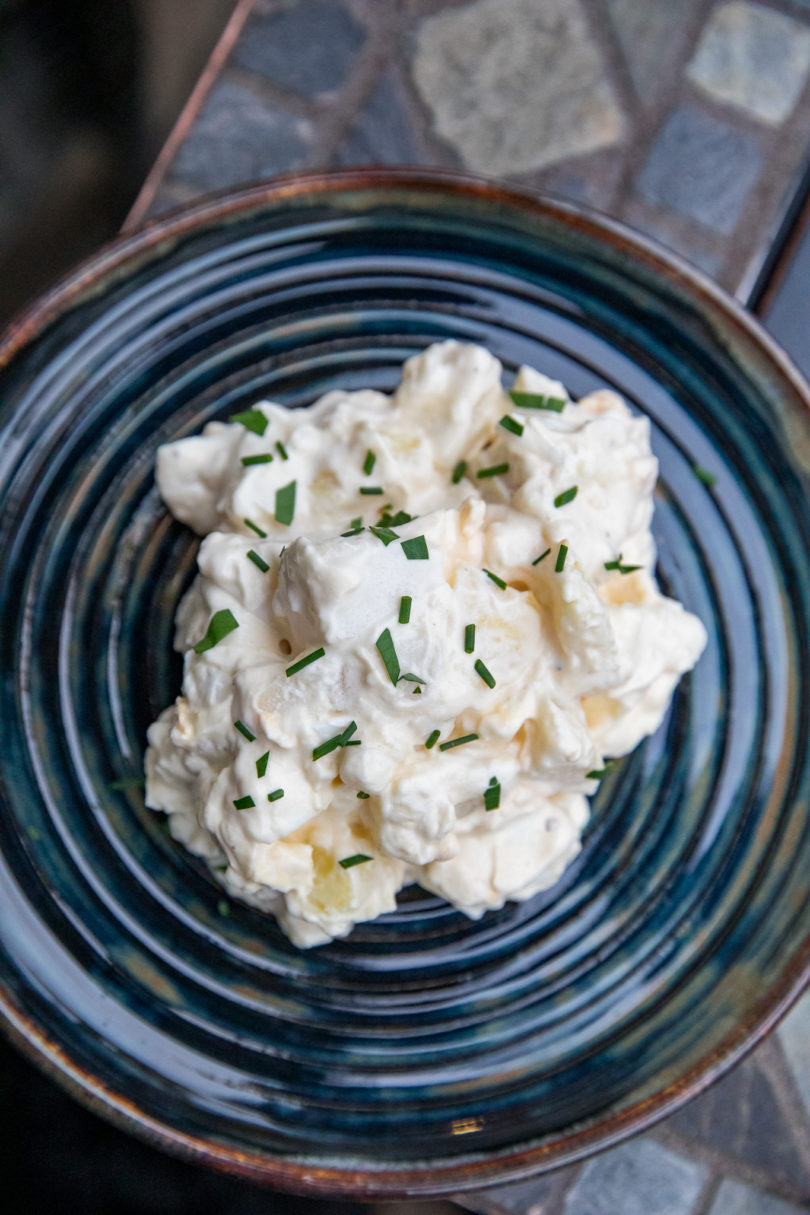 Potato Salad shopping list
Wondering if you have to hit the store? Here's the list of items you'll need to make this recipe. For specific amounts, please refer to the printable recipe card at the bottom of the post.
red & yellow potatoes
eggs
celery
mayonnaise
apple cider vinegar
salt & black pepper
paprika
mustard powder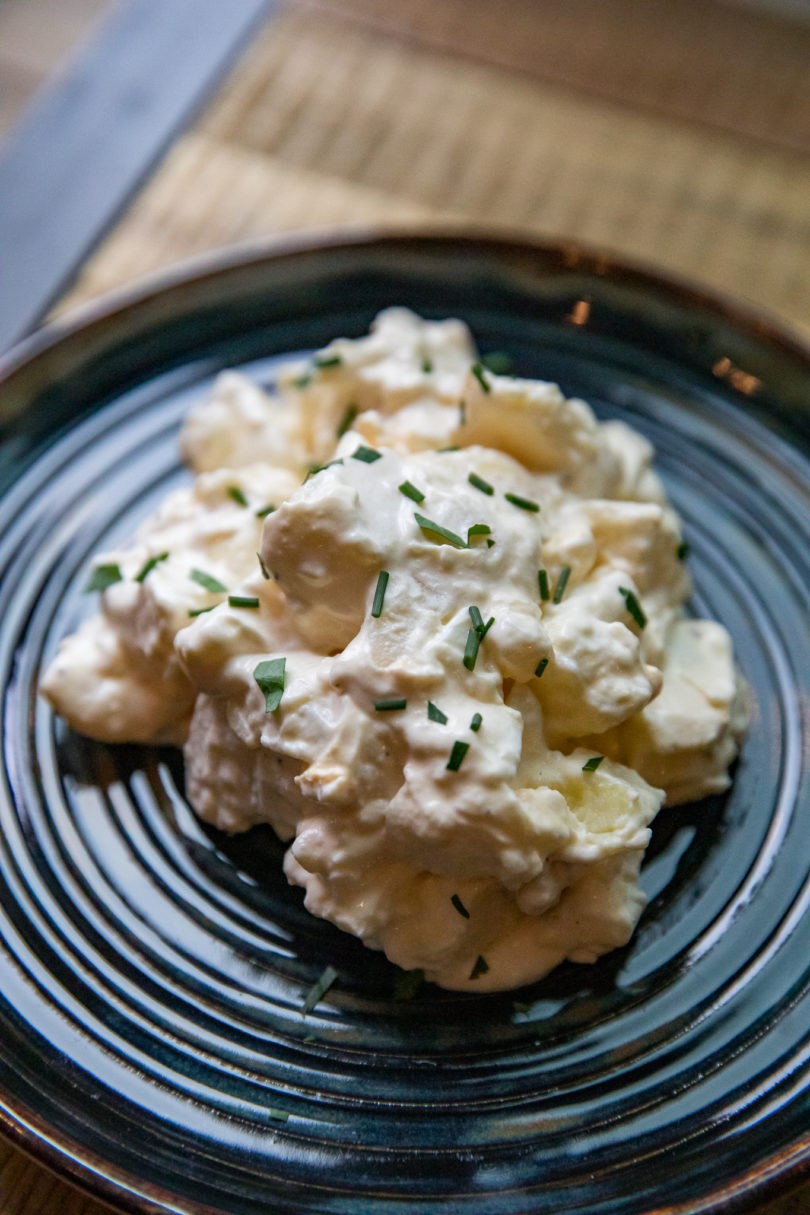 How to make Homemade Creamy Potato Salad
This is just the overview so you can see what you're actually getting into here. When you are cooking, you'll want to use the full recipe at the bottom of the page.
Boil & Prep
Bring a pot of well-salted water to boil, and cook the peeled potatoes until they are fork tender. Drain well.
Hard boil your eggs and then place in an ice bath to chill. Peel.
Chop both the potatoes and the eggs into bite-sized pieces.
Toss them in the fridge so they can chill. You don't want to dress steaming hot potatoes with mayo dressing or bad things can happen.
Mix the sauce
Combine all the sauce ingredients in a large salad bowl. Taste and adjust according to your personal preferences.
Combine
Gently combine the cooled potatoes, eggs, celery (if using), and salad sauce.
Chill
This salad needs to chill for at least 2-3 hours. Overnight is better!
Enjoy
Sprinkle with some green onions, if desired, and serve chilled.
Want a great pasta salad recipe? Try this 4-ingredient Caprese Pasta Salad from Entertaining Diva!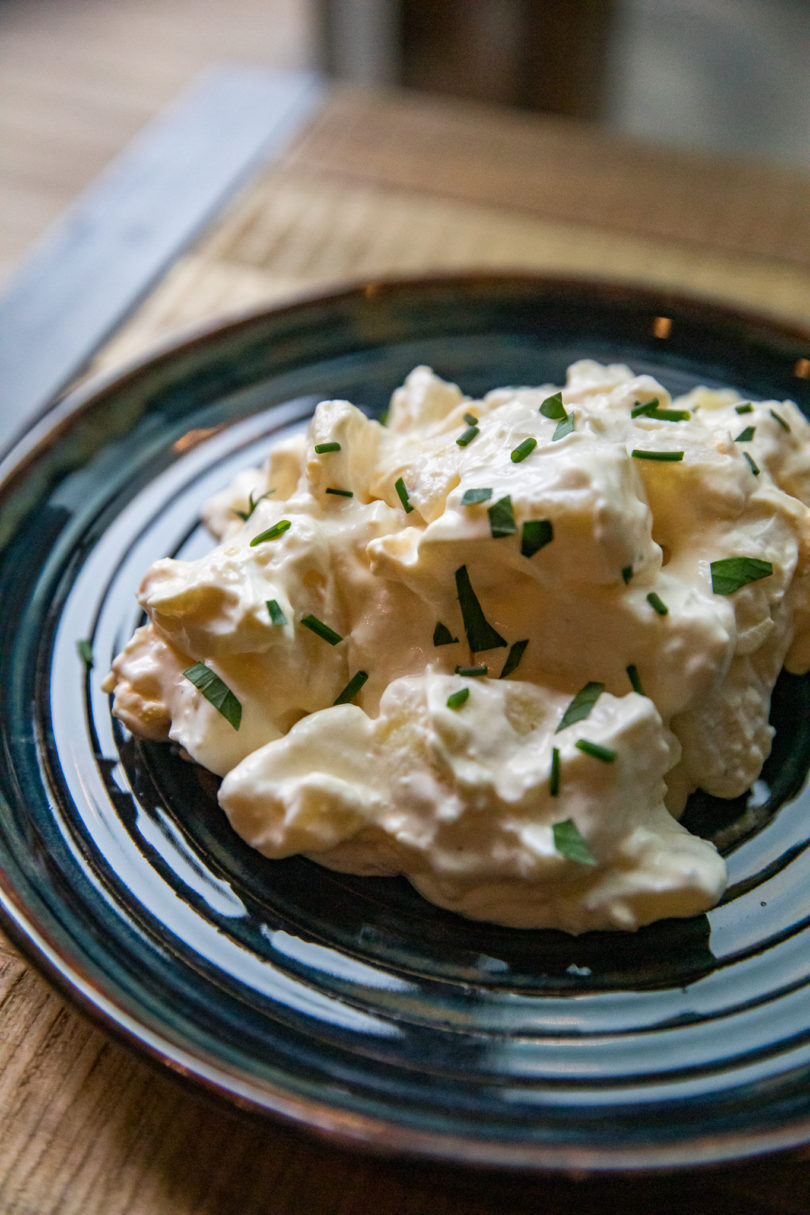 Potato Salad FAQ
How do you store leftovers?
Store potato salad leftovers covered in the fridge. Make sure to keep your salad chilled if it is on a buffet line. You'll need to cover it, put the bowl in an ice bath, and remove to the fridge or cooler once people are through the line. Potato salad cannot be unchilled longer than 1-2 hours, MAX.
How long does potato salad keep?
This should be eaten within 2-3 days after preparing.
Are there any substitutions for mayo?
Nope! There are no substitutions in this recipe for mayo. This is not a low-calorie meal. This is all carbs and creamy fat and calories. Enjoy, or don't, but don't try and clean up a creamy potato salad because you're kind of defeating the purpose.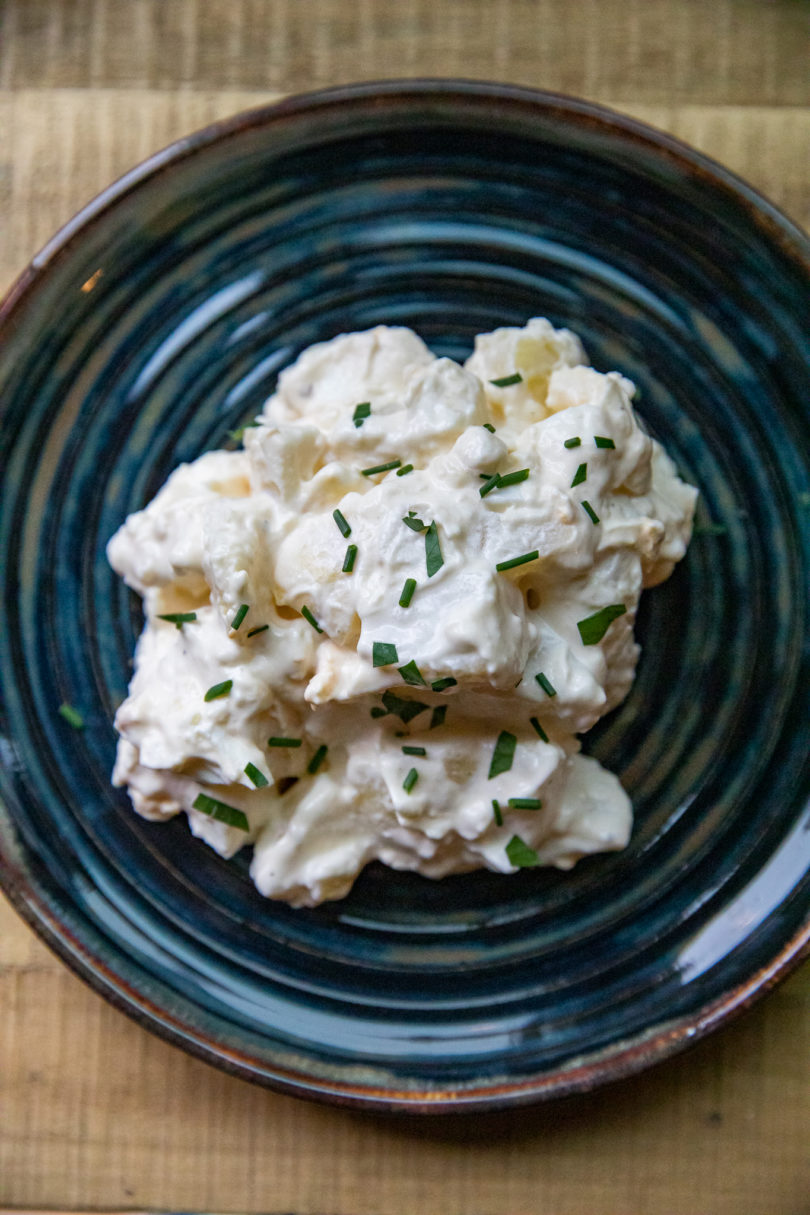 More Backyard BBQ Favorites
More recipes to love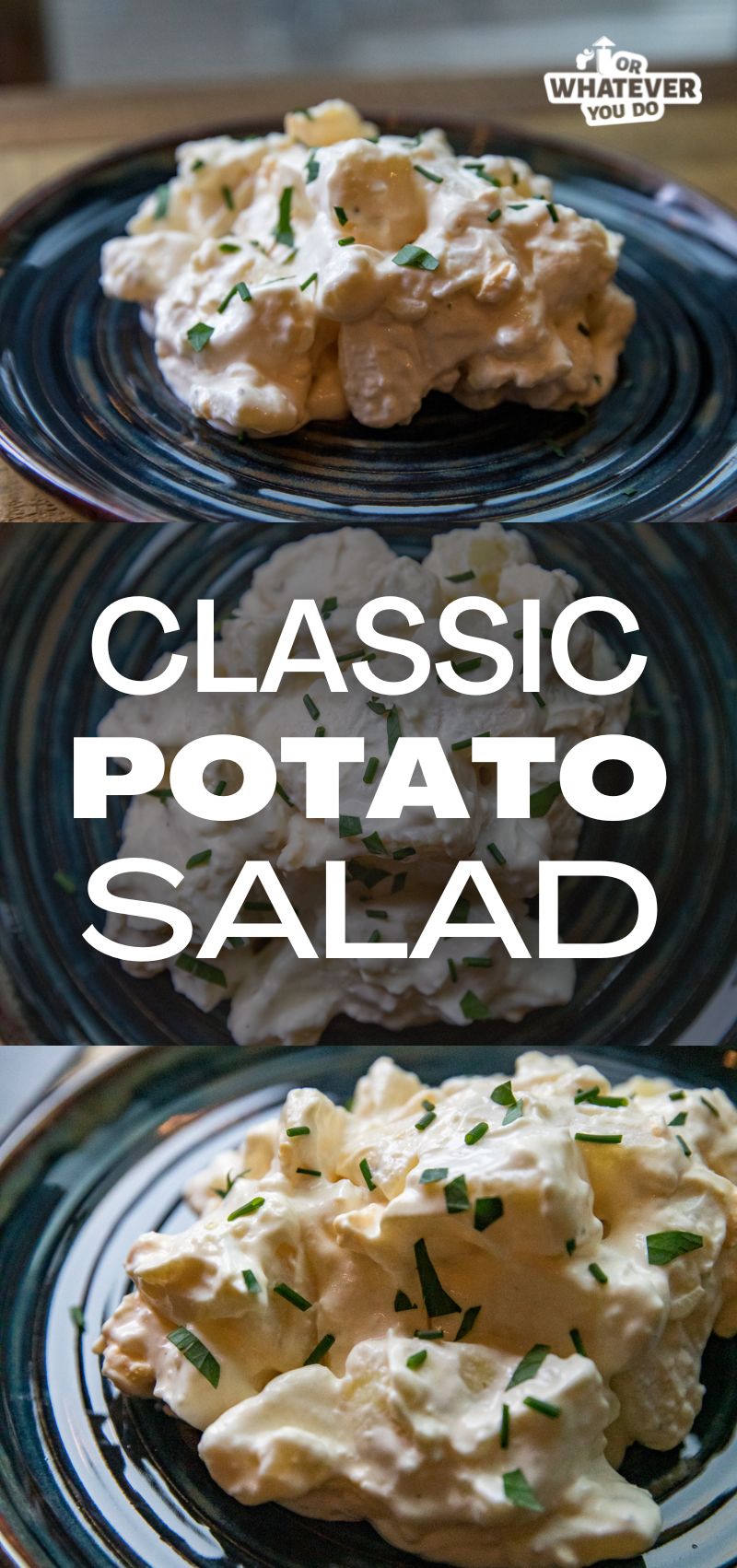 Yield: 12 servings
Classic Potato Salad Recipe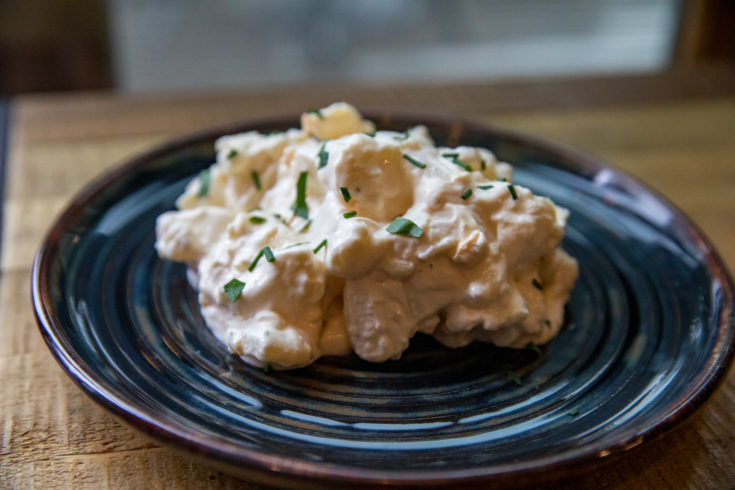 This classic potato salad recipe is simple, and my favorite version of the ever-popular salad made from potatoes!
Total Time
2 hours
40 minutes
Ingredients
Salad
3 pounds red and yellow potatoes
8 hard boiled eggs
1 cup finely diced celery (optional)
Sauce
2 1/2 cups real mayonnaise (Duke's or Hellman's/Best Foods are my favorites!)
2-3 tablespoons apple cider vinegar
1/2 teaspoon salt
1/2 teaspoon ground black pepper
1/2 teaspoon paprika (NOT smoked)
1/2 teaspoon mustard powder
Instructions
Boil your potatoes in well-salted water. It should taste a little saltier than sea water when it is properly salted. Cook until fork tender, but not falling apart.
If your eggs aren't already hard-boiled, do that now. (Want a great recipe for hard boiled eggs? Check out this one from My Baking Addiction!)
Drain your potatoes and dice into bite-sized pieces.
Mix together all of the sauce ingredients and taste. Adjust according to your own preferences.
Peel and cut the eggs into bite-sized pieces. Place the diced potatoes and the eggs into a large bowl along with the celery (if using). Gently mix in the sauce.
Chill for 2-3 hours, minimum until it is time to serve.
Notes
This is a saucey potato salad, intentionally. If you like it a little drier, you can omit some of the sauce. We like it saucey.
Recommended Products
As an Amazon Associate and member of other affiliate programs, I earn from qualifying purchases.
Nutrition Information:
Yield:
12
Serving Size:
1
Amount Per Serving:
Calories:

402
Total Fat:

38g
Saturated Fat:

6g
Trans Fat:

0g
Unsaturated Fat:

30g
Cholesterol:

144mg
Sodium:

431mg
Carbohydrates:

9g
Fiber:

1g
Sugar:

1g
Protein:

6g
Nutrition data provided here is only an estimate.